Jojo Rabbit (Twentieth Century Fox)
Taika Waititi's Nazi comedy Jojo Rabbit is delightfully absurd and surprisingly poetic, and unlike anything you've ever seen before.
---

"Jojo Betzler, ten and a half years old: today you join the ranks of the Jungvolk. Today, you become a man".

The protagonist of Taika Waititi's Nazi comedy is a tough character to like, but that's precisely the point of the Thor: Ragnarok's director's latest film. Based on Christine Leunens' 2014 bestselling novel Caging Skies, Jojo Rabbit is told through the eyes of a 10-year-old boy who lives in the fictional town of Falkenheim and who is about to join the Jungvolk – that is, The Hitler Youth. As a matter of fact, Jojo (Roman Griffin Davis) has been waiting for this moment his whole life: our gullible protagonist's mind has been absorbing propaganda for so long that he genuinely believes all the absurd Jew stories he's heard to be true. In fact, he is so convinced to be part of the "good guys" that he has conjured up a very unusual imaginary best friend – that is, Adolf Hitler himself.
But Jojo's Adolf couldn't be more different than his real-life counterpart. Played by Taika Waititi himself, Jojo's imaginary friend is so wonderfully bizarre that we could watch him for hours even if the movie only consisted of him pulling faces, goofily running around and putting on a show. Because Waititi's Adolf is not just a product of Jojo's imagination. He is the character who voices our young protagonist's thoughts in a brutally honest, delightfully exaggerated way, but he is also a cranky, moody child in an adult's (imaginary) body who has the habit of going off on a tangent.
Jojo's Adolf is a caricature, who is constantly derided and ridiculed throughout the film. Yet, he is also so very Waititi. The director infused so much of himself into his most absurd character that we forgive him for not using it as a starting point to develop a more meaningful argument. Because, if Adolf's function in the film mainly consists of getting us to laugh with the same types of superficial jokes, it's also true that those very same jokes have us in stitches every single time. There are times when we simply can't wait to find out what sort of inappropriate outfit he's going to be wearing next, and that's the real beauty of it. Jojo's imaginary friend is what gives rhythm to the story, and if you forget about all stereotypes of what a "socially acceptable" Nazi satire should look like and just go with the flow, you'll find that Jojo Rabbit is also a powerful analysis of social dynamics that definitely has something to say.
Jojo Rabbit is a satire, and, as such, it is full of caricatures. Rebel Wilson's Jungvolk instructor Fraulein Rahm is just as bizarre as the actress who plays her, and Stephen Merchant's Jehovah's Witness-like Gestapo captain is as histerically funny as he is absolutely terrifying. Sam Rockwell is in his comfort zone as one-eyed, gay Hitler Troops trainer Captain Klenzendorf, a character that surprises us in many ways, and a role that enables the Three Billboards Outside Ebbing, Missouri actor to show off his incredible skills. "Captain K" certainly knows how to make an entrance, and not only does he provide us with incredible quotable moments and much needed comic relief, but he is also so very human.
Waititi's comedy is both entertaining and fun, but it is also much more than that. It's the story of a boy who is forced to question all his beliefs when he discovers that his mother his hiding a Jewish girl named Elsa (Thomasin McKenzie) in their attic. It's about a survivor who defies all our expectations of how a victim should behave, as Elsa might be a homeless orphan and her life might be at risk, but she is neither weak nor helpless, and McKenzie's performance helps bring her to life in an extremely believable, powerful way. It's the story of a son who misses his father, and it's also the story of a single mother who's "doing what she can" to raise her "fanatic" son and stay true to her beliefs. It's about finding your identity in a world that teaches you the wrong values, and it's about learning how to react to hardship when you're left on your own. Ultimately, it's a tale inspired from a series of terrible events of our past that uses comedy to raise important questions about our future.
Jojo Rabbit is Waititi's most insightful movie to date, and it's also one that is very impressive from a technical point of view. The quality of the writing reflects that of the acting, and Michael Giacchino's work on the score is impeccable. Every single cast member is given a chance to shine with an equal mixture of hilarious and heartbreaking moments, starting from Roman Griffin Davis. Our leading actor is absolutely incredible at conveying emotions, and he gives us a character who is as oddly relatable as he is genuinely endearing. It's often easy to forget about his young age, as he tackles a complex character with extreme delicacy, and Thomasin McKenzie's impressive portrayal of Elsa helps giving more depth to both protagonists.
See Also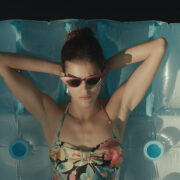 Jojo's mother is the other surprising character of this movie, and Scarlett Johansson is to praise for giving us a masterpiece in acting in one of the most intense and emotional scenes of the film. The Lost in Translation actress's performance is absolutely flawless, and Jojo Rabbit establishes her once again as one of the greatest actors of our generation.
You will either really like Jojo Rabbit or you won't like it at all, and that will depend entirely on whether or not you'll embrace its apparent madness. Because Taika Waititi's Nazi comedy might appear superficial or pointless at first, but it is exactly the opposite of that. If you stop thinking about social conventions and forget about stereotypes, you'll find that this unlikely satire is actually a refreshing drama that is not only incredibly entertaining but also surprisingly meaningful and poetic.
---
Jojo Rabbit premiered at the London Film Festival. The film is now available to watch on digital and on demand.