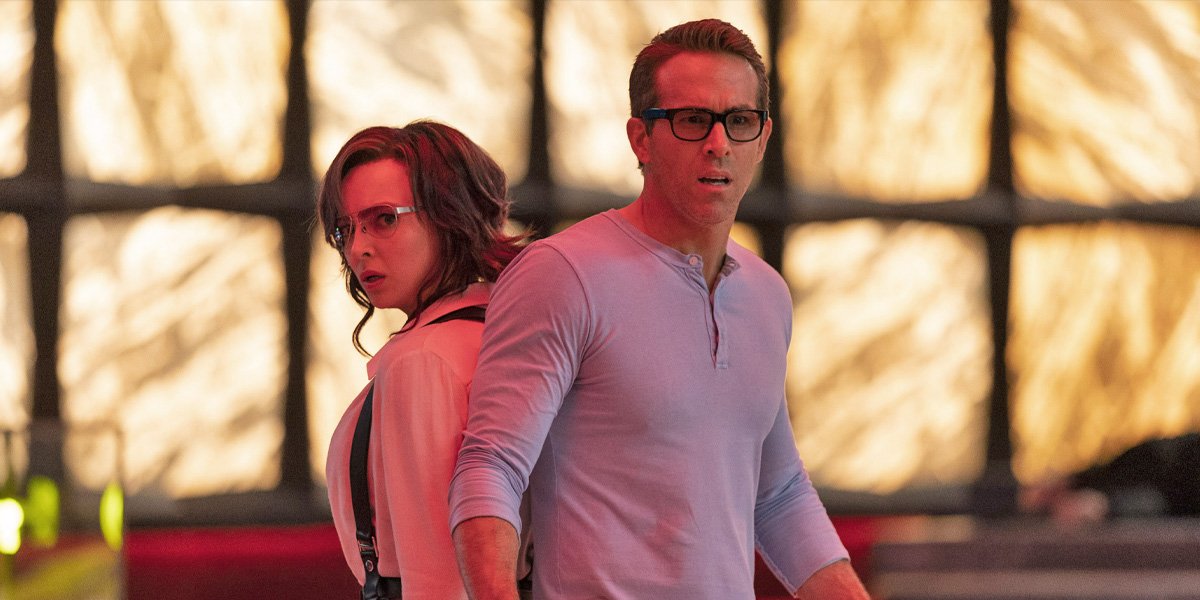 Jodie Comer as Molotov Girl and Ryan Reynolds as Guy in 20th Century Studios' FREE GUY. (Alan Markfield © 2020 Twentieth Century Fox Film Corporation)
Free Guy is some of the most fun you'll have at the theater all summer, complete with a wonderfully charming cast and creativity galore.
---

In a summer full of sequels (A Quiet Place Part II, F9), spin-offs (Black Widow, Spiral), and reboots (Space Jam: A New Legacy, Snake Eyes: G.I. Joe Origins), Free Guy is a rarity – a big-budget ($100 million+) blockbuster based on an entirely original concept. In any normal cinematic marketplace, such a release would be a significant risk, especially as audiences embrace familiarity above all else and seem to solely seek out franchise flicks. However, in a cinematic marketplace still suffering from setbacks caused by COVID-19 and the emerging Delta variant, the success rate for such a release is unfortunately depressingly low – which is even more upsetting for a film like Free Guy, the type of thematically innovative theatrical fare that countless moviegoers complain doesn't exist anymore. Regardless, here's hoping the pandemic doesn't prevent the picture from reaching as many as possible, as what Ryan Reynolds and co have crafted here is one of the most creative and crowd-pleasing summer spectacles in recent memory, full of clever comedy and subversive action setpieces that will leave every viewer satisfied.
Free Guy follows the life of the lively Guy (Ryan Reynolds, of Deadpool and Pokémon Detective Pikachu), a big-hearted bank teller who spends his days going through the exact same routine whilst at work, content on running through these motions, spending time with his pal Buddy (Lil Rel Howery, of Get Out and Bad Trip), and mostly ignoring the cataclysmic carnage that takes place around him at all times. That is, until a program designed by developers Millie (Jodie Comer, of Killing Eve and the upcoming The Last Duel) and Keys (Joe Keery, of Stranger Things and Spree) allows Guy to become self-aware, and he promptly discovers that he is merely a non-player character (NPC) living in an open world video game known as Free City. After adjusting to the shock of seeing his surroundings with new eyes, Guy is subsequently recruited by Millie's in-game avatar "Molotov Girl" to save the game before its pernicious publisher Antwan (Taika Waititi, of Jojo Rabbit and Thor: Ragnarok) shuts it down for good, and the two take off on a death-defying adventure for the ages.
The beauty of Free Guy is that, although it seems like that short synopsis gives away most of the story, it actually only merely scratched the surface. There's surprisingly a lot of subject matter that hasn't been shown by the film's ad campaign (despite the fact that it kicked off over a year and a half ago), and all of that is due to the maniacal wit of screenwriter Matt Lieberman (The Christmas Chronicles, The Addams Family). Now, we should expect a script that landed on the famed "Black List" to be pretty solid, but the way Lieberman – with an assist from The Avengers and Ready Player One's Zak Penn – mines his concept for all its creative complexities is nothing short of stunning, continually coming up with both fun ideas to subvert the conventions of video game culture and thrilling twists and turns that allow the film to step out from the shadow of predecessors with similar premises (The Truman Show, The LEGO Movie, etc.) and fully come into its own. What starts as an entertaining elevator pitch – what if an NPC became sentient? – evolves into an action-comedy epic that is simultaneously enormously entertaining and unexpectedly emotional, with Lieberman and Penn juggling a torrent of tones terrifically.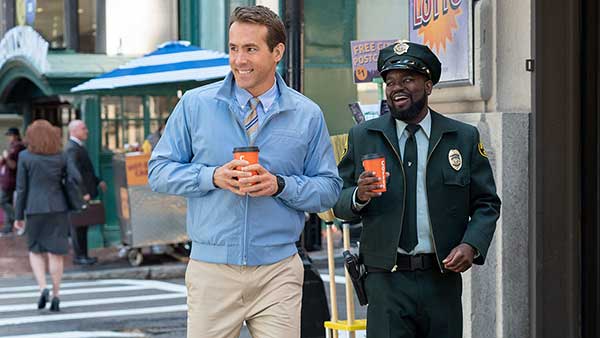 Free Guy isn't afraid to wade into more profound waters as well with certain bouts of philosophical musing (do we have an obligation to protect AI we originate?), but it wisely doesn't get too tripped up by these themes, instead focusing first and foremost on Guy's more broadly accessible character arc about advancing from a "background character" to a full-fledged protagonist. Sure, one can say such a message is "stereotypical," but Guy's earnestness is engrossing, and it's hard not to relate to the feeling of watching life pass you and neglecting to be an active participant in your own narrative. Additionally, Lieberman and Penn nail the relationships here so fantastically that it makes this "familiar" fable feel fresh, even when you may start to predict where the plot is taking our NPC personality. Between Guy and Millie creating a genuine connection in a world of such cynicism or Buddy placating Guy after a nihilistic panic attack (upon discovering the artificiality of his everyday environment), Liberman and Penn go the extra mile to make us truly care about these characters whilst deftly incorporating their deeper intentions in their dialogue, supporting their stars and supplementing their story with sentimentality at the same time.
Of course, it's also a given that a film set in a wild world like Free City would feature scenes of captivating cinematic chaos, and director Shawn Levy (Night at the Museum, Real Steel) and the VFX team certainly don't let crowds down, pushing the boundaries of this Grand Theft Auto-esque technological ecosystem and serving up stimulating setpieces that are equally suspenseful and side-splitting. It's completely clear that everyone involved in the film put an excessive amount of energy into making Free City feel as real as possible, and that fervor is felt in every frame, as audiences are immersed in the intricate and involving atmosphere of the game and drawn to consume every colorful detail. Free Guy is far more than its vibrant visual effects, but it truly is a feast for the eyes, and to downplay those delights would be disrespectful; when something is crafted with such care and consideration, it warrants such profusive praise.
In front of the camera, the charming cast captures our attention as much as the scintillating settings, with Reynolds persuasively leading the pack as the titular Guy with a natural naivete and considerable charisma. Here, Reynolds can't lean on his signature snark (seen in Deadpool, Pikachu, and even The Hitman's Bodyguard), as Guy's genuity can never feel false, and Reynolds wholly commits to this cheery constitution; even when his progression as a person occasionally takes him to dark places, Guy's positivity and persistence are unwavering, and that's thanks to Reynolds. Comer, relishing the opportunity to let loose after two seasons of the somber Killing Eve, capably keeps up with Reynolds, sometimes playing "the straight man" to the goofy Guy but always finding a way to dominate the action regardless and assure that the two are equals. It should come as no surprise that the Emmy winning actress excels in her emotional beats, but her comic chemistry with Reynolds is just as riveting, and when Free Guy dips its toes in the romcom genre, such a decision only works as well as it does because the two are so convincingly credible as a couple.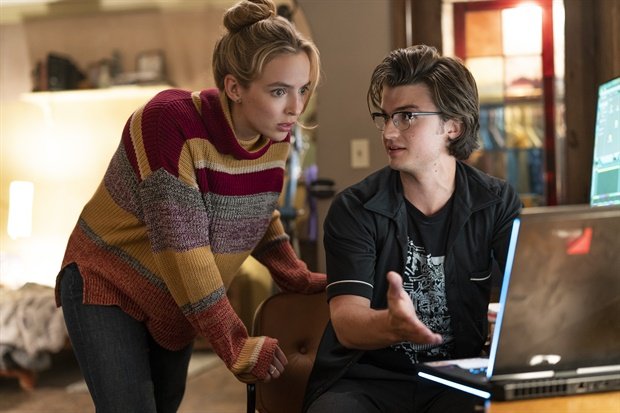 Similarly, there are a surplus of supporting standouts in Free Guy's ensemble, beginning with Lil Rel Howery's beaming Buddy, who always seems to know exactly what to say and continually injects the film with much-needed mirth. Joe Keery is an amusing addition to any project, and that certainly applies here as well, as his Keys ludicrously labors to work within Antwan's company to assist Millie and Guy in the game, all whilst not getting caught. Utkarsh Ambudkar (Pitch Perfect, The Broken Hearts Gallery) is also a fun foil for Keery's Keys as his conniving coworker Mouser, but it's Taika Waititi's riotously repugnant Antwan who makes the largest impression outside of our primary pair, as the Oscar winner goes big and brash with his performance, portraying the trashiest tech titan you can imagine and reveling the chance to sink his teeth into a role so revolting. Even as we are appalled by his actions, they're so grossly gripping that we can't look away (and, as always, his comedic timing in these tantrums is terrific).
In any other time, it's easy to see how Free Guy would be the "surprise success of the summer," as it's got everything audiences could ask for: constantly crafty comedy, visually arresting action sequences, a remarkably well-realized romance, and a moving message to boot. In today's compromised cinematic marketplace, such success is far from guaranteed, but one has to hope against all hope that the film will find its fans, in spite of all the obstacles ahead. Free Guy didn't set out to be the face of original filmmaking in an industry being crushed by IP, but just like the main character, it's had this task thrust upon it – and it's got the talent it takes to come out on top and win the war.
---
Free Guy is now available to watch in theaters worldwide.