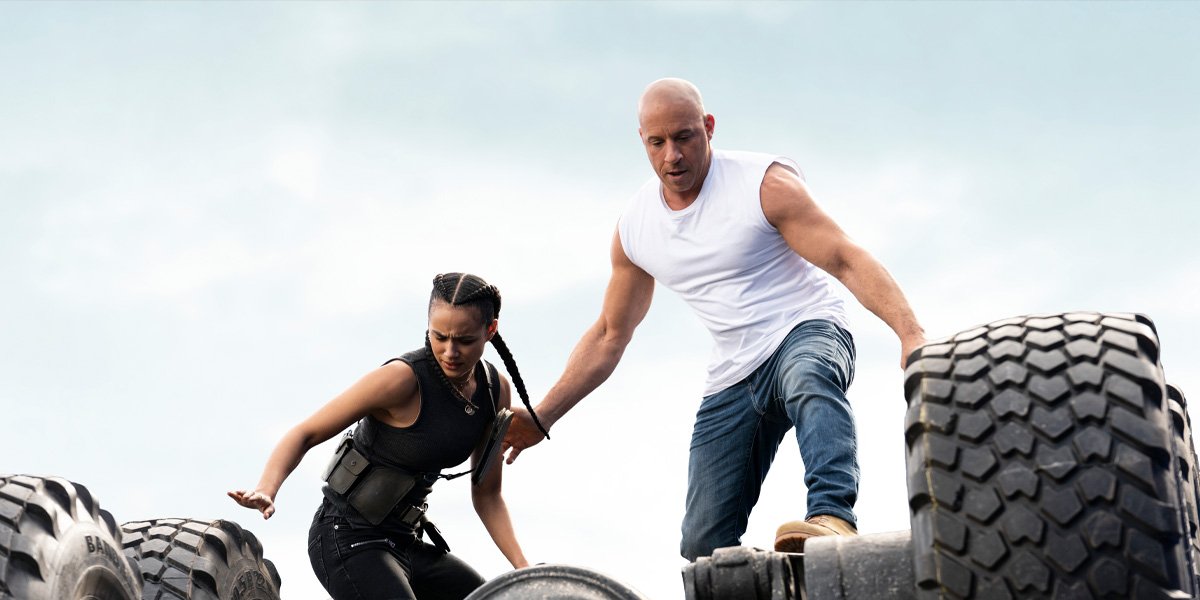 Nathalie Emmanuel and Vin Diesel in F9 (Giles Keyte, 2021 Universal Studios. All Rights Reserved)
Justin Lin's triumphant return to the Fast & Furious franchise with F9 is the loud, silly and entertaining summer blockbuster we've all been waiting for.
---

The Fast Saga is celebrating its 20th anniversary this year with the release of F9 (yes, they chose a function key from a computer's keyboard as the title of their movie), which promises to be one of the blockbuster events to bring audiences back into movie theaters this summer. Other major films released earlier this year, such as Godzilla vs Kong, Mortal Kombat and A Quiet Place Part II, have already paved the way for the new entry in the Fast & Furious series to be a box office hit, but is it any good?
Well, I'm not exactly sure if it's the film itself, or the fact that getting to sit in an IMAX theater again feels so good after spending over a year under lockdown, but it's so refreshing to watch the cast and crew pull off yet even more crazy stunts that are laughably amazing. The ninth chapter in the saga sees Dom Toretto (Vin Diesel, Guardians of the Galaxy Vol. 2) leading a quiet life off the grid with Letty (Michelle Rodriguez, Avatar) and his son Brian. But, as it's now tradition in these movies, no matter how fast you are, no one can outrun their past. Dom's past catches up to him when he is forced to team up with his crew (yet again) to stop a world-shattering plot led by Cipher (Charlize Theron, Atomic Blonde) and skilled assassin Jakob (John Cena, The Suicide Squad), who happens to be Dom's forgotten brother.
You know what you're getting into if you've followed this franchise long enough to know what to expect. You're not here to analyze character development, themes, or criticize the acting in these movies: you're here to see sh*t blow up while Vin Diesel attempts to teach us a lesson about family. With that in mind, are the Fast & Furious sequels all the same? Yes and no. Who cares? You don't ask those kinds of questions when you have a film series so preoccupied with doing "the next big thing." Our heroes — who have progressively become superhumans — have survived being chased by Dwayne "The Rock" Johnson, a tank, Jason Statham, a submarine, among other things that would simply take us all day to discuss. So, what is the new "big thing" F9 has to offer? A lot, actually.
The opening scene in this movie is something that, in theory, I should've seen coming a mile away, but, for some reason, I didn't think this franchise would go there just yet. We open with a flashback taking place in 1989, where we have most of the original crew being played by a younger cast as we see Jack Torreto (JD Pardo, The Twilight Saga: Breaking Dawn Part 2), Dom's father, die during a professional car race. Obviously, since we're barely being introduced to the main character's lost brother after nine movies, this incident sparks a feud between the two Toretto brothers that forces them to part ways at a young age, explaining Jakob's absence in previous entries. Like most conflicts of this kind in action movies, their feud is one that could've easily been solved if they had just sat down and talked things through. But, since we're in a franchise and we have to stretch it out, this issue isn't resolved until a character has a flashback to some memories that aren't even his that solves the entire conflict.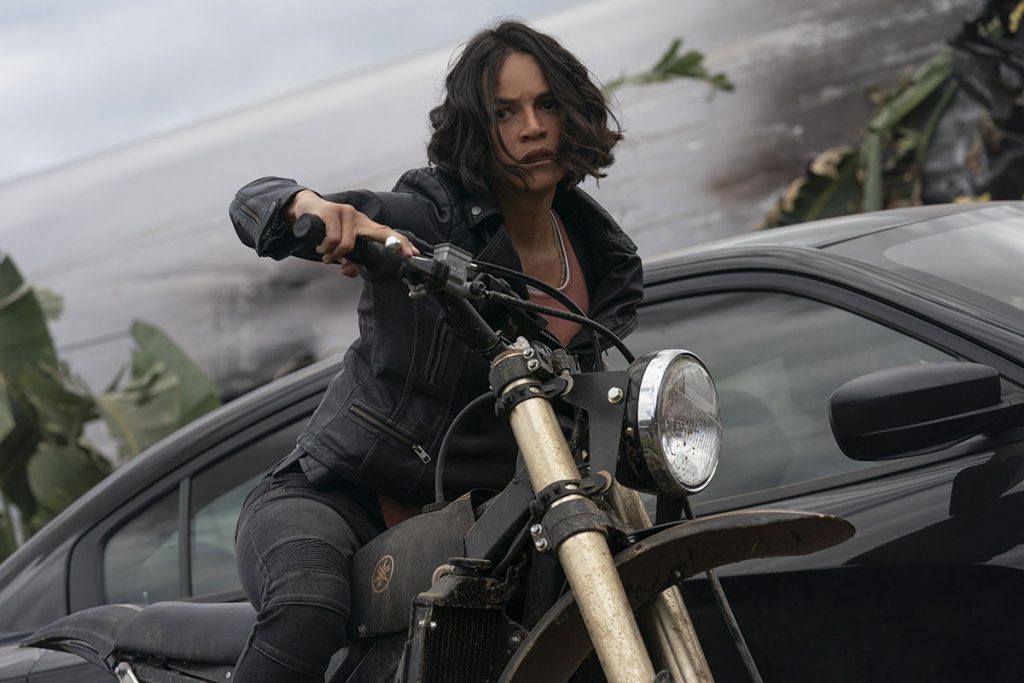 For what it's worth, the young cast is entertaining to watch when they're on-screen. Not so much because they give genuine good performances, but rather because the plot is so ridiculous that it is fun to see these fan-favorite characters through other actors' lenses. Speaking of fan favorites, the gang's back together — with the exception of The Rock, who had behind the scenes drama with Diesel, a story for another day — and they're more self-aware than ever before!
On one front, Letty is struggling to adapt to her new life as a stepmom, Dom is learning what it means to be a father while forgiving those who have wronged him in the past, and then we have characters like Roman (Tyrese Gibson, Transformers) who spends the entire runtime of the movie trying to prove they're indestructible metahumans. As always, he provides most of the meta comedy that on paper shouldn't be funny, but it just is, thanks to his line delivery.
John Cena is now part of the Fast Family and, although he is dead serious in this movie and doesn't get to do much, when you think about it, he's a welcome addition to the franchise that will hopefully get to use him more in future installments. Sung Kang (We Can Be Heroes) is back as Han, even though he exploded inside a car a couple of movies ago. The explanation as to how he's still alive is just as ridiculous as you would expect, but who cares? Nobody is really dead in these movies unless you see a body on a morgue table.
Can we and should we talk about F9's flaws as a movie? Probably, but being too critical or harsh against this franchise would just come across as being mean for no real reason, especially when the movie's only goal is to entertain you. I mean, they go to space by attaching a Pontiac Fiero to a rocket engine, you can't get dumber than that. Unless they do the Fast & Furious vs Jurassic World crossover everybody has been asking for, now that would be beyond dumb! But still, if we have to talk about negatives, then let's talk about negatives.
Charlize Theron returns as the evil puppet master after her plans in The Fate of the Furious failed, and now she's back to claim the new piece of technology that would grant her world domination. There's always a MacGuffin the good guys and the bad guys are after, even though said MacGuffin can do the exact same thing the previous one could do. You can tell Theron is having a blast in F9, but she just adds nothing to this movie. She could have easily been replaced by some new villain and nobody would have noticed. In general, there's just a bunch of pointless stuff that happens in this movie that only makes it longer than it should be so it can set up more sequels and potential spin-offs.
Also, Cardi B is in this film for no reason other than she's good friends with Vin Diesel and they just added her to the cast. In addition, Tokyo Drift's Sean and Twinkie are back as aero engineers who help our heroes go to space. How did Sean go from being the "drift king" to a professional engineer? Who knows, and who cares! You just have to keep reminding yourself of what franchise you are watching.
Needless to say, F9 is probably one of the dumbest action movies you will see this year, but that's part of the charm to The Fast Saga. How many other film series would you forgive for trying to pull off the most ridiculous storylines? My bet is not that many. It's not like one of those excruciating Michael Bay Transformers movies, which are almost 3-hours long and carried by annoying characters and terrible jokes. No, Fast & Furious knows exactly what it is and it has fun being what it is.
Director Justin Lin and his screenwriter Daniel Casey actually listen to their audience as to what they want to see next and try to make it a reality. People were begging for the crew to go to space, they do so in this one. John Cena has been suggested to join the franchise for years, he is in this one. Weirdly enough, there's a very healthy relationship between the filmmakers of these movies and their fan-base that you can't help but admire. The fans ask for something, the cast and crew deliver. That's probably the best way I can describe F9, everything you can hope from this series in this new one and then some.
If you're not a fan of the franchise but are curious to see if this installment is any different than the rest, don't bother. F9 will not change your opinion on these movies. The franchise has evolved to such a high level no other series could possibly reach. I mean, Vin Diesel uses a bridge rope to attach to his car's wheel to propel himself from one mountain to another. They use giant magnets to destroy an entire city and they cast a tiny, skinny white guy to play young John Cena and a big muscular guy to play young Vin Diesel. If that doesn't tell you what kind of movie you're watching, then I don't know what will. All things said, if you're buying tickets to see F9, just know what you're getting into. Don't think too hard about the plot, character development or if any of the physics in this movie makes sense. Just sit down, turn your brain off and have a good time with the shenanigans this movie has to offer.
---
F9: The Fast Saga is now available to watch on digital and on demand. Watch F9: The Fast Saga!