Space Jam: A New Legacy (2021): Review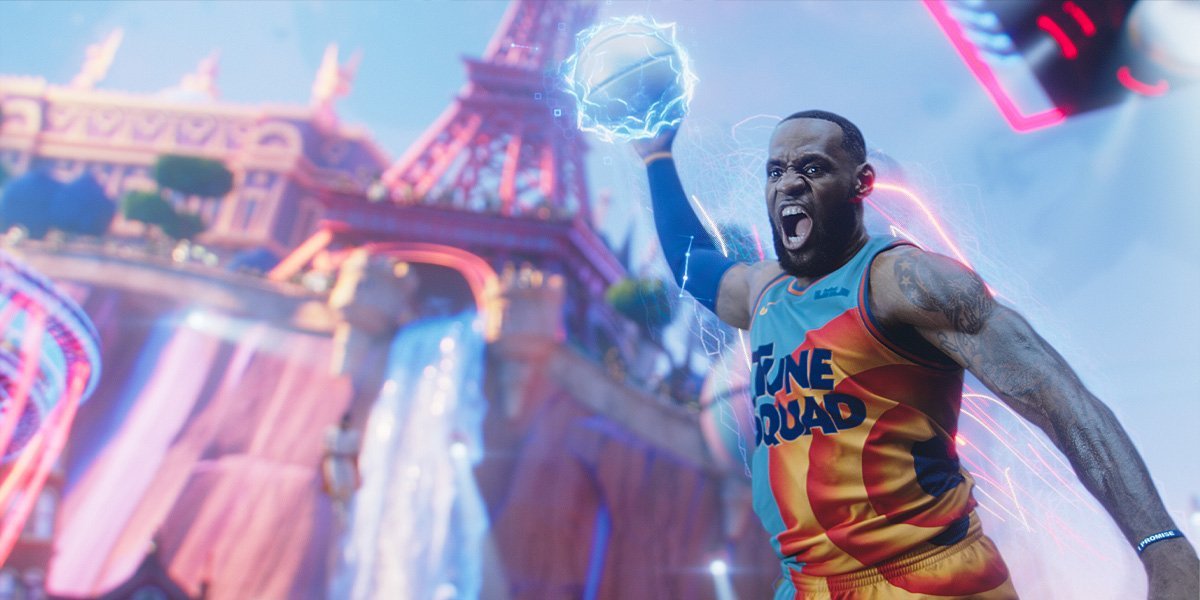 Lebron James in Space Jam: A New Legacy (© 2021 Warner Bros. Entertainment Inc.)
Space Jam: A New Legacy is a lot of fun, but the sequel that teams up Lebron James and the Looney Tunes does have its drawbacks.
---

Following the release of Space Jam in 1996, there were a number of proposed ideas for a follow up. Two of the most notable proposals were "Skate Jam," which would have starred skateboarder Tony Hawk, and "Spy Jam", with Jackie Chan. Neither of those films got off the ground, and Warner Bros. ultimately released the critically panned and box office flop Looney Tunes: Back in Action in 2003, a live-action/animated comedy film starring Brendan Fraser alongside the Looney Tunes. That film had little to do with Space Jam, outside of having a cameo from Michael Jordan via archival footage. For a long time, it appeared to many that a Space Jam sequel would never happen despite countless rumors. Then, in 2014, Warner Bros. announced that the sequel was in development, with NBA superstar Lebron James set to star. Now, 25 years after the release of the original film, a standalone sequel, Space Jam: A New Legacy, starring Lebron James, is finally hitting the big screen.
In Space Jam: A New Legacy, a fictionalized version of Lebron James (portraying himself) must rescue his youngest son Dominic "Dom" James (Cedric Joe) from a rogue Warner Bros. Entertainment artificial intelligence named Al-G Rhythm (Don Cheadle), who has trapped the two of them inside the Warner 3000 Server-Verse. Al-G challenges Lebron to a Basketball game, promising to release him and Dom if Lebron wins. James enlists the help of Bugs Bunny to build a team capable of taking on Al-G's digitized Goon Squad, which is made up of superpowered monster versions of NBA players Anthony Davis, Klay Thompson, Damian Lillard and WNBA stars Diana Taurasi and Nneka Ogwumike (who play themselves and voice their Goon Squad counterparts). Lebron and Bugs travel to various worlds inspired by Warner Bros. properties to recruit players for a new Tune Squad that will compete in a basketball game for Lebron and Dom's freedom.
A number of elements of Space Jam: A New Legacy work really well. Having this element of the Server-Verse, while some may think of it as a way to force cross branding on the audience, really makes this stand apart from the original. Space Jam (1996) was mainly focused on two worlds, the Tune World and the real world, while its sequel takes place in a number of different worlds in addition to those two. Seeing Bugs and Lebron travel to all these unique places and blend into the style of whatever world they're visiting is awesome. It is like when you played with your toys and staged improbable crossovers as a kid, but on the big screen, and it's so fun. The Server-Verse element also allows for some pretty good easter eggs and references that young and old fans will enjoy pointing out.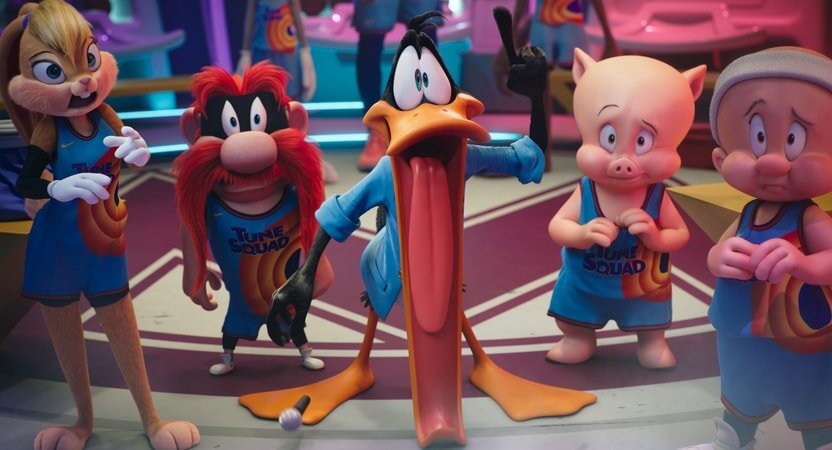 The story's core message of being yourself, rather than what someone else wants you to be, is something that both adults and kids will be able to relate to. Mostly because we've all likely been at a point where we have something or someone pushing us to be someone we aren't, rather than who we are. Sure, you've probably heard it a million times before, but I just think it's one of those timeless messages that matter.
Space Jam: A New Legacy also features comedy that is pretty on point. The Looney Tunes gags are solid and what we've come to expect from these characters. Honestly, even some of the cringe worthy stuff, like Granny saying "Haters Gonna Hate," was kind of funny to me. I don't know, maybe I'm showing my immaturity a bit. A number of the human characters not named Lebron turn in some hilarious work here, like Ernie Johnson, of TNT's Inside the NBA, and comedian Lil Rel Howery. They are the commentary duo for climatic basketball game, and the two of them seem to be having a blast, which likely will rub off on you. Speaking of having a blast, Don Cheadle is just going for it as Al-G Rhythm. Yes, he's a villain and he's pretty menacing, but he's also really funny. I mean, he's a bad guy that makes all these exaggerated facial expressions and throws temper tantrums like a toddler, and yet Al-G still seems threatening. That is a credit to Cheadle and his performance for sure.
The animation, both hand drawn and CGI, is actually pretty good, for the most part. The hand drawn animation brings a Tune version of Lebron and the rest of the Looney Tunes to life in a way that is modern, highly detailed and smooth. The CGI in Space Jam: A New Legacy is mostly good, though I do take issue with the CGI transformation that Don Cheadle's Al-G Rhythm undergoes: it gives him this rubbery, fake look. There are also times where Bugs Bunny's design doesn't quite look right either, but hey, at least it looks like he and the rest of the Tunes are there. CGI animation has truly come a long way from the days of Scooby-Doo (2002) where it's obvious that Scooby is made up entirely of CGI.
One of the most disappointing things about Space Jam: A New Legacy has to be the performance of Lebron James, at least when he's the live action version of himself. After his surprising turn in Trainwreck (2015), you would think he should be able to nail this. His voice over work for his animated self is stellar, but there are times during the live action portions where he just looks flat out confused, or worse, shows no emotion at all. He does have a self-aware line about how athletes shouldn't really be actors that I chuckled at, though.
See Also

Lebron isn't completely terrible in this by any means, and nails some emotional moments, so perhaps I expected a little too much going in. While we're on the subject of disappointments, there is also the Goon Squad. Even though Al-G Rhythm is clearly the main villain, I expected more from his monstrous basketball team. Each of the MonStars in the original film had some personality to speak of, the only Goon Squad member with a personality is The Brow (Anthony Davis) and his personality is that he's kind of dumb? Anthony Davis is actually really smart in real life, so this really doesn't make sense. They might all get their individual moments to shine in the big game, but I would've liked it if they had a little bit more depth personality wise.
Perhaps the biggest disappointment of them all is the Space Jam: A New Legacy soundtrack: the songs here, despite several needle drops of songs on the soundtrack, are not as memorable as those from the original film. If I had to pick one, I'd probably pick "See Me Fly" by Chance The Rapper featuring John Legend and Symba, which plays over the opening credits. For my money though, the best song in the film is a remix of Onyx's "Slam" that isn't even on the soundtrack. The original film's soundtrack is iconic, with songs like the title track "Space Jam" by the Quad City DJ's and Hit 'Em High (The Monstars' Anthem)", which features the rappers B-Real, Coolio, Method Man, LL Cool J, and Busta Rhymes, and it's unfortunate that the sequel's soundtrack just didn't connect with me.
Space Jam: A New Legacy may go a little overboard with its cross branding, but it is certainly not the worst thing ever. It's fun, it has a good message for both kids and adults, and it's a worthy sequel to the 1996 original. Everything isn't perfect, but the first film wasn't exactly a masterpiece either. Was it worth the wait? As a fan of the original, I'd say so: it made me laugh, and it reminded me of why I loved Space Jam (1996) in the first place. That's pretty much all I could ask for.
---