Spiral (Review): A Ferocious Return to Form for the Saw Franchise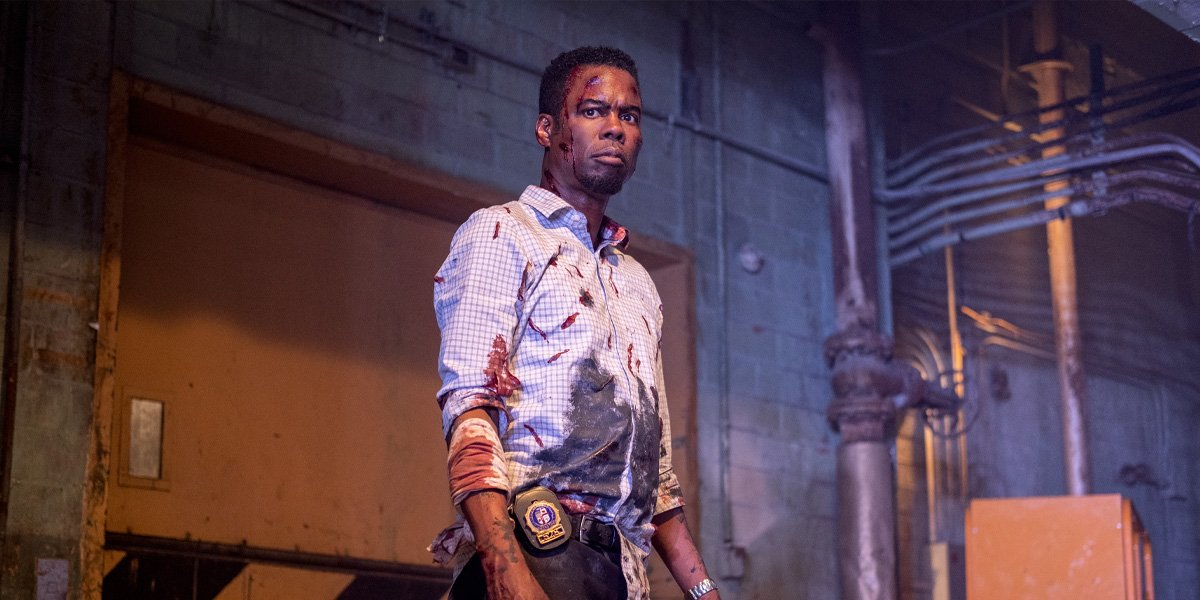 Chris Rock as 'Detective Ezekiel "Zeke" Banks' in SPIRAL (Brooke Palmer / Lionsgate)
Spiral may stick to the Saw formula structurally, but the film's scathing social commentary helps this sequel stand out regardless.
---

When it was announced that comedian Chris Rock (Madagascar, Grown Ups) had come up with a concept for a new Saw sequel, many initially scoffed at the idea. What did Rock know about the Saw franchise or the horror genre in general? Given that his experience in the industry had thus far been centered around stand-up, sketch comedy, and sitcoms, there was little on his résumé that seemed to suggest he'd be the "savior of the Saw series," just a few years after 2017's Jigsaw tried and failed to breathe new life into the brand. However, such a shocking announcement brought to mind a classic quote from American humorist Erma Bombeck – "There is a thin line that separates laughter and pain, comedy and tragedy, humor and hurt."
To back up Bombeck's observation, it's true that some of the most frightening fables of recent years have actually come from the minds of actors and artists who got their start in comedy – Jordan Peele's Oscar-winning Get Out, John Krasinski's petrifying A Quiet Place, and David Gordon Green's horrifying 2018 Halloween "legacyquel." Suddenly, Rock's involvement in Spiral (the title for his "terrifying" take on the Saw mythos) made a whole lot more sense – and our interest was piqued to see what he had up his sleeve.
Spiral is set around daring detective Ezekiel "Zeke" Banks (Rock), the son of the prestigious police veteran Marcus Banks (Samuel L. Jackson, of The Avengers and Star Wars), who can seemingly never escape the staggering shadow of his formidable father. However, soon enough, Zeke may just get that chance, as he and his rookie partner, Detective William Schenk (Max Minghella, of The Social Network and The Handmaid's Tale) are asked to lead an investigation into a series of recent gory murders by their Captain Angie Garza (Marisol Nichols, of 24 and Riverdale) – murders that call to mind the mania of the city's gruesome past, spurred by the schemes of the infamous Jigsaw Killer (Tobin Bell, of Mississippi Burning and Goodfellas).
Throughout their search, it soon becomes clear that, for reasons unknown, this copycat killer is targeting dirty cops in their murder spree, massacring members of the force one by one. As Marcus is consumed by the cryptic clues that the killer leaves at each and every crime scene, he finds himself unable to focus on any other aspect of his life aside from his pursuit to piece this puzzle together, eventually drawing Marcus into this tangled spider's web of twists and turns, too. And once they uncover the truth, there's no turning away from these startling secrets.
Though it's made clear that Spiral exists in the same cinematic universe as all prior Saw films, it is very much its own entity, with no former cast members returning to play a role in this plot (and even Tobin Bell's John Kramer is only seen briefly via a photograph at the police station). While this may initially upset fans expecting a sequel more connected to the franchise's convoluted continuity, in the end, it's apparent that this is actually a significant advantage for the Spiral team.
Structurally, the film still follows the Saw formula through and through – with all of the twists and turns one anticipates from these murder mystery thrillers – but, in an attempt to separate itself from the stories that have come before, screenwriters Josh Stolberg and Pete Goldfinger (Jigsaw, Sorority Row) simultaneously suffuse their script with social commentary that is more pointed and piercing than anything we've seen in the series thus far, save for Saw VI's indignation towards the health insurance industry. Here, the copycat killer that Rock's Zeke is chasing isn't just knocking folks off willy-nilly; they're consciously targeting corrupt police officers, responding to calls to "clean up the system" with their own murderous methods.
The Saw franchise has always featured moral messaging to an extent – with Bell's John Kramer aiming to "help" his victims better appreciate their lives through his torturous traps – but rarely have the themes been as topical as they are here. And, even though Spiral was delayed a full year by Lionsgate (as it was initially intended to release in May 2020, prior to the coronavirus pandemic) it may have been a blessing in disguise for the film; following last summer's #BlackLivesMatter protests and the recent conviction of Minneapolis police officer Derek Chauvin, it resonates more now than it ever would've before, speaking to our current social strife with perceptive precision and panache.
Sadly, it's not that far-fetched to imagine a police force as infected with injustice as the one spotlighted in Spiral, and it's that timeliness that gives this entry an added "edge" when placed alongside its predecessors. Likewise, though never addressed explicitly, it's nonetheless wholly riveting to watch as Rock's Zeke grapples with his allegiances throughout the film while this serial killer slaughters (typically white) cops who have used their power and privilege to menace members of the community (particularly people of color) and avoid consequences. It's effectively eerie to find yourself almost siding with Spiral's secretive slayer.
See Also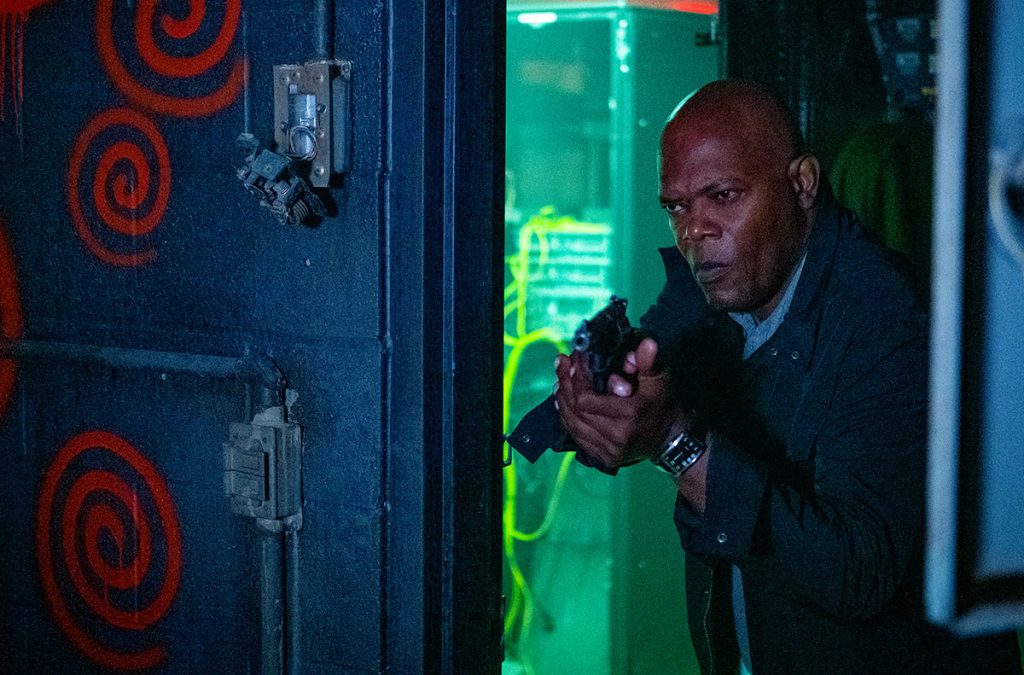 Apart from an ominous opening prologue which kicks off the film with some glorious gore, horror hounds might be slightly disappointed to see that the murder traps showcased in Spiral aren't quite as creative as a few of the classic contraptions of past Saw pictures. Regardless, editor Dev Singh (Ghostland, Backcountry) assures that each feels as agonizing as possible – capitalizing on the "fast cutting" that fans know so well – and returning composer Charlie Clouser saturates these scenes with suspense with his scintillating score. This is a theme throughout Spiral, as, except for its supplemental social significance, the film doesn't really reinvent the Saw series as much as its publicity campaign promised (adhering to almost all of the conventions and cliches one associates with detective dramas), but it's such an engaging experience in the moment that you can't complain too much.
A fair amount of the audience's investment can be attributed to the cast, as this is easily the most well-acted ensemble since the first two films. Rock is a bit "over-the-top" at the start, but he swiftly settles into the role, and he becomes an appealing surrogate for viewers as we too strain to solve this case (even if we could've used a bit more of his comedic sensibilities). Minghella gets a meatier part than one would expect for the stereotypical "sidekick" in a story like this, while Nichols is completely convincing as a ball-busting police captain, captivating crowds with her arresting ability to command a room. With that being said, Samuel L. Jackson clearly steals the show here – as he so often does – and though he's used sparingly, he livens up the film immensely whenever he's onscreen, delivering the goods with his dark humor and "DGAF" attitude.
Those looking to Spiral to radically revamp the Saw series might need to adjust their expectations ahead of time, as the film is more content to simply be a "strong Saw sequel" as opposed to something more original or innovative. Still, given how often quality has varied across this set of films, a "strong Saw sequel" is nothing to scoff at, especially when Spiral comes equipped with a compelling ensemble cast, a masterful grasp on mood, and some of the strongest social commentary highlighted in the horror genre in years. If not the total facelift some Saw fans fervently anticipated, Spiral is nevertheless a scary good time at the theater and a refreshing return to form for the franchise.
---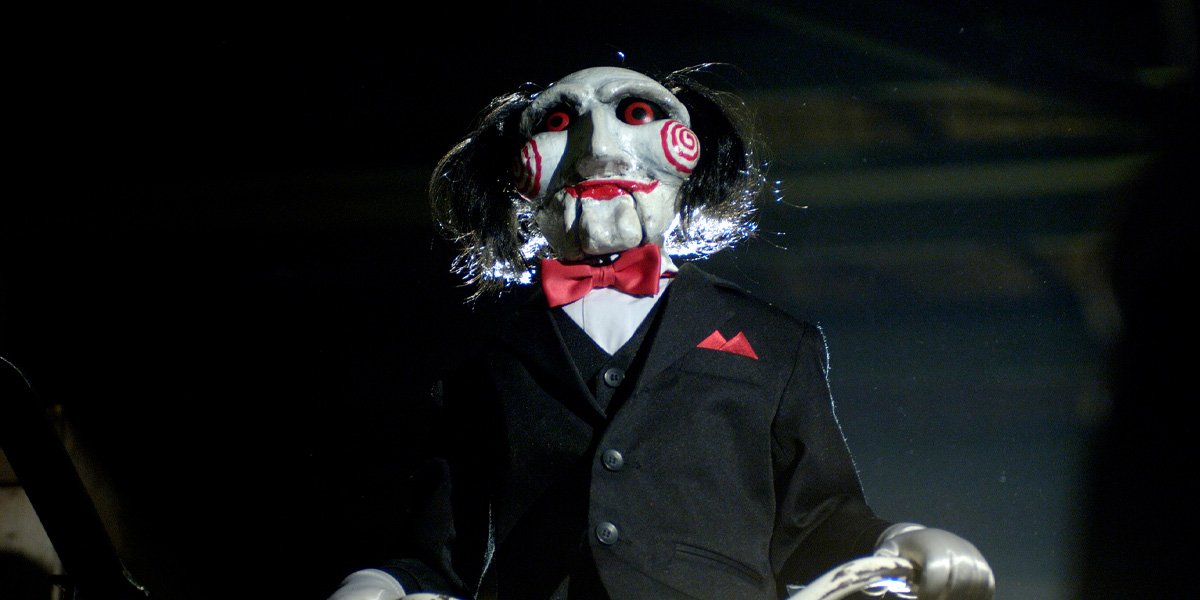 Spiral: From The Book of Saw is now available to watch on digital and on demand.