Bad Trip Review: Eric André's Hidden Camera Comedy is Hilarious

Eric Andre as "Chris" & Lil Rel Howery as "Bud" in BAD TRIP (Netflix)
Bad Trip is a raucous road trip comedy that gives stars Eric André, Lil Rel Howery, and Tiffany Haddish the space to show off their side-splitting skills.
---

Hidden camera comedies may feel like a relic of the past to modern-day moviegoers, but when they had their heyday in the early aughts, their profusive popularity was simply staggering. Johnny Knoxville (Teenage Mutant Ninja Turtles), Spike Jonze (Her), and Jeff Tremaine (The Dirt) truly brought the concept to the mainstream in 2000 with their MTV stunt/prank show Jackass – which subsequently gave way to a stupendously successful movie trilogy and similarly lucrative spin-off, Bad Grandpa. Provocateur extraordinaire Sacha Baron Cohen (The Trial of the Chicago 7) even got in on the action a few years later with his Oscar-nominated Borat and the manic mockumentary Brüno, furiously breaking through former boundaries in film with his salacious setpieces. Unfortunately, as interest in the subgenre seemed to wane somewhat over the last decade, many of these comedians retired their characters and started to pursue other projects aside from those that put them on the map.
And yet, with the arrival of the 2020s, the unexpected occurred – it looked like hidden camera comedies were set to have a "second life" of sorts. Just last year, Borat Subsequent Moviefilm became a massive hit on Amazon Prime – 14 years after the release of the first film – and eventually earned two Oscar nominations as well (for both supporting actress Maria Bakalova and the movie's adapted screenplay). Meanwhile, Jackass 4 is now tentatively scheduled for this September. Could we really be witnessing the rebirth of the hidden camera comedy renaissance? It's probably too soon to say, but if the latest additions to the subgenre are as amusing as Eric André's (Adult Swim's The Eric André Show, The Lion King) chaotic cross-country adventure comedy Bad Trip, keep 'em coming.
Bad Trip begins as André's Chris- a crude man-child drifting through a string of dead-end jobs – bumps into his high-school crush Maria (Michaela Conlin, of Fox's Bones and Enchanted) whilst serving customers at a smoothie shop. Instantly infatuated once more, Chris tries to make a move with Maria, but she sadly tells him that she is merely passing through Florida for a few days and will be heading back to her job in New York City soon to open an art gallery. After leaving Chris with an invite to the opening, he hits up his best friend Bud (Lil Rel Howery, of Get Out and Judas and the Black Messiah) – who is equally as unenthused with his current existence – to take a riotous road trip up to NYC.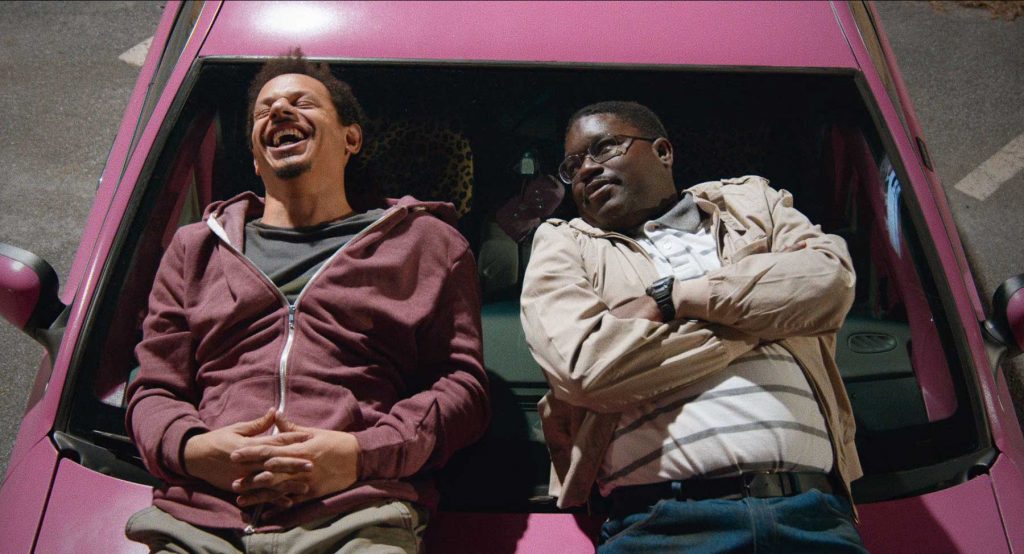 The one hitch? Neither has a car. Enter Bud's belligerent sister Trina (Tiffany Haddish, of Girls Trip and Night School) a rowdy rabble-rouser who is heading off to jail (again), allowing the boys to "borrow" her prized vehicular possession. However, when Trina is able to break free of the feds, she sets off on a search for her stolen car, seething with rage and intending to make Chris and Bud "pay" when she gets her hands on them. Therefore, the pair only have a set period of time to make it to NYC before Trina catches up and keeps Chris from his romantic reunion.
Story isn't the prime concern for a film like Bad Trip, but it is undoubtedly impressive how André and writer-director Kitao Sakurai are able to structure the film's side-splitting skits and sketches around a semi-solid plot structure, telling a traditional but touching story about friendship and appreciating what's in front of you while you've got it. "Bromantic" comedies are nothing new (Superbad, Step Brothers, 21 Jump Street, etc.), but Bad Trip hits on the expected beats in brilliantly frivolous fashion, making the "same-old same-old" still seem satisfyingly entertaining and sincerely affecting as well.
That being said, let's be real – you watch a movie like Bad Trip for those previously mentioned outlandish pranks first and foremost, and André and co. deliver in spades. Though the film starts out with a merely "silly" set-up, these scenes quickly become unavoidably uproarious, with several sketches leaving audiences in stitches even minutes after they've ended. From a brutal mishap involving a blender at Chris' smoothie shop to an erotic encounter with a gorilla to Trina's hilarious harassment of strangers as she scours the East Coast for Chris and Bud, there is almost zero time to catch your breath whilst watching Bad Trip, and the film is all the better for it. Even more remarkable is how they capture such raucously amusing reactions from the real people they run into.
André is a devilish delight as the childish Chris, channeling an erratic energy on his escapades that is just utterly infectious. His willingness to really "go there" even in Bad Trip's grossest gags is comically commendable, and his dedication never wavers whatsoever. Having been at the head of this project the whole way through, André just understands the material inside and out, and his passion for the film is palpable, always shining through in his performance as well. Howery is tasked with being the more "down-to-earth" member of this dynamic duo, but he's certainly no slouch comedically, matching André's mania magnificently and conveying a charming and convincing chemistry with André too.
See Also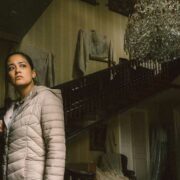 Haddish is no stranger to "over-the-top"/"in-your-face" hijinks – having already displayed such shenanigans in films like Girls Trip, Nobody's Fool, and Uncle Drew (which, interestingly enough, also starred Howery) – but she gets to dive into some darker territory here with Trina, imbuing the escaped convict with an intimidating antagonism that is dually humorous and horrifying. She's a true force of nature through and through, and while we're always concerned to see what chaos she may cause, we're equally as mesmerized by her maniacal malevolence, and it's to Haddish's testament as a comedian that she can toe this line so terrifically.
Bad Trip doesn't ever try to be any more than a bawdy blast, and thankfully, it doesn't have to – André and his team know exactly what movie they want to make here, and by honing in on the film's core hilarity at the expense of any extraneous elements, they're able to succeed wildly at shaping a new hidden camera comedy classic. Thanks to gloriously elaborate and inventive gags and the complete commitment of its three lead cast members, Bad Trip is a sterling addition to this once-prolific subgenre, and it signals a new future for these films throughout this decade.
---
Bad Trip is now available to watch globally on Netflix.