The Best TV Shows of 2021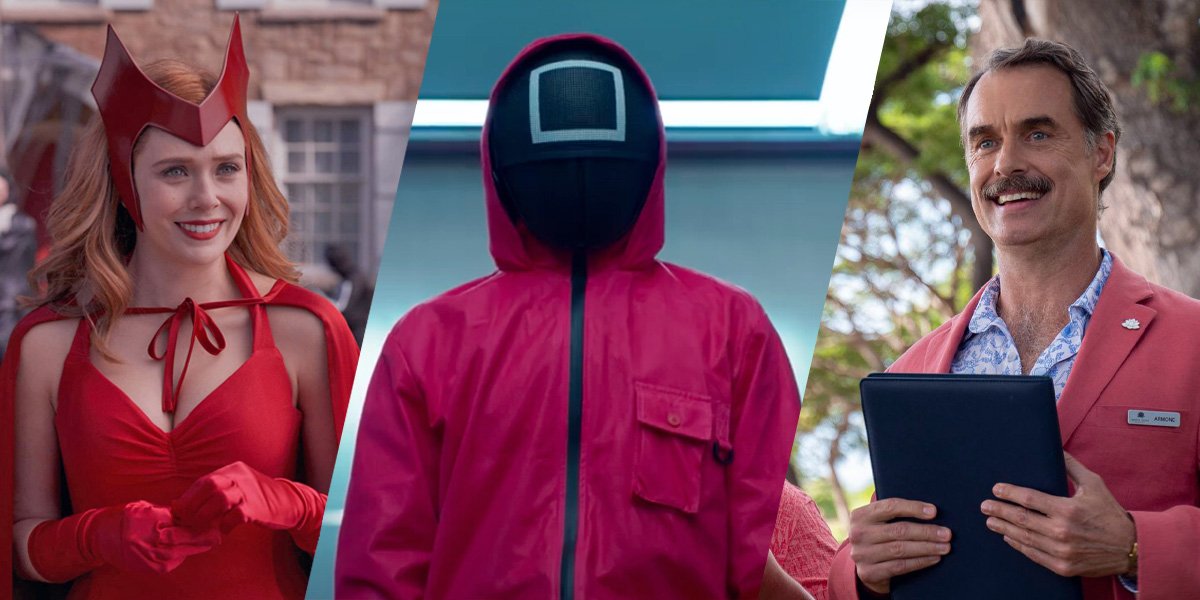 WandaVision, Squid Game, The White Lotus (Marvel Studios, Netflix, HBO)
From It's a Sin to Mare of Easttown, here are 15+ of the best TV shows of 2021, each recommended by one of Loud and Clear's staff writers.

2021 was a fantastic year for films, but it was also an impressive year for TV shows. Audience favourites like Ted Lasso, The Witcher, The Great, Succession, Sex Education, Money Heist and Lucifer returned to our screens, but we've also seen exceptional mini-series, from HBO's Mare of Easttown,The White Lotus and It's a Sin to Hulu's Dopesick and Netflix's Halston, Maid and Midnight Mass. We witnessed The Squid Game phenomenon, and we watched with excitement as the MCU taught us that it was Agatha all along, that love is a dagger, and that some dogs like pizza a lot. Some great adaptations were released, from The Underground Railroad to Shadow and Bone, and the highly anticipated The Book of Boba Fett got Star Wars fans excited about the future of the franchise. But what were the best TV shows of 2021? If you're looking for recommendations, here are 15+ great TV series from last year, according to twelve of our staff writers.
---
CRUEL SUMMER: SEASON 1
Creator: Bert V. Royal
Cruel Summer premiered in April this year, and it had me hooked from the moment I saw the trailer. Said trailer doesn't reveal much, but it had just enough information to pique my interest. Each episode focuses on the same day over the course of three years: 1993, 1994, and 1995. Kate Wallis (Olivia Holt) is a popular teenager that disappears suddenly in a small Texas town. After Kate's disappearance, Jeanette Turner (Chiara Aurelia), a nerdy outsider, seemingly takes her place. However, by 1995, Jeanette is the most despised person in America. The mystery of what happened to Kate and the repercussions of her disappearance on the show's other characters are the main focuses of the series. As the series switches between the perspectives of Kate and Jeanette, you'll be wondering who you should truly believe as more is revealed about the two of them and Kate's disappearance.
The story is compelling almost immediately: Throughout the first episode, Cruel Summer poses more and more questions about Kate, Jeanette, and Kate's disappearance for the remaining episodes of the season to answer. As more is revealed, you'll constantly be switching sides between Kate and Jeanette. Any good story also needs interesting characters and great performances, Cruel Summer has both. The standout performers are Holt as Kate Wallis and Harley Quinn Smith as Mallory Higgins. Kate's journey from popular teen to victim puts her through a lot, and Holt gives a performance that displays her cheerfulness and charm in one year, and strips all that away in the next, becoming raw, angry, and broken. Smith's Mallory is an outcast, but she's also very confident and tells things like they are. As the series progresses, her walls come down and Smith plays her with such wonderful vulnerability and insecurity. These two portrayals feel real, thanks in part to the writing, and the talents of Holt and Smith, who take some of Cruel Summer's most emotional scenes and absolutely crush them. With its interesting story, solid characters, and passionate performances, the first season of Cruel Summer is one heck of a teen drama thriller. The series has been renewed for Season 2, which could pick up where Season 1 left off with the same cast or in an anthology format.
---
I THINK YOU SHOULD LEAVE: SEASON 2
Creators: Zach Kanin & Tim Robinson
Trying to describe I Think You Should Leave in any kind of serious manner feels like an endeavour doomed to fail. 2021's second season of the show didn't so much land this year as emerge, shrieking, from a pit in the ground, so rapidly pulled together after the overnight success of the first season that these sketches feel as though they had been swirling in the heads of creators Tim Robinson and Zach Kanin for years. Although repeated viewings may have some sketches leave more indelible marks on your memory – for me, this season, Patti Harrison's screaming of the word "TABLES" has become inexorably etched into my soul, and the sheer brazen indignity of "Coffin Flops" has woken me up at 3am more than once – the overarching effect of this comedy is overwhelming. This is a show that could only ever be the product of uniquely demented senses of humour, comedy that assaults and rewrites the patterns of your brain until it dares your wavelengths to align: as soon as it clicks, you wonder why any other kind of sketch show exists at all.
---
IT'S A SIN
Creator: Russell T. Davies
Full Review: The Euphoria and Heartbreak of 1980s Britain
In the midst of a global pandemic, with most of us isolated from our loved ones, it seems odd that one of the brightest televisual highlights of 2021 was a series about a completely different viral disease that shatters the lives of a group of friends. But that's exactly what Russell T. Davies' It's A Sin is: a beautiful, heartfelt and personal story seemingly about death, but actually all about life and love and legacy.
Over the course of a decade, It's A Sin explores life in 1980s Britain as a gay man. The excitement of exploring casual sex, the freedom in being unapologetically yourself, the joys of found families, and the creeping dread of AIDS. It's a simultaneously uplifting and heart-breaking look at the impact the disease had on both a personal and cultural level, with some striking (and purely coincidental) similarities in regards to the society it was released into. The stories of Ritchie (Alexander), Roscoe (Douglas), Colin (Howells) and Jill (West) would have been effective had the series debuted in 2019, pre-pandemic, but its existence in 2021 highlights how much we have and haven't learned in regards to prejudices, misinformation and the handling of infectious diseases in a way that's evocative, enlightening and also really infuriating.
It's a Sin is timely but also timeless: a powerful and emotional story about love and loss, about the joys of life and the cruelness of death. It packs an emotional punch, lingering in a way that really emphasises Davies' talent for telling these types of stories, for creating culturally significant pieces of television. It's A Sin feels so wonderfully real and lived-in, its cast so charismatic and its message so important, that it really is something to seek out, if you haven't already.
---
MAID
Creator: Molly Smith Metzler
Full Review: 'This Whole New World is For Her'
Separated into ten episodes, Maid follows Alex (Margaret Qualley) as she escapes from her abusive boyfriend Sean (Nick Robinson) and attempts to provide for herself and her daughter. Maid is one of Netflix Originals' rare gems and is no doubt one of the best shows of the year. Maid is adapted from Stephanie Land's memoir "Maid: Hard Work, Low Pay, and a Mother's Will to Survive," with both book and TV show tackling and array of important themes. At its centre, is the still-taboo topic of domestic violence, as it documents Alex's departure from an unsafe household. By doing so, Maid dispels myths about domestic violence and challenges the corrupt judicial system and its trauma hierarchy. In 2021, using popular media to shine a light on the wide spectrum of abuse is long overdue, and Maid takes on this responsibility by both educating the masses and validating victims.
Throughout Maid, Qualley can steady herself on an emotional precipice, showing the strength that can only be exuded by a struggling mother who would do anything for her child. Her emotional capacity as an actress exists on a spectrum so wide, with neither the beginning nor end in sight, it is certain this young actress will go on to do great things. Qualley is joined by her on-screen/off-screen mother Andie McDowell, who plays the unhinged Paula. Paula is seen to frequently buckle under the strain of her untreated bipolar disorder. What remains is an aloof woman who relies on men with superiority complexes to control her every move. It is no wonder then, that Paula is very fond of Alex's abusive ex-boyfriend Sean (Nick Robinson). Robinson, who has made his name in film adaptations of young adult books (Everything, Everything and Love, Simon), effectively embodies an abusive alcoholic who holds Alex in a vice-like grip without laying a finger on her.
Great performances from the cast, and a pacing that is complimentary to the emotion-fuelled action come together to create a series that is not just entertainment, but an education. You come away from Maid feeling moved, informed, and changed. Although these are actors and actresses, this story is real, and it represents the situations may other domestic violence victims are still in today.
---
MARE OF EASTTOWN
Creator: Brad Ingelsby
Full Review: Winslet Steals The Show
Mare of Easttown takes a tired plotline and sets it on fire: gritty, brave and devastatingly human, this consuming series breathes new life into overdone TV tropes. The series stormed onto screens in April 2021, when audiences across the world were gripped by a mysterious, dark depiction of a small town racked with grief. Mare of Easttown is both painfully relatable and deeply personal, as it subtly weaves bitter illustrations of homegrown trauma into cleverly spun narratives of death, addiction and heartbreak. What could have fallen noiselessly into the void of girl-murdered-in-a-small-town stories, is instead a suspenseful masterpiece that knows when to keep things just the right amount of messy. While the series does well not to lean too heavily on the performance of its central character, Kate Winslet's award-winning performance of the complicated, troubled, but ultimately good-hearted police detective deserves ample recognition. Winslet's portrayal of the blunt, closed-off Mare artfully blends vulnerability with defensiveness, perfectly capturing the spirit of a town steeped in heartbreak and the resilience with which it endures. A stand-out accomplishment of 2021 entertainment, this heart-stopping series truly deserves the hype.
---
MIDNIGHT MASS
Creator: Mike Flanagan
Full Review: A Strong Showing of Religious Horror
Midnight Mass is the type of magnum opus we don't get all too often. Mike Flanagan's previous television work, The Haunting of Hill House & The Haunting of Bly Manor, as fantastic as they were, ultimately felt like really strong practice for what Flanagan truly wanted to create. A story of catholicism and religion located on a small island of loyal believers in a world where the idea of religion and faith is becoming more disillusioned by the day. Midnight Mass isn't a scathing critique of faith nor is it religious propaganda akin to a film like God's Not Dead. Instead, it's the type of horror story that we only get every so often. A story of people figuring out their place in the universe and what happens when something they believe in deeply is twisted maliciously or even with the best intent. The long monologues tackling themes such as what happens when we die and the systemic racism certain characters face because of their own religion were a point of contention but honestly when they are as fantastically written and beautifully acted as they are here, it's hard to really complain. The pure emotion that fuels this series is so deeply personal and it's an absolute miracle that Netflix gave Flanagan the chance to finally make this.
---
MYTHIC QUEST: SEASON 2
Creators: Charlie Day, Megan Ganz & Rob McElhenney
In a year full of amazing TV shows, one that stood out to me in particular was Mythic Quest's second season. I had fallen head over heels in love with the first season due to its incredibly witty and likeable characters, so diving straight into the second season as soon as it aired in May was a must. Rob McElhenney, Charlie Day, David Hornsby et al created Mythic Quest off of the back of It's Always Sunny in Philadelphia, another one of my favourite shows which they all wrote and starred in together.
Season two of Mythic Quest follows Poppy (Charlotte Nicdao) and Ian (Rob McElhenney), two game designers at Mythic Quest Studios, and specifically focuses into the ups and downs of Poppy's promotion to co-creative director. Both Poppy and Ian are trying to come up an idea for the theme of the game's expansion, which proves to be hard, as they're now both working as a team rather than Ian being able to green light his own ideas. The complicated relationship between game testers Rachel (Ashly Burch) and Dana (Imani Hakim) develops, whilst Jo (Jessie Ennis) becomes Brad's (Danny Pudi) assistant, leaving David (David Hornsby) behind.
Each character has such a charm to them, and each are written with sparkling personalities that it's hard not to become infatuated with the show. Poppy and Ian are constantly at each other's throats, but the charisma of them both makes you never want to pick a side. Mythic Quest season two is a must watch, of course only if you've seen the first season (which I'd 100% recommend)! It's an especially suggested watch for those who love It's Always Sunny.
---
SEX EDUCATION: SEASON 3
Creator: Laurie Nunn
Netflix might not have the strongest reputation when it comes to their catalogue of original series, but if there's one show that threatens to dissolve this preconception, it's Sex Education. The series has reached incredible success both with critics and audiences, thanks to its entertainingly educational approach to teenage life and sexual health. The show takes all the best aspects of a young adult comedy and applies them to an extremely important and moving coming-of-age journey with some of the most authentic and relatable characters on our screens today. It's a show that focuses around teenagers being truly seen, and accepting themselves for who they are – so it's no wonder that Sex Education has found its audience so quickly and successfully.
Although fans of the show were left in shock after last season's surprise twist threatened to pull our lead characters Otis and Maeve apart for good, season 3 does a fantastic job of managing the fallout of this problem whilst building upon plenty of other relationships and important plot points along the way. But what's most special about Sex Education is just how engaging and compelling these characters' lives are – there's never a moment that feels boring or unnecessary, even when we're just following everyday conversations between the main cast. It's a huge testament to the show's impeccable writing and development of its characters, which are so far above plenty of other similar shows running today. Whether you're in it for the laughs, the tears, or the painfully relatable teenage drama, season 3 of Sex Education is essential viewing.
---
SHADOW AND BONE: SEASON 1
Creator: Eric Heisserer
Full Review: Different, in All the Right Ways
With Netflix's Shadow and Bone, showrunner Eric Heisserer and novelist Leigh Bardugo achieved the impossible, by taking Bardugo's "Shadow and Bone" trilogy and "Six of Crows" duology, both beloved young adult novels, and blending each book's character, world and narrative into one ambitious adaptation that is, at the same time, extremely faithful to the source material and completely different from it, but in all the right ways. A lot happens in Shadow and Bone, and having to meet twice as many characters and worlds can be daunting at first, but, after a quick crash course on the Grishaverse, you'll realise that the series is precisely the kind of young adult fantasy series you had been waiting for. Featuring multilayered performances from leads Jessie Mei Li and Ben Barnes, Shadow and Bone is one of those series you'll want to revisit over and over again, and definitely earns its rightful place among the best TV shows of 2021.
---
SQUID GAME: SEASON 1
Creator: Hwang Dong-hyuk
Looking back on the biggest TV releases of 2021, it seems impossible to avoid Squid Game, the Korean Netflix drama that took the world by storm last September. Whether it was the people on the street dressed in red tracksuits, or everybody's newfound obsession with marbles, the show's details very quickly entrenched themselves in our lives and grew to be the world's latest craze. It rapidly became Netflix's most successful show of all time, reportedly drawing in $900 million for the company and accumulating 1.65 billion hours watched in the first 28 days. But what is it about Squid Game that made it such an unrivalled international success?
Put simply, Squid Game is one of the most exciting and exhilarating shows that we've seen in a long time. Every single episode is filled to the brim with suspense, tension and twists that make the show almost impossible to turn off, capitalising entirely on the endless possibilities offered by its inventive premise. The show follows hundreds of cash-strapped players as they compete in a series of increasingly dangerous games to win a sum of money that promises to change their lives forever. But it's the games in question, held secret to our players until the moment they begin, that are the real selling point of the show. Whilst we're obviously still rooting for our favourite characters to survive and see the next round, the show's creative ideas make us equally excited to see how boldly and darkly these games play out. It's this smart mix of emotional weight and intense apprehension that makes Squid Game so endlessly watchable, and will keep us waiting patiently until the next season arrives.
---
SUCCESSION: SEASON 3
Creator: Jesse Armstrong
Read Also: Succession: The Kardashians Meet Shakespeare; HBO 's 5 Best Original Series, Ranked
The riotous return of the Roys after two years off the air was my favourite television event of 2021. Springboarding off from the jaw-dropping final moments of season 2, Jesse Armstrong's (Peep Show) Shakespearean saga of greed, deceit and cattiness is as gripping and funny as ever. Dysfunctional drug addict Kendall leads the charge in a campaign against his father, billionaire media mogul Logan Roy, but is fighting an uphill struggle as he is significantly outnumbered and outgunned. Kendall is vying for control of Waystar Royco, and is attempting to appropriate his father's company's history of covering up sexual harassment to improve his own optics. The British/American writing team blend Trump-era direct, insult-driven politics with the European traditions of farce and family drama to remarkable effect, creating a series that feels like a template for the next few years of TV.
Shot on film, and soundtracked by Nicholas Britell's luscious classical/hip-hop fusion score, its aesthetic marries the modern and traditional to reflect that, while trends come and go, family conflict is perennial. Logan's wife Marcia and Kendall's friend Stewy are no longer leads and only appear briefly in season 3, while joining in a secondary role is Dasha Nekrasova (creator of Red Scare Podcast) as Kendall's social media aide Comfrey. Adrien Brody (The Thin Red Line) makes a brief appearance as major Waystar Royco shareholder Josh.
While season 3 has upset some viewers for supposedly being 'slow' and much less plot-driven than past seasons, it's still true to its convictions as a dialogue and character-driven series that immerses you in the lives of petty, arrogant and vindictive people and gets you rooting for some of them. No mean feat.
---
TED LASSO: SEASON 2
Creators: Jason Sudeikis, Brendan Hunt & Joe Kelly
Full Reviews: Episode 1 – Episode 2 – Episode 3 – Episode 4 – Episode 5 – Episode 6 – Episode 7 – Episode 8 – Episode 9 – Episode 10 – Episode 11 – Episode 12
Read Also: All Episodes of Ted Lasso's Season 1, Ranked from Worst to Best
Back in 2020, Ted Lasso's Season 1 took the world by storm by intruducing us to Ted (Jason Sudeikis), Roy (Brett Goldstein), Rebecca (Hannah Waddingham) and the many more flawed but oh so very human characters that would keep us company during a very tough year with witty puns, clever life lessons, and geniune moments of emotion. When Season 2 was released, we were rewarded with more of the Golden Globe-winning show's signature humour and heart, but we also got a season that focused a lot more on character development, showing us a different side to the beloved coach while dedicating screentime to each and every one of its complex, evergrowing characters. As the series experimented with wonderfully out-of-season Christmas episodes and unexpected homages to Scorsese, it also tackled timely themes, promoted healthy behaviour, and taught us important lessons, from how hard it is to stand up for one's beliefs and how self-care comes in various shapes and forms to how not all conflicts need to end in confrontation, all while keeping us entertained with its many absurd, endearing scenarios. But it also left us with a twist that changed our perception of every single Ted Lasso episode we've seen so far, thanks to a screenplay that fully embraces the medium, providing more of that exceptional tv storytelling we had been aching for.
---
THE UNDERGROUND RAILROAD
Creator: Barry Jenkins
Full Review: Brutal, Beautiful Television
The Underground Railroad, created and directed by Barry Jenkins, is one of the most remarkable television shows of the last few years. Not only does it benefit from an astounding cast, featuring a career-best turn from Joel Edgerton, or the heart-wrenching score from Nicholas Britell, it also showcases television at its most cinematic. Jenkins is easily one of the strongest American filmmakers of the last decade, and The Underground Railroad is his most ambitious and assured work yet. Adapting the Pulitzer Prize winning novel of the same name, Jenkins abandons the clichés associated with filmic narratives about slavery in favor of something much more dreamlike, impressionistic, and radical. He eschews the expected gritty realist brutality and instead imbues his images in dreamlike color that suggests the fantastical. The editing over the course of the series is equally great, relying more on poetic montage to evoke emotion rather than a straightforward, narrative-driven editing approach. Every decision over the course of the series feels precise and intentional, a rarity in the world of television, and which makes The Underground Railroad (one of) the year's best show(s).
---
WANDAVISION
Creator: Jac Schaeffer
Full Reviews: Episodes 1 and 2 – Episode 3 – Episode 4 – Episode 5 – Episode 6 – Episode 7 – Episode 8 – Episode 9
Chances are, when you watched the first two episodes of WandaVision, you were intrigued by a format we had yet to see in the MCU – not only a standalone series with characters we were already familiar with, but also one that came in the form of a 1950s/1960s black-and-white sitcom filmed with a live audience – but you also doubted you'd ever end up watching it a second time, as you found the jokes kind of predictable and the characters unrelatable and detached. But then you watched Episode 3 and Episode 4, and witnessed the series evolve into a completely different, much darker kind of show, where something was definitely happening beneath the surface but you couldn't quite figure out what that was. And then came the rest of the series, with its many unexpected twists and turns, and you suddenly realised that this everchanging, quirky sitcom had managed to evolve into one of the most imaginative and meaningful series of the year. A lot of Marvel series were released in 2021, but WandaVision is the only one that really stands out not only as a must-see for any Marvel fan, even more so as we anticipate seeing Elizabeth Olsen play Wanda in Doctor Strange in the Multiverse of Madness this year.
---
WHAT WE DO IN THE SHADOWS: SEASON 3
Creator: Jemaine Clement
Read Also: A Sitcom that Just so Happens to be about Vampires
What We Do in the Shadows finally felt, at the end of its second season, as though it had discovered its own identity and swaggered confidently out of the shade of the original film. With the dynamics between its stars firmly established, and a well-laid foundation of supporting players and world-building to fall back on, season three met the show's own high standards with aplomb. Harvey Guillén's Guillermo and Kayvan Novak's Nandor have developed into the show's most intriguing characters, with the comedic oxygen being increasingly reserved for Mark Proshke's Colin; while the comedy value of hearing Matt Berry and Natasia Demetriou shout in funny accents still has gas in the tank, it's heartening to see the show demonstrate its ability to remain fresh and challenge its own sitcom sensibilities. With season three ending with the most significant story upheaval the show has seen yet, What We Do in the Shadows seems ready to continue a march into its own ghostly uncharted territory.
---
THE WHITE LOTUS
Creator: Mike White
2021 was a landmark year for miniseries in the television medium (thanks to Mare of Easttown, The Underground Railroad, and Midnight Mass, to name a few), but somehow, The White Lotus was able to stand above the rest, strengthened by Mike White's (School of Rock) skillful skewering of America's social class structure and his exceptional all-star ensemble, which included towering, career-best turns from Murray Bartlett (Looking) and Jennifer Coolidge (Legally Blonde, Promising Young Woman), along with a slew of supporting standouts such as Connie Britton (American Horror Story, Friday Night Lights), Alexandra Daddario (Percy Jackson and the Lightning Thief, Baywatch), and Jake Lacy (Rampage, Being the Ricardos).
Defying any conventional genre categorization – by combining comedy and drama with a firm focus on chills and thrills, too – the show satirized subject matter like white privilege and neoliberalism through White's wonderfully witty writing while concurrently captivating us with the idiosyncratic interactions between its cast of colorful characters, and only in the home stretch of the series did White's grander social statement become clear, as he left the laughs behind and brought this eccentric odyssey back to Earth, sharing sobering truths in trenchant fashion. It remains to be seen whether future seasons of this now anthology can recapture the scintillating success of the first, but as it stands, The White Lotus is the perfect balance of story and social commentary – and a new standard for all message-driven prestige projects.
---
MORE GREAT TV SHOWS OF 2021: