Sex Education's Season 2 is even better than the first (Review)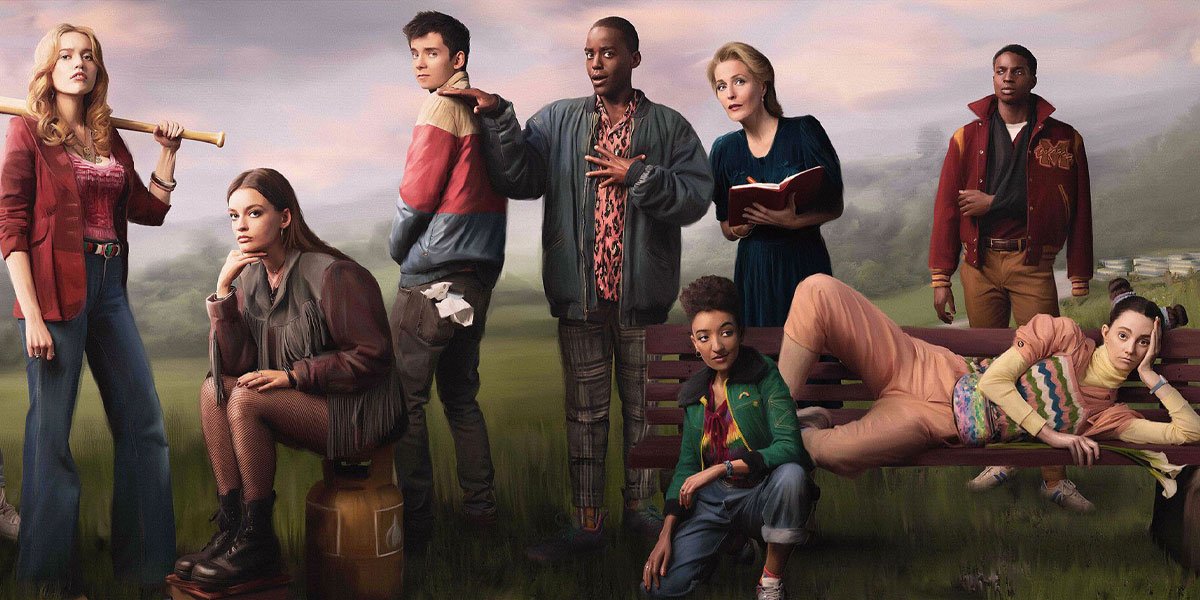 Sex Education (Netflix)
Both wonderfully weird and exquisitely human, Sex Education's Season 2 is vulnerable, honest and full of heart. The second season of Netflix's beloved show is even better than the first.
---

There's a reason why Sex Education's first season was so well-received by public and press, and it lies in its excellent screenplay. Netflix's hugely popular TV drama is one of those (very few) recently released shows whose creator (Laurie Nunn) somehow managed to combine well-written, believable characters with a storyline that flows to perfection while, at the same time, approaching complex themes in a light, effective way. More importantly, Sex Education is a show about teenagers dealing with grown-up problems, whose everyday life is not only compelling but also extremely relatable.
In Season 1, the show managed to introduce the most awkward subjects with unexpected simplicity, keeping us entertained with improbable scenarios while also using them to approach these issues with the seriousness they deserved. Both incredibly entertaining and surprisingly sweet, the beloved Netflix series has proven itself to be as wise, engaging and full of heart as its flawed but likeable protagonists. And, if Sex Education's Season 1 was quality entertainment at its best, it should come as no surprise that the second season is just as good, if not even better, than the first.
In Season 1, we got to know high school student Otis Milburn (Hugo's Asa Butterfield) and his sex therapist mother, Jean (The X-Files's Gillian Anderson). We became familiar with Otis's everyday routine and (often sex-related) struggles, and got to know his circle of friends. We admired him when he was able to set up an underground sex clinic at school with the help of partner in crime Maeve Wiley (Emma Mackey), and we were mesmerized by Butterfield and Mackey's on-screen chemistry.
We also became acquainted with a series of misfit but all-too-relatable personalities, from Otis's best friend – openly gay student Eric (Ncuti Gatwa) – to popular athlete Jackson (Kedar Williams-Stirling) and Principal's son/school bully Adam (Connor Swindells), who all eventually ended up teaching us a lesson or two. In Season 2, our favourite characters are back, more grown-up and self aware, and ready to deal with a whole new set of problems.
In fact, a lot has changed at Moordale High, starting with its students. If Season 1's Eric was struggling to find out who he was, the confident teenager we meet in Season 2 is not only ready to embrace his identity, but also one of the bravest, most genuine and most "badass" characters in the show. Another source of epic, courageous moments is Aimee (Aimee Lou Wood): no longer part of the 'Untouchables', she is now BFFs with Maeve, and that friendship is slowly helping her become less afraid to stand up for herself.
At the same time, Maeve has her own issues to deal with, many of which involve an addict mother (Nowhere Boy's Anne-Marie Duff) who is neither stable nor trustworthy, and a less than ideal living situation. Adam and Jackson are also diving through unfamiliar territory, the former trying to survive a hostile environment at military school and the latter under the pressure of his parents' expectations.
As for Otis, our favourite socially awkward teenager is not so socially awkward anymore. But with his newfound confidence come new challenges to deal with, such as his everchanging relationship with his girlfriend Ola (Patricia Allison), his repressed feelings towards his past love interest/business partner Maeve, and his struggle to master his newly discovered sexual urges. But that doesn't even begin to describe all the confusion and drama taking over Moordale Secondary.
In fact, Season 2 opens with a simple event that activates a chain reaction that eventually destabilizes the school's delicate balance. The premise is a chlamydia outbreak at Moordale High, an event that provokes chaos with both pupils and parents, highlighting the need to provide better sex education at school. And who could be more fit to provide it than our favourite student's own mother? Saving the day, Jean comes to the rescue with much needed advice that earns her a classroom at Moordale High, together with the uneasy task of assessing the school's areas of improvement and, most of all, making herself available to students in need of sex-related guidance.
Keeping in mind that Otis has been fulfilling those very same needs – only, in a misinformed, underground and more expensive way – this pretty much turns Milburn Senior and Milburn Junior into each other's competition. Not only that, but the students are not the only ones who end up benefitting from Jean's advice: teachers and parents have their own questions and problems too, which turn out to be less absurd and less uncommon than they thought. Which is precisely the point of the show's second season: you don't have to be a teenager to be confused about sex.
What Sex Education's second season does from the very first episode is show us that the one thing students, teachers, parents and even strangers have in common is that they are all dealing with the same problems. The struggle for acceptance, the fear of change, the lack of communication and the desire to find out one's place in an everchanging world are all universal issues, and Sex Education brings them to light with tact, courage, empathy and a great deal of heart.
If there's something we learned from the previous season is that this show is at its best when it delivers moments of real vulnerability, and Season 2 is full of epic, liberating sequences that teach us to be kind and be brave, making us fall in love with humanity. Season 2 is all about figuring out who we are, learning to listen without making assumptions about one another, finding the courage to admit we're afraid and allowing close ones to see us without the mask of our public persona.
As the show approaches important issues such as abuse, neglect, addiction and physically or emotionally absent parents, it shows us how hard it can be to do the right thing, teaching us that it's ok to be vulnerable, just like it's ok to dance it out with a bunch of strangers, or to reach that level of anger when you just want to "smash stuff". At the same time, it's also ok to show affection, to lean on your friends, to decide who gets to be a part of your extended family and to know when to forgive, when to fight and when to let go.
Both hilarious and deeply meaningful, Sex Education's Season 2 is fun, unconventional and unpredictable. It's as informative as it is entertaining, and as explicit as it is genuinely sweet. In a show that deals with heavy themes in a surprisingly accessible way, every single one of its beautifully flawed characters gets a chance to shine, and the most emotional, authentic moments come as a surprise, their lines delivered by the most unexpected characters. Sex Education is about those little things that make us human, and, even though it ends on a frustrating (and frankly quite evil) cliffhanger, the main lesson it teaches us is to keep "holding each other's hand".
---
Sex Education: Season 2 is now streaming on Netflix everywhere.