Ted Lasso: All Season 1 Episodes Ranked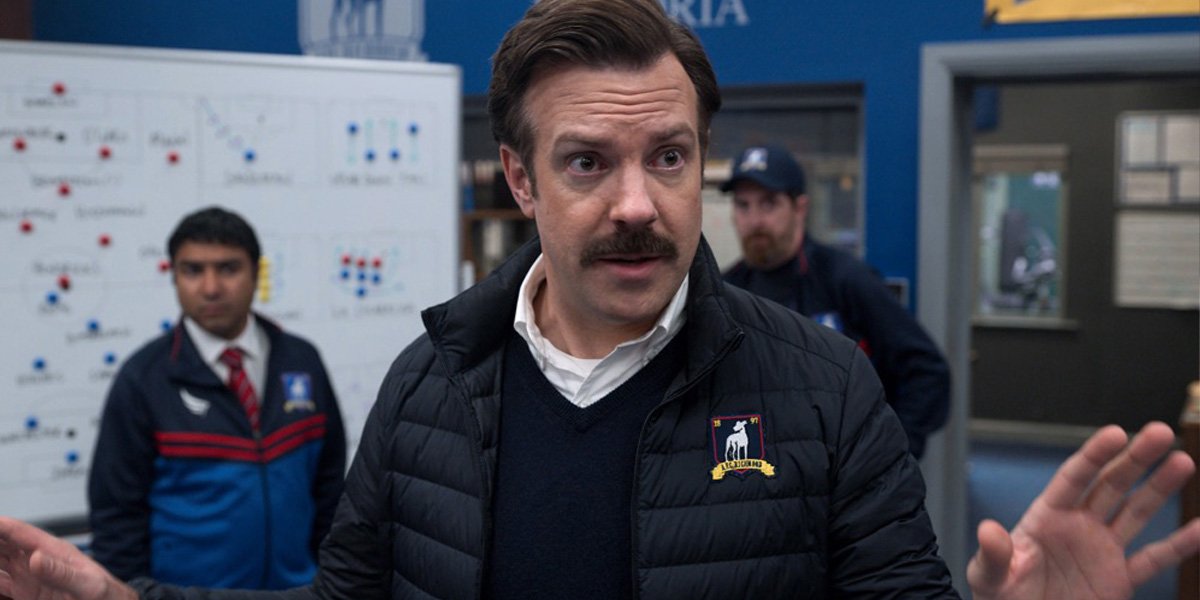 Jason Sudeikis in Ted Lasso (Apple TV+)
Let's celebrate AppleTV+'s Ted Lasso with this list of all episodes of Season 1 ranked from worst to best! What would your ranking be?
---
In this list, we look at all episodes of Season 1 of Ted Lasso and seek to answer the ultimate question: if we ranked them, which would be the best? If you can't seem to be able to fill the Ted Lasso-shaped hole in you heart with anything but Ted Lasso, keep reading as we take on the impossible task of ranking all ten episodes from worst to best!
If you've been living under a rock: Ted Lasso follows a small-time college football coach from Kansas (played by Jason Sudeikis, of We're The Millers and Saturday Night Live) who inexplicably gets hired to coach a professional football team in England, despite not only having had no experience coaching "soccer", but also knowing very little about the sport. Aided by assistant coach, and right-hand man, Coach Beard (Brendan Hunt, of Horrible Bosses 2) and under the supervision of AFC Richmond's new owner, Rebecca (Hannah Waddingham, of How to Lose Friends & Alienate People), the infectiously optimistic coach begins to familiarise with his new team, tackling the many challenges that come his way with humour and heart.
Created by Brendan Hunt, Joe Kelly, Bill Lawrence and Jason Sudeikis, who also co-wrote the series with Phoebe Walsh and Brett Goldstein (who plays Roy Kent in the show),Ted Lasso is, first and foremost, a series about flawed, lovable humans who find themselves, and win us over, over the course of ten half-an-hour-long episodes, cheering us up one pun at a time and surprising us with unexpected moments of humanity. What will have you binge-watching the show over and over again is neither a fondness for sports nor the desire to find out if AFC Richmond will succeed, but a genuine attachment to an incredibly welcoming, heartwarming world that you simply want to inhabit for as long as you can. It's Ted Lasso's heart that will win you over, and you'll find yourself unable to stop smiling throughout from the very first moment you meet its titular character right till the very end.
Without further ado, here are all episodes of Ted Lasso's Season 1, ranked from worst to best.
Needless to say, there will be spoilers.
---
10. FOR THE CHILDREN
Season 1, Episode 4
Director: Tom Marshall
Watch the episode: click here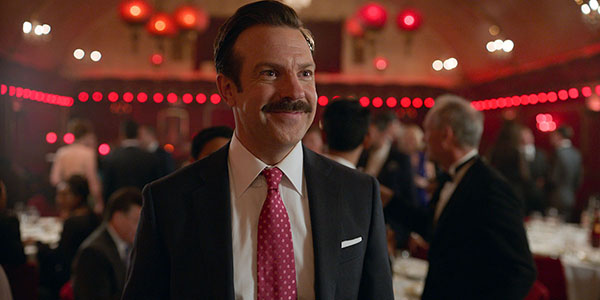 It says a lot about the quality of a TV show when the "worst" episode's only reason to be at the bottom of the list is the fact that it uses some of its screentime to lay the ground for what's to come. There are many decisions to be made over dinners to be had and dresses to be worn, in this episode, and a lot of time is dedicated to the annual charity benefit hosted by Rebecca. It's at the benefit that our favourite football players make a series of unfortunate choices while they are being auctioned off to raise money, and it's also at the benefit that we meet Rebecca's ex-husband, Rupert Mannion (Anthony Head, of Buffy the Vampire Slayer), for the first time.
But even if not all of these moments are as entertaining and affecting as the rest of the series, they are still essential scenes that contribute to the characters' growth, ensuring the success of the latter part of the show. It is, indeed, "a team divided" that we are shown in Episode 4, but we also get to witness some deeply meaningful moments between Juno Temple's (Maleficent) Keeley and Hannah Waddingham's Rebecca, such as a red carpet moment that is bound to make you emotional and a very important chat about accountability.
---
9. TWO ACES
Season 1, Episode 6
Director: Elliot Hegarty
Watch the episode: click here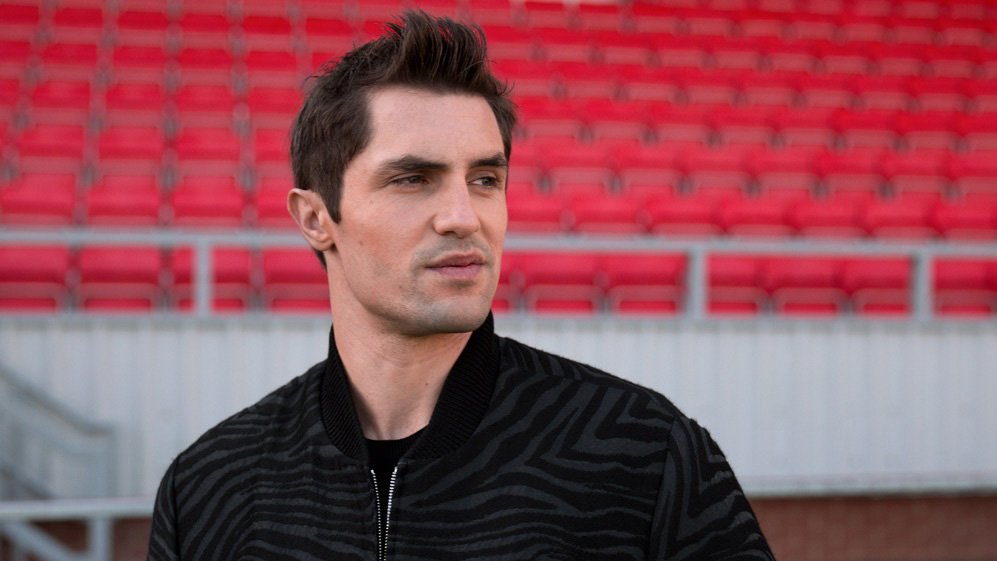 I have to admit I wasn't a fan of the direction taken by the show when Ted began to talk about curses and rituals, but Episode 6 still managed to surprise me more than once. What I enjoy the most about Ted Lasso is how witty it is: so many of the show's lines are either clever observations or hilarious puns, and "Two Aces" reaches a whole new level of genius by cleverly turning "words that have become sounds" into puns, when Ted gets stuck in the loop of "semantic satiation". Less witty but just as genius is Episode 6's introduction of Dani Rojas (Cristo Fernández, of Creatures) – without a doubt, one of the most unexpectedly hysterical moments of the entire show. But it's Ted Lasso we're talking about, and "Two Aces" does more than combine different types of humour: Episode 6 is when we start to see Jamie Tartt (Phil Dunster, of Murder on the Orient Express) as a person, rather than a bully, and we learn just how important it is to always approach others with compassion.
---

8. BISCUITS
Season 1, Episode 2
Director: Zach Braff
Watch the episode: click here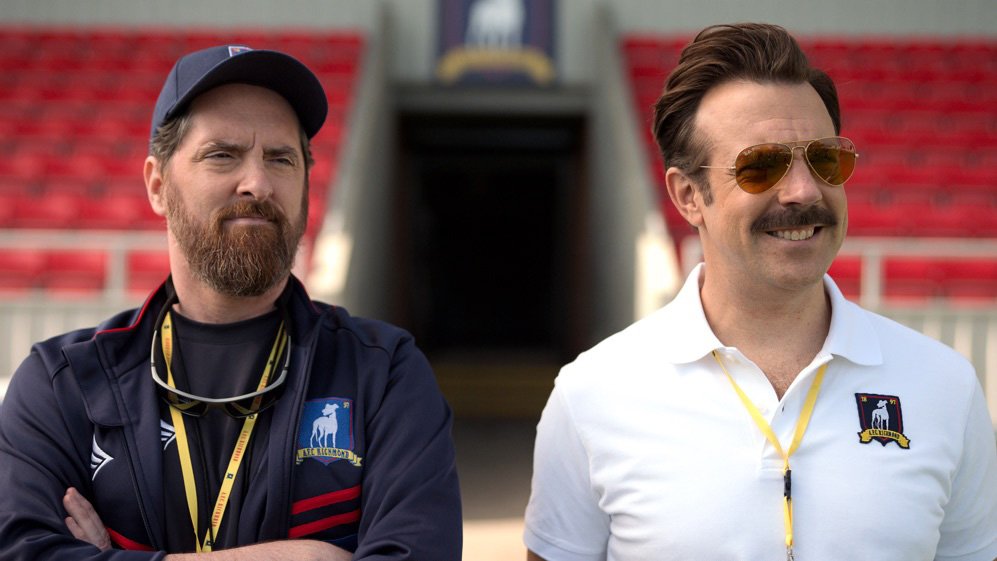 If we think of the series as a whole, not much happens on Ted's first day of coaching. But if the show's Pilot served as an introduction to its many characters and dynamics, Episode 2 is just as essential in getting us acquainted with Ted Lasso's undying optimism and unique brand of humour. Granted, the new coach is met with little respect and a lot of rejection, but he is fully aware of it. Ted's "breakfast with the boss" routine isn't just about making Rebecca like him, just like his "suggestion box" idea for the team isn't just about structural improvements: by showing up every morning in her boss's office with a box of delicious biscuits and unsolicited anecdotes, Ted initiates change. By asking the players to let him know if they're unhappy about anything, Ted shows he cares about their wellbeing. Slowly, but assuredly, Ted lays the foundation for a bond that goes beyond a professional relationship, and establishes a much-needed sense of community.
Though the use of toy soldiers might not have been the most appropriate choice (and, to the show's credit, one of the players does point that out), Ted Lasso's Episode 2 is still filled with epic moments and quotable lines, from Ted's high five to the tree to his valuable lessons to Jamie. But Biscuits' brilliance lies, above all, in the way it lets its entire cast shine, giving each and every character a chance to make a mark, whether it's by Cesar salad jokes, hilarious statements of the obvious, relatable clumsiness, shower mishaps, or the choice between being a panda or a lion.
---

7. PILOT
Season 1, Episode 1
Director: M.J. Delaney
Watch the episode: click here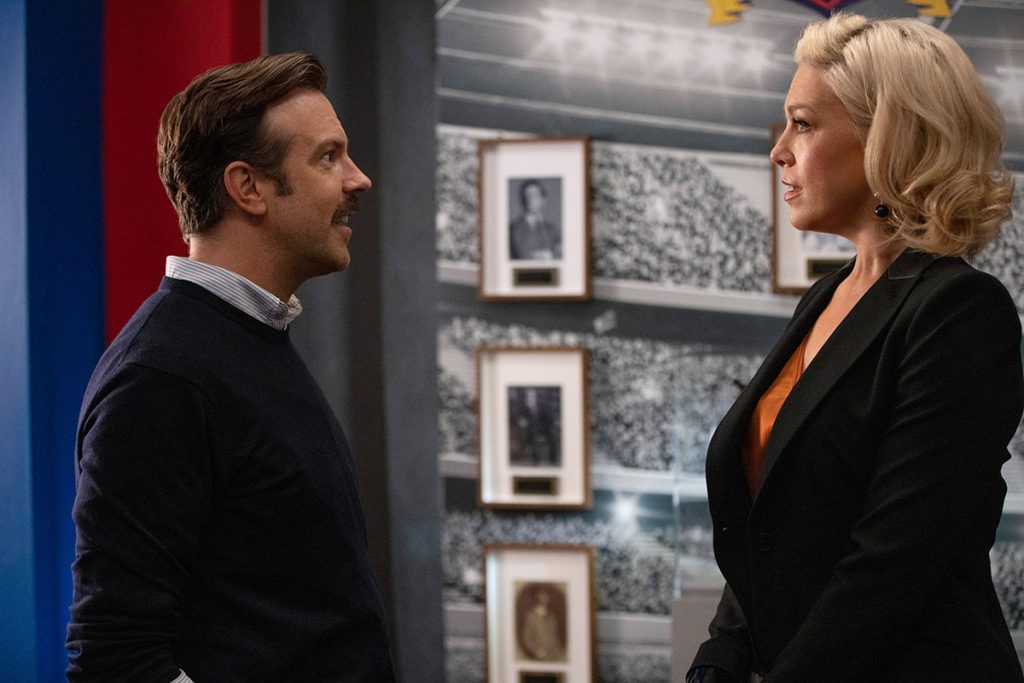 If I had to conjure an image from Ted Lasso's Pilot, it would be that of Ted on the plane, being approached by a young football fan (Bill Skinner, of The Cleaner) asking for a selfie – or an "ussie", to use his own terminology – and calling him "a legend for doing something so stupid". Though this scene is only a quick moment if compared to the episode as a whole, it is essential in introducing us to what the series is all about: hilarious, matter-of-fact exchanges that serve to highlight the "Ted Lasso way" – an approach to life that is all about embracing your flaws, accepting the obvious, showing yourself for what you truly are, and never giving up.
There are plenty of memorable moments in Episode 1, starting from Rebecca channeling her inner Miranda Priestly as she fires AFC Richmond's former coach, or Nate-The-Great (Nick Mohammed, of The Martian) being his adorable, humble self, and Coach Beard acting as a human surrogate of the "Football For Dummies" guide he read on the plane – not to mention those ghosts, who really do "need to believe in themselves". But the Pilot's real standout is, of course, the show's protagonist.
There's something irresistible about watching someone react to criticism with a clever joke and an optimistic attitude, and Ted welcomes us into his world with that same kindness and humility we so desperately need in our own lives. Ted Lasso's Pilot is what draws you into the show's compelling dynamics, putting a smile on your face that will remain there till Episode 10's credits roll.
---
6. TAN LINES
Season 1, Episode 5
Director: Elliot Hegarty
Watch the episode: click here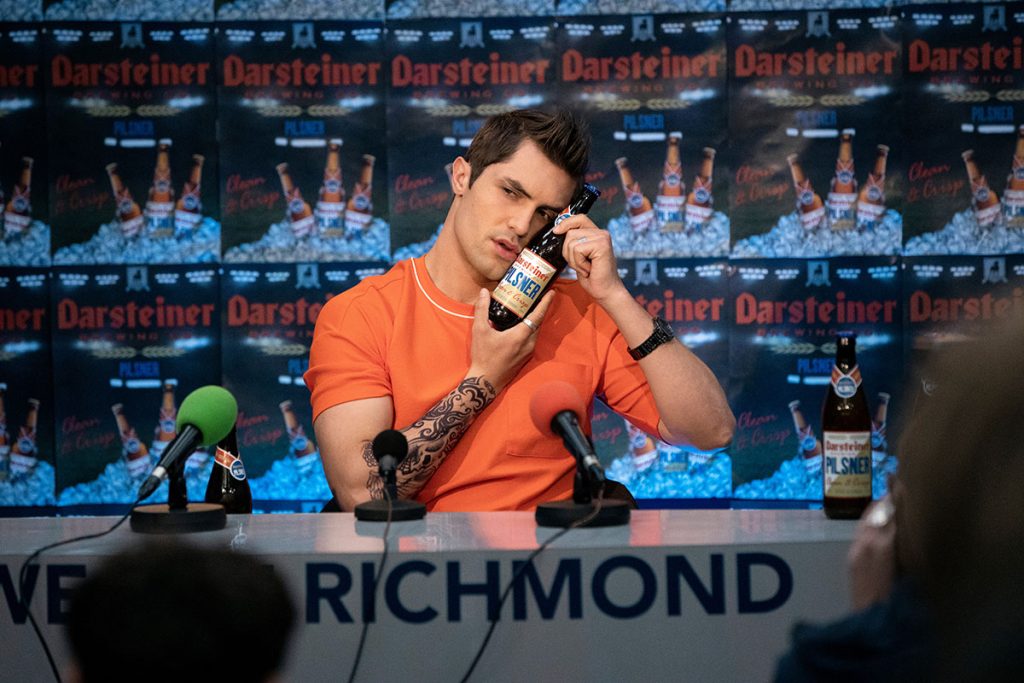 There isn't a lot of love for "Tan Lines" among the fans of the show, and it's certainly true that Episode 5 often sees us sympathize with Rebecca when she tells him that he doesn't really have to share every single detail of his life with her. But Episode 6 is also the first time we realise that "the Lasso way" isn't something Ted was born with, but a conscious choice to be optimistic and kind that requires constant work on his part.
Granted, Ted's wife (Andrea Anders' Michelle) is perhaps introduced a little too abruptly and, as a result, their scenes together aren't always entirely convincing, but the decision to only show our titular character's family halfway through the series was a smart choice on the part of Ted Lasso's writers nonetheless. This much-needed preamble is what makes us understand just how hard it is for Ted to make an extremely unpopular decision in this Episode – a choice that enables Roy (Brett Goldstein, of Adult Life Skills) to shine during a very engaging match.
---
5. MAKE REBECCA GREAT AGAIN
Season 1, Episode 7
Director: Declan Lowney
Watch the episode: click here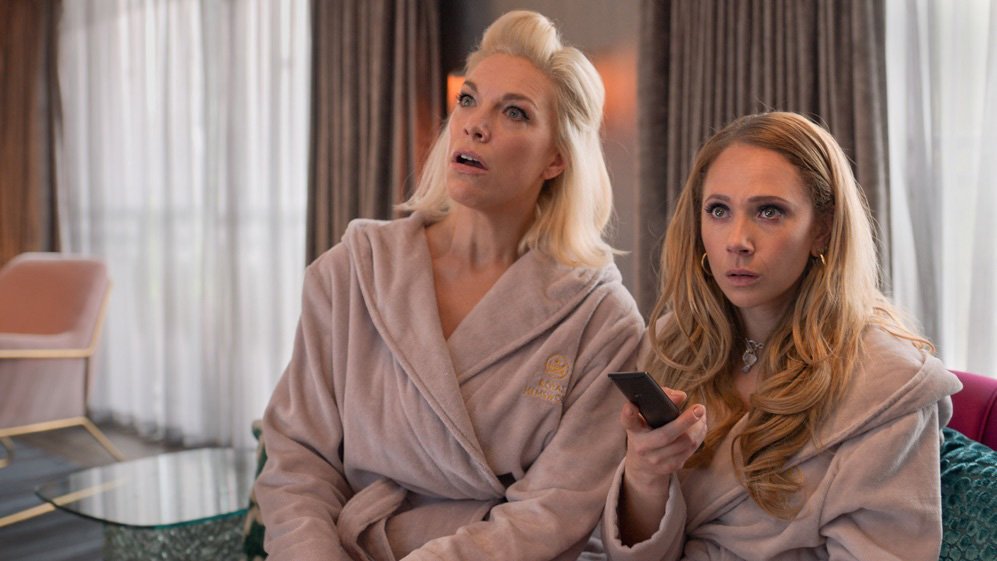 Episode 7 finds me in a bit of a conundrum, as "Make Rebecca Great Again" has some of the scenes I enjoyed the most in the entire series, as well as more than one not entirely successful moments involving what is, without a doubt, Season 1's weakest character – a person whose very nickname I find incredibly irritating. I am talking, of course, of Rebecca's former best friend, Flo "Sassy" Collins (Ellie Taylor, of The Lodge) – not that "Sassy" 's nickname for Rebecca "Stinky" Welton is any better.
It's not just the character that I find unlikeable: there isn't a moment in Episode 7 where I find "Sassy and Stinky" 's friendship even remotely believable. Even though Flo and Rebecca are introduced as two women who go way back and only recently had a falling out, their lack of chemistry makes their friendship one of the least engaging narrative threads in the series, and the whole parallel with Frozen doesn't help one bit.
But "Make Rebecca Great Again" also gives us some of Season 1's most compelling moments, such as Nate's epic speech to the team, as well as a side-splitting inside joke about Liverpool that has to do with an exquisitely repetitive commercial that Keeley starred in, a while back, and has forgotten all about. But there's more. Ted Lasso is at its best when it combines humour and heart, and Ted's panic attack in Episode 6 does just that. Not only is Ted's sudden departure from the karaoke bar a superbly filmed scene that places us right there with him, but it is also a meaningful moment that marks an important turning point for our coach.
---

4. ALL APOLOGIES
Season 1, Episode 9
Director: M.J. Delaney
Watch the episode: click here
See Also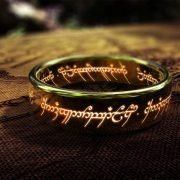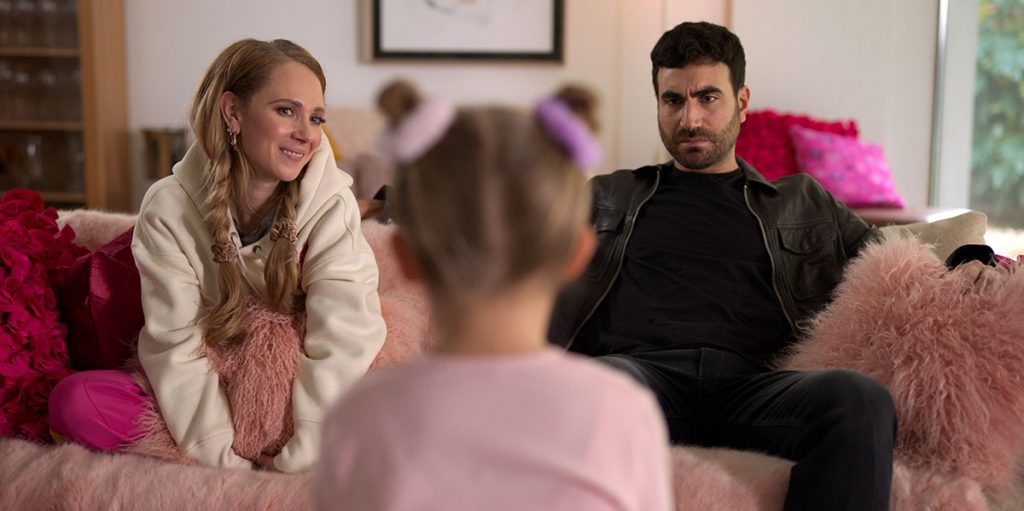 If there's something we've established through years of binge-watching, it's that, if we, the audience, are made aware of a major secret that the protagonist knows nothing about, we can expect that secret to re-emerge at the worst possible moment for said protagonist, and to be revealed in the most scandalous, embarrassing way known to television. I am talking, of course, of Rebecca's schemes and machinations to discredit Ted and get AFC Richmond to lose, ultimately taking her closer to what she considers to be her "revenge" against her ex-husband. For the entire series, we waited for Ted to find out, and we anticipated a huge fight between Ted and Rebecca that would see the two taking opposite sides for a while, and possibly resolving the conflict at the end.
But Episode 9 does something exceptional. Not only does Ted find out about Rebecca's plans from the football manager herself, who was approached by Keeley in another unexpected turns of events, but the issue is immediately resolved. Ted Lasso's characters are neither heroes nor villains, and "All Apologies" teaches us that one mistake doesn't make us evil. More importantly, Episode 6 shows us that there are, indeed, healthy ways to deal with our mistakes, and, in our day and age, that is exactly what we need to learn from television.
---
3. THE DIAMOND DOGS
Season 1, Episode 8
Director: Declan Lowney
Watch the episode: click here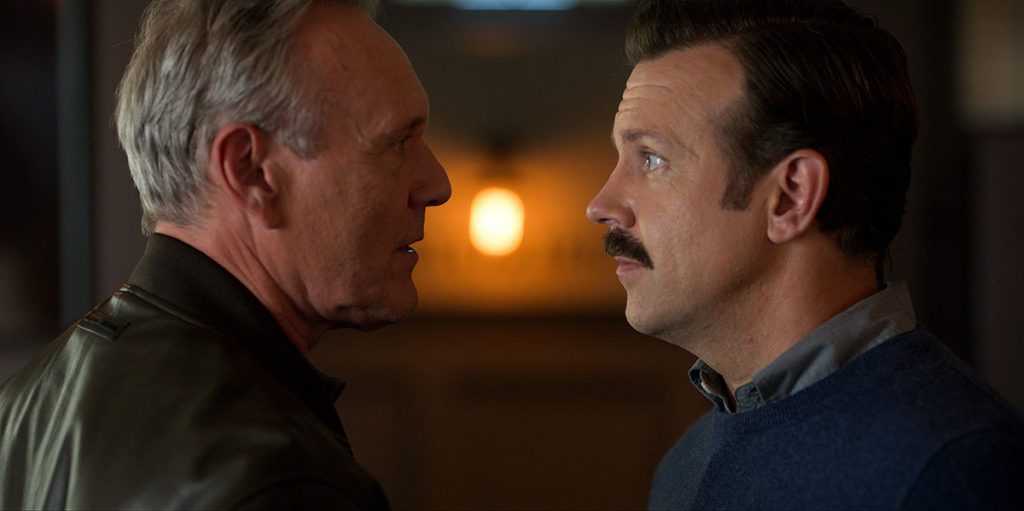 Though Ted and Roy's relationship problems take up quite a lot of Episode 8, giving us some hilarious exchanges between the Diamond Dogs but also some scenes that might be a little too long than they needed to be, there's also a lot to love in this episode, starting from a series of hilarious milk puns, and the best darts showdown in the history of darts showdowns. But there's more. The best part of this episode is right at the end, where two unexpected things happen, one after the other: Higgins (Jeremy Swift, of Downton Abbey) standing up for himself and doing the opposite of what we expected him to do, and Keeley confronting Rebecca on a certain set of photographs. Episode 8's final minutes subvert our expectations once again, replacing potential backstabbing scenarios with healthy behaviour and refreshing honesty, and confirming that Keeley and Higgins are, without a doubt, the most mature, well-balanced, gutsy characters in the show.
---

2. TRENT CRIMM: THE INDEPENDENT
Season 1, Episode 3
Director: Tom Marshall
Watch the episode: click here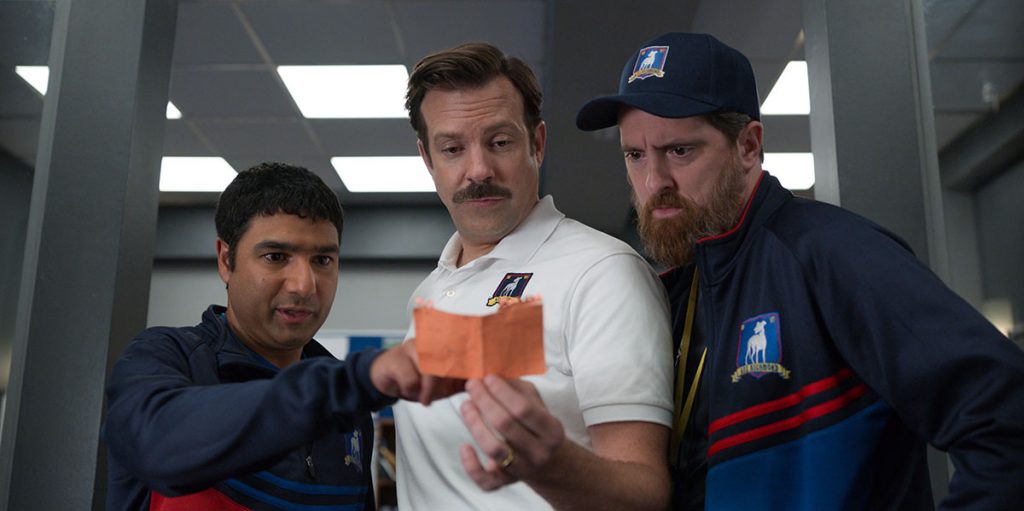 Trent Crimm is the cynical journalist from The Independent tasked with writing an in-depth exposé on Ted in Episode 3, and my strong sympathies towards the character might have something to do with my being a critic myself: I have to admit I got a little teary when we got to read his article, at the end of the episode. But there's something else that makes "Trent Crimm: The Independent" an exceptional episode, starting from the number of hilarious quotes the writers packed into it, or the many epic moments in which Ted Lasso teaches us a thing or two. If the first two episodes served as an introduction to Ted and his world, Episode 3 is when we start to familiarise with all these characters, and begin to realise that they're so much more than a reluctant football team, a friendly coach from the States, and the "intimidating, very tall woman" who recently took over as their manager.
Take Roy Kent: AFC Richmond's Captain isn't just a grumpy player who's older than his teammates and who swears a lot. Roy grows a great deal over the course of the show, and Episode 3 is where it all begins, whether it's through a parallel to the "story of a young girl's struggles with the burden of leadership" or by being forced to stand up for what he believes in and be the one who confronts the bullies picking on Nate. Just like Roy, most of the characters in the series begin to show their wonderful, multifaceted selves in this episode: Nate-The-Great picks up the courage to share a strategy that will prove effective against Crystal Palace, Rebecca begins to show her humanity, and Keeley reacts to potentially career-ruining news with admirable resilience and unexpected wisdom.
But it's even more than that. This is the episode where Ted Lasso's writers show us just how skilled they are at constantly defying our expectations. If Episode 2's ending led us to thinking the following episode would revolve around a certain leaked picture of our favourite coach with a player's girlfriend, Episode 3 immediately proves us wrong, with Keeley taking control of the situation and addressing the issue in an entirely unexpected way. Not only is she never a victim – if anything, she's the problem solver – but she also uses this averted disaster as an opportunity to bond with Rebecca, highlighting her incredible people's skills. Ted Lasso is a show where every character is given the same attention and dedication, no matter how little screentime they have, or whether they're "followers" or "leaders", to use Crimm's words, and Episode 3 proves us just that. After all, "If the Lasso way is wrong, it's hard to imagine being right".
---

1. THE HOPE THAT KILLS YOU
Season 1, Episode 10
Director: M.J. Delaney
Watch the episode: click here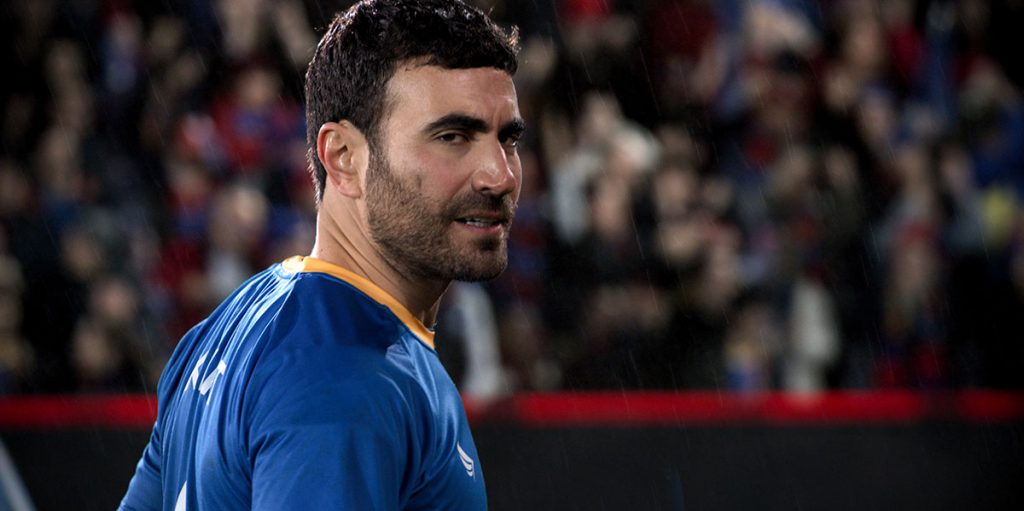 "Sure, you don't know what you're doing. But doesn't that mean that you see the game in a different way than any other manager?" Rebecca's words of encouragement to Ted, on the eve of the team's most important match, perfectly sum up the spirit of Ted Lasso's brilliant Season 1 Finale. Throughout the show, we have gotten to know Ted as a confident, opinionated person who is not afraid to make unpopular decisions for the greater good, and who's highly skilled at supporting others around him, and helping them become a better version of themselves. But that doesn't make Ted perfect. By Episode 10, we have gotten to know a man who had to deal with a divorce in an unfamiliar country, with few allies to count on, and an entire nation (hilariously) calling him a w*nker. There's room for everyone to grow in Ted Lasso, starting from the show's titular character.
When Rebecca turns what Ted thought of as a weakness – his little knowledge of football – into a strength, suggesting he causes "complete and utter confusion" during the match, our coach finally gets something he didn't have in the rest of Season 1: someone who roots for him, giving him that same kind of acceptance he has been infusing into others throughout the series. And so, Ted grows, and the show comes full circle, packing so much into the Finale's half-hour runtime and making us feel ecstatic, nostalgic, heartbroken, incredibly emotional, and everything in between.
As for the others, Brett Goldstein has our undivided attention as Roy Kent. We get to hear Roy's chant in this episode, and it comes at the exact right moment to make us want to rewind that scene over and over again. We become acquainted with the "Sandman", the "Broken Tap", the "Upside-down Taxi", the "Lasso Special" and many more inventive words as our team finally behaves like one, and we understand just how hard it can be to "make the extra pass" if you're someone like Jamie Tartt. From Toheeb Jimoh's Sam to Kola Bokinni's Isaac to Jeremy Swift's Higgins to Ted, Rebecca, Nate, Keeley and Coach Beard, every single character evolves one more time, in a finale where so much happens, including a thoroughly surprising, glorious final match. Goldfishes might have the shortest memory, but we'll certainly remember Ted Lasso's Finale.
---
Ted Lasso is now available to watch on AppleTV+.