HBO 's 5 Best Original Series: List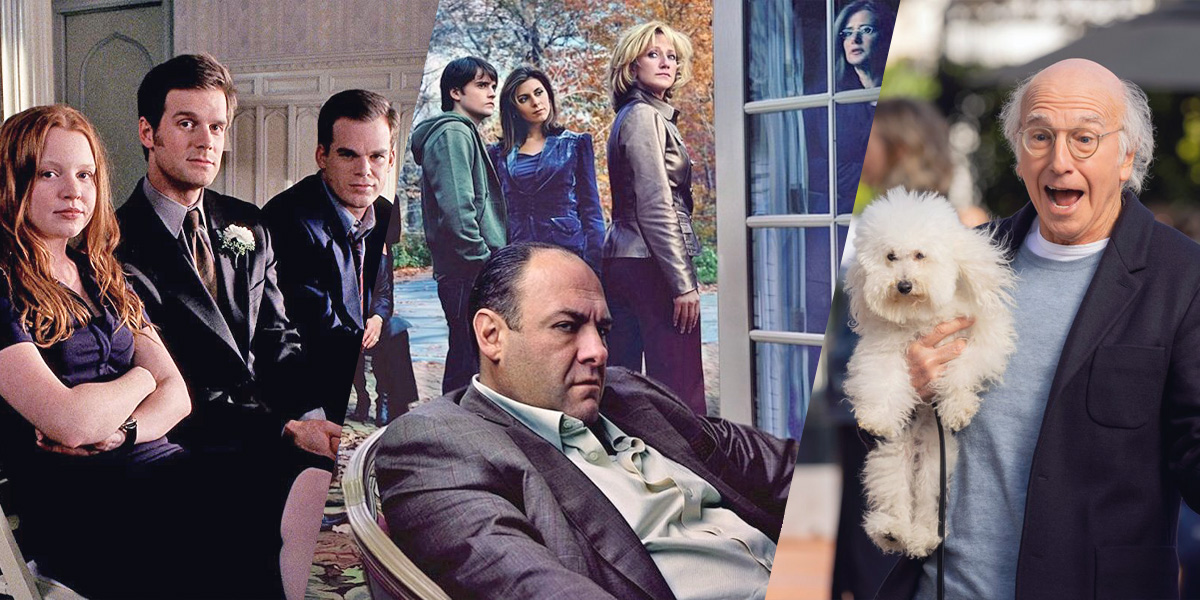 Six Feet Under, The Sopranos, Curb Your Enthusiasm (HBO)
With beloved hits like Succession, Euphoria and Barry currently going strong, we're seeking to explore what are the 5 best original series HBO has ever released.
In 1997, HBO first aired Oz, its first one-hour drama series. Since then, the American cable channel's original programmes have won over millions of people around the world with their high production values, intelligent writing, uncompromised approach to adult issues and excellent acting, with The Sopranos and Game of Thrones becoming arguably the most popular shows in the world during their respective runs. But what are the very finest offerings they've made? Here, I'll tell you about their 5 best original series.
---
5. SUCCESSION (2018)
Currently in its third season, 29 episodes
Creator: Jesse Armstrong
Cast: Hiam Abbass, Nicholas Braun, Brian Cox, Brian Cox, Kieran Culkin, Matthew Macfadyen, Alan Ruck, Sarah Snook, Jeremy Strong, Dagmara Domińczyk, J. Smith-Cameron
Read also: Succession (Review): The Kardashians Meet Shakespeare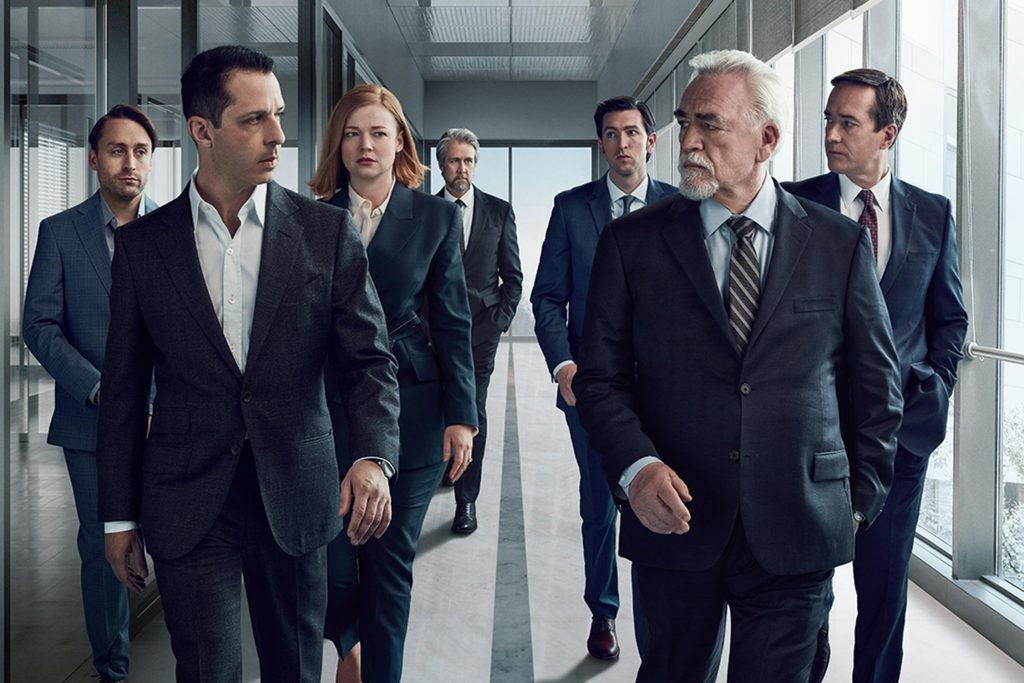 Peep Show creator Jesse Armstrong's cross-Atlantic comedy-drama has garnered a fiercely loyal fanbase for its blend of Shakespearean family drama with elements of cringe comedy and its deliciously sharp dialogue.
Logan Roy (Brian Cox, Manhunter), 80-year-old founder and owner of Waystar Royco, a huge media conglomerate, realises his life may be coming to an end soon. He's plunged into crisis – who should take the reins from him when he dies? Well, it's not simple. His children each have their issues. Connor (Alan Ruck, Ferris Bueller's Day Off) is stupid and conceited. Kendall (Jeremy Strong, The Trial of the Chicago 7) is a short-tempered drug addict. Shiv (Sarah Snook, Steve Jobs) is taken less seriously because she's a woman. Roman (Kieran Culkin, Scott Pilgrim vs. the World) doesn't seem to have much interest in taking over. Their cousin, Greg (Nicholas Braun, Sky High), is simply too nice.
Succession uses the single-camera handheld aesthetic (think Arrested Development, Modern Family) to create a kind of naturalistic, fly-on-the-wall style for immersion, and its various twists and turns make for addictive viewing. The first two seasons each ended in a way that completely flipped everything on its head – season two has perhaps one of the best final scenes in any episode of any series, ever… which made the two-year wait for season 3 ever more excruciating.
The single best thing about Succession is the dialogue – it's a perfect mix of richness, wit and snark that makes these horrible people impossible to hate. Logan's sweary exclamations and Roman's vulgar asides are somehow so irresistible.
---
4. THE SOPRANOS (1999-2007)
6 Seasons, 86 Episodes
Creator: David Chase
Cast: James Gandolfini, Lorraine Bracco, Edie Falco, Michael Imperioli, Dominic Chianese, Steven Van Zandt, Tony Sirico, Robert Iler, Jamie-Lynn Sigler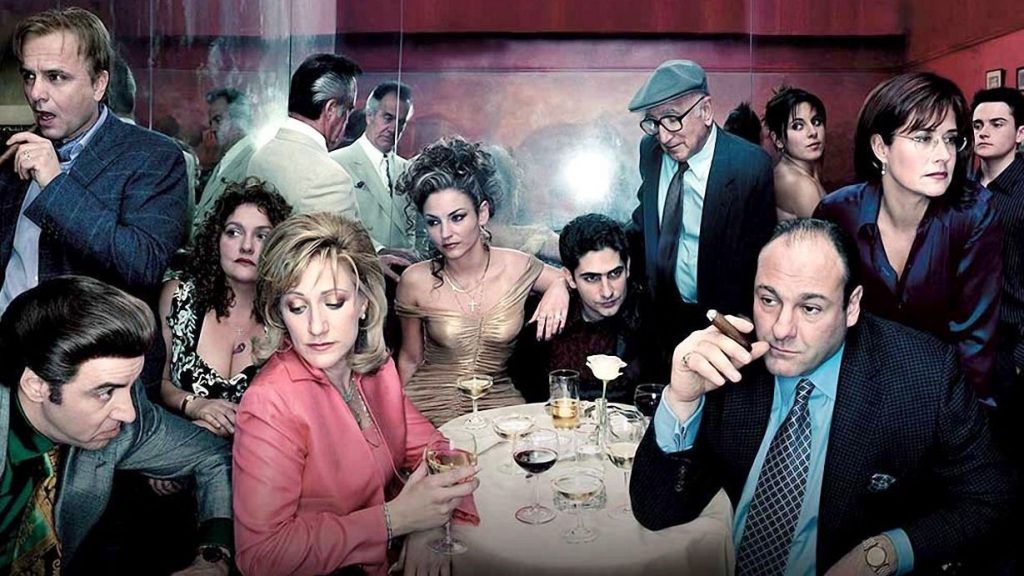 David Chase hated TV dramas, so he sought to subvert them and create something genuinely different. The Sopranos centres on Tony Soprano – a middle-aged New Jersey mob boss who tries to juggle his gangster lifestyle with raising two unruly teenagers and caring for his neurotic, cruel mother. He also suffers frequent panic attacks and had a very traumatic childhood. The series is very postmodern and 'aware,' and is split between three aspects of Tony Soprano's life: the mob, his family, and his mental health (the latter of which is usually explored via Tony's frequent visits to therapist Dr. Melfi).
In equal parts sad, funny, and thrilling, The Sopranos does not adhere to typical ideas of genre. If you are expecting yet another Scorsese-esque gangster story that you've seen a thousand times before, you're not going to get it here. Instead, the series is far more nuanced, not glamourising the lifestyle at all (Tony's 'occupation' contributes immensely to his stress, and he often faints), and presents Tony as a complex human being who chooses brutal crime for an income yet adores his children and is moved by the sight of ducks in his swimming pool.
It is these complexities that really set The Sopranos apart from the tired gangster stories that Hollywood churned out for decades prior, and that's really the best thing about the show. Tony could be confiding in his therapist a childhood trauma, on the verge of tears, then right after call one of his soldiers, demanding he beat up a shop owner who didn't pay protection. We see him do awful things, yet he still remains somewhat sympathetic. Another strength is its villains, such as Richie (a former 'captain' who has just served a ten-year prison sentence), who have even fewer redeeming factors than Tony, with their sadism being far more shocking than anything Tony could do.
Let's just forget that The Many Saints of Newark happened – the recent fan-service-heavy Scorsese-lite prequel; to quote Tony, "'Remember when' is the lowest form of conversation".
---
3. CURB YOUR ENTHUSIASM (2000,-)
Currently in its eleventh season, 110 episodes
Creator: Larry David
Cast: Larry David, Jeff Garlin, Cheryl Hines, Susie Essman, J.B. Smoove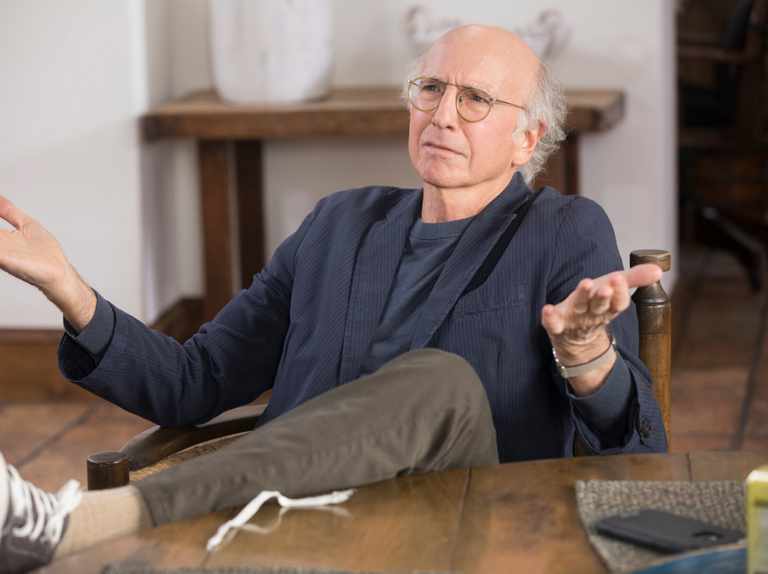 A fictionalised version of Larry David (also the series' creator, best known for creating Seinfeld), appears to have a life of riley – loyal friends, a good marriage, and a lot of money. But he can't keep his mouth shut. What has made Larry such an endearing and identifiable character is his strong moral convictions, and his inability to let other people's transgressions slide. Most seasons have a story arc (for example, Larry invests in a new restaurant, or he tries to get a new sitcom on the air). Curb is rooted in realism with its approach to social situations, however it does not use a mockumentary style, but rather merely follows the fictional Larry as he goes about his day with no overarching argument or meticulous presentation.
It is such a simple concept, yet it works so well. The long storylines are brilliant – a highlight being when Larry decides to invest in a new restaurant – and most of the guests are very funny. Who knew that Michael York, Alanis Morissette and John McEnroe have such a good sense of humour?
Curb would have been ranked higher had it ended with Season 7 or 8 – Season 9, which aired 6 years after the previous one, was a hugely disappointing case of decent concepts being badly realised by poor execution (mainly due to weaker cast chemistry). Thankfully, Season 10 was an improvement, for Larry and co. embraced the fact that the show had lost its realism and decided to just roll with it.
---
2. THE WIRE (2002-2008)
5 Seasons, 60 Episodes
Creator: David Simon
Cast: Dominic West, John Doman, Idris Elba, Frankie Faison, Wood Harris, Wendell Pierce, Lance Reddick, Sonja Sohn, Clarke Peters, Seth Gilliam, Domenick Lombardozzi, J.D. Williams, Michael K. Williams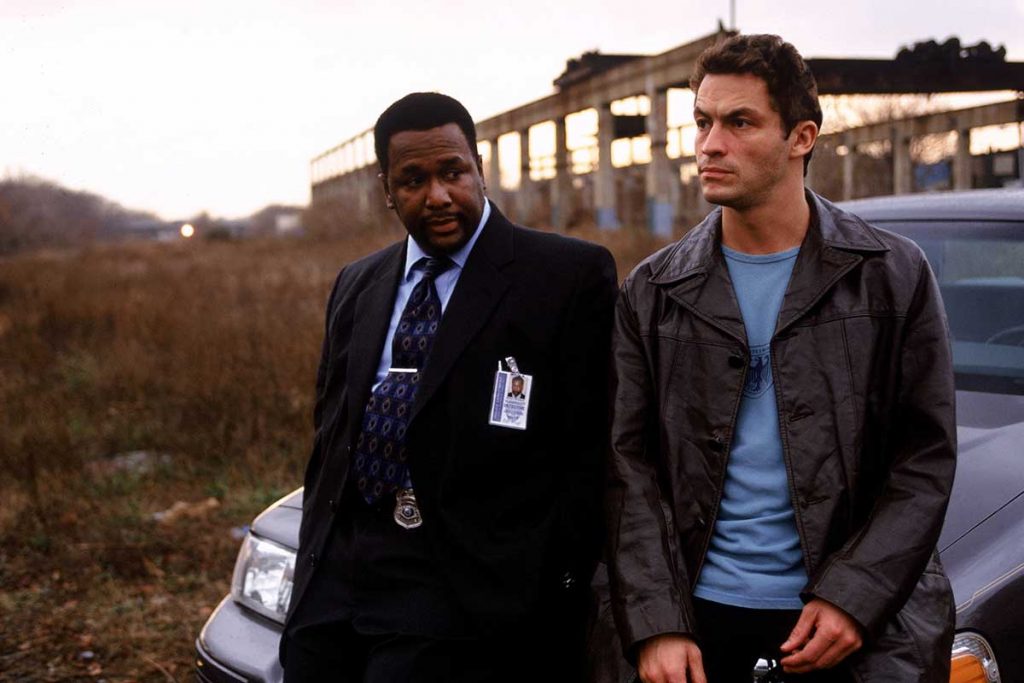 The police in the deprived, 'post-industrial' city of Baltimore seem to be most concerned with the 'drug war'. The Wire follows the efforts of the Baltimore police department to stop the import, circulation and taking of illegal drugs. It's not easy, though – the kingpins, mules and soldiers are always at least one step ahead, and the politicians care more about donations and lavish parties than they do the perpetual suffering streets away.
Created by former Baltimore Sun reporter David Simon (The Night Of), The Wire is one of a small handful of shows, like Buffy the Vampire Slayer and The Sopranos, that has successfully transcended the label of 'entertainment', and has been studied, analysed, and criticised extensively in academia. The show gave a platform to many now-ubiquitous actors, including Dominic West (The Square), Idris Elba (The Suicide Squad), Aidan Gillen (Game of Thrones), Amy Ryan (Only Murders in the Building), and the late Michael K. Williams (Boardwalk Empire).
See Also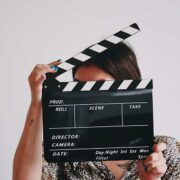 Using a large ensemble cast with a diverse range of characters all united by their being in the same city, The Wire is unique in that each season has its own 'theme' – for instance, the first season is focused largely on drug dealers on 'the streets', and the second season shifts its main focus to dock workers, who are experiencing their own crisis as Baltimore's industry declines. This enables the writers to give a voice to people in various sectors, while not juggling too many storylines at the same time. Always evident is the idea that the war on drugs is a fruitless endeavour, but those that pursue it will never admit that. Always present are the police, with the talented, well-intentioned team of McNulty, Kima, Daniels, Bunk, Leander, and Lester being constantly held back by reactionary, misguided orders by their superiors. One of the most compelling storylines is officer Bunny Colvin's attempt to decriminalise drug use in poorer districts so that the issues are out of sight from the more powerful voters and influences in the city. The primary storyline in the final season requires some degree of suspension of disbelief, which unfortunately breaks from the believability of early seasons, but when you learn the motives behind certain characters' actions, they become more sympathetic.
I love the show's realism: there are authentic accents and colloquialisms, simplistic, cinéma vérité-style digital photography, and there is no score (except for the end credits music), so we are never told how to feel through music. Another strength is its lack of didacticism – the writers want you to know about the failings of the police, its institutional problems and the fact that the 'war on drugs' is a waste of time and money, but people are very rarely punished for their wrongdoings, and many are even rewarded.
Unlike most HBO series, The Wire uses 'cold opens' to immediately generate intrigue, and a quote from the episode is printed onscreen to make a point pertinent to each episode. It also uses a different rendition of Tom Waits's 'Way Down in the Hole' and a different montage for its opening each season, with images pertaining to said season's 'focus'. It's not just in these more technical aspects that such care has been taken – there is immense attention to detail in many shots and in dialogue, with the 'payoff' coming much later, or, like sometimes in real life, never at all.
---
1. SIX FEET UNDER (2001-2005)
5 Seasons, 63 Episodes
Creator: Alan Ball
Cast: Peter Krause, Michael C. Hall, Frances Conroy, Lauren Ambrose, Freddy Rodriguez, Mathew St. Patrick, Jeremy Sisto, Rachel Griffiths, James Cromwell
Perhaps HBO's greatest original series, Six Feet Under centres on the Fishers, a family that live in a funeral home, right next to their family business, Fisher and Sons. When patriarch and long-time spearhead of the company Nathaniel Fisher (Richard Jenkins, The Shape of Water) dies on Christmas Eve 2000, his wife Ruth (Frances Conroy, Joker), adult sons Nate (Peter Krause, 9-1-1) and David (Michael C. Hall, Dexter) and teenage daughter Claire (Lauren Ambrose, Servant) are overwhelmed with grief, and are forced to think about the future of Fisher and Sons. They are not helped by the high aspirations of Nathaniel's protégé Rico (Freddy Rodriguez, Planet Terror) and the predatory funeral business conglomerate Kroehner hounding them for a takeover.
A comedy-drama about undertakers in a funeral home is not the kind of idea you'd associate with mainstream TV, but HBO's undertakings are very seldom mainstream. Most episodes of Six Feet Under begin with a death – these can range from something as mundane as having life support turned off, or being hit by a car, to being chopped into pieces by an industrial bread-mixer or hit by falling waste from a plane. The person dying is usually the same person whose funeral is held at the Fisher and Sons funeral home in that episode.
Dead people formerly in the lives of the Fisher, Chenowith and Diaz families frequently appear, but these are merely visions, always shown through the limited lens of a key character to that scene. It is the bias that makes these visions so interesting, as we see how grudges and idealisation still pervade our perception of people when they are dead – especially so since they no longer have their own voice.
'Representation' is obviously something we think about more than ever, but Six Feet Under was very ahead of its time, and always reverent, in its treatment of certain social matters. Brenda (Rachel Griffiths, Hacksaw Ridge) and Billy Chenowith (Jeremy Sisto, Waitress) suffer with a myriad of mental illnesses, exacerbated by being treated as lab rats by their 'shrink' parents in childhood. David Fisher is 'closeted', which annoys his partner, Keith (Mathew St. Patrick, Sons of Anarchy), who has given up on hiding his true self and is comfortable in his skin. Keith's identity is also frequently attacked for being a black man in the LA Police Department. Drug addiction and abortion are also explored. The beauty of this series is how everyone is treated with compassion by the writers, and characters are not merely stereotypes but are presented as people first and foremost, with differentiating traits being secondary.
I also maintain that the series finale is the best finale ever made. Everything feels so perfect, because every main character is given a send-off that suits them. We are reminded that, while the 'story' ends here, these characters will still live the rest of their lives, but we'll never know what will happen to them. The event that most series would have ended with actually occurs about four of five episodes from the end, so the final episodes served as a coda of sorts, which means that the writers weren't forcing themselves to wrap up too many storylines in a single finale.
There is so much to like about Six Feet Under, but my favourite thing is the way in which, through its characters' everyday reminders of death, it reminds us to appreciate the little things in life, have a sense of humour, and cherish the ones we love. How can a show about death be so life-affirming? To find out, you'll have to watch it.