Ted Lasso Season 2 Finale Review: "Football is Life"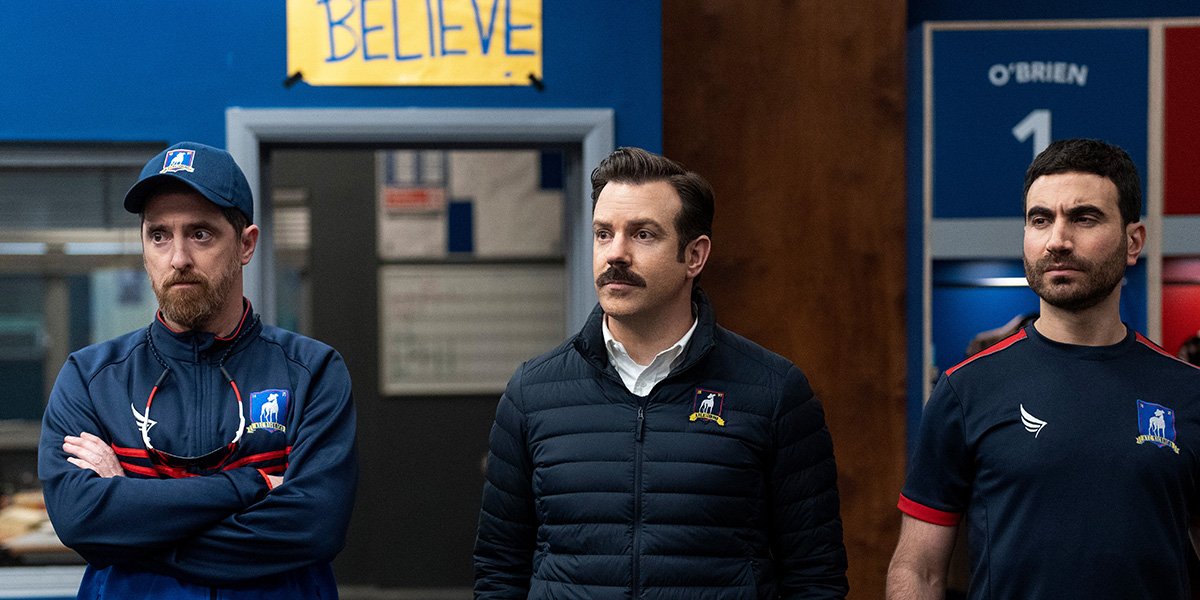 Brendan Hunt, Jason Sudeikis and Brett Goldstein in "Ted Lasso" Season 2, now streaming on Apple TV+. (Apple TV+)
Ted Lasso 's Season 2 Episode 12 blends tension, humour and wisdom and delivers an epic finale, with enough surprises and twists to leave us aching for Season 3.
---
"The truth will set you free, but first it will piss you off." It was no easy task to follow last week's episode, which left us with more than one unresolved situation and a life-changing development for our titular character, and deliver a Season 2 Finale that dealt with all that in an unpredicatble way while also dedicating screentime not only to a very important match for AFC Richmond, but also to Ted Lasso (Jason Sudeikis) himself. Needless to say, the writers behind this episode (Jason Sudeikis and Joe Kelly) rose to the occasion, and crafted a Finale that's just as epic and meaningful as the rest of the season has been, and that not only deals with all its loose threads, but also introduces new developments that we absolutely didn't see coming. A lot happens in Episode 12, so much so that it's hard to believe that, with its 50-minute screentime, "Inverting the Pyramid of Success" is only slightly longer than the rest of the season. But what's even more impressive about it is that, if Episode 11 left us dying to find out about the consequences of a certain newspaper article, and the certain "anonymouse source" behind it, the Finale begins by showing us Ted's predicament, but then swiftly moves onto other characters, each with their own piece of life-altering news to share.
Yes, a big chunk of Ted Lasso 's Season 2 Finale is, indeed, dedicated to Ted, but what's genius about this episode, and the team behind it, is that it still manages to surprise us, turning the tables on us right when we thought we knew exactly where the show was going. And so, if Sam (Toheeb Jimoh) has an important decision to make on whether or not to join Ghanian billionaire Edwin Akufu's (Sam Richardson) new football team, so does Keeley (Juno Temple), who has just received a very inviting offer as well. And if Episode 11 left us wondering about the future of both Sam and Rebecca (Hannah Waddingham) and Keeley and Roy's (Brett Goldstein) relationships, Episode 12 shows us once again that not all conflicts have to end in confrontations, and subverts our expectations once again. Sure, there are a few choices, and reactions to those choices, that we definitely did see coming, but there are also villains who rise from their ashes, and good guys who face the consequences of their acts of bravery. And then there are football players who have grown a great deal since Season 1, like Roy, who does the unthinkable and asks for advice, Jamie (Phil Dunster), who is able to have more than one mature conversation, Isaac (Kola Bokinni), who finally acts like a team captain, Sam, who learns to put himself first, and Dani (Cristo Fernández), who finds a way to "believe" again.
What's even more surprising about Episode 12 is that what was supposed to be the shocking revelation of the episode – the revelation of the name of Trent Crimm's anonymous source – turns out not to be so shocking, after all. In fact, not only is Ted not interested in confronting this source, but there is also one very perceptive character who was able to infer that piece of information, and who's not as willing to forgive and forget. This gives us many interesting dynamics between characters, with the things that are unsaid hovering over seemingly harmless conversations between colleagues, and it also leaves room to delve deeper into an even more important subject – the impact of stigma on mental health.
From the very first scenes of the episode, we get to see a series of reactions to Ted's predicament that are unfortunately familiar to those who have had their share of anxiety, from an abundance of ignorant comments made by people who know nothing about it to texts from friends and family that are meant to show support but are really just a way to prevent a conversation from happening. By featuring newspaper headlines that call Ted "dead in the head," and by having coach-turned-football pundit George Cartrick (Bill Fellows) deem Ted "not fit to coach" and urge AFC Richmond to "find a captain whose brain works", Ted Lasso shows us a society where having "stomach problems" is an acceptable illness, but suffering from a panic attack is equivalent to being crazy. We leave in a world that desperately needs to be educated on mental health, and the show emphasises not only how important it is to talk about these issues, but just how normal it is to experience them. Anxiety can manifest itself in many forms: it can be a panic attack in the middle of a game, but it can also be the inability to stop overthinking everything and "let the answer come to you," which is what Sam experiences in this episode. No matter what shape it takes, the solution is one, and one alone: an informed, supportive system, made of people who have enough understanding to know that it's completely normal to have these experiences and enough empathy to listen, and to accept you just as you are. Which is exactly what AFC Richmond does when Ted opens up with the team, in one of many memorable moments from the episode.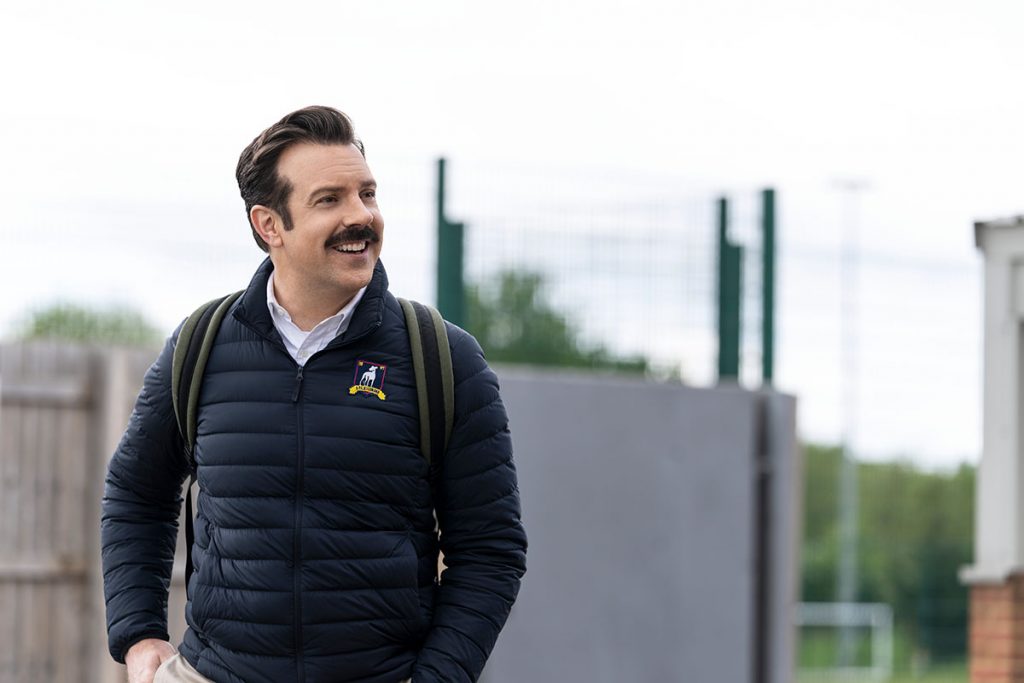 But a lot more happens in Ted Lasso 's Season 2 Finale. There's a very important match against Brentford that is also the team's only hope to get promoted again, and that comes at a time of tension between the coaches. And, as well as strategies to be decided and formations to be arranged, there's also a confrontation that cannot be avoided between a coach who's trying to do the right thing and an "anonymous source" who isn't exactly lucid. As we already knew from Episode 11, Trent Crimm's source was Nate (Nick Mohammed), the one character who has been struggling the most during the season, first dealing with his insecurities in slightly aggressive ways, then asking for advice to become more assertive only to start lashing out at his workmates in an even more hostile way.
It has been difficult to watch Nate behave so uncharacteristically throughout the season, as the kitman-turned-coach seems to be the only character who has regressed in Season 2 instead of moving forward. But if we think that Nate has been raised in an emotionally neglectful family, and has then been bullied for many years, it makes sense for the coach to struggle to adapt to a supportive environment where he is treated as an adult – something that he has never experienced in his entire life. It would have been nearly impossible to resolve Nate's identity struggles in one episode, and the character's confrontation with Ted is only the beginning of the evolution of a character that is always treated with compassion, even when he's at his worst.
In fact, though this specific showdown is left unresolved for the time being, with Nate quite literally refusing to "believe" in Ted's vision and values, what we learn is that Nate feels abandoned: when he blames Ted for making him feel "f*cking invisible", he's really just projecting onto the coach what should have been aimed at his own parents instead. A long journey awaits Nate-The-(not always)Great in Season 3, even more so considering his whereabouts at the end of the episode, but his character arc has been handled in a clever, sensitive way up till now. We might have to wait another season to finally see the return of the character we've come to know and love, but we can definitely expect Nate's evolution to be both meaninfgul and rewarding in future seasons.
Pandas become lions and the balance of the universe is restored in Ted Lasso 's Season 2 Finale, an episode that is incredibly satisfying in many ways, and that shows us a team whose heart is and will always remain with Ted, and a coach who has finally learned to accept his vulnerabilities and trust and confide in others. Some people showed their true colours in this episode; some made brave, important decisions; others took leaps of faith and their lives dramatically changed as a result. Every single character of Ted Lasso has undergone significant changes in Season 2, and, after a consistently enthralling, epic series, we leave the team stronger and more united than ever, but there are also many unanswered questions that are bound to haunt us till the release of the following season. Bring on Season 3, and let the Season 2 binge-watching begin.
---
Ted Lasso's Season 2 Episode 12 premiered on Apple TV+ on October 8, 2021.