A Discovery of Witches Season 2 Ep. 1-4 Review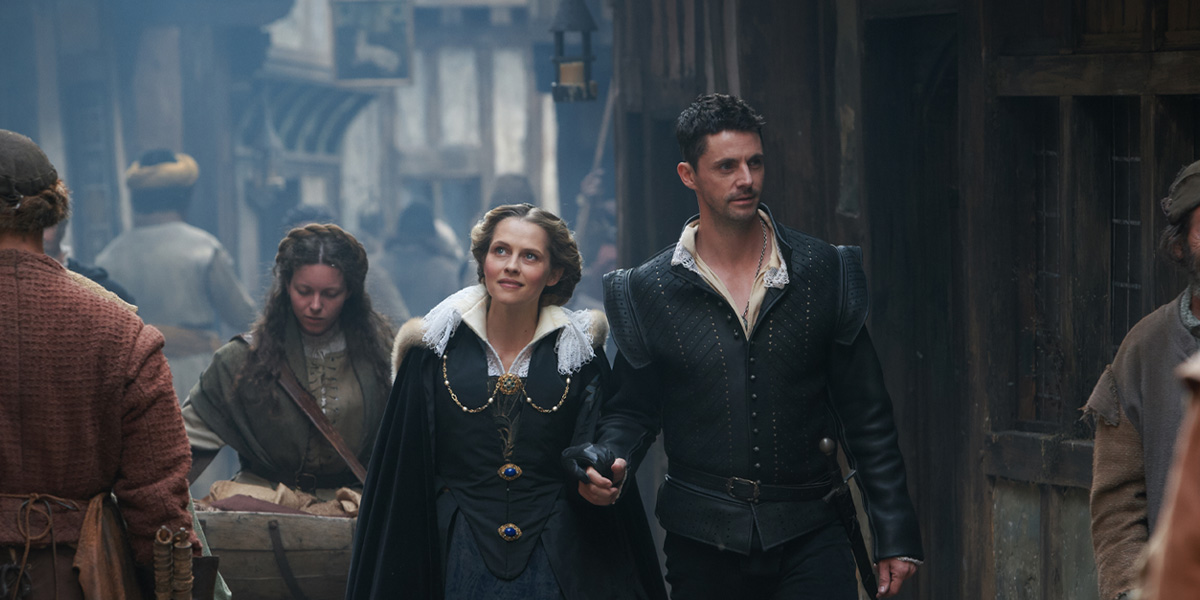 Matthew Goode and Teresa Palmer in A Discovery of Witches Season 2 (SKY UK)
A Discovery of Witches Season 2 (Ep. 1-4) returns with magic, intrigue and action, following our beloved characters' search for Ashmole 782.
---

At the end of Season 1 of A Discovery of Witches, we left Matthew (Matthew Goode, Downton Abbey) and Diana (Teresa Palmer, Berlin Syndrome) on the verge of jumping back in time to Elizabethan London to find Ashmole 782, a magical manuscript that is said to contain details on the origins of all supernatural creatures, and escape the Congregation, a council of 9 supernatural beings, led by wizard Peter Knox (Owen Teale, Game of Thrones), who wish to get their hands on the book.
In Season 1, we discovered that Diana is a Weaver, a maker of spells, an extremely powerful and rare 'breed' of Witch. Spellbound by her parents as a child to be protected from drawing other witches' attention, Diana is connected to the enchanted book: her father, Stephen Proctor (David Newman) bewitched it so that only Diana could conjure it. Diana and Matthew's escape to the 16th century also has to do with Diana's powers, as our protagonist intends to look for a witch who can help her learn how to use her magic before they return back to their current time and face the Congregation. A Discovery of Witches Season 2 begins where Season 1 ended, with Matthew and Diana in London, 1590.
The show's second season is adapted from "Shadow of Night", the second, more complex and darker instalment of Deborah Harkness's "All Souls Trilogy": we find out that Matthew is a spy for Queen Elizabeth I (Barbara Marten), and it is very intriguing to see a more ruthless nuance to his character. Matthew never fully accepted himself as vampire, and never fully reconciled with the unpleasant decisions and actions he had to make while at the service of the Queen: now more than ever, we see him battling with his past. Matthew Goode masters both the lovable and dark sides of a character that we have loved since the very beginning, and, while we recognize our modern-time Matthew, we also understand more about his centuries-long struggle to fight his thirst for human blood, and the rage that accompanies his internal conflict to feel 'more human'. Teresa Palmer reprises her main role of Diana Bishop impeccably, giving us more of that kickass vibe we love, and we will see darker moments for her character as well.
It is quite clear from the first four episodes of the series that, besides facing new enemies, Matthew and Diana will have to deal with the challenges that this new reality will present to them with, both individually and as a couple. Their bond and trust in each other will undoubtedly be challenged, and this will potentially undermine the success of their mission.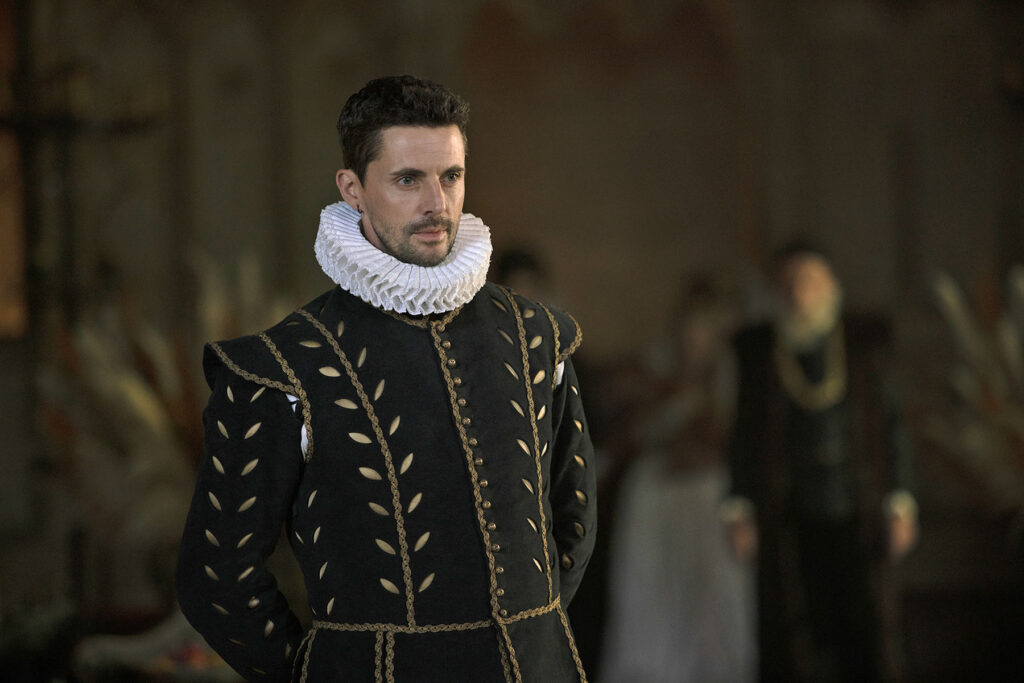 A book with such rich backstories and character arcs must have been hard to transpose into an 8 episodes-long TV series, with many important elements that had to be fit into the narrative all while keeping an exciting pace for the audience. Although we might have lost a little bit of our beloved characters in the process, the final result of this production is still seamless, as the show manages to translate the book, and the essence of its characters, without losing all its subtlety. We must keep in mind that the novels were written from Diana's point of view: in the book, we mostly spend time with Diana as she adjusts to her new Elizabethan life and her role of Mistress of the house, while learning to use her powers.
The series also gives us the opportunity to see what happens to all the other characters that are not in the same place as Diana. We discover that, in modern time Oxford, Diana's aunt Sarah (Alex Kingston, ER) and her partner Emily (Valarie Pettiford, Jumping the Broom) have 'moved' to Sept-Tours with Matthew's mother, Ysabeau (Lindsay Duncan, Alice in Wonderland), in order to form a stronger alliance and escape the Congregation's grasp. Also with them is Matthew's blood son and newly appointed Grandmaster of the Knight of Lazarus, Marcus (Edward Bluemel, How to Build a Girl): together, they are trying to find out if Diana and Matthew were able to successfully time-walk to their destination. Meanwhile, a series of brutal vampire-style murders is putting the Clermont family even more on the Congregation's radar.
In A Discovery of Witches Season 2, our beloved couple faces yet a new antagonist: priest-turned-vampire Father Hubbard, played by an unrecognizable Paul Rhys (Great Expectations). Father Andrew Hubbard rules the City of London, ensuring that all creatures keep the peace, don't work against each other and don't attract human's attention whilst caring for the poor and orphans. Although he might initially appear to be a compassionate and charitable figure, he is in fact a very frightening presence: Diana and Matthew's union negatively awakes his interest, adding him to the menacing threat of Congregation members Peter Knox and Gerbert D'Aurillac (Trevor Eve, Death Comes to Pemberley) in the modern time story arc.
Among the many new characters, one of the most anticipated ones is Gallowglass, Matthew's vampire 'nephew', played by Steven Cree (Outlaw King). In the books, his character becomes a very protective presence for Diana, whom he hilariously addresses as 'Auntie' a lot of the time. Albeit we don't see as much of him in these episodes yet, he is cleverly employed to acknowledge how sixteenth-century Matthew was displaced by modern-day Matthew when the latter timewalked to 1590, raising Gallowglass' – and everyone else's – initial suspicions towards Diana.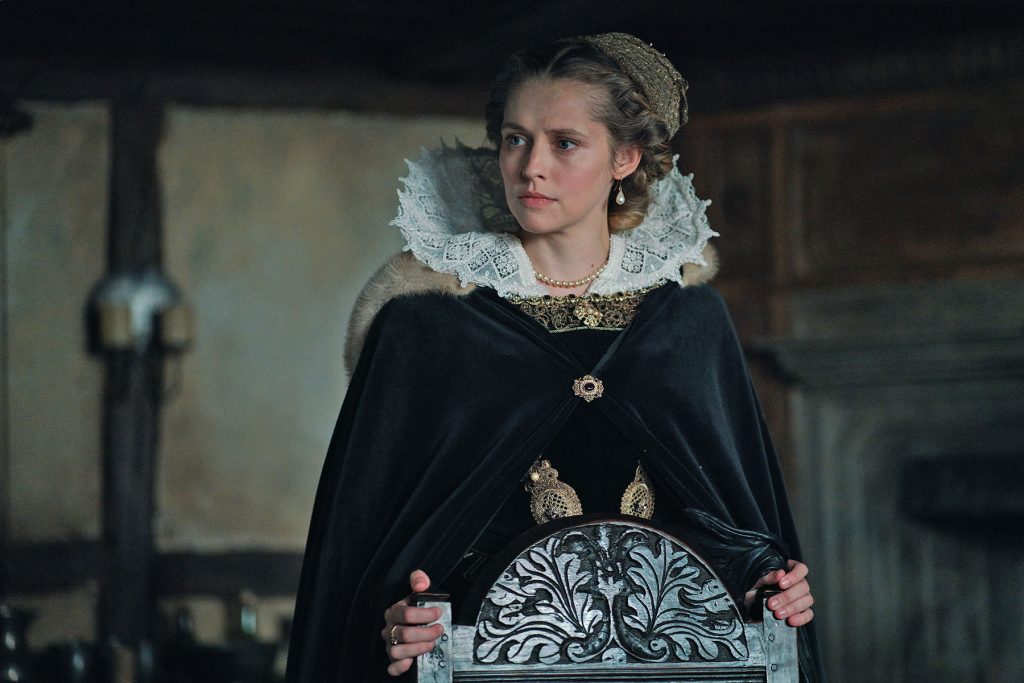 I was personally looking forward to encounter Matthew's demonic acquaintance, playwright and real-life historical figure Kit Marlowe, played by an excellent Tom Hughes (Victoria) in the show. Kit is the first new character we meet in the sixteenth-century, and also the first to reject Diana's presence: not only does he seem to be very jealous of Matthew, but he also appears to deeply distrust women and all witches, in equal measure, believing them to be " duplicitous creatures". Known for portraying Albert in Victoria, Hughes shines in a very different role than what we're used to see him play, but that enables him to show his acting skills even further. It's thanks to Hughes that, albeit we sense that the famous English playwright is devoted to Matthew, we are never quite sure where he stands, and whether he's a friend or a villain.
Goody Alsop (Sheila Hancock, The Boy in the Striped Pyjamas), England's most powerful witch, is also a pivotal character, as she soon becomes Diana's teacher, serving for the series' most anticipated scenes of Diana learning to use her powers. We finally get to see how weavers connect to the threads of their magic and how they create new spells, and we get a glimpse of the true magnitude of Diana's magic. The impressive special effects employed in these few episodes to show us Diana's magic effectively make Deborah Harkness' words come alive, bringing us visually stunning scenes every time magic is involved.
See Also

Other much anticipated key characters in A Discovery of Witches Season 2 are Phoebe Taylor (Adelle Leonce, Black Mirror), Marcus' romantic liaison in the modern Oxford narrative, and Matthew's vampire father, the enigmatic Philippe de Clermont (James Purefoy, of Altered Carbon). Though the latter is introduced quite early in the book, we'll have to wait for the second half of this new season to make his acquaintance. For now, what we do know is that he summoned Matthew upon hearing news of his being married to a witch – a strategically placed twist that serves the show's story arc, bringing tension to Matthew and Diana's relationship while adding another stop in their search for Ashmole 782.
As someone who enjoyed reading the novels' detailed descriptions, I was looking forward to admiring the luxurious fashion of the Elizabethan era, and I wasn't disappointed. With Deborah Harkness' close supervision and care, Sarah Arthur (Sherlock) led the costume design team to recreate the costumes as accurately as possible, producing the most sumptuous and exquisitely elaborated gowns for Diana that are a true feast for the eyes. Recreated as replicas of actual garments that can be found in the Museum of London, Matthew's clothes are quite detailed as well.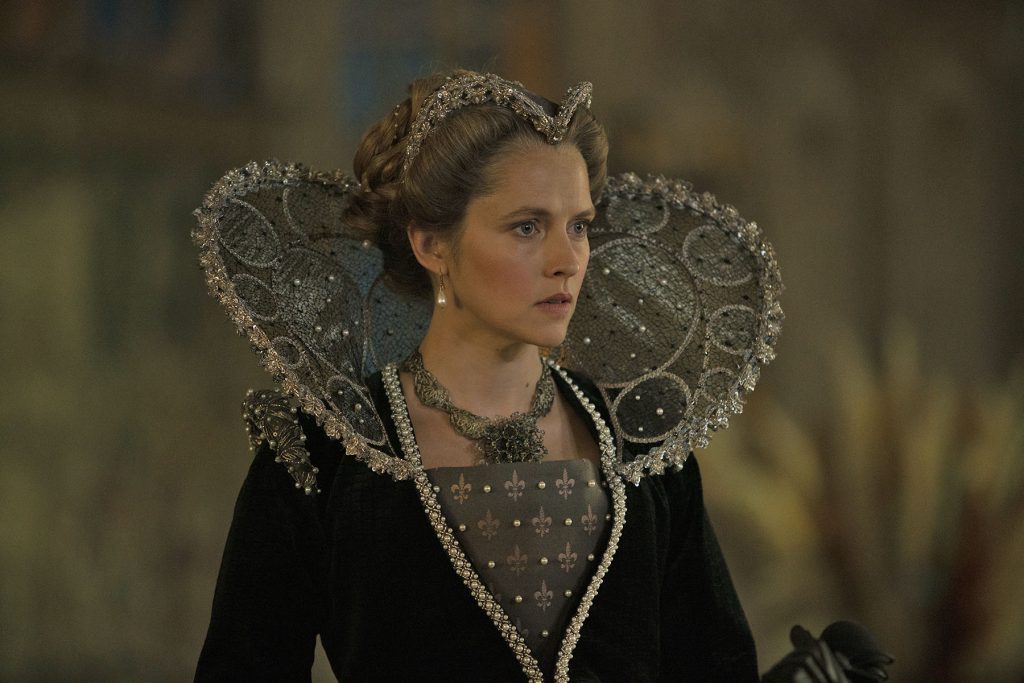 The production design, led by the visionary James North (Supervising Art Director for His Dark Materials' Season 1), is another noteworthy aspect of the series: as very little of Elizabethan London survives today, the locations had to be built completely from scratch, once the perfect location was found just outside Cardiff. The team recreated buildings and streets of 16th century London down to the smallest details, making us think we travelled back in time with Diana. The accuracy of the production and set design extends to the most trivial and obvious items, like the actual parchment paper we see on Matthew's and Philippe's desks, quills, books, the correct wax used for their seals and all the alchemy equipment. John Dee's study is an actual treat and you won't help but wonder about what it would have been like to browse his collection or perform alchemical experiments with him or Diana – who understandably finds it very difficult to leave his home, much to Matthew's amusement.
As I wait to discover what the next half of A Discovery of Witches Season 2 holds, I can definitely assert that the first four episodes of the series have raised the bar for productions of this genre. Thanks to the show's excellent writing (Kate Brooke, Medici) and stellar cast and to Palmer and Goode's undeniable chemistry, A Discovery of Witches achieved a seamless transition from book to screen. Diana and Matthew still feel true not only to the characters we left at the end of Season 1, but, more importantly, to Harkness' pages: I am sure we will not be disappointed by the series' next episodes.
---
A Discovery of Witches Season 2 premieres on 8th January 2021 at 9pm on Sky UK, where it will be broadcast weekly. Read our review of A Discovery of Witches Season 2: ep. 5-10.