The Best TV Shows of 2020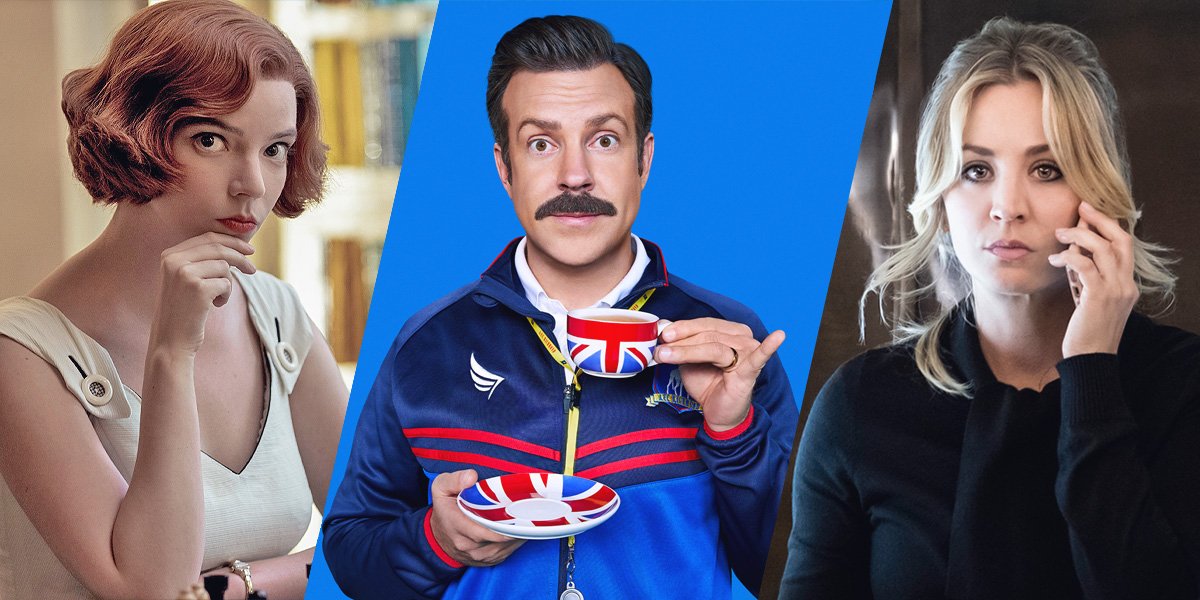 The Queen's Gambit, Ted Lasso, The Flight Attendant (Netflix / Apple TV+ / HBO)
From After Life to The Undoing, here's a list of the best TV shows of 2020, each recommended by one of Loud and Clear's staff writers.

When the year was about to end, we wrote about our favourite films of 2020 and shared our critics' individual rankings. As we venture into 2021, we still find ourselves massively affected by the ongoing pandemic, and still in desperate need of cheering up. With cinema closures and postponed releases affecting the film industry, we thought we'd look back at the best TV shows of 2020, to give you hours of entertaining, binge-worthy material to keep you company during one of the most challenging, destabilizing years in history.
From After Life's Season 2 to The Undoing, here are 10+ great TV series from 2020, according to eight of our staff writers.
---
AFTER LIFE: SEASON 2
Creator: Ricky Gervais
Full review: After Life Season 2 Review: A Masterful Illustration of Grief and Humanity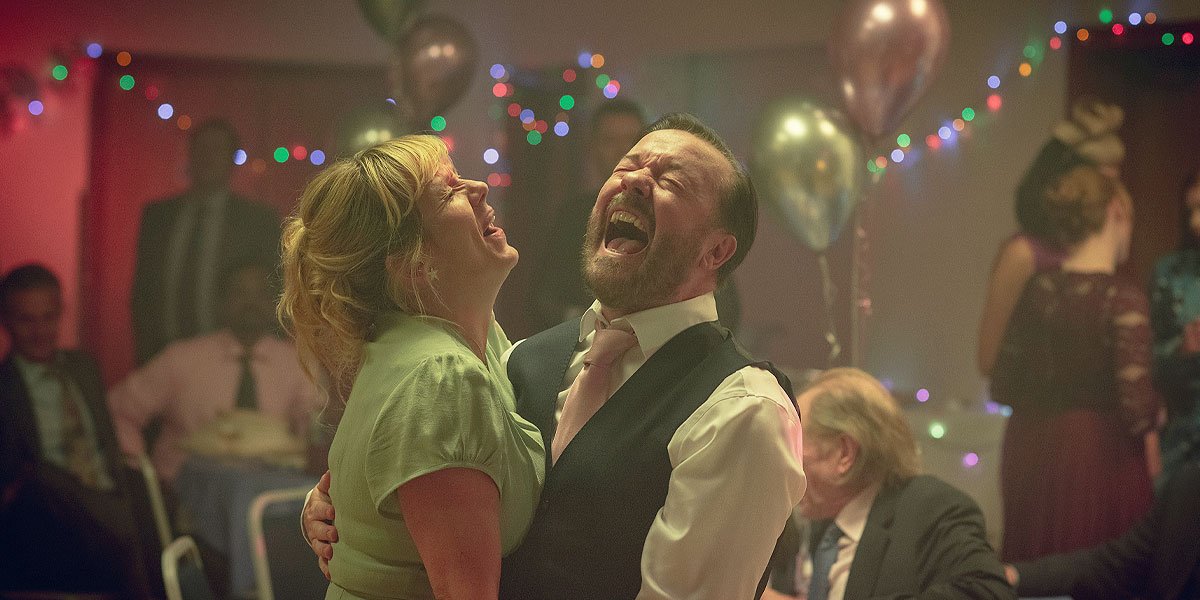 The second series of Ricky Gervais' After Life premiered in April this year and, given the roaring success of its first season, evoked questions of whether or not the new episodes would live up to their predecessors. After Life season 2 certainly did not disappoint. The second season simply served as further illustration of Gervais's screenwriting genius and left audiences clamouring for more.
The show is as much about life as it as about death, and though the passing of his wife shapes the narrative of the central character, Tony (Ricky Gervais), After Life uplifts its viewers at least equally as often as it leaves them in tears. Heartbreaking, beautiful and rooted in Gervais' infamous dark humour the Netflix series reminded a world, locked down in the midst of pandemic,  of the good that still exists outside their four walls and of the good times that inevitably follow the storm.
After Life is like therapy: it's brutally authentic, you cry, you probably need a lie down after some of the more harrowing moments, but its needed. Addressing difficult issues of death and suicide in one of the most testing times many of us have ever known, this series is brave and sometimes brutal but it ultimately reminds you that one day, eventually, everything will be okay. 
---
BOJACK HORSEMAN: SEASON 6
Creator: Raphael Bob-Waksberg
Full review: And so, this is BoJack – Horseman, obviously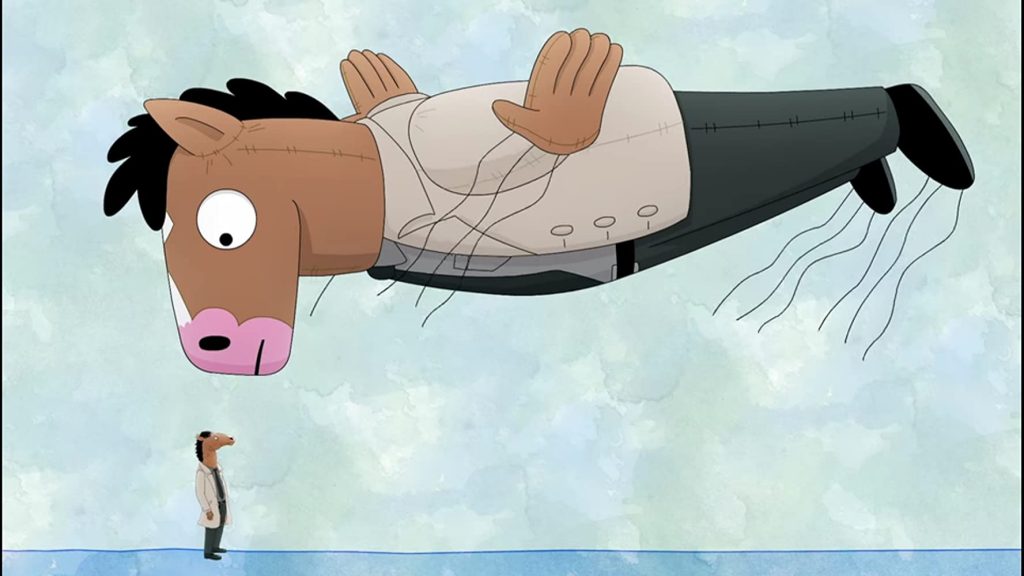 The second half of Bojack Horseman's final season was released at the start of 2020, wrapping up what is arguably the greatest show of the last decade. From its deft combination of insightful satire, pun-based comedy, and existential dread, to its cast of memorable and complex characters, Bojack Horseman proved itself to be among the best that television has had to offer. The final episodes bring everything to a heartbreaking and thematically satisfying close, crafting impeccable endings for its main characters. Without giving too much away, the second half of season 6 finds the titular Horseman teaching acting at a college, all while the darkness from his past finally catches up with him.
While it is emotionally heavier than previous seasons, season 6 continues the show's streak of challenging viewers and creating storylines that thoughtfully reflect on the present day. Creator Raphael Bob-Waksberg and the rest of the team dissect the power and influence of modern media, the vapidness of Hollywood, and ruminate on the human condition itself throughout the show. Season 6 marks a high point in a series that has remained incredibly consistent in terms of quality, and if you have not yet watched Bojack Horseman, make that one of your New Year's resolutions.
---
DES
Creator: Lewis Arnold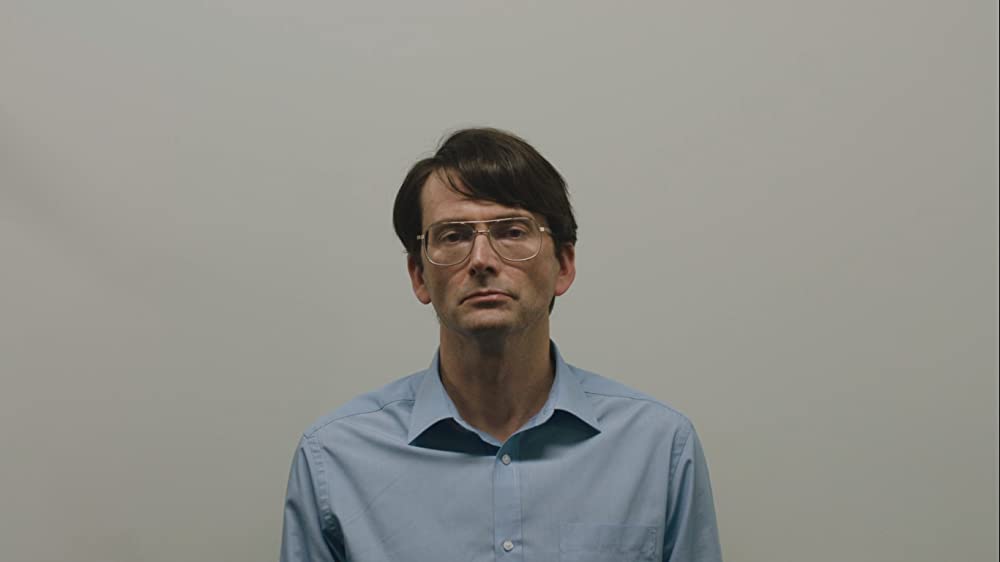 Eschewing a more sensationalist approach to the telling of true crime stories, Des is a tightly written, well-acted three-part miniseries centred around the arrest and trial of Scottish serial killer Dennis Nilsen, adapted from biographer Brian Masters' book Killing for Company. In 1983, Detective Inspector Peter Jay (Daniel Mays) is called to investigate an incident involving blocked drains near a North London flat and uncovers the horrific remnants of brutal killings, which a seemingly genteel, unassuming ex-policeman Dennis Nilsen (David Tennant) willingly admits to.
Director Lewis Arnold, alongside writers Luke Neal and Kelly Jones, made the creative decision to focus the show's narrative on the more ordinary, perhaps even banal, elements of the sensational murder investigation and trial, rather than dramatise the crimes themselves. It's a sensitive, well executed approach that ensures the show doesn't ever feel salacious or exploitative, nor does it underestimate the audience's intelligence and ability to fill in the blanks. The writing is a sharp antithesis of what Nilsen would have wanted a biographical series to be: split between three different viewpoints – Jay's, Nilsen's and that of biographer Brian Masters (Jason Watkins) – and more concerned with justice than the intricacies of Nilsen's narcissistic personality.
The entire cast turns in impressive work, but as Nilsen, Tennant's terrifying and nuanced performance truly steals the show. His understated portrayal is disarming because he appears so mild-mannered, ordinary and unsuspecting at times, but is continuously undercut with a quiet, controlled menace. (The physical resemblance is also near uncanny). It is all too common for people to cry "he seemed so normal" when the horrific acts of men like Nilsen are uncovered, and Tennant's unassuming performance emphasises just why this is so often the case. It's a stunning encapsulation of character-driven British television drama, and a hearty recommendation for fans of more cerebral crime stories that avoid showing the gory bits.
---
THE FLIGHT ATTENDANT
Creator: Steve Yockey
Full Review: The Flight Attendant Review: A Career-High for Kaley Cuoco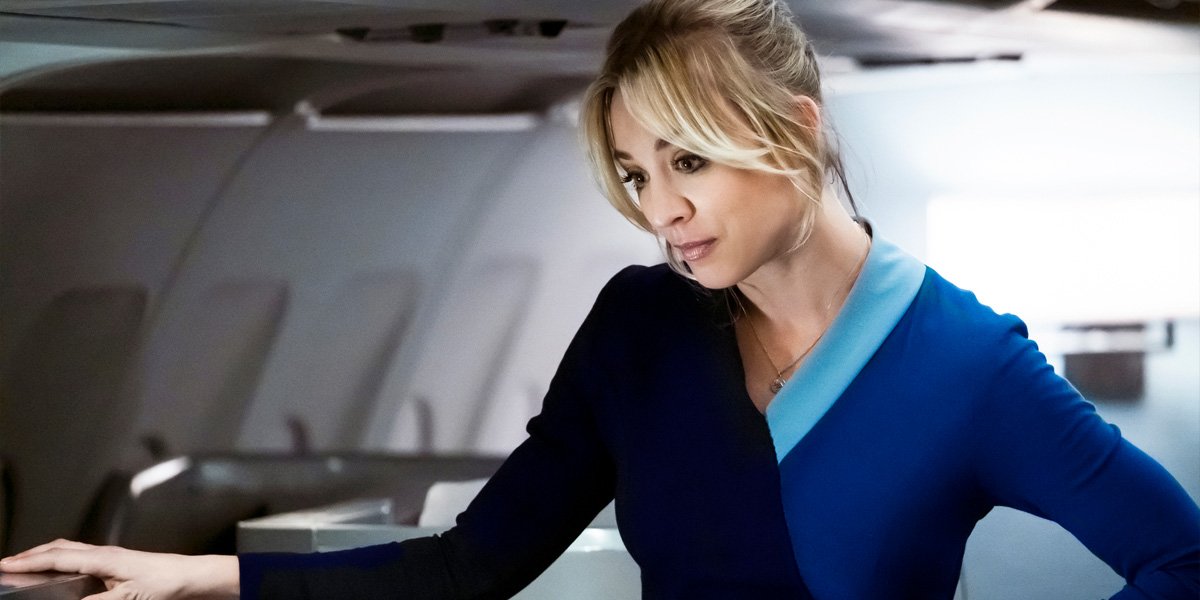 Part dark comedy, part pulp noir, and part tense thriller, The Flight Attendant is one of the most compelling, entertaining, addictive shows 2020 had to offer. Based on Chris Bohjalian's bestselling novel of the same name, this eight-part limited series follows a borderline alcoholic flight attendant (Kaley Cuoco) who spends her free time partying and hooking up with strangers. One of these strangers is Alex Sokolov (Michiel Huisman), a handsome passenger she flirts with on her flight to Bangkok, and later hangs out with, partying in the city. The following morning, Cassie awakes, hangover, with no memories of the previous night and in an unknown hotel, and finds Alex in bed next to her, dead. Afraid of being arrested for a murder she didn't commit (nor remember), Cassie cleans up the crime scene and flies back home. But two FBI agents are now looking for her, and there's only way to exonerate herself: finding out what truly happened to Alex.
The show's apparently straightforward premise – a flight attendant who wakes up in the wrong bed, with a dead stranger next to her and the FBI chasing her – is only deceptively simple: new twists and new characters soon bring new layers of depth to a purposefully absurd but also incredibly meaningful narrative, as this hilarious murder mystery is also a thoroughly successful exploration of family and trauma. The Flight Attendant features superbly written characters, from Cassie and Alex – who soon develop an imaginary bond that, alone, makes the entire show worth watching – to Cassie's friends, family and mesmerizing nemesis.
Each of these characters comes with a layered backstory, making the show all the more believable and intriguing, adding one more piece to a puzzle that only becomes clear at the very end. Starring a superb Kaley Cuoco and featuring impressive performances from the entire cast (Michelle Gomez, Michel Huisman, Zosia Mamet, Rosie Perez, Colin Woodell, Griffin Matthews, T. R. Knight, among others), The Flight Attendant is, without a doubt, the most binge-worthy show of 2020, and a must-watch thriller with many more surprises to come in the already renewed Season 2.

---
THE HAUNTING OF BLY MANOR
Creator: Mike Flanagan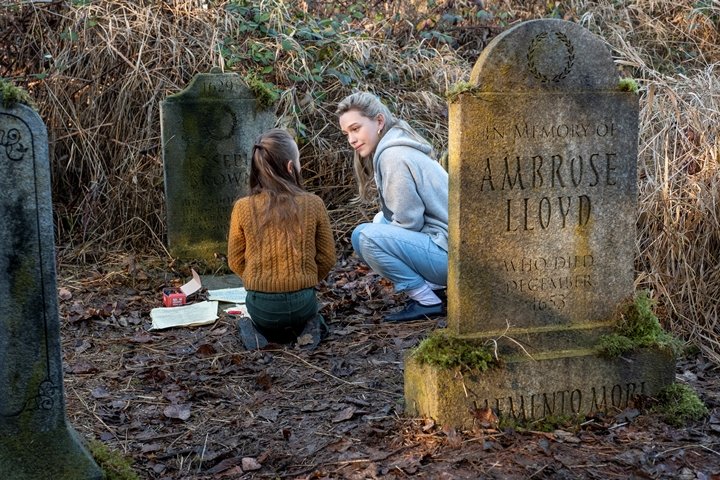 Mike Flanagan's The Haunting of Bly Manor follows the success of its predecessor, The Haunting of Hill House, and features most of the same cast, including familiar face Victoria Pedretti (You) in the role of Dani Clayton. Aside from sharing a similar title and most of the cast, the two series are not actually connected. Dani Clayton is a young au pair hired by Henry Wingrave (Henry Thomas, ET) to look after his orphaned niece and nephew (Flora and Miles, played respectively by Amelie Bea Smith and Benjamin Ainsworth) at their Bly Estate, far in the English Countryside. Here, she will reside along with estate chef Owen (Rahul Kohli), housekeeper Hannah Grose (T'Nia Miller) and groundskeeper/gardener Jamie (Amelia Eve). As the story unfolds, we realize that Dani is quite literally haunted by a ghost of her own, that the kids are indeed behaving strangely, as kids in big haunted mansions do, and that the staff is acting quite mysteriously.
The Haunting of Bly Manor is not just another predictable haunted house story that intends to make you jump at every turn: although it accomplishes that too, it is in fact a love story. To use a phrase that Flora's character keeps repeating throughout the series, in an equally annoying and creepy way, Victoria Pedretti is "perfectly splendid", bringing the warmth and melancholy needed for us to truly connect with her character. While most of the series' strength relies on Pedretti's acting, Ainsworth's unsettling portrayal of Miles truly stands out: just one step away from the frightening little boy in The Omen, it will make you sit at the edge of your seat. With its strong performances, well-timed pace, clever use of flashbacks, and beautifully written protagonists, The Haunting of Bly Manor gives Henry James' The Turn of the Screw an unusual twist and surprising depth. While it might have disappointed true horror fans, it managed to reach out to a broader audience than what a 'regular' scary story would have done, making it a wonderful bingeable series for everyone.
---
HIGH FIDELITY
Creators: Sarah Kucserka & Veronica West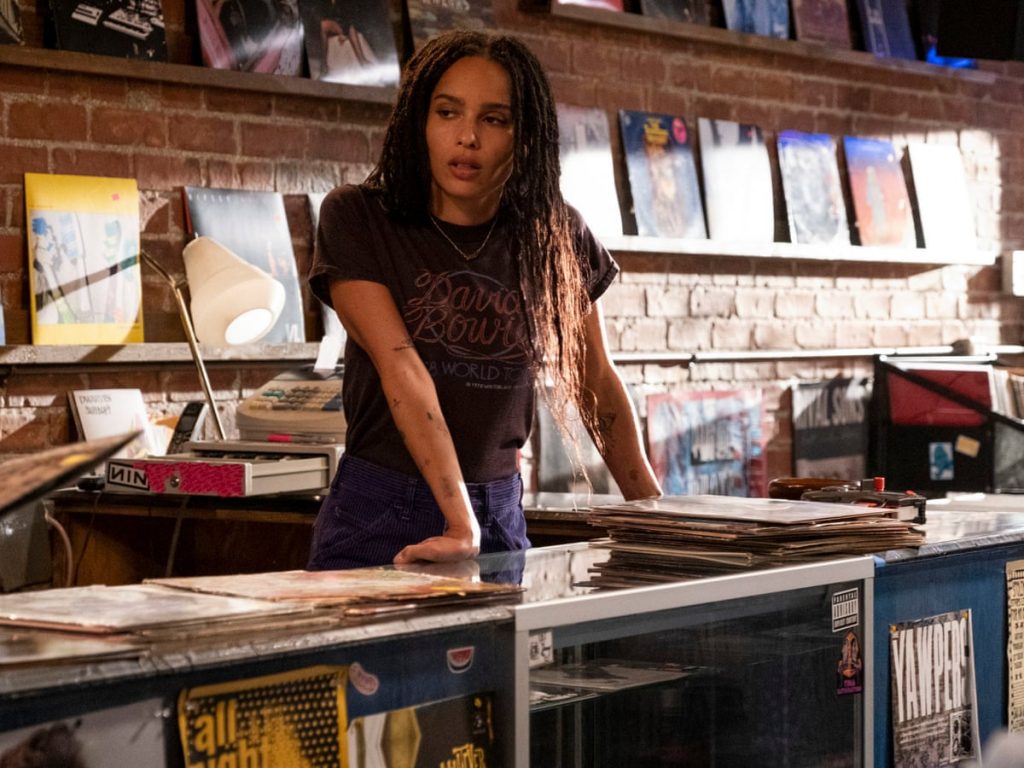 You must certainly remember High Fidelity, the 2000 cult film starring John Cusack as Rob, a neurotic and forever heartbroken record store owner who reviews his past loves to understand what is it that he's been doing wrong. Well, in Hulu 's 2020 series remake, the premises are the same, only that the take is gender-flipped and Rob is played by Zoë Kravitz. 2020 Rob is inconsolable in her pain for the recent breakup with boyfriend Mac (Kingsley Ben-Adir) and can't seem to stop making sad playlists in her Brooklyn apartment. She then decides to re-connect with her former partners to ask them why they broke up, convinced as she is that there must be something wrong with her. Rob's character is zealous in her search for both love and validation in the music industry. Constantly talked down by men, she's here to make her (women's) opinions heard – and she has some – speaking eye-to-eye to the camera.
In an industry like that of TV, that's still struggling with catching the gist of women's desire and place in the world without letting it overtake the plot, High Fidelity's take is candidly refreshing. For, as Rob explains in the first episode, "Making a playlist is a delicate art. It's like writing a love letter, but better, in a way": even finding such a complex yet unconventionally solid female character as hers was, is a delicate, and rare, art. And it's unfortunate that we don't get to see it evolve in an already defined and unpaved narrative arc as the show's not been renewed for a second season. It is a short ride that we get to take with Kravitz's Rob, but it'll sure have a wild soundtrack.
---
I MAY DESTROY YOU
Creator: Michaela Coel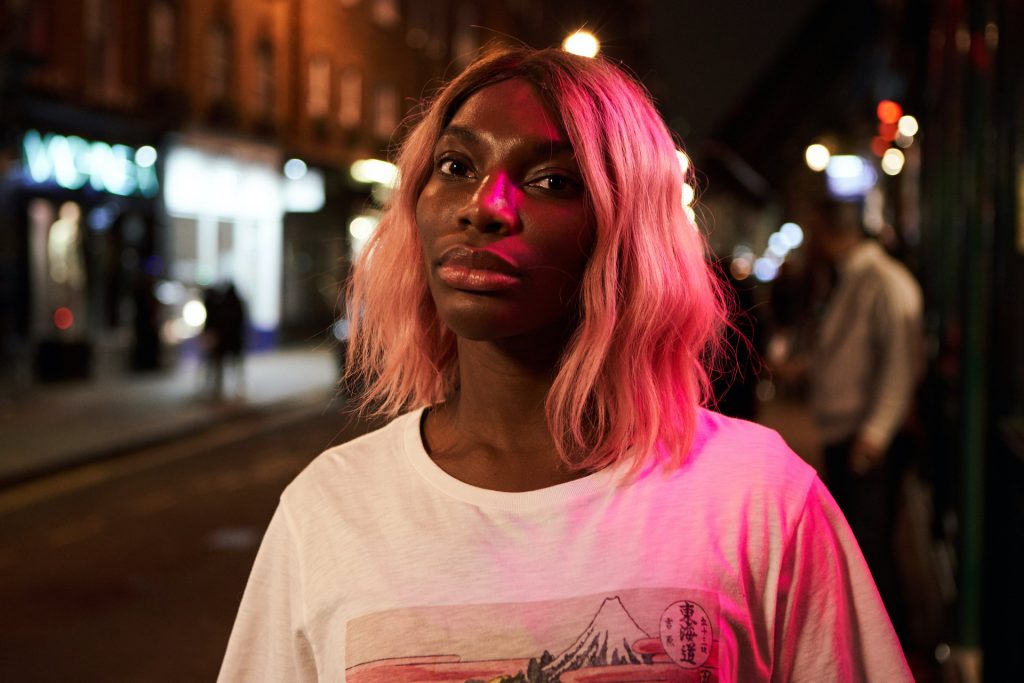 Michaela Coel's (Chewing Gum, Black Mirror) masterwork of a miniseries I May Destroy You creatively and cleverly considers the role that consent plays in an array of sexual encounters between modern-day British Millennials, beginning with Coel's Arabella, an acclaimed author who has to rebuild her life after being raped following an explosive evening out with friends. As Arabella tries to cope with her trauma and piece together what actually transpired during her assault, her friends Terry (Weruche Opia, of The Bad Education Movie and Sliced) and Kwame (Paapa Essiedu, of Press and Gangs of London) help her in her healing and additionally analyze potentially problematic sexual experiences they've endured as well, causing them to come to terms with how ambiguous the definition of "assault" truly is.
Much like Emerald Fennell's Promising Young Woman, I May Destroy You subversively tackles the subject matter of sexual misconduct in such an innovative and intricate way that it's impossible not to be kept on the edge of your seat the whole way through, with each episode proving more unpredictable and unapologetically incendiary than the last. Though the series in its totality is such a tricky tonal tightrope act, Coel absolutely aces it, tackling potentially triggering material with moving maturity while still suffusing the show with her own singularly idiosyncratic style of storytelling.
---
NORMAL PEOPLE
Creators: Lenny Abrahamson & Hettie Macdonald
Full Review: Normal People Review: A Wonderfully Nuanced Portrait of Love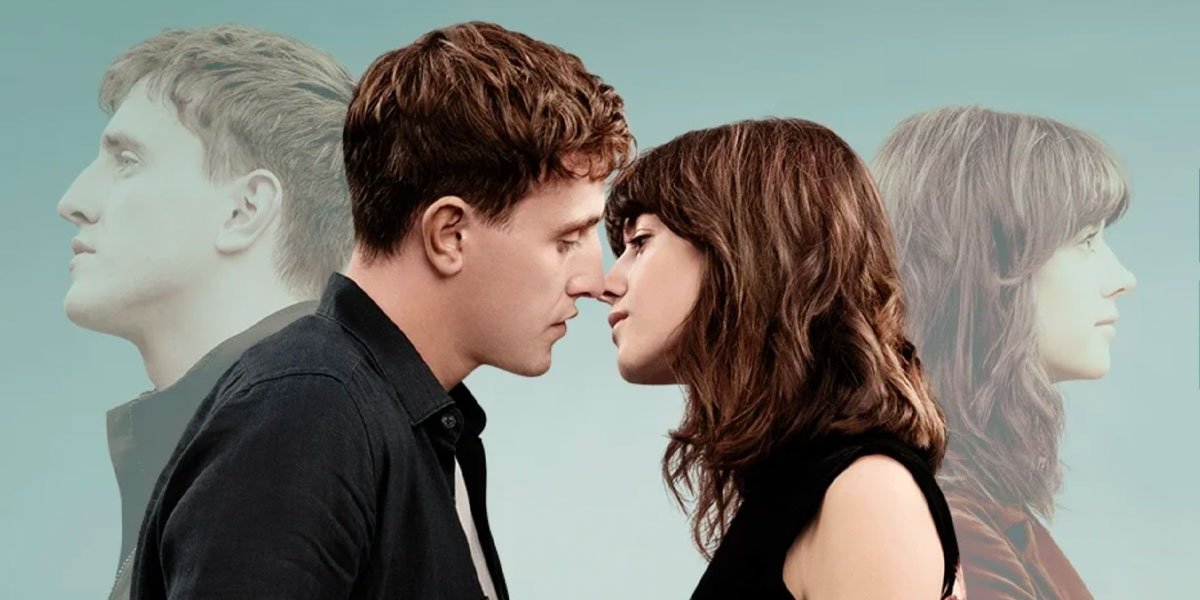 One of the most talked about shows of the year, Normal People, graced our screens in April and left international audiences falling at its feet. Nominated for four Emmy awards, Normal People is a beautifully written, and expertly delivered, image of love and loss that captivated viewers over the world. The series is based on Sally Rooney's New York Times best-selling novel and was adapted for screen by Rooney, Alice Birch and Mark O'Rowe. The show tastefully deals with issues, such as social class, suicide and depression, with grace and sensitivity whilst also allowing the topics the full consideration they deserve.
While the show is excellent across the board, the tender, vulnerable portrayals of Marianne and Connell are outstanding and deserve special mention. Daisy Edgar-Jones is a powerhouse, grasping the fierce independence of Marianne's character and coupling it with beautifully expressed intimacy and suffering. Mescal's portrayal of depression is outstanding: Connell's pain is harrowing to watch yet it commands attention, gripping audiences and forcing the issue of mental health into the spotlight, given the events of 2020 these conversations couldn't come at a better time. Normal People is simply excellent, as entertaining as it is heart wrenching, the show is wonderfully crafted portrait of youth and first love.
---
THE QUEEN'S GAMBIT
Creators: Scott Frank & Allan Scott
Related article: 10 Reasons to Watch The Queen's Gambit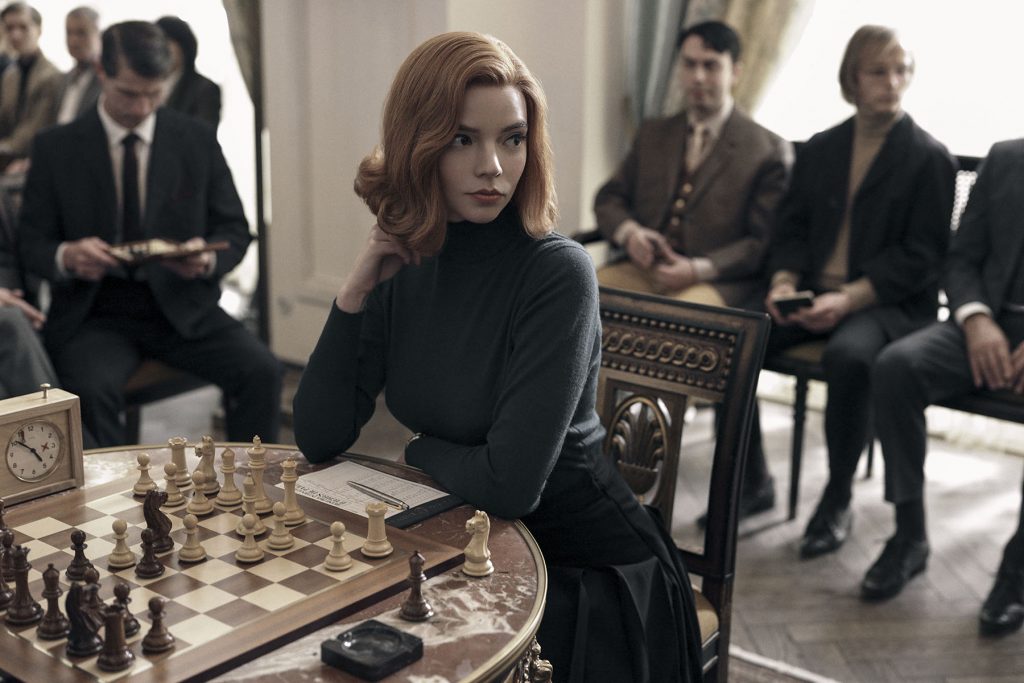 Who knew chess could be so cool? Netflix's The Queen Gambit – which centers on child prodigy Beth Harmon (Anya Taylor-Joy, of Emma. and The Witch), an orphan who competes to be the top player in the chess world while simultaneously struggling with drug and alcohol dependency – certainly didn't seem like it would be a series that would captivate an entire culture, but it nevertheless defied all expectations upon release this past October, offering a sumptuously staged and skillfully structured coming-of-age period drama that was further complemented by stirring storytelling from screenwriter Scott Frank (of Out of Sight and Logan) and a powerhouse lead performance from Taylor-Joy.
The show's depiction of the drama of competitive chess was not only endlessly intriguing – thanks to expedient editing from Michelle Tesoro (of On the Basis of Sex and Godless) and a scintillating score from Carlos Rafael Rivera (of A Walk Among the Tombstones) – but also emotionally involving, as viewers come to genuinely care for the character of Beth Harmon after learning of the pains of her past and therefore further invest in her quest to be the best. Over the course of the series' seven episodes, the suspense continues to build and build until the fiery finale delivers in spades, cementing Beth Harmon's status as a star of the small screen for the ages.
---
TED LASSO
Creators: Brendan Hunt, Joe Kelly, Bill Lawrence & Jason Sudeikis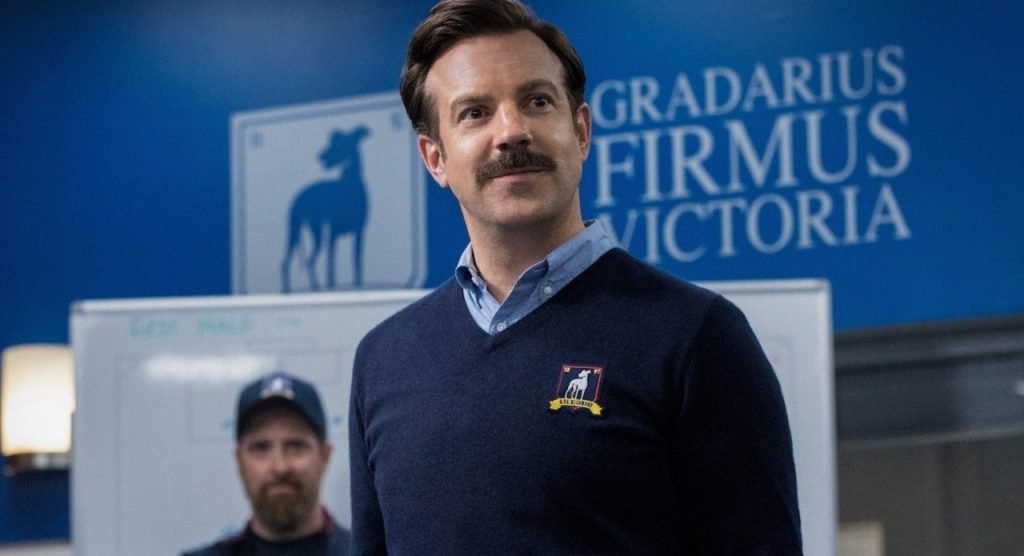 In the era of COVID, one show gave me more joy than any other: Ted Lasso. Ted Lasso tells the story of an American football coach dragged to the United Kingdom to coach a Premiere League team. Once the show gets past the trappings of its premise, it fast evolves into one of the funniest character pieces in recent television history. Give or take a deliciously churlish Anthony Stewart Head, Ted Lasso is a show devoid of villains. Jason Sudeikis (Horrible Bosses) gives the best performance of his career as a man whose thorough decency reflects not the sort of simplicity the character type might suggest, but rather a fundamental kindness rarely depicted on modern television. The rest of the cast (including Hannah Waddingham, Game of Thrones, and Juno Temple, Killer Joe) showcases the sort of cohesive banter and constant humor rare in comedies that run 100 episodes, let alone ones just a few hours into their life spans. I never would've guessed the show, with this premise, would move as deeply as anything I've watched this year, but here we are. It's just flawed people trying to make the best of things. And in these trying times, it sure is nice to have that.
---
THE UNDOING
Creator: David E. Kelley
The Undoing is the last show I watched in 2020, and it's also the one that surprised me the most. Written and directed by Award-winning filmmakers Susanne Bier (The Night Manager) and David E. Kelley (Big Little Lies), among others, this six-part limited series successfully follows a classic whodunnit formula, taking us through a very public investigation during the aftermath of a violent murder. One episode after the other, terrible secrets are revealed and everyone becomes a suspect, including the show's protagonists – Grace (Nicole Kidman) and Jonathan Fraser (Hugh Grant), a wealthy therapist and successful pediatric oncologist who, up until then, seemed to have had it all.
As we follow Grace's attempts to stay afloat and watch her interactions with her resourceful son, Henry (Noah Jupe), and her judgemental but loving father, Franklin (Donald Sutherland), we soon realise that finding the murderer is not the only mystery left to solve. Featuring an exceptional Nicole Kidman in a career-defining performance and a likewise impressive Hugh Grant in a complex, multifaceted role he doesn't usually get to play, The Undoing is not just a series that will keep you guessing right until the end, but also a timely, meaningful investigation on narcissism, and the dangers it poses to society.
---
OTHER GREAT TV SHOWS WE REVIEWED THIS YEAR: