The Flight Attendant: A Career-High for Kaley Cuoco (Review)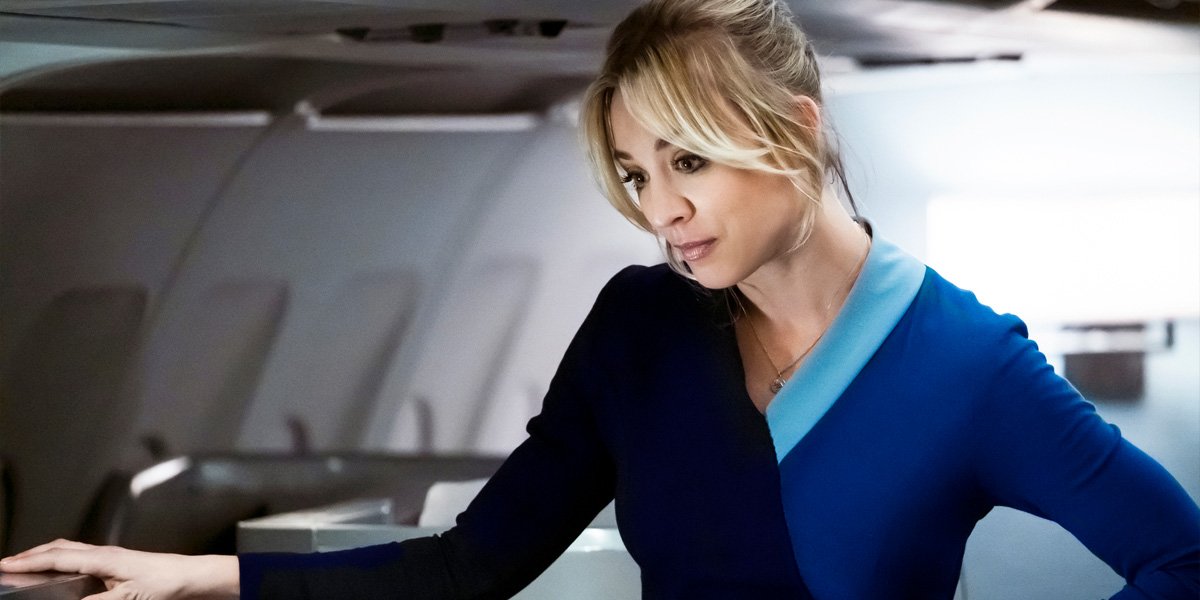 Kaley Cuoco in The Flight Attendant (Phil Caruso/HBO)
The Flight Attendant is a terrifically twisty murder mystery that shows audiences a striking new side to star Kaley Cuoco.
---

Most either know Kaley Cuoco from her breakthrough role as Bridget Hennessey on ABC's 8 Simple Rules or as the plucky Penny on CBS's smash sitcom, The Big Bang Theory. With these parts, over the years, Cuoco has successfully cultivated a charming and comedic image for herself on the small screen, leaning into her sweet-natured "girl next door" sincerity and rarely deviating much from this persona (which has proven to be quite prosperous for her). Right off the bat, that is what makes HBO Max's The Flight Attendant all the more alluring. With Cuoco once again in the lead, many may anticipate more pleasant "Penny-esque" antics and find themselves wrapped up in a whole other odyssey entirely. Above all else, The Flight Attendant offers Cuoco the opportunity to assert herself as an actress of previously unexplored depth and dimension, and for this achievement alone, it's absolutely worth adding to your HBO Max watchlist.
Created by Steve Yockey (Scream: The TV Series, Supernatural), The Flight Attendant follows Cuoco's Cassie Bowden, an incessantly inebriated flight attendant who is just barely scraping by in life while spending most of her free time in sexual trysts with strangers. Though her friends – fellow flight attendant Megan (Rosie Perez, of Birds of Prey and Do the Right Thing) and anxious lawyer Annie (Zosia Mamet, of HBO's Girls and The Kids Are All Right) – frequently admonish her for her outlandish actions, Cassie is mostly indifferent to their advice, content to conduct herself as she pleases with little care or concern for any consequences. That is, until she wakes up in a hotel room in Bangkok, hungover, lying next to the dead body of a passenger from her last flight named Alex, whom she slept with the night prior (Michael Huisman, of HBO's Game of Thrones and Netflix's The Haunting of Hill House).
Horrified, Cassie hurriedly attempts to clean up the mess (while really only making matters worse) before heading out to her morning flight and acting as if nothing had happened. However, the trouble doesn't stop there, as a pair of inquisitive FBI agents are hot on her trail as soon as she steps foot back in her hometown of New York City, while she additionally becomes aware of Alex's shady business dealings, which may have potentially led to his untimely demise and also influenced a crooked colleague of his – by the name of Miranda Croft (Michelle Gomez, of BBC's Doctor Who and Netflix's Chilling Adventures of Sabrina) – to start chasing down Cassie as well. As time runs out to both clear her name and prevent herself from becoming another one of this anonymous assailant's victims, Cassie struggles to stay sober long enough to put all the pieces to this puzzle together, especially as age-old secrets rear their ugly heads.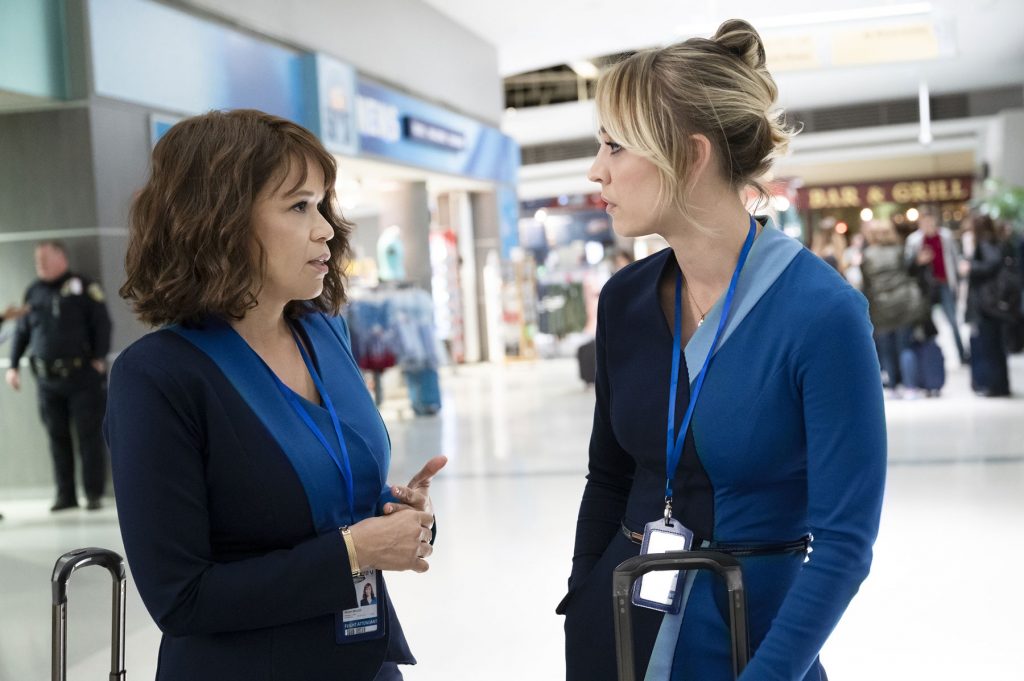 As one can probably surmise just from that short synopsis, The Flight Attendant is a tornado of tones. And yet, for the most part, Yockey and his writing staff somehow manage to maintain a firm grasp on this torturously twisty tale and keep it grounded, in spite of all the salacious surprises that arise again and again. The initial set-up is so screwy and surreal that one might be inclined to lean into the laughable ludicrousness of the premise the whole way through, but while The Flight Attendant does indeed dabble in dark humor here and there, it is quite cautious about ever converting into a full-blown comedy, to both the show and Cuoco's benefit. When you cast such a cherished and capable comedienne as your lead, people are bound to expect some flippant frivolity at one point or another, but our expectations are strikingly subverted, as Cuoco always avoids the easy reaction to the eccentricities she encounters, peeling back the layers on a performer we all thought we already knew everything about.
Now, this isn't to say that The Flight Attendant is a dry and dour dirge by any means – in fact, quite the opposite. It's actually endlessly enticing to see how the series primarily puts the pulse-pounding suspense in the spotlight while simultaneously weaving a snarky and sardonic wit throughout the story as a whole, never sacrificing its snappiness for solemnity or vice versa. While the writers do deserve much of this credit, it also can't be emphasized enough just how effective Cuoco is at comprehending the complexity of Cassie's character arc and never diminishing her development in any respect. In another actress' hands, it's easy to see how Cassie could quickly become a cliché (the overly amorous alcoholic who always finds a way to ruin any and all relationships in her life and can't ever seem to catch a break – been there, done that), but Cuoco never plays her as a punchline, instead investigating why Cassie utilizes such unhealthy coping mechanisms.
Some of the show's best secrets relate to Cassie's own backstory, so they certainly won't be spoiled here, but her personal plights prove to be nearly just as compelling as the central murder mystery, as The Flight Attendant delicately divulges the pains of her past and the causes of her crippling alcoholism over its eight episodes, surveying the scars left from one's familial upbringing and allowing Cuoco the time to shine with some meaty dramatic material that you certainly wouldn't find on The Big Bang Theory. Likewise, as she strains to solve the series' core crime, Huisman's Alex lives on her fractured psyche, giving the two the chance to converse past their one eventful evening together, and while this storytelling device is initially used for amusing asides, over time, we start to sense why Cassie is so consumed by this case, apart from her potential legal problems – despite only spending one night together, Cassie connected with Alex in a way in which she hadn't with any other human before, and though he could have been her lifeline to recovery in any other circumstances, she was robbed of that redemption. Cuoco and Huisman sell this subplot splendidly thanks to their crackling chemistry, and it makes Cassie feel more multidimensional than many other leads on a multitude of similar murder mystery miniseries.
Though there is considerable concentration on Cassie's emotional evolution as a character, The Flight Attendant never neglects to deliver on the essential thrills and chills one would associate with a story of this sort, with the reveals and revelations skillfully sprinkled throughout all eight episodes. While the story itself may not seem all that special on the surface (centering around conventional "corporate cover-up" capers), the way in which Yockey and his writers structure this saga is still immensely satisfying, as they make sure to never waste too much time treading water in terms of withholding particular plot twists or turns, and they carefully conclude each episode on a cliffhanger to keep you coming back for more. Editors Anthony Miller (FX's The Strain, The CW's Supergirl) and Carol Stutz (The CW's Arrow, DC Universe's Titans) assist by suffusing the series with expeditious energy, while composer Blake Neely's (Greyhound) sensational score further adds to the audience's anxiety.
See Also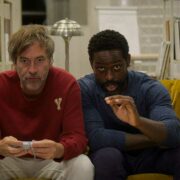 It must also be noted that Cuoco is supported spectacularly by The Flight Attendant's expansive ensemble cast throughout the course of the show, with Mamet especially standing out amidst the ever-increasing insanity. Like Huisman, Mamet just instantly establishes a riveting rapport with Cuoco, making their friendship feel fully convincing and credible from their first scene together, and she always makes the most of her screen time by adeptly adding insight into Annie's own emotional issues and going above and beyond what is required of the regular "best friend" role with her commitment to the character. Perez is a delirious delight as Cassie's primary flight attendant gal pal, and while her specific subplot is somewhat shortchanged at times, her delirious dedication is always amusing nonetheless, and she's a welcome presence on screen at all times. Gomez is a hoot in her own right too, as the seemingly malevolent Miranda who juggles black comedy with brutality without any trouble whatsoever.
While The Flight Attendant may look like your typical tawdry adult thriller upon first glance, when actually experiencing the turbulent tale for yourself and coming into contact with its candid conversations about alcoholism and mental illness, you'll slowly see that there's more to this murder mystery than meets the eye. The series isn't afraid to wade into some significant subject matter in the midst of all the other mayhem taking place, and because of Kaley Cuoco's livewire lead performance and some wonderfully wise and witty writing, The Flight Attendant succeeds at being entertainment that satisfyingly offers both surface level thrills and character-centric storytelling.
---
All eight episodes of The Flight Attendant are now available to stream on HBO Max.