Hollywood (Review): A Netflix Fairytale, but Let's Make It Real
JEREMY POPE as ARCHIE COLEMAN, DARREN CRISS as RAYMOND AINSLEY, and LAURA HARRIER as CAMILLE WASHINGTON in Episode 107 of HOLLYWOOD /SAEED ADYANI/NETFLIX)
Hollywood is Ryan Murphy's newest Netflix miniseries. Under the premise of rewriting history, this gilded fairytale changes our narrative for the better.
---

As liberal and progressive as today's Hollywood appears to be, we ought to remember that it's not always been like that. The first black woman to win an Oscar (for a supporting role) was Hattie McDaniels in 1939, for portraying the role of the maid in Gone with the Wind. However, we'd have to wait until Halle Berry's win in 2001 for a competitive Oscar in the leading role. The same goes for LGBTQ+ actors. It was 1992 when the first LGBTQ+ actor who was publicly out was nominated in any category.
In the last few years, Hollywood and Burbank (figuratively, where most of the industry's TV shows sets are) have busied themselves with tackling the issue of underrepresentation of those unascribed to the (white and/or hetero) normativity. A different way to deal with it is to try to rewrite history as a whole, giving it a new, broader perspective, allowing the past to dwell like a fairytale in the realm of utopia. Like Ryan Murphy has done with Hollywood.
In an Instagram post, Murphy writes, "I grew up without literally any feeling of representation, or hope. What (we) were trying to create was a world where the unseen and marginalized WIN and have a happy ending and aren't punished in any way… or have something taken away from them because they won." So he revisited Hollywood's history and wrote his own version.
Gaining fame with FX teenage comedies and dramas, like Glee and American Horror Story, Murphy signed a 5 year contract with Netflix last year. This contract gave birth to The Politician, an unseen combination of high-school drama interrupted by unexpected musical breaks and cross references to US politics.
This is the premise under which one has to contextualize Hollywood. As political and revisionist as it may it be, it's still a Ryan Murphy production. It's classic 40s Hollywood, but it's Murphy's vision of Hollywood, a Tinseltown fairytale. A glittery universe inhabited by the infinitely beautiful and perpetually young actors aiming to inspire younger generations of viewers by teaching them diversity.
Hollywood's plot aims to depict the whole mechanism of the early Hollywood industry– the complex and multifaceted world enclosed in the L.A. studios. And it does so by welcoming the viewers from the entrance of the famous studios gates, where every year thousands of people huddle around fantasizing of getting a role as an extra. It's 1946 and among these there's Jack Castello, a veteran of the WWII–one of those 30-somethings that are as pretty as a picture – and you can say that out loud. He shows up at the entrance every morning, neglecting his wife at home for his dream of one day being let in through those gates. Those doors, however, always close him off. Looking for a temporary job, Jack ends up working in a gas station that's only the facade of a male brothel. Customers, all rich old ladies of the industry, only need to say the magic words, "take me to dreamland", to enter a more carnal dreamland. Through contacts met at the gas station, he finally gets his own ticket to Hollywoodland–as Hollywood was initially called– and earns an audition for a part.
Once Jack passes the gates, the worlds of all the industry workers come to intertwine. There's Archie, a black gay wannabe screenwriter, whose script has just been accepted to be turned into a film, and whose diversity will obviously obstruct his way to his dreamland. Raymond, a half-Asiatic director, fantasizes of shooting a film that will be remembered and believes that Archie's script is going to make the difference. His girlfriend Camille, a talented black actress, dreams of a screen role where she doesn't have to parody black maids and is willing to do anything to get the main role in Archie's film, even though it was written for a white girl.
All these characters are destined to intertwine around the production of Peg, the star-crossed movie written by Archie about Peg Entwistle, the girl who died of suicide after leaping from the "H" of the Hollywood(land) sign. But in coming together, the film gets a new nuance because it's enriched of the characters' diverse experiences. In fact, the elderly owners of the studios, as juvenile and passionate as the younger characters, join the wagon and all work together on the realization of the movie. And they rewrite that story into a hopeful hymn to diversity.
See Also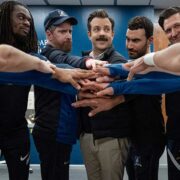 Many characters are ferociously underwritten– and you wouldn't expect that from the creator of Glee, where even high school walls had their own background story. While we're made to believe that Jack Castello is the main character from the very beginning, we soon discover that he's only the pretext to show us life outside those golden gates, and how to cross them. It's simply unattainable to have 10 same-level protagonists for a 10-episode long show. Naturally, we are bound to see the mere facade of some of these characters, and never get to really know them, as it happens with Raymond and Camille.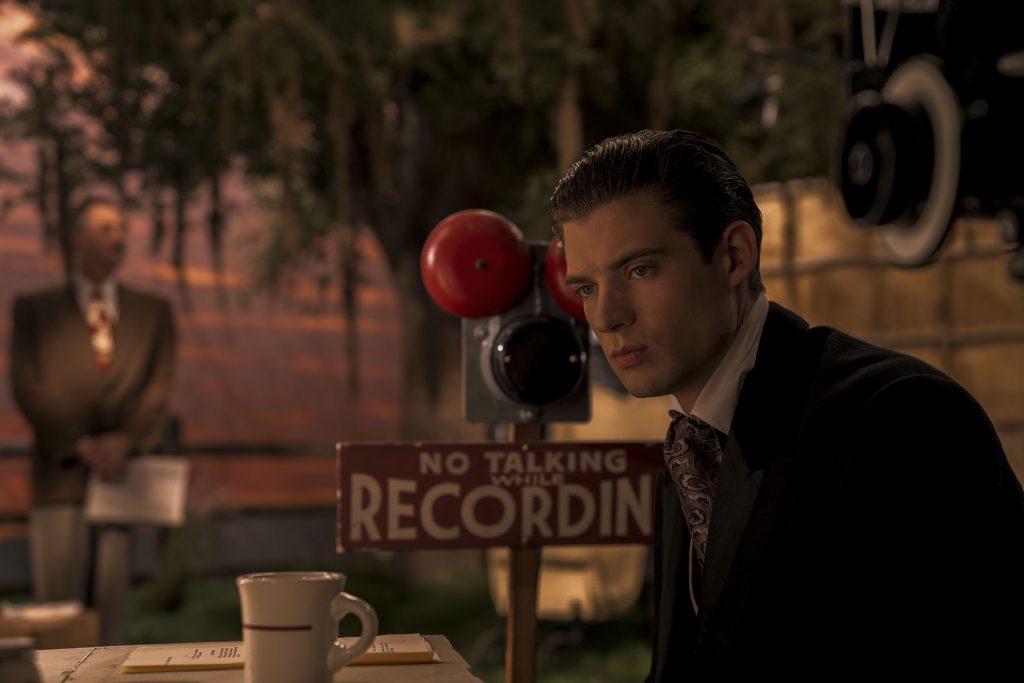 The choice of rewriting that posthumously painful piece of history and gilding it may appear trivial. However, what makes it fortunate is the higher goal to it. This is not Tarantino's proof of expertise Once Upon a Time… in Hollywood. The whole rewrite was startled for a greater good: to show a utopic reality of where those in power use their position to change the narrative for the better. Handing over the mic to those unheard. Thanks to this passionate depiction of a fictional past that we're shown, we learn something new. It's a utopia inviting us to ethically do better, for we've seen the worst because we're living it today. We're given another chance to make it right. And isn't this the right time.
---
Hollywood is now streaming on Netflix.
---
WATCH HOLLYWOOD:
---
JOIN US!
Don't miss our monthly updates with film news, movie-inspired recipes and exclusive content! You'll only hear from us once a month. #nospam