Queen Sono: Netflix's first South African Series Captivates with Authenticity

Pearl Thusi in Queen Sono (Netflix)
Queen Sono is a thought-provoking show that embodies the juxtaposition between the beautiful South African culture and a rough political and social reality.
---

Directed by Kagiso Lediga, Queen Sono is an engaging crime series that grabs your attention from the very first minutes with its many twists. The Netflix show makes you rethink white privilege and get rid of the pink glasses that prevent you from seeing the real picture in the first place, and it does so by demonstrating how much harder it is for black people to claim their rights in society. The use of 11 languages, such as English, Russian, Swahili and more, gives us a deeper understanding of the characters' cultural backgrounds. Though the main events take place in Zanzibar, an island in east-central Africa located in the Indian Ocean, the series was filmed in 37 different locations around Africa, so we can admire the continent's stunning nature and diverse culture.
Queen Sono (Pearl Thusi), a brave undercover agent at work and an independent woman at heart, is the centre of the viewer's attention. Right at the beginning of the show, we see an intense scene – Queen is in the middle of a secret operation that involves stealing important information from a person's laptop in a public place. She works for South Africa's Special Operations Group, an independent private company that collects data about criminals, tries to capture these criminals and protects the citizens of Africa in case of an emergency. At the same time, while risking her life on her missions, Queen is also trying to solve the mysteries of her past, as she has a distinct childhood memory of her mom blowing bubbles right before the moment she was shot by someone.
Now, as Queen grows up, she sets a goal to find the one who killed her mother and to figure out what his/her motive was. Throughout her whole life, Queen hears from others about how great her mother, Safiya Sono (Lady Skollie), was; African people admired Safiya for being an activist who fought for Africa's freedom. It is fascinating to observe how Queen follows her mother's steps and grows into a powerful black woman who saves lives and seeks justice and equality for African people.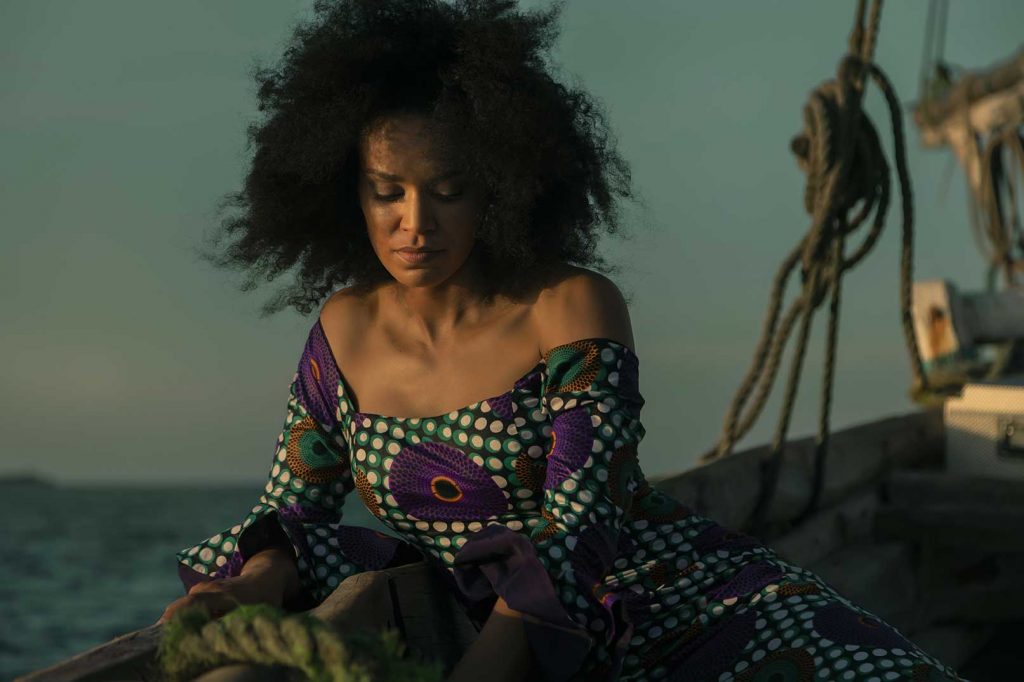 Queen is driven by a desire to take revenge for her mother's death and find the culprits. When Queen gets into life or death situations, she sees flashbacks of her mom blowing bubbles, which are beautifully integrated into the plot and give us an insight into Queen's memory. These scenes are very heartbreaking and moving: Safia Sono was shot right in front of her child. Queen, who was just a kid when her mother was killed, does not remember the face of the person who committed this crime. But this event will stay alive in her memory forever, and she is determined to find what actually happened on that scary day. Now Queen, as an undercover spy, is given a task to follow and investigate a Russian businesswoman, Ekaterina Gromova (Kate Liquorish). Consequently, one of the main external conflicts that drive the storyline forward is the one between Queen and Ekaterina.
Ekaterina is the antagonist, portrayed as a ruthless and powerful person, for whom human life means nothing. Even though they are fighting for completely different things and have conflicting viewpoints, both of these characters are depicted as mentally tough and rebellious women. Queen fights to free Africa and save lives, while Ekaterina mercilessly destroys this country in order to get money and power. Overall, the acting of the leading actresses, Pearl Thusi and Kate Liquorish, is very passionate and convincing.
Another iconic character in the show is Queen's voice of conscience, her grandmother Mazet (Abigail Kubeka). Mazet is an enjoyable and amusing character who highlights the importance of preserving your heritage and remembering your roots. She tries to show Queen how significant it is to visit the graves and talk to dead people, particularly their relatives, which is a common thing of their culture. An important topic concerning white privilege is being raised as well: for instance, Queen's grandmother mentions that nobody looks after graveyards in their area, but "if you go to the white areas, everything is neat." Mazet has no idea about Queen's job and wishes her to settle down and have kids. Queen, on the other hand, chooses not to conform to the society's canonical vision of family life, and she does not let men control her. Queen is a fictional character who is a personification of all black women, who strive for independence and freedom.
Apparently, Queen had a love affair with the current leader of the terrorist group, Shandu Johnson Magwaza (Vuyo Dabula), who was a spy just like Queen in his past. Despite the fact that they bump into each other during their missions, Queen does not let this man get in the way of her job. Shandu also patriotically fights for Africa's freedom, but in his own way. His terrorist group, called Watu Wema, which, in Swahili, means "good people," threatens and kills the ones who exploit African people for their benefit. Ekaterina offers Shandu to join their forces by convincing him that they both have the same goal – to save Africa. By agreeing to work along with Ekaterina, Shandu takes her side in the "game." As South Africa's Special Operations Group, the company Queen works for, is hunting Ekaterina down, it makes Queen and Shandu enemies at work. It is amusing to watch Queen and Shandu being on the opposite sides of the conflict and still flirting and covering each other's backs. In their complicated relationship, Queen is on an equal footing with him and she is not afraid to make a joke or two about Shandu.
The representation of life as rough as it is, with deaths and collusions, is probably the best thing about the series. It keeps everything real and points out many issues such as the government's corruption. We can observe how the politicians make business deals, take bribes and fail to lead the country properly. These problems do not concern only Africa but other countries too. As an example, President Malunga (James Ngcobo) involves himself in bribery and has no guts to defend innocent residents of Africa. He is an embodiment of many individuals who are involved in politics only in order to take advantage of the country's resources. Everybody wants to gain profit for themselves by pretending to help the country; when in reality lots of innocent people are dying because of political and business disputes. This bold depiction makes us empathize about the situation in Africa and rethink of the one in our countries.
Full of intrigue and mysteries, the series ends abruptly and lets us anticipate subsequent events. Queen Sono leaves many unresolved issues and arguments between the characters, clearly intending for them to be developed in the second season. Queen still has mysteries left to solve, and is also left to deal with events that make her desperate but even more revengeful. A new character is introduced right at the end, and that leaves us wondering about how their relationship with Queen will evolve. By telling us a story about racial inequality, white privilege and political instability, Queen Sono demonstrates that our modern society has flaws to fix and wars to end.
---
Queen Sono is available to watch on Netflix.