August 2022: New Movies In Theaters This Month

Bodies Bodies Bodies, Bullet Train, Prey (A24, Universal Pictures, Hulu)
August 2022 's new releases include Bodies Bodies Bodies, Bullet Train, Fall, and many more! Here are all the new movies to watch in theaters this month.
August 2022 is going to be full of new theatrical releases, from A24's highly anticipated Bodies Bodies Bodies and Brad Pitt action film Bullet Train to Fall, Orphan: First Kill, Samaritan and many more, as well as festival hits like Lena Dunham's Sharp Stick, Owen Kline's Funny Pages, Alli Haapasalo's Girl Picture and other great new movies in theaters this month.
To help you decide which of films to watch first, we've collected August 2022 's most exciting new releases in this article, in order of release. We've prioritized U.S. releases, we've also included U.K. and global release dates where available. Scroll till the end for other events happening this month, come back soon for this month's streaming releases, and happy watching!
---
AUGUST 2022 MOVIES: IN THEATERS
BODIES BODIES BODIES
Director: Halina Reijn
U.S. Release: August 5
U.K. Release: September 9
Full Review: Bodies Bodies Bodies Film Review: A Madhouse of Fun
Official synopsis: When a group of rich 20-somethings plan a hurricane party at a remote family mansion, a party game goes awry in this fresh and funny look at backstabbing, fake friends, and one party gone very, very wrong.
---
BULLET TRAIN
Director: David Leitch
Global Release: August 5
Full Review: Bullet Train (Film Review): Brad Pitt's Rousing Return to Action
Official synopsis: In Bullet Train, Brad Pitt stars as Ladybug, an unlucky assassin determined to do his job peacefully after one too many gigs gone off the rails. Fate, however, may have other plans, as Ladybug's latest mission puts him on a collision course with lethal adversaries from around the globe—all with connected, yet conflicting, objectives—on the world's fastest train. The end of the line is just the beginning in this non-stop thrill-ride through modern-day Japan from David Leitch, the director of Deadpool 2.
---
EASTER SUNDAY
Director: Jay Chandrasekhar
Global Release: August 5
Full Review: Easter Sunday (Film Review): Putting the Fun in Dysfunctional
Official synopsis: Stand-up comedy sensation Jo Koy (Jo Koy: Comin' in Hot) stars as a man returning home for an Easter celebration with his riotous, bickering, eating, drinking, laughing, loving family, in this love letter to his Filipino-American community. Easter Sunday features an all-star comedic cast that includes Jimmy O. Yang (Silicon Valley series), Tia Carrere (True Lies), Brandon Wardell (Curb Your Enthusiasm), Eva Noblezada (Broadway's Hadestown), Lydia Gaston (Broadway's The King and I), Asif Ali (WandaVision), Rodney To (Parks and Recreation), Eugene Cordero (The Good Place), Jay Chandrasekhar (I Love You, Man), Tiffany Haddish (Girls Trip) and Lou Diamond Phillips (Courage Under Fire).
---
I LOVE MY DAD
Director: James Morosini
U.S. Release: August 5 in theaters, August 12 on VOD
U.K. Release: unknown
Full Review: A Riotous Father-Son Road Trip with A Twist
Official synopsis: Inspired by writer, director, and star James Morosini's true life experience, I Love My Dad follows Chuck (Patton Oswalt), a hopelessly estranged father who desperately wants to reconnect with his troubled son, Franklin (Morosini). Blocked on social media and concerned for his son's life, Chuck impersonates a waitress online and starts checking in with Franklin. But things begin to spiral when Franklin falls for this imaginary girl (Claudia Sulewski) and wants nothing more than to meet her in person, as Chuck has inadvertently catfished his own son. A thrilling comedy with an unexpected twist, I Love My Dad also stars Rachel Dratch, Lil Rel Howery, Amy Landecker and Ricky Velez.
---
MIJA (LIMITED)
Director: Isabel Castro
Global Release: August 5 in select theaters, on Disney+ in 2022
Official synopsis: Mija features Doris Muñoz and Jacks Haupt, two daughters of undocumented immigrants from Mexico who are both navigating their careers in the music industry. Seeking to provide for their families while achieving their dreams, Doris and Jacks bond over the ever-present guilt of being the first American-born members of their undocumented families and the financial risks of pursuing their dreams. For them, the pressure of success is heightened due to their families' hope for green cards and reunification. Mija is a poignant and emotional dedication to immigrants and their children. Director Isabel Castro's intimate debut feature constructs an ethereal vision and homage to the daughters that fight for their families, their dreams and themselves.
---
SHARP STICK
Director: Lena Dunham
U.S. Release: August 5
U.K. Release: unknown
Full Review: "Be Proud of Your F*ing Scars"
Official synopsis: Sarah Jo is a naive 26-year-old living on the fringes of Hollywood with her mother and sister. She just longs to be seen. When she begins an affair with her older employer, she is thrust into an education on sexuality, loss and power.
---
BLOOM UP: A SWINGER COUPLE STORY
Director: Mauro Russo Rouge
U.S. Release: August 12 in New York (Quad Cinema) and August 19 in LA (Laemmle Noho), with expansion to follow.
U.K. Release: unknown
Official synopsis: Pet shop owners by day and swingers by night, Italian couple Hermes and Betta are, in most ways, regular people. In this honest, sex-positive look at the swinger lifestyle, director and cinematographer Mauro Russo Rouge is invited into their lives with no moment off-limits, crafting a portrait of a relationship that gives equal weight to the mundane yet strangely fascinating logistics of organizing sex parties as it does to the act itself. Shot in a rich visual style that is deeply sensual without ever feeling vulgar or exploitative, Bloom Up is an intimate exploration of the deep love and complex challenges one polyamorous couple shares.
---
BLIND AMBITION (UK)
Director: Warwick Ross & Rob Coe
U.K. Release: August 12: in cinemas and on Curzon Home Cinema
U.S. Release: September 2
Official synopsis: Joseph, Marlvin, Pardon and Tinashe are refugees who escaped violence in Zimbabwe to build new lives in neighbouring South Africa. Each of them struggled in the new country, facing prejudice and economic hardship as they supported their families. Finding jobs as waiters, each soon discovered a taste for the complex subtleties of wine. They all committed themselves to the art and ascended to the rank of sommelier, and after meeting each other, they decided to form a team to enter the Olympics of the winetasting world in France.
---
FALL
Director: Scott Mann
U.S. & International Release: August 12
U.K. Release: September 2
Full Review: Fall (2022) Film Review: Don't Look Down
Official synopsis: For best friends Becky (Grace Caroline Currey) and Hunter (Virginia Gardner), life is all about conquering fears and pushing limits. But after they climb 2,000 feet to the top of a remote, abandoned radio tower, they find themselves stranded with no way down. Now Becky and Hunter's expert climbing skills will be put to the ultimate test as they desperately fight to survive the elements, a lack of supplies, and vertigo-inducing heights in this adrenaline-fueled thriller costarring Jeffrey Dean Morgan.
---
GIRLS GIRLS GIRLS (LIMITED)
Director: Alli Haapasalo
U.S. Release: August 12 at the IFC Center in New York
U.K. Release: September 30
Full Review: The Thrill of Teenage Discovery
Interview with the Director: Director Alli Haapasalo on Girls Girls Girls: "A Film About the Need to Be Seen"
Official synopsis: Best friends Mimmi and Rönkkö have each other's backs, always. They want to live adventurous lives, loaded with experiences and passion. Emma, on the contrary, has given her whole life to figure skating. Nothing gets between her and success. But when the girls meet, life opens new paths, and they all rocket in new directions. While Mimmi and Emma experience the earth moving effects of first love, Rönkkö is on a quest to find pleasure.
---
INU-OH
Director: Masaaki Yuasa
U.S. Release: August 12
U.K. Release: September 28
Official synopsis: Inu-oh is born with unique physical characteristics, and the horrified adults cover every inch of his body with garments, including a mask on his face. One day, he meets a boy named Tomona, a blind biwa player, and as Tomona plays a delicate song of tangled fate, Inu-oh discovers an incredible ability to dance. Inu-oh and Tomona become business partners and inseparable friends, using their creative gifts to survive on the margins of society, as song after song gain them notoriety and propel them to stardom. Through the songs, Inu-oh mesmerises his audiences on stage, and gradually begins to transform into someone of unequalled beauty. But why is Tomona blind? Why was Inu-oh born with unique characteristics?
---
MACK & RITA
Director: Katie Aselton
Global Release: August 12
Full Review: Mack & Rita (Film Review): Ode to the "Inner Old Gal"
Official synopsis: When 30-year-old self-proclaimed homebody Mack Martin (Elizabeth Lail) reluctantly joins a Palm Springs bachelorette trip for her best friend Carla (Taylour Paige), her inner 70-year-old is released — literally. The frustrated writer and influencer magically transforms into her future self: "Aunt Rita" (Diane Keaton). Freed from the constraints of other people's expectations, Rita comes into her own, becoming an unlikely social media sensation and sparking a tentative romance with Mack's adorable dog-sitter, Jack (Dustin Milligan). A sparkling comedy with a magical twist, Mack & Rita celebrates being true to yourself at any age.
---
QUEEN OF GLORY
Director: Nana Mensah
U.S. Release: limited theatrical release from August 12, out on VOD from September 13
U.K. Release: August 26
Full Review: Queen Of Glory (LFF Review): Chaos, Colour, and Weed
Official synopsis: Queen of Glory is the story of Sarah Obeng, the brilliant child of Ghanaian immigrants, who is quitting her Ivy League PhD program to follow her married lover to Ohio. When her mother dies suddenly, she bequeaths her daughter a Christian bookstore in the Pelham Parkway section of the Bronx where Sarah was raised. A follow-up on the classic immigrant's tale, Queen of Glory provokes laughter and empathy, as its heroine is reborn through her inheritance. The film made its premiere at Tribeca 2021, where it won Best New Narrative Director.
---
WIFELIKE
Director: James Bird
Global Release: August 12 (in theaters, on digital and on demand)
Official synopsis: A grieving detective in the near-future (Jonathan Rhys Meyers) hunts down criminals who trade artificial humans on the black market. In the fight to end AI exploitation, an underground resistance attempts to infiltrate him by sabotaging the programming of the artificial human assigned as his companion (Elena Kampouris) to behave like his late wife. She begins to question her reality as memories of a past life begin to surface in a world where nothing is as it seems.
---
BEAST
Director: Lee Haven Jones
Global Release: August 19
Full Review: Beast (Review): Wobbly Lions & Poor Decisions Take Over
Official synopsis: Idris Elba plays Dr. Nate Daniels, a recently widowed husband who returns to South Africa, where he first met his wife, on a long-planned trip with their daughters to a game reserve managed by Martin Battles (Maleficent), an old family friend and wildlife biologist. But what begins as a journey of healing jolts into a fearsome fight for survival when a lion, a survivor of blood-thirsty poachers who now sees all humans as the enemy, begins stalking them.
---
THE FEAST
Director: Lee Haven Jones
U.K. Release: August 19
U.S. Release: November 2021 – click here to watch it!
Full Review: A Slow-Moving Horror Drama
Official synopsis: Filmed in the Welsh language, The Feast (Gwledd) unfolds over the course of one evening as a wealthy family gathers for a sumptuous dinner in their ostentatious house in the Welsh mountains. The guests are a local businessman and a neighbouring farmer, and the intent is to secure a business deal to mine in the surrounding countryside. When a mysterious young woman arrives to be their waitress for the evening, the family's beliefs and values are challenged as her quiet yet disturbing presence begins to unravel their lives – slowly, deliberately and with the most terrifying consequences.
---
FREE CHOL SOO LEE
Directors: Julie Ha and Eugene Yi
U.S. Release: August 19 (with August 12 screenings in NYC, and August 17 one day only event nationwide)
U.K. & Ireland Release: August 19
Official synopsis: In 1970s San Francisco, 20-year-old Korean immigrant Chol Soo Lee is racially profiled and convicted of a Chinatown gang murder. Sentenced to life, he spends years fighting to survive until investigative journalist K.W. Lee takes a special interest in his case, igniting an unprecedented social justice movement that would unite Asian Americans and inspire a new generation of activists. Nearly five decades later, Free Chol Soo Lee excavates this largely unknown yet essential history, crafting an intimate portrait of the complex man at its center and serving as an urgent reminder that his legacy is more relevant than ever. Born on August 15th, 1952, this year commemorates what would have been the late Chol Soo Lee's 70th birthday.
---
THE IMMACULATE ROOM
Director: Mukunda Michael Dewil
U.S. Release: August 19 (in theaters and on demand)
U.K. Release: unknown
Full Review: The Immaculate Room (Review): Immaculate Isn't The Right Word
Official synopsis: Mike (Emile Hirsch) and Kate (Kate Bosworth), a seemingly perfect couple, join a psychological experiment to compete for 5 million dollars if they can last 50 days in a sleek, white room in complete isolation. No phones, no family – only the Voice of the Immaculate Room keeping them in check if they think of straying. But as the clock ticks down, the Room becomes more than it seems, putting them through cruel tests to break their resolve and resurfacing private demons which they may not survive.
---
THE LEGEND OF MOLLY JOHNSON (LIMITED)
Director: Leah Purcell
U.S. Release: August 19 (in theaters and on digital)
U.K. Release: May 13 (in cinemas)
Full Review: The Drover's Wife The Legend of Molly Johnson (SXSW Review)
Official synopsis: 1893, the Australian Outback. The area is rough, the people hard-nosed, the law rather secondary. Here, women – and newcomers anyway – quickly become the pawn of men. Even Nate Clintoff, who is new in town to keep law and order, still has to fight for his place in the hierarchy. Molly Johnson, heavily pregnant and alone with her children on a farm far from town, knows her place only too well. Nevertheless, she doesn't let it get her down. She does everything to protect her children. Everything.
---
ORPHAN: FIRST KILL
Director: William Brent Bell
U.S. Release: August 19 (In Theaters, on Digital and on Paramount+)
Global Release: August 19 (in theaters)
Full Review: Orphan: First Kill (Film Review): Self-Awareness & Horror Junctions
Official synopsis: Esther's terrifying saga continues in this thrilling prequel to the original and shocking horror hit, Orphan. After orchestrating a brilliant escape from an Estonian psychiatric facility, Esther travels to America by impersonating the missing daughter of a wealthy family. Yet, an unexpected twist arises that pits her against a mother who will protect her family from the murderous "child" at any cost.
---
THE RUNNER
Director: Michelle Danner
U.S. Release: August 19 in theaters, August 23 on demand
U.K. Release: unknown
---
THE TERRITORY (LIMITED)
Director: Alex Pritz
U.S. Release: August 19
U.K. Release: unknown
Official synopsis: The Territory provides an immersive look at the tireless fight of the Amazon's Indigenous Uru-Eu-Wau-Wau people against the encroaching deforestation brought by farmers and illegal settlers. With awe-inspiring cinematography showcasing the titular landscape and richly textured sound design, the film takes audiences deep into the Uru-Eu-Wau-Wau community and provides unprecedented access to the farmers and settlers illegally burning and clearing the protected Indigenous land.
---
EMILY THE CRIMINAL
Director: John Patton Ford
U.S. Release: August 21
U.K. Release: unknown
Full Review: Emily The Criminal (Review): Hate The Game, Not The Player
Official synopsis: Emily (Aubrey Plaza) is saddled with student debt and locked out of the job market due to a minor criminal record. Desperate for income, she takes a shady gig as a "dummy shopper," buying goods with stolen credit cards supplied by a handsome and charismatic middleman named Youcef (Theo Rossi). Faced with a series of dead-end job interviews, Emily soon finds herself seduced by the quick cash and illicit thrills of black-market capitalism, and increasingly interested in her mentor Youcef. Together, they hatch a plan to bring their business to the next level in Los Angeles.
---
WHERE IS ANNE FRANK (U.K.)
Director: Ari Folman
U.K. Release: August 21
U.S. Release: unknown
Full Review: Where Is Anne Frank (Film Review): Magical Retelling of History
Official synopsis: Fiery teenager Kitty, Anne Frank's imaginary friend to whom her famous diary is dedicated, comes to life in the modern day in the Amsterdam house where Anne had taken refuge with her family. Believing her to still be alive, Kitty embarks on a journey to find Anne in today's Europe. While the young girl is shocked by the modern world, she also comes across Anne's vast legacy.
---
ALIENOID (LIMITED)
Director: Choi Dong-hoon
U.S. Release: August 26
U.K. Release: unknown
Full Review: Alienoid (Film Review): Time-Twistingly Fun Action Sci-Fi
Official synopsis: Directed by Choi Dong-hoon and starring Ryu Jun-Yeol, Kim Woo-bin, and Kim Tae-ri, Alienoid is the first in a planned series of two epic sci-fi action time-warpers. A tale of two eras, ALIENOID follows two Goryeo Dynasty (918-1392) gurus seeking a legendary, time-bending blade as they unexpectedly cross paths with modern-era people hunting down a dangerous alien concealed inside a human's body.
---
BREAKING
Director: Abi Damaris Corbin
U.S. Release: August 26
U.K. Release: unknown
Sundance Interview: Editor Chris Witt on Breaking
Official synopsis: When Marine Veteran Brian Brown-Easley is denied support from Veterans Affairs, financially desperate and running out of options, he takes a bank and several of its employees hostage, setting the stage for a tense confrontation with the police. Based on a true story.
---
FUNNY PAGES
Director: Owen Kline
U.S. Release: August 26 (in theaters and on demand)
U.K. Release: unknown
Full Review: Funny Pages (Film Review): "I Admire Your Independence"
Official synopsis: A bitingly funny coming-of-age story of a teenage cartoonist who rejects the comforts of his suburban life in a misguided quest for soul.
---
HER WAY(U.K.)
Director: Cécile Ducrocq
U.K. Release: August 26
U.S. Release: unknown
Official synopsis: Marie (Calamy) is a confident, optimistic sex worker in Strasbourg who is determined to provide a better life for her 17-year-old son, Adrien (Nissim Renard). He is a bottomless pit of apathy and negativity whose only passion in life is for cooking. The opportunity to attend a prestigious and expensive cookery school forces Marie to take increasingly desperate measures to fund his place. Awarded a Special Jury Prize at Tallinn Black Nights Film Festival for its mature storytelling, Her Way is a bold, sex positive drama from a female filmmaking team and anchored by powerful lead performance from Laure Calamy, the star of smash-hit Netflix series Call My Agent!, which was recently remade in the UK for Amazon as Ten Percent.
---
THE INVITATION
Director: Jessica M. Thompson
Global Release: August 26
Official synopsis: After the death of her mother and having no other known relatives, Evie (Nathalie Emmanuel) takes a DNA test…and discovers a long-lost cousin she never knew she had. Invited by her newfound family to a lavish wedding in the English countryside, she's at first seduced by the sexy aristocrat host but is soon thrust into a nightmare of survival as she uncovers twisted secrets in her family's history and the unsettling intentions behind their sinful generosity.
---
PRIVATE DESERT (LIMITED)
Director: Aly Muritiba
U.S. Release: August 26 in New York (the Quad Cinema), September 9 in LA (Laemmle Theatres)
U.K. Release: unknown
Full Review: Private Desert (Review): Examining Queerness and Masculinity
Official synopsis: "Remember when we talked about being alone in the world?" Sara (Pedro Fasanaro) is a genderfluid blue-collar worker who lives as her male birth identity Robson by day while caring for her religious grandmother in Sobradinho, a small town in northeast Brazil. Daniel (Antonio Saboia), who teaches in a police academy in southern metropolis Curitiba, has been placed on unpaid leave after a violent incident that's all over the news. Tense and tightly wound, he comes from a long line of police and military men, including his ailing father with whom he is tender and patient, displaying none of the machismo his work demands.The only thing holding him together is his online romance with Sara, whom he has never met in person. When she suddenly disappears, Daniel drives 2,000 miles across Brazil to find her, and what follows is a journey of the heart that will change Sara and Daniel forever.
---
SAMARITAN
Director: Julius Avery
Global Release: August 26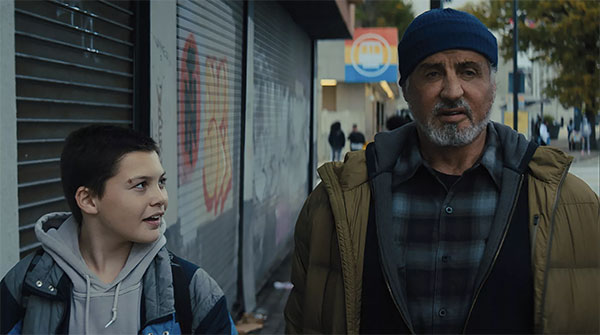 Official synopsis: Thirteen-year-old Sam Cleary (Javon "Wanna" Walton) suspects that his mysterious and reclusive neighbor Mr. Smith (Sylvester Stallone) is actually a legend hiding in plain sight. Twenty years ago, Granite City's super-powered vigilante, Samaritan, was reported dead after a fiery warehouse battle with his rival, Nemesis. Most believe Samaritan perished in the fire, but some in the city, like Sam, have hope that he is still alive. With crime on the rise and the city on the brink of chaos, Sam makes it his mission to coax his neighbor out of hiding to save the city from ruin.
---
THREE THOUSAND YEARS OF LONGING
Director: George Miller
U.S. Release: August 31
U.K. Release: September 2
Official synopsis: Dr Alithea Binnie (Tilda Swinton) is an academic…a creature of reason. While in Istanbul, she happens to encounter a Djinn (Idris Elba) who offers her three wishes in exchange for his freedom. At first, she doubts that he is real and she knows all the cautionary tales of wishes gone wrong. But the Djinn pleads his case, and eventually she is beguiled and makes a wish that surprises them both!