Gran Turismo: Movie Review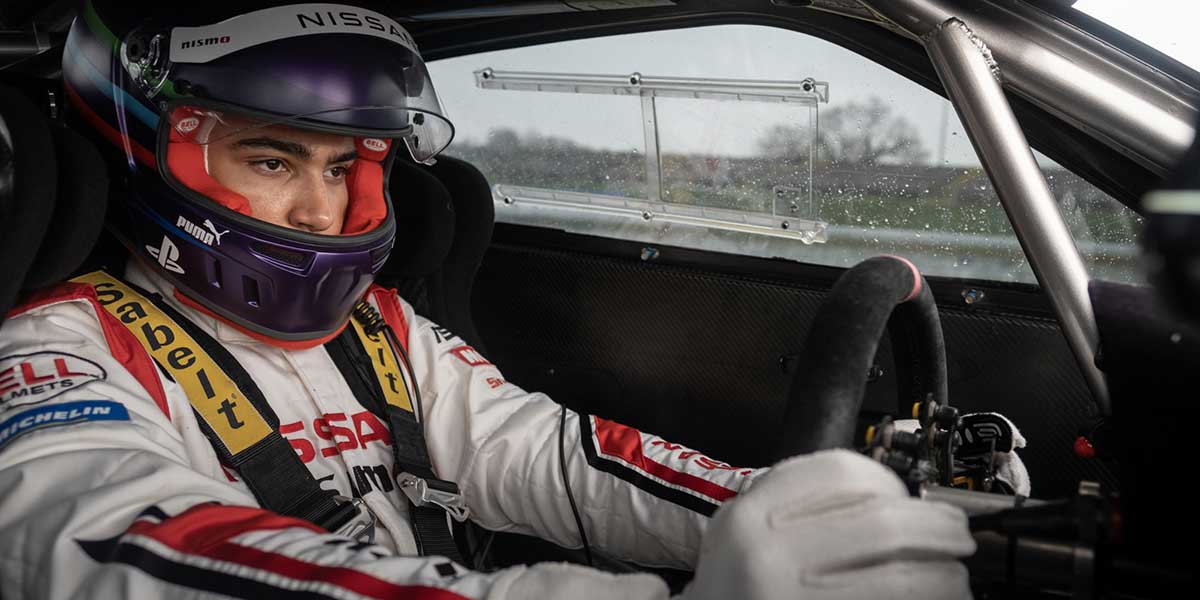 Archie Madekwe in Gran Turismo (Gordon Timpen, ©2023 CTMG)
Despite a predictable structure, Neill Blomkamp's Gran Turismo entertains thanks to some dazzling racing sequences and good supporting performances from David Harbour and Orlando Bloom.
---

*This review of the movie Gran Turismo was written during the 2023 WGA and SAG-AFTRA strikes. Without the labor of the writers and actors currently on strike, the movie being covered here wouldn't exist.*
---
After the nearly-unwatchable Demonic, Neill Blomkamp's directorial future was in flux. The South African/Canadian filmmaker made a splash in 2009 when his adaptation of the short film Alive in Joburg, District 9, was nominated for four Academy Awards, including Best Picture. His subsequent efforts didn't live up to how intelligent and thrilling his breakout hit was (though Elysium is severely underappreciated), and his last movie was a total disaster. After watching Demonic, I never imagined Blomkamp directing another movie, let alone a blockbuster, ever again.
But Sony has given him another chance by adapting Polyphony Digital's Gran Turismo and bringing the true story of Jann Mardenborough's (Archie Madewke) real-life "from gamer to racer" story on the big screen. Some will argue that the film is an egregious attempt at cross-promotion, with Blomkamp and cinematographer Jacques Jouffret incorporating 3D graphics inside Jann's real-life world to plunge viewers into gameplay footage of Gran Turismo 7. Of course, with PlayStation Studios producing the film and Sony (once again) utilizing their products in the movie, it does teeter the line of an advertisement.
I'll admit that the "gameplay" parts are discombobulating, particularly during a real-life car chase scene where Jann imagines himself playing Gran Turismo to avoid being arrested by the police. The visual cue wrapping up the car chase is funny, especially for anyone who played Gran Turismo, but the execution isn't very polished. Whenever the film goes into the "3D" world, seemingly inside Jann's head, it recalls Blomkamp's use of volumetric capture in Demonic, which was the only visually interesting part of that movie. It's interesting to see how he translates the gaming portion of the movie for a cinematic look and feel, but it doesn't work in its overall presentation.
And then there's the story, which is as predictable as they come. Of course, the movie emphasizes that it is based on a true story (as they've retitled the movie Gran Turismo: Based on a True Story for absolutely no reason) and chronicles Jann's real-life underdog story as he wins a Gran Turismo competition changing his life in ways he couldn't possibly imagine. A Nissan executive (Orlando Bloom) wants to test the theory that avid Gran Turismo players can race a car due to the game's painstaking realism. The film's opening text shows creator Kazunori Yamauchi (played in the film by Takehiro Hira) racing a car to capture the game's movements. Because of this quest for ultra-realism, the Gran Turismo games are lauded by gamers and professional racers.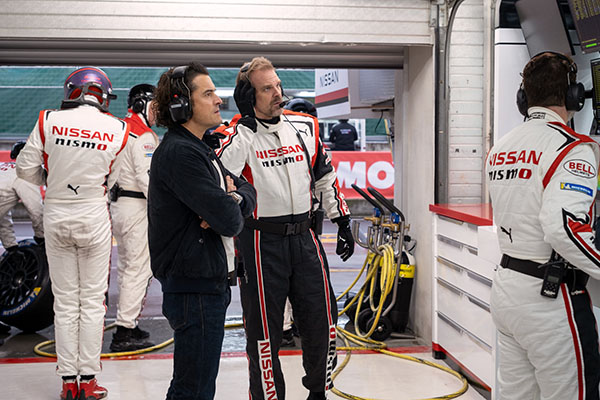 With chief engineer Jack Salter (David Harbour), Nissan Academy trains elite Gran Turismo players to compete in the 24hrs of Le Mans, the world's most challenging endurance race competition. Of course, Salter doesn't believe that the gamers will ever make it to Le Mans, let alone qualify for a license. Jann eventually wins the competition at Nissan Academy, and the beats stay as predictable as they come. We have our traditional montage that shows his success until we see another race in full that will (undoubtedly) show him at his lowest emotional point…until the climax raises the stakes so high to make the audience believe in the impossible… even if his triumph at Le Mans has been well-documented.
The movie also tries to pit a rivalry against Jann and "real" racers, including Nicholas Capa (Josha Stradowski) and his father Patrice (Thomas Kretschmann). However, both of these antagonists are amazingly underdeveloped. An interesting father/son relationship slightly harkens back to how John Kreese treated Johnny Lawrence in the original Karate Kid. Still, it's too brief for it to make an impact.
I will say that Stradowski does nail the part of a cartoonishly evil racer who believes he is the best and will do anything to stay on top and ensure gamers don't get a place on the podium, even if it means crashing Jann's car. But from our small moments with him, Blomkamp ensures the audiences hate his guts. The actual father/son relationship between Jann and his dad Steve (Djimon Hounsou) is also terribly clichéd – his father does not believe that his son will amount to anything by playing Gran Turismo all day… until he is proven wrong. That arc has been done to death in many movies, but Hounsou's portrayal of Jann's father is very effective. You could hear a couple of tears in the audience in some of the film's more emotional scenes with the two.
Madewke is also quite good as Mardenborough but doesn't seem as invested in the story as David Harbour and Orlando Bloom do. Bloom's pronunciation of "Nissan" will forever be iconic, and Harbour's portrayal of Salter brings much-needed emotional depth to the movie, balancing out Madewke's more one-note take on Mardenborough. He is very good in the car, literally and figuratively fighting for his life, but not so much during scenes requiring more introspective acting.
See Also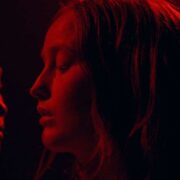 While the flaws in Gran Turismo seem to stick out like a sore thumb, they can also be easily brushed off when the film becomes a full-throttle racing blockbuster. The 24hrs of Le Mans sequence doesn't seem very inspiring for those who have seen James Mangold's Ford v. Ferrari, but it's also shot differently and executed in a far more visually exciting way. Blomkamp and Jouffret strap Sony CineAlta Venice 2 IMAX cameras on an FPV drone and capture some of the most jaw-dropping racing photography ever put on a film. The drones swish on the large crowd, plunge into the track, and follow the cars as they zip through the race in extreme, death-defying speed. When a car crashes and catches fire, the stakes are raised even higher, and you're automatically put on the edge of your seat, as Jann knows the dangers of real-life racing.
This is a film you need to see on the biggest screen possible, preferably IMAX, which puts you faster in the car seat than any other format would ever do. When the cars go vroom, and the FPV drone flips over a dangerous (practical) accident, it feels as if Blomkamp has created a new cinematic language in representing the thrills (and dangers) of racing. He seems heavily inspired by Michael Bay's Ambulance (which is a very good thing), which pioneered FPV drone photography in mainstream cinema. Racing has always been the most cinematic sport to capture for a feature film. Still, when a director decides to push the boundaries of a racing sequence and innovate in its structure and cinematography, that's when it gets more exciting.
Joseph Kosinski and Claudio Miranda will also attempt to reinvigorate racing through their upcoming Formula One movie starring Brad Pitt and Damson Idris, where they will put cameras directly in race cars like they did for Top Gun: Maverick with planes. It'll certainly be another movie to watch in how the filmmaker approaches a racing scene, but Blomkamp has one hell of a head start with Gran Turismo. It isn't perfect, and strong moments of earnestness are sometimes hampered by what looks like an advertisement for the game. However, witnessing the film in IMAX is an absolute show-stopper and consistently fun to watch with a crowd invested in the proceedings. Due to the SAG-AFTRA strike, the movie has been delayed from August 11 to August 25, but special screenings will continue until its wide release.
---
Gran Turismo is now showing globally in select theaters, and will be released everywhere from August 25.