Brother (Film Review): A Perfect Literary Adaptation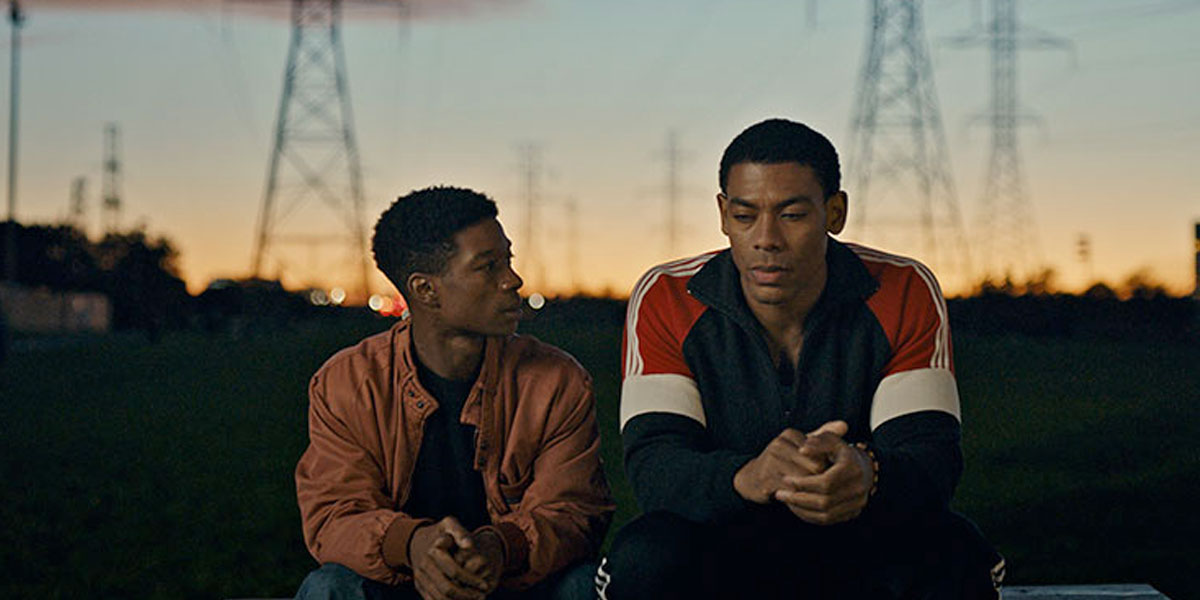 Brother (BRON Studios, 2022 BFI London Film Festival)
Immaculately structured and impressively transferred from page to screen, Brother retains the ferocity, tangibility and emotional heft of David Chariandy's novel.
---

Electricity is a driving force in Brother, Clement Virgo's (Poor Boy's Game) sublime adaptation of the award-winning novel of the same name. Quite apart from its opening of its two titular brothers beginning their ascent of an imposing pylon, electricity symbolically contributes to the film's strong familial bonds between its characters as well its charged, dangerous atmosphere, even seeping into Todor Kobakov's (Closet Monster) original score, which is infused with an ominous, powerful buzz. Virgo's impressive use of symbolism here is just one way in which he transfers the unforgettable story of Brother to the big screen, and with world-building close to the same level seen in films from legendary directors such as Edward Yang, his adaptation becomes a complex, important film with both a deeply personal tangent and a collective significance.
Chariandy's 2017 novel is a succinct and poignant story that draws on his own experiences of growing up in Scarborough, Ontario, an area in Canada known for its immigrant-heavy population and unfair reputation as a hotbed for crime. Like the novel, Virgo's Brother charts the lives of brothers Francis (Aaron Pierre, Old) and Michael (Lamar Johnson, Dark Phoenix) over three distinct time periods, as they grow up navigating racism, police brutality and familial strife. The sons of first-generation immigrants from the West Indies, their world is a striking setting of merging cultures and influences, as well as a place clearly undervalued by its country.
Pierre, a mesmerising screen presence, imbues Francis with a world weariness that eldest siblings so often have, whilst also capturing the raw frustration that his character feels at how himself and others are treated by society. As the younger brother, Johnson gives Michael an innocence and naivety that notably but subtly shifts across each time period due to certain life-changing events. Francis dutifully dotes on his hardworking mother Ruth (Marsha Stephanie Blake, When They See Us) and cares for Michael, making his absence in the third and most recent time period depicted – 10 years after the middle one of the early 1990s – all the more notable.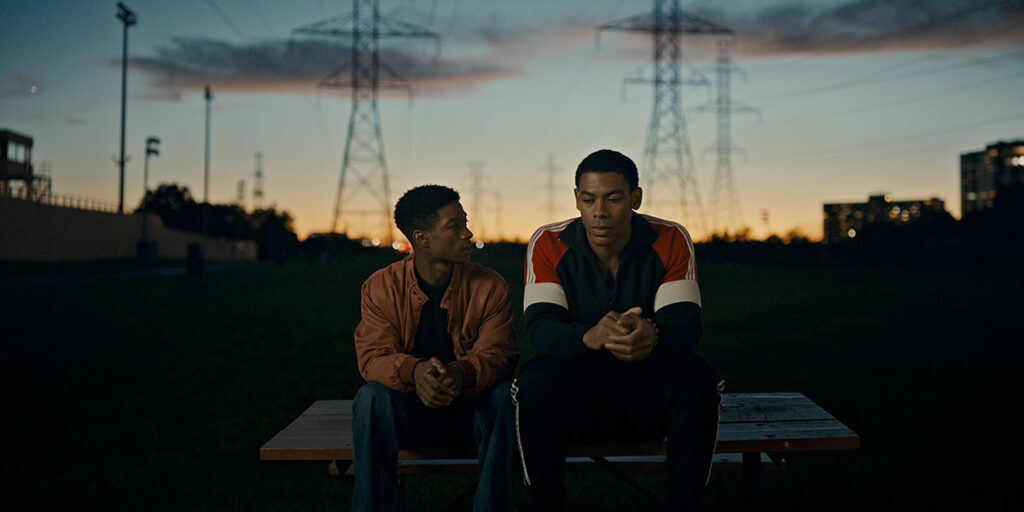 It is here that Virgo's virtues as a director and screenwriter shine; Brother is faultless in its structure, and impeccable in the way that it flits so carefully and assuredly between the three time periods. The structure adds a sturdiness to the characters' backstories and also gives Francis' absence a sense of mystery, sadness and foreboding. There are hints at what has happened to him and the details of the cataclysmic event can be imagined, but what occurs isn't fully revealed until much later on in Brother. Perhaps most importantly, the structure allows for mirror imaging to take place between these different eras – one character sits on a swing as a child and again as an adult, the setting and person the same but the moods drastically contrasting. Virgo places real importance on not just the people, but the setting too. In both novel and film, Scarborough is as much a character as the residents within it; the two could not exist without one another.
Just like in the films of Yang, Michelangelo Antonioni or Joachim Trier, the city backdrop is always carefully observed. From close-ups of characters swiftly cutting to wide shots that fully encapsulate their surroundings, Brother is a vivid depiction of a wrongly maligned place with a strong sense of community and heritage, infused by that rhythmic electrical buzz. Guy Godfree's (Wildhood) cinematography works wonders in conjuring up this indelible atmosphere and placing people in places, whilst Kye Meechan's (ARQ) editing smoothly jumps between these contrasting periods of our characters' lives, ensuring this remarkable onscreen world is as palpable and lived-in as it is in the novel.
See Also

As personal as the book and subsequent film are to Chariandy, both also bear a wider significance to societies. The collective experience of immigrants working hard hours for little money is signalled as simply as placing Ruth within a group of other people of similar age as they queue up for another day or night of long shifts. The experience of Black people at the hands of police and other bodies of authority is also a driving force in Brother, and its impressive handling of such a terrifying and difficult theme is showcased late on in one of the film's most unforgettable scenes. Police are always either out of focus or the camera hovers only on their guns or batons. With unwavering determination, Brother spotlights the racism and immense disadvantages apparent within societies around the world, whilst still maintaining that deeply personal edge of familial love.
Brother struggles slightly to transfer the layered events from the novel's ending to the screen, resulting in some of its anguish being resolved too swiftly, but it more than earns the emotion of its climax. Anchored by two sublime performances of strength, clarity and understanding, Virgo's film is a perfect example of how to translate a story from book to screen. One constant in the filmic version of Brother is the scene of Francis and Michael's pylon ascent. Set in the middle time period, it is a moment shown at numerous times throughout the film. In true Virgo fashion, it is a symbolic trek that highlights the brothers' long journey of hardship which, thanks to that ever-constant, ever-pulsing charge of family connection and sense of belonging, has an eye on a more hopeful future.
---
Brother premiered at the 2022 BFI London Film Festival and will be released in US theaters on August 4, and in UK cinemas and on Curzon Home Cinema on September 15, 2023.