Madeleine Collins: Film Review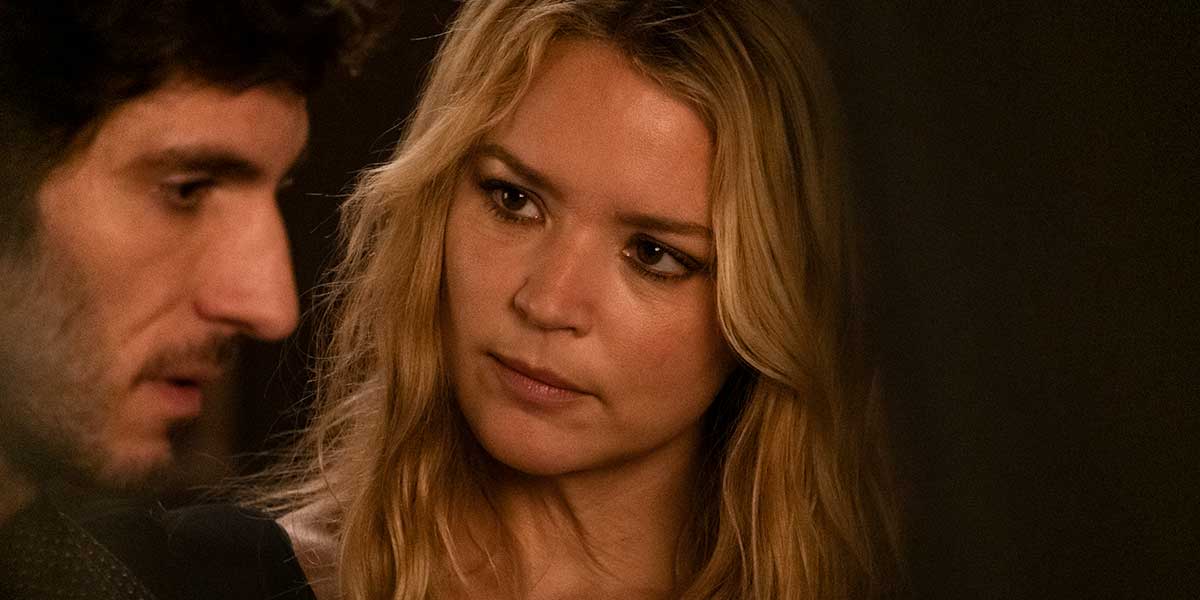 Madeleine Collins (Greenwich Entertainment)
A woman navigates her dual lives in Madeleine Collins, the twisty psychological thriller from Antoine Barraud.
---

Virginie Efira (Benedetta) is so good they gave her character not one but two lives in Madeleine Collins; one resides in France, the other Switzerland. Across this engaging drama, we see Efira flit between the two countries and personas. Across both, she is Judith, and in each, she has a husband and children. In his third feature film, Antoine Barraud (Rouge) shows an adeptness at pacing and plotting, with this always undulating story unfolding with a careful but frightening atmosphere. The suspense might dip at times, but Madeleine Collins remains a royally uncomfortable affair of a woman leading a fragile double life.
Judith is a translator, travelling weekly around Europe for her work. In Switzerland, she lives with Abdel (Quim Gutierrez, Dark Blue Almost Black), and together they are raising a young girl. In France, Judith lives with her husband Melvil (Bruno Salomone, Brillantes), a famed orchestra conductor, and their two sons. The setup for Madeleine Collins is enticing, with Judith's life composed of back-and-forth trips and constant lies. The ease with which Judith lies to everyone is unnerving. Throughout this intricate plotting, Barraud dangles little clues to us as viewers, ones that are never enough to fully put the puzzle pieces together, but just the right amount to maintain the intrigue.
Whilst initially the plot of Madeleine Collins seems to be a fairly standard, run-of-the-mill tale of a woman having an affair—or even in a polyamorous relationship, as both Abdel and Melvil seem to know of one another's existence—it eventually takes on a tremendously sad air. The actions of Judith are still disturbing and destructive, but with the details that Barraud brings to light later in the game, her choices become infused with melancholia too. She is a woman not just living on the edge, but teetering dangerously and dancing wildly directly on it.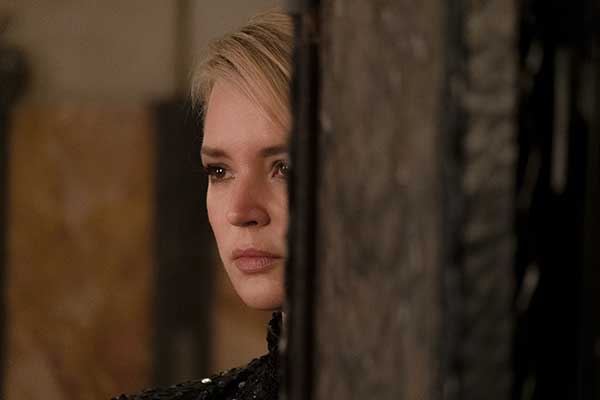 As Judith, Efira is spectacular. Her calm lies, delivered with startling ease, are countered by blink-and-you'll-miss-it moments—worried glances or faint flickers of panic in her eyes. Efira, just like in Benedetta (2021), embraces a role that is multifaceted and full of tricky depths. The other characters in Madeleine Collins feel like they exist to make up the numbers and aid the story than add anything hugely interesting, although Gutierrez as Abdel is riveting in a similarly complex role—although his own shortcomings and decisions are passed over too briefly by Barraud.
For all its intrigue and tension, Madeleine Collins can sometimes feel too safe in execution, and Efira's performance often feels like it is carrying the film along to the end credits. Barraud's screenplay, whilst well-structured, doesn't plunge deep enough into the potentially rich psychological waters of the main character, meaning everything feels rather surface level. There are hints as to why Judith acts the way she does, and perhaps the ambiguity will appeal to some, but whilst the journey is engaging, viewers will likely be left wanting more detail to compliment this unhinged, contorting story.
With its slick visuals from DOP Gordon Spooner (Satoshi Kon: The Illusionist), Madeleine Collins feels like a throwback to classic psychological thrillers as well as turbulent relationship dramas. Barraud starts the film as he means to go on, with an elegant, flowing long take depicting a woman trying on clothes in a shop and fainting. In this opening, everyday domesticity has a feeling of unease to it, and this distorted normalcy flows into the remainder of Madeleine Collins. The intrigue and mystery eventually give way to climactic tension, with Barraud sticking the ending with expectedly classy aplomb.
---
Madeleine Collins will be released in theaters in NY (IFC Center) and LA (at Laemmle Royal and Laemmle Town Center, Encino) on August 18, 2023. The film is now available to watch on digital and on demand in France.