SXSW 2022: 15 Films to Watch at South By Southwest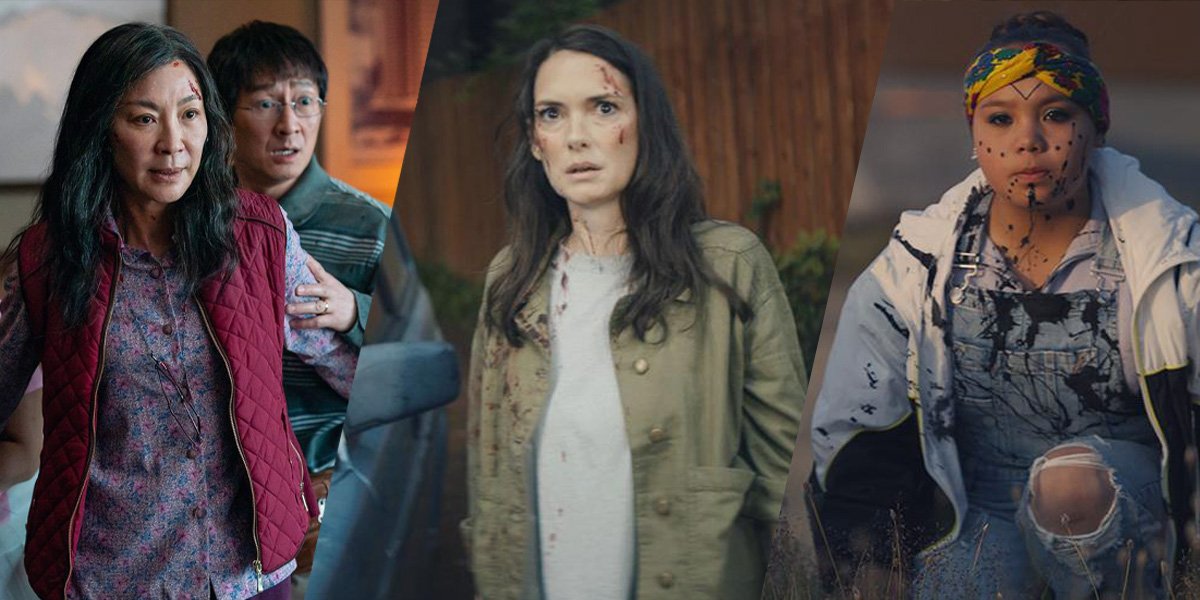 Everything Everywhere All At Once, The Cow, Slash/Back (SXSW 2022)
SXSW 2022 is approaching: here are 15 films to watch at the festival online and in person March 11-20, recommended by our staff writers.
---
If South By Southwest took place entirely online last year, SXSW 2022 sees the festival go back to its usual format, with screenings happening in person at various locations on March 11-20 as well as digital screenings for attendees. Not only that, but the lineup looks as incredible as ever, with a total of 99 Features showcased, including 76 World Premieres, 4 International Premieres, 4 North American Premieres, 2 U.S. Premieres, 13 Texas Premieres, and 111 Short Films. Not only that, but Virtual Reality fans will be able to enjoy 29 XR Experience projects and visit SXSW 2022 from the safety of their homes by exploring the gorgeous recreation of Austin crafted by the festival 's programmers last year. 24 Music Videos, 19 Title Design entries, and 11 Episodic Premieres and 6 Episodic Pilots will also be screened at the festival, including not only the Closing Night Headliner, Atlanta 's Season 3 Premiere, but also pilots of anticipated series like WeCrashed, The Girl from Plainville, and Swimming With Sharks.
Among the most anticipated titles are Headliners like Everything Everywhere All At Once (this year's opening film), Richard Linklater's Apollo 10 1/2: A Space Age Childhood, Halina Reijn's Bodies, Bodies, Bodies, Aron and Adam Nee's The Lost City and Tom Gormican's The Unbearable Weight of Massive Talent, starring Nic Cage as himself. But there are so many more great films to explore at SXSW 2022, and, if you've checked out the festival 's lineup (here) and don't know where to start, we're here to help. Take a look at our list of 15 films to watch at South By Southwest this year, and don't forget to follow us on Twitter, Instagram and Facebook for daily updates and reviews!
---
APOLLO 10 1/2: A SPACE AGE CHILDHOOD

HEADLINER
Director/Screenwriter: Richard Linklater
Full Review: Apollo 10 1/2: A Space Age Childhood: SXSW Review
Apollo 10 ½: A Space Age Childhood is the third animated film from acclaimed director Richard Linklater (Boyhood, the Before trilogy), telling the story of the 1969 Apollo 11 moon landing from two perspectives: the team behind the mission, and a child growing up in Houston, Texas with dreams of space travel himself. The film, taking inspiration from Linklater's own childhood, promises to combine adventure, commentary, and the coming of age into a grand, emotional experience. Linklater is one of my favorite directors working today, and while the story of Apollo 11 has been told many times in many different formats, I'm excited to see his palpable human touch once again grace his unique animation style (the film will use a rotoscope technique similar to that of his other animated films, Waking Life and A Scanner Darkly). However, it turns out Apollo 10 ½ is shaping up to be one of the most distinct films at the festival. (Joseph Tomastik)
---
BODIES BODIES BODIES

HEADLINER
Director: Halina Reijn
Full Review: A Madhouse of Fun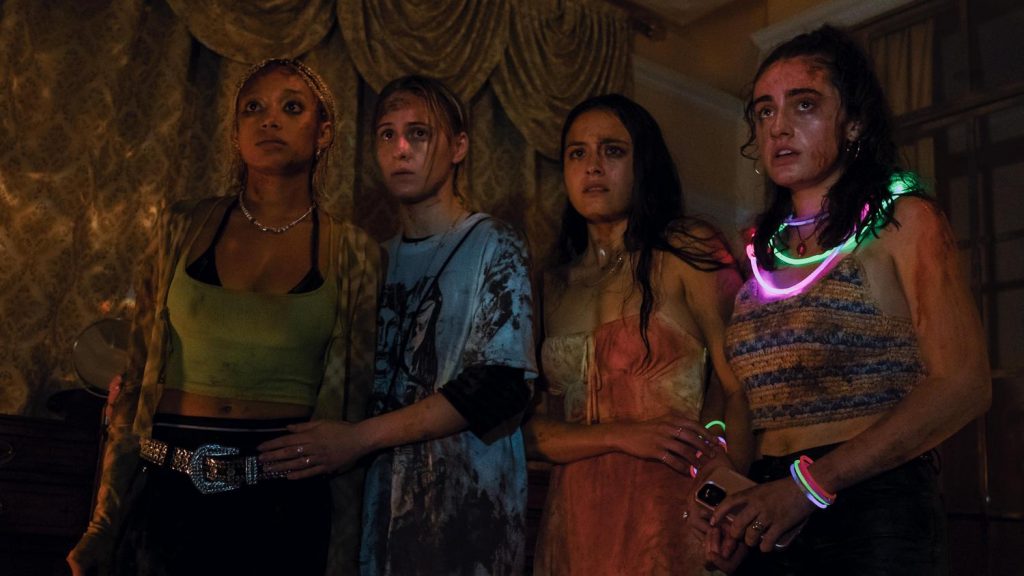 Bodies Bodies Bodies is a comedy horror film directed by Halina Reijn, and it features a pretty admirable lineup of actors like Amandla Stenberg, Maria Bakalova, Myha'la Herrold, and Pete Davidson. They play a group of rich young people who plan a hurricane party at an isolated family mansion. But this party quickly goes very wrong in a deadly series of betrayals and bloody antics, showing who among this group is truly the friend they claim to be. I'm always interested in seeing how a filmmaker blends two genres as diametrically opposed as comedy and horror, and with a cast this solid, I'm hoping Bodies Bodies Bodies will be one of the standout attempts at such a combination. (Joseph Tomastik)
---
THE COW

NARRATIVE SPOTLIGHT
Director: Eli Horowitz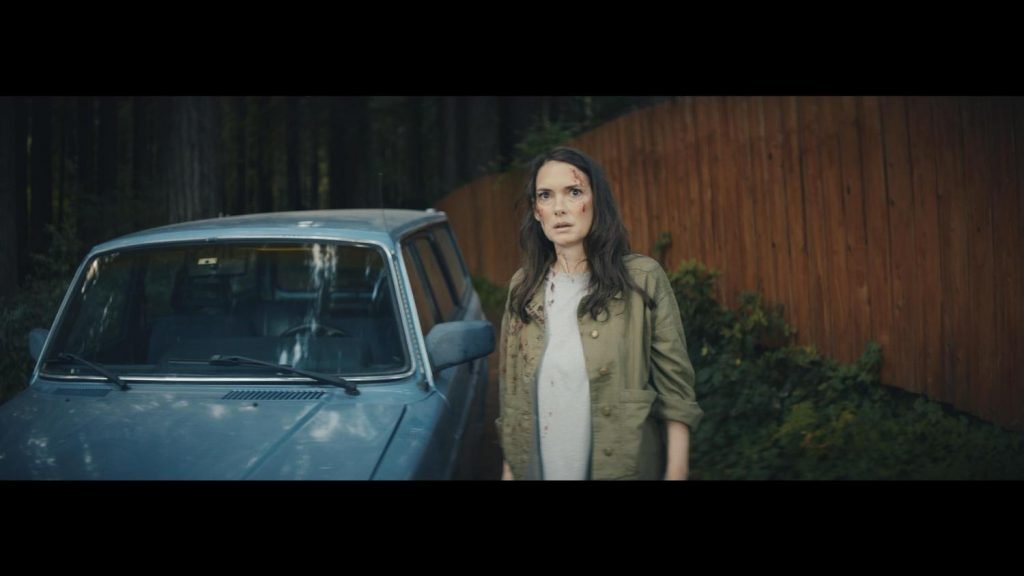 The Cow centers around a twisted tale involving two couples. Upon arriving at a remote cabin in the redwood, Kath (Winona Ryder, of Stranger Things and Beetlejuice) and her boyfriend find a mysterious younger couple already there, as the rental has apparently been double-booked. Since there's nowhere else to go, the two decide to share the cabin with these strangers until the next morning. However, when her boyfriend disappears with the young woman, Kath becomes obsessed with finding an explanation for their sudden breakup – only to discover that the truth is far stranger than she could have ever imagined. Dermot Mulroney (My Best Friend's Wedding, Insidious: Chapter 3) and John Gallagher Jr. (10 Cloverfield Lane, Hush) co-star in Eli Horowitz's mind-bending mystery that is sure to have SXSW crowds talking. (Zoe Rose Bryant)
---
CROWS ARE WHITE

DOCUMENTARY SPOTLIGHT
Director: Ahsen Nadeem
Full Review: The Cages We Build & Escape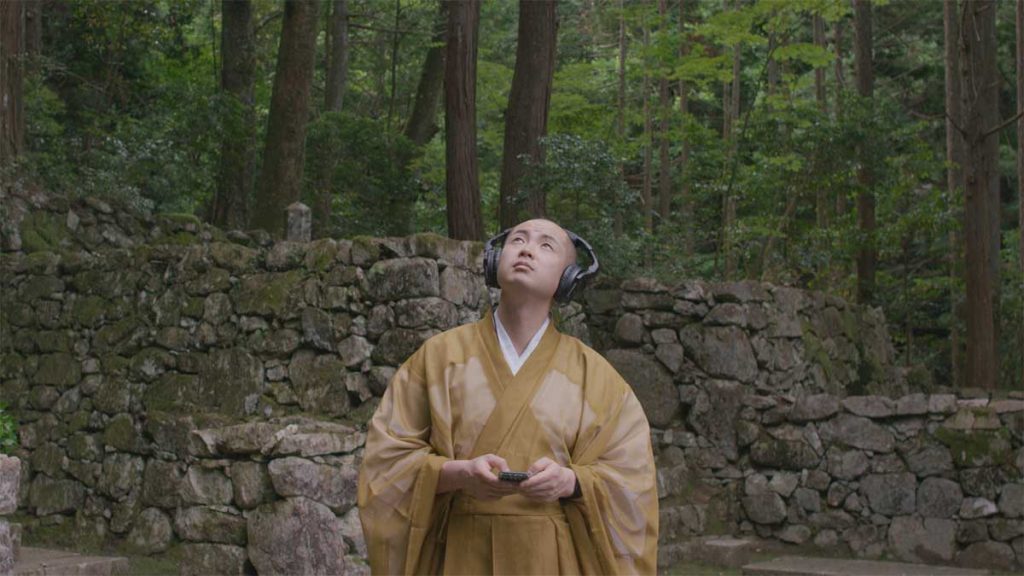 You've seen plenties of dramas and documentaries featuring wise religious figures imparting knowledge on visitors from abroad who are eager to find out more about their traditions. But what if the monk in question is an outcast who prefers ice cream and Slayer to meditation? Crows are White sheds light on a secretive Buddhist sect that has lived in an isolated monastery in Japan for years, engaging in acts of extreme physical endurance to pursue enlightenment, but it does so from the perspective of the only monk who'd speak with filmmaker Ahsen Nadeem. The result is a documentary that is as much about its subject matter as it is about an unlikely friendship between two very different people. It was shot over five years on three continents, and it certainly has our interest. (Serena Seghedoni)
---
EVERYTHING EVERYWHERE ALL AT ONCE

HEADLINERS
Directors: Daniel Kwan & Daniel Scheinert
Full Review: Loving Insanity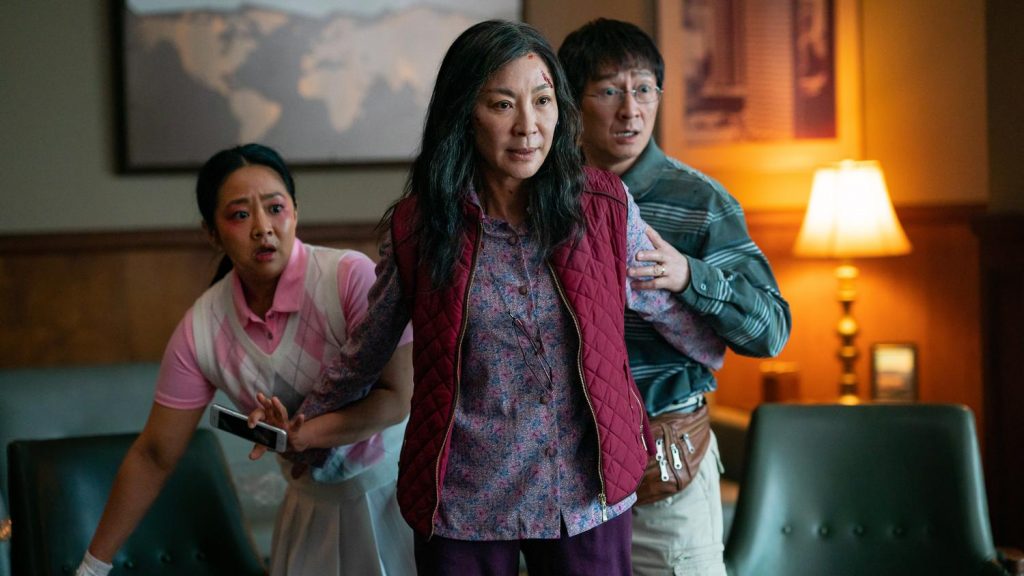 From directors Daniel Kwan and Daniel Scheinert (collectively known as Daniels), best known for their excellent 2016 comedy Swiss Army Man, comes the science-fiction action-adventure comedy Everything Everywhere All At Once. Michelle Yeoh plays Evelyn Wang, a middle-aged Chinese immigrant in America who's struggling to finish her taxes and wading through dull, everyday life. But when she comes across a version of her husband (Ke Huy Quan) from an alternate universe, she finds herself exploring a multiverse of possibilities and alternate versions of herself in a quest to save the world. Daniels have proven that they know how to mix genres in a very odd yet meaningful fashion to comment on the way we live our lives. There's no telling what unique, creative surprises could be in store with them at the helm of a multiverse story, but the possibilities of both this setup and this creative team (which includes the Russo brothers as producers) make this my most anticipated film of SXSW. (Joseph Tomastik)
---
I LOVE MY DAD

NARRATIVE FEATURE
Director: James Morosini
Full Review: A Riotous Father-Son Road Trip with A Twist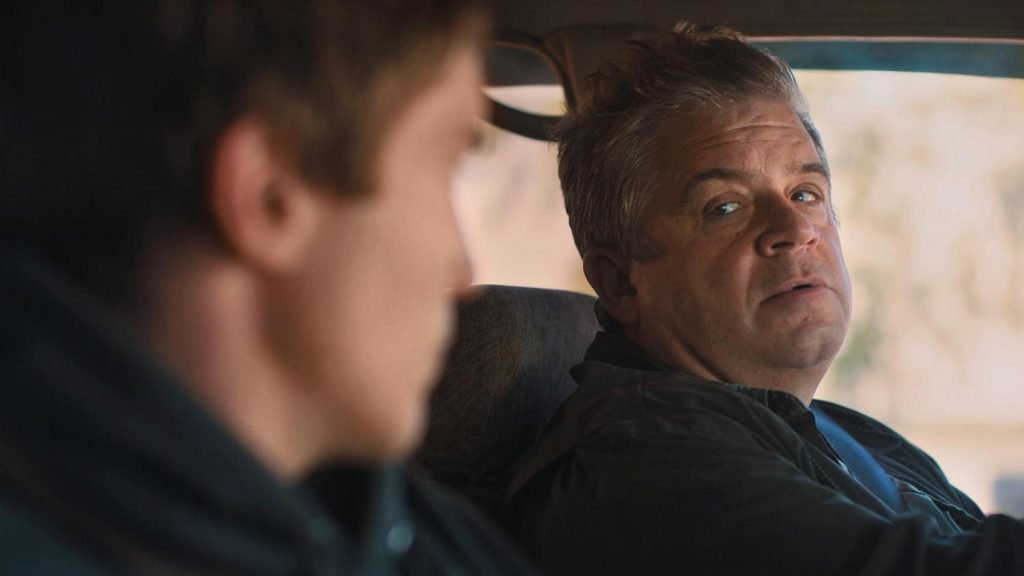 Inspired by writer/director/actor James Morosini's (The Sex Lives of College Girls, American Horror Story) own experiences, I Love My Dad follows Chuck (Patton Oswalt, of Ratatouille and Young Adult), an estranged father who seeks to reconnect with his depressive son, Franklin (Morosini). Since Franklin has blocked his father on social media, Chuck – in concern for his son's life – impersonates a waitress (Claudia Sulewski) online and starts checking in on/communicating with Franklin. However, when Franklin falls for this "waitress" and wants to meet her in person, Chuck realizes he's in over his head and has accidentally catfished his own son. Blending affecting drama with absurdist humor, I Love My Dad is sure to be a dramedic delight upon its SXSW debut. (Zoe Rose Bryant)
---
IT IS IN US ALL

NARRATIVE FEATURE COMPETITION
Director: Antonia Campbell-Hughes
Antonia Campbell-Hughes' feature directorial debut is about a shocking, violent car accident involving two strangers who couldn't be more different from one another: a formidable man who strives for self-excellent and appears to care for nothing (Hamish, played by Calm With Horses' Cosmo Jarvis), and sexually charged, unhibited teenager Evan (newcomer Rhys Mannion) who embodies life. The boy challenges Hamish to experience life and unleash his rage, which leads to violence and, ultimately, release. This Irish gem promises to be both an affecting queer drama and a psychological exploration of truth, oppression, and past trauma. We wouldn't miss it for the world. (Serena Seghedoni)
---
JAZZ FEST: A NEW ORLEANS STORY

DOCUMENTARY
Directors: Frank Marshall & Ryan Suffern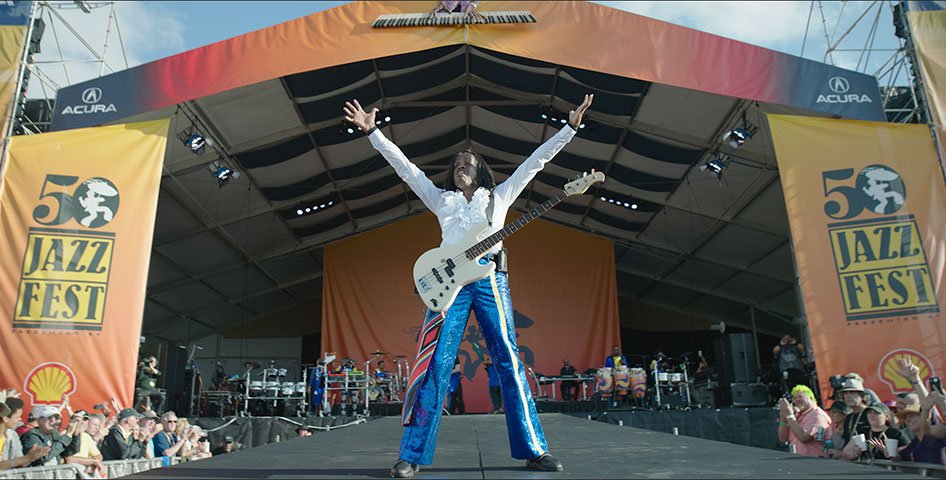 Every year in April/May, the Jazz & Heritage Festival lights up New Orleans and draws thousands of music fans to the birthplace of jazz itself. If you've ever been to New Orleans, you know there's no place like it, and when its many festivals and parades are taking place is when the city is at its most mad and lively. Jazz Fest: A New Orleans Story focuses on the 50th anniversary of the iconic Jazz & Heritage Festival, weaving together live performances, interviews and archival footage featuring some of the most influential artists and performers in the industry. But the film doesn't just revolve on a specific music festival: it also celebrates the culture of The Big Easy and depicts it in all its beauty and madness. (Serena Seghedoni)
---
LINOLEUM

NARRATIVE FEATURE COMPETITION
Director: Colin West
Full Review: Jim Gaffigan Delivers in Sci-Fi Dramedy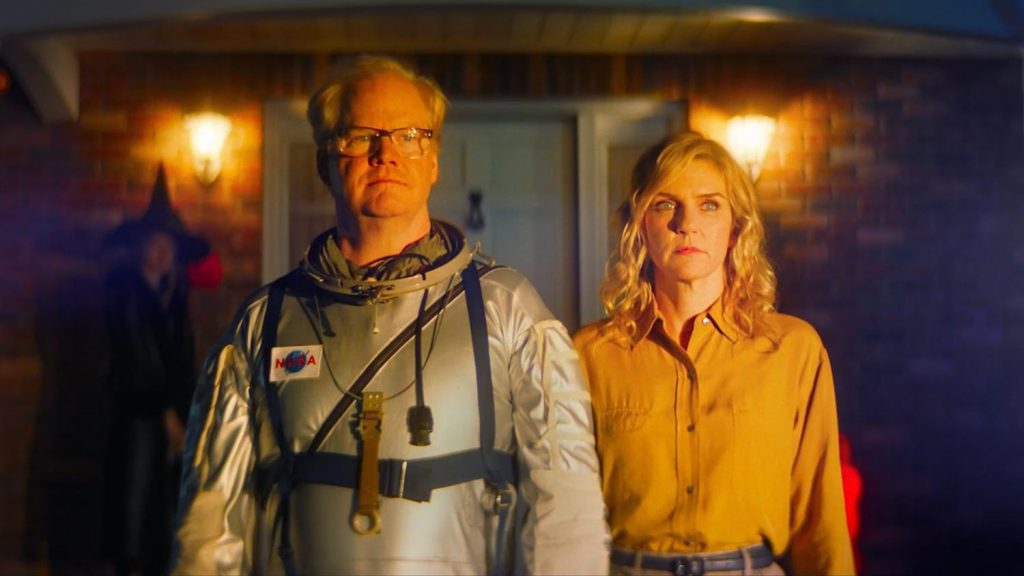 In Colin West's Linoleum, a satellite falls from orbit and crashes into the suburban home of a dysfunctional family in Ohio, inspiring the father (Jim Gaffigan, of Luca and Hotel Transylvania) to seize the opportunity to fulfill his dream of becoming an astronaut by rebuilding it into his own rocket ship. While his wife (Rhea Seehorn, of Better Call Saul and Things Heart & Seen) and daughter think that he's experiencing a midlife crisis, surreal events begin to unfold around him, forcing him to reconsider how interconnected their lives truly are. Equally heartwarming and witty, Linoleum is a SXSW premiere that seems to have it all, and with a cast this stacked, who can say no to seeing where this rocket ship ride takes us? (Zoe Rose Bryant)
---
THE PRANK

NARRATIVE SPOTLIGHT
Director: Maureen Bharoocha
Full Review: A Messy Bait and Switch Thriller
The Prank, directed by Maureen Bharoocha, tells the story of Ben (Conor Kalopsis), an overachieving high school student, and Tanner (Ramona Young), a slacker who lives in the moment. Ben's teacher Mrs. Wheeler (Rita Moreno) is cruel and strict, to a point where she fails Ben's entire class because of one student who cheated. This inspires Ben and Tanner to devise a plan to frame Mrs. Wheeler for murder on social media. The relevant issues of adolescent frustration and manipulation through social media could make for a sharp, relevant combination, especially when considering the potential fallout of such a devious prank. Will we sympathize with this cruel teacher, find the students' actions justified, or perhaps find ourselves with deeply conflicting thoughts as we see what forms of revenge are possible in this day and age? It's hard to tell at this point, but the premise alone has me looking forward to The Prank. (Joseph Tomastik)
See Also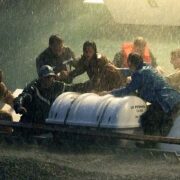 ---
SLASH/BACK

NARRATIVE FEATURE COMPETITION
Director: Nyla Innuksuk
Full Review: Vibrant Inuit Alien Invasion Film
We've seen plenty of alien invasion movies, but have you ever seen one that's set in Pangnirtung, Nunavut, and where the task of defending the Earth falls to a group of 14-year old Inuit girls? Writer and filmmaker Nyla Innuksuk's feature directorial debut focuses on just that, and the teenagers in question are more than ready to defend their hometown: not only have they been underestimated their whole lives, but they also have an extensive knowledge of horror movies. Out of all the films that will premiere at SXSW 2022, Slash/Back is the one with the best premise, and we can't wait to find out more. (Serena Seghedoni)
---
SOFT & QUIET

NARRATIVE FEATURE COMPETITION
Director: Beth de Araújo
Full Review: The Sickening Horrors of Reality
The film that I both look forward to seeing and dread seeing is Beth de Araújo's drama Soft & Quiet. Playing out in real time over the course of a single afternoon, we'll experience elementary school teacher Emily (Stefanie Estes) organize a meeting for "Daughters for Aryan Unity", a group of alt-right white supremacist women. On their way to Emily's house for the meeting, the group comes across an altercation between two Asian sisters and a local store, setting off a volatile chain of events. This has uncomfortable written all over it for very obvious reasons, but the premise also has me wondering what kind of a movie Soft & Quiet is going to be and where its story will go. We're clearly not going to like Emily or her group going in, so where will the story take them and what kinds of sentiments and commentary will be expressed through this single afternoon? The real-time progression is also likely to make us feel like we're there with these people, making the story even more unpleasant, and I'm very interested in seeing what that unpleasantness amounts to and says about racism in the United States. (Joseph Tomastik)
---
TO LESLIE

NARRATIVE SPOTLIGHT
Director: Michael Morris
It's no surprise by now when Andrea Riseborough (Birdman, Mandy) turns in a good performance, but To Leslie is set to be one of her strongest efforts to date. The film follows a West Texas single mother who, while struggling to provide for her son, wins the lottery – but just a few short years later, the money is gone and Leslie is on her own, afflicted by alcoholism as she runs from the world of sorrow she left behind. With nowhere else to go, Leslie eventually returns home, but she finds herself unwelcome and unwanted by those she wronged, with only a lonely matel clerk taking a chance on her when no one else will. Allison Janney and Marc Maron co-star in this stirring story of regrets and second chances. (Zoe Rose Bryant)
---
WATCHER

MIDNIGHTERS
Director: Chloe Okuno
Full Review: Maika Monroe Makes Her Return to Horror
First premiering at this year's Sundance Film Festival, Chloe Okuno's Watcher – which serves as her feature directorial debut – follows an American woman named Julia (Maika Monroe, of It Follows and The Guest) as she uproots her life to accompany her husband Francis (Karl Glusman, of Nocturnal Animals and The Neon Demon) to Budapest for his high pressure job. Unfortunately, when her husband is away during the day, Julia spots a shadowy figure across the block watching her through his window, and when she learns that a sadistic murderer nicknamed "The Spider" has been stalking and slaying women in the area, she begins to suspect that these two phenomena are connected, potentially putting her in the killer's crosshairs. With shades of classic Hitchcock suspense, Watcher is a must-watch (pun intended) for any horror fan at SXSW. (Zoe Rose Bryant)
---
WECRASHED

EPISODIC PREMIERES
Showrunners: Drew Crevello & Lee Eisenberg
Directors: John Requa & Glenn Ficcara
Official SXSW 2022 Page: click here
SXSW's episodic section is always one to keep an eye on, and this year in particular it's filled with exciting pilots of series that are bound to make a lot of people talk. The Girl From Plainville, starring Elle Fanning, is inspired by the true story of Michelle Carter's "texting-suicide" case, while Swimming with Sharks is about a young female assistant dealing with manipulators (played by Donald Sutherland and Diane Kruger, among others) and DMZ sees Rosario Dawson deal with a new American Civil War. Among the many noteworthy series in the program is WeCrashed, starring Anne Hathaway and Jared Leto (also executive producers) and inspired by actual events. Directed by This Is Us's John Requa and, Glenn Ficcara, the show looks at how American real estate company WeWork grew from a single coworking space into a a global brand worth $47 billion in under a decade… Only to "crash" in less than a year, when its value plummeted. Catch the premiere at SXSW and watch the rest of the show on AppleTV+ from March 18. (Serena Seghedoni)
---
10 MORE FILMS TO WATCH AT SXSW 2022:
---
SXSW 2022 will take place both online and in person on March 11-20, 2022. Click here to explore the full program, and follow us on Twitter, Instagram and Facebook for daily updates and reviews from the festival.