SXSW Online XR Took Us to Austin: Interview with Blake Kammerdiener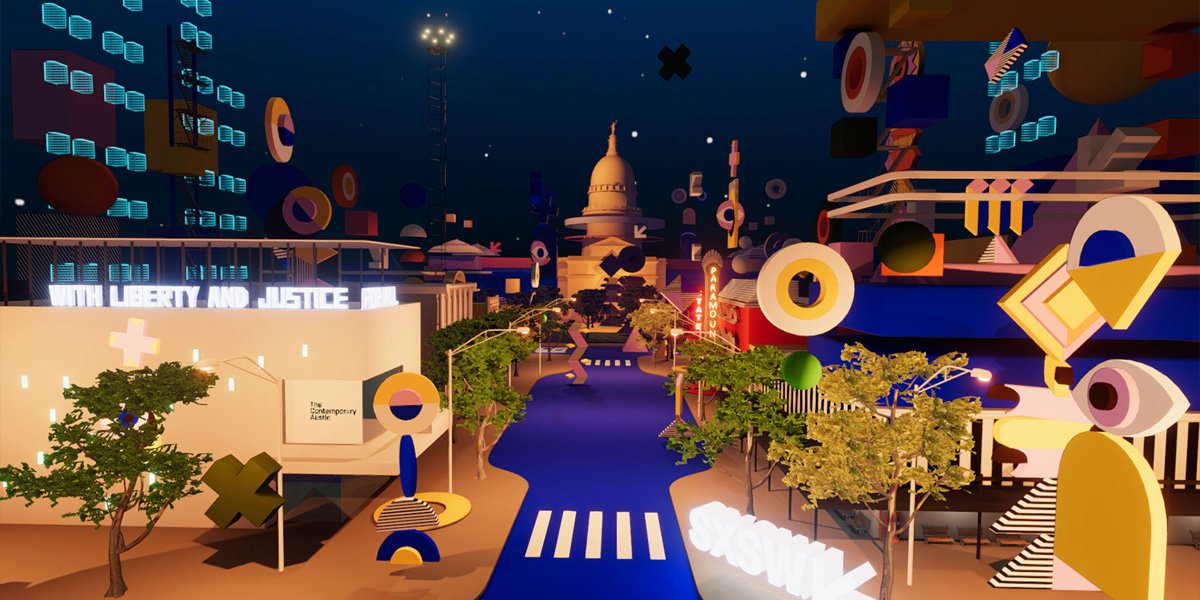 Congress Avenue (Blake Kammerdiener, Courtesy of SXSW)
Our interview with XR programmer Blake Kammerdiener about SXSW Online XR, which made Austin come alive in Virtual Reality.
---
When I put on my Oculus Quest to get ready to attend SXSW Online XR's Press Preview, on March 16, little did I know that I was about to break all the laws of time and space and actually travel to Austin. Thanks to the incredible world built on VRChat by social XR studio VROOm when South By Southwest's XR programmer Blake Kammerdiener, project manager Martha King and their teams asked them to recreate the festival's iconic locations in Virtual Reality, SXSW 2021 was able to achieve the impossible — bringing the feel of South by Southwest to all sorts of audiences and creators all over the world, effectively replicating the festival experience.
From moments of genuine fun, interactive experiences, glamorous red carpets and opportunities for chance meetings with fellow attendees to collective screenings, conference sessions, music showcases and events, the festival had something for everyone. Not only did SXSW Online XR successfully capture South by Southwest's identity in Virtual Reality, but it also enabled us festival lovers to experience a feeling we've all been craving since the pandemic began — the excitement, the adventure, the nostalgia and the little moments of discovery that come from attending a film festival in person.
When I entered VRChat, on March 16, accompanied by my friend and fellow writer/VR enthusiast Agnese Pietrobon, I found myself on the ground floor of a thoroghly realistic recreation of The Contemporary. From there, I entered an elevator, pushed a button, and headed to the rooftop, where myself and a few others acquired the equally creepy and adorable avatar of a dog in a suit with human hands (from a fellow attendee that may or may not have been festival host Hank the Dog, the avatar's original owner) and immediately began taking polaroids with a bunch of strangers I had only just (virtually) met.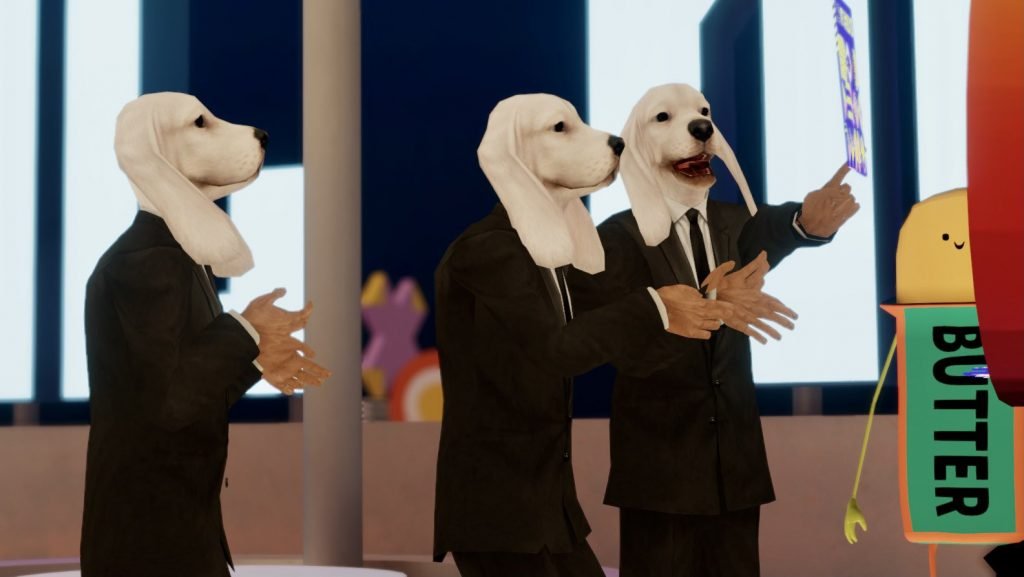 Many polaroids later, I headed back downstairs to discover that I hadn't even begun to explore SXSW Online's XR Platform, as a whole world was waiting for me outside — a world that was familiar enough to spark nostalgic feelings, with accurate reconstructions of South Congress Ave, the Red River Cultural District and your favourite festival locations, but that also had an identity of its own, and that came alive in bright hues of blue and yellow, psychedelic neon lights, and gorgeous geometric shapes floating in the air. More than that, it was a world that catered to the needs of a diverse festival audience, giving us the opportunity to visit well-known venues like The Paramount and the Mohawk, spark conversations with strangers, attend screenings, conferences, music showcases and events together, and have fun exploring SXSW Online XR's many locations.
When the time came to leave the platform, I had spent over an hour in Virtual Reality, but it had felt like minutes. I had spoken with many strangers at very cool places, taken a lot of selfies, unwittingly crashed a red carpet, ridden a go-kart, and flown a festival drone into nothingness many times until I eventually learned to control it and managed to land right on top of the Texas Capitol. Not only did all these moments of discovery and exploration make my day (and week!), but those magical places instilled in my mind a sense of familiarity that would immediately emerge every time I went back to the platform, attending screenings, showcases and events during the rest of the week. Now that the festival has come to an end, I really do feel like I've travelled to the event and attended it in person, which sums up not only the beauty of Virtual Reality, but also South by Southwest's remarkable achievement.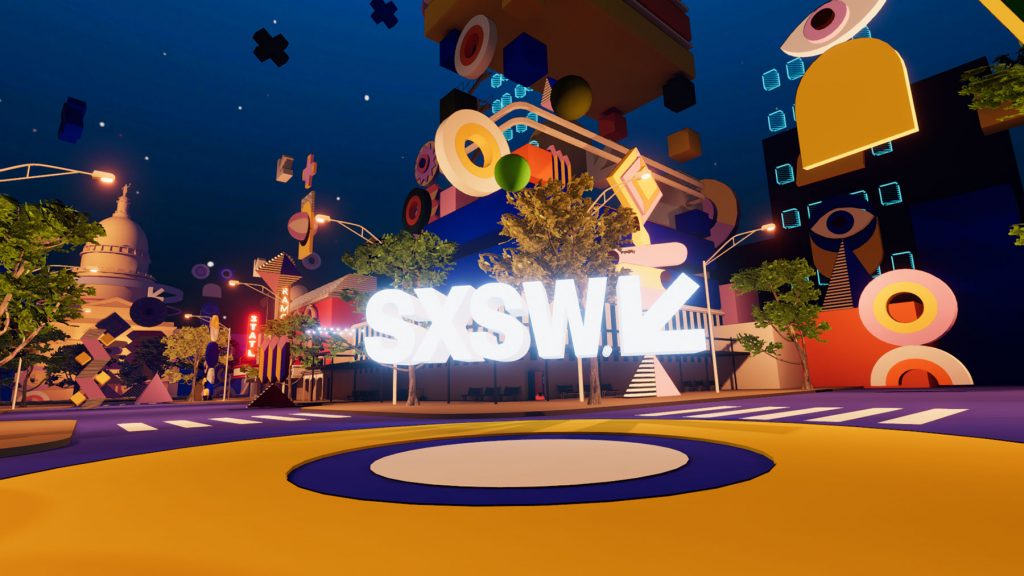 We spoke with XR and film programmer Blake Kammerdiener about the incredible Virtual Reality world built on VRChat by VROOm for SXSW 2021. Here's what he told us about how SXSW Online XR brought the look and feel of the festival to a variety of audiences, the importance of exploring the space and having meetups across all festival platforms, the future of VR at film festivals, and more.
---
The Idea Behind SXSW Online XR
Congratulations for an incredible festival, and thank you so much for creating this this amazing world and experience!
BK: Of course! It really did exactly what we wanted it to, and it brought everything to life in a very physical-ish way. It gave you that fun feeling that you get at South By, when you're strolling around, finding new experiences and doing new things all the time. That's what you do whenever you're walking around in a real lifestyle. So that's, that's really what we wanted to create in it, and I think it worked pretty well!
It definitely was an amazing experience! How did you get the idea of recreating SXSW's actual streets and locations?
BK: When thinking of attending events and really diving into social VR, it just seemed natural that, if we were going to build a space, it had to really give something to our audience that tthey knew and remembered. It had to be something that hit every sector of our audience, because that's one of the things about South By: there are so many different types of creatives, and there needed to be something for all of them. So, in thinking about that, it was like, "Well, what would be the best way to give something to, say, the music audience, that they would remember?" That's to build the music clubs, right? And we wanted to do that across the board.
We wanted to build something that our audience could really engage with, and they are such a diverse group of people that it actually created really big dreams! [SXSW Online XR] was even bigger in scope in the early days. As we were talking to developers and going through things, you could see their eyes grow really big and they'd be like, "Ohh, that's what you want to do!", and we'd be like, "Yeah, of course, right? That seems natural!" [laughs]
What is it, then? What haven't we seen?
BK: I can't divulge that! [laughs] We've got to leave surprises for later!
---
Bringing "A Fantastic Version of Austin" to a Variety of Creators
How did you take advantage of Virtual Reality as a medium to make SXSW Online XR's Austin not only realistic, but also a place with an identity of its own?
BK: When we started going through the process, we were talking with our team that oversaw all of the XR work, as well as our developers over at VROOm, deciding which artist was going to be the lead on our sonography and so on. Really, it seemed natural to make it a fantastic version, because, when you come to Austin during South By, it is kind of a fantastic version of Austin. We create that on site, so it just made sense to use the VR medium in the same way, blending the look and feel of South By with what we were building in the very specific designs of Austin which we used.
When we were building it out, we used everything from video walkthroughs and blueprints and and all, because it was super important to us to get that exact feel. At the same time, we also wanted to make it fantastic, blending it with the tools that VR has to make it more engaging, and really immerse people into a South By version of what that would be.
I love that, as well as actual recreations of Austin venues, you also had festival screenings, conference sessions, keynotes, music showcases, networking events, a red carpet and interactive experiences all take place on the one VR platform!
BK: I think what was most important, and part of what made it successful, was making sure that there was stuff in there for all different sectors of our audience. What has always made South by Southwest successful in general, even in the past, is that it is accessible to all different sorts of creators – on the tech creative side, on the music creative side, and everything in between – as well as the film festival, of course. So part of that success was making sure that there was something in there for all of the different variety of creators.
I was so impressed by all the music showcases!
BK: I got to discover bands at the Mohawk, this year, which was awesome! [laughs] I miss doing that: I went into the Mohawk to watch a couple of showcases and discovered some new bands.
The Cryptoart Gallery Event, with highlights from Jean-Michel Jarre's NYE concert inside a virtual Notre-Dame, sounded incredible!
BK: It was great. It was very, very important to us that everything be compatible across the board for quest users, as well as the higher end PC VR headsets, and desktop users. The one thing that was not compatible was that event, and I know that it created an additional layer of FOMO of people who really wanted to go, because it was amazing! It was a lot of fun.
It's still remarkable how accessible the VR part of the festival was to the audience, not only on different headsets but also on a computer.
BK: It was a big part of our process when we were looking at what platform to use, actually: we looked at a bunch of different platforms and, while it was not Mac compatible, technically speaking, which made some people very sad, it was very, very important to us that it was as accessible as possible across the board, and still able to hold and develop all that we wanted to put in there. That's why we landed where we did.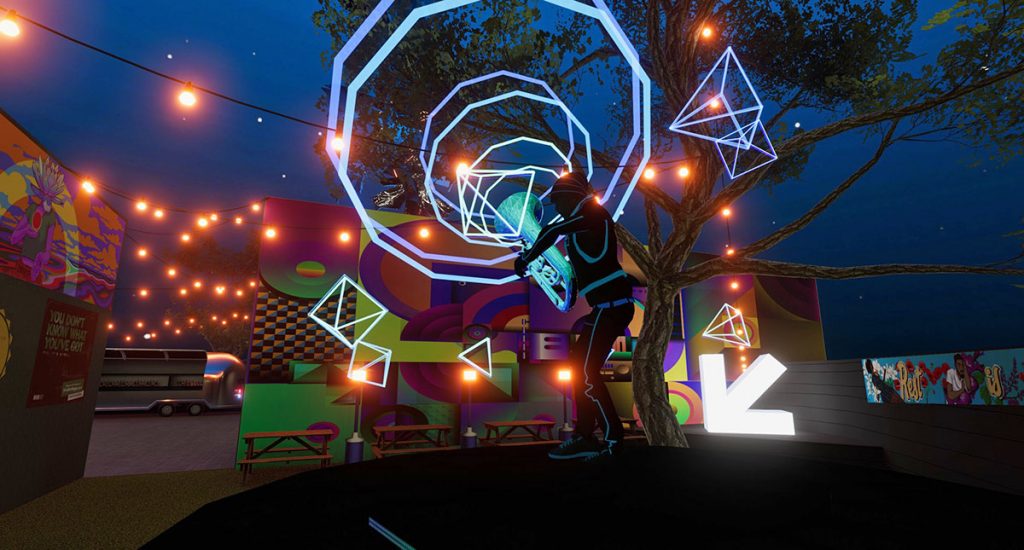 ---
Exploring and Interacting with SXSW Online XR
Was it an intentional choice to give the audience so much freedom to walk around and explore the festival on their own?
BK: When we were developing it, we really talked about the exploratory factor: that was super important to us. There's this fine balance in VRChat worlds especially, because 40 people per instance is roughly what you can get in one place, so we didn't want the space to be too massive. That's why we had it divided up like we did: each individual place was a different VRChat world, and you could have 40 people in each one of them at any time.
But we also wanted people to be able to explore and to find things. Whenever we were developing it, myself and our project manager, Martha King, would spend several hours every night just going through it, and finding every nook and cranny. We'd take a drone and fly it underneath the world, and, really, we'd explore it ourselves, because we knew that exploring is an important part of an event. When you travel to a new place, you're going to spend some time just exploring that place, and so that was super important to us from the very beginning.
That drone was so much fun! It was also impressive on a technical level: I usually feel motion sickness when I experience fast movement in VR, but I was absolutely fine flying around at SXSW!
BK: A lot of friends and co-workers who were new to VR were buying new headsets [to attend the festival], and they'd be like, "Oh, what's that? A drone?", And I'd be like, "Okay, be careful…", because I didn't want them to go to a drone and get nauseous all of a sudden, and then be like, "Okay, I'm done [with VR]", but it didn't happen! They jumped on the drone and then they jumped on the ground right again!
---
Having Meetups Across Multiple Platforms at SXSW Online
You also had all so many screenings and conferences taking place in virtual reality, which gave us the possibility of sharing an experience with a collective audience. How do you think SXSW Online XR affected social interaction at virtual film festivals?
BK: I think that it was able to create that kind of space where you could still, virtually, walk into a room and sit down next to a stranger and just be like, "Oh, this is awesome!", you know? [laughs] At least in my experience at virtual events, that hasn't really existed, at least in my experience. You can get close to that on some zoom calls, but not while watching the programming: there's always restrictions of doing one part of it at a time. [SXSW Online XR] was a space where we could get all of it happening at the same time. We had a lot of our pre-recorded programming across all of our platforms that we were streaming in, so it was important for us to make that available, but we also had live programming going on as well, with live panels. And then those meetups.
One of my favourite things I heard was at our closing party, when I was talking to one of our attendees, and then another attendee came up and they started talking, like, "Oh yeah, it was great to see you!". They met at a live panel in the Contemporary, on the rooftop, and then they went to a different film meetup on zoom, where they got to meet each other face to face, outside of their avatars. And then, you know, they'd randomly meet up again in VR, or on another zoom. So, being able to go across different platforms and randomly meet somebody, and then go and see them again across all of our platforms. That was part of the success at SXSW this year, just being able to utilise all the different types of technology, and bring them together into one little hub like that.
---
The Future of Virtual Reality at Film Festivals
The pandemic has affected the way we attend film festivals in this specific moment of time, and our way of experiencing Virtual Reality at such events has also evolved. How do you think VR will be experienced at film festivals in the future?
BK: That's a great question, and it's something that we're thinking about constantly right now. It's the biggest question: what do we take that was successful in an online version and how do we apply that when we get back to real life? Probably for years, there's still going to be this lag time before an event can become what it was way back when. There's still people who can't travel, there's some people who may not travel because they can't, there's some people who may not travel because of restrictions, and some may just not want to travel anymore.
Being able to make sure that an event is accessible to as many people as possible is important, but what I think our biggest challenge is going to be is, how do we bridge the two audiences? How do we create a VR infrastructure on the ground that people can come to and enjoy, and still meet up and network with those people who cannot come, and who are attending the virtual event, but do it in a way that is still lively and still feels vital at that time and in that space?
We don't want to send them home for the night, and then network that way. We want them to be able to be there together, in the space, with the in-real-life attendees. At that same time, we also want to get them to network, and meet, and mingle with all those people who weren't able to come in in real life. I think that's going to be the biggest challenge, moving forward: how do we bring together what we've learned from running an online event with all the VR technology, and, at the same time, apply that to an in-real-life event?
I can't wait to find out!
BK: Me too!
This interview has been edited for length and clarity.
---
SXSW Online took place March 16-20, 2021, and the festival's panels are now available online through April 18. Read all our SXSW reviews.