I Love My Dad: Film Review

Patton Oswalt ("Chuck") and writer/director James Morosini ("Franklin") in I Love My Dad (© I Love My Dad, LLC, Hantz Motion Pictures | SXSW 2022)
I Love My Dad is a side-splitting and terrifically touching true story about the revitalization of one father-son relationship, shared sincerely by James Morosini.
---

No one's relationship with their parents is perfect, but few can say they share the story of James Morosini, whose father – in a desperate attempt to reconnect with his estranged son – "catfished" him under the guise of a beautiful young woman his age named "Becca" nearly a decade ago. What transpired was amusing, aggravating, and ultimately, quite affecting in the end, but it's taken Morosini ten years to feel comfortable expressing these experiences to the world, and now, in I Love My Dad, we do indeed get to take this rollercoaster ride with him.
Playing a semi-fictionalized version of himself named Franklin (while also serving as the film's writer and director), Morosini places us right at the beginning of his plight with his father. Upon being picked up by a mental health facility by his mother Diane (Amy Landecker, of A Serious Man and Transparent) – following a stay that started after a suicide attempt – Franklin blocks his father Chuck (Patton Oswalt, of Ratatouille and Young Adult) on all social media platforms to stop him from being able to contact him or check in on him in this recovery period, on account of their strained relationship caused by Chuck's physical and emotional absence over the years. Taking advice from his best friend Jimmy (Lil Rel Howery, of Get Out and Free Guy), Chuck does the only logical thing: create a fake account to contact his son anyway.
However, this isn't just any normal fake account – it's designed in the image of a beaming young waitress at a local diner named Becca (Claudia Sulewski), whom Chuck fashions to be his son's ideal soulmate. While at first skeptical of this stranger sending him a Facebook request, Franklin eventually gives into "her" advances, and the two strike up a friendship that soon blossoms into something more, leading to comforting and cringey circumstances (stretching from impromptu therapy session-of-sorts where Chuck vents about his own strained relationship with his father through Becca to chaotic bouts of cybersex that put him in a profusely uncomfortable position). And yet, this whole scheme truly wades into terrifying territory when Franklin, aspiring to see the new love of his life face-to-face, finally re-reaches out to Chuck, asking if he would be able to drive him to Maine to meet the real Becca, whom Chuck based the profile around. Not wanting to pass up what may be the last opportunity to save their father-son relationship, Chuck says yes, but he finds himself struggling to keep up this ruse and formulating a plan to break the truth to Franklin before it's too late.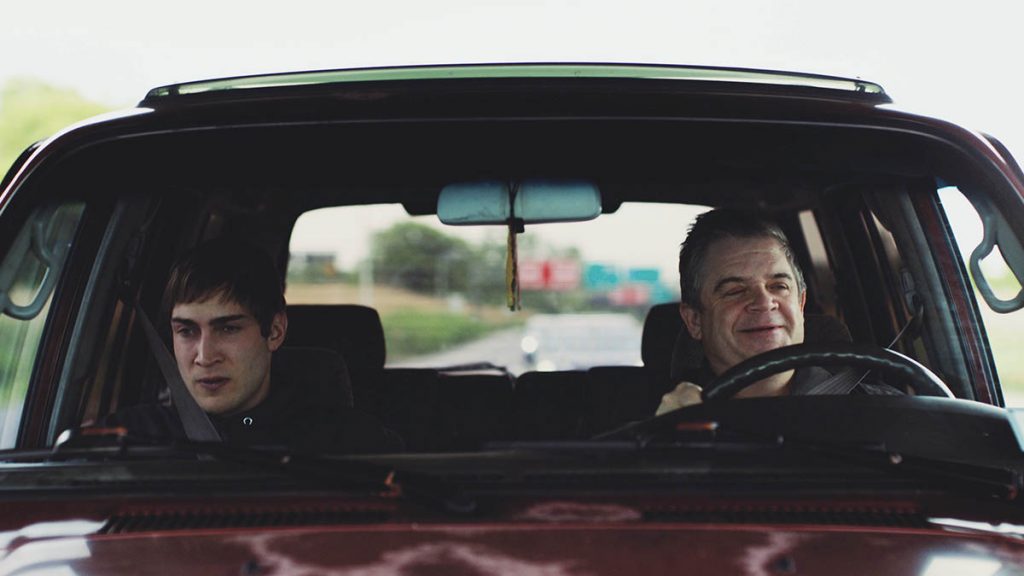 It's almost impossible to believe that this is a true story and not some crazy concept for the a raunchy summer road trip comedy, but the thing that sets Morosini's movie apart from the pack is the bewitching blend of heart and humor suffused throughout his script, as he never shortchanges side-splitting comic setpieces for tear-jerking talks between father-and-son or vice versa. Instead, there's a tremendous balance of both the sweet and the salacious from scene-to-scene, as Morosini keeps the more ribald elements rooted in reality and clearly has so much care for these characters, going out of his way to explain all of their actions in an effort to allow us to empathize with them every step of the way in spite of how erratic or eccentric they become. A few tonal shifts feel somewhat jarring, especially near the end (as the film frenetic finale makes for a bit of a rushed resolution), but, for the most part, Morosini has a masterful grasp on mood throughout, earning both the guffaws and the gasps elicited from audience members as he surveys both the silly and the sad elements of this extremely strange scheme.
One of his most effective choices as a filmmaker is to bring Franklin's conversations with "Becca" to life by having Sulewski and Morosini speak the messages that Franklin and "Becca" are typing to one another over Facebook aloud and interact with one another as if they're actually in the same physical space, illustrating how Franklin is perceiving the progression of this relationship in his head and showing us how much her presence means to him as he makes his mental health recovery. It helps that the two have such a ravishing rapport and instantly crackling chemistry, and while Morosini more than holds his own as an actor as well – fleshing out Franklin beyond his "emotionally afflicted" archetype and expertly expressing the evolution of his emotions – it's Sulewski who proves to be the flashy find here, taking on a tremendously tricky role (essentially an objectified and idealized "manic pixie dream girl") and infusing her with immense depth, which is even more apparent when we meet the real Becca later on and Sulewski creates a stark contrast between her and her phony digital persona. Thanks to her beguiling beauty, she commands the screen right from her first scene, but she absolutely has the acting chops to earn your attention through her tenacious talent as well.
Likewise, as is to be expected by this point from the cherished comedian, Patton Oswalt turns in terrifically touching and positively priceless work as Chuck, taking the already three-dimensional character present in Morosini's script and adding even more layers to him through his passionate and poignant portrayal that doesn't quite excuse his shady efforts to reconnect with his son but also doesn't judge him for his actions either. It's a tough line to walk, but if anyone can pull it off, it's Oswalt, and pull it off he does, making us both chuckle at and cry for the forlorn father who, at the end of the day, is just doing his best to try and have a presence in his son's life, atone for past mistakes, and protect him from further hurt and heartbreak in the world. Like with Sulewski, Morosini establishes a riveting repartee with Oswalt, and the two play off one another perfectly, bickering and bonding like a true-blue father-son duo, making the chaos of the film's emotional climax all the more maddening and moving when it comes to pass.
Even if I Love My Dad's ending isn't quite as clean and concise as it could be, the work this cast and crew (and particularly the actor/writer/director triple threat James Morosini) put into the film ahead of its final moments leave audiences with a smile on their face and a stirred soul when all is said and done, having made us feel like a part of this frenzied family after enduring all the hilarious highs and all of the lamentable lows alongside them. Not only do we walk away admiring Morosini for being open enough to share such a preposterous but poignant story with us, but we leave impressed by his brilliance as a burgeoning filmmaker as well, being able to blend genres and tones to entertaining effect while never losing sight of the emotion that makes a script sing.
---
I Love My Dad premiered at SXSW 2022 on March 12, 2022, and is now available to watch on digital and on demand in the US. The film will be released on Digital Download in the UK from January 23, 2023.