July 2022: New Movies and Shows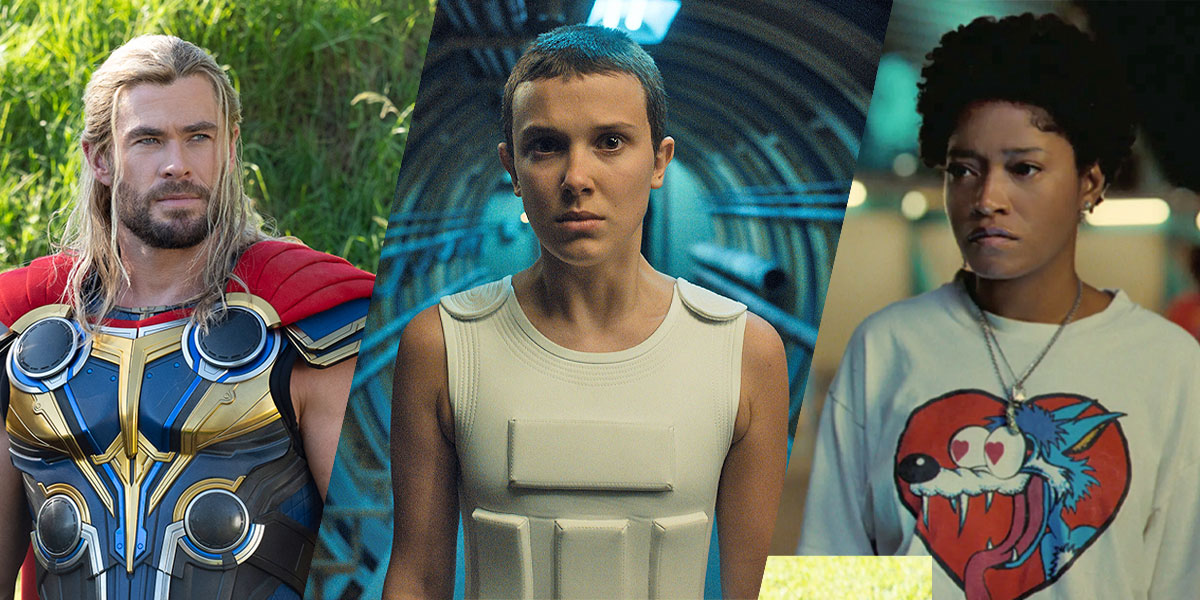 Thor: Love and Thunder, Stranger Things, Nope (Marvel Studios, Netflix, Universal Pictures)
July 2022: this month's new releases include anticipated movies Nope and Thor: Love and Thunder, and shows Stranger Things 4: Vol 2 and Pretty Little Liars.
Last month we've seen the release of many highly anticipated movies and shows, but July 2022 promises to be just as exciting. This month, we're going to find out what happens to our favorite Hawkins students in Stranger Things 4: Vol 2 (click here for our review of Vol. 1, if you need a recap!) and we'll finally get to see Taika Waititi's Thor: Love and Thunder and Jordan Peele's Nope, two films that have been very high on our watchlists for months.
But a lot more is going to be released this month and, to help you decide what to watch, we've made a list of July 2022 's most exciting new films and series, in order of release and divided by movies you'll be able to see in theaters, on demand, and on various streaming platforms, as well as shows to stream on Amazon Prime Video, Apple TV+, Disney+, HBO Max, Hulu, Netflix, Paramount+, and more. Though we've prioritized U.S. releases, we've also included U.K. and global release dates where available. Scroll till the end for other events happening this month, and happy watching!
---
1. JULY 2022 MOVIES: IN THEATERS
CLARA SOLA
Director: Nathalie Álvarez Mesén
U.S. Release: July 1
U.K. Release: September 16
Full Review: The Evergreen Touch of Nature & Desire
Official synopsis: In a remote village in Costa Rica, 40-year-old Clara endures a repressively religious and withdrawn life under the command of her mother. Her uncanny affinity for creatures large and small allows Clara to find solace in the natural world around her. Tension builds within the family as Clara's younger niece approaches her quinceañera, igniting a sexual and mystical awakening in Clara, and a journey to free herself from the conventions that have dominated her life.
---
THE FORGIVEN
Director: John Michael McDonagh
U.S. Release: July 1
U.K. Release: August 26
Full Review: Fiennes Shines, The Rest Falters
Official synopsis: Speeding through the Moroccan desert to attend an old friend's lavish weekend party, wealthy Londoners David and Jo Henninger (Ralph Fiennes and Jessica Chastain) are involved in a tragic accident with a local teenage boy. Arriving late at the grand villa with the debauched party raging, the couple attempts to cover up the incident with the collusion of the local police. But when the boy's father arrives seeking justice, the stage is set for a tension-filled culture clash in which David and Jo must come to terms with their fateful act and its shattering consequences.
---
MINIONS: THE RISE OF GRU
Director: Emma Holly Jones
Global Release: July 1
Read also: Minions: From Silly, Simple-Minded Sidekicks to Spin-Off Sensations
Official synopsis: Long before he becomes the master of evil, Gru (Oscar nominee Steve Carell) is just a 12-year-old boy in 1970s suburbia, plotting to take over the world from his basement. It's not going particularly well. When Gru crosses paths with the Minions, including Kevin, Stuart, Bob, and Otto—a new Minion sporting braces and a desperate need to please—this unexpected family joins forces. Together, they build their first lair, design their first weapons, and strive to execute their first missions.
When the infamous supervillain supergroup, the Vicious 6, oust their leader—legendary martial arts fighter Wild Knuckles (Oscar winner Alan Arkin)— Gru, their most devoted fanboy, interviews to become their newest member. The Vicious 6 is not impressed by the diminutive, wannabe villain, but then Gru outsmarts (and enrages) them, and he suddenly finds himself the mortal enemy of the apex of evil. With Gru on the run, the Minions attempt to master the art of kung fu to help save him, and Gru discovers that even bad guys need a little help from their friends.
---
MR. MALCOLM'S LIST
Director: Emma Holly Jones
U.S. Release: July 1
U.K. Release: August 26
Official synopsis: When she fails to meet an item on his list of requirements for a bride, Julia Thistlewaite (Zawe Ashton) is jilted by London's most eligible bachelor, Mr. Malcolm (Ṣọpẹ́ Dìrísù). Feeling humiliated and determined to exact revenge, she convinces her friend Selina Dalton (Freida Pinto) to play the role of his ideal match. Soon, Mr. Malcolm wonders whether he's found the perfect woman…or the perfect hoax. Also starring Oliver Jackson-Cohen, Ashley Park, with Theo James.
---
WAYFINDER
Director: Larry Achiampong
U.K. Release: July 1
U.S. Release: unknown
Full Review: A Mystical Journey Through England
Official synopsis: Travelling from North to South, the Wanderer passes through different regions, towns and landscapes, encountering people, stories and situations on her way. Across six chapters, including 'The North', 'The Big Smoke' and 'The Kingdom of the East', this epic film builds a dialogue about class and economic exclusion, belonging and displacement, cultural heritage and the meaning of home. The Wanderer acts as a witness to accounts, conversations, places and histories. Setting out from the ancient paths of Hadrian's wall, she explores many environments, from a housing estate in Wolverhampton to E Pellicci Café in Bethnal Green, and the National Gallery deserted at night, eventually reaching the sea at Margate.
A road movie of sorts, Wayfinder draws on British traditions of travel and exploration of the sublime landscape and the sea – reflecting on the division and crisis in the nation today. The film combines sweeping shots with poetic voice-over narratives, melded with real 'vox pop' testimonies, field recordings and an original orchestral score composed by Achiampong.
---
THOR: LOVE & THUNDER
Director: Taika Waititi
Global Release: July 8
Full Review: Waititi Overdoes It
---
BOTH SIDES OF THE BLADE
Director: Claire Denis
U.S. Release: July 8
U.K. Release: September
Full Review: An Incendiary Love Triangle
Official synopsis: Sara (Juliette Binoche) and Jean (Vincent Lindon) have been in a loving and stable relationship for ten years. When they first met, Sara was in a relationship with François (Grégoire Colin), Jean's best friend. One day, Sara sees François on the street. He does not see her, but she is overwhelmed by a sensation that her life could suddenly change. François does indeed get in touch with Jean to suggest that they work together again. Before long, things are in danger of spiraling out of control. Based on Christine Angot's 2018 novel 'Un tournant de la vie.'
Official synopsis: Marvel Studios' Thor: Love and Thunder finds the God of Thunder (Chris Hemsworth) on a journey unlike anything he's ever faced – one of self-discovery. But his efforts are interrupted by a galactic killer known as Gorr the God Butcher (Christian Bale), who seeks the extinction of the gods. To combat the threat, Thor enlists the help of King Valkyrie (Tessa Thompson), Korg (Taika Waititi) and ex-girlfriend Jane Foster (Natalie Portman), who – to Thor's surprise – inexplicably wields his magical hammer, Mjolnir, as the Mighty Thor. Together, they embark upon a harrowing cosmic adventure to uncover the mystery of the God Butcher's vengeance and stop him before it's too late.
---
MURINA
Director: Antoneta Alamat Kusijanović
U.S. Release: July 8 (New York) / July 15 (LA), followed by nationwide release
U.K. Release: April 8 in cinemas, June 27 on digital platforms
Full Review: Chilling Parental Control
Official synopsis: On a remote island along Croatia's Adriatic coast, 17-year-old Julija spends her days diving for eel with her domineering father Ante and watching other teens party on a nearby yacht. Julija bristles at Ante's heavy handed cruelty and resents her mother Nela's passivity. She longs for independence but is unsure how to achieve it, until the arrival of the rich and mysterious Javier seems to offer a way out. Javier is considering buying Ante's land to build a resort, which would allow the family to escape their island isolation for the city. Once Ante's employer and Nela's lover, Javier flirts shamelessly with Nela and Julija, setting off a subtle battle of hypermasculine one-upmanship that pushes Ante to humiliate and control Julija even more. Flattered by Javier's praise and stories of traveling the world, Julija sees him as the solution to all her problems. But does his affection portend freedom, or something more sinister?
Winner of the Caméra d'Or at the Cannes Film Festival, lensed by award-winning cinematographer Hélène Louvart (The Lost Daughter), and Executive Produced by Martin Scorsese, Murina features a ferocious, star-making central performance by Gracija Filipović and the most sumptuous images of the Mediterranean since The Big Blue. Equal parts fiery feminist outcry and stirring coming-of-age drama, the film announces director Antoneta Alamat Kusijanović as a major new talent in world cinema.
---
PERSUASION
Director: Carrie Cracknell
U.S. & U.K. Release: July 8 in select theaters, July 15 on Netflix
Global Release: July 15 on Netflix
Full Review: Netflix Does Jane Austen
Official synopsis: Living with her snobby family on the brink of bankruptcy, Anne Elliot is an unconforming woman with modern sensibilities. When Frederick Wentworth—the dashing one she let get away—crashes back into her life, Anne must choose between putting the past behind her or listening to her heart when it comes to second chances. Adapted from the Jane Austen novel.
---
COSTA BRAVA, LEBANON
Director: Mounia Akl
U.S. Release: July 15 in New York, July 22 in LA, nationwide release to follow
U.K. Release: unknown
Official synopsis: Costa Brava, Lebanon captures the joys and frustrations of a close-knit family with an intimacy that feels startlingly natural, and sets them against a sharply drawn backdrop of environmental crisis. In the not-so-distant future, the free-spirited Badri family have escaped the toxic pollution and social unrest of Beirut by seeking refuge in an idyllic mountain home. Without warning, the government starts to build a garbage landfill right outside their fence, intruding on their domestic utopia and bringing the trash and corruption of a whole country to their doorstep. As the landfill rises, so does tension in the household, revealing a long-simmering division between those family members who wish to defend or abandon the mountain oasis they have built.
---
THE DEER KING
Director: Masashi Ando
U.S. Release: July 15
U.K. Release: July 27
Official synopsis: In the years following a vicious war, the Empire of Zol now controls the land and citizens of rival Aquafa – except for Aquafa's Fire Horse Territory, where wild dogs that once carried the deadly Black Wolf Fever continue to roam free. When a pack of dogs race through a Zol-controlled mine, Van, an enslaved former soldier, and a young girl named Yuna are both bitten, but manage to escape as the sole survivors of the attack. Finally free, Van and Yuna seek out a simple, peaceful existence in the countryside. But as the deadly disease once again runs rampant, they find themselves at the crossroads of a struggle much larger than any one nation.
---
THE GOOD BOSS
Director: Fernando León de Aranoa
U.K. Release: July 15 (in cinemas and on Curzon Home Cinema)
U.S. Release: August 26
Full Review: Intriguing Corporate Satire
Official synopsis: Javier Bardem excels as a corporate boss, who will tell you he's your best friend just as he's stabbing you in the back, in this ruthlessly funny corporate satire. Blanco (Bardem) initially appears to be a kindly, if bland, owner of a factory. 'Don't treat me like a boss', he gestures to his employees. But behind the genial façade lies a selfish profiteer. Blanco is all smiles for a visiting journalist and is intent on keeping morale up so he can win a government award. But when he makes a long-serving employee redundant and takes advantage of his latest intern, cracks start to appear in the industrialist's world.
---
THE GRAY MAN
Directors: Anthony & Joe Russo
U.S. & U.K. Release: July 15, in select theaters
Worldwide Netflix Release: July 22
Official synopsis: The Gray Man is CIA operative Court Gentry (Ryan Gosling), aka, Sierra Six. Plucked from a federal penitentiary and recruited by his handler, Donald Fitzroy (Billy Bob Thornton), Gentry was once a highly-skilled, Agency-sanctioned merchant of death. But now the tables have turned and Six is the target, hunted across the globe by Lloyd Hansen (Chris Evans), a former cohort at the CIA, who will stop at nothing to take him out. Agent Dani Miranda (Ana de Armas) has his back. He'll need it.
---
MCENROE
Director: Barney Douglas
U.K. & EIRE Release: July 15
U.S. Release: September 2 (on Showtime)
Official synopsis: John McEnroe was an era-defining talent; Number One in the world in four consecutive years. However, his time on and off the court was tumultuous, and it is this internal conflict that drove John to the very top, and very nearly broke him. In McEnroe, John speaks openly about his life and career alongside film archive from some of the biggest matches in tennis history – including the US Open and Wimbledon – as well as home video footage from John himself. Contributions from John's children and his wife Patty Smyth provide a level of intimacy that takes the film beyond a mere sports biopic and into the realms of something deeply personal and confessional. Featuring icons such as Billie Jean King, Bjorn Borg and Keith Richards, the film brings to life a golden age of tennis and the 80's excess of John's hometown: New York City.
---
MRS. HARRIS GOES TO PARIS
Director: Anthony Fabian
Global Release: July 15
Official synopsis: Mrs.Harris Goes To Paris is the enchanting tale of a seemingly ordinary British housekeeper whose dream to own a couture Christian Dior gown takes her on an extraordinary adventure to Paris.
---
PAWS OF FURY: THE LEGEND OF HANK
Directors: Rob Minkoff, Mark Koetsier & Chris Bailey
Global Release: July 15
Full Review: Ferocious Family Fun
Official synopsis: A hard-on-his-luck hound Hank (Michael Cera) finds himself in a town full of cats who need a hero to defend them from a ruthless villain's (Ricky Gervais) evil plot to wipe their village off the map. With help from a reluctant teacher (Samuel L. Jackson) to train him, our underdog must assume the role of town samurai and team up with the villagers to save the day. The only problem… cats hate dogs! Also starring Mel Brooks, George Takei, Aasif Mandvi, Gabriel Iglesias, Djimon Hounsou, Michelle Yeoh, Kylie Kuioka, and Cathy Shim.
---
THE RAILWAY CHILDREN RETURN
Director: Morgan Matthews
U.K. Release: July 15
U.S. Release: 2022
Official synopsis: 1944 – As life in Britain's cities becomes increasingly perilous, three evacuee children – Lily (Beau Gadsdon), Pattie (Eden Hamilton) and Ted (Zac Cudby) Watts – are sent by their mother from Salford to the Yorkshire village of Oakworth. There to meet them on the train station platform are Bobbie Waterbury (Jenny Agutter, reprising her iconic role in the original film), her daughter, Annie (Sheridan Smith), and grandson Thomas (Austin Haynes), and with their help the evacuees are soon settling into their new life in the countryside. When the children discover injured American soldier Abe (KJ Aikens) hiding out in the railyard at Oakworth Station, they are thrust into a dangerous quest to assist their new friend who, like them, is a long way from home.
---
WHERE THE CRAWDADS SING
Director: Olivia Newman
U.S. Release: July 15
U.K. Release: July 22
Global Release: August-September
Full Review: A Mesmerizing Mystery at the Marsh
Official synopsis: From the best-selling novel comes a captivating mystery. Where the Crawdads Sing tells the story of Kya, an abandoned girl who raised herself to adulthood in the dangerous marshlands of North Carolina. For years, rumors of the "Marsh Girl" haunted Barkley Cove, isolating the sharp and resilient Kya from her community. Drawn to two young men from town, Kya opens herself to a new and startling world; but when one of them is found dead, she is immediately cast by the community as the main suspect. As the case unfolds, the verdict as to what actually happened becomes increasingly unclear, threatening to reveal the many secrets that lay within the marsh.
---
KURT VONNEGUT: UNSTUCK IN TIME
Directors: Robert B. Weide & Don Argott
U.K. Release: July 22 (in cinemas, on on Altitude.film & digital platforms)
U.S. Release: November 19, 2021
Official synopsis: The film spans Vonnegut's childhood in Indianapolis, his experiences during World War Two, his marriage, family, and divorce, his early careers as a publicist for General Electric and a car salesman, and his long years as a struggling writer, leading to eventual superstardom in 1969 following the publication of his lightning-bolt anti-war novel Slaughterhouse-Five.
---
MY OLD SCHOOL
Director: Jono McLeod
U.S. Release: July 22
U.K. Release: unknown
Full Review: Deception & Survival
Official synopsis: In 1993, 16-year-old Brandon Lee enrolled at Bearsden Academy, a secondary school in a well-to-do suburb of Glasgow, Scotland. What followed over the next two years would become the stuff of legend. Brandon had been privately tutored in Canada while he accompanied his mother, an opera diva, on tour before her tragic death. The preternaturally bright student surprised teachers by blazing toward his goal of entering medical school, displaying a wealth of knowledge beyond his years. Brandon found friends despite his initial awkwardness, taking bullied students under his wing, introducing classmates to seminal retro bands, and even starring in the school's production of South Pacific. But then his unbelievable secret was revealed. Filmmaker Jono McLeod returns to his old school for a nostalgic look at the strange but true story of his former classmate, Brandon Lee. Utilizing playful, period-specific animation, a pitch-perfect soundtrack, the memories of students and teachers, and the talents of Alan Cumming to bring the tale to life, My Old School offers more than one surprise along the way.
---
NOTRE DAME ON FIRE
Directors: Jean-Jacques Annaud
U.K. Release: July 22
European Release: March 16 (in France and select countries)
Official synopsis: Notre Dame on Fire offers a blow-by-blow recreation of the gripping events that took place on April 15, 2019, when the cathedral suffered the biggest blaze in its history. The film retraces how heroic men and women put their lives on the line to accomplish an awe-inspiring rescue.
---
NOPE
Director: Jordan Peele
U.S. Release: July 22
U.K. Release: August 12
Official synopsis: Oscar winner Jordan Peele disrupted and redefined modern horror with Get Out and then Us. Now, he reimagines the summer movie with a new pop nightmare: the expansive horror epic, Nope. The film reunites Peele with Oscar winner Daniel Kaluuya (Get Out, Judas and the Black Messiah), who is joined by Keke Palmer (Hustlers, Alice) and Oscar nominee Steven Yeun (Minari, Okja) as residents in a lonely gulch of inland California who bear witness to an uncanny and chilling discovery. Nope, which co-stars Michael Wincott (Hitchcock, Westworld) and Brandon Perea (The OA, American Insurrection), is written and directed by Jordan Peele and is produced by Ian Cooper (Us, Candyman) and Jordan Peele for Monkeypaw Productions. The film will be released by Universal Pictures worldwide.
---
ROBUST
Director: Constance Meyer
U.K. Release: July 22
U.S. Release: unknown
Official synopsis: George is an aging film star in decay. Aïssa, a semi-pro wrestler who earns a living as a security officer, has a hard time handling her love life. When George's right-arm man and only friend takes a leave of absence for several weeks, Aïssa is immediately appointed as his replacement. Between this pragmatic young lady bodyguard and our disenchanted renowned actor, a singular bond begins to take root. Despite their individual differences, life has shaped them in ways more similar than they thought.
---
ALMA'S RAINBOW (RE-RELEASE)
Director: Ayoka Chenzira
U.S. Release: July 29
Official synopsis: A coming-of-age comedy-drama about three Black women living in Brooklyn, Ayoka Chenzira's Alma's Rainbow explores the life of teenager Rainbow Gold (Victoria Gabrielle Platt) who is entering womanhood and navigating conversations and experiences around standards of beauty, self-image, and the rights Black women have over their bodies. Rainbow attends a strict parochial school, studies dance, and is just becoming aware of boys. She lives with her strait-laced mother Alma Gold (Kim Weston-Moran), who runs a hair salon in the parlor of their home. When Alma's free-spirited sister Ruby (Mizan Kirby) arrives from Paris after a 10-year absence, the sisters clash over what constitutes the "proper" direction Rainbow's life should take. Alma has fooled herself into believing she has no need of male companionship and advises her daughter to follow her example. Ruby encourages both her niece and her sister to embrace life – and love – fully and joyfully. Alma's Rainbow highlights a multi-layered Black women's world where the characters live, love, and wrestle with what it means to exert and exercise their agency.
---
DC LEAGUE OF SUPER-PETS
Directors: Jared Stern & Sam Levine
International Release: from July 27
U.S. Release: July 29
Official synopsis: In DC League of Super-Pets, Krypto the Super-Dog and Superman are inseparable best friends, sharing the same superpowers and fighting crime in Metropolis side by side. When Superman and the rest of the Justice League are kidnapped, Krypto must convince a rag-tag shelter pack—Ace the hound, PB the potbellied pig, Merton the turtle and Chip the squirrel—to master their own newfound powers and help him rescue the Super Heroes.
---
HIT THE ROAD
Director: Panah Panahi
U.K. Release: July 29
U.S. Release: April 22 (New York) / May 6 (Los Angeles)
Full Review: Dynamic Road Trip Drama
Official synopsis: Driving across endless miles of rugged landscape, a family navigates a long road trip alongside a range of conflicting emotions. Dad's got a broken leg and a mood to match whilst Mum fusses over her two children and their pet dog. And when he's not drawing on the car windows, their energetic youngest son couldn't be louder as he sings along to the car radio whilst his elder brother tries to concentrate on the road ahead. As the journey twists and turns and their destination draws ever closer, the chaotic claustrophobia in the car grows as does the love and affection they have for each other. Accompanied by a brilliant soundtrack, Panah Panahi's thrilling debut feature is a treasure; tender, quirky, and laugh-out-loud funny. Get ready to take an unmissable journey along the dusty road of life.
---
VENGEANCE
Director: B.J.Novak
U.S. Release: July 29
U.K. Release:
Full Review: Deception & Survival
Official synopsis: Vengeance, the directorial debut from writer and star B.J. Novak ("The Office"), is a darkly comic thriller about Ben Manalowitz, a journalist and podcaster who travels from New York City to West Texas to investigate the death of a girl he was hooking up with. With an ensemble cast that includes Issa Rae, Ashton Kutcher, Boyd Holbrook, J. Smith-Cameron, and Dove Cameron.
---
2. JULY 2022 MOVIES: ON DIGITAL & ON DEMAND
ACCEPTED
Director: Dan Chen
U.S. Release: July 1 (in select theaters and on demand)
U.K. Release: unknown
Official synopsis: Four high school seniors in rural Louisiana attend T.M. Landry, an unconventional K – 12 school housed in a sparse warehouse made famous for sending its graduates to elite universities like Harvard, Yale, and Stanford. The students aim to meet the intense expectations of Mike Landry, the imposing founder of the school who charts a relentless course towards their college dreams. When the New York Times publishes an expose on Landry's controversial methods, the school buckles under the scrutiny. Each senior is left to contend with uncomfortable truths about their school and the college admissions system, and decide for themselves what they are willing to do to be accepted.
---
RUBIKON
Director: Leni Lauritsch
U.S. Release: July 1 (in select theaters and on demand)
U.K. Release: September 2022
Full Review: Not-so Enthralling Galactic Contamination
Official synopsis: Following a catastrophe on Earth, the planet is covered in a toxic fog. The crew in the space station, must decide whether to risk their lives to get home and search for survivors, or stay safe in the station's "algae symbiosis system".
---
DREAMING WALLS: INSIDE THE CHELSEA HOTEL
Director: Amélie van Elmbt & Maya Duverdier
U.S. Release: July 8 (in select theaters and on demand)
U.K. Release: unknown
Official synopsis: The legendary Chelsea Hotel, an icon of 1960s counterculture and a haven for famous artists and intellectuals including Patti Smith, Janis Joplin and the superstars of Warhol's Factory, is under renovation. Soon it will reopen to the public as one of New York's most fashionable luxury hotels. Dozens of long-term residents, most in their later years, have lived amidst the scaffolding and constant construction for close to a decade. Against this chaotic backdrop, Dreaming Walls takes us through the hotel's storied halls, exploring its living body and the bohemian origins that contributed to its mythical stature. Its residents and the walls themselves now face a turning point in their common history.
---
FAIR GAME
Director: Mario Andreacchio
U.S. Release: July 8 in select theaters, July 12 on demand
U.K. Release: unknown
Full Review: Ozploitation Mind Games
Official synopsis: A bonafide Aussie classic, one that would later inspire Quentin Tarantino's Death Proof, Fair Game is a wild revenge triller set in the outback pitting Cassandra Delaney's wildlife sanctuary boss against three psycho kangaroo hunters. Bored with killing kangaroos, they decide to kill the animals in the sanctuary, and when they see how attractive the owner is, they decide to have a little "fun" with her, too. Turns out that they may get a bit more "fun" than they bargained for.
---
THE ROAD TO GALENA
Director: Joe Hall
U.S. Release: July 8 (in select theaters and on VOD)
U.K. Release: unknown
Official synopsis: The Road to Galena follows one man's pursuit of personal fulfillment over traditional success. Cole Baird (Ben Winchell) has everything – a beautiful wife, successful career, large home and fancy toys. Behind the facade, however, is a man trapped by his surroundings and falling ever behind in the pursuit of his life's dream. Not strong enough to confront his father's expectations, he left his true love, his best friend and a fulfilling small-town life to embark on a legal career – intent, one day, to return. Now the rising star in Washington social circles and the youngest managing partner in the history of a powerhouse D.C. law firm, Cole is given the choice to continue the path of success in a life to which he never aspired or to return to the community that nurtured him.
---
DIARY OF A SPY
Director: Adam Christian Clark
North American Release: July 14
U.K. Release: unknown
Official synopsis: Anna is a washed-up intelligence officer whose last mission left seven people dead. Drunk, broke, and alone she is given the chance for one last mission: to seduce and recruit a valuable asset connected to the Saudi Royal Family. As she gets closer and closer to her target, Anna finds she is in over her head and she must decide between accomplishing her mission or finding a way to save herself.
---
KARMALINK
Director: Jake Wachtel
U.S. & Canada Release: July 15 (in select theaters and on demand)
U.K. Release: unknown
Official synopsis: In near-future Phnom Penh, the rich and privileged are augmented with nanotech, and new skyscrapers crowd the skyline. In Tralop Bek, a tight-knit community threatened with forced eviction, 13-year-old Leng Heng is having vivid dreams of his past lives. He and his friends are convinced they are meant to find a buried Buddhist statue to save their homes, and they seek out help from a street-smart girl in the neighborhood, Srey Leak. Together they follow clues across town and into the past, uncovering a link with a genius neuroscientist on a quest for digital nirvana. As Leng Heng's dreams converge on the present, his very sense of identity begins to unravel. When it becomes clear that the stakes are higher than they imagined, the two friends must decide how far they are willing to go to find their treasure and the truth.
---
SHE WILL
Director: Charlotte Colbert
U.S. Release: July 15 (in select theaters and on demand)
U.K. Release: unknown
Full Review: The Past Living Beneath the Earth
Official synopsis: She Will is a gothic-tinged drama about a declining movie star, Veronica Ghent (Alice Krige) who after a difficult surgery, goes to a healing retreat in rural Scotland with her young nurse Desi (Kota Eberhardt). With her own identity in doubt, Veronica starts to confront past traumas endured on movie sets. The two women develop an unlikely bond as mysterious natural of the wilderness give Veronica the power to enact revenge. An inventive and provocative directorial debut, with #MeToo resonance, She Will is a timely feminist critique, identifying Charlotte Colbert as one of horror's most exciting new filmmaking voices.
---
ENDANGERED (FOX HUNT DRIVE)
Director: Drew Walkup
U.S. Release: July 26
U.K. Release: unknown
Official synopsis: Alison, an aspiring architect, spends her evenings trying to make ends meet as a ride-share driver. While wrapping up her shift, she decides to take on one last passenger – only to find herself in unexpected danger when she discovers the mysterious stranger is not whom he appears to be. Alison is cajoled into taking the fare against her better judgement, and when she discovers blood-stained jewelry and a gun in her passenger's bag, she begins to fear that she may not make it out of this trip alive. Through a twisted and unsettling turn of events, Alison appeals to her enigmatic passenger for help. In over her head, she fights to get through the night by covering her tracks, avoiding the police, and ultimately discovering who her inscrutable passenger truly is.
---
NEPTUNE FROST
Directors: Saul Williams & Anisia Uzeyman
U.S. Release: July 26
U.K. Release: unknown
Official synopsis: Multi-hyphenate, multidisciplinary artist Saul Williams brings his unique dynamism to this Afrofuturist vision, a sci-fi punk musical that's a visually wondrous amalgamation of themes, ideas, and songs that Williams has explored in his work, notably his 2016 album MartyrLoserKing. Co-directed with his partner, the Rwandan-born artist and cinematographer Anisia Uzeyman, the film takes place in the hilltops of Burundi, where a group of escaped coltan miners form an anti-colonialist computer hacker collective. From their camp in an otherworldly e-waste dump, they attempt a takeover of the authoritarian regime exploiting the region's natural resources – and its people. When an intersex runaway and an escaped coltan miner find each other through cosmic forces, their connection sparks glitches within the greater divine circuitry. Set between states of being – past and present, dream and waking life, colonized and free, male and female, memory and prescience – Neptune Frost is an invigorating and empowering direct download to the cerebral cortex and a call to reclaim technology for progressive political ends.
---
OLGA
Director: Elie Grappe
U.S. Release: July 26
U.K. Release: March 18
Official synopsis: Olga is a talented teenage Ukrainian gymnast exiled in Switzerland, dreaming of Olympic gold and trying to fit in with her new team in her new home. As she prepares for the European Championships, the Ukrainian people back home in Kyiv rise up in what has become known as the Maidan Revolution, suddenly involving everyone she cares about. Olga is left a powerless, distant bystander as her mother, an investigative journalist, faces danger as she challenges the brutal Yanukovich regime. Incorporating documentary footage from the 2013 uprising, Olga is a tense, sensitively handled tale of exile reflecting the clash between the personal and the political in a young woman's search for identity.
---
ALONE TOGETHER
Director: Katie Holmes
U.S. Release: July 22 in select theaters, July 29 on digital and on demand
U.K. Release: unknown
Full Review: Romance In Isolation
Official synopsis: Going upstate for a short romantic getaway to escape the pandemic in New York City, food critic June's (Katie Holmes) plans go wrong from the start. Arriving at the AirBnb in advance of her boyfriend, John (Derek Luke), she is shocked to discover it has been double-booked by recently single Charlie (Jim Sturgess). When John decides to stay in the city to take care of his parents, June has to settle in for the long haul as she realizes that the initial two weeks of the pandemic might just drag on a little bit longer than expected. As spring begins to unfold around them, June and Charlie make the most of the sudden break in their routines and develop an unexpected intimacy as they bond over their goals, ambitions and, of course, relationships.
---
RESURRECTION
Director: Andrew Semans
U.S. Release: July 29
U.K. Release: unknown
Full Review: An Unhinged Motherhood Drama
Official synopsis: A woman's carefully constructed life is upended when an unwelcome shadow from her past returns, forcing her to confront the monster she's evaded for two decades.
---
JULY 2022 MOVIES: STREAMING
AMAZON PRIME VIDEO
July 1-10
July 11-17
July 18-24
---
ARROW
From July 1
Raining in the Mountain
The Fate of Lee Kahn
Legend of the Mountain
A Touch of Zen
Dragon Inn
From July 8
Lurking Fear
Castle Freak
The Beyond
From July 15
Sorority Babes in the Slimeball Bowl-O-Rama
Cannibal Women in the Avocado Jungle of Death
From July 22
Satan's Brew
Mother Kuster's Trip to Heaven
The Niklashausen Journey
Gods of the Plague
The American Soldier
Rio Das Mortes
Fear of Fear
From July 29
---
DISNEY PLUS / HULU / STAR
July 1-10
July 11-17
July 18-24
July 25-31
---
MUBI
July 1-10
July 11-17
July 18-24
July 25-31
---
NETFLIX
July 1-10
July 11-17
July 18-24
July 25-31
---
SHUDDER
July 1-10
July 11-17
July 18-24
July 25-31
---
OTHER STREAMING PLATFORMS
July 1-10
July 11-17
July 18-24
Aftershock (July 19): Hulu
The Day the Music Died: The Story of Don McLean's "American Pie" (July 19): Paramount+
The Last Movie Stars (July 21): HBO Max
July 25-31
---
3. JULY 2022 RELEASES: NEW SHOWS OUT THIS MONTH
AMAZON PRIME VIDEO
July 1-10
July 11-17
Forever Summer: Hamptons (July 15)
July 18-24
Sprung: Season 1 (July 22) – Freevee
July 25-31
---
APPLE TV+
July 1-10
July 18-24
July 25-31
---
HBO & HBO MAX
July 11-17
FBOY Island: Season 2 (July 14)
The Rehearsal (July 15)
July 18-24
July 25-31
---
HULU
July 1-10
July 11-17
Solar Opposites: Season 3 (July 13)
Victoria's Secret: Angels and Demons (July 14)
July 25-31
---
NETFLIX
July 1-10
July 11-17
July 18-24
Virgin River: Season 4 (July 20)
Blown Away: Season 3 (July 22)
July 25-31
Dream Home Makeover: Season 3 (July 27)
The Most Hated Man on the Internet (July 27)
Keep Breathing (July 28)
Uncoupled (July 29)
Fanático (July 29)
---
OTHER STREAMING PLATFORMS
July 1-10
America Outdoors with Baratunde Thurston (July 5): PBS
The Great Muslim American Road Trip (July 5): PBS
Generation Gap (July 7): ABC
Moonhaven (July 7): AMC+
Trigger Point (July 8): Peacock
The Final Straw (July 10): ABC
SkyMed (July 10): Paramount+
July 11-17
Icons Unearthed: Star Wars (July 12): VICE
Blood & Treasure: Season 2 (July 17): Paramount+
July 18-24
High School Musical: The Musical: The Series: Season 3 (July 27): Disney+
July 25-31
The Resort (July 28): Peacock