Cruella Review: The Return of Great Disney Storytelling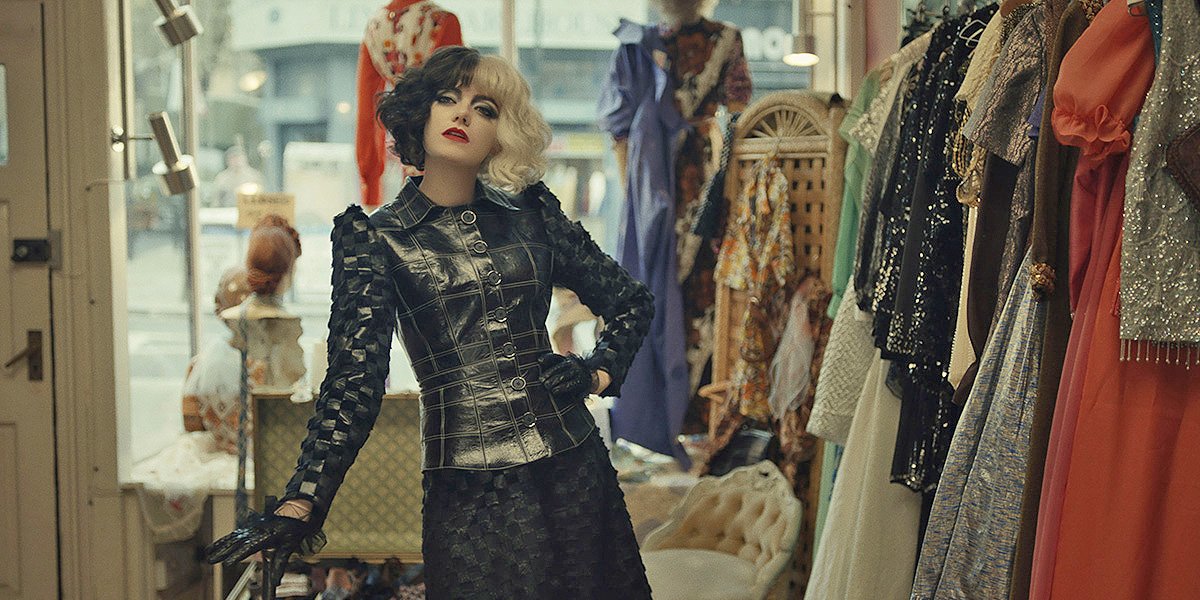 Emma Stone in Disney's live-action CRUELLA (2021 Disney Enterprises Inc)
As beautifully shot, written and acted as it is full of personality and style, Disney's Cruella is a graphic novel-worthy origin story that beautifully captures its protagonist's dichotomy.
---

How do you make a live-action spin-off that revolves around a villain whose only known character trait is that she likes to make coats out of Dalmatians? You do it by putting together a team of talented filmmakers, storytellers and creatives and crafting a story that has enough magic to remind us of Disney's golden era, and enough personality, style and punk-rock vibes to stand as a thoroughly original, incredibly cool origin story worthy of the best graphic novels.
In the past decade, Disney has gotten us used to live-action adaptations that add to the stories we all know and love by providing us with few, specific details on the characters' history and motivations: in Beauty and the Beast, we got a glimpse of Belle's mother; in Maleficent, we understood the symbolical importance of a "true love's kiss"; Aladdin strayed from the original narrative to give us a more well-rounded Jasmine. In Cruella, director Craig Gillespie (I, Tonya) and screenwriters Tony McNamara (The Favourite), Dana Fox (Couples Retreat), Aline Brosh McKenna (The Devil Wears Prada), Kelly Marcel (Saving Mr. Banks) and Steve Zissis (The Front Runner) do something else entirely, not only giving the beloved villain an absolutely believable backstory, but also bringing us an effortlessly engaging, tremendously well-crafted film that fully embodies the very essence of the iconic villain-to-be.
From the very beginning, Cruella gets us acquainted with its titular character's origins by having the villian herself tell her own story, acting as a surprisingly gripping narrator. And so, we are introduced to a clever, creative little girl who knows exactly who she is, and who refuses to conform to the norms of society, never passing on the chance to "make a statement" in the most challenging, "fabulous" way. Burdened with a name that comes with responsibilities, as it literally means "star", the Estella (Tipper Seifert-Cleveland, of Game of Thrones) we meet in 1964 might be a little too self-assured and opinionated, but she means no harm. Convinced she's a genius, which she might very well be, our young protagonist is used to hiding her ache to belong behind an "I am woman, hear me roar" façade. But the trouble-making side of her personality often makes an appearance, even if her mother (Catherine, played by Little Joe's Emily Beecham), and only living relative, has taught her to "say goodbye to Cruella" whenever she tries to get the better of her. And so, the two sides of the child's personality coexist to form a fascinating, utterly unique whole that encompasses both.
If Estella's self-confidence and individuality make her more unique, they're also not entirely appreciated in 1970s England, and not only is the child soon expelled from primary school, but an unfortunate series of events leads to her suddenly finding herself in London, completely on her own and with no relatives to count on. And so, our resourceful lead befriends a pair of charismatic young thieves who appreciate her for who she really is, Jasper (Joel Fry, of Yesterday) and Horace (Paul Walter Hauser, of I, Tonya), and forms a family of her own, dying her hair red to repress her inner Cruella and start a new life.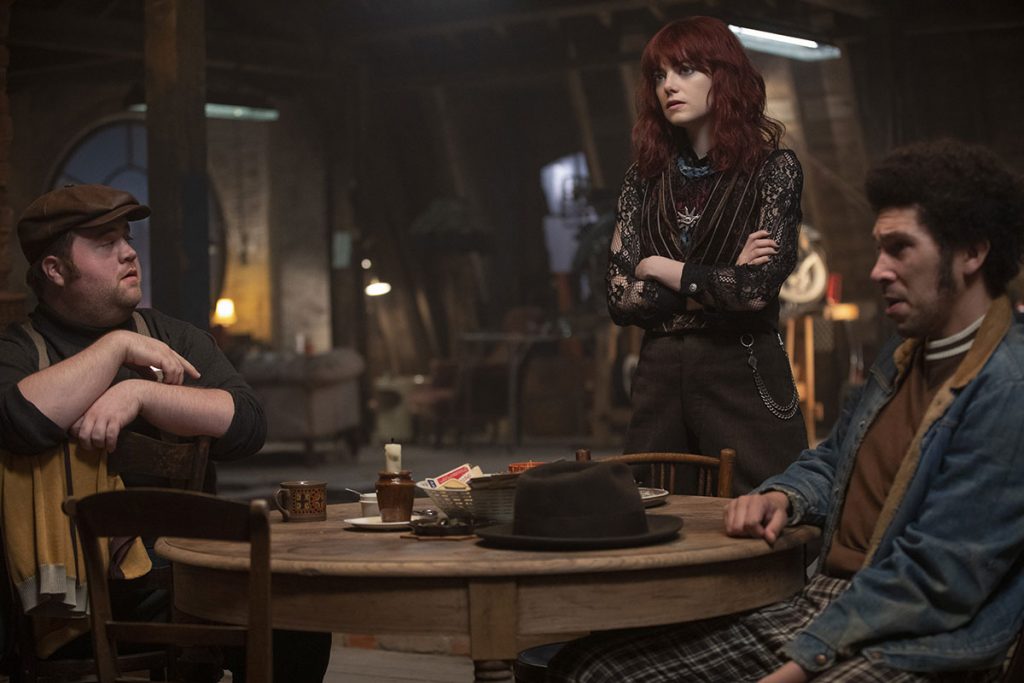 Ten years later, Estella (Emma Stone, of The Favourite and La La Land) is more successful than ever: her bond with Jasper and Horace grown stronger, and her career has taken off. Not only that, but her unique vision and fashion style have earned her the admiration of the local fashion legend, The Baroness (Emma Thompson, of Sense and Sensibility and Love Actually), who soon begins to turn to Estella when she needs signature pieces for her own collections. Soon, the two designers begin to collaborate, with Estella on her best behaviour and the Baroness at her most Miranda Priestly-like.
But there's no room for two divas in London's fashion world, and their relationship quickly crumbles, causing Estella to embrace that "bit of an extreme side" that she has been trying to hide for her entire life. And so, a revenge-bent Cruella takes over, on a mission to make an equal amount of art and trouble, all while staying true to her fabulous, stylish ways. As we begin to recognise the 101 Dalmatians villain that has kept us entertained – and given us nightmares – throughout our childhood, we can't help but be enthralled by an anti-hero who's as evil and ruthless as she is wonderfully unpredictable, hypnotic and fun.
One of the reasons why Gillespie's origin story succeeds is that it absolutely nails Cruella's portrayal as an anti-hero, both in personality and style. Though the most beloved comic book supervillains are each unique in both actions and motivations, there are certain character traits that most have in common, and the best supervillains are individuals who have the potential to do great things, but who make the conscious decision to turn to evil after society rejects them one too many times. And so, they fully embrace the darkest parts of their personality, becoming not only more powerful and unhinged, but also more charismatic, excessive and fun. True, these anti-heroes are undeniably evil, and they do terrible things, but there's something incredibly liberating in watching someone disregard the rules and act purely out of self-interest, even more so if their actions are accompanied by gorgeous cinematography, sharp comebacks and some of the most iconic tunes in punk-rock history.
Thanks to the storytellers and creatives who worked on the film, Cruella fully embodies the anti-hero archetype, in a live-action drama that's as well-written, engaging and fun as it is visually and auditorily stunning. The film's screenplay doesn't just provide a character we knew nothing about with a believable backstory that justifies her future hatred towards Dalmatians in a way that's consistent with Disney's storytelling habits, but it also gets us acquainted with her irony and style, using well-timed dialogues and a fully coherent narrative arc to make her relatable even if she's a villain. More than that, the film presents us with a character whose dichotomy is not just represented by her unusual hair colour, but by everything she is and does. Cruella is drenched in symbolism, and our supervillain is not just given two fully well-rounded personalities, but also two sets of… well, pretty much everything. To say anything more would ruin your experience of watching the film, but suffices it to say that, as more and more secrets are revealed, you'll be surprised by just how many threads will come full circle, revealing several aspects of the villain's past, present and future that have a symbolic significance for the character.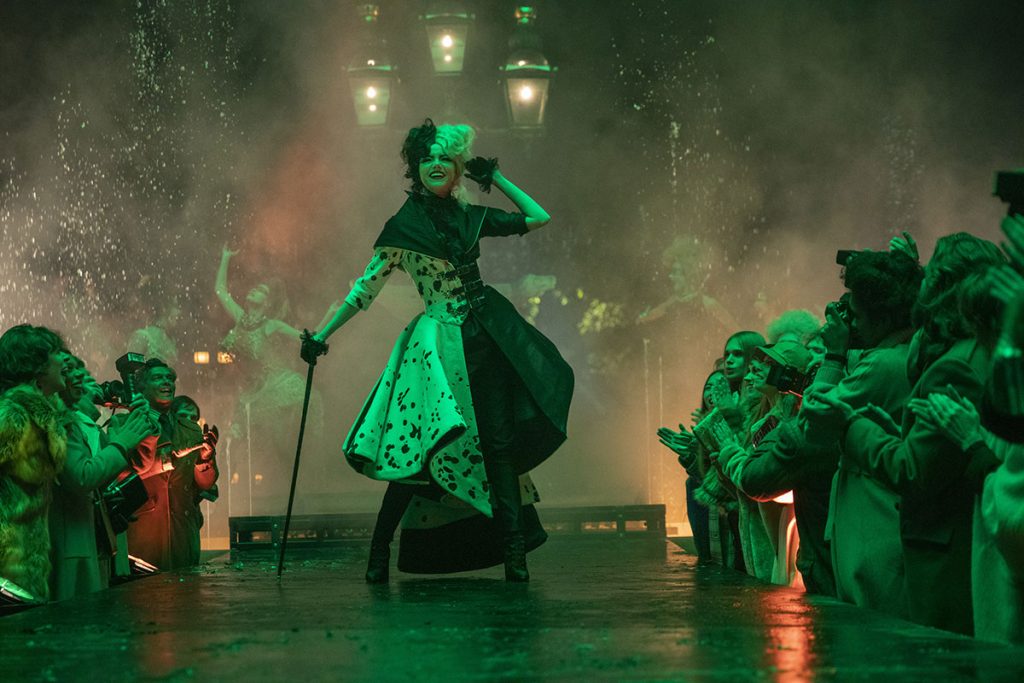 On a visual level, Gillespie's direction and Nicolas Karakatsanis's (I, Tonya) cinematography are dynamic and precise, with gorgeous desaturated colours, playful aerial views and impressive long takes that convey all the magic of a Disney classic, giving it, at times, an almost Burtonian feel. The use of CGI and special effects adds a layer of irony to the film's most action-packed scenes, leaving you with unforgettable images of Dalmatians jumping into mid-air in slow-motion and many more hilarious, well-choreographed sequences. But that's not all: thanks to music supervisor Susan Jacobs (American Hustle), Cruella's music is a character in itself, effectively taking us back to 1970s London, a key time for the birth of punk, and making us want to dance and sing along with The Doors, The Clash, The Rolling Stones, David Bowie, Tina Turner, Queen, Supertramp and many more artists, each accompanying key moments of the film and making them even more unforgettable. And, though you'll have to wait till the very end to listen to Florence + The Machine's new single "Call Me Cruella", it will be with an unbelievably cool, noir-like end title scene worthy of the best Bond films.
If Cruella impresses on a technical level, it also features unforgettable performances from its entire cast, starting from Emma Stone, who steals the show as the film's titular character, absolutely owning every single scene she's in. The movie's script shows us a villain whose dichotomy defines and motivates her, and Stone never fails to show us both sides of a character whose double personality constantly changes as she grows. If, at the beginning of the film, the restrained Estella and the extreme Cruella are two very separate entities, as the movie progresses and our protagonist evolves, so do both personalities. As Estella and Cruella take it in turns to (literally) take the wheel, Stone showcases an impressive range of emotions, and the line between good and evil becomes more and more blurry. If, at first, we're shown two fascinating sides of the same person, it's thanks to Stone's multilayered performance that those two sides slowly but assuredly merge into one entirely believable Cruella who, at the same time, reminds us of her 1961 animated counterpart and stands as a completely original, fascinating character.
But Stone is not the film's only standout. Emma Thompson channels her inner Miranda Priestly and gives us a fashion legend, and a fierce business woman, who quite literally asks for blood. Though the parallels to The Devil Wears Prada are inevitable, credit goes to Thompson for making the Baroness her own, separating her from Meryl Streep's character in more than one way. As a matter of fact, the Baroness is not entirely unlikeable, and we can't help but be drawn to her as she comes up with new, delightfully brutal ways to speak her mind.
Jasper and Horace, who have a lot more personality than their animated counterparts, balance Cruella and the Baroness' viciousness with a much-needed dose of heart and humanity, and Fry and Walter Hauser shine whenever they're on the screen, accompanied by a series of canine companions who are even more adorable and resourceful than they are. Even though they only have a few scenes in the film, both John McCrea's (Everybody's Talking About Jamie) Artie and Kirby Howell-Baptiste's (The Good Place and Killing Eve) Anita Darling are absolutely essential – the former as an entirely original character you'll immediately like, and the latter as an old acquaintance that will surprise you more than once – and both performers make their characters memorable. Mark Strong (Zero Dark Thirty and 1917) doesn't have much to do in the film, but he, too, does the best he can with the little screentime he's given.
Cruella's screenwriters deserve to be praised for the way they managed to come up with a believable, completely original narrative arc for the film's titular character, and so much happens in the film that it's often hard to believe that it isn't an adaptation. At the same time, it also needs to be said that, perhaps in an attempt to surprise the audience by adding references to recent crowdpleasers, Cruella, at times, overdoes it. Towards the end of the movie, there's an unmistakable reference to Todd Phillips' Joker that doesn't really have any reason to exist, which is a shame. Besides the fact that they are both villains in a film, Gillespie's Cruella and Phillips' Joker have absolutely nothing in common, and a reference to Joker opens up Cruella for parallels between the two films that are not only unnecessary, but also demeaning to both characters. Though the scene in question only lasts less than a minute, it's enough to distract viewers from the film's lead for a little while, especially in a second half that's slightly less gripping than the first.
That said, Cruella is still a highly enjoyable film that has something from everyone, and will definitely make for a "fabulous" time at the cinema. Both unmistakenly Disney and utterly unique and original, Gillespie's origin story is one of those rare films that are, quite simply, effortlessly engaging. As well-crafted and well-acted as it is impressive on a technical level, Cruella chronicles the birth of an antihero with irony, wit and style, marking the return of great Disney storytelling with a riveting origin story you'll want to keep watching over and over again.
---
Cruella was released in theaters and on Disney+ on Friday, May 28, and is now available to watch on digital and on demand.