Stardust (2020) Film Review: A Bowie-Less Movie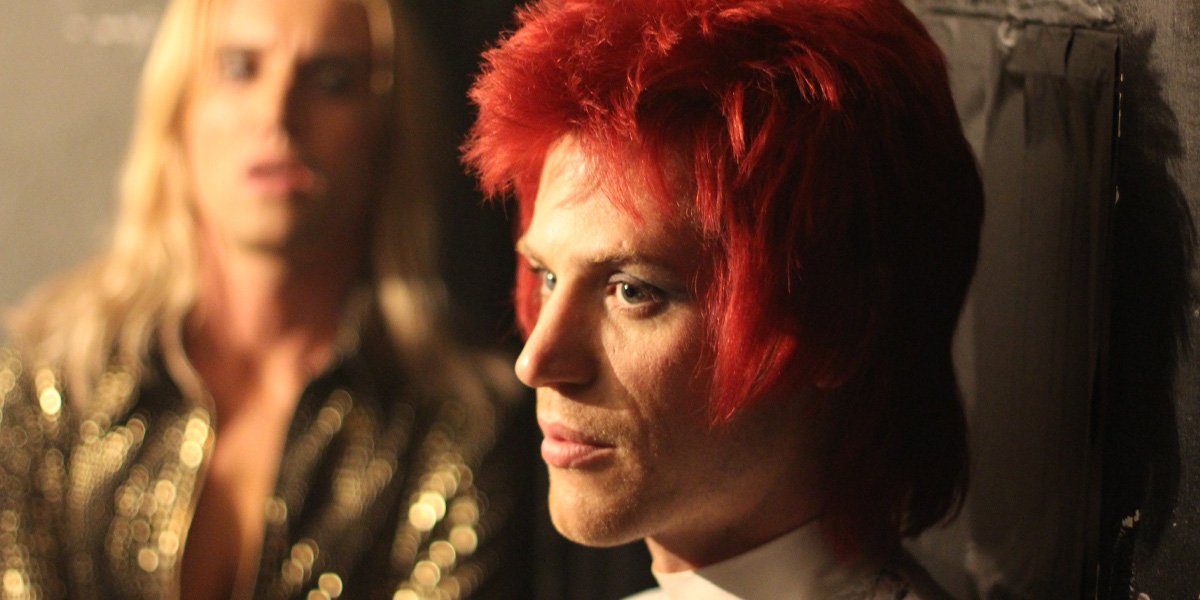 Johnny Flynn as 'David Bowie' in Gabriel Range's STARDUST (IFC Films)
Despite its intriguing premise, Stardust is an uninspired fictional account of the birth of Ziggy Stardust that features no Bowie in neither music nor spirit.
---

It takes a lot of courage to make a film about one of the most iconic, influential, beloved music legends – not to mention innovator, artist and humanitarian – to ever walk the Earth, even more so if the movie in question is not a biopic, but a "[mostly] fictional story", as a title card informs us right at the beginning of Stardust. It is only natural, therefore, when watching a film that takes inspiration from such a prominent historical figure – so prominent, in fact, that hundreds of very good biographies have been written about him, that the following question should come to mind: why did director Gabriel Range (Death of a President) choose to use the name of such a well-known real-life figure to tell a tale that is mostly fictional? Did the world really need a film that revolves around David Bowie, but that is only loosely linked to reality?
As someone who reacted to Bowie's death as if a family member had just passed away, my answer veers towards the no. In fact, having had the chance to watch Stardust's Raindance Film Festival screening, I strongly believe that Range's latest drama would have been a very good film had it not been connected to David Bowie at all. In the press notes for the film, the director talks about wanting his film to be about "what makes someone become an artist; what actually drives them to make their art". The fact that Stardust was driven by this concept, and not by the life of its protagonist (played by Johnny Flynn), is quite clear in the movie, as, even though the film's main character does physically resemble and even, at times, sound like Bowie, he does not, and cannot, quite capture his personality.
In fact, even though the real David Bowie might not have had a completely clear idea of his identity in 1972, when the film takes place, he was not a spineless, whining lost soul with a perennially apologetic look on his face and the tendency to utter uninspired lines such as "maybe more people would want to know me if you told them I was a unique artist". Had Range decided to tell the story of an entirely fictional character, with no pressure of having to live up to Bowie's legendary status and to the expectations of millions of fans, the story itself might have been more compelling to watch.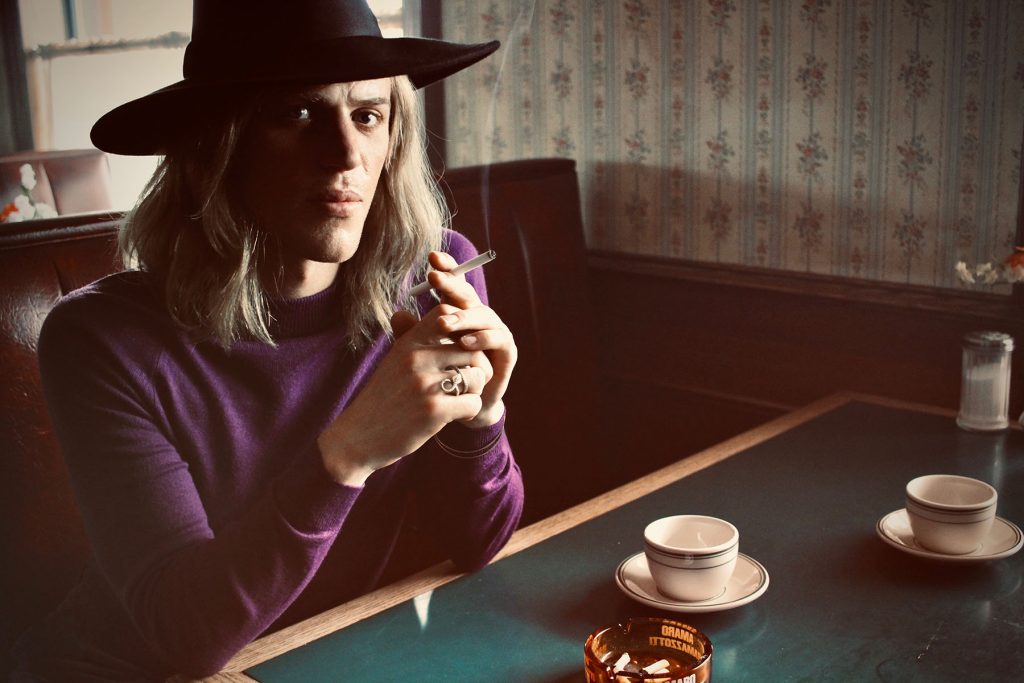 Speaking of Bowie's fans, another aspect that will immediately unnerve you is that, even though Stardust sets off to document the singer's first road trip to America and reveal the inspirations that gave birth to Ziggy Stardust, you will not find any David Bowie songs in this movie. What you will hear, instead, is a series of aptly performed renditions of other musicians' work, from Billy Boy Arnold's "I Wish You Would" and Jacques Brel's "Amsterdam" to an original song written by Johnny Flynn himself, performed in a way that is meant to imitate The Velvet Underground. It needs to be said that Flynn (Emma.) does what he can to elevate the film's screenplay. A singer/songwriter himself, Flynn plays his Bowie-inspired character remarkably, and with a level of emotion that, at times, manages to make us forget about the cheap costumes, outdated clichés, laughable mime routines and melodramatic sequences all featured in this movie. It's easy to see why Flynn won an award for his performance, as it's his acting alone that will make you want to watch Stardust till the end.
In the best Bohemian Rhapsody tradition of letting us know that a great performance is eventually going to take place and we should stick around till it does, it is precisely at the very end that you'll finally get to see our protagonist become Ziggy Stardust, and it will be… Mostly good, at least visually. Still, the overall feeling Stardust will leave you with is the urge to find out more about Bowie's life (check out David Buckely's "Strange Fascination" for information on his creative process and my personal favourite, Mark Spitz's "Bowie: A Biography", for a comprehensive look at his early years) and rewatch your favourite Bowie clips on youtube (Such as the 1972 Top of the Pops performance of "Starman", as well as one of the Ziggy Stardust appearances the film tries to emulate).
See Also

Overall, Stardust regrettably feels like a missed opportunity, not only for Gabriel Range, as the combination of a flawed screenplay and an unfortunate Bowie connection prevents him from truly delving into the themes he wanted to explore, but also for Johnny Flynn, as the film only partially enables him to showcase his talent, both as an actor and as a singer/songwriter. Still, given the incredible raw emotion he brought to the role, we'll certainly be keeping an eye on the latter.
---
Stardust was screened at the Raindance Film Festival on November 6, 2020, and is now available to watch on digital and on demand.