All Disney Live-Action Remakes Ranked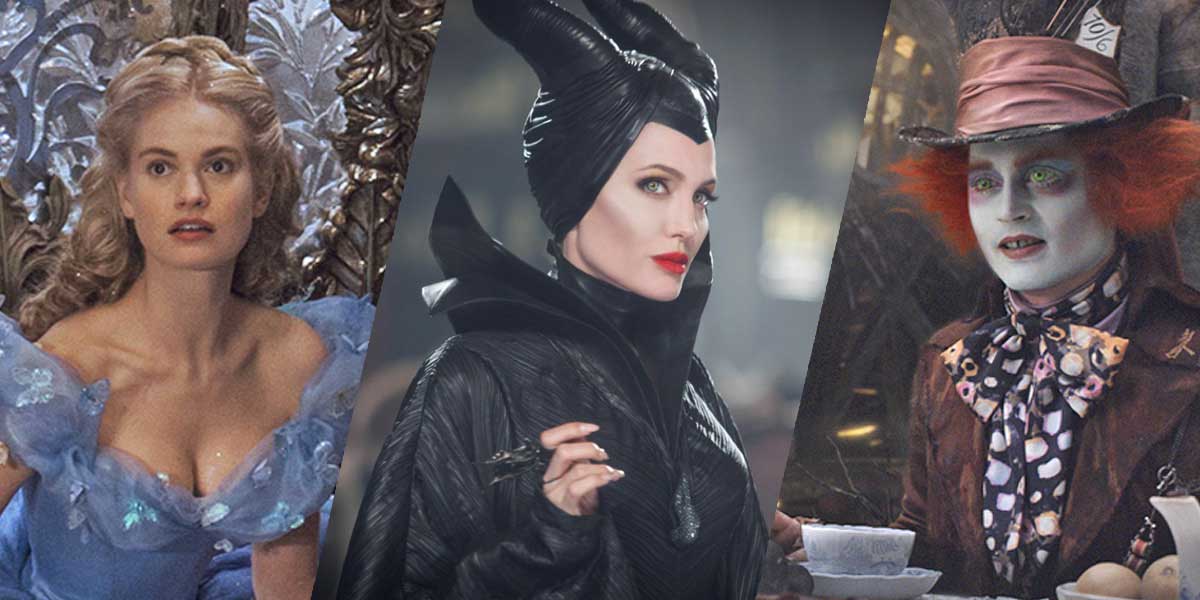 Cinderella, Maleficent, Alice in Wonderland (Walt Disney Studios)
Following the release release of Emma Stone's Cruella, we revisit all Disney live-action remakes to date, ranked from worst to best.
---
Ever since the release of Tim Burton's Alice in Wonderland in 2010 – and its subsequent $1 billion success – Disney has been on a roll remaking an array of animated hits from their company's expansive catalogue and adapting classic tales for today's audience, earning even more fans for these properties in the process. Though they've faced their fair share of critique as well – as some view these live-action updates as little more than "lazy cash grabs" – they continue to pull in boffo box office, and it's not hard to see why.
In a pop culture marketplace that thrives on nostalgia, there's an inherent allure in the ability to revisit the iconic yarns of one's youth, especially as Disney offers stories that are simultaneously the same and yet oh so different, complemented with pristine production values and vibrant visual effects. Even if the experience feels familiar, each film's "Disney magic" is so delightfully diverting that it's almost impossible to complain about the imaginative imagery before your eyes. Simply put, no studio captures our childlike curiosity and captivation better than the Mouse House.
Just last year, we were equally enchanted by Craig Gillespie's (I, Tonya, Fright Night) Cruella, an origin story-of-sorts that shone a spotlight on the sinister villainess and showed how she became the devilish dog snatcher of 1961's 101 Dalmatians. Though Glenn Close previously gave this role her all in 1996's live-action 101 Dalmatians (for which she was even nominated for a Golden Globe) and its sequel, 2000's 102 Dalmatians, Cruella was unique in that the titular fearsome fashion designer is actually the star of the show this time around (much like 2014's Maleficent, where Angelina Jolie''s lead sorceress took center stage), and, as such, anticipation was through the roof as we waited to learn of her riveting rise to power. And, after getting the chance to see it for ourselves, we at Loud and Clear have decided to celebrate Cruella's release by ranking all Disney live-action remakes, from worst to best.
(Note: this ranking only includes remakes released after 2010's Alice in Wonderland.)
---
15. DUMBO
2019
Director: Tim Burton
Starring: Colin Farrell, Danny DeVito, and Michael Keaton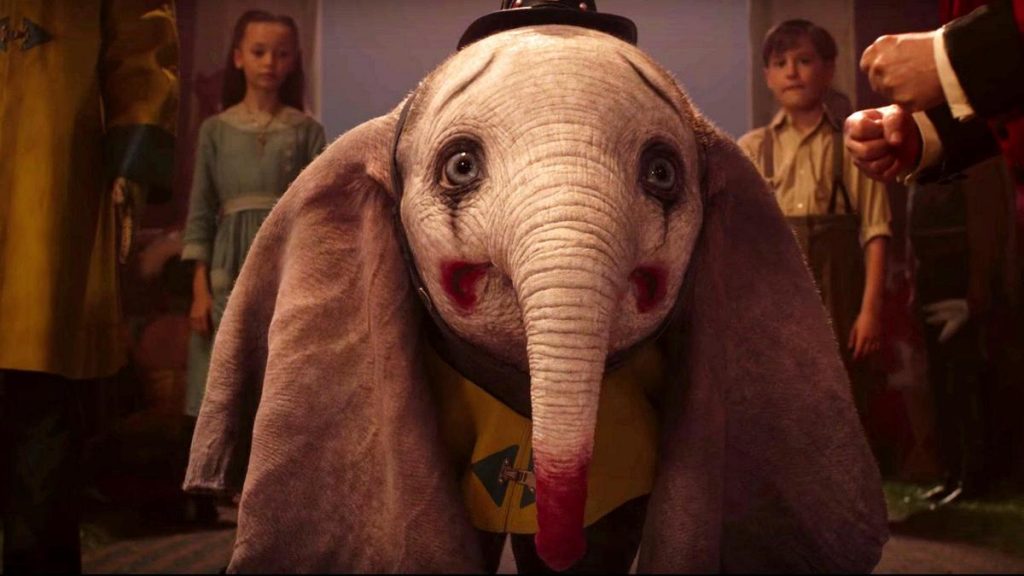 Despite creating this remake craze over a decade ago, Tim Burton's (Beetlejuice, Edward Scissorhands) second film on this list was sadly far less successful than his first, both commercially and critically. The source of Dumbo's struggles? Regrettably, it's Burton himself. Now, make no mistake – Burton is an audacious auteur in every sense of the word, and his original voice is one desperately needed in an over-commercialized industry. Unfortunately, he was just the wrong pick for this specific project.
The cast here is fairly compelling (with Colin Farrell, Danny DeVito, and Eva Green all turning in pleasant performances), but at 112 minutes, Dumbo's story is stretched far too thin – especially in comparison to its 64-minute predecessor. Most of that runtime is afforded to Michael Keaton's eccentric entrepreneur – who takes control of the circus where Dumbo lives – and his subplot adds traditional Burton-esque theatrics to the tale that don't always mesh with the film's more subdued start. The visual effects are engrossing, and it's easy to see why Burton would identify with an "oddball" like Dumbo given the themes in his work thus far, but as a whole, the film never quite comes together as intended.
---
14. LADY AND THE TRAMP
2019
Director: Charlie Bean
Starring: Tessa Thompson, Justin Theroux, and Janelle Monáe
Full Review: Lady and the Tramp (2019) Review: A Heartfelt Dose of Nostalgia
Lady and the Tramp is the definition of a "fine" film. There's nothing obscenely offensive about this adaptation by any means, but it also does very little to stand out from its source material, delivering one of the least daring remakes Disney has released. Though, as the first remake to be sent straight to a streaming service (since it was designed to be accessible on the launch day of Disney+), its small-scale storytelling makes a bit more sense, and, as mentioned above, it's still a completely charming time as long as one's expectations are lowered and they don't look to it to impress as much as the titles at the top of this pack.
Thankfully, the voice cast is insanely charismatic (with Thor: Ragnarok's Tessa Thompson and The Leftovers' Justin Theroux impressing as the titular twosome, alongside A Star is Born's Sam Elliott and Hidden Figures' Janelle Monáe as a few of their friends), and the overall atmosphere is immensely alluring the whole way through, making it feel as if love truly is in the air thanks to swanky sets and a sharp score from Joseph Trapanese (The Greatest Showman, Straight Outta Compton). Some more originality would have been nice, but, as it stands, Lady and the Tramp still offers surface-level satisfaction in the moment.
---
13. MALEFICENT: MISTRESS OF EVIL
2019
Director: Joachim Rønning
Starring: Angelina Jolie, Michelle Pfeiffer, and Elle Fanning
Full Review: Maleficent: Mistress of Evil is not a classic fairy-tale, but a coming-of-age story
Maleficent: Mistress of Evil may not reach the heights of its hugely popular – and profitable – predecessor, but there are enough entertaining elements here to warrant at least one watch. For starters, even though they don't share nearly enough screen time together, it was a stroke of genius to cast the magnetic Michelle Pfeiffer (Batman Returns, French Exit) as the main adversary for Angelina Jolie's (Mr. & Mrs. Smith, Kung Fu Panda) Maleficent, as the two iconic actresses clash in such a captivating manner that you simply can't tear yourself away from the movie whenever they're showcased onscreen.
Unfortunately, the film also often sidelines Jolie's storyline in favor of Elle Fanning's (Super 8, 20th Century Women) Aurora's character arc for much of the overstuffed second act (this sequel is a whole half hour longer than the first Maleficent, and it sure feels like it), leaving us longing for more time with the title character and the exploration of her reconnection with her "Dark Fey" family. A fantastic finale helps Mistress of Evil end on a high note, but all-in-all, it's a more mixed affair than we've come to expect from the Mouse House.
---
12. PETE'S DRAGON
2016
Director: David Lowery
Starring: Bryce Dallas Howard, Robert Redford, and Oakes Fegley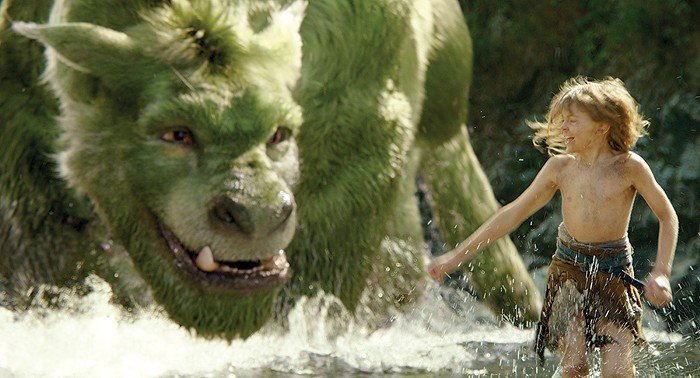 Pete's Dragon is a "smaller" story than some of its contemporaries, so it almost feels unfair to compare this "David" to the other Disney "Goliaths" on this list. Regardless, for what it is – and what it aims to be – David Lowery's (A Ghost Story, The Green Knight) rustic reimagining of the 1977 musical fantasy remains a simple tale, well-told, and though it takes out the original film's tunes, it holds onto its overwhelming heart, making for a monumentally emotional viewing experience.
Its adherence to countless clichés and conventions of children-oriented adventure movies takes it down a few notches, but Lowery's folksy filmmaking style still gives the film a unique "flavor," and the overqualified cast (Jurassic World's Bryce Dallas Howard, Captain America: The Winter Soldier's Robert Redford, The Hunger Games' Wes Bentley, etc.) inject passion into the proceedings as well.
One may wish it possessed the pomp and circumstance of the highest-ranking remakes on this list, but there's a refreshing quality to its simplistic storytelling all the same, and if nothing else, Lowery's handsome direction here has us hyped to see his sure-to-be spirited portrayal of Peter Pan & Wendy in next year's Disney+ exclusive.
---
11. ALICE THROUGH THE LOOKING GLASS
2016
Director: James Bobin
Starring: Johnny Depp, Mia Wasikowska, and Helena Bonham Carter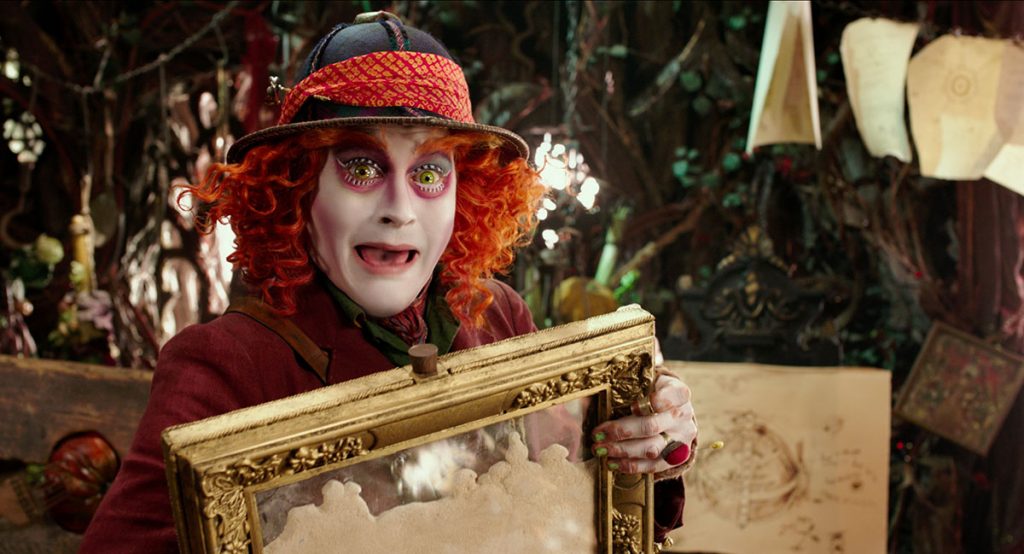 Because it came out over six years after the first Alice in Wonderland, Alice Through the Looking Glass felt like a bit of an afterthought, and the hype from the fervent fanbase that formed following the staggering success of that 2010 triumph had died down significantly. Still, despite debuting far past the franchise's prime, this sequel has a lot going for it, and it doesn't get a fair shake.
For starters, Johnny Depp's (Pirates of the Caribbean, Fantastic Beasts and Where to Find Them) hilarious Mad Hatter is thankfully even more of a co-lead this time around, as Mia Wasikowska's (The Devil All the Time, Crimson Peak) Alice tracks down the truth about what happened to his family years before on a twisted but thrilling adventure throughout time. Now, one could argue that this follow-up feels unnecessary in the end – answering questions no one was really asking about the history of Wonderland inhabitants like the Hatter and Helena Bonham Carter's (Harry Potter, Enola Holmes) Red Queen – but if you're already a fan, you're bound to appreciate this added insight.
Throw in some truly touching themes about making peace with the past and the present – deftly delivered by Sacha Baron Cohen's (Borat, The Trial of the Chicago 7) "Time" – and Alice Through the Looking Glass makes for a merry – if minor – movie when all is said and done.
---
10. CHRISTOPHER ROBIN
2018
Director: Marc Forster
Starring: Ewan McGregor, Jim Cummings, and Hayley Atwell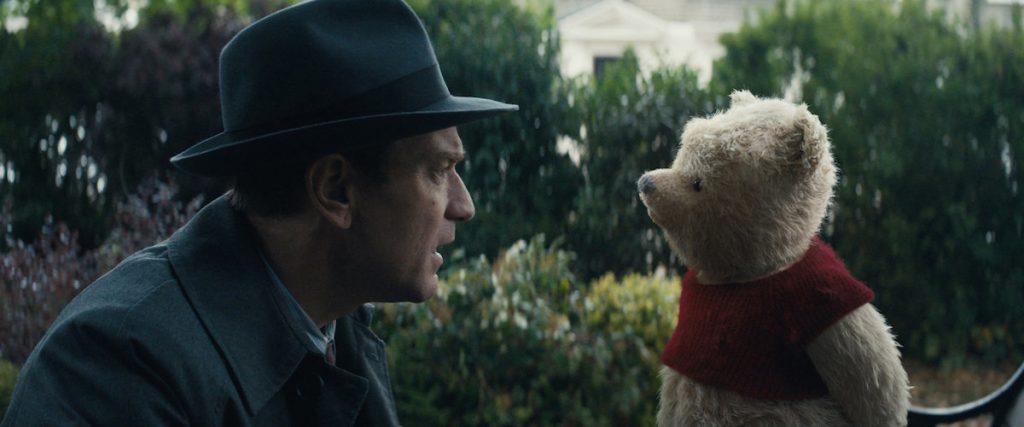 Marc Forster's (Quantum of Solace, World War Z) Christopher Robin is one of the most stripped-down Disney live-action remakes to date – featuring few explicitly fantastical elements, aside from its core cast of animated stuffed animals – but it's also simultaneously one of the studio's most sentimental and soul-stirring stories in this "series" of sorts yet.
Following an adult Christopher Robin (Ewan McGregor, of Star Wars and Birds of Prey) who has lost the love for play he possessed in his youth, the film focuses on Robin's unexpected reunion with the Hundred Acre Wood gang, as Pooh, Tigger, Piglet, and all the others must remind the boorish businessman what really matters in life once more.
The messages about retaining one's childhood sense of wonder are wholly moving, and McGregor's performance is persuasively poignant the whole way through, especially when he's conversing with Jim Cummings' (The Lion King, Shrek) Pooh, who always has the right words of wisdom for any obstacle encountered. Christopher Robin may not be as "flashy" as some of the other films on this list, but it's absolutely no less fulfilling.
---
9. ALADDIN
2019
Director: Guy Ritchie
Starring: Will Smith, Mena Massoud, and Naomi Scott
Full Review: Disney's live-action is visually stunning but doesn't touch our hearts
Prior to its release, Aladdin was subject to significant scrutiny on social media, as movie fans tore the film's mismanaged marketing campaign to shreds – particularly when it came to the wonky CGI for Will Smith's (Suicide Squad, Men in Black) Genie. However, when the world actually saw the song-filled spectacle in its entirety, most crowds and critics did a complete 180. Though the film is far from perfect – Guy Ritchie's (Sherlock Holmes, The Gentlemen) directorial sensibilities don't quite fit with the story, and it's also a touch too long – it was easily better than anyone expected, and most commendation was directed at the charismatic cast.
Will Smith delivered his own depiction of Aladdin's wish-granting, wisecracking ally that somehow escaped the shadow of Robin Williams, Mena Massoud (Tom Clancy's Jack Ryan) worked his way into audiences' hearts with an overabundance of charm and a million-dollar smile, and Naomi Scott's (Power Rangers, Charlie's Angels) Jasmine was afforded additional agency compared to her animated counterpart – an opportunity that the actress took full advantage of. Plus, with a priceless plot that played like Disney's rendition of Will Smith's 2005 romcom hit Hitch, it was ultimately futile to resist Aladdin's appeal.
---
8. MULAN
2020
Director: Niki Caro
Starring: Liu Yifei, Donnie Yen, and Jet Li
Full Review: Mulan Film Review: Honorable Adaptation Misses the Mark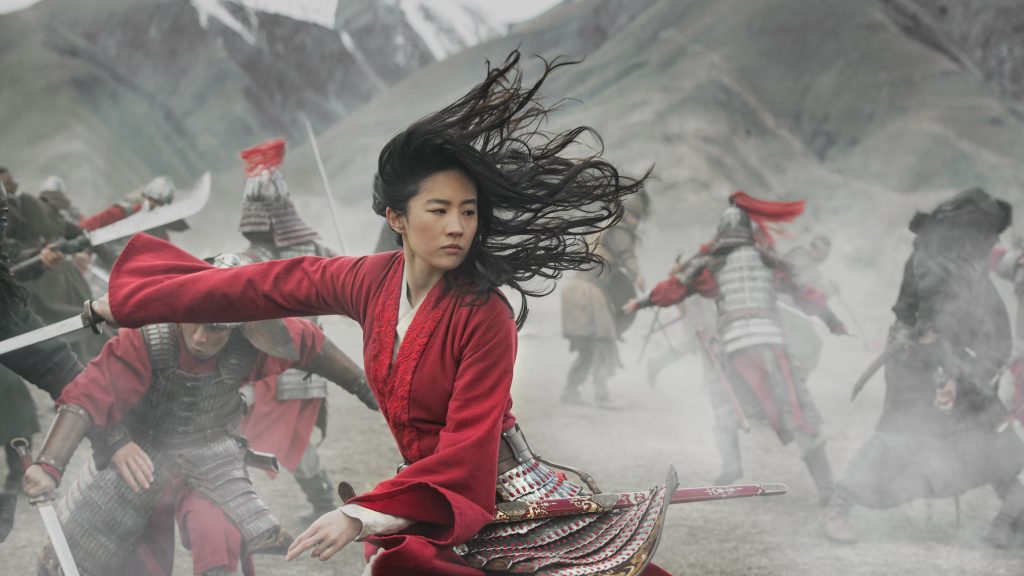 Right off the bat, the live-action Mulan remake came under fire from fans for its controversial changes to the 1998 animated classic. Not only would Niki Caro's (Whale Rider, The Zookeeper's Wife) action epic cut out Mulan's smart-mouthed sidekick Mushu (previously voiced by Shrek's Eddie Murphy), but it would also not showcase any real singing, choosing to instead only incorporate instrumental versions of the original's iconic tunes.
While it's understandable that some Disney devotees would never support Caro's story after such diversions from the source material, on its own, Mulan is actually an engrossing and emotional take on the tale that attempts to both adapt "The Ballad of Mulan" and still pay homage to what came before. For the most part, it works.
Caro's direction is capably dynamic, Liu Yifei (The Forbidden Kingdom) is effortlessly endearing as our lead, the action is appropriately awe-inspiring, and Gong Li (Miami Vice, 2046) slays her supporting role as Xianniang, a witch created solely for the silver screen. Mulan dared to do something new with the property instead of creating a cliché cash grab, and when you give it a chance, you find that it does indeed "bring honor" to this beloved legend.
---
7. ALICE IN WONDERLAND
2010
Director: Tim Burton
Starring: Johnny Depp, Mia Wasikowska, and Helena Bonham Carter
The one that started it all still holds up pretty well. Sure, over the past decade some have tried to knock Tim Burton's darker design of Alice in Wonderland for its overly "morose" mood or for its "excessive" use of visual effects, but eleven years later, it remains one of the defining works of the director's entire career, and for good reason.
The Oscar-winning costume and production design is as impressive as ever – with both aiding Burton's attempts to instantly immerse us in this whimsical world the way few filmmakers can – and how could you not also be enchanted by the film's expertly cast ensemble (Johnny Depp, Helena Bonham Carter, Anne Hathaway, Alan Rickman, etc.), all of whom commit to their roles and the chaotic comicality of this setting with such commendable conviction?
It's a big-budget, big-hearted fantasy blockbuster with a stupefying sense of scope and scale that allows it to stand alongside other adored book adaptations like Harry Potter and Lord of the Rings, and Disney has rarely been able to replicate this powerhouse pageantry ever since. Don't let the haters rewrite history – Alice is awesome.
---
6. THE JUNGLE BOOK
2016
Director: Jon Favreau
Starring: Bill Murray, Idris Elba, and Neel Sethi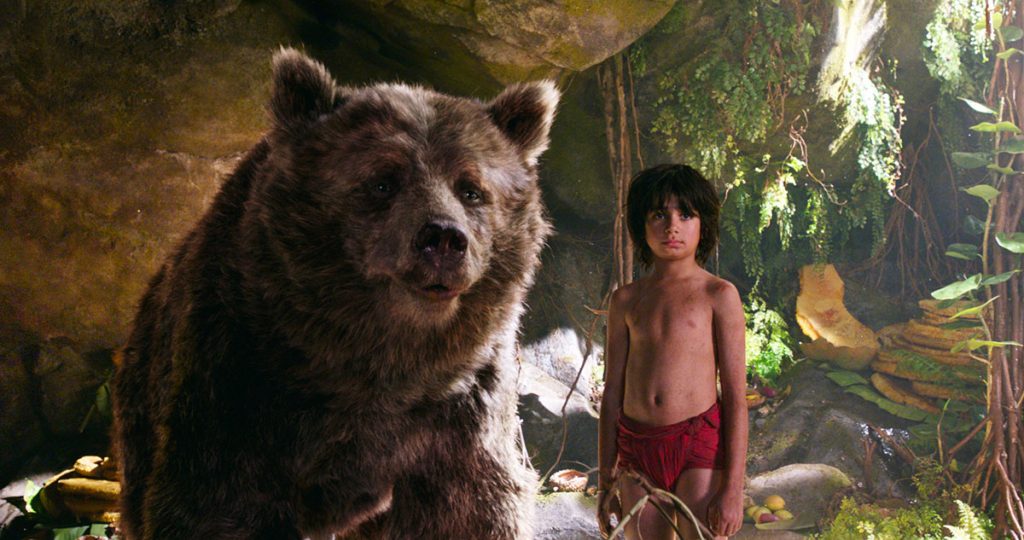 Upon release, Jon Favreau's (Iron Man, Elf) wondrous achievement of visual effects wizardry broke Alice in Wonderland's records at the domestic box office, and when you watch The Jungle Book for yourself, such success makes complete sense. Aside from Tim Burton, no director has brought an artificial environment to life better than Favreau, and his innovative imagining of the jungles of India is beguiling beyond words.
He seamlessly inserts the human Mowgli (portrayed passionately by newcomer Neel Sethi) into these CGI "sets," and the character's encounters with his digitally rendered animal guardians are somehow equally convincing – partially due to the valiant voice cast Favreau assembled as well, from Bill Murray's (Ghostbusters, Zombieland) boisterous Baloo to Ben Kingsley's (Iron Man 3, Schindler's List) brave Bagheera to Idris Elba's (Thor, Fast & Furious Presents: Hobbs & Shaw) sinister Shere Khan and so many more.
See Also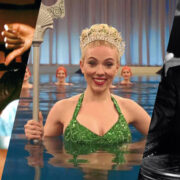 And, despite all these other distractions, Favreau and co never lose sight of their story, which sticks to the stirring spirit of both the original animated film and Rudyard Kipling's iconic novel. It's truly a top-tier example of how to make a movie that amazes aesthetically and excels emotionally.
---
5. THE LION KING
2019
Director: Jon Favreau
Starring: Donald Glover, Beyoncé, and Seth Rogen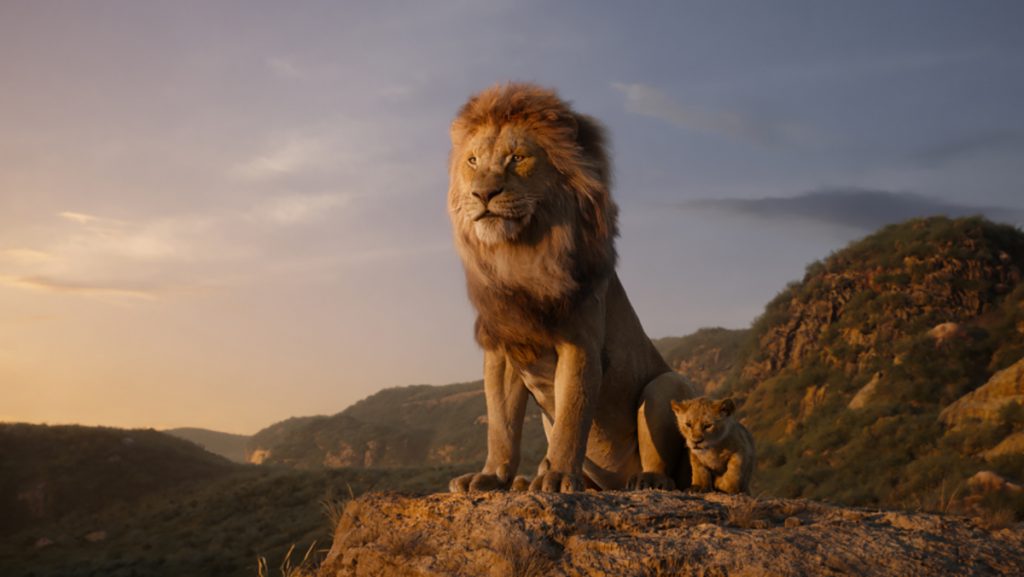 Three years later, Jon Favreau took the lessons he learned from his experience with visual effects on The Jungle Book and dared himself to do even better, crafting a spectacle that was solely computer animated with his photorealistic remake of 1994's The Lion King.
Though certain critics took issue with film's lack of creativity – since it hews incredibly close to its source material, aside from a few new character beats – audiences mostly didn't mind, as they were too busy being captivated by the state-of-the-art CGI or chuckling at the comedic genius of Billy Eichner's (Parks and Recreation, American Horror Story) Timon and Seth Rogen's (Knocked Up, Neighbors) Pumbaa.
But let's be honest – the entire cast here is off-the-charts outstanding, from Donald Glover's (Solo: A Star Wars Story, Spider-Man: Homecoming) soulful Simba to Chiwetel Ejiofor's (12 Years a Slave, Doctor Strange) savage Scar to Beyoncé's (Dreamgirls, The Pink Panther) noble Nala, and even if this narrative is nothing new, it's rewarding to hear these actors offer their reading of this Shakespearean saga. It's familiar for sure, but when your foundation is this brilliant, why fix what isn't broken?
---
4. BEAUTY AND THE BEAST
2017
Director: Bill Condon
Starring: Emma Watson, Dan Stevens, and Luke Evans
2017's Beauty and the Beast had some big shoes to fill. Not only is the original film one of the most adored animated features from Disney to date, but it was also the first animated film to ever be nominated for the Academy Award for Best Picture, all the way back in 1991 – a sure sign of its sterling quality. Thankfully, instead of trying to reverentially reproduce the dreamlike delicacy of its predecessor, director Bill Condon (The Twilight Saga: Breaking Dawn, The Good Liar) took another approach entirely, accentuating the gaudy grandeur of this ravishing romance above all else and stressing its showy splendor with ceremonial costumes and pristine production design.
Some fans didn't appreciate the "over-the-top" opulence of the entire affair, but most at least agreed that the talent of the top-notch cast was undeniable, as Emma Watson (Harry Potter, Little Women) and Dan Stevens (Eurovision Song Contest: The Story of Fire Saga, The Rental) truly became Belle and the Beast before our very eyes, and Luke Evans (The Hobbit, Fast & Furious) stole the show as the glorious Gaston. If you're looking for a live-action remake that really radiates "Disney magic," it's hard to beat Beauty and the Beast.
---
3. MALEFICENT
2014
Director: Robert Stromberg
Starring: Angelina Jolie, Sharlto Copley, and Elle Fanning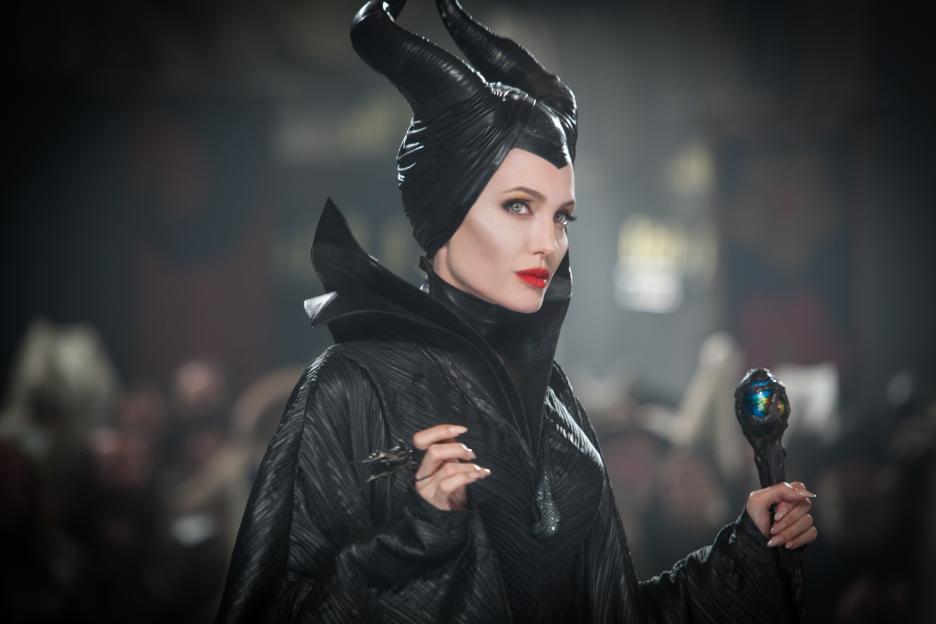 Maleficent is a classic case of how casting can make or break a movie. Put anyone else other than the almighty Angelina Jolie in this part, and the film could fall to pieces, succumbing to the slight shortcomings of its script or the obstacles of its occasionally oddly paced narrative. It's no secret that Maleficent had a perilous production history – rife with rewrites and reshoots – but although you can sometimes feel these "fixes" when watching the film, they hardly ever detract from your enjoyment of the movie, simply because Jolie is so masterfully mesmerizing as the maniacal "Mistress of All Evil."
Aside from stealing every scene she's in (regularly outshining the rest of the cast), she also effectively conveys Maleficent's complicated emotional arc – one that could've quickly crumbled had a thespian lacking Jolie's talent landed the title role. While never diminishing Maleficent's malevolent might, Jolie always capably communicates her piercing pain, punctuated by a brutal betrayal from her youth.
And when this twisted tale reaches its revisionist conclusion, we actually accept Maleficent's evolution because of the believability of Jolie's performance. It's a subversive "villain origin story" done right, and if you want to put your own spin on a beloved property, this is the way to do it.
---
2. CRUELLA
2021
Director: Craig Gillespie
Starring: Emma Stone, Emma Thompson, Tipper Seifert-Cleveland, Emily Beecham, Joel Fry, Paul Walter Hauser
Full Review: Cruella (Film Review): The Return of Great Disney Storytelling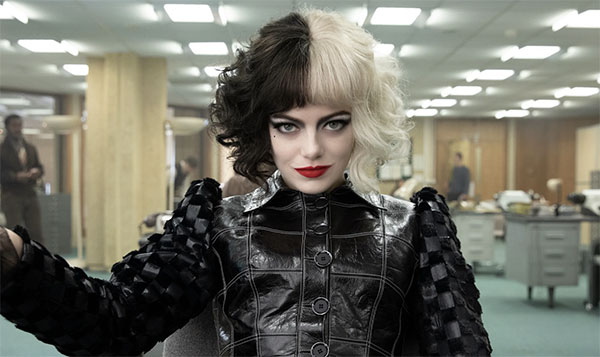 Cruella is Disney at its darkest, and it's a goddamn delight. Sure, there are some valid critiques one could make (for starters, there's no reason this needed to be over two hours long), but ultimately, it's bursting at the seams with so much style and spunk that it's hard to spend too much time complaining when this is exactly what we've been asking for form Disney's live-action remakes for years. This isn't a story retold, but a story reinvented entirely, from the ground up, given a whole new tone and a brand new coat of paint – and one that's, appropriately, pitch black.
Both Emmas – Stone and Thompson – are utterly astounding, committing completely to their larger-than-life characters and giving us a campy catfight for the ages, while director Craig Gillespie (I, Tonya, Pam and Tommy) is the very "voice" we've been missing in these movies, infusing the film with a special sense of fervor that hasn't yet been scene in this "series"-of-sorts. From his masterfully structured montages to his ingenious integration osf iconic needle drops, Cruella emits an engrossing energy the whole way through – one that makes even the most hesitant moviegoer submit to his spell. (And don't even get me started on Jenny Beavan's Oscar-winning costuming here, which is nothing short of sublime).
---
1. CINDERELLA
2015
Director: Kenneth Branagh
Starring: Lily James, Cate Blanchett, and Richard Madden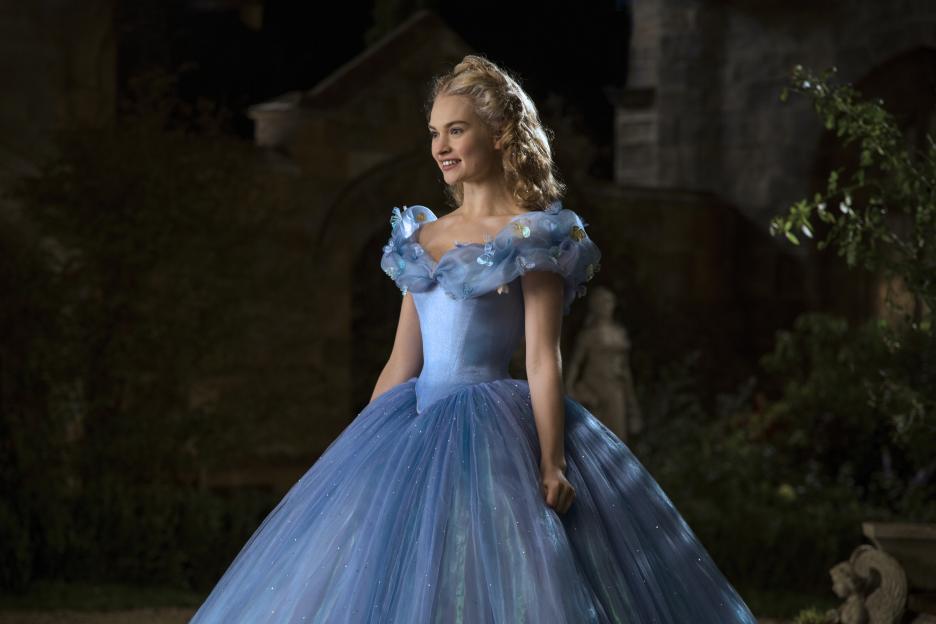 Without a doubt, Kenneth Branagh's (Thor, Murder on the Orient Express) Cinderella is the most magical movie of this lot so far, content to tell its classic fairy tale mostly as is, while merely only supplementing the story where screenwriter Chris Weitz (About a Boy, The Golden Compass) saw fit. On first glance, some might be disappointed by this decision; how many times must we see another take on the Cinderella story? And yet, for our money, this is the best depiction to date.
The sumptuous set design and dazzling dresses catch your curiosity from the start, but it's Lily James (Baby Driver, Mamma Mia: Here We Go Again) who holds your attention as our princess protagonist – enlivening each and every scene with her sunny disposition and efficaciously embodying human decency – while Cate Blanchett (The Lord of the Rings, Thor: Ragnarok) is likewise cast to perfection as the conniving Lady Tremaine, imbuing the iconic antagonist with unforeseen (and unexpectedly affecting) depth.
Quite honestly, there isn't a weak link in the entire ensemble, from Richard Madden's (1917, Rocketman) plucky Prince Kit to Helena Bonham Carter's flighty Fairy Godmother. And, on top of everything else, the film's central theme that "having courage and being kind" can change someone's life is a lesson that has rarely felt as resonant as it does here; surprisingly, such openhearted optimism ends up feeling authentic instead of artificial. When accounting for all of these strengths, Cinderella reveals itself to be the only Disney live-action remake that can stand alongside its animated counterpart as a truly timeless work of art.