SXSW 2023: 10 Films to Watch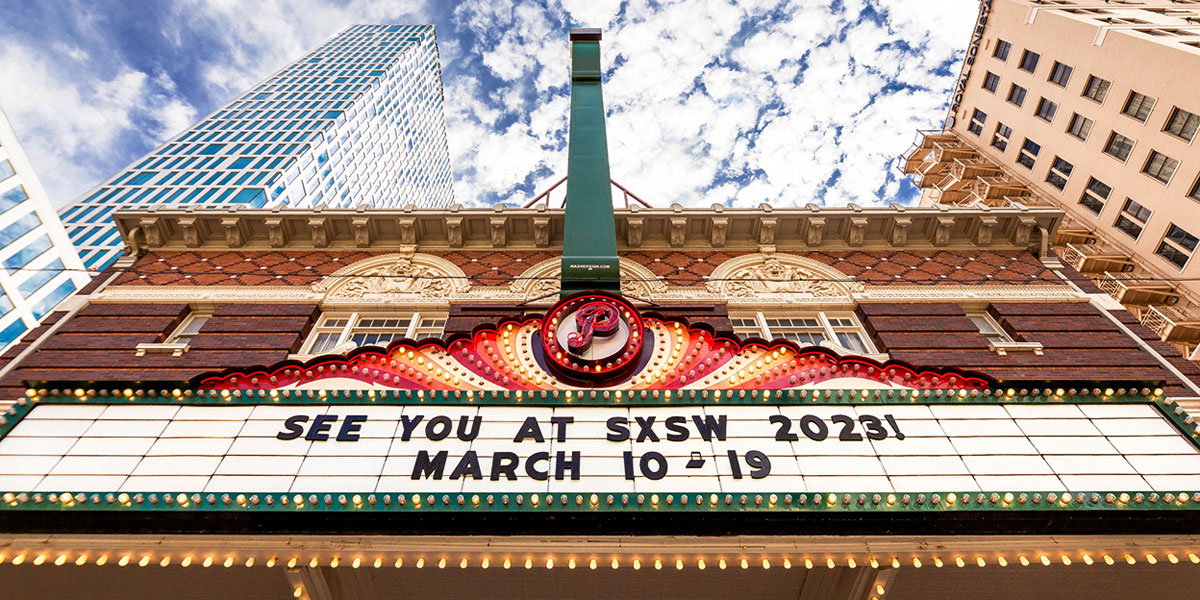 SXSW 2023 (South by Southwest)
SXSW 2023 is about to begin, and here is a list of 10 films to watch at the festival online and in person March 10-19. Let South By Southwest begin!
---
SXSW 2023 is around the corner, and the festival is going back to its usual format, with screenings happening in person at various locations as well as online, on March 10-19! If you're looking for recommendations of films to watch at South By Southwest, you've come to the right place! We tried to give you a selection of films from different strands, but there are so many more great movies to check out at this year's South By Southwest, so don't forget to check out the full lineup!
Without further ado, let's look at the 10 films to watch at SXSW 2023! Scroll till the end for more South By Southwest movies to watch this year, and follow us on our socials for live tweets, daily updates, news and reviews from the festival!
---
BLOODY HELL

NARRATIVE SPOTLIGHT
Director: Molly McGlynn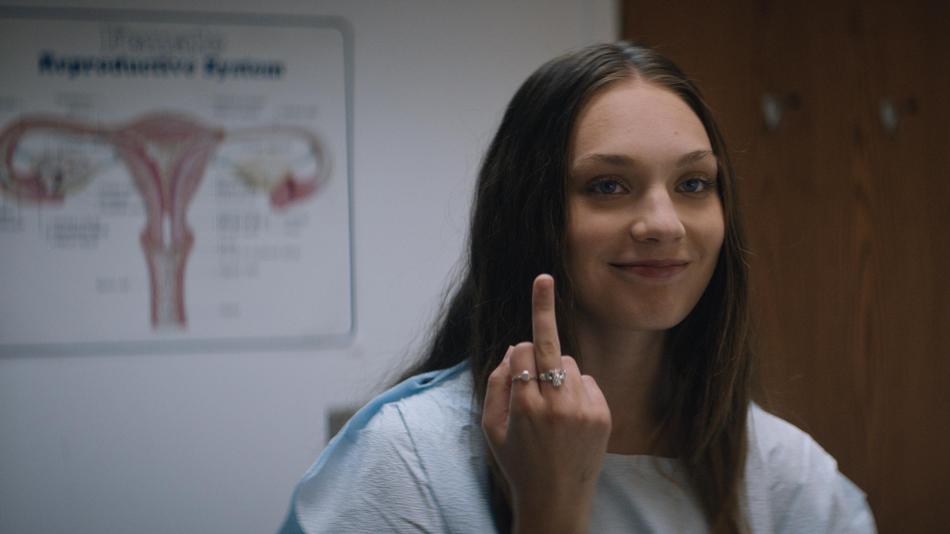 I want good things for Maddie Ziegler. She's shown herself to be such a great actress, but her career has yet to truly break through to the level of success she deserves. That's partially why I'm looking forward to Bloody Hell. It follows 16-year-old Lindy (Ziegler), who's diagnosed with a reproductive condition known as Müllerian agenesis, or MRKH syndrome. Naturally, this raises questions about her womanhood and disrupts her plans for her sex life, as well as altering the course of her relationship with her mother (Emily Hampshire). Director Molly McGlynn apparently wrote this as a semi-autobiography, so at the very least there should be a deeply personal touch to the film. Whether that's in service of a strong final result is what's yet to be seen. (Joseph Tomastik)
---
BOTTOMS

HEADLINERS
Directors: Sean Horlor & Steve J. Adams
Full Review: Bottoms: SXSW Film Review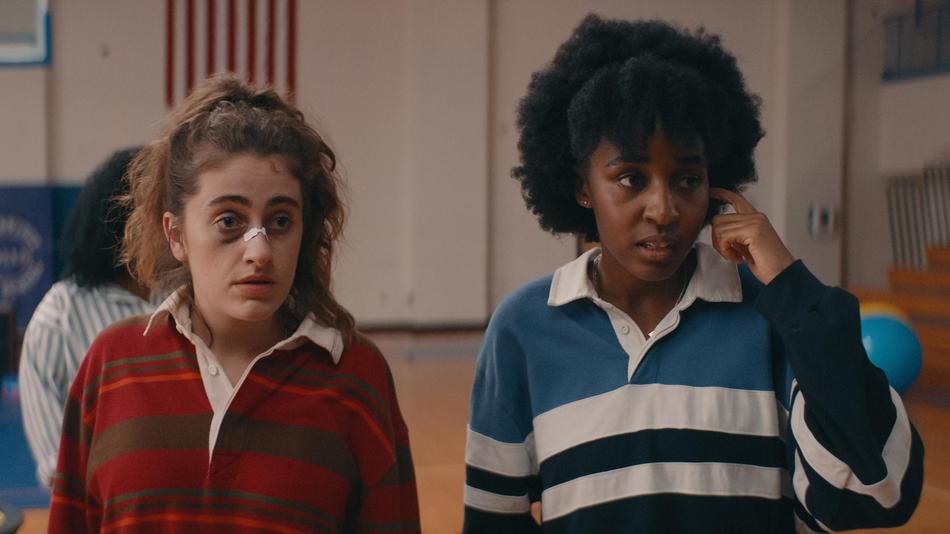 The director of Shiva Baby is back! Co-written with Rachel Sennott, Emma Seligman's latest is a film about two unpopular queer high school girls who start a fight club to try and hook up with cheerleaders before graduation. We don't know much about the film, but the synopsis is enough to make us want to watch the film. Bottoms definitely gives us Booksmart vibes, but with the unique blend of charm, humor, and meaningful commentary that Seligman has gotten us used to. (Serena Seghedoni)
---
DUNGEONS AND DRAGONS: HONOR AMONG THIEVES

HEADLINERS
Directors: Jonathan Goldstein & John Francis Daley
Full Review: Dungeons and Dragons: Honor Among Thieves: SXSW Review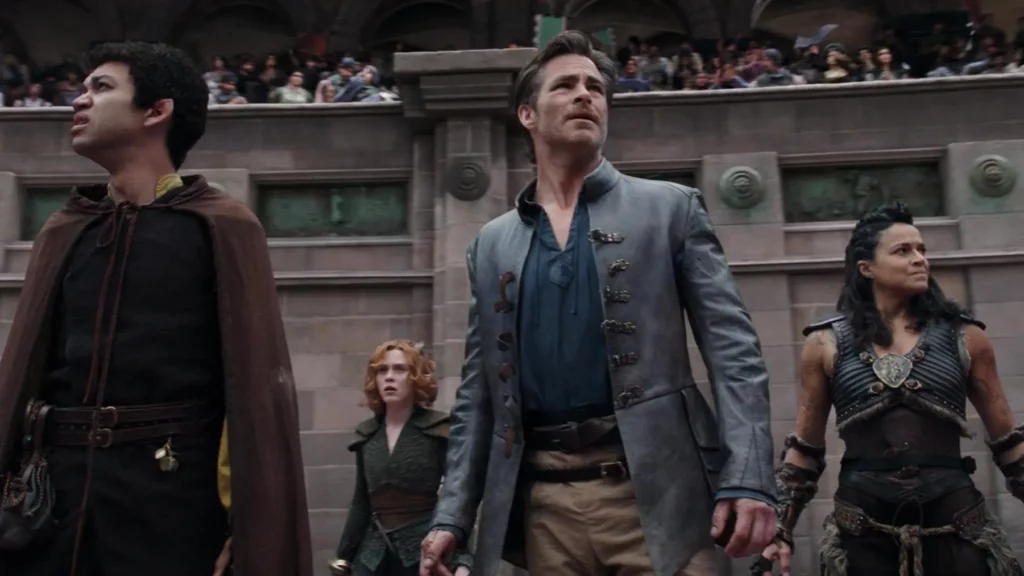 Dungeons and Dragons needs no introduction … at least, in terms of what it is. Because I certainly have no experience with it and don't quite know how it works, so I'll be going into Dungeons and Dragons: Honor Among Thieves as an "outsider" looking in. In this big-screen adaptation, Chris Pine plays a thief who leads a band of unlikely adventurers to retrieve a lost relic, resulting in epic adventures and enemy confrontations along the way. Honor Among Thieves doesn't look like anything more than a standard, subpar adventure film, but the cast should at least make it watchable. The directing duo are also coming off the excellent and surprisingly thrilling comedy Game Night, so maybe that same level of quality will be in their follow-up. (Joseph Tomastik)
---
EVIL DEAD RISE

HEADLINERS
Director: Lee Cronin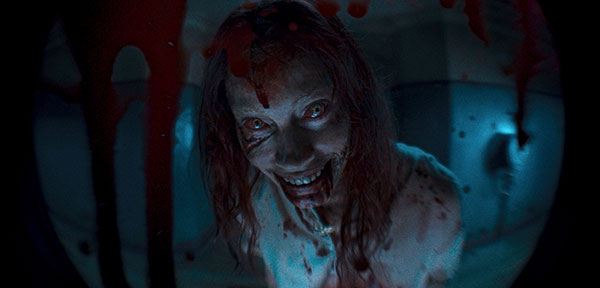 Since its humble origins in 1981, Evil Dead has become one of the most iconic body horror franchises of all time. In its upcoming fifth installment, Evil Dead Rise, the reunion of two estranged sisters (Lily Sullivan and Alyssa Sutherland) is harshly interrupted by grotesque demons who possess friends and family, forcing the sisters into a bloody battle for survival. With Evil Dead Rise clearly leaning the most on the original film (and to a lesser extent, the 2013 remake), it's tough to know how to make a setup like this still feel fresh. The original film had the advantage of wild innovation, and the 2013 film brought a more interesting story to the mix … hopefully at least one of those elements holds over into this new entry. (Joseph Tomastik)
---
GOING VARSITY IN MARIACHI

DOCUMENTARY
Directors: Alejandra Vasquez & Sam Osborn
Full Review: Going Varsity in Mariachi: SXSW Film Review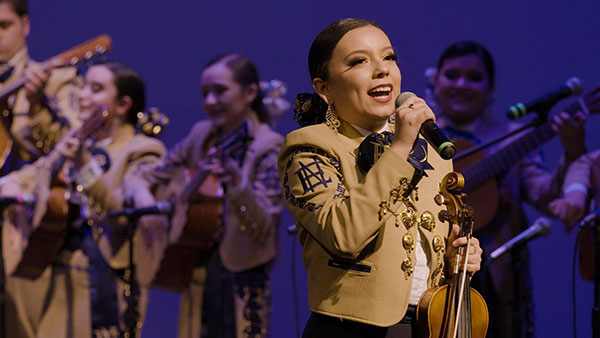 Going Varsity in Mariachi takes us to a competitive world we don't often get to see: that of high school mariachi. The documentary takes us to Edinburg North High School, Texas, where the team must turn inexperienced musicians into champions while on a budget and time constraints, under the guidance of Coach Abel Acuña. Judging by the synopsis, this promises to be a really interesting film, focusing on students trying to win a competition while also looking at the cultural significance of mariachi. (Serena Seghedoni)
---
LOUDER THAN YOU THINK

24 BEATS PER SECOND
Director: Jed I. Rosenberg
Full Review: Louder Than You Think: SXSW Review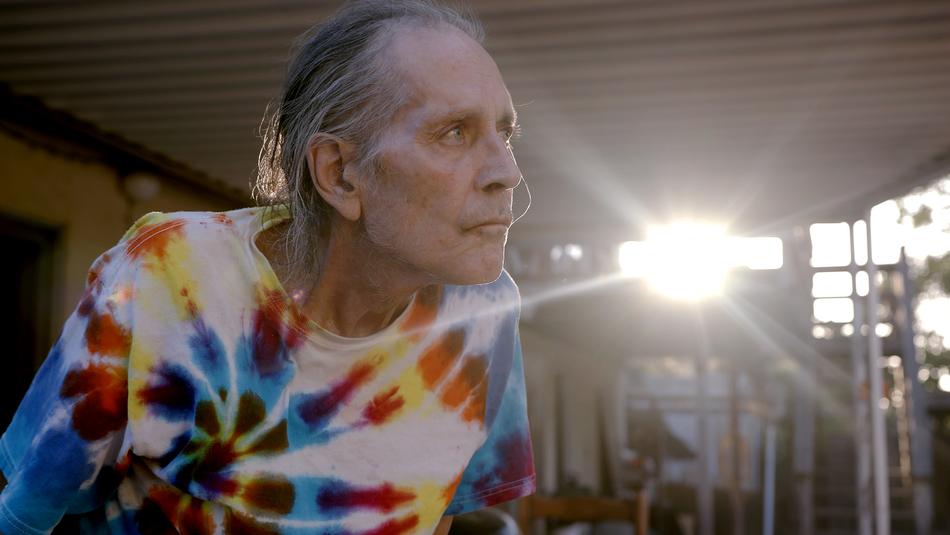 You might not know who Gary Young is, but you've probably heard of a band called Pavement. Young was the indie rock band's original drummer, from 1989 till 1993, and he became famous for doing bizarre things on stage while drunk and on drugs, and employing unusual production techniques. But that's not all: this amateur drummer managed to bring something new to the band and helped create their unique type of indie rock almost by chance, influencing the genre and bringing Pavement to fame.
Eventually, his unpredictability and craziness also played a part in its crash landing, and it should come as no surprise that Louder Than You Think is described as "a portrait of creativity colliding with chaos." What really interests us about Gary Young, who is still drumming to this day and has no regrets, is that he appears to be a contradiction, which would make for a great story about an underdog with some interesting commentary on the nature of art and success. The fact that it's really hard to find any footage at all about Gary on the internet makes us even more excited for this underdog story from director Jed I. Rosenberg (Serena Seghedoni)
---
POLITE SOCIETY

FESTIVAL FAVORITES
Director: Nida Manzoor
Nida Manzoor's (We Are Lady Parts) feature debut is one of our most anticipated films at SXSW 2023, and the raving reviews from Sundance make us want to watch it even more. Polite Society follows a girl named Ria Khan (Priya Kansara, of Bridgerton), who goes to school in London and is determined to become a world-renowned stunt woman.
But her attention soon shifts from her martial arts training onto her sister Lena (Ritu Arya, of Red Notice), who suddenly drops out of school and announces she's going to marry a wealthy boy she has just met and move to Singapore with him. Ria isn't convinced by her sister's unusual behavior, and she soon comes up with a plan of her own. She enlists the help of her friends to plan her most ambitious mission yet: kidnapping Lena from her own wedding.
See Also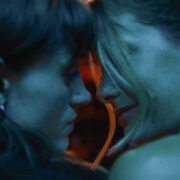 Police Society has been described as an enthralling story of sisterly love, with a compelling protagonist, plenty of action, and some humor too. Manzoor combines action comedy, Bollywood, martial arts, heist, and social horror genres to bring us something truly unique. Add it to your SXSW watchlist, and if you're not able to watch it there, great news: the film hits US theaters on April 28! (Serena Seghedoni)
---
PROBLEMISTA

HEADLINERS
Director: Julio Torres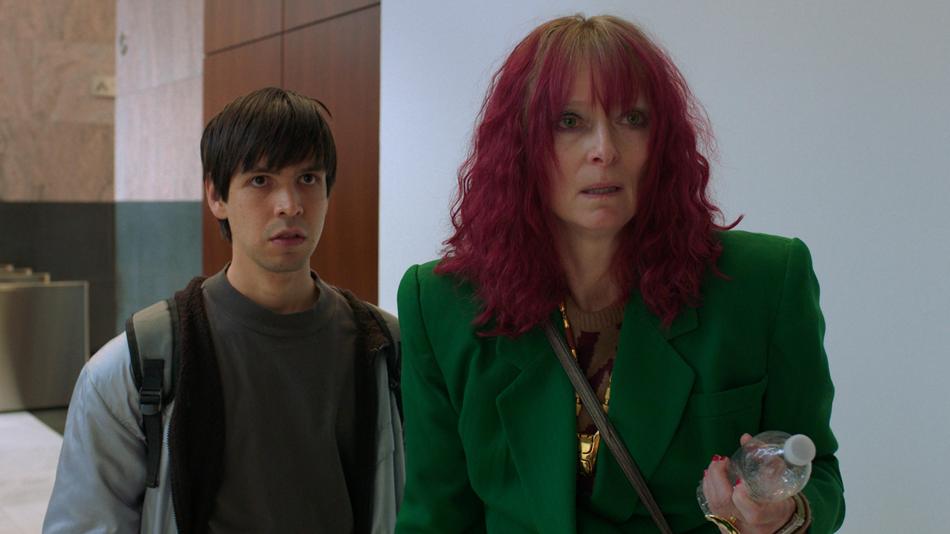 Julio Torres makes his directorial debut at South by Southwest, and it appears to be a rather promising one. Torres stars as an El Salvador immigrant who aspires to be a toy designer but struggles to bring his strange ideas to life in New York City. With his visa about to run out, he takes on a job as an assistant to an outcast in the art world, played by Tilda Swinton. Swinton is always a name that draws me in, because she's picked a lot of interesting projects over the years and done great in all of them. And with the surrealist experience that Problemista promises, in addition to its exploration of the U.S. Immigration system, I'm hoping that this film is no exception. (Joseph Tomastik)
---
SELF RELIANCE

NARRATIVE SPOTLIGHT
Director: Jake Johnson
Full Review: Self Reliance: SXSW Film Review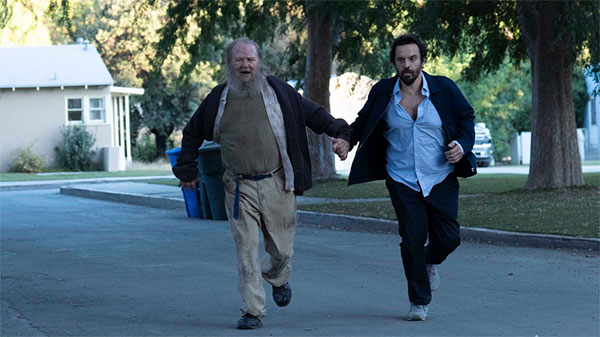 Jake Johnson is a very deceptively good actor. From the small indie Safety Not Guaranteed to the animated spectacle of Into the Spiderverse, he's brought depth to characters where I certainly wasn't expecting at a first glance. So, I'm very interested in seeing him star in his own directorial feature, alongside a stacked cast that includes Anna Kendrick, Andy Samberg, Christopher Lloyd, and Wayne Brady. Johnson plays a man who's offered a million dollars to play a game in which hunters try to kill him … with no one in his life believing that the game is real. It's not like we've never seen setups like this before, but there are still new avenues that can be taken here, and I'm hoping that the immense talent involved is put to good use. (Joseph Tomastik)
---
WITH LOVE AND A MAJOR ORGAN

VISIONS
Director: Kim Albright
Full Review: With Love and A Major Organ: SXSW Review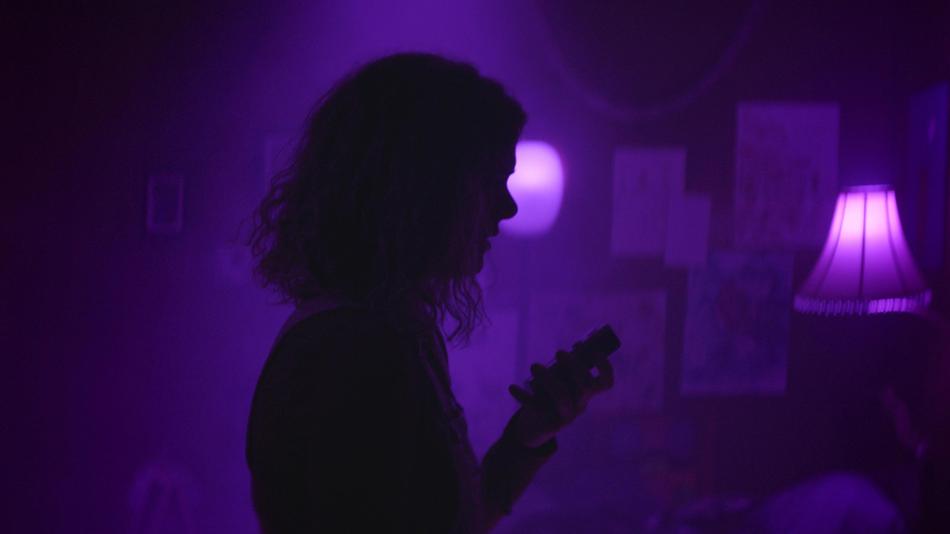 What if your heart was an object that you could physically remove from your body? And what if you lived in a society where most people lost the ability to have feelings and care about anything and anyone? This is the kind of world where With Love and a Major Organ takes place, but the film's protagonist, Anabel (Anna Maguire), is the exception, having been gifted with a functioning heart and the ability to feel deeply and find poetry in everything around her. Except that the rest of the world doesn't see it as a gift.
And so, tired of being constantly rejected and demeaned, Anabel removes her heart from her body and gives it to George (Hamza Haq), the man she loves. "I hope it torches you eternally with emotion," she tells him, and, as her wish comes true, everything changes. Winner of the Women In The Director's Chair Feature Film Award, Canadian-British-Filipina director Kim Albright's feature debut uses a very compelling premise to explore a timely subject and invite us to live life to the fullest: we can't wait to watch it. (Serena Seghedoni)
---
10+ MORE FILMS TO WATCH AT SXSW 2023:
---
SXSW 2023 will take place both online and in person on March 10-19, 2023. Explore the festival's program, and follow us on our socials for more South By Southwest updates!