Louder Than You Think: SXSW Review

Gary Young in Jed I. Rosenberg's Louder Than You Think (David Nicholson)
Louder Than You Think is not just a documentary about Pavement drummer Gary Young, but also a devastatingly human look at fate, creativity, and life.
---

Back in the 1980s, Stockton, California was a very unsafe place. "No one wanted to live there," drummer Gary Young tells us, a few minutes into Jed I. Rosenberg's documentary Louder Than You Think. It was a dangerous city with plenty of criminals, drug dealers, and thieves – "a valley with no way to get out. People were pissed off, so they made music," which is exactly what Gary did. When teenage guitarists Stephen Malkmus and Scott Kannberg approached the older Young to record an album in his DIY recording studio (from which the film takes its name), Gary decided to help them out, and played the drums for the recording. But Gary's was no ordinary recording studio, and Pavement turned out to be no ordinary band. Little did the three musicians know that they would radically change the lo-fi indie music scene.
Historical musicologist Adam Harper describes Pavement as "one of the first bands that gave a whole generation its sound," and its influence on indie rock is undeniable. Not long into the movie, we learn that what made the band different was that, in their case, lo-fi didn't mean low-quality. Yes, their recordings were imperfect because their home recording system, but the craziness was completely deliberate, with noise and distortion put in as a "conscious strategy" to craft a certain kind of sound. And behind most of it was drummer Gary Young himself, the man whose unusual habits and disrupting antics drew more attention to the band, ultimately putting Pavement on the map and, eventually, causing its undoing.
The way you'll experience the film probably depends on how much you already know about Pavement. Personally, I've always been a fan of their music, but I didn't know how influential they really were and why. Louder Than You Think gives us compelling insight into the production process behind their albums as well as the lo-fi indie genre as a whole.
But it also mainly focuses on drummer Gary Young, who became known for his unpredictable behaviour and booze and drugs-fueled antics, both on and off the stage. From interrupting performances halfway through to have a drink to distributing vegetables to the crowd before concerts; from falling off roofs while doing headstands to giving out relationship advice in a Japanese magazine, and more: Young did it all and doesn't regret anything – or so he says.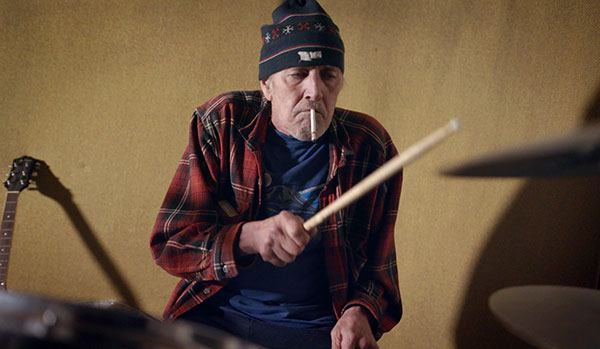 Louder Than You Think is very informative, even more so since there's surprisingly very little material available about Pavement on the internet. Director Jed I. Rosenberg, co-writer Greg King, and producers Jeffrey Lewis Clark, Brian Thalken and Kelly Thomas managed to put together enough footage, photos, and audio material to make the documentary a compelling, genuinely interesting watch.
On top of that, there are in-depth interviews with Pavement members Stephen Malkmus, Scott Kannberg and Bob Nastanovich, as well as various relatives of Young's, collaborators such as musician Kelly Foley and Matador records co-founder Chris Lombardi, and musicologist Adam Harper. The film also uses puppets to give us visual aids for key moments in Gary and the band's lives, and Director of Puppetry Adrian Rose Leonard effectively developed a unique, eyecatching style of puppetry that helps give context to the various stories we hear, and makes them more vivid.
And yet, to me, what makes Louder Than You Think a truly gripping watch – and, at the same time, an absolutely heartwrenching one – has little to do with music, but lies in the devastating humanity conveyed by Gary himself.
See Also

In the film, Rosenberg explores a contradiction that becomes quite clear at the end. Young was (and still is) an alcoholic, and both his crazy behaviour and his creativity were brought on by something self-destructive residing within him. Had he been a completely different kind of person, Pavement would not have been born, and would not have influenced the indie genre. His endeavours brought him and the band success, and yet it's a broken man that we see before us.
Early in the film, Pavement's lead singer and guitarist Stephen Malkmus describes Young as a superhero. His superpower is that he "gets hit by bullets and he's fine; he can survive radiation – he has an extra eye, but he lives on." And we get plenty of time with present-day Gary Young, enough time to know that he is, indeed, a survivor, but definitely not a happy one. The more we watch and listen to the nearly 70 years old man – who has severe scoliosis, among various health problems – the more we're hit by a wave of compassion for a man who was completely ruined by alcohol, drugs, and perhaps something else we can't quite put a finger on, and yet is still unable to stop running from his demons to this day.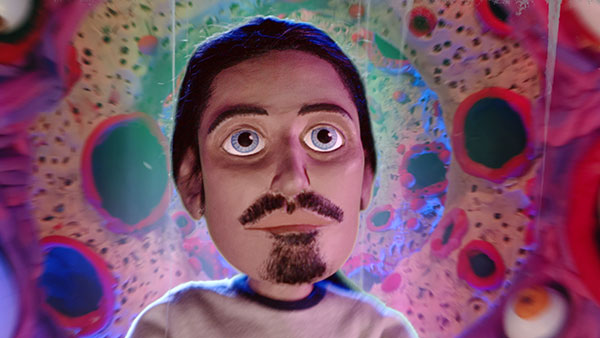 The key to understanding Gary Young comes from friend and musician Kelly Foley, with whom he recorded the album "Hospital" after leaving Pavement. "He was well aware from a very young age that he was going to be exactly what he was going to be," Foley tells us, conveying to us the very essence of a man who was always destined to be both highly influential and extremely unhappy. And this is exactly the kind of portrayal we get in Louder Than You Think, a "lo-fi history of Gary Young & Pavement" that successfully manages to be many things at once, and absolutely destroy us emotionally in the process.
---
Louder Than You Think had its world premiere at SXSW 2023 on March 13, 2023. Read our SXSW reviews!