Still: A Michael J. Fox Movie – Review

Michael J. Fox in Still: A Michael J. Fox Movie (Apple TV+)
Davis Guggenheim's luminous, eye-opening documentary Still: A Michael J. Fox Movie gives us a never-before-seen look into the life of one of Hollywood's most loved stars.
---

In Robert Zemeckis and Bob Gale's legendary sci-fi trilogy Back to the Future (1985-1990), Michael J. Fox as Marty McFly runs an awful lot. This never-ending movement and frenetic energy are accurate to other roles by Fox and his own personal life. As a short kid, he had to escape a lot of bullies. After his diagnosis with Parkinson's disease in 1991, Fox's movement became both restricted and exasperated, a life-changing moment which is given comprehensive treatment in the all-access Still: A Michael J. Fox Movie. Davis Guggenheim's (An Inconvenient Truth) excellent documentary bursts with the same energy as its subject, becoming a living, organic representation of Fox. The result is highly entertaining, tender, and enlightening.
Best known for his role as the cheeky chappy Marty McFly in the aforementioned trilogy, Fox rose to prominence playing Alex P. Keaton on the NBC sitcom Family Ties (1982-1989); we find out he adlibbed the P in an early performance, an indication of his comic timing and acting prowess. In Still, Guggenheim takes us through Fox's early years in which he struggled to make ends meet before his big break. Much of Fox's story is told by the actor himself via interviews, and also by scripted elements and reenactments. Every beat is candidly told by Fox and handled with care by Guggenheim.
Inevitably, Still: A Michael J. Fox Movie isn't just about Fox's early career struggles and rise to stardom, although we definitely come to understand how meteoric his roles in Family Ties and the first Back to the Future were, if we didn't already. At just 29 years old, Fox was diagnosed with Parkinson's disease, a degenerative disorder of the central nervous system that causes symptoms such as tremors, muscle rigidity, and difficulty walking. Fox's reaction was one of frustration and anger, but also incredulity: how could he have such a harsh illness at such a young age, and what would it mean for his flourishing acting career?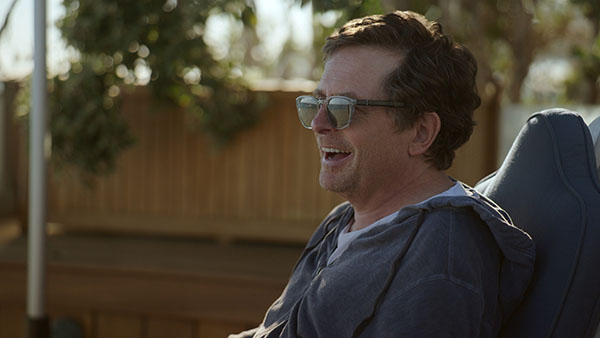 Guggenheim guides us through Fox's resultant alcoholism and eventual sobriety right through to his life now as a 61-year-old. Still wonderfully navigates the famous world of Michael J. Fox alongside his private life, with visual flourishes and dry humour that are similar to both the actor and many of his roles. The varied use of archival footage, interviews, and reenactments give us the best insight into Fox's life we could hope for; most notably, Still frequently feels like watching a Michael J. Fox movie rather than a documentary.
We are eventually guided into the philanthropic work that Fox and his wife Tracy Pollan do now via the Michael J. Fox Foundation, although these moments of charity work aren't given ample time. For someone as widely known as Michael J. Fox, Still: A Michael J. Fox Movie keeps things fresh, tantalising us with a wonderfully elongated build up to his breakout role in film before inserting snippets of Back to the Future's opening complete with the ticking clock.
See Also

Still's look into his personal life is the film's most memorable aspect, though. Empathetic but never reducing Fox to something pitiful, sad but genuinely uplifting, Still feels like the best and most accurate documentary there could be about one of Hollywood's greatest A-listers.
---
Still: A Michael J. Fox Movie will be released globally on Apple TV+ on May 12, 2023. Watch Still: A Michael J. Fox Movie!