Red Notice (Review): Star-Studded Action Comedy is a Winner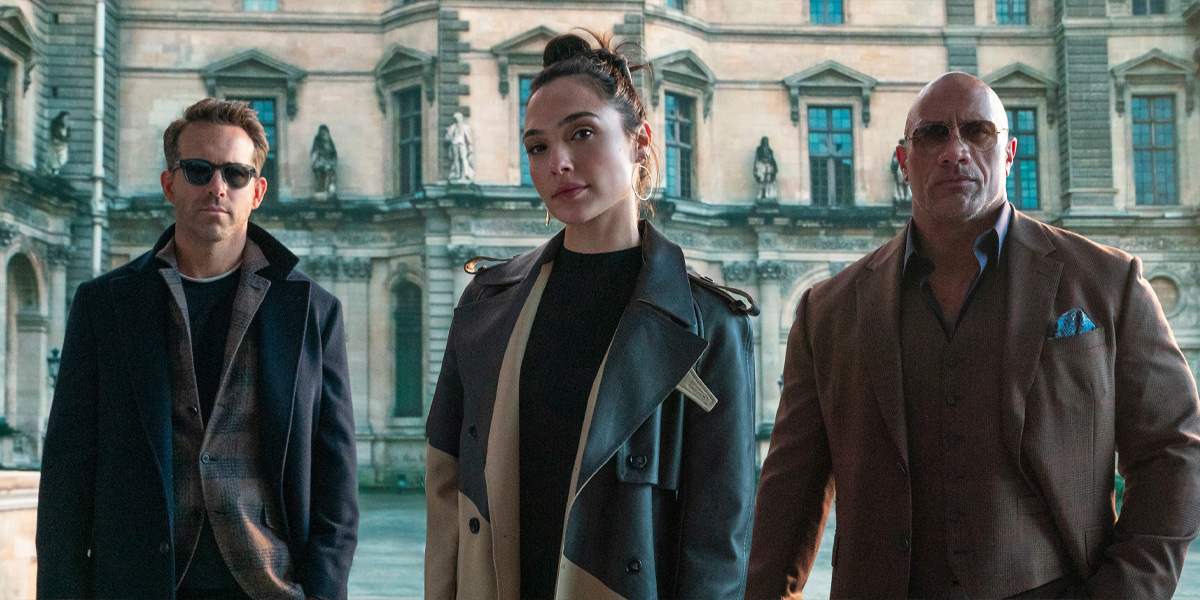 Ryan Reynolds, Dwayne 'The Rock' Johnson, and Gal Gadot in Red Notice (Netflix)
Led by the excellent trio of Dwayne Johnson, Ryan Reynolds, and Gal Gadot, Netflix 's Red Notice is action-packed ridiculous fun that you can't get enough of.
---

It can be a risky move, building a film largely around three actors: there's so much that has to go right in order for it to work. However, if it works, you could have something special on your hands, as films like Ghostbusters (1984) have demonstrated. While Netflix's Red Notice doesn't involve ghosts, its premise is fairly unique, and the film is a ton of fun.
Red Notice centers on the FBI's top profiler, Agent John Hartley (Dwayne Johnson), who is pursuing conman and thief Nolan Booth (Ryan Reynolds). After a heist, Hartley is falsely accused of stealing one of three golden eggs that once belonged to Cleopatra, and this forces him to team up with Booth in order to catch the world's most wanted art thief, The Bishop (Gal Gadot), and clear his own name.
Early on, Red Notice sets itself apart with an interesting premise. Even though I'm sure it plays with actual history a little bit, centering the story around Cleopatra's three eggs isn't something that I've seen before. Without much real-world background on the items that our characters are pursuing, it makes it harder to get an idea of where the story is going to go, which keeps you on your toes.
Red Notice immediately shifts into high gear, which is rare for a film with an original screenplay. Usually, audiences spend the first 15 to 20 minutes of any given film listening to what is basically exposition, but Writer and Director Rawson Marshall Thurber gives us about five minutes of that before basically diving right into the film's first major action sequence. While in more dramatic action films more worldbuilding and exposition would be welcome prior to getting into the action, with an action comedy you'd rather not have the audience be bored to death at any point. Red Notice doesn't drag things out and jumps right into the action: you get a little introduction, and that's frankly all you need. The film doesn't take itself too seriously, and invites you to sit back, laugh, and enjoy the ride.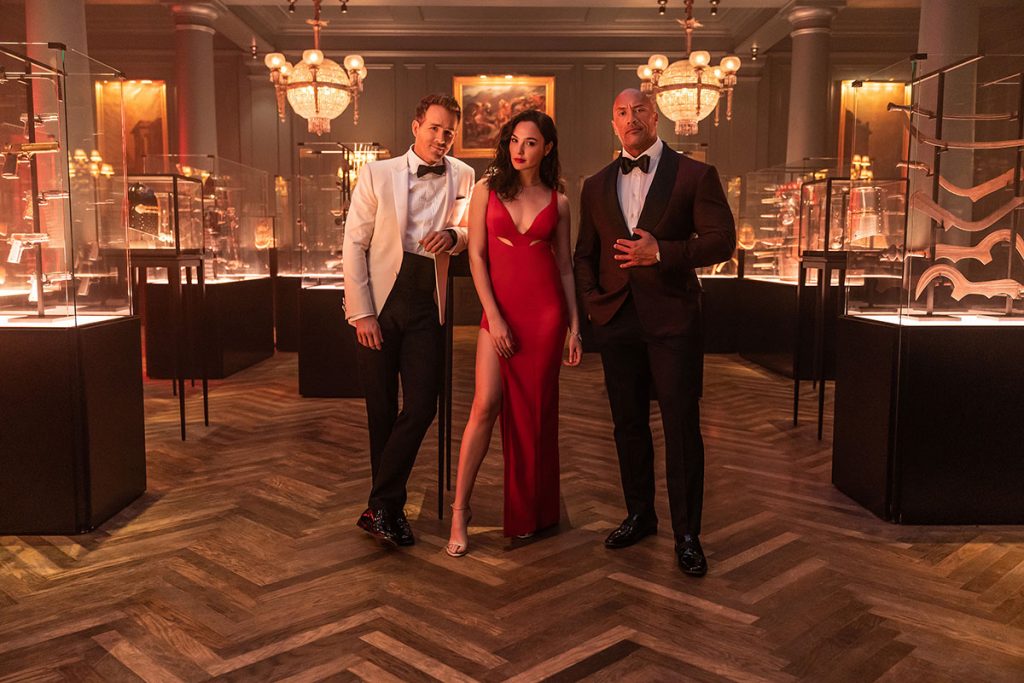 This marks Dwayne Johnson's third collaboration with Marshall Thurber, after Central Intelligence (2016) and Skyscraper (2018). One of the biggest differences between this film and their previous collaborations is that Red Notice actually has a proper antagonist in Gal Gadot's The Bishop. It's a role I haven't really seen Gadot play before, and she does fairly well with it. She even gets to play off Johnson and Reynolds at certain points in ways that embrace her comedic and action star sides.
In terms of action, Red Notice feels like the closest we'll ever get to seeing Dwayne Johnson play James Bond. I'm not talking about Craig era Bond though, it's more along the lines of the silliness of the Sir Roger Moore Bond films. That's definitely not a bad thing either: Red Notice has some awesome action sequences that mix in good comedy.
Ryan Reynolds and Dwayne Johnson show off more of that excellent chemistry they had in Fast & Furious Presents: Hobbs & Shaw (2019). Johnson's character in Red Notice, John Hartley, is obviously the straight man to the whimsical Nolan Booth, played by Reynolds, who is clearly reveling in acting alongside the mostly serious Johnson for an entire film. The bonding moments between their characters are also sweet, even if they might be a tad cliché to some. 
The story is pretty tightly written, and is a lot more original than Skyscraper (2018), which felt way too similar to Die Hard (1988). Red Notice is a good comedy, built around three box office stars, and filled to the brim with action. There's also a classic heist movie feel thrown in to the filmfor good measure. It shouldn't work, but it absolutely does, and that's thanks to a mostly solid script, thrilling action, and the performances of Johnson, Reynolds, and Gadot. Even though the back half of the script is honestly more predictable if you're paying attention, it's so much fun that you likely won't care. The action, the comedy, and the charisma of the three stars are what makes this film memorable.
Red Notice isn't exactly perfect: the action can get a little farfetched at certain points and the second half is a tad bit more predictable than the first. However, if you're a fan of action-comedy films, it's the most fun you'll have watching a movie all year. Netflix's biggest investment ever in a film absolutely pays off.
---
Red Notice premieres premieres in select US theaters on November 5, and globally on Netflix on November 12, 2021.
---
JOIN US!
Don't miss our monthly updates with film news and exclusive content! You'll only hear from us once a month. #nospam