Dungeons & Dragons: Honor Among Thieves Review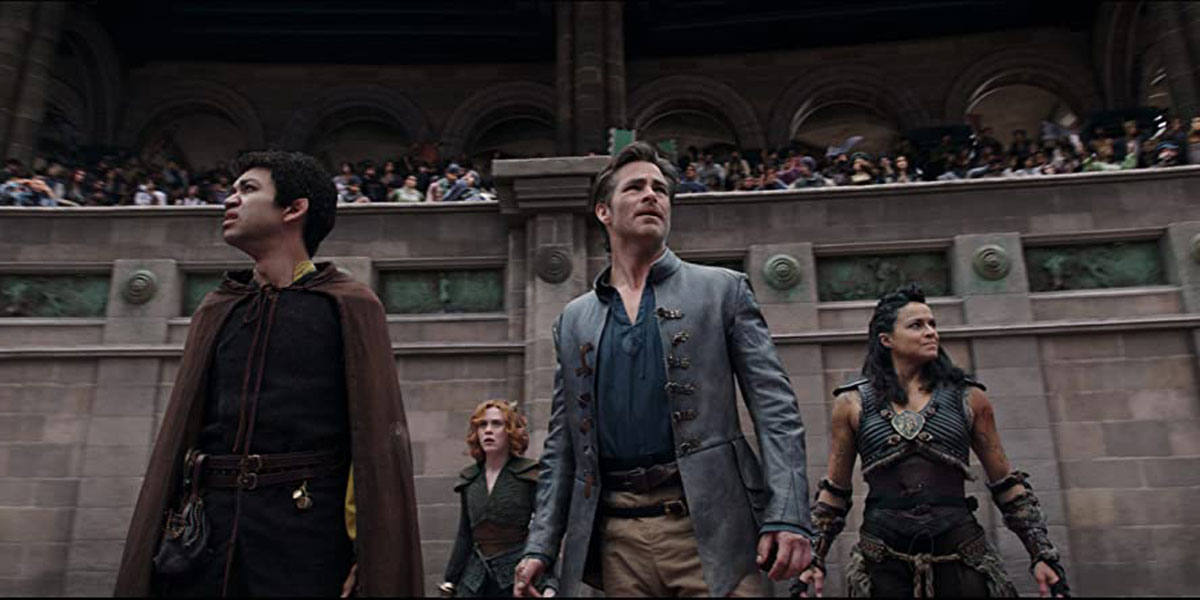 Dungeons & Dragons: Honor Among Thieves (Paramount Pictures)
With a charismatic cast, sharp humor, and detailed production, Dungeons & Dragons: Honor Among Thieves delivers a worthwhile adventure anyone can enjoy.
---

Hello and welcome to my first review for South by Southwest 2023! My experience at last year's festival – my first ever film festival – was truly unforgettable, so to be able to come back again is a great honor. It's made even better by me kicking off the festival with a very pleasant surprise, that being Dungeons & Dragons: Honor Among Thieves. I won't lie, I was not excited for this film. Not only have I never played Dungeons & Dragons before, but the marketing made this look like just another generic fantasy film. The only aspect that had me optimistic was that the directors, John Francis Daley and Jonathan M. Goldstein, are coming off the excellent and surprisingly thrilling comedy Game Night.
And wouldn't you know it, they've pulled through again and crafted a highly entertaining spectacle here, one that can be enjoyed by Dungeons & Dragons fans and newbies alike. Chris Pine stars as Edgin, a thief whose last caper was busted years ago when he and his friends tried to steal a relic that could bring back a dead loved one. Now, he and those friends, played by Michelle Rodriguez and Justice Smith, recruit other allies to not only get this relic, but retrieve Edgin's daughter (Chloe Coleman) from the corrupt Forge Fitzwilliam (Hugh Grant) that's been raising her in Edgin's absence.
Speaking as an outsider looking in, Dungeons & Dragons: Honor Among Thieves looked very standard, even a little gimmicky with all the different types of characters that you'd find in … well, a role-playing game. And sure, looking at the story as a whole, none of it's really that remarkable. But the film makes up for that by being so straight-up likeable. Every character is given a ton of charismatic personality that allows them all to play superbly off one another. The wise-cracker in Pine, the hardened badass in Rodriguez, the underconfident but snarky magician in Smith, and more characters like a druid played by Sohia Lillis and an outside ally played by Regé-Jean Page, all lean into their archetypes in the most entertaining way without getting too over-the-top.
That charm is helped immensely by something that I didn't realize going in: the fact that Dungeons & Dragons: Honor Among Thieves is a comedy. Some may dispute that claim, but I think that's by far the best way to look at the film going in. There's a joke nearly every minute, with most of them getting a sizeable laugh from me … once I realized what the film was going for. For most of the early portion, I was put off by all the big, sweeping fantasy settings combined with dialogue that would feel right at home in an MCU movie. Admittedly, it still feels weird even now. I think I'm just conditioned to see these kinds of worlds and expect a tone that's less overtly funny and with dialogue that's not so modern.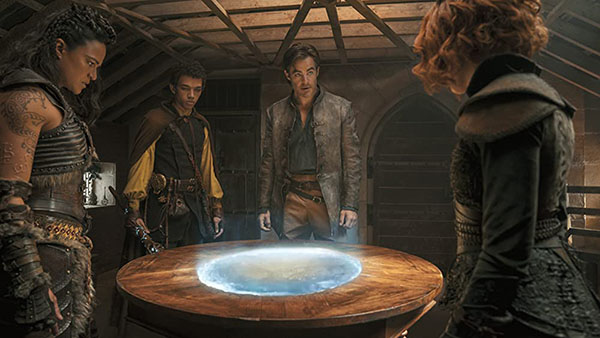 Like many MCU movies, the humor can sometimes compromise a dramatic moment, stopping it from playing out quite how it should. Edgin's quippy, overly casual remarks are usually the main culprits behind this trend. But a majority of time the jokes succeed, often even cleverly playing around with common film and fantasy tropes. Everyone's comedic timing is also on point. The two easy highlights for me are Regé-Jean Page and Hugh Grant, who both steal every second of screen time they're in. Honor Among Thieves is also certainly not devoid of heart. The emotional arcs, though mostly basic, play out serviceably, and the final resolution between Edgin and his daughter is a perfect culmination of everything he's learned.
But what really took me by surprise in Dungeons & Dragons: Honor Among Thieves is the craft and worldbuilding on display. Daley and Goldstein, and their cinematographer Barry Peterson carried over from Game Night, absolutely nail the look of the world they're portraying. You always feel the size and scale, however big or small, of every single set piece. The surprisingly dynamic angles allow the camera itself to feel like it's taking part in the fun, especiallyduring the cheer-worthy fight scenes.
The effects are, brace yourselves for this, a solid mix of CGI and practical. Obviously, a ton of digital effects and green screen are present a majority of the time, but there's also a healthy number of locations and creatures that are actually in front of the camera. Because of this, none of the CGI becomes overbearing even when it's clearly fake, aside from the climax where it's at its heaviest usage.
Because of all this, I ended up loving the world of Honor Among Thieves. It's diverse, thoroughly detailed, full of life and energy, and put together by people who clearly have a great passion for what they're doing. Daley and Goldstein's love for Dungeons & Dragons that they professed after the premiere comes across fully. No matter where the film took us, I was always looking around and having fun taking in every detail. I really want to see more of these environments in another movie. How about a spinoff with Regé-Jean Page's character? That'd make me as happy as the audience member who collapsed with joy when he hugged her after the show. I even find myself contemplating something I never thought I would: the idea of playing the game itself. Truly, this film works miracles.
I can't stress this enough: Dungeons & Dragons: Honor Among Thieves was nowhere close to being a highly anticipated film of mine. Before it was announced at South by Southwest, I'd been planning on skipping it altogether. Yet here I am, singing its praises as not one of the deepest or most jaw-dropping films out there, but a really fun, really funny, and really well put together adventure. If you're skeptical like I was, I'd still encourage you to give it a shot. If you're already excited, you'll almost definitely leave extremely satisfied. Give it a roll of the dice when it comes out and see for yourself.
---
Dungeons & Dragons: Honor Among Thieves premiered at SXSW on March 10, 2023. The film will be released globally in theaters on March 31.