Christmas 2022: 10 Films to Watch

Bros, Happiest Season, Nativity! (Universal Studios, Hulu, BBC Films)
Christmas 2022 is approaching, and our writers recommended 20 films to watch this year, from timeless classics to new movies and hidden gems!

Christmas 2022 is approaching, and you know what that means: it's time to decide which films to watch this year. We are here to help: our writers recommended 10 movies that are guaranteed to put you in a festive mood. From holiday classics to hidden gems and recent releases, here are our picks for this year's holiday season!
---
THE APARTMENT
Director: Billy Wilder
Writers: Billy Wilder & I. A. L. Diamond
Year: 1960
Has there ever been a film that so deftly captures the feeling of loneliness during the holiday season? Often regarded as Billy Wilder's last masterwork, The Apartment follows C.C. Baxter (a never better Jack Lemmon), an insurance clerk who finds his personal and professional lives colliding when he decides to rent out his apartment to company executives as a love nest in hopes of speeding up his ascent of the corporate ladder.
While the film mostly uses the holiday season as the backdrop to the complicated romance between Baxter and elevator operator Fran Kubelik (Shirley MacLaine), Wilder and cowriter I. A. L. Diamond use this backdrop to add contrast to themes of loneliness and isolation during a time of year usually marked by connection and togetherness. In this way, The Apartment functions as almost an anti-Christmas film, highlighting the less savory aspects of the holiday season while still providing a glimmer of hope at the end; an approach that cements its status as a bittersweet romantic classic and a unique, revisionist pick to add into your annual holiday rotation.
---
BETTER WATCH OUT
Director: Chris Peckover
Writer: Chris Peckover & Zack Kahn
Year: 2017
You better really watch out, because this movie has the potential to make blood rush to your face like it never did before. Horror movies are often too worried about trying to scare us and forget that another effective way to play with the audience is to make them angry: Better Watch Out takes this assignment perhaps way too seriously. You've got the coziest setup: a quiet suburban street, snow falling down the window, Christmas lights all over… but things quickly get darker as a young babysitter is forced to confront a peculiar home invasion while on duty.
Better Watch Out evokes all your favorite Christmas movies and forces you to feel the opposite of what these movies were supposed to make you feel. Forget all the joy, hope, and love in the air. Here, the closest thing to the Christmas spirit is to make it out alive. Better Watch Out brings everyone's greatest fears to a traditional Home Alone setup and plays with the audience's emotions with a psychopathic coming-of-age narrative. Nothing can prepare you for the tonal shift that happens halfway through the story, but you can certainly expect to see Santa's naughtiest boy of the year in action.
---
BROS
Director: Nicholas Stoller
Writers: Nicholas Stoller & Billy Eichner
Year: 2022
Full Review: Bros (2022 Film) Review: Undeniably Iconic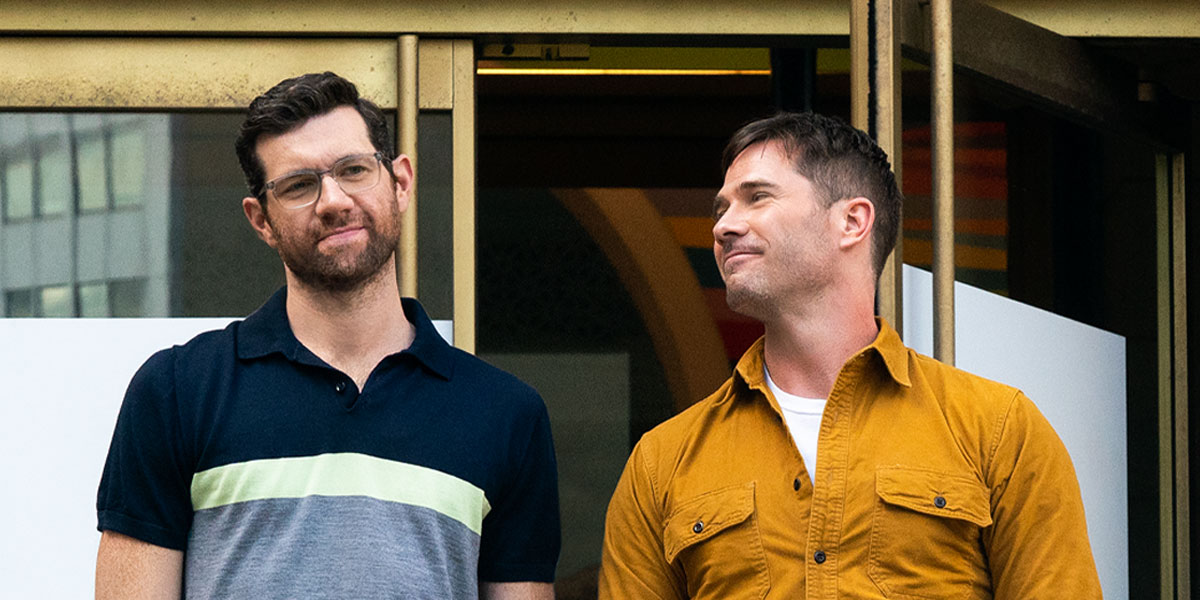 Nicholas Stoller's "boy meets bro love story" might not be the first film to pop into your head when you think of a Christmas film to watch during the holidays, but if you think about it, it's actually the perfect choice. Not only does this hilarious, pop culture-filled queer rom-com take place at Christmas – a fact we're reminded of not just by the occasional Christmas market visit, but also by a running joke that sees trailers of queer Christmas rom-coms pop up on the "Hallheart Channel" every once in a while, as the fictional (yet familiar) channel tries to appeal to LGBTQIA+ audiences – but it also embodies the best values of the holidays.
Bros begins with one of the many, many hysterically funny scenes you'll find in the film, where podcast host Bobby (Billy Eichner) is asked to write "a nice movie about nice gay people," to show the world that "gay and straight relationships are the same." Of course, Bobby replies with the blend of sarcasm and wit that we'll be treated to throughout the film, as he explains that queer relationships are different, and goes on to preserve his carefully constructed "emotionally unavailable" facade. But when he meets Aaron (Luke Macfarlane), a man that's just as detached as he is, everything changes, and a queer rom-com is exactly what we get.
But co-writers Eichner and Stoller give us a film with a strong emotional core, where stereotypes are used for highly effective comic relief and yet, at the same time, the journey our characters make is used to make a point about love, life, and the importance of staying true to ourselves, standing up for our beliefs, and embracing one another. Give Bros a chance: we guarantee you'll want to keep watching it over and over again.
---
THE FAMILY MAN
Director: Brett Ratner
Writers: David Diamond & David Weissman
Year: 2000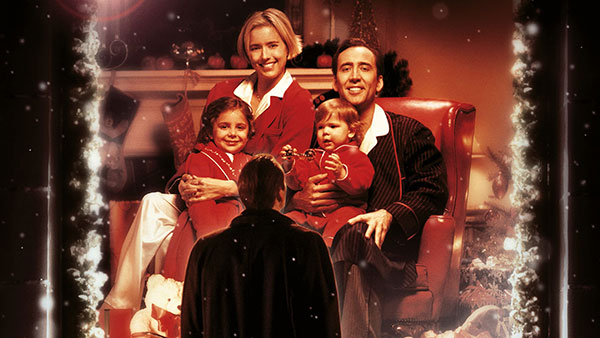 If I told you that you could change your whole life… would you do it? That is what happens to Jack Campbell (Nicolas Cage), the protagonist of The Family Man. Jack is a very powerful man working on Wall Street: he's rich, surrounded by women, with a stunning Ferrari and a very luxurious penthouse in Manhattan. But then, one day, a voice mail left by his ex-girlfriend Kate (Téa Leoni) and a magical encounter with a man named Cash (Don Cheadle) literally change his life.
What would his life have been if he had not left Kate? What if Cash was not just a person but an angel? After a long day, Jack comes home and falls right asleep but as soon as he wakes up he finds himself living a totally different life. Jack is now married with Kate, they have two children and live in Jersey. For Jack it is only the beginning of a new life. Day by day he finds himself living in a kind of parallel reality, where he finds as a loyal and humble family man.
The Family Man is a delightful romantic comedy to watch on Christmas Eve in front of the fireplace. The feeling this film conveys is intrinsic to the Christmas atmosphere. It will leave you wondering what you appreciate most in your life; it truly is not the kind of movie you completely forget after some time, but it stays in your heart. At the end of the day, which life will Jack choose?
---
THE FAMILY STONE
Writer & Director: Thomas Bezucha
Year: 2005
Thomas Bezucha's The Family Stone is a heart-warming, underrated Christmas movie with an extraordinarily well assembled cast. It's a witty, chaotic film that will engage, humour and frustrate you, all the same time. The movie begins with the members of the Stone family getting ready to celebrate Christmas. The eldest son, Everett (Dermot Mulroney) is bringing his girlfriend Meredith (Sarah Jessica Parker) to meet the family for Christmas and request his mother's heirloom, the actual 'family stone,' to propose to her. You can tell from the beginning that Meredith won't be welcomed with open arms, as the family unanimously decided she is an uptight businesswoman and she's not good enough to become part of their cliquey quirky pack before meeting her. Other family members comprise mom Sybil (the always wonderful Diane Keaton), who is battling with an unspecified illness and whose hostility towards Meredith is matched by daughter Amy (Rachel McAdams), younger brother Ben (Luke Wilson), who seems to be the only levelled-head member of the family, and dad Kelly (Craig T. Nelson).
Meredith's attempts to be accepted by the family are a huge failure, so, in desperate need of emotional support, she decides to call her sister Julie (Claire Danes), who promptly comes to the rescue and rapidly shuffles the hostile dynamics. From this moment on, dynamics shift, secrets get exposed, tears are shed and a lot happens. The Family Stone admirably blends fun moments, sad scenes, clichés and weird plot twists, showing us how families can be both dysfunctional and loving, and how family reunions can be chaotic and not exactly perfect but priceless nonetheless. If this isn't enough to tempt you to watch the movie, Sarah Jessica Parker's vulnerable portrayal of Meredith alone is reason to do so! While bittersweet and at times frustrating, this movie will leave you feeling like someone wrapped a cozy blanket around your shoulders.
---
GREEN BOOK
Director: Peter Farrelly
Writers: Peter Farrelly, Nick Vallelonga, Brian Hayes Currie
Year: 2018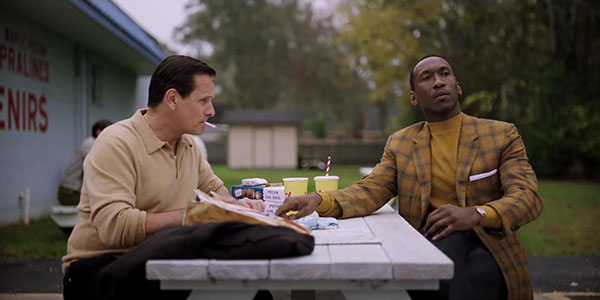 I don't know how many people have 2018's Green Book as a new staple of Christmas, but I certainly count myself as one of them. The film is about a bouncer named Tony Lip (Viggo Mortensen) who's hired in 1962 to drive Black pianist Don Shirley (Mahershala Ali) on a tour through the Deep South, planning to return on Christmas. Is Green Book a revolutionary look at race? Definitely not. Its greatness stems not from its commentary, but from the loveable chemistry and friendship on display that happens to contain a racial aspect, which serves as one of many compelling layers rather than being the centerpiece. Tony could have easily been unlikeable for his immaturity, recklessness, and initial biases, but Mortensen brings an earnest naiveté to him that makes you feel like he genuinely means well and is able to grow. Ali's deadpan snark and excessive formal demeanor are equally enjoyable, and you can tell in the subtlest of expressions when something touches or hurts him beneath that straight-faced exterior.
But even looking beyond the two main characters, Green Book captures the charming, relatively simple aesthetic of the 60s very nicely, while highlighting the uglier racist aspects of its culture. The soundtrack, the jazzy score from Kris Bowers, the vivid shots of clubs and roads that are easy on the eyes, and the frigid shots of a snowy blizzard and Christmas festivities as the film draws nearer to the holiday make Green Book a great film to have on your TV to complement any festively-decorated living room. The ending is particularly heart-warming and gets me in the holiday spirit every time I see it. Green Book may not push any narrative boundaries, but it leans completely into its strengths to give us a sweet, old-fashioned, sharply written, hilarious film about an electric friendship that works any time of year, but especially around Christmas.
---
HAPPIEST SEASON
Director: Clea DuVall
Writers: Clea DuVall & Mary Holland
Year: 2020
Full Review: Happiest Season (Review): A Queer Christmas Comedy Classic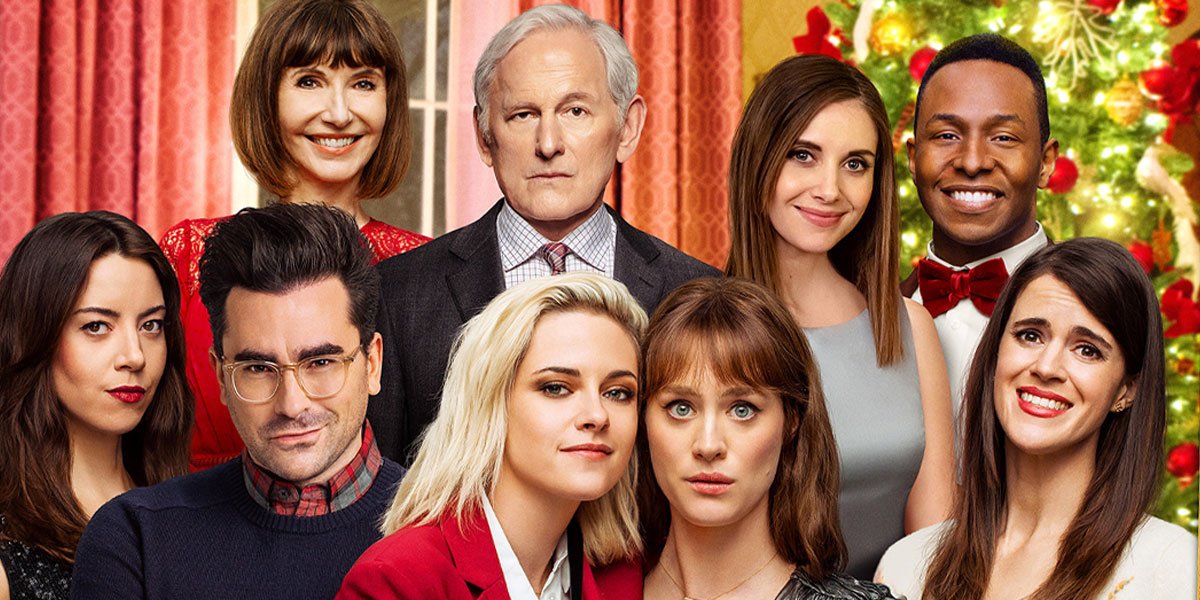 Any modern Christmas movie list would be incomplete without Happiest Season. Abby (Kristen Stewart of Spencer) and Harper (Mackenzie Davis of Station Eleven) are extremely happy in their relationship, so much so that Abby is prepared to propose. As she plans to pop the question after meeting her family over the Christmas holiday, she realizes that Harper's family doesn't even know that she is gay. Tackling familial homophobia in a romantic comedy is an extremely hard task, especially since this is a Christmas movie. Luckily, Clea DuVall and Mary Holland's script is more than ready to face this challenge, crafting a story that is equally hilarious and heartbreaking.
There are countless LGBTQ+ individuals who live the majority of their life out and proud, but for the holidays when they return home, they have to "act straight" for their family. This can make the holiday season extremely difficult for many and could easily be the worst part of anyone's year. Having a film that shows this emotional toll can make so many feel seen in a genre that rarely gives the LGBTQ+ community a spotlight on a large scale. Besides what the film stands for, Happiest Season is also loads of fun. Alison Brie (Promising Young Woman) gives one of her most hilarious performances, and Harper's sister who is in constant competition with her, and this clash makes for some of the funniest scenes that I've ever seen in any holiday film. This film is absolutely essential for anyone who loves a holiday romance, but with its revolutionary originality and wholesome ending, it will surely become a new Christmas classic.
---
KRAMPUS
Director: Michael Dougherty
Writers: Todd Casey, Michael Dougherty, Zach Shields
Year: 2015
What is this film doing on a holiday movie themed list? What kind of deranged person would make their family and friends watch a horror movie on Christmas? Well, it turns out that there are a lot of deranged cinephiles!
Like most dysfunctional families, the Engels don't seem capable of seeing eye to eye when they reunite for the holiday season. Max (Emjay Anthony, Physical), one of the younger members of the family who still believes in Santa Clause, hopes to continue the Christmas traditions. When tensions rise in his household, though, and the Christmas spirit is lost, an evil is unleashed in the form of a horned monster named Krampus to punish the Engels for being nonbelievers.
Krampus does not have the clever writing that director Michael Dougherty brought to his Halloween darling Trick 'r Treat. What it does have is a similar mean-spirited approach to the holiday, as in his previous spooky film, but this time around from the perspective of how miserable the season can be if you spend it with the wrong people. What sells the family dynamic here is that it actually feels like a real family. They're constantly bickering over unimportant things, organically building tension that's later used in well-crafted scary set pieces.
The movie is so silly and over the top, with our characters fighting against demons disguised as gingerbread men and Christmas toys, that it's quite honestly surprising it got made in the first place. We don't get as many creative holiday films of this kind anymore. So, looking back at this movie is a reminder to cherish them for the freakish Christmas miracles that they can be.
---
NATIVITY!
Writer & director: Debbie Isitt
Year: 2009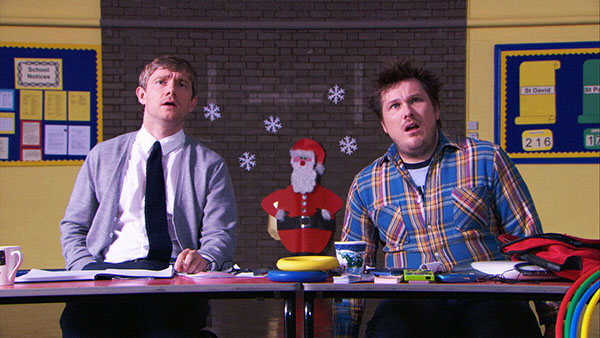 The concept of a 'perfect' holiday movie means something completely different to each person, but if there's one thing that most commonly-suggested examples have in common, it's their ability to transport the audience back to a simpler time of nostalgic festivities and Christmas spirit – and there are few movies that achieve this specific accomplishment quite as effectively as Nativity!. The story follows a downbeat primary school teacher named Paul Maddens (Martin Freeman), whose attempts to appear successful result in a dangerous game of white lies that quickly spiral out of control. When he accidentally misleads the young students into believing that Hollywood is coming to make a film out of their nativity, he's forced to create the biggest school play ever in an attempt to cover his tracks and bring Hollywood to his small town.
The magic of Nativity! lies in its overwhelmingly accurate presentation of British primary schools, which will immediately take the audience back in time and create a powerful bubble of nostalgia that surrounds the entire narrative. Whilst the story may be far-fetched, the grounded approach to these students' school lives makes it surprisingly relatable, drawing on a universal experience that most audiences will associate with their fondest memories of Christmas. The committed performances from lead stars Martin Freeman and Marc Wooten are hilarious from start to finish, with Freeman in particular nailing the more emotional moments of the story. Nativity! also features a great cast of charismatic young actors, all of whom bring something unique and charming to their roles, which really makes this primary school environment feel alive. If you're looking for something that will revive your childhood whilst providing an endless series of laughs, it's hard to go wrong with Nativity!.
---
OPEN BY CHRISTMAS
Director: David Weaver
Writers: Christine Conradt & Amyn Kaderali
Year: 2019
Once the festive season begins at the start of December, you want to treat yourself to films that are lighthearted and fun. Open by Christmas was one of my first Christmassy watches of the year and I'm here to recommend it to anyone reading this article! It's cheesy and maybe a little bit too predictable but that's all part of the allure, right? Nicky (Alison Sweeney) is cleaning out her old room at her parents house right before Christmas and finds an unopened card from a secret admirer she had back at high school. She opens the card and finds that it is unsigned. In an attempt to raise her spirits, Nicky sets out on a journey to find her mystery lover from all those years ago.
Nicky's parents and best friend Simone (Erica Durance) get in on the action and try to track down anyone they used to go to school with. Nicky crosses paths with many old friends along the way and tries to rekindle friendships with people she hasn't seen in years. If you're looking to get into the Christmas spirit, Open by Christmas is definitely the way to go. It's full of Christmas cheer, terrible festive jumpers and the loveliest of friendships. What's not to love! It's especially perfect to put on whilst wrapping those last minute presents as it's only 84 minutes, so it's a short and sweet watch.
---
ALL NEW CHRISTMAS FILMS OUT THIS YEAR: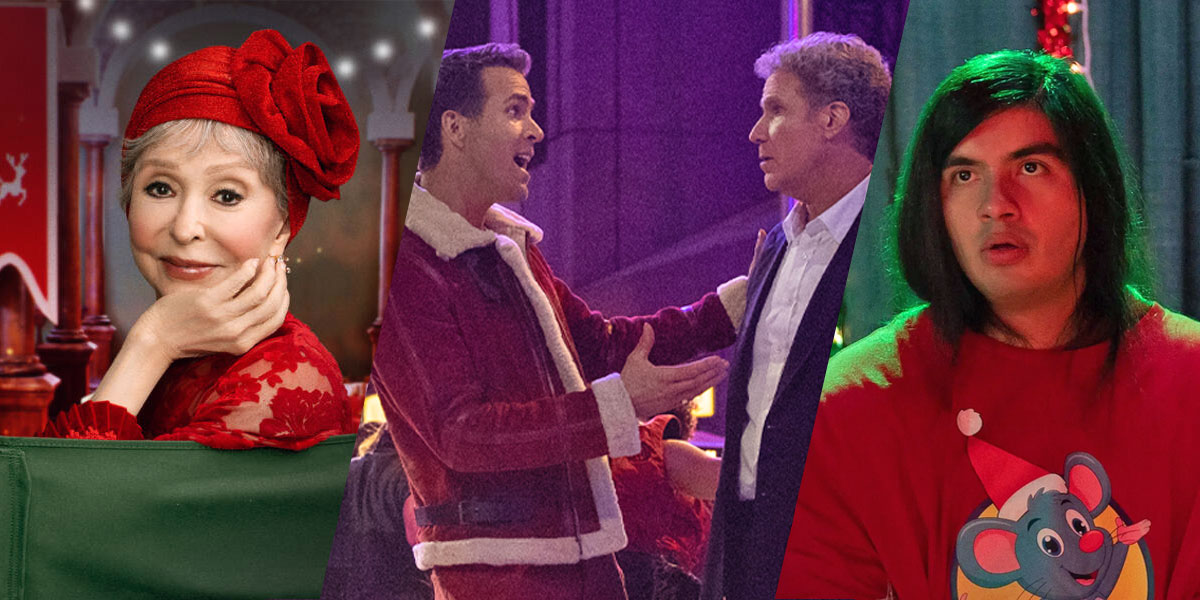 CHRISTMAS 2022, 10 MORE FILMS TO WATCH: