Falling for Christmas (Netflix) Review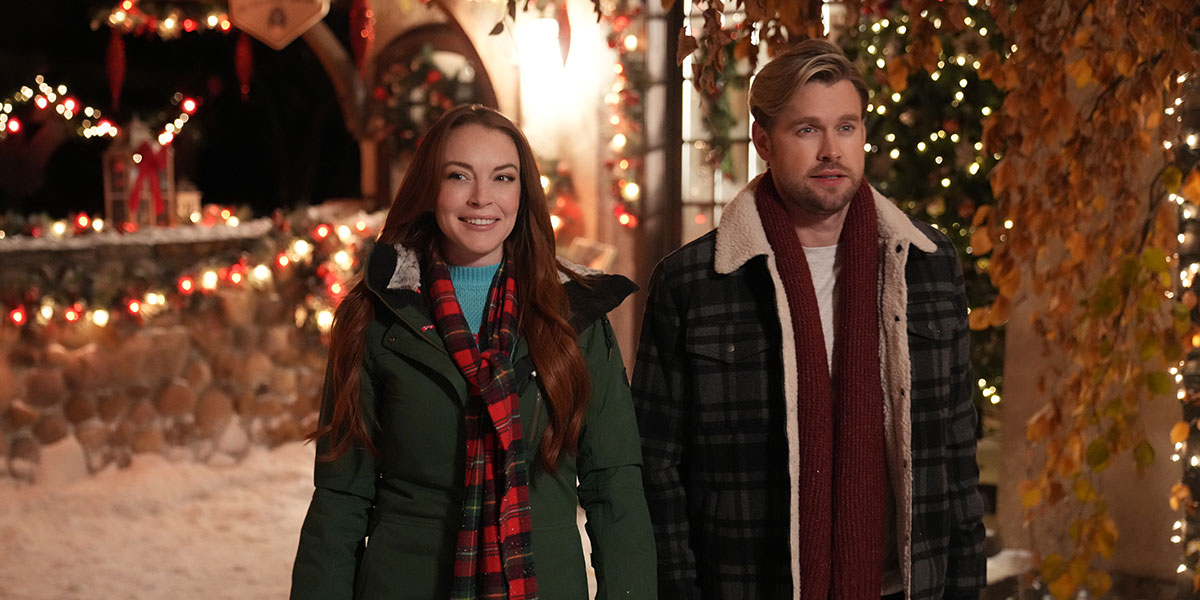 Lindsay Lohan as Sierra and Chord Overstreet as Jake in Falling for Christmas(Scott Everett White/Netflix © 2022)
Lindsay Lohan returns to the screen with the campiest yet most terrifically engrossing Christmas rom-com possible in Netflix 's Falling for Christmas. 
---

I'll be the first one to admit that I do not watch Hallmark Christmas movies. My parents eat them up, year after year, even though they recycle the same plotlines with every single movie they make. But it's a huge money-making machine, and I can't fault them for putting families in the Christmas mood at every turn. It was inevitable that Netflix would eventually get into the trend of doing Hallmark-like films, with huge lead stars attached to them. My interest for these movies were fairly low, until Netflix announced that Lindsay Lohan would return to acting for the first time in almost a decade in Falling for Christmas, which is totally not a re-remake of Overboard.
In it, Lohan plays Sierra Beaumont, a rich hotel heiress who suffers from amnesia after a skiing accident causes her to have a minor concussion. She doesn't remember her father (Jack Wagner) or fiancé (George Young), and is in the care of Jake Russell (Chord Overstreet), the owner of the North Star Lodge. Of course, her "fiancé" is an absolute scumbag of a human, and Russell is the nicest person possible. She inevitably falls in love with him, and dedicates her recovery to help the failing North Star Lodge, which may close after Christmas. 
Of course, one does not see this movie to be impressed at the huge creative swings it takes. It's the safest, most formulaic thing I've seen all year. As soon as it starts, you know that Sierra won't marry that buffoon Tad (Young) and will end up with Jake, even if he poured a dollop of whipped cream on her Valenyagi dress (nothing screams spoiled rich kid than having Lohan yell out "My Valenyagi!") at the beginning of the film. He makes mistakes, but doesn't endanger her life as Tad did. Young seems to have great fun playing a character whom everyone will love to hate—he only cares about himself, and doesn't necessarily care if Sierra made it out alive. It's all about his "views" and virtual "brand" he has created as an influencer (I do wonder what will happen to influencers like Tad if Twitter ceases to exist within the week).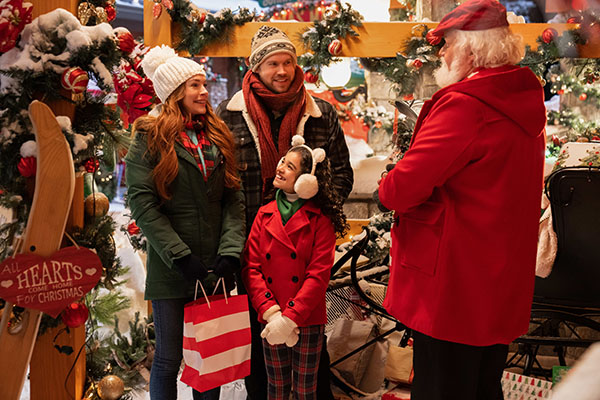 And Lohan has great chemistry with him: they're not a match, but their fashion choices make one hell of a statement (the costumes from Emerson Alvarez are truly Oscar-worthy) and are insanely fun to watch as they stumble upon one another. It's a shame that Overstreet can't match that same chemistry Lohan has with Young. It's almost nonexistent: Overstreet doesn't have the same charm that Young has, nor does he infuse an ounce of personality in his performance. It's a shame, because Lohan seems so drawn to the material that she will do anything to make her performance, and the film, work. 
It's partly why most of the movie works: Lohan is having the time of her life being a part of something so pure and inoffensive that you'd be a fool to at least think it's not a decent return to the screen from someone who has been out of the spotlight for so long. I remember vividly watching Nancy Meyers' The Parent Trap as a child, which was Lohan's introduction to the screen. It was one of the most fascinating things I had seen as a child, and Lohan's performance as both lead characters felt like two of our best friends' distinct personalities. Lohan retains that same charm from The Parent Trap inside Sierra's arc, particularly when she loses her memory and discovers "the simple things" as opposed to her posh life as a "Vice President of Atmosphere" (whatever that means) at her father's superb hotel.
See Also

Her performance also brings a level of camp that would've otherwise not been possible had Sierra been played by another actor—her lines at the beginning of the film are terrifically written and delivered, embodying the perfect "spoiled kid" persona before it all goes away as she suffers from amnesia. The rest of the movie is a wild ride, particularly when it includes an actual Santa Claus giving Christmas magic to the Russell family by purposefully (?) causing high winds so Sierra can fall down and land in Jake's arms as he tours the woods with two of the lodge's guests? Yes, that happens, and it's as insane as I have described it.
The inclusion of Santa Claus in the movie bookends a rather unique trip to Hallmark-land, with Netflix delivering their campiest and yet most uniquely engrossing Christmas picture yet. Once again, it's not going to convert people who hate these types of movies (and I fully understand anyone who will say that it's bad – it's poorly shot, scored, edited, and written, exactly like an early 2000s made-for-TV Christmas film), but there's a certain charm that I couldn't wrap my finger on that made me invested in most of the movie, even knowing how it was going to end as soon as it started. It may be because I was happy at seeing Lindsay Lohan back on the screen again. And I hope she will soon make the transition from Netflix movies (after her deal ends) to the big screen, where she belongs once again to hopefully shine brighter than she did in her earlier career.
---
Falling for Christmas is now streaming globally on Netflix. Discover 150+ Christmas movies coming out this year.