Violent Night (Review): David Harbour's Santa Claus Saves The Day

David Harbour in Violent Night (© Universal Studios)
Unlike any traditional Christmas film, Violent Night delivers naughty and nice – a modern Die Hard where the hero is the biggest softie of all, David Harbour as Father Christmas.
---

Whilst an action-packed horror may not be the first thing that comes to mind when picking a film to get you in the Christmas spirit, Universal's Violent Night is a must-see this Christmas. Written by Pat Casey and Josh Miller, the film is directed by Tommy Wirkola and stars David Harbour as the Santa Claus who comes to save the day.
Violent Night takes the audience on an emotional rollercoaster throughout its 112-minute run, from tense action scenes riddling the viewers with anxiety, to heart-felt scenes between Santa and Trudy, then to some excellent comedic relief – and all of it works perfectly. Additionally, the montage scenes within the film are captivating, particularly the action scenes. Similarly to something out of Quentin Tarantino's Kill Bill, David Harbour as Santa has to face some highly intelligent and skilled people to protect the Lightstone family and save Christmas.
Now, one of my favourite things within film is the references and callbacks to classics that feel like a homage to the film fans. Violent Night draws some references to Christmas classics such as Home Alone, Die Hard, and Elf. This was one of the most magical parts of the film for me; adding these references within an overall fast-paced and tense film allowed for a few minutes of Christmas cheer and excitement, as well as providing some more light-hearted entertainment.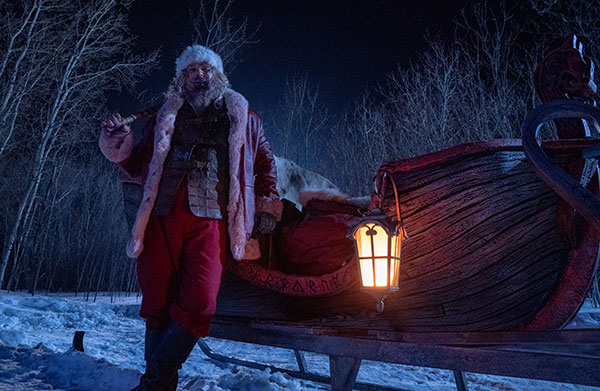 Violent Night can also be considered a critique of today's society and the way in which Christmas spirit is no longer treated the way it once was. On numerous occasions, we see Santa pulling out video game after video game from his sack, along with filling stockings with notes of money, and confiding in the Lightstone family about how today's society doesn't believe in the way they once did – a close similarity to the scene in Jon Favreau's Elf from 2003. Whilst the film does make some interesting and accurate points, it never takes itself too seriously in its critique, which helps fuel the feel-good within the narrative.
2022 has been a strong year for David Harbour, starring in Netflix's Stranger Things season 4 at the beginning of the year, to playing alongside Bill Pullman on London's West End for Mad House the play, and I'm sure that Violent Night will be a hit for a wide range of audiences.
See Also

Overall the film is an extremely good time – perhaps helped by my screening being a sold-out crowd, there were constant audible reactions from the audience, and it's enough to guarantee a re-watch from me. Closing the film with Slade's "Merry Xmas Everybody" was the perfect ending to a near-perfect film, and it's definitely a must-see this holiday season.
---
Violent Night is out now globally in theaters. Discover all 150+ new Christmas films out this year.