Happiest Season (Review): A Queer Christmas Comedy Classic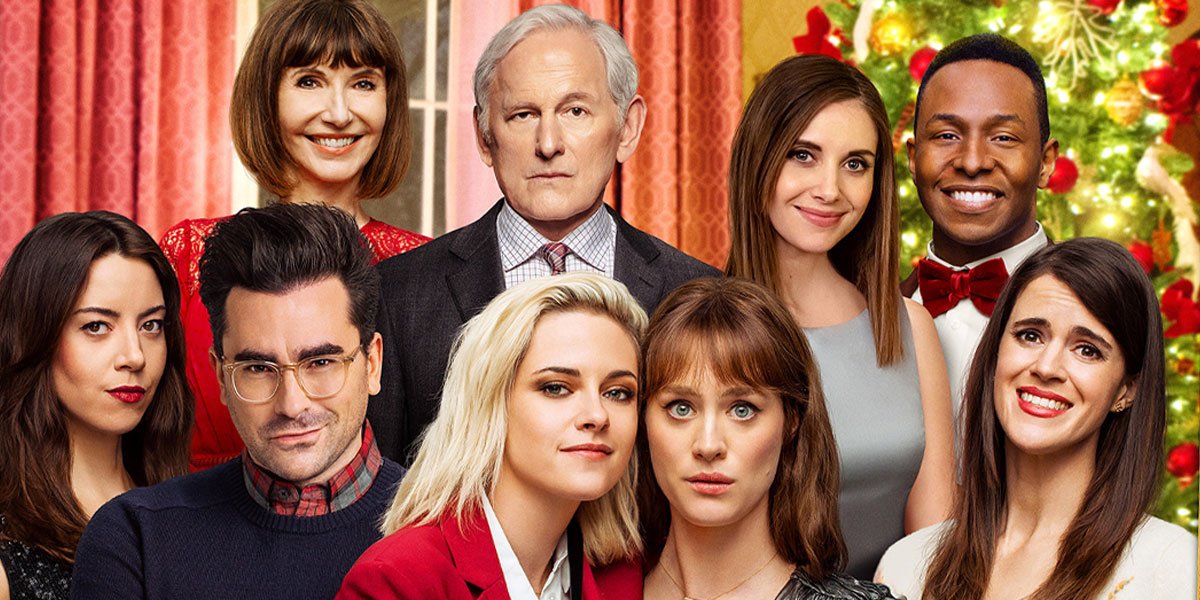 Happiest Season (Hulu)
Happiest Season is a riotous recontextualization of Christmas comedy clichés and conventions, thanks to its affecting LGBTQ+ authenticity.
---

While LGBTQ+ entertainment has often received widespread adoration and acclaim on the awards circuit – with films such as Moonlight, Call Me by Your Name, and Carol earning plenty of praise and plaudits from critics and awards bodies alike in recent years – it's taken a bit longer for movies featuring queer main characters to make their way into the "mainstream." 2018's Love, Simon offered a classic coming of age chronicle with a gay male at its center, but although it scored rapturous reviews, it unfortunately didn't break out at the box office as was intended.
That same year, Bohemian Rhapsody brought the bombast of the band Queen to the big screen, winning Oscars and audience approval along the way, but it sacrificed some sincerity in regard to Freddie Mercury's sexuality to acquire such adoration. When Rocketman gave a similarly showy treatment to out gay musical icon Elton John, it went all-in on showcasing his sexual orientation without shame as well (with an R-rating, to boot), and yet, it secured zero Academy Award nominations and brought in only about 25% of Bohemian Rhapsody's overall box office total.
As one can see, it's clear that progress is indeed being made in terms of expanding LGBTQ+ visibility in today's entertainment, but there's still so much work left to be done. It's too bad then that Happiest Season had to forego its original theatrical release due to complications stemming from the ongoing coronavirus pandemic, as this earnest, empathetic, and enormously enjoyable Christmas comedy classic-in-the-making has got the goods to amuse audiences of all backgrounds while simultaneously serving as a significant step forward for films featuring queer leads, and one can hope its Hulu debut draws just as much attention and awareness to its inclusivity and innovation.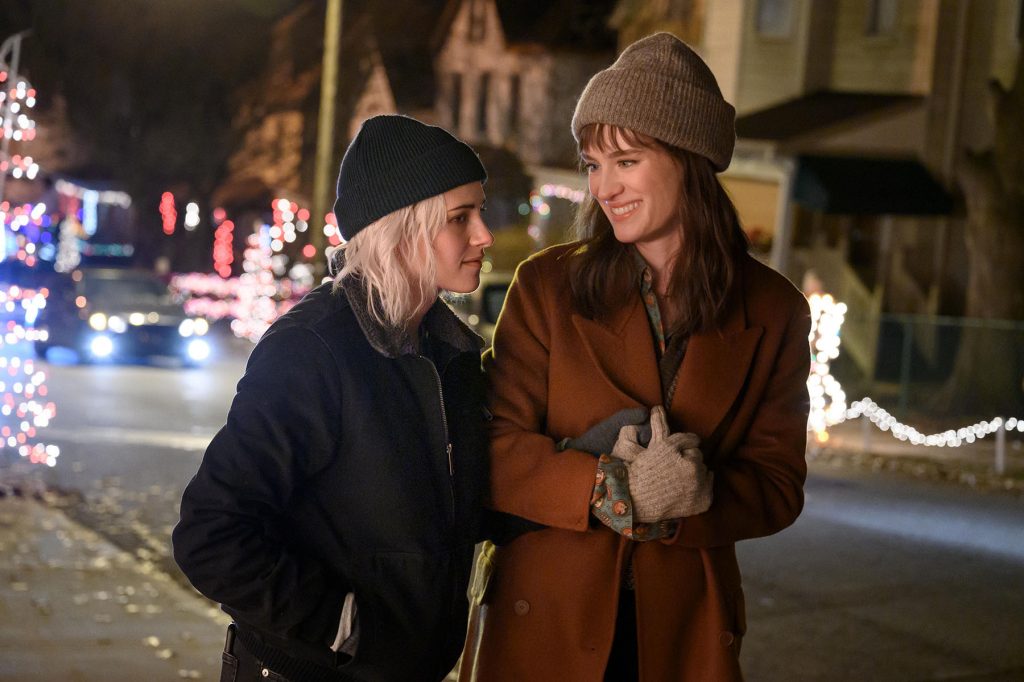 Happiest Season charts the journey of a lesbian couple, Abby (Kristen Stewart, of Twilight fame and Still Alice) and Harper (Mackenzie Davis, of Terminator: Dark Fate and Tully), who are headed home to visit Harper's family for the Christmas holidays. However, there's one slight problem here – Harper isn't yet "out" to her "traditional" parents, Ted (Victor Garber, of Titanic and Legally Blonde) and Tipper (Mary Steenburgen, of Elf and Step Brothers). Though blindsided by this sudden revelation, out of love and respect for her girlfriend (who promises to tell her family everything after the celebrations cease), Abby agrees to go along with Harper's secretive scheme, posing as Harper's platonic orphaned roommate.
Along the way, Abby meets Harper's sisters, the snide Sloane (Alison Brie, of NBC's Community and Netflix's Glow) and the overly joyous Jane (Mary Holland, of Mike and Dave Need Wedding Dates and Netflix's Unicorn Store), and she additionally encounters an enigmatic ex from Harper's high school past (Aubrey Plaza, of NBC's Parks and Recreation and 2019's Child's Play reboot). Unfortunately, as the days drag on, this covert couple finds it hard to keep their courtship concealed, and soon, it seems like the whole scheme may implode entirely.
Writer-director Clea DuVall, known for standout supporting turns in films like The Faculty and Argo and for her delightful directorial debut The Intervention, is openly gay herself, and she lends an affecting authenticity to this sweet and stirring story as a result. The debate about whether or not non-LGBTQ+ individuals "should" write or create queer content can be discussed another day, but with Happiest Season, it's nevertheless abundantly clear that these narratives are far more convincing and compelling when told by those who have experienced these events for themselves. Happiest Season doesn't break new ground in terms of the "Christmas comedy" template, but frankly, it doesn't really have to – the film radically recontextualizes common clichés and conventions simply by shifting who the story is centered around, and it's as simple as that. This isn't some holiday romcom with a "sassy gay cousin" or a "sarcastic lesbian aunt" on the sidelines; Abby and Harper are our unapologetically lesbian leads, and their powerful perspective alone allows the film to feel "fresh."
Assisted by star Mary Holland, DuVall's script is sentimental without ever seeming sappy and biting without ever becoming bitter. The film is free of that hackneyed "Hallmark" triteness and triviality, but it allows us to indulge in the hilarity of the holiday season all the same, efficiently balancing its earnestness with good old-fashioned escapism. Likewise, Happiest Season avoids turning any character in its colossal cast into a simple-minded stereotype, imbuing each individual with soulful substance. Not only are Abby and Harper given ample time to extensively express their emotions on the struggles that arise from their scheme, but the supporting cast is also afforded this same consideration.
Ted and Tipper are not your usual "prejudiced parents," Sloane is more sophisticated than the stale "stuck-up sister" stock character, and Jane is given more complexity than is often conferred to the average comic relief role. The banter between all of these playful personalities is nearly always priceless, and DuVall's dialogue is reliably rip-roaring, but, above all else, these beats land because we care for these characters too, and that achievement is the true success of DuVall and Holland's screenplay.
See Also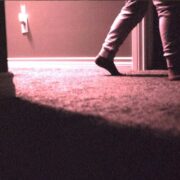 Stewart, who has reinvented herself post-Twilight as an indie darling of sorts with widely praised work in films like 2015's Cloud of Sils Maria and 2016's Personal Shopper, proves that she still hasn't lost an ounce of her mainstream magnetism as the adorkably amusing Abby. Her chemistry with Davis' Harper is completely credible the whole way through, and she capably counterbalances her frustration with the suffocating set-up Harper has concocted alongside her continual commitment to doing what's best for her girlfriend. At the same time, Stewart is just excessively engaging as she absurdly attempts to avoid letting this secret see the light of day, with a capable command over the film's comedy that never falters. Davis is the straight woman of sorts in this twosome – no pun intended – but she's still excellent at exhibiting the emotional stakes of the story's cathartic climax, and she's principal to the picture's poignant payoff.
As mentioned above, the cast as a whole is worthy of commendation, rightfully receiving all sorts of ensemble awards at the end of the year in a just world. Holland happens to be the star supporting player as the wacky but wonderfully warm Jane, but Steenburgen and Brie hold their own too. Steenburgen is a sidesplitting sensation as the outwardly cheery but overly controlling Tipper, while Brie makes a splash as the snarky and sour Sloane, spitting out brutal barbs at her sisters with comical causticity. Schitt's Creek's Dan Levy also makes for a jocular joy as Abby's fiery "G.B.F." back home, John, who is pleasing presence in all of his asides.
Happiest Season may not rewrite the rulebook for the "Christmas comedy" subgenre, but it breaks new ground regardless because of its innovative LGBTQ+ perspective on this plot and earns our engagement with witty writing and amusing acting all around. Without a doubt, even aside from its importance to inclusivity in film and to the queer community, it's bound to become a classic piece of comfort cinema for audiences around the globe, perfect for celebrating the Christmas holiday and for serving as a soothing solace from the troubles and turmoil of 2020.
---
Happiest Season premieres November 25, only on Hulu.