2022 Christmas Movies: All 150+ New Films Out This Year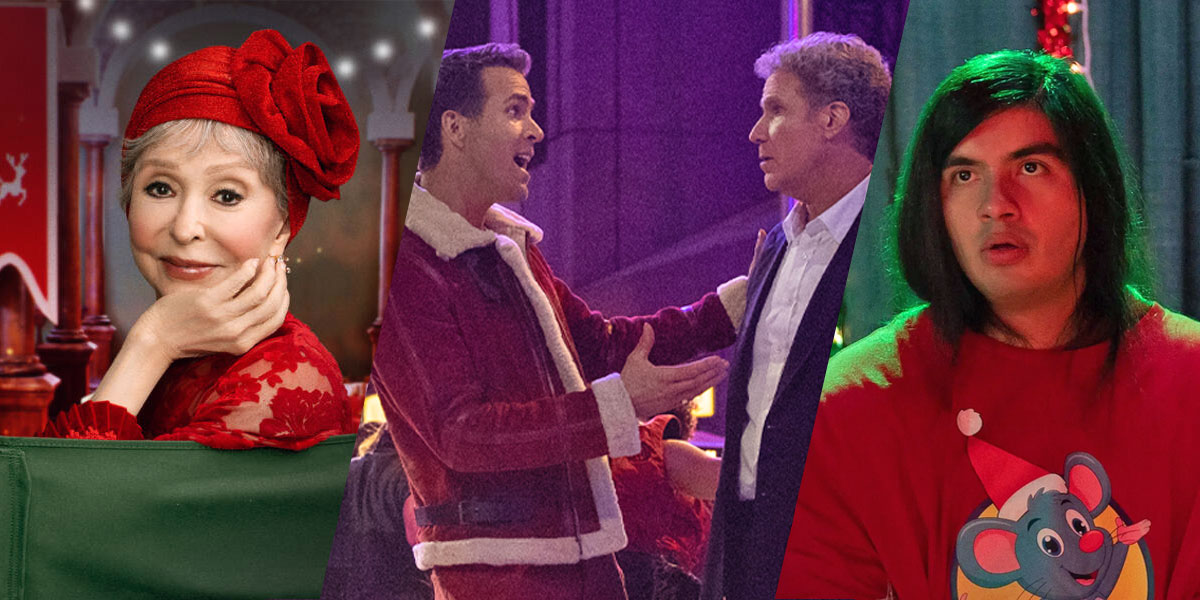 Santa Bootcamp, Spirited, It's a Wonderful Binge (Lifetime, Apple TV+, Hulu)
2022 Christmas movies: all 150+ new holiday films out in theaters and on streaming this year, from Hallmark to Prime, Netflix, Disney+ and more!
We all know the Hallmark Channel, Lifetime and Great American Family are the go-to channels for Christmas movies, but what about 2022 's new theatrical releases and all the films you can watch on Netflix, Amazon Prime Video, Apple TV+, Hulu, Disney Plus, HBO Max and other streaming platforms as well? Some great new Christmas flicks are coming out this year, including a Ryan Reynolds/Will Ferrell collaboration, a much anticipated Guardians of the Galaxy Holiday Special, a dark holiday action-comedy starring David Harbour, and oh-so-many films about princes, chefs, and country singers.
We've made a list of all of November and December 2022 's new Christmas movies, to help you decide which holiday flicks to watch this year! You'll find all the films below, in order of release and divided by films you'll be able to see in theaters and on streaming platforms.
Don't forget to add this page to your bookmars, as we'll keep updating it throughout the year!
---
2022 CHRISTMAS MOVIES: NEW FILMS OUT IN THEATERS & VOD
ANOTHER CHRISTMAS
Director: Stacie Davis
U.S. & U.K. Release: November 8 – watch it here!
Official synopsis: Kelly Brooks (Sheena Faust) is an elementary school teacher who gave up on love until her childhood friend, Andrew (Malik Brazile), a professional baseball player returns home and invites Kelly to spend Christmas with his family. Although reluctant to attend a Christmas party after remembering how things ended with Andrew, she soon realizes she still has feelings for him.
---
SPIRITED (LIMITED)
Directors: Sean Anders & John Morris
U.S. Release: November 11 in select theaters
Global Release: November 18 on Apple TV+
Full Review: Spirited (Apple TV+) Review: That Christmas Morning Feelin'
Official synopsis: Imagine Charles Dickens' heartwarming tale of a scrooge visited by four ghosts on Christmas Eve—but funnier. And with Will Ferrell, Ryan Reynolds, and Octavia Spencer. Also, huge musical numbers. Okay, we're asking a lot. Maybe just watch the trailer?
---
CHRISTMAS IN THE CARIBBEAN
Director: Philippe Martinez
U.S. Release: December 2 in theaters and on demand
U.K. Release: TBA
Official synopsis: Left at the altar by her fiancé, Rachel (Elizabeth Hurley) takes her best friends on her honeymoon to the Caribbean, where she gets her groove on and finds love at the beach.
---
MISTLETOE RANCH
Director: Rhiannon Bannenberg
U.K. Release: December 2
U.S. Release: 2023
Official synopsis: In this charming and festive romance, international photographer Aimée Tremblay (Mercy Cornwall, Dive Club) returns to the town of Snowy Oak to restore the seasonal spirit. There, she reunites with her ex- fiancé, James Hunt (Jordi Webber, Power Rangers), and discovers her family property, Mistletoe Ranch, is in debt. As Aimée faces a choice between returning to manage the property or selling it so she can continue to pursue her dream career, she finds herself reconnecting with the ranch, the locals, and James.
---
VIOLENT NIGHT
Director: Tommy Wirkola
Global Release: December 2 in theaters
Full Review: Violent Night (Review): David Harbour's Santa Claus Saves The Day
Official synopsis: From 87North, the bare-knuckle producers of Nobody, John Wick, Atomic Blonde, Deadpool 2, Bullet Train and Fast & Furious Presents: Hobbs & Shaw comes a coal-dark holiday action-comedy that says you should always bet on red. When a team of mercenaries breaks into a wealthy family compound on Christmas Eve, taking everyone inside hostage, the team isn't prepared for a surprise combatant: Santa Claus (David Harbour, Black Widow, Stranger Things series) is on the grounds, and he's about to show why this Nick is no saint.
---
CHRISTMAS BLOODY CHRISTMAS
Director: Joe Begos
U.S. Release: December 9 in theaters and on Shudder
Global Release: December 9 on Shudder
Full Review: Christmas Bloody Christmas (Review): Santa Claus is Coming to Town
Official synopsis: It's Christmas Eve and fiery record store owner Tori Tooms just wants to get drunk and party until the robotic Santa Claus at a nearby toy store goes haywire and makes her night more than a little complicated. Santa Claus begins a rampant killing spree through the neon-drenched snowscape against a backdrop of drugs, sex, metal, and violence, ultimately forcing Tori into a blood-splattered battle for survival against the ruthless heavy metal Saint Nick himself.
---
THE MEAN ONE
Director: Steven LaMorte
U.S. Release: December 9 in select theaters, December 15 on VOD
U.K. Release: TBA
Official synopsis: In the audacious new parody, The Mean One (David Howard Thornton) is a hairy, green-skinned grump in a Santa suit, living on a mountain high above the town of Newville, despising the holiday season. Young Cindy You-Know-Who (Krystle Martin), whose parents were butchered by The Mean One twenty Christmases earlier, is returning to town to seek closure… but when the Mean One launches a new reign of terror that threatens to destroy Christmas, Cindy finds a bold new purpose – trapping and killing the monster.
---
2022 CHRISTMAS MOVIES: NEW FILMS TO WATCH ON STREAMING PLATFORMS
AMAZON PRIME VIDEO & FREEVEE
YOUR CHRISTMAS OR MINE?
Release Date: December 2
Cast: Asa Butterfield, Cora Kirk, Daniel Mays, Angela Griffin
Official synopsis: It's Christmas Eve-Eve and after a mix up, a young couple experience each other's family Christmases.
HOTEL FOR THE HOLIDAYS
Release Date: December 2
Cast: Madelaine Petsch, Mena Massoud, Max Lloyd-Jones, Kayleigh Shikanai, Jami Belushi, Neil Crone, Jayne Eastwood
Official synopsis: Hotel for the Holidays revolves around an ensemble of staff and guests at the charming Hotel Fontaine in New York City during Christmastime. Georgia (Petsch) is an ambitious young woman and the manager of the high-end hotel, which attracts guests of all kinds—including heartbroken singles, an infamous pop star, and a European ex-prince who recently abdicated his throne—all looking to escape from their everyday lives and come to the hotel as a sanctuary during the holiday season. Georgia's work and personal life become entangled when she is caught between the charming hotel chef Luke (Massoud) and the sophisticated ex-prince staying at the hotel. The storylines of Georgia and the hotel's eclectic guests twist, turn, and come together, as they unexpectedly find friendship, love, and inspiration.
SOMETHING FROM TIFFANY'S
Release Date: December 9
Cast: Zoey Deutch, Kendrick Smith Sampson, Ray Nicholson, Shay Mitchell, Leah Jeffries, Jojo T. Gibbs
Official synopsis: Nothing compares to the magic and excitement of the holidays in New York City, where the streets blaze with lights, windows dazzle and a special box from Tiffany could change the course of a person's life. Or several lives. Rachel and Gary are happy enough but not quite ready for that big commitment. Ethan and Vanessa, the perfect picture, are just about to make it official. When a simple mix-up of gifts causes all of their paths to cross, it sets off a series of twists and unexpected discoveries that lead them where they're truly meant to be. Because love – like life – is full of surprises, in the holiday romance Something from Tiffany's. Based on the book by Melissa Hill.
---
APPLE TV+
SPIRITED
Release Date: November 18
Cast: Will Ferrell, Ryan Reynolds, Octavia Spencer
Official synopsis: Imagine Charles Dickens' heartwarming tale of a scrooge visited by four ghosts on Christmas Eve—but funnier. And with Will Ferrell, Ryan Reynolds, and Octavia Spencer. Also, huge musical numbers. Okay, we're asking a lot. Maybe just watch the trailer?
FRAGGLE ROCK: BACK TO THE ROCK – NIGHT OF THE LIGHTS (HOLIDAY SPECIAL)
Release Date: November 19
Official synopsis: It's the Night of the Lights, the most Fraggily holiday of the year, and the Rock is filled with songs and cheer. When Jamdolin (voiced by Emmy Award-nominee Daveed Diggs, "Hamilton") encourages Wembley to make a special wish, the Fraggle head out on an adventure to find the brightest light and, maybe, the true meaning of the holiday. Jim Henson's fun-loving and musical Fraggles – Gobo, Red, Wembley, Mokey, Boober, and new Fraggle friends – have returned for all new adventures about the magic that happens when we celebrate and care for our interconnected world.
INTERRUPTING CHICKEN (HOLIDAY SPECIAL)
Release Date: December 2
Official synopsis: In the holiday special, "A Chicken Carol," Ebenezer Wolf decides to cancel the holidays, so Piper teams up with the Three Little Pigs and some ghostly friends to change his mind.
PRETZEL AND THE PUPPIES (HOLIDAY SPECIAL)
Release Date: December 2
Cast: Mark Duplass, Nasim Pedrad
Official synopsis: In "Merry Muttgomery!," when a heavy snowfall jeopardizes the annual holiday festival, the pups find unique ways to celebrate with all the snowed-in dogs in the city. Based on the beloved canine from the classic book "Pretzel" by award-winning authors Margret and H.A. Rey, creators of "Curious George," the original series follows the modern dog family led by stay-at-home dad Pretzel, his five adorable Dachshund puppies, and mom Greta, the mayor of Muttgomery. Together, the Doxies are always sniffing out ways to "make their bark" on their doggie hometown and make it a better place for their four-legged friends and neighbors. Pretzel and Greta encourage their pups to try to solve their own problems, often reminding them to "Get those PAWS UP!" whenever they face a challenge.
THE SNOOPY SHOW: HOLIDAY COLLECTION
Release Date: December 2
Official synopsis: In "Happiness Is the Gift of Giving," Snoopy adapts a Christmas poem to help Sally sleep, Charlie Brown makes gifts for his pals and Snoopy finds waiting to open his presents a challenge. An Apple TV+ original series from Peanuts and WildBrain, "The Snoopy Show" gives the world's most iconic dog his close-up and dives into new adventures with the happy-dancing, high-flying, big-dreaming beagle, who's joined by best friend Woodstock and the rest of the Peanuts gang.
I WANT A DOG FOR CHRISTMAS
Release Date: December 2
Official synopsis: All Rerun wants from Santa is a dog, but his mother won't let him have one. Spending time with Snoopy provides the perfect pick-me-up. But when Snoopy gets too busy to play with Rerun, they call in a substitute — Snoopy's brother Spike.
CHARLIE BROWN'S CHRISTMAS TALES
Release Date: December 2
Official synopsis: Celebrate the merriest time of the year with the Peanuts gang. Snoopy, Charlie Brown, Linus, Lucy and Sally each star in a collection of Christmastime tales from the original Peanuts comic strips.
A CHARLIE BROWN CHRISTMAS
Release Date: December 2
Official synopsis: In this beloved Peanuts special, feeling down about the commercialism of Christmas, Charlie Brown becomes the director of the gang's holiday play. Can he overcome his friends' preference for dancing over acting, find the "perfect" tree and discover the true meaning of Christmas?
THE BOY, THE MOLE, THE FOX AND THE HORSE
Release Date: December 25
Cast: Tom Hollander, Idris Elba, Gabriel Byrne, Jude Coward Nicoll
Official synopsis: A story of kindness, friendship, courage and hope for viewers of all ages in a heartwarming, classically animated film based on Charlie Mackesy's book. The poignant and heartfelt journey follows the unlikely friendship of a boy, a mole, a fox and a horse traveling together in the boy's search for home.
---
BET
A WESLEY CHRISTMAS
Release Date: November 3
Cast: Dorien Wilson, Jasmine Guy, Terrence Carson
Official synopsis: Adult siblings Chris, Todd and Cydney Wesley all travel to their childhood home in Washington, DC to celebrate the Christmas holidays with their parents Bryan and Sylvia and the entire Wesley family. Upon arrival, all kinds of family drama, a crazy neighbor and conflict ensues. With everyone together and all of their physical emotion baggage in tow, the annual Wesley family holiday promises to be a festive, hot-mess of a Christmas season with life-changing impacts on the entire family.
THE FIRST NOELLE
Release Date: November 10
Cast: Novi Brown, Todd Anthony, LaLa Milan
Official synopsis: After twenty years of friendship, Terrance and Noelle finally decide to date each other but ultimately break up when Terrance moves to London for work. Now that Terrance is back in Atlanta for Christmas with his new girl, also named Noelle, our lead is determined to get him back and say goodbye to being friend-zoned forever.
CHRISTMAS PARTY CRASHERS
Release Date: November 17
Cast: Skye Townsend, Jaime Callica, Cocoa Brown
Official synopsis: When two grifters meet after crashing the same millionaire's Christmas party, they agree to work together to achieve each other's "mission," not knowing that they would find something more than money or fame could offer – true love.
THE CHRISTMAS CLAPBACK
Release Date: November 24
Cast: Nadine Ellis, Porscha Coleman, Candace Maxwell, Brandon Sutton
Official synopsis: Every year, three sisters battle each other for a chance to win the Christmas cook-off competition. However, when a vivacious social media influencer, enters the competition, the sisters must choose to rise together or fall divided.
HOLIDAY HIDEAWAY
Release Date: November 24
Cast: Camille Winbush, Vivica A Fox, Leonard Earl Howze
Official synopsis: Carly Stewart is the queen of holiday celebrations, but her mistletoe misstep sends her running to a Holiday Hideaway that teaches her the importance of family, forgiveness, and fighting for love.
SOUND OF CHRISTMAS
Release Date: November 24
Cast: Ne-Yo, Serayah, Draya Michele, Michael Bless, Alijah Kai
Official synopsis: A woman facing eviction just before Christmas who must navigate budding romantic feelings for a handsome billionaire when she takes a job nannying for his two children right before Christmas.
ROLLING INTO CHRISTMAS
Release Date: December 1
Cast: Rhyon Nicole Brown, Donny Carrington, Brandee Evans, Gary Dourdan
Official synopsis: Two Childhood sweethearts who shared a passion for roller skating are reunited 15 years later during the holidays, forcing them to question their love and life choices.
A MIRACLE BEFORE CHRISTMAS
Release Date: December 8
Cast: LeToya Luckett, Romeo Miller, Demetrius Shipp Jr, Keith David
Official synopsis: With a little help from an angel, Mercedes Wright, a fast-talking popular relationship therapist with all the answers when it comes to fixing everyone else's marriage, must now use the magic of Christmas to find the secret to save her own.
BLACKJACK CHRISTMAS
Release Date: December 15
Cast: Dawnn Lewis, Adam Lazarre-White, Charmin Lee
Official synopsis: coming soon
---
CBS
REINDEER IN HERE (HOLIDAY SPECIAL)
Release Date: November 29
Cast: Adam Devine, Jim Gaffigan, Candace Cameron Bure, Henry Winkler, Donald Fayson
Official synopsis: Reindeer In Here is a heartwarming story of how Blizzard (Blizz), a young reindeer with one antler that's significantly smaller than the other, and his unique group of friends band together to save the future of Christmas. They unknowingly create a magical holiday tradition like none other along the way. Read more.
FIT FOR CHRISTMAS
Release Date: December 4
Cast: Amanda Kloots, Paul Greene, Rebecca Budig
Official synopsis: A Christmas-obsessed fitness instructor in Mistletoe, Montana, falls in love with the charming businessman who's about to transform her workplace into a profitable resort property.
MUST LOVE CHRISTMAS
Release Date: December 11 on CBS and Paramount+
Cast: Liza Lapira, Nathan Witte, Neal Bledsoe
Official synopsis: a renowned romance novelist famous for her Christmas-themed books finds herself snowbound in the charming town of Cranberry Falls. There, she unexpectedly becomes involved in a love triangle with her childhood crush and a reporter determined to interview her to save his dying magazine.
WHEN CHRISTMAS WAS YOUNG
Release Date: December 18
Cast: Tyler Hilton, Karen David
Official synopsis: A successful music manager returns home to secure the rights to a Christmas love song written by his high school girlfriend.
---
DISCOVERY+
A CHRISTMAS OPEN HOUSE
Release Date: November 11
Cast: Katie Stevens, Monica Garcia Bradley, Bobbi Eakes, Victor Rasuk
Official synopsis: Melissa Norwood has been building her career as a property stager in Atlanta, with hopes of opening her own business someday soon. Melissa specializes in making spaces appealing to buyers by removing anything too personal, but when she teams with realtor David Phelps to stage her own childhood home, getting too personal is something she may not be able to avoid.
DESIGNING CHRISTMAS
Release Date: November 11
Cast: Mykee Selkin, Jessica Szohr, Marco Grazzini, Leighton Williams, Hilary Farr
Official synopsis: Renovation show hosts Stella and Pablo are thrown for a loop when the owners of a home slated for their upcoming episodes pulls out. To save the ep, the team asks Stella to be their next client, can she renovate her family's and move her nuptials to fiancé Jack several months? Hilary Farr has a cameo in the movie.
A GINGERBREAD CHRISTMAS
Release Date: November 11
Cast: Tiya Sircar, Marc Bendavid, Sugith Varughese
Official synopsis: Hazel Stanley, an aspiring architect, understands the importance of a good plan. But when her own life plans falls apart, Hazel will have to find a new recipe for success. On the last day of her internship at a top New York City architecture firm, Hazel learns she is being passed over for her dream job. Devastated and needing a change of scenery, she heads to the Chicago suburb of Oak Park to spend the holidays with her father. But her happy homecoming is short-lived.
ONE DELICIOUS CHRISTMAS
Release Date: November 11
Cast: Vanessa Marano, Alex Mallari Jr., Elana Dunkleman
Official synopsis: Since inheriting the Haven Restaurant and Inn, Abby Richmond has been determined to maintain the traditions her parents had lovingly cultivated in the quaint Vermont location. But when she is forced to implement new ideas in order to secure the future of Haven, how far can she bend without breaking not only tradition but also her heart?
---
DISNEY PLUS
THE SANTA CLAUSES (SERIES)
Release Date: November 16
Cast: Tim Allen, Elizabeth Mitchell, Kal Penn, Eric Lloyd, Austin Kane
Official synopsis: Scott Calvin is back! After being Santa Claus for nearly thirty years, he's as jolly as ever. But as Christmas declines in popularity, so does his Santa magic. Scott struggles to keep up with the demands of the job, as well as being there for his family. Upon discovering there is a way to retire from his post, Scott considers stepping down as Santa Claus and finding a worthy successor so that he can become a better father and husband.
THE GUARDIANS OF THE GALAXY: HOLIDAY SPECIAL
Full Review: The Guardians of The Galaxy Holiday Special
Release Date: November 25
Cast: Chris Pratt, Dave Bautista, Karen Gillan, Pom Klementieff, Kevin Bacon, Vin Diesel, Bradley Cooper
Official synopsis: This holiday season is going to be out of this world.
THE HIP HOP NUTCRACKER
Release Date: November 25
Cast: Caché Melvin, Allison Holker Boss, Stephen "tWitch" Boss, Du-Shant "Fik-shun" Stegall, Comfort Fedoke
Official synopsis: RUN DMC's Rev Run brings us along for a hip-hop reimagining of The Nutcracker ballet set in New York City. It's the night of the annual New Year's Eve Block Party and Maria-Clara's (Caché Melvin) Mom and Pop (Allison Holker Boss and Stephen "tWitch" Boss) aren't getting along — and it's bringing her down. Maria-Clara embarks on a holiday adventure to bring her parents back together, finding help along the way from the magical toymaker, Drosselmeyer (Comfort Fedoke), and the Nutcracker (Du-Shant "Fik-shun" Stegall) who she brings to life. Maria-Clara's journey takes her from the streets of New York to fantasy worlds where she battles with Mice and Toy Soldiers (Viktor White, BDash, Kevin "Konkrete" Davis), and back in time to the Land of Sweets in order to find the key to unlock her holiday wish. Will it be enough to rekindle her parents' lost love before the clock strikes midnight?
---
GREAT AMERICAN FAMILY
A ROYAL CHRISTMAS ON ICE
Release Date: November 5
Cast: Anna Marie Dobbins, Jonathan Stoddard
Official synopsis: Looking to escape his Royal life, a dashing prince comes to the United States to start a business in a small town in upstate New York and winds up falling for a former Olympic ice skater.
LOVE AT THE CHRISTMAS CONTEST
Release Date: November 6
Cast: Samantha Cope, Ross Jirgl
Official synopsis: For as long as she can remember, Angie's favorite part of Christmas has been the Christmas Eve tree lighting in town square. But this Christmas, her first without her mom, Angie doesn't feel much like celebrating… until she learns her mom had always dreamed of winning the annual tree decorating contest and seeing her tree lit up in town square. Angie realizes winning the contest and decorating the town's tree is the perfect way to honor her mom. What Angie isn't expecting is her high school sweetheart David and his adorable daughter Gabby to enter the contest, too.
A MERRY CHRISTMAS WISH
Release Date: November 12
Cast: Jill Wagner, Cameron Mathison
Official synopsis: An NYC advertising executive returns to her hometown to sell the family farm, but instead reconnects with her childhood friend and gets involved with organizing the yearly Winter Wonderland, which takes place on the property.
CHRISTMAS SWEETHEARTS
Release Date: November 13
Cast: Breanne Hill, Colton Little
Official synopsis: When a woman returns home to find her ex in a relationship, she enlists her best friend to act as her fake boyfriend.
CHRISTMAS IN PINE VALLEY
Release Date: November 19
Cast: Kristina Cole, Andrew Biernat
Official synopsis: Natalie is the owner of a successful farm/homegoods store that garners the attention of a major magazine. The magazine sends a reporter named Josh to profile Natalie's company thinking it's a family-run business. Little does he know that Natalie's business is run by her with the help of longtime family friends. Knowing how much the article will help struggling farm, Natalie must convince Josh that her "family" and Christmas traditions are all real.
MY FAVORITE CHRISTMAS TREE
Release Date: November 20
Cast: Giles Panton, Emma Johnson
Official synopsis: Kyla is a skilled genealogy researcher who's made a thriving business of putting together family trees. When she comes across new information regarding her mother's mysterious extended family, she and her sister travel to the charming town of Conifer, hoping to piece together their ancestry. The search leads Kyla to a generations-old Christmas tree farm, its stubborn but handsome owner… and, possibly, love.
CHRISTMAS AT THE DRIVE-IN
Release Date: November 25
Cast: Danica McKellar, Neal Bledsoe
Official synopsis: A property lawyer works to prove that her town's Drive In Theater, a local institution, is not closed down at the holidays, finding romance with the very person who is trying to sell the property.
I'M GLAD IT'S CHRISTMAS
Release Date: November 26
Cast: Jessica Lowndes, Gladys Knight, Paul Greene
Official synopsis: An aspiring singer is convinced to participate in a local production. Along the way, she finds hope and mentorship in her career. But will her professional success come at the cost of her chance at love?
CHRISTMAS ON CANDY CANE LANE
Release Date: December 3
Cast: Andrea Barber, Dan Payne
Official synopsis: Everyone's getting ready for Christmas in Icicle Falls, especially on Candy Cane Lane, where holiday decorating is taken very seriously. Tilda Morrison, town cop, is looking forward to celebrating Christmas in her first house…until she discovers that she's expected to "keep up" with the neighbors, including Ivy Donaldson, the inspiration behind the whole extravaganza. But when a third neighbor's Christmas display disappears, Tilda and Ivy will need to put aside their past differences and get on the case.
B&B MERRY
Release Date: December 4
Cast: Jesse Hutch, Jen Lilley
Official synopsis: Renowned luxury travel blogger, Tracey Moore, is invited to a Christmastime getaway in exchange for a review of a smalltown B&B. Despite her initial reservations, she finds herself wanting to help the small business… and falling for the owner's handsome son, Graham.
AISLE BE HOME FOR CHRISTMAS
Release Date: December 9
Cast: Jennifer Freeman, Garrett Watson
Official synopsis: Two exes finally reconnect when a snowstorm leaves them stranded in a superstore (without cell service or Wi-Fi) just before Christmas.
CROWN PRINCE OF CHRISTMAS
Release Date: December 10
Cast: Cindy Busby, Jilon VanOver
Official synopsis: Madison, an aspiring musician, jokingly tells her overbearing family that she is dating the prince of a small European nation. The joke goes to far as her friend/co-worker Sebastian is roped into impersonating the prince while visiting her family in New Jersey. Little does Madison know that Sebastian happens to be hiding a royal secret.
CRAFTING CHRISTMAS
Release Date: December 17
Cast: Jillian Murray, Joseph Cannata
Official synopsis: Over the week leading up to Christmas in the town of Bayside, Charlotte tries to capture her own unique style in the local art scene while also helping her mother, run the family restaurant. Disheartened and struggling to find time for her art, Charlotte throws out her latest painting, only to discover that it has been anonymously submitted to the Christmas art festival. It turns out that Wyatt, a visiting artist, stumbled upon her discarded work and is now using the festival's exposure to find its mysterious creator.
THE ART OF CHRISTMAS
Release Date: December 18
Cast: Brigitte Kingsley, Joe Towne
Official synopsis: After her latest gallery exhibition literally goes up in flames, struggling artist Liv James accepts a teaching job at a local elementary school to make ends meet. Through this reluctant career move she discovers her true self, a new sense of purpose and a surprising romance.
---
HALLMARK
A MAGICAL CHRISTMAS VILLAGE
Release Date: November 4
Cast: Alison Sweeney, Luke Macfarlane, Marlo Thomas
Official synopsis: A Christmas Village brings the magic of Christmas to the lives of Summer and her family, healing old wounds and bringing new love to Summer and her family.
LIGHTS, CAMERA, CHRISTMAS!
Release Date: November 5
Cast: John Brotherton, Kimberley Sustad
Official synopsis: When a holiday rom-com movie shooting in her town needs a costume designer, Kerry, a local shop owner, steps into the role. While working on the movie, she rediscovers her passion for costume design and finds herself falling for Brad, the film's famous leading man.
ALL SAINTS CHRISTMAS
Release Date: November 6
Cast: Ledisi, Roger Cross
Official synopsis: Lisette is a popular R&B singer who's getting ready to travel home to New Orleans for Christmas. When the media mistake a photo of her with her music producer ex as an engagement announcement, her family insists that he join her on the trip.
IN MERRY MEASURE
Release Date: November 11
Cast: Patti Murin, Brendan Penny
Official synopsis: When pop star Darcy returns home to spend Christmas with her sister and niece, she unexpectedly finds herself coaching the high school choir with her onetime rival, Adam.
THE ROYAL NANNY
Release Date: November 12
Cast: Rachel Skarsten, Dan Jeannotte, Greta Scacchi
Official synopsis: MI5 agent Claire goes undercover as the royal nanny, and must overcome the challenges of her assignment, like resisting the charms of Prince Colin while keeping the family safe at Christmas.
CHRISTMAS AT THE GOLDEN DRAGON
Release Date: November 13
Cast: Kara Wang, Osric Chau, Sara Canning
Official synopsis: With the town's landmark Chinese restaurant closing, two siblings find themselves reevaluating their lives alongside the restaurant's loyal patrons.
INVENTING THE CHRISTMAS PRINCE
Release Date: November 18
Cast: Tamera Mowry-Housley, Ronnie Rowe Jr.
Official synopsis: Shelby is about to quit her job as a rocket engineer when her daughter becomes convinced that her Scrooge-like boss, Evan, is the Christmas Prince; a story Shelby invented years ago. Starring Tamera Mowry-Housley and Ronnie Rowe.
THREE WISE MEN AND A BABY
Release Date: November 19
Cast: Paul Campbell, Tyler Hynes, Andrew Walker
Official synopsis:
WHEN I THINK OF CHRISTMAS
Release Date: November 20
Cast: Shenae Grimes-Beech, Niall Matter
Official synopsis: Sara comes home for Christmas to help her mom move, reconnects with a past love, and makes a surprising discovery for a holiday they will all remember. Shenae Grimes-Beech, Niall Matter, Beth Broderick.
MY SOUTHERN FAMILY CHRISTMAS
Release Date: November 24
Cast: Moira Kelly, Jaicy Elliot, Bruce Campbell, Ryan Rottman
Official synopsis: When invited to cover a Pere Noel Christmas celebration in Louisiana, Campbell, a journalist meets her estranged father and his new family for the first time. Stars Jaicy Elliot, Ryan Rottman, with Moira Kelly, and Bruce Campbell.
#XMAS
Release Date: November 25
Cast: Clare Bowen, Brant Daugherty
Official synopsis: When Jen gets the chance to enter a brand's design contest, she poses a family influencer, enlisting the help of her best friend, Max, and her baby nephew. When her video is selected as a finalist, Jen is torn on whether to go on with her perfect "family" or reveal the truth.
A ROYAL CORGI CHRISTMAS
Release Date: November 25
Cast: Hunter King, Jordan Renzo
Official synopsis: Prince Edmond hopes to win his mother's love back with the gift of an adorable but unruly corgi. He hires American dog trainer Cecily to make the corgi presentable for the annual Christmas ball. Stars Hunter King, Jordan Renzo.
A TALE OF TWO CHRISTMASES
Release Date: November 26
Cast: Kat Barrell, Chandler Massey
Official synopsis: Before Christmas, Emma's story splits into two possibilities. In one she goes home to reconnect with an old friend, in the other she explores a new crush in the city.
HAUL OUT OF THE HOLLY
Release Date: November 26
Cast: Lacey Chabert, Wes Brown, Ellen Travolta
Official synopsis: When Emily unexpectedly spends the holidays alone at her parents' house, their HOA insists that she participate in its many Christmas festivities.
A CHRISTMAS COOKIE CATASTROPHE
Release Date: November 27
Cast: Rachel Boston, Victor Webster
Official synopsis: Annie faces her first obstacle as CEO of Cooper's Cookies when grandma's secret recipe is stolen. While investigating the theft, she works with local baker Sam to recreate the beloved recipe.
A HOLIDAY SPECTACULAR
Release Date: November 27
Cast: Ginna Claire Mason, Derek Klena, Eve Plumb
Official synopsis: In 1958, Maggie is an heiress from Philadelphia who puts her high-society wedding plans on hold in order to sneak up to New York City and make her secret dream come true: dancing live on stage in the Christmas Spectacular at Radio City Music Hall.
A BIG FAT FAMILY CHRISTMAS
Release Date: December 2
Cast: Tia Carrere, Shannon Chan-Kent, Shannon Kook
Official synopsis: Liv is a photojournalist eager to make it on her own. To get a dream assignment – shooting the Chang family's annual holiday party for a cover story – she doesn't reveal that they are in fact, her family. When she finds herself growing close to Henry, the coworker covering the story with her, she wants to confide in him but doesn't want to jeopardize her big break.
A FABLED HOLIDAY
Release Date: December 3
Cast: Brooke D'Orsay, Ryan Paevey
Official synopsis: Talia and her childhood best friend Anderson unexpectedly reunite in a familiar looking town full of Christmas spirit that restores its visitors during their times of deep turmoil.
UNDERCOVER HOLIDAY
Release Date: December 4
Cast: Brooke D'Orsay, Ryan Paevey
Official synopsis: When returning home for the holidays, newly minted pop star Jaylen tells her protective family that her overzealous security guard Matt is, in fact, her new beau.
THE MOST COLORFUL TIME OF THE YEAR
Release Date: December 9
Cast: Noemi Gonzalez, Stephen Huszar
Official synopsis: Ryan is a elementary school teacher, who learns that he is colorblind. Michelle, an optometrist and mother of one of his students, helps bring color into his life in time for the holidays.
CHRISTMAS CLASS REUNION
Release Date: December 10
Cast: Aimeé Teegarden, Tanner Novlan
Official synopsis: Valedictorian Elle is determined to host a perfect 15-year high school reunion. She's looking forward to seeing her high school crush Kam, but she finds unexpected support in bad boy Devin.
THE HOLIDAY SITTER
Release Date: December 11
Cast: Chelsea Hobbs, Jonathan Bennett, George Krissa
Official synopsis: When Sam, a workaholic bachelor, babysits his niece and nephew before the holidays, he recruits help from their handsome neighbor Jason and finds himself in an unexpected romance.
HOLIDAY HERITAGE
Release Date: December 16
Cast: Lyndie Greenwood, Brooks Darnell
Official synopsis: Ella, with the help of Griffin her ex-boyfriend, encourages her family to celebrate Christmas and Kwanzaa and to heal their past wounds before it's too late.
TWAS THE NIGHT BEFORE CHRISTMAS
Release Date: December
Cast: Torrey DeVitto, Zane Holtz
Official synopsis: A former actress trying to break into directing tests her skills with a Christmas Eve courtroom production in which the true authorship of the famous poem "A Visit from St. Nick" is debated.
HANUKKAH ON RYE
Release Date: December
Cast: Yael Grobglas, Lisa Loeb, Jeremy Jordan
Official synopsis: A matchmaker connects Molly and Jacob, but their new romance is put to the test when they realize that they are competing deli owners. Will a Hanukkah miracle keep them together?
---
HBO/ HBO MAX
A CHRISTMAS STORY CHRISTMAS
Release Date: November 17
Cast: Peter Billingsley, Erinn Hayes
Official synopsis: The family comedy "A Christmas Story Christmas" is the long-awaited follow-up to annual holiday favorite, "A Christmas Story." This time, Ralphie is all grown up and must deal with Christmas and all that comes with it…as a dad. Peter Billingsley returns to the role that has made kids of all ages anticipate Christmas morning like no other.
A CHRISTMAS MYSTERY
Release Date: November 24
Cast: Violet McGraw, Eddie Cibrian, Christoph Sanders, Drew Powell, Lauren Lindsey Donzis, Santino Barnard, Leonardo Cecchi, Beau Bridges, Oscar Nuñez
Official synopsis: 100 years ago, a strip of Santa's magical jingle bells were discovered by a young boy in Pleasant Bay, Oregon, bringing about a century of prosperity and peace for the small town. Now, just days before Christmas, the bells are missing, and it's up to a group of intrepid kids to solve the case, find the bells and restore the Christmas magic.
HOLIDAY HARMONY
Release Date: November 24
Cast: Annelise Cepero, Jeremy Sumpter, Carla Jimenez
Official synopsis: Singer-songwriter Gail lands an opportunity to compete for a once-in-a-lifetime shot at the big time, and heads cross country-only getting as far as Harmony Springs, Oklahoma when her ride, her budget and all her hopes are stalled. With just two weeks to get to the iHeartRadio Christmas Eve performance of her dreams, she takes the advice of a local Jack-of-all-trades, and takes on a group of misfit kids hoping to perform in a Christmas Eve gala of their own. Gail and Jeremy grow close, but if she's going to fulfill her lifelong dream, she may have to leave him and the town she's grown to love behind.
A HOLLYWOOD CHRISTMAS
Release Date: December 1
Cast: Jessika Van, Josh Swickard, Anissa Borrego, Riley Dandy, Zak Steiner, Tom Williamson, Emelia Hartford
Official synopsis: Jessica, a young director in Hollywood, has become famous for her Christmas movies. But when a charming network executive threatens to halt production on her latest film, Jessica's assistant points out that Jessica isn't just trying to save her Christmas movie, but she's actually living in one. Jessica must deal with all the classic Christmas film tropes if she wants to get her happy ending for both herself and the movie.
---
HULU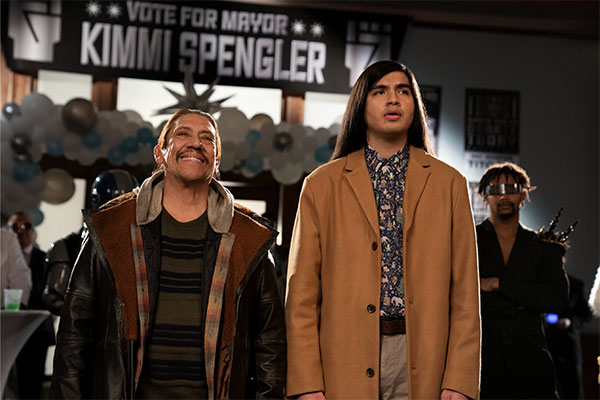 IT'S A WONDERFUL BINGE
Release Date: December 9
Cast: Eduardo Franco, Dexter Darden, Zainne Saleh, Marta Piekarz, Danny Trejo, Tony Cavalero, Nick Swardson, Kaitlin Olson, Tim Meadows, Paul Scheer, Patty Guggenheim, Esteban Benito, Eileen Galindo, Karen Maruyama
Official synopsis: All drugs and alcohol are illegal except on the day of the Binge. Several years after their first Binge, best friends Hags, Andrew, Sarah, and Kimi face the realities of young adulthood as the annual Binge Day is moved to Christmas Eve. Amidst the chaos, Hags plans a proposal to Sarah while Andrew deals with his rocky relationships with his family and his girlfriend Kimmi. Will they survive this holiday season?
---
ION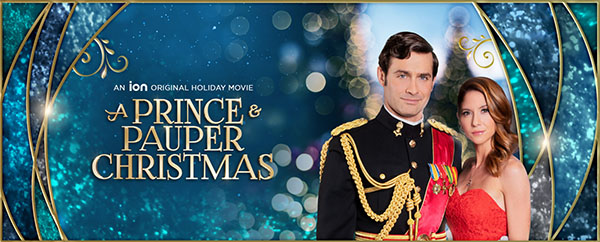 THE CASE OF THE CHRISTMAS DIAMOND
Release Date: November 20
Cast: Kelly Daly, Billy Baldwin
Official synopsis: Blue collar Andy is a little nervous but thrilled when she is invited to her rich friend's estate for Christmas, but when the family matriarch's multi-million-dollar gem suddenly goes missing she finds herself accused of the theft. With the help of a famous mystery writer, Andy must find the real culprit amid the litany of wealthy guests all of whom have their knives out for her.
DOGNAPPED
Release Date: November 27
Cast: Sara Ball, Noah Fearnley
Official synopsis: When an egotistical social media influencer's dog is kidnapped overnight, her long-suffering assistant, Emily Chaiet, teams up with charming local vet, James Conway, to find the puppy before Christmas. As the two investigate suspects including a rival influencer, a crazed fan, and the father of a spoiled little rich girl, they form a romantic bond along the way… until she suspects her charming vet isn't all he seems to be.
THE SEARCH FOR SECRET SANTA
Release Date: December 4
Cast: Skye Coyne, Alex Trumble, Jacee Harry
Official synopsis: Cub reporter Sofia thinks she's found a Christmas story that will save her career when she discovers a long-lost, undelivered Secret Santa gift… from "B. to Claire." But the mystery gets even juicer when she learns that the item – a priceless Fabergé egg – was in fact stolen years ago. With the help of a handsome & shady art dealer, she sets off on a dangerous, romantic quest to match the Secret Santas and catch the thieves.
A PRINCE AND PAUPER CHRISTMAS
Release Date: December 11
Cast: Brittany Underwood, Tom Arnold
Official synopsis: When her down-on-his luck confidential informant in a criminal investigation suddenly goes missing, a desperate young federal agent recruits his doppelgänger to play his role. But her job gets even harder when she falls for the criminal's stand-in… who just happens to be a European prince visiting the states for Christmas.
---
LIFETIME
MERRY SWISSMAS
Release Date: November 5
Cast: Jane Wheeler, Jodie Sweetin, Tim Rozon, Mikaela Lily Davies
Official synopsis: Alex has wonderful memories of Christmas with her best friend Beth, until Beth started dating Alex's ex, Jesse. Because she has missed the last few Christmases with family due to her demanding job as an architect, Alex is excited to spend the holidays with her mother Caroline, who is opening an inn in Switzerland. Much to her dismay, she learns that Jesse and Beth are also visiting for the Inns' opening. When Alex meets Liam, a single father and the manager of her mother's inn, Liam attempts to show her all the Christmas traditions and culture of Switzerland and helps Alex open herself up to love and forgiveness this holiday season.
WELL SUITED FOR CHRISTMAS
Release Date: November 6
Cast: Mercedes de la Zerda, Franco Lo Presti
Official synopsis: Fashion designer Rachel Rocca (Mercedes de la Zerda) lands a spot in a design competition to create a tuxedo for one of the city's most eligible bachelors, Brett Stone (Franco Lo Presti), for a Christmas charity gala. As Rachel begins to unthread his well-spun public image, she discovers the true reason behind his Christmas charity, and find themselves falling in love.
CHRISTMAS ON MISTLETOE LAKE
Release Date: November 10
Cast: Genelle Williams, Corey Sevier, Hattie Kragten
Official synopsis: Every Christmas, Reilly Shore picks a random spot on the map to take an adventurous trip. This year, that destination is the quaint hamlet of Mistletoe Lake. As she arrives, Reilly discovers that the town's lone bed & breakfast is full due to the town's annual Christmas Harbor Festival. When twelve-year-old Emma invites Reilly to stay on her dad's boat, she learns that Emma's dad Raymond Mitchell is selling his boat and can't participate in the festival. Saddened, Emma enlists Reilly's help to convince Raymond to enter into the festival so they can have one last perfect Christmas on Mistletoe Lake.
THE DOG DAYS OF CHRISTMAS
Release Date: November 11
Cast: Georgia Flood, Ezekiel Simat
Official synopsis: While visiting her family during Christmastime, Annie Blake decides to help three stray dogs get adopted before heading back into her career working for a global non-profit. But when she runs into local veterinarian, Dylan Hawkes, her old high school debate partner, they team up to save an animal rescue. Ultimately, Annie discovers that finding love, and making a difference in the world, can happen right at home.
REINDEER GAMES HOMECOMING
Release Date: November 12
Cast: Brian Sills, Sarah Drew, Justin Bruening
Official synopsis: MacKenzie Graves is a brilliant, competitive, crossword puzzle loving Biology teacher in Vermont who recently lost her father, beloved fire chief and the heart of the town's holiday fundraising tradition "The Reindeer Games." Every year since his death, she competes with her dad's former team, a group of colorful retired firefighters, to win the Games and keep his tradition alive. The holiday however, her world is rocked when fading Hollywood star, and Mac's high school crush, Chase Weston, comes home for Christmas to visit his pregnant sister and nephew and is begrudgingly roped into participating in the Games. When the opportunity to compete against her former mega crush arises, Mac is determined to show him up and win the Kris Kringle Cup at all costs. As the competition heats up, so does the spark between Mac and Chase, and Chase soon finds himself eager to not only win the games, but also win her heart as well.
SIX DEGREES OF SANTA
Release Date: November 13
Cast: Kathryn Davis, Steve Lund
Official synopsis: Christmas enthusiast and single mom Harper has created a program, Six Degrees of Santa, in which anonymous "Santas" give a gift and set of instructions to be passed along, temporarily enjoyed, and re-gifted, indefinitely. Her goal is to create a Christmas experience that's real-life, magical, and unexpected. When Harper's own gift lands in the hands of a leading internet entrepreneur, Jason, he's convinced that the original Santa might be his soulmate. He seeks out Harper, as the architect of the program, to help him track down this mystery woman.
SWEET NAVIDAD
Release Date: November 17
Cast: Camila Banus, Mark Hapka
Official synopsis: Lovable pastry chef Carmen dreams of opening her own Puerto Rican-influenced bakery. When hotel owner Victor Flores discovers Carmen's talents, he invites her to apply for a position as pastry chef for his hotel's holiday gala. Knowing other applicants will have culinary-school backgrounds, as opposed to her homegrown skills, Carmen reluctantly applies. When she is accepted, she's paired with chef Jax to curate the perfect holiday menu. But the two do not mix well. Carmen is messy and cooks from the heart; Jax is a perfectionist fixated on technique. As they race against the clock to assemble their intricate holiday menu, sparks fly, and they realize they might have more to learn from one another than they initially thought.
A COUNTRY CHRISTMAS HARMONY
Release Date: November 18
Cast: Brooke Elliott, Brandon Quinn
Official synopsis: Before country music star Chrissy's (Brooke Elliott) rise to fame, she was a small-town girl with big dreams. Now, with her music sales on a decline, Chrissy's manager concocts a plan to have her return to her hometown for a televised Christmas concert where Chrissy must debut a new song. Chrissy is reluctant to return to the place she left years ago, but with encouragement from her best friend, Eugene (Danny Pintauro), she agrees to do the show. When she arrives home, Chrissy bumps into her ex-boyfriend, Luke (Brandon Quinn), who wrote the songs they performed as a duo when she first started out. Equally surprised to see Chrissy, Luke is still angry their relationship has been strained ever since Chrissy left to pursue a solo career. Trapped by a blackout, they are forced to seek shelter at Luke's ranch home where they realize they need each other to make both her live concert and Luke's grandmother Pearl's (Ann Walker) Christmas party a success (2022).
SANTA BOOTCAMP
Release Date: November 19
Cast: Rita Moreno, Emily Kinney, Patrick Cassid
Official synopsis: When event planner, Emily Strauss, is hired by mall magnate, Ed Mancini to stage the ultimate Christmas Gala for his most important investors, Emily finds herself being sent to bootcamp–Santa Bootcamp–to find the perfect Santa and inspiration she will need to make the evening a success. While there, Emily meets Belle, the bootcamp's drill sergeant with a heart of gold, who helps Emily rediscover the magic of Christmas and find romance along the way.
A SHOW-STOPPING CHRISTMAS
Release Date: November 20
Cast: Jamie Perez, Thomas McDonnell
Official synopsis: Riley Burdett is the artistic director of the Onota Theatre in Western Massachusetts. When Regina, the Scrooge-like owner of the theatre, breaks the news that she's preparing to sell the property before the holiday performance, Riley must call upon the ghosts of Regina's past, present, and future to change her mind. Meanwhile, a big TV star, Sam Palmer, has moved to the area to escape the craziness of Hollywood. Riley casts him as Bob Cratchit in A Christmas Carol and his star power, his cleverness, and his budding love for Riley helps her save the theatre…and steal her heart during this very special Christmastime.
BAKING ALL THE WAY
Release Date: November 24
Cast: Cory Lee, Yannick Bisson
Official synopsis: A pastry chef from Chicago finds herself in Wisconsin convincing a baker to give her his gingerbread recipe for her new cookbook.
STEPPIN INTO THE HOLIDAY
Release Date: November 25
Cast: Cheri Oteri, Mario Lopez, Jana Kramer,
Official synopsis: Former Broadway star, Billy Holiday, returns to his hometown for Christmas after being abruptly fired as the host-producer-judge of the hit TV series "Celebrity Dance Off." While there, he encounters Rae, the charismatic owner of the local dance studio, where Billy's 12-year-old nephew is her standout student. This Christmas Rae is planning a dance recital fundraiser with the goal of taking her students to see a Broadway show in New York City. Billy volunteers to help Rae with the recital by reviving the town's traditional Christmas Eve show which was once a showcase for local talent. With Billy's knack for producing and Rae's knowledge of all things local, their collaboration clicks, and romantic sparks start flying!
THE 12 DAYS OF CHRISTMAS EVE
Release Date: November 26
Cast: Kelsey Grammer, Spencer Grammer
Official synopsis: Brian Conway a successful businessman gets into a car accident on Christmas Eve, Santa gives him twelve chances to re-do the day and repair the relationships in his life to find the true meaning of Christmas.
A CHRISTMAS SPARK
Release Date: November 27
Cast: Jane Seymour, Joe Lando
Official synopsis: Recently widowed Molly has lost her zest for life and given up on ever finding love again. But when she decides to visit her daughter for Christmas she has no idea what holiday magic is in store for her. A former drama teacher, Molly reluctantly takes on the job of directing the town's Christmas pageant and soon finds herself falling for her leading man, Hank, the town's most eligible bachelor. As Molly and the irrepressible Hank fall in love, she rediscovers her inner free spirit and finds a new lease on life. And when the star of the pageant loses her voice moments before the show, it will be up to Molly to step into the spotlight and shine brightly for the first time in her life.
SERVING UP THE HOLIDAYS
Release Date: December 1
Cast: Britt Irvin, Zach Roerig
Official synopsis: Scarlett is a chef and co-owner of a restaurant. This year, her best friend buys her a ticket to a holiday cooking getaway, where Scarlett will relearn festive cooking, and maybe find love in a handsome rival chef from her past.
CLOUDY WITH A CHANCE OF CHRISTMAS
Release Date: December 2
Cast: Nicole Bilderback, Valery Ortiz, Brandon Quinn
Official synopsis: When a weather forecaster is asked to host her network's annual snow-cast in the wintry town of Leavenworth live with the network's morning show host and a longtime rival of hers, tension brews and romantic sparks fly between them on air.
A NEW ORLEANS NOEL
Release Date: December 3
Cast: Whoopi Goldberg, Keshia Knight Pulliam, Brad James, Patti LaBelle
Official synopsis: Grace Hill (Keshia Knight Pulliam) and Anthony Brown (Brad James) could not be more different. Despite having gone to college to study architecture together, their lives took them on completely separate paths. But when they're both hired to work together on the home of Loretta Brown (Patti LaBelle)—a New Orleans praline icon—the two find themselves stuck working together at Christmas…and butting heads over more than just architecture. When Anthony and his family discover that Grace will be celebrating Christmas alone, they invite her to take part in their traditions and their celebrations. Soon, fiercely independent Grace begins to learn the importance of family and community, while modern Anthony learns to embrace tradition and the magic of Christmas. And when Grace is offered a new job far away from New Orleans, she'll have to decide if she'll leave or follow her heart.
MERRY TEXTMAS
Release Date: December 4
Cast: Ariana Ron Pedrique, Rodrigo Massa
Official synopsis: Gaby Diaz (Ariana Ron Pedrique) is an app developer from Austin, Texas, and the last unmarried sibling in her very close and very traditional family. Every year, the Diaz family gathers at abuela's house in Oaxaca, Mexico, a town renowned for its "12 Challenges of Christmas," which playfully ignites the entire town's Christmas spirit. When Gaby accidentally adds Alex Alvarado (Rodrigo Massa), a handsome graphic designer who's lost touch with his own Mexican roots, to the family group chat, her well-meaning family decides to secretly invite him to join them in Oaxaca for Christmas. As they begin to play matchmaker for Gaby and Alex, can the Diaz family help Gaby and Alex recognize that each of them is actually the other's perfect Christmas present?
SCENTSATIONAL CHRISTMAS
Release Date: December 8
Cast: Nanzeen Contractor, Mykee Selkin
Official synopsis: Ellie is a perfumer who in the search for inspiration decides to return home for Christmas. There she meets Logan, a handsome writer, which helps her with the Christmas orders of the struggling candle business of her family.
A RECIPE FOR JOY
Release Date: December 9
Cast: Erin Agostino, Dillon Casey
Official synopsis: When ambitious food correspondent, Carly Hayes (Erin Agostino), gets a shot at her own TV show, nothing goes as planned. She's sent to Angel Heights to help Grant Quinn (Dillon Casey), a perfectionist, attention-shy chef, reopen his family's beloved diner and film it as a holiday special pilot for her television show. Thanks to Carly, Grant will not only re-open his restaurant, but most probably his heart too.
KIRK FRANKLIN'S THE NIGHT BEFORE CHRISTMAS
Release Date: December 10
Cast: Naturi Naughton, Lorea Turner, Kirk Franklin
Official synopsis: An estranged mother and her daughter get caught in a snowstorm on Christmas Eve and are forced to take refuge inside a church. They meet a handsome pastor and a music teacher who motivate them to reconnect.
SINGLE AND READY TO JINGLE
Release Date: December 11
Cast: Natasha Wilson
Official synopsis: Emma Warner, as a SVP of a toy company, spends 12 months a year focusing on Christmas, leaving no time for dating. This year, she plans a trip to a tropical singles resort, but a booking mistake takes her to a Christmas obsessed town.
RECORD BREAKING CHRISTMAS
Release Date: December 15
Cast: Michelle Argryis, Andrew Bushell
Official synopsis: Leah Hoffman (Michelle Argyis), an adjudicator for The World Record Bureau, draws the short straw and is forced to travel to a small town just before Christmas to investigate its plans to break multiple holiday world records. As she falls for the town's doctor, Devan Bancroft (Andrew Bushell), she discovers that the whole town is in cahoots, and she just may be the person who can help them reach their true Christmas goal.
A CHRISTMAS TO TREASURE
Release Date: December 16
Cast: Taylor Frey, Kyle Dean Massey
Official synopsis: The passing of beloved Ms. Marley reunites six estranged friends for one final hometown holiday treasure hunt. As the search unfolds and fond childhood memories are relived, sparks fly between Austin Craig (Taylor Frey) and his former best friend Everett Matthews (Kyle Dean Massey). The gang find the hidden treasure before the city has the chance to turn the Marley house into a holiday resort but the blossoming holiday romance between Austin and Everett may turn out to be the greatest Christmastime treasure of all.
THE HOLIDAY DATING GUIDE
Release Date: December 17
Cast: Maria Menounos, Brent Bailey
Official synopsis: Dating coach and aspiring book author Abigale Slater is tasked by her publisher Jack to prove that her dating advice really works. With that, she decides to make a man fall for her by Christmas Eve in 12 days.
WRAPPED UP IN LOVE
Release Date: December 18
Cast: Brittany Bristow, Olivier Renaud
Official synopsis: Ashley has always been the "Christmas Queen" in town. That is, until she meets her match, Ben, a handsome new guy in town, who loves Christmas just as much as she does. They join forces to make Christmas even more meaningful.
---
NETFLIX
THE CLAUS FAMILY 2
Release Date: November 8
Cast: Mo Bakker, Jan Decleir
Official synopsis: Jules Claus has fully embraced Christmas and his future as Santa is ensured. Together with his grandfather Noël they are on their way to prepare for the best Christmas ever. With Christmas at their doorsteps everything runs smoothly until Jules gets a letter with a very unusual wish…
FALLING FOR CHRISTMAS
Release Date: November 10
Cast: Chord Overstreet, Lindsay Lohan
Official synopsis: A newly engaged, spoiled hotel heiress (Lindsay Lohan) gets into a skiing accident, suffers from total amnesia and finds herself in the care of a handsome, blue-collar lodge owner (Chord Overstreet) and his precocious daughter in the days leading up to Christmas.
CHRISTMAS WITH YOU
Release Date: November 17
Cast: Freddie Prinze Jr., Aimee Garcia
Official synopsis: Feeling career burn out, pop star Angelina escapes to grant a young fan's wish in small town New York, where she not only finds the inspiration to revitalize her career but also a shot at true love.
CHRISTMAS ON MISTLETOE FARM
Release Date: November 23
Cast: Scott Garnham, Scott Paige, Ashley Jensen, Kathryn Drysdale
Official synopsis: After inheriting a farm at Christmastime, a widowed father makes a bumpy adjustment to village life — while his kids hatch a plan to stay there forever.
THE NOEL DIARY
Release Date: November 24
Cast: Justin Hartley, Barrett Doss, Essence Atkins
Official synopsis: Cleaning out his childhood home at Christmas, a novelist (Justin Hartley) meets an intriguing young woman (Barrett Doss) searching for her birth mother. Will an old diary unlock their pasts — and hearts? Based on the novel by Richard Paul Evans and Directed by Charles Shyer (Father of the Bride).
SCROOGE: A CHRISTMAS CAROL
Release Date: December 2
Cast: Luke Evans, Jessie Buckley, Olivia Colman, Johnny Flynn
Official synopsis: On a cold Christmas Eve, selfish miser Ebenezer Scrooge has one night left to face his past and change the future before time runs out.
---
SHUDDER
CHRISTMAS BLOODY CHRISTMAS
Release Date: December 9
Cast: Riley Dandy, Sam Delich, Jonah Ray
Official synopsis: It's Christmas Eve and fiery record store owner Tori Tooms just wants to get drunk and party until the robotic Santa Claus at a nearby toy store goes haywire and makes her night more than a little complicated. Santa Claus begins a rampant killing spree through the neon-drenched snowscape against a backdrop of drugs, sex, metal, and violence, ultimately forcing Tori into a blood-splattered battle for survival against the ruthless heavy metal Saint Nick himself.
---
SKY & NOW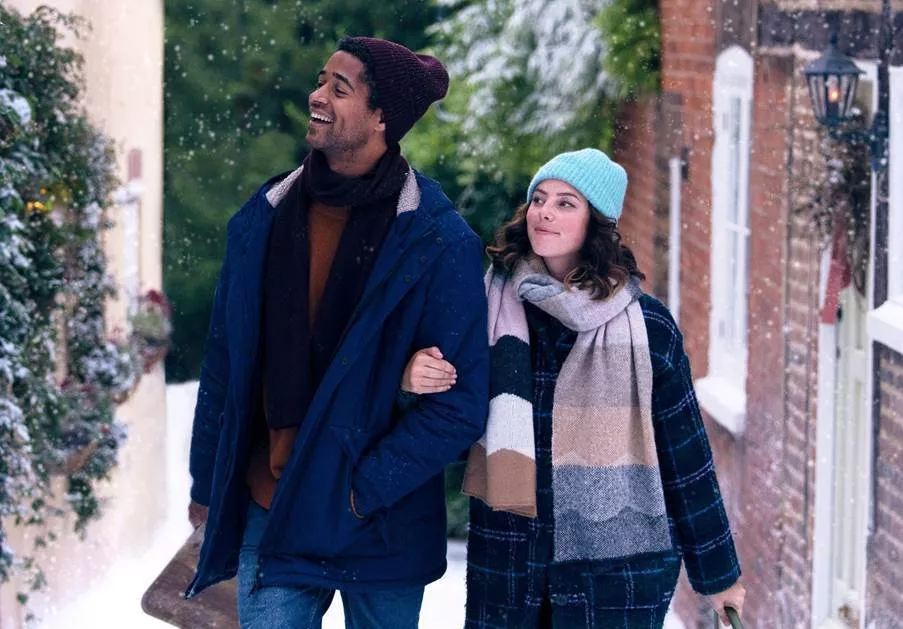 THIS CHRISTMAS
Release Date: December 25 (UK)
Cast: Alfred Enoch, Kaya Scodelario, Timothy Spall, Robert Emms, Joanna Scanlan, Ben Miller
Official synopsis: Adam and Emma commute from Langton to London every day, meeting the same passengers.
---
UPTV
UNPERFECT CHRISTMAS WISH
Release Date: November 4
Cast: Alys Crocker, David Pinard
Official synopsis: Madison O'Hara performs as a singing elf for Christmas parties with her best friend Cooper, but her real dream is to be a singer-songwriter and to find the perfect man.
CHRISTMAS IN THE PINES
Release Date: November 5
Cast: Jillian Murray, Dean Geyer
Official synopsis: As an up-and-coming magazine writer and a successful architect battle over ownership of an idyllic Christmas cottage, they soon discover that their cozy holiday getaway may not be the only thing they love.
A CHRISTMAS MASQUERADE
Release Date: November 6
Cast: Erin Agostino, David Lafontaine
Official synopsis: When Julieanne is mistaken for her glamorous boss at a Masquerade ball by a notoriously aloof businessman, she continues the ruse over Christmas. Will she be able to find real love in the makeshift Fairytale world they've created?
THE CHRISTMAS RETREAT
Release Date: November 11
Cast: Rhiannon Fish, Clayton James
Official synopsis: When Kim's boyfriend breaks up with her instead of proposing, her mom whisks her away to a Christmas retreat where she meets the owner's unemployed brother, Mark. But will they be able to see past the mistakes neither one wants to admit to and let the magic of the season connect them?
A TINY HOME CHRISTMAS
Release Date: November 12
Cast: Rebecca Dalton, Christopher Seivright
Official synopsis: In order to save her family's contracting business, Blair reluctantly teams up with her ex-boyfriend and former co-star of a hit home design reality show to build a tiny home for the unsheltered in the community, rekindling old sparks in the process… and just in time for Christmas.
THE PICTURE OF CHRISTMAS
Release Date: November 13
Cast: Chelsea Hobbs, Giles Panton
Official synopsis: An aspiring storybook illustrator in Manhattan returns home after inheriting her Grandmother's Christmas tree farm. Inspired by the magic of Christmas and the farm's handsome caretaker, she is reminded of the things she once wanted in life.
CHRISTMAS LUCKY CHARM
Release Date: November 20
Cast: Sugenia Sri, Adrian Spencer
Official synopsis: Every boyfriend Jessica has had found the love of his life right after he dated her. Just as Jessica leans into her unlucky love life and swears off dating for the Christmas season, a handsome gallery owner moves in across the street.
CHRISTMAS IN THE WILDS
Release Date: December 2
Cast: Kaitlyn Leeb, Victor Zinck Jr.
Official synopsis: Buck and Jessica's merry little Christmas together takes a dangerous turn when their journey through the wild turns into a battle for survival.
CHRISTMAS ON THE SLOPES
Release Date: December 3
Cast: Olivier Renaud, Soma Chhaya
Official synopsis: After a disappointing restaurant opening and an embarrassing break-up, a celebrity chef takes her first real Christmas vacation. When she wanders into the kitchen at a luxury resort and is mistaken for the sous chef by the handsome, but grouchy, head chef, their chemistry sparks a holiday romance. But will everything blow up when the head chef learns the truth about her?
CHRISTMAS ON THE ROCKS
Release Date: December 4
Cast: Lyla Porter-Follows, Jon McLaren
Official synopsis: A ski-lodge event manager's task of hosting a corporate Christmas party goes awry when the resort is cut off by a snowstorm and the hard-to-please CEO turns out to be an old flame.
A ROYAL CHRISTMAS MATCH
Release Date: December 10
Cast: Jordana Largy, Matthew MacCaull
Official synopsis: Princess Camille travels to America to create a cross-cultural college exchange program and falls for Professor Rhett. But when she discovers he was hired by her father to escort her, aka babysit her, she wonders if he cares more about her or his career.
SANTA'S GOT STYLE
Release Date: December 11
Cast: Kathryn Davis, Franco Lo Presti
Official synopsis: When department store executive Madison is charged with coming up with a fresh idea for the holiday season, she decides that instead of a classic Santa, this year they would hire a young Santa with lots of fashionable style. But when she has a difficult time finding the perfect model, her long-time best friend Ethan (who has been in love with her for years) throws on a beard and disguises himself as the Santa of her dreams.
SAPPY HOLIDAY
Release Date: December 17
Cast: Vanessa Sears, Jon McLaren
Official synopsis: Stranded in a small town after her car breaks down, Joy meets the charming James, a local trying to save his family's maple farm.
AN ECLECTIC CHRISTMAS
Release Date: December 18
Cast: Hannah Gallway, Jeremy Walmsley
Official synopsis: When a smalltown vintage store owner leaves instructions in her will for inventory to be distributed as Christmas gifts, her out-of-town niece seeks help from a handsome local in identifying recipients from the clues provided.
THE SNOWBALL EFFECT
Release Date: December 24
Cast: Anjali Khurana, Landon Moss
Official synopsis: Rival meteorologists tracking a massive snowstorm in the town of Mistletoe must work together to get home in time for Christmas.
CHRISTMAS IN WOLF CREEK
Release Date: December 25
Cast: Nola Martin, Tim Rozon
Official synopsis: When a runaway reindeer threatens the annual Christmas play, a struggling couple must work together to save Christmas for the town and each other.
---
VH1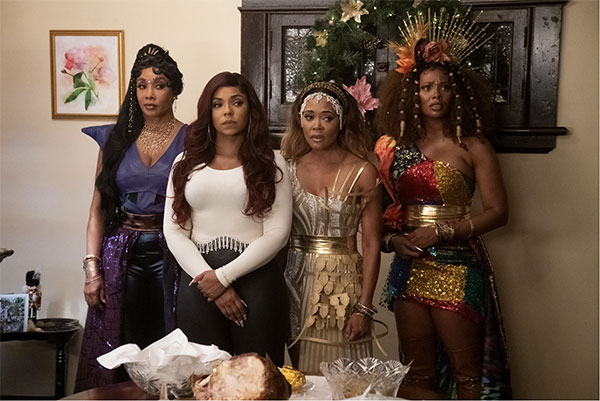 HIP HOP FAMILY CHRISTMAS WEDDING
Release Date: November 30
Cast: Keri Hilson, Ne-Yo, Terrence J, Serayah, Cassie
Official synopsis: Hip Hop's most famous family is back, and this time, Christmas wedding bells are ringing! Jessica (Keri Hilson) and Jayson (Ne-Yo) are getting ready to say their "I do's", while their mothers Tina (MC Lyte) and Nancy (Valarie Pettiford) are fighting it out for wedding planning supremacy. Meanwhile, Blare (Terrence J) is running his own music label, and when he meets his formidable, beautiful new boss, Jai (Cassie), she proves to be a force to be reckoned with.
ALL I DIDN'T WANT FOR CHRISTMAS
Release Date: December 7
Cast: Gabourey Sidibe, Loretta Devine, Kel Mitchell
Official synopsis: Emily Harris is not doing great. In a desperate attempt to improve her life and make this Christmas not totally suck, Emily writes a letter to Santa. Fortunately, and unfortunately, her wine-soaked wishes start coming true. P.S. She definitely doesn't remember most of what she wrote in the letter, so she is in for some uncomfortable surprises. Which eventually leads to some Christmas-fueled soul searching about what she actually wants/needs.
A NEW DIVA'S CHRISTMAS CAROL
Release Date: December 14
Cast: Mel B, Ashanti, Vivica A. Fox, Eva Marcille, Robin Givens, Mckenzie Small
Official synopsis: Aphrodite was made famous back in the day for performing THE timeless love song of the era. The song that everyone plays at their weddings, in every sappy commercial for diamonds or rings or puppies or soldiers coming home. It made her a ton of money, but Aphrodite HATES this song. She's now the meanest judge on Pop The Question but her life changes when Brianna, becomes the breakthrough contestant, exuding love and purity. When Aphrodite reluctantly becomes her mentor, she does everything possible to steer her away from love and love anthems and so is visited by three spirits who take Aphrodite on a journey through love (and Christmas) past, present and future to try and shake her out of her funk and let love back in!
FUGHEDDABOUT CHRISTMAS
Release Date: December 21
Cast: Justina Valentine, DC Young Fly, Conceited, Vinny Guadagnino, Nick Cannon
Official synopsis: When an Italian American superstar realizes her family is fed up with her workaholic ways, she gets help from her celebrity friends, Santa, and magical elves to give them the best Christmas ever.
---
OTHER STREAMING PLATFORMS
ANOTHER CHRISTMAS
Release Date: November 1 on The Roku Channel
Cast: Sheena Faust, Ryan Toby, Malik Brazile
Official synopsis: Kelly Brooks is an elementary school teacher who gave up on love until her childhood friend, Andrew, a professional baseball player, returns home and invites Kelly to spend Christmas with his family. Although reluctant to attend a Christmas party after remembering how things ended with Andrew, she soon realizes she still has feelings for him.
MEETING MR CHRISTMAS
Release Date: November 1 on Crackle
Cast: Laura Mitchell, Greta Carew-Johns, Madison Smith, Jaime Callica
Official synopsis: A travel blogger's negative impressions about Christmas are challenged when she teams up with the town doctor to save her family's Christmas event.
CHRISTMAS AT THE GREENBRIER
Release Date: November 24 on FOX Nation
Official synopsis: The story of a widow, Amanda Whittier, and her two children, who make unique friendships in a small seaside town as they forge ahead with a new life following the death of her husband. When residents with shared pasts and experiences begin finding shells inscribed with messages on the beach, the characters' lives are forever changed.
FAITH HEIST 2: A CHRISTMAS CAPER
Release Date: November 26 on Bounce
Official synopsis: On Christmas Eve, Pastor Benjamin and his motley crew of congregants find themselves locked in the local mall … just as a fearsome team of armed thieves break in to rob the place – AND all the money raised by the church for a worthy Christmas charity. Unable to flee or signal for help, the Pastor & his friends realize it's up to them to battle the crooks, save the mall … all before Christmas morning.
COUNTRY ROADS CHRISTMAS
Release Date: November 27 on FOX Nation
Official synopsis: Country music executive Skye Sanderson hesitantly accepts a job from her handsome rival, Ryan Avery, to join him on her estranged father's concert tour. While on the road, the spirit of the season opens her heart to forgiveness and new love.
MERRY & GAY
Release Date: December 1 on DIVABoxOffice.tv
Cast: Dia Frampton, Andi René Christensen, Stella Parton, Hayat Nesheiwat, Janet Ivey, Jon Lee, Sarah Daddario
Official synopsis: In Merry & Gay, two well-meaning, but meddling moms hatch a plot to reunite their children, who were childhood friends and high school sweethearts.
THE GREAT AMERICAN BAKING SHOW: CELEBRITY HOLIDAY SPECIAL
Release Date: December 2 on The Roku Channel
Judges & Co-Hosts: Paul Hollywood, Prue Leith, Ellie Kemper, Zach Cherry
Celebrity Contestants: Chloe Fineman, Nat Faxon, Marshawn Lynch, D'Arcy Carden, Joel Kim Booster, Liza Koshy
Official synopsis: This holiday season, "The Great American Baking Show" co-hosts Ellie Kemper and Zach Cherry take audiences into in the iconic tent for a spectacular, celebrity-filled holiday special. Six celebrity bakers fire up a holiday storm, as they whisk, bake, and fake their way to impressing judges Paul Hollywood and Prue Leith. SNL cast member Chloe Fineman, Oscar-winner Nat Faxon, Emmy-nominee D'Arcy Carden, Social Media star Liza Koshy, Superbowl winner Marshawn Lynch and comedian Joel Kim Booster put on their aprons and turn on their ovens, as they compete for the coveted cake stand and Star Baker crown.
THE GREAT HOLIDAY BAKE WAR
Release Date: December 3 on OWN for the Holidays
Official synopsis: When former pastry school rivals Julian (Mitchell) and Brianna (Luckett) meet years later in a TV baking competition, the sparks — and the flour — fly! Each has their own plans for the winning prize money, but only one can win… unless they work together. While Brianna struggles to support her daughter Willow (Naomi Sogbein) and Julian longs to escape his mother's shadow, they learn that collaboration can create a new recipe for success — and love.
A CHRISTMAS FUMBLE
Release Date: December 10 on OWN for the Holidays
Official synopsis: The 'queen of crisis management,' Nicole Barnes (Marcille) gets the toughest assignment of her career when she's asked to handle a breaking scandal for former pro footballer-turned-TV-commentator Jordan Davies (Ellis), whose network contract isn't going to be renewed because of a violation going back to his college days. However, Nicole fails to disclose that she and Jordan were once boyfriend and girlfriend — a conflict of interest that could end her own hopes of being made partner at her firm. To make matters worse, Nicole's efforts to rehabilitate Jordan's image are constantly undermined by Jordan's shallow entertainment reporter fiancée.
CHRISTMAS IN ROCKWELL
Release Date: December 11 on FOX Nation
Official synopsis: Ex-child actor Alyssa Strader returns to her hometown to hide from the press after a movie flop. But when she meets Jake Wellsey, a local cinema owner, will she be able to hide from the paparazzi, or will her new relationship make front-page news?
LOPEZ VS CHRISTMAS (CHRISTMAS EPISODE)
Release Date: December 16 on NBC
Official synopsis: To get Mayan's divorced parents to spend Nochebuena together, she must convince Rosie to hand in her Christmas crown and George to give up the thing he loves most: beer. With guests coming, can the Lopezes stick together or will they wreck the halls? Featuring guest stars Constance Marie, Valente Rodriguez, Luis Armand Garcia and Belita Moreno.
A NASHVILLE COUNTRY CHRISTMAS
Release Date: December on Paramount+
Cast: Tanya Tucker, Keith Carradine, Ana Ortiz, Kimberly Williams-Paisley
Official synopsis: Overwhelmed by her high-powered agent, a bombastic Hollywood director and a totally tricked-out, off-base holiday spectacular, a country music superstar bolts from her outrageous lifestyle, seeking a haven at her grandma's Tennessee farm. Rather than refuge, she finds romance when she reconnects with her handsome ex, a return to her musical roots, and an unexpected family when she discovers three clever kids who've outsmarted the foster system are living at the family homestead at Christmas.
DOLLY PARTON'S MOUNTAIN MAGIC CHRISTMAS
Release Date: December on NBC
Official synopsis: Set in Dollywood, Parton's amusement park in the Tennessee Smoky Mountains, Dolly Parton's Mountain Magic Christmas is a contemporary movie-musical that tells the backstage story of making a network TV special. This sentimental holiday movie takes viewers on a journey through time as Parton is visited by the Three Wise Men. The entertainer is taught valuable lessons, ultimately challenging her notions of the real magic of Christmas.
RENO 911!: IT'S A WONDERFUL HEIST
Release Date: December on Comedy Central
Official synopsis: It's Holiday Season in Reno, and Ltn. Dangle wishes he'd never been born. With the help of a roller skating "Angel," he learns how much better the lives of the other deputies would be if he never existed. Will he decide to live on anyway? There's still Christmas criminals to catch!
---
MORE GREAT CHRISTMAS MOVIES TO WATCH IN 2022