The Best Original Film Scores of 2021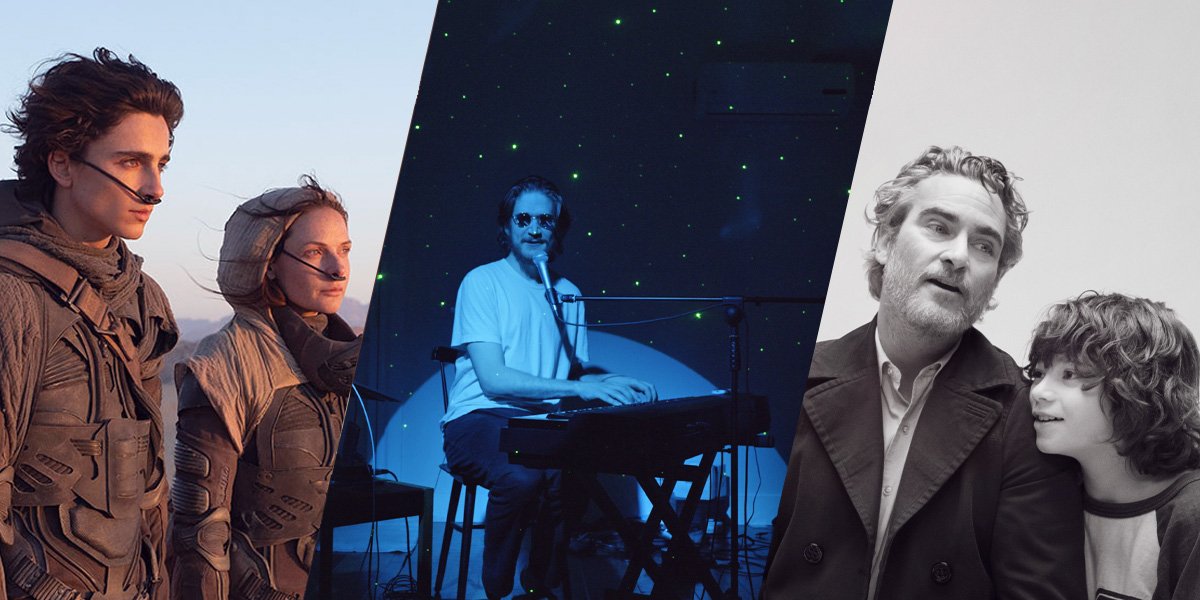 Dune, Bo Burnham: Inside, C'mon C'mon (Warner Bros. Pictures, Netflix, A24)
We look back at what has been an excellent and varied year for original film scores and rank the 10 best to emerge from 2021.
---
After an extremely difficult year for cinema in 2020, some normality seemed to come back for 2021. A lot of sensational films have been released and, accompanying them, there have been some equally sensational original film scores. We have listened and pondered our way through the plethora of instrumentals and vocals that were put alongside these captivating onscreen images and, as best we could, ranked the scores themselves in order. Have a read and then seek out the films themselves rather than listen to the original scores for the first time on their own; they are glowing companion pieces to the onscreen images and work best when seen as a cohesive whole. Happy watching and happy listening!
---
10. THE GREEN KNIGHT
Daniel Hart's original film score is as ravishing, expansive and atmospheric as The Green Knight itself. Back on scoring duties with David Lowery after their beautiful work on 2017's A Ghost Story, both composer and director further cement their status as innovative, boundary-pushing members of the industry.
Hart's original score for The Green Knight is authentic to its medieval roots – the film is based on the 14th-century poem, "Sir Gawain and the Green Knight" – with its strumming guitars and twisting strings, yet, like the film, it consistently subverts expectations, often going down a disconcerting root of distorted instrumental compositions, even turning to electronic instruments at points. The score is a large part of why The Green Knight is so successful in its world-building and plot creation. It is a living, breathing, unnerving organism that fits seamlessly into proceedings and is complete with haunting vocals, adding dread, danger and an eerie beauty to the film as a whole.
---

9. DRIVE MY CAR
Ryusuke Hamaguchi's quiet epic, Drive My Car, might not use its original film score frequently yet when it does, the music works so well. Eiko Ishibashi's score is a delightful, heady mix of jazz-infused piano and drums, the latter mirroring the constant turning of a car's wheels and the forward journey of main character, Kafuku. Drive My Car opens as delicately as it goes on, Hamaguchi capturing a woman's silhouette in a bedroom set against a sleeping city backdrop, enhanced by a muted yet effective synth-based song by Ishibashi. All parts of this opening are haunting, compelling and utterly hypnotic.
Ishibashi's original score follows the rhythm of the film (all 2 hours 59 minutes of it), knowing when to drive the music alongside Kafuku's ever-moving red Saab 900 and when to slow down, with piano compositions that will drive a well of emotion from within audience members in remarkably subtle ways. Original scores do not have to mimic films directly, but when they do, Ishibashi's music of Drive My Car is perhaps the best example.
---
8. LITTLE FISH
As you might expect from a film about society in the midst of a memory loss virus, Little Fish is an affecting watch, even more so when viewed during the COVID-19 pandemic. Yet Chad Hartigan handles it with such care and realism and lead actors Olivia Cooke and Jack O'Connell have such impressive chemistry that it never feels distasteful or uncomfortable. It's a romance film, above anything else, one with its love steeped in loss and mourning and one given real impetus and feeling by Keegan DeWitt's original score.
DeWitt infuses the science fiction world of Little Fish with soft singing, haunting strings, tenderly slow piano and, above all else, a sombre tone that somehow hints at hope amidst the waning memories of the populace. His film score also leans into recurring themes of certain notes and sequences, imbuing the film with a sense of cohesion even when the narrative purposefully reflects the confused minds of the protagonists. The original score of Little Fish hits the right notes emotionally but never, not once, does it feel manipulative. It allows the actors space to work, the direction room to breathe, all the while lending a sometimes warm, sometimes mournful tone to proceedings.
---
7. THE FRENCH DISPATCH
A quintessentially whimsical Wes Anderson film accompanied by an Alexandre Desplat original score. You might feel like you've seen and heard this before, and in many ways you'd be right. The French Dispatch won't win over any non-Anderson fans – he leans into his auteur style more than ever before – yet dig a little deeper, into both the film and the score, and you will find enough to mark this anthology comedy drama out as something quite special and memorable.
Desplat's recognisable sound, one so wonderfully concocted by delicate strings, lackadaisical drumbeats and wandering basslines, is very much present (and welcome) in The French Dispatch, yet he also leans more into the jaunty piano work which could be first heard in The Grand Budapest Hotel (2014). Desplat also shows off his ability to go from the surreal to the sombre in seamless fashion, most notably balancing those off kilter numbers with warm and nostalgic songs such as the film's opener, "Obituary".
Perhaps most impressively, however, is how Desplat backs up the anthological structure of The French Dispatch: like the film's screenplay, his original score is split up into three distinct 'sections', all different enough to mirror the separate stories yet also similar enough never to create any kind of jarring effect. This is Desplat at his most enjoyable, and a third Oscar win may well be on its way to the French maestro for one of the best original scores of the year.
---

6. ANNETTE
Director Leos Carax and Ron and Russell Mael of musical duo, Sparks: apparently, a match made in heaven. That is, the most surreal, wonderfully psychotic and inventive heaven you could think of. In Annette, acting heavyweights Adam Driver and Marion Cotillard – impressively here doing most of the singing themselves – play a famous couple juggling their careers alongside their newly-born daughter, Annette. It is important to note also, just so it's in writing, that Annette is a not a human, but a wooden marionette puppet.
Annette is also the only film on this list that is a musical. Sparks' thunderous original score is an eclectic blend of propulsive rock (the opener, "May We Start", is a giddy welcome to proceedings), dramatic opera (see, Marion Cotillard running through a forest in "Aria (The Forest)") and musical-style anthems (Driver and the human version of Annette duetting on final track, "Sympathy for the Abyss", is a particular highlight). We should expect nothing less from a band who have always gone against the expected tropes of pop and rock music, with their intelligence and quirkiness seen at its glorious limit in Annette. Carax's direction is just as bewildering, and whilst inevitably some parts of the film don't come off, Annette is a complex musical that may well just become a cult classic, original score included.
---

5. DUNE
Hans Zimmer: one of the most recognisable and prolific film composers working today. He's produced original film scores for musicals such as The Lion King (1994), war films such as The Thin Red Line (1998) and Dunkirk (2017) and historical epics like Gladiator (2000). He has also written the music for plenty of science fiction films too – highlights such as Inception and Interstellar spring to mind – and yet his original score for Dune is still a commendably unique piece of work.
Denis Villeneuve's long-awaited epic takes us to the sprawling planets of Caladan, Giedi Prime and, most importantly, the desert world of Arrakis. Zimmer's original film scores of the last decade are, to some, predictably loud and overbearing, and there is some truth to this claim. Dune, however, might be loud but it's also vibrant, varied and always interesting.
Dune's score, one of the best of the year, feels at one with the desert world of Arrakis, instruments mirroring the magic of this alienlike sand world, lending the filman extremely organic feeling. Zimmer pushes the boundaries constantly, but his music never feels out of place. And even when Zimmer leans into the epic – he has to, considering the colossal nature of Dune, both in book and film format – he does so in a refreshing way that never feels overbearing. Perhaps the most memorable moment in Zimmer's original score for Dune is in one of the battles at a pivotal section, with the track, "Armada": as Josh Brolin's Duncan Idaho leads his men into the flames and explosions of war, the German composer slams the audience with the surprising blare of bagpipes to accompany the drums and other, more conventional instruments, instantly enhancing this blockbuster moment of the best blockbuster of the year.
---

4. PIG
A revenge flick that plays out less like a John Wick film and more like an odd episode of a cooking show competition, Michael Sarnoski's Pig follows former chef, Rob – played by Nicolas Cage in one of his best performances – on a quest to find out who stole his prized truffle-hunting pig. Money from truffles isn't important to Rob; his pig is all that matters.
Grapsas and Klein's original score reflects the film: when Rob heads to the city for 'revenge', their music plays out like a classic payback-style score would, yet they imbue it with a laidback feel which hints at the alternative directions that Pig ultimately chooses to go down.
And if there is one original film score from 2021 that reflects its setting best, it is Pig's. You could imagine Alexis Grapsas and Philip Klein's score nestling amidst the undergrowth of the Oregonian forest, completely at home in its setting of bushes, fir trees and – most importantly for Pig – truffles. The string-based leitmotif which both starts and finishes the film is delightful, a slow-moving melody backed up by gentle guitar, and is present throughout, expertly giving Pig a special feeling not in keeping with classic revenge dynamics. With one of the best original scores of the year, Pig is sumptuous, subversive filmmaking, with impactful music that focusses on forgiveness and love above hatred and violence.
See Also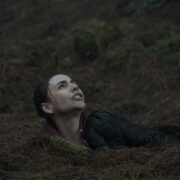 ---
3. BO BURNHAM: INSIDE
Bo Burnham is no stranger to writing catchy and self-mocking music; his greatest stand-up moments have been from these dramatically inventive songs and acts he puts with them. And with Bo Burnham: Inside, he has given us one his best sets yet, an original score not in the most obvious sense when viewed alongside the others in the list, but one that is fully deserving of its place in the top three as one of the best of 2021.
"Content" and "Comedy" start things off with a bang, Burnham in his tighty-whities for the opening track and sarcastically in the latter claiming how he, a privileged white man, can save the world with simple comedy. It's Burnham at his best and most self-referential. His original score goes on to reference the pandemic – both comedically in "FaceTime with my Mom (Tonight)" and more seriously with songs such as "Look Who's Inside Again" – as well as mock the likes of Jeff Bezos, influencers and popstars. Bo Burnham: Inside is also highly personal, with its music drilling to the complexities and hypocrisies of present-day society as well into Burnham's own life and struggles with mental illness.
Burnham's self-made film and original score are telling evidence of the effects of the pandemic. They are products of the strangeness of 2020 and will, if they aren't already, become vital works of this historical and turbulent time.
---

2. THE POWER OF THE DOG
It's been some year – scratch that, some decade – for Jonny Greenwood. The Radiohead guitarist might have started writing original film scores in the late 2000s, first coming to attention with his chilling music for There Will Be Blood (2007), but it's the 2010s which have seen him emerge – mainly through his relationship with director Paul Thomas Anderson – into one of the most highly sought after and singular film composers working today. 2021 has been no different, with his mind-bending work on Spencer (one that ran close to making it onto this list) releasing alongside his music on the Western wonder, The Power of the Dog, one that runs close to being the best original film score of the year.
Guitars are what Greenwood knows best, and his original score for Jane Campion's sublime film starts with one, the twangy, rhythmic strum of "25 Years" introducing the audience to this world where secrets and feelings lie deep and toxic masculinity runs rife. The track's slightly off-key tone and intense, sudden strings signal that things aren't quite as they seem. This is, in the most obvious sense, what original scores need to do: enhance and support the world, story and character dynamics as best it can.
Greenwood's original score flits from iterations on "25 Years" to grander, predictably Western brass sections with songs such as "Requiem for Phil" and right into the dramatic string-based intensity of climactic tracks like "They Were Mine". He also finds time for beautiful piano music in compositions like "West Alone", which give the film it's much-needed break from the toxicity and bullying into its happier sections. His original score for The Power of the Dog may well be his best work yet, and is certainly his most complete and well-rounded.
---

1. C'MON C'MON
If you want 33 minutes and 16 seconds of relaxing music to put on, look no further than the original score for C'mon C'mon. This is not to reduce this score in any way in suggesting it will float away as background music, more that its soulful, beautiful strength remains unrivalled by any other original film score released this year. Twin brothers Bryce and Aaron Dessner, best known as members of rock band The National, here helm the scoring duties for their first mainstream film. And if it's anything to go by, their careers in a filmic sense are about to take off, and then some.
Shot in a dreamy, nostalgic black-and-white and directed with a real human angle by Mike Mills, C'mon C'mon is about family, and more specifically the relationship between Johnny (Joaquin Phoenix), his nephew (Woody Norman) and sister (Gaby Hoffmann). Heartbreak, laughter, happiness, honesty, realism: it's all here. The Dessner's original score fits seamlessly into the film's aesthetic, slotting into proceedings to accompany the film as it envelops the audience like a warm hug.
The upbeat piano music of opener "Here They All Come" makes way for sombre tracks such as "Happy Sad Empty Full", with musician Feist adding glorious vocals on songs such as "Who's Taking Care of Jesse?". Even when C'mon C'mon shows characters emotionally struggling, Mills always finds a way to shine a humanistic brightness onto proceedings, and the Dessner twins' original score is no different. The film frequently falls into montages, capturing American cities like New York in a lived-in but ethereal way, all the while backed up by voiceovers from children giving their thoughts on today's society and what the future looks like. The original score is ever-present as a hovering, genial presence; it floats in the background so delicately, imbuing everything with warmth, humanity and a certain magic that is so very difficult to create, marking it out as the best original film score of 2021.
---
RUNNERS-UP: