September 2023: New Movies In Theaters This Month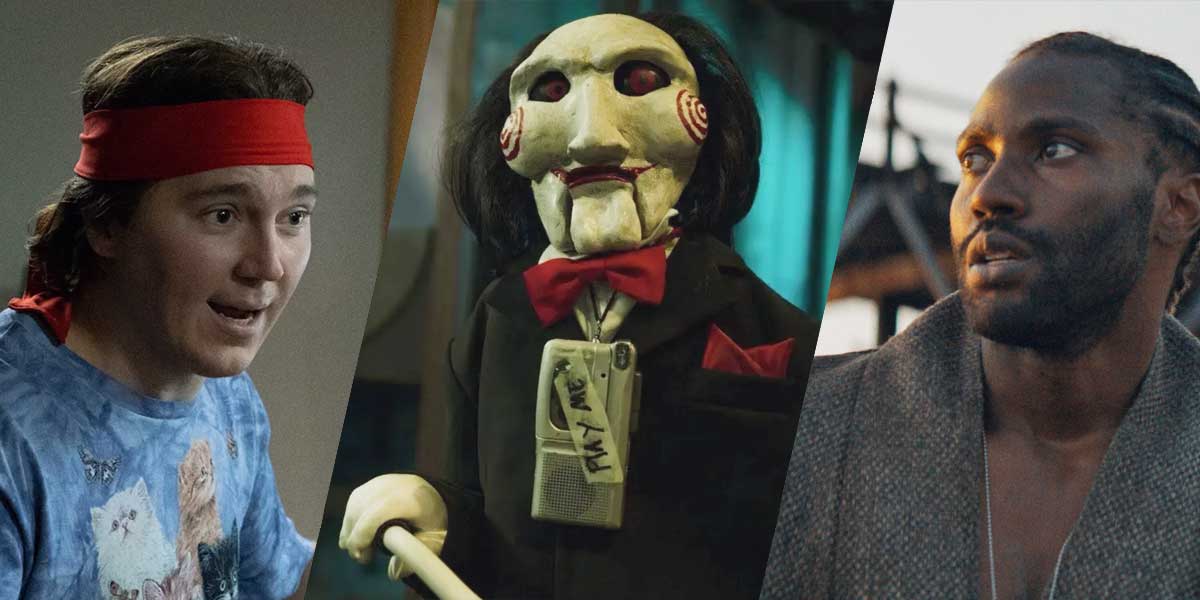 September 2023: All new movies coming to theaters, from The Creator, Dumb Money and Saw X to upcoming films and releases to watch this month!
Summer has come to an end, but that also means that many new movies are about to be released in theaters this month! September 2023 is when we can return to cinemas and watch some exciting upcoming new films! And this list includes all the big hits and hidden gems we could find that are coming to the big screen this month.
Let's take a look at all the movies coming to theaters in September 2023, to help you decide what to watch this month! You'll find all the films in the list below, in order of release and divided by movies to watch in U.S. theaters and in U.K. cinemas! We also included global release dates where available. Scroll till the end for more articles, read our list of new movies on digital and VOD in September 2023, and happy watching!
---
SEPTEMBER 2023 MOVIES: IN U.S. THEATERS
ASTRAKAN
Director: David Depesseville
U.S. Release: September 1
U.K. Release: TBA
Official synopsis: When Samuel, a young orphan, is sent to live with foster parents Marie and Clement, he is gradually forced to face the demons that exist both internally and within his new family. Swept up in the motions of coming of age for the very first time — falling in love with the girl next door, exploring hobbies and indulging in childhood passions — he also begins to learn of the secrets his foster family are keeping, leading him to question everything around him. As these questions emerge, Samuel is pushed in and out of crippling anguish, bridging a harsh gap between dense realism and feverish fantasy which leads to a stunning and transcendent final act.
---
BEATEN TO DEATH
Director: Sam Curtain
U.S. Release: September 1
U.K. Release: TBA
Official synopsis: BEATEN TO DEATH unfolds after a desperate choice leads a man named Jack down a path that leaves him beaten and bruised as he struggles against man, nature, and his own sanity. Stranded in the middle of nowhere after barely surviving a horrific assault, Jack encounters one local after another and quickly learns that a sick game of cat and mouse is about to begin. Battling the deranged country psychos and the harsh landscape, Jack must go to extreme lengths to survive.
---
THE EQUALIZER 3
Director: Antoine Fuqua
Global Release: September 1
Official synopsis: Since giving up his life as a government assassin, Robert McCall (Denzel Washington) has struggled to reconcile the horrific things he's done in the past and finds a strange solace in serving justice on behalf of the oppressed. Finding himself surprisingly at home in Southern Italy, he discovers his new friends are under the control of local crime bosses. As events turn deadly, McCall knows what he has to do: become his friends' protector by taking on the mafia.
---
GOLDFISH (LIMITED)
Director: Pushan Kripalani
U.S. Release: September 1
U.K. Release: TBA
Official synopsis: Goldfish deals with memory, music, mental health and identity. Anamika (Ana), the child of a mixed marriage, returns home to her estranged, elderly mother Sadhana. Ana returns to a neighborhood she barely remembers, and to a woman who sometimes doesn't remember her. Mother and daughter, strangers for over a decade, find themselves thrown together once again into a relationship that has always been difficult and damaging. Some of it was a by-product of their circumstance, some of it was deliberate. Ana thinks that she will resolve the situation in a few short days but is instead drawn deeper and deeper into Sadhana's life and its strange peculiarities – a best friend who is also her worst enemy, a married lover, and a musical apprentice.
---
THE GOOD MOTHER
Director: Miles Joris-Peyrafitte
U.S. Release: September 1
U.K. Release: TBA
Official synopsis: Starring Academy Award®-winner Hilary Swank, the film follows a journalist grieving the murder of her son who forms an unlikely alliance with his pregnant girlfriend (Olivia Cooke) to track down the killers in the seedy world of drugs and corruption.
---
MARISOL (LIMITED)
Director: Kevin Abrams
U.S. Release: September 1
U.K. Release: TBA
Official synopsis: When 17-year-old Marisol Rivera is accused of a crime the same night she finds out she's undocumented, she flees her small Texas border town and goes on the run. Navigating the painful realities of a new identity and an uncertain future, she travels north in search of her mother and answers she may never find. However, when the same forces of hate that drove her away turn on her family, Marisol must choose whether to return home and confront her accusers or continue living in the shadows. Marisol is a coming-of-age story about a young girl finding a voice that speaks truth and a power that transcends borders.
---
MR. JIMMY
Director: Pushan Kripalani
U.S. Release: September 1
U.K. Release: TBA
Official synopsis: For 30 years, Akio Sakurai recreated vintage Led Zeppelin concerts note-for-note in small Tokyo clubs, until the real Jimmy Page stopped by one night, and Akio's life changed forever.
---
NANDOR FODOR AND THE TALKING MONGOOSE
Director: Adam Sigal
U.S. Release: September 1
U.K. Release: TBA
Official synopsis: Simon Pegg, Minnie Driver, and Christopher Lloyd star in this wildly entertaining adventure based on a (possibly) true tale set in 1935 London. When famed paranormal psychologist Dr. Nandor Fodor (Pegg) investigates a family's claims of a talking animal, he uncovers a mysterious web of hidden motives. Soon, everyone becomes a suspect in Dr. Fodor's relentless pursuit of the truth.
---
ORCA
Director: Sahar Mosayebi
U.S. Release: September 1
U.K. Release: TBA
Official synopsis: Elham, a young divorced Iranian woman, seeks to find herself after a near-fatal beating by her husband. Elham finds salvation in the water, becoming a formidable endurance swimmer. In the fight of her life, Elham faces political, religious and personal obstacles in search of her goal: the Guinness record for the longest distance swim with her hands tied.
---
TRAUMA THERAPY PSYCHOSIS
Director: Gary Barth
U.S. Release: September 1
U.K. Release: TBA
Official synopsis: A sequel to Trauma Therapy (2019), the film sees Malloy return as Tobin Vance, a notorious self-help guru who has been exiled overseas. As the feds move in on his US operation, Vance is building a new base in the remote outskirts of Kirkcaldy, Scotland. There, his stoic assistant Elizabeth (Hannah New), along with former student John (David Josh Lawrence), recruit a hopeful new group of lost souls for an intensive retreat to solve their deep-seated problems.
---
AMERIKATSI (LIMITED)
Director: Michael A. Goorjian
U.S. Release: September 8 in NY (Quad Cinema) and LA (AMC Glendale)
U.K. Release: TBA
Full Review: Amerikatsi: Film Review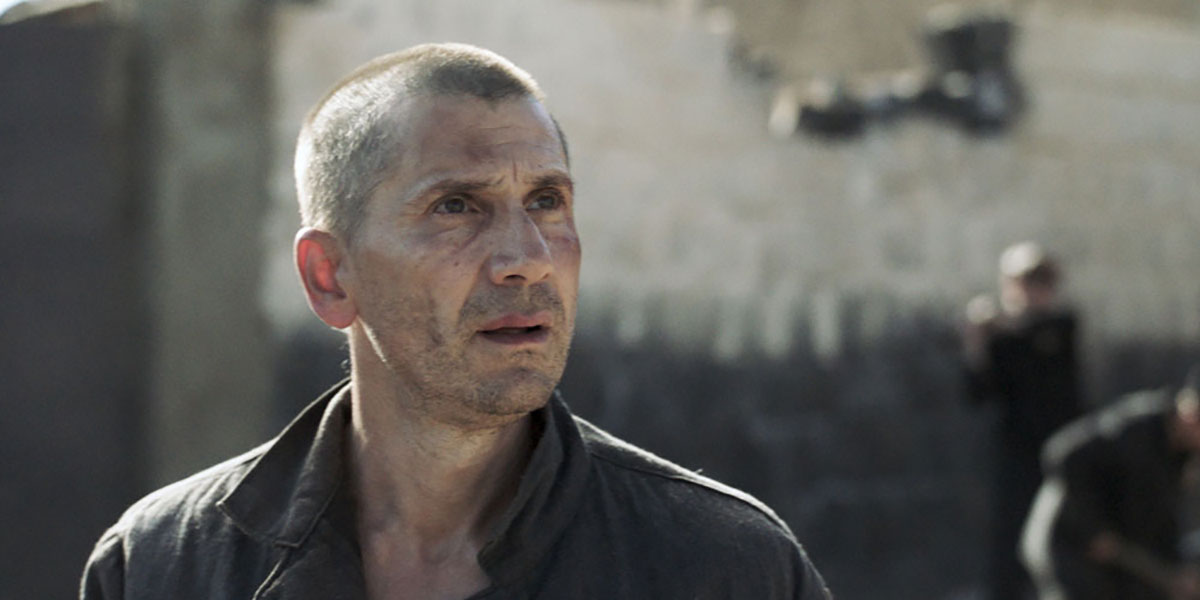 Official synopsis: In 1948, decades after fleeing Armenia to the US as a child, Charlie returns in the hopes of finding a connection to his roots, but what he finds instead is a country crushed under Soviet rule. After being unjustly imprisoned, Charlie falls into despair, until he discovers that he can see into a nearby apartment from his cell window – the home of a prison guard. As his life unexpectedly becomes entwined with the man's, he begins to see that the true spirit of his homeland is alive in its passionate people. Filled with warmth and humor, Amerikatsi celebrates the resilience of the human spirit and the bonds that unite us all.
---
ARISTOTLE AND DANTE DISCOVER THE SECRETS OF THE UNIVERSE
Director: Aitch Alberto
U.S. Release: September 8
U.K. Release: TBA
Official synopsis: Based on Benjamin Alire Sáenz's YA novel, the film centres on the friendship between two teenage Mexican-American loners in 1987 El Paso who explore a new, unusual friendship and the difficult road to self-discovery.
---
EL CONDE (LIMITED)
Director: Pablo Larraín
U.S. & U.K. Release: September 8
Global Release: September 15 on Netflix
Official synopsis: El Conde is a dark comedy/horror that imagines a parallel universe inspired by the recent history of Chile. The film portrays Augusto Pinochet, a symbol of world fascism, as a vampire who lives hidden in a ruined mansion in the cold southern tip of the continent. Feeding his appetite for evil to sustain his existence. After two hundred and fifty years of life, Pinochet has decided to stop drinking blood and abandon the privilege of eternal life. He can no longer bear that the world remembers him as a thief. Despite the disappointing and opportunistic nature of his family, he finds new inspiration to continue living a life of vital and counterrevolutionary passion through an unexpected relationship.
---
GOOD BOY
Director: Viljar Bøe
U.S. Release: September 8
U.K. Release: TBA
Official synopsis: It's a first date for Sigrid and Christian and everything's going well. He's well-behaved, funny, and also happens to be an heir to millions. Sigrid enjoys his company and his humor and the two seem destined for happy-ever-after until Sigrid discovers Frank. You see Frank is Christian's friend but he chooses to live his life as a dog, he's in a dog costume and Christian accepts him, washes him, pets him, and cares for him. To love Christian is to accept Frank. Can Sigrid accept this unusual living situation? More importantly, who really is Frank?
---
HELLO DANKNESS (LIMITED)
Director: Soda Jerk
U.S. Release: September 8
U.K. Release:
Official synopsis: A "political fable that bears witness to the psychotropic spectacle of American politics from 2016 to 2021." Sampling 500+ clips from movies, television, commercials, memes, and news footage, the film situates our political fissures within a suburban neighborhood inhabited by characters from popular comedies and horror films. Players and trolls from the 2016 election are ingeniously grafted into these scenes to eerily send up the absurdities of American politics today.
---
JOYCE CAROL OATES
Director: Stig Björkman
U.S. Release: September 8
U.K. Release: TBA
Official synopsis: Literary icon Joyce Carol Oates is the author of more than 100 books, including Them, We Were the Mulvaneys, and Blonde. In this acclaimed documentary, she provides insight into her life, creative process, and the events that have shaped her writings, including the 1967 Detroit Riot, the Chappaquiddick incident, and the tragic life of Marilyn Monroe. Featuring readings by Oscar winner Laura Dern.
---
MEGALOMANIAC
Director: Karim Ouelhaj
U.S. Release: September 8
U.K. Release: September 26 on demand
Official synopsis: 1997 – the "Butcher," one of world's most notorious serial killers, strikes and abruptly vanishes. Now his children must carry on with his brutal legacy. They take over his wrath and, through agony and revenge, fall into a world of absolute darkness.
---
MY ANIMAL (LIMITED)
Director: Jacqueline Castel
U.S. Release: September 8
U.K. Release: TBA
Official synopsis: Tormented by a hidden family curse, Heather is forced to live a secluded life on the outskirts of a small town. When she falls for the rebellious Jonny, their connection threatens to unravel Heather's suppressed desires, tempting her to unleash the animal within.
---
MY BIG FAT GREEK WEDDING 3
Director: Nia Vardalos
Global Release: September 8
Official synopsis: From writer and director Nia Vardalos, the worldwide phenomenon My Big Fat Greek Wedding is coming back to cinemas with a brand-new adventure. Join the Portokalos family as they travel to a family reunion in Greece for a heartwarming and hilarious trip full of love, twists and turns. Opa!
---
THE NUN II
Director: Michael Chaves
Global Release: September 8
Official synopsis: 1956 – France. A priest is murdered. An evil is spreading. The sequel to the worldwide smash hit follows Sister Irene as she once again comes face-to-face with Valak, the demon nun.
---
SHADOW ISLAND
Director: Johan Storm
U.S. Release: September 8
U.K. Release: TBA
Official synopsis: A meteorologist journeys to a deserted island to investigate his father's death, where he is confronted by strange and mysterious occurrences.
---
STATE OF THE UNITY (LIMITED)
Directors: Nathaniel Paul Hoff & Jillian Speece
U.S. Release: September 8
U.K. Release: TBA
Official synopsis: In 2016, Brooklyn-based band, The Bergamot embarked on a timely journey to perform in all 50 States while inviting people to sign their message of unity on their station wagon (known as The Unity Car). What ensued is a heartwarming tale of human perseverance, empathy and understanding during one of the most polarizing times in American history.
---
WARM BLOOD
Director: Rick Charnoski
U.S. Release: September 13
U.K. Release: TBA
Official synopsis: Set in the underbelly of 1980s Modesto, California, Warm Blood uses the real-life diary of a teenage runaway named Red (newcomer Haley Isaacson) returning home to find her father. In his narrative feature debut, director Rick Charnoski's history as a skate video director informs the frenetic storytelling style, as he combines Red's nihilist musings with a collage of documentary and B-movie meta-narratives that paint a seedy picture of life on the outskirts of town.
Talk-radio bits and punk music underscore the auditory cacophony of doom, while frequent Kelly Reichardt collaborator Christopher Blauvelt (First Cow, The Bling Ring) lends his immersive, naturalist lens shooting on gritty 16mm film. While Red searches the streets, a constant foreboding presence looms around the chemically toxic river polluting the town. Via a cable-access news reporter interviewing the local residents about its impact, Charnoski infuses today's growing apathy around the insurmountable nature of our man-made ecological disasters into this raw, politically subversive tale.
---
SATANIC HISPANICS
Directors: Gigi Saul Guerrero, Mike Mendez, Demián Rugna, Alejandro Brugués, Eduardo Sánchez
U.S. Release: September 15
U.K. Release: TBA
Official synopsis: When police raid a house in El Paso, they find it full of dead Latinos, and only one survivor. He's known as The Traveler, and when they take him to the station for questioning he tells them those lands are full of magic and talks about the horrors he's encountered in his long time on this earth, about portals to other worlds, mythical creatures, demons and the undead. Stories about Latin American legends.
---
A HAUNTING IN VENICE
Director: Kenneth Branagh
Global Release: September 15
Official synopsis: A Haunting in Venice is set in eerie, post-World War II Venice on All Hallows' Eve and is a terrifying mystery featuring the return of the celebrated sleuth, Hercule Poirot. Now retired and living in self-imposed exile in the world's most glamorous city, Poirot reluctantly attends a séance at a decaying, haunted palazzo. When one of the guests is murdered, the detective is thrust into a sinister world of shadows and secrets.
---
CAMP HIDEOUT
Director: Sean Olson
U.S. Release: September 15
U.K. Release: TBA
Official synopsis: Mischievous foster teen Noah (Ethan Drew) finds himself in trouble again. After one such petty crime and crossing paths with two foes, he chooses summer camp over juvenile hall. Upon arrival, Noah quickly comes to realize the camp's notorious owner, Falco (Christopher Lloyd) and his dog Lazaraus ironically loathe children. The double whammy takes a turn as Jake (Corbin Bleu), an optimistic camp leader, lifts Noah's pessimistic attitude.
The friendship snowballs for the good as Noah opens up to fellow campers and together they bond in all the fun and memorable ways camp offers. When all seems well, the "bad guys" show up at camp in search of Noah to take back what he stole. Together, Noah and his fellow campers band together to construct a funhouse hideout in the woods, packed with booby traps, zip lines, and bees. In a "change of heart," cold-hearted Falco warms to the campers, and steps in to help; and together they all learn a valuable lesson of sticking together.
---
CANARY (LIMITED)
Directors: Danny O'Malley and Alex Rivest
U.S. Release: September 15 in NY, LA and Columbus, followed by one-night theatrical engagements nationwide on September 20
U.K. Release: TBA
Official synopsis: CANARY tells the incredible life story of Dr. Lonnie Thompson, an explorer who went where no scientist had gone before and transformed our idea of what is possible. Daring to seek Earth's history contained in glaciers atop the tallest mountains in the world, Lonnie found himself on the frontlines of climate change—his life's work evolving into a salvage mission to recover these priceless historical records before they disappear forever.
---
CASSANDRO (LIMITED)
Director: Roger Ross Williams
U.S. Release: September 15
U.K. Release: September 22 on Prime Video
Official synopsis: When Saúl Armendáriz (Gael García Bernal) starts competing in the macho world of Mexican Lucha Libre wrestling, he's always cast as the runt. After he meets Sabrina (Roberta Colindrez), Saúl gains not only a professional trainer but also a friend who helps him create a new character in the ring. Together they debut 'Cassandro,' a radical subversion of Lucha Libre's stereotypical role known as the Exótico. Flamboyant and powerful, Cassandro turns lucha on its head. But Cassandro also upends Saúl's own life, throwing into tumult his relationships with his mother Yocasta, his secret lover Gerardo, and his absent father Eduardo.
---
LIFT (LIMITED)
Director: David Petersen
U.S. Release: September 15
U.K. Release: TBA
Official synopsis: Over a decade in the making, this inspiring and unforgettable documentary follows children impacted by homelessness as they discover the magic of self-expression through dance. Guided by mentor Steven, whose journey leads back to his childhood shelter, their path within a remarkable ballet program becomes a celebration of joy and triumph in the face of adversity.
---
RADICAL WOLFE
Director: Richard Dewey
U.S. Release: September 15
U.K. Release:
Official synopsis: From a beat reporter at the Washington Post to an overnight sensation as the leader of the New Journalism movement, Tom Wolfe was at the forefront of reshaping how American stories are told. Recognizing the importance of overlooked subcultures and communities, Wolfe documented everything from rural stock car drivers to hippies in Haight Ashbury to the Apollo Astronauts, and his ability to bridge cultural and class divides while tackling stories central to American life was unique in fiction and non-fiction.
---
REBEL
Director: Adil El Arbi & Bilall Fallah
U.S. Release: September 15
U.K. Release: out now on digital and on demand! Watch Rebel!
Official synopsis: Rebel tells the story of Kamal (Aboubakr Bensaihi), who resolves to change his life for the better, leaving Belgium to help war victims in Syria. But, having arrived, he is forced to join a militia and is left stranded in Raqqa. Back home, his younger brother Nassim (Amir El Arbi) quickly becomes easy prey for radical recruiters, who promise to reunite him with his brother. Their mother, Leila (Lubna Azabal), fights to protect the only thing she has left: her youngest son.
---
SHAKY SHIVERS
Director: Sung Kang
U.S. Release: September 21
U.K. Release: TBA
Official synopsis: After finding herself bitten by a mysterious animal, Lucy becomes convinced that she will transform into a fearsome werewolf. Joined by her best friend Karen, the two embark on a wild adventure filled with magic and mayhem, as they look to do battle with a throat-slashing creature ripped right out of an 80s horror movie.
---
26.2 TO LIFE (LIMITED)
Director: Christine Yoo
U.S. Release: September 22 in New York, Los Angeles, and San Francisco, with national virtual screenings on September 29 – October 1
U.K. Release: TBA
Official synopsis: The San Quentin Prison Marathon has an unconventional route: 105 dizzying laps around a crowded prison yard. 26.2 TO LIFE is a new documentary that tells the story of incarcerated men who are members of the 1000 Mile Club, the prison's long distance running club. They train all year for this 26.2 mile race. For the men who take their places at the starting line on a cool, sunny November morning, completing the marathon means more than entrée into an elite group of athletes.
It's a chance to be defined by more than their crimes. Cheering them on are a small staff of volunteer coaches, veteran marathoners who train with the runners throughout the year. The bonds they forge on the track create a community that transcends prison politics and extends beyond the prison walls as members are released. 26.2 TO LIFE is a story of transformation and second chances. The film offers a rare glimpse into a world out of bounds, as the men navigating life sentences seek redemption and freedom… or something like it.
---
BARBER
Director: Fintan Connolly
U.S. Release: September 22
U.K. Release: TBA
Official synopsis: Val Barber, a private investigator, is hired by a wealthy widow to find her missing granddaughter. Barber's initial investigation into Sara's disappearance quickly darkens. Secrets start surfacing in unexpected ways. Before too long, Barber finds himself entangled with powerful men of shady morals determined to thwart his investigation. Has he bitten off more than he can chew?
---
CONDITION OF RETURN (LIMITED)
Director: Tommy Stovall
U.S. Release: September 22
U.K. Release: TBA
Official synopsis: Eve Sullivan (McCord) is arrested for committing a heinous crime. Shackled in a police station breakroom, she is questioned by psychoanalyst Dr. Donald Thomas (Cain), who is tasked with determining her fitness to stand trial. In a contentious interview, Dr. Thomas persuades Eve to recount her troubling past as she slowly turns the tables, coaxing him into revealing secrets of his own and showing him they may be more alike than he thinks.
---
DUMB MONEY
Director: Craig Gillespie
Global Release: September 22
Official synopsis: Dumb Money is the ultimate David vs. Goliath tale, based on the insane true story of everyday people who flipped the script on Wall Street and got rich by turning GameStop (yes, the mall videogame store) into the world's hottest company. In the middle of everything is regular guy Keith Gill (Paul Dano), who starts it all by sinking his life savings into the stock and posting about it. When his social posts start blowing up, so does his life and the lives of everyone following him. As a stock tip becomes a movement, everyone gets rich – until the billionaires fight back, and both sides find their worlds turned upside down.
---
EXPEND4BLES
Director: Scott Waugh
Global Release: September 22
Official synopsis: A new generation of stars join the world's top action stars for an adrenaline-fueled adventure in Expend4bles. Reuniting as the team of elite mercenaries, Jason Statham, Dolph Lundgren, Randy Couture, and Sylvester Stallone are joined for the first time by Curtis "50 Cent" Jackson, Megan Fox, Tony Jaa, Iko Uwais, Jacob Scipio, Levy Tran, and Andy Garcia. Armed with every weapon they can get their hands on and the skills to use them, The Expendables are the world's last line of defense and the team that gets called when all other options are off the table. But new team members with new styles and tactics are going to give "new blood" a whole new meaning.
---
FLORA AND SON (LIMITED)
Director: John Carney
U.S. Release: September 22 in select theaters, September 29 on Apple TV+
Global Release: September 29 on Apple TV+
Official synopsis:
Single mom Flora (Eve Hewson) is at a loss about what to do with her rebellious teenage son, Max (Orén Kinlan). Encouraged by the police to find Max a hobby, Flora tries to occupy him with a beat-up acoustic guitar. With the help of a washed-up LA musician (Joseph Gordon-Levitt), Flora and Max discover the transformative power of music. From the musical mind of John Carney, "Flora and Son" explores the bond between a mother and son on a journey toward a new harmony.
---
IT LIVES INSIDE
Director: Bishal Dutta
U.S. Release: September 22
U.K. Release: October 20
Official synopsis: An Indian-American teenager struggling with her cultural identity has a falling out with her former best friend and, in the process, unwittingly releases a demonic entity that grows stronger by feeding on her loneliness.
---
MAN ON THE RUN (LIMITED)
Director: Cassius Michael Kim
U.S. Release: September 22 (NY) and 29 (LA)
U.K. Release: TBA
Official synopsis: A shocking true story of corruption and betrayal that shook an entire nation's financial stability. It follows Jho Low, a mysterious businessman, and playboy, as he masterminds a scheme to exploit a sovereign wealth fund in Malaysia, 1MDB. With the collaboration of Prime Minister Najib Razak, Low funnels billions into global bank accounts to fuel his extravagant lifestyle, including Hollywood parties and even financing "The Wolf of Wall Street." Director Cassius Michael Kim's meticulous investigation unravels a web of greed and corruption, revealing the profound impact of this colossal financial scandal.
---
THE ORIGIN OF EVIL
Director: Sébastien Marnier
U.S. Release: September 22
U.K. Release: TBA
Official synopsis: When Stéphane (Laure Calamy gets in touch with wealthy Serge (Jacques Weber), announcing that she is his long-abandoned daughter, his immediate family are none too thrilled. As Stéphane embarks on an extended visit in hopes of getting to know Serge, she also becomes entangled with the hostile women who share a tense existence in his beautifully appointed mansion by the sea.
The restaurateur's wife (Dominique Blanc), his other daughter (Doria Tillier), a rebellious granddaughter (Céleste Brunnquell), and a strangely off-putting housemaid are all clearly unsettled by the arrival of Serge's newly announced heir. But Stéphane is a confident liar with secrets of her own, which writer-director Sébastien Marnier teases out with cool assurance in this wildly entertaining thriller that will keep you guessing all the way to the end.
---
SOMETHING YOU SAID LAST NIGHT (LIMITED)
Director: Luis De Filippis
U.S. Release: September 22 (NY) and 29 (LA)
U.K. Release: TBA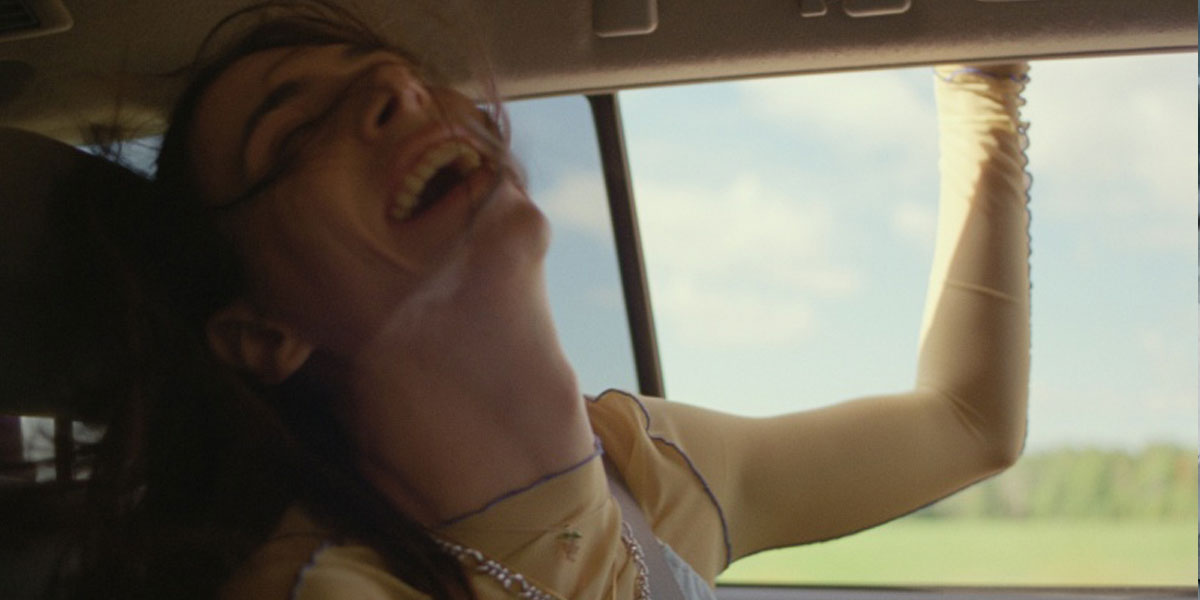 Official synopsis: Ren, an aspiring writer and mid-twenty-something, accompanies her parents, Mona and Guido, and her younger sister, Siena, on a beach resort holiday in cottage country. As Ren navigates the resort, she struggles to cope with her parents' loving yet overbearing nature, and tries to balance the yearning for independence with the comfort of being taken care of. The realities of being a stunted millennial and a trans woman coalesce in Ren not wanting to be perceived as a burden. Looming in the back of Ren's mind is the secret of her recent dismissal from work, and that once the holiday is over, she will need to rely even more on her family's support.
---
STOP MAKING SENSE (RESTORED)
Director: Jonathan Demme
U.S. Release: September 22 in Imax, September 29 in theaters nationwide
U.K. Release: September 29
Official synopsis: The greatest concert film of all time, Stop Making Sense brings to the screen Talking Heads at Hollywood's Pantages Theater in December 1983: David Byrne, Tina Weymouth, Chris Frantz, and Jerry Harrison, alongside an ecstatic ensemble of supporting musicians. Renowned filmmaker Jonathan Demme (Silence of the Lambs) captures the band at their exhilarating best, in this new and complete restoration for the film's 40th anniversary.
---
UNCHARITABLE (LIMITED)
Director: Stephen Gyllenhaal
U.S. Release: September 22 (NY) and 29 (LA)
U.K. Release: TBA
Official synopsis: After three of the most dynamic and successful U.S. charities were shut down by conservative charity watchdogs, destroying lives and cutting off precious resources, many of the top influencers in the field knew something had to be done to overhaul the nonprofit sector.
Beginning with Dan Pallotta, whose record-breaking Ted Talk on the subject has inspired top philanthropists and changemakers, this feature documentary exposes the dark side of philanthropy and introduces a radical new way of giving. In an emotional call to action, Uncharitable demands that charities be freed from the traditional sackcloth-and-ashes constraints, so that they can truly change the world.
---
WHAT DOESN'T FLOAT (LIMITED)
Director: Luca Balser
U.S. Release: September 22 (NY), October 6 (LA), October 13 (Seattle), October 16 (Cincinnati)
U.K. Release: TBA
Official synopsis: An anthology of New Yorkers at their wit's end. Starring Pauline Chalamet, Keith Poulson, and Larry Fessenden.
---
CARLOS: THE SANTANA JOURNEY
Director: Rudy Valdez
Global Release: September 29
Official synopsis: CARLOS combines new interviews with Santana and his family; extraordinary, never-before-seen archival footage, including home videos recorded by Santana himself; concert footage; behind-the-scenes moments; interviews; and more.
---
THE CREATOR
Director: Gareth Edwards
Global Release: September 29
Official synopsis: Amidst a future war between the human race and the forces of artificial intelligence, Joshua (Washington), a hardened ex-special forces agent grieving the disappearance of his wife (Chan), is recruited to hunt down and kill the Creator, the elusive architect of advanced AI who has developed a mysterious weapon with the power to end the war… and mankind itself. Joshua and his team of elite operatives journey across enemy lines, into the dark heart of AI-occupied territory… only to discover the world-ending weapon he's been instructed to destroy is an AI in the form of a young child.
---
DELIVER US
Directors: Lee Roy Kunz & Cru Ennis
U.S. Release: September 29
U.K. Release: TBA
Official synopsis: When a nun in a remote convent claims immaculate conception, the Vatican sends a team of priests to investigate, concerned about an ancient prophecy that a woman will give birth to twin boys: one the Messiah, the other the Anti-Christ.
---
DICKS: THE MUSICAL
Director: Larry Charles
U.S. Release: September 29
U.K. Release: TBA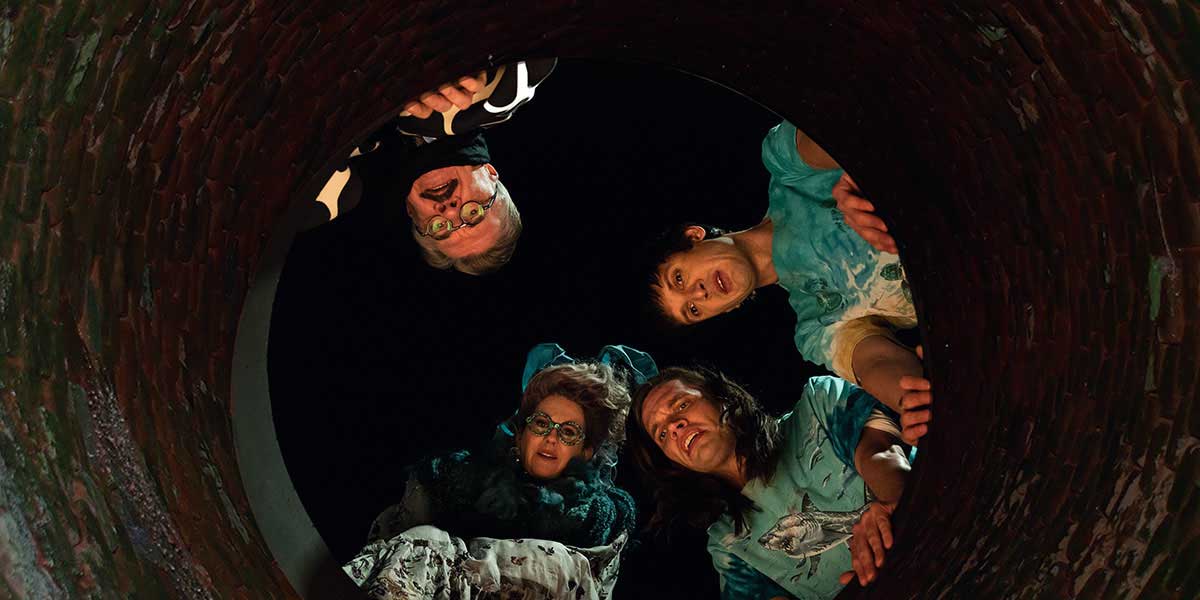 Official synopsis: Two self-obsessed businessmen (writers Aaron Jackson & Josh Sharp) discover they're long-lost identical twins and come together to plot the reunion of their eccentric divorced parents, in this riotously funny and depraved musical from comedy icon Larry Charles (Seinfeld, Borat) also starring Megan Thee Stallion, Nathan Lane, Megan Mullally, and Bowen Yang as God.
---
FAIR PLAY (LIMITED)
Director: Chloe Domont
U.S. Release: September 29
U.K. Release: October 6
Global Release: October 13 on Netflix
Official synopsis: An unexpected promotion at a cutthroat hedge fund pushes a young couple's relationship to the brink, threatening to unravel far more than their recent engagement.
---
THE KILL ROOM
Director: Nicol Paone
U.S. Release: September 29
U.K. Release: TBA
Official synopsis: The Kill Room is a dark comedic thriller follows an art dealer (Uma Thurman) who teams with a hitman (Joe Manganiello) and his boss (Samuel L. Jackson) for a money laundering scheme that accidentally turns the hitman into an overnight Avant-Garde sensation, forcing the dealer to play the art world against the underworld.
---
PAW PATROL: THE MIGHTY MOVIE
Director: Cal Brunker
U.S. Release: September 29
U.K. Release: October 13
Official synopsis: When a magical meteor crash lands in Adventure City, it gives the PAW Patrol pups superpowers, transforming them into The MIGHTY PUPS! For Skye, the smallest member of the team, her new powers are a dream come true. But things take a turn for the worse when the pups' archrival Humdinger breaks out of jail and teams up with Victoria Vance, a meteor-obsessed mad scientist, to steal the superpowers and turn themselves into supervillains. With the fate of Adventure City hanging in the balance, the Mighty Pups have to stop the supervillains before it's too late, and Skye will need to learn that even the smallest pup can make the biggest difference.
---
SAW X
Director: Kevin Greutert
Global Release: September 29
Official synopsis: John Kramer (Tobin Bell) is back. The most disturbing installment of the SAW franchise yet explores the untold chapter of Jigsaw's most personal game. Set between the events of SAW I and II, a sick and desperate John travels to Mexico for a risky and experimental medical procedure in hopes of a miracle cure for his cancer – only to discover the entire operation is a scam to defraud the most vulnerable. Armed with a newfound purpose, the infamous serial killer returns to his work, turning the tables on the con artists in his signature visceral way through devious, deranged, and ingenious traps.
---
THE STORMS OF JEREMY THOMAS (LIMITED)
Director: Mark Cousing
U.S. Release: September 29
U.K. Release: TBA
Official synopsis: Jeremy Thomas, the Oscar-winning producer of films like EO and THE LAST EMPEROR, is joined by documentarian Mark Cousins on his annual pilgrimage to the Cannes Film Festival, to give an intimate glimpse into the life of the legendary icon behind some of the most acclaimed and controversial films of all time. Featuring insights into a life lived just off-frame, the film bridges the epic and the intimate, just as Thomas did so consistently, making the dreams of cinema's most daring visionaries come true.
---
SEPTEMBER 2023 MOVIES: IN U.K. CINEMAS
AND THEN COME THE NIGHTJARS
Director: Paul Robinson
U.K. Release: September 1
U.S. Release: TBA
Official synopsis: Adapted for the screen from Bea Roberts' multi-award-winning stage play, And Then Come the Nightjars tells the story of an unlikely friendship between a Devon farmer and the vet who is assigned to cull his precious herd.
---
APOCALYPSE CLOWN
Director: George Kane
U.K. Release: September 1
U.S. Release: out now on digital and on demand!
Official synopsis: Filmed on location in Ireland, APOCALYPSE CLOWN tells the tale of a troupe of failed clowns and an ambitious reporter who embark on a chaotic adventure of self-discovery after a mysterious solar event plunges the world into anarchy.
---
BOBI WINE: THE PEOPLE'S PRESIDENT
Director: Christopher Sharp & Moses Bwayo
U.K. Release: September 1
U.S. Release: out now on digital and on demand!
Official synopsis: Born in the slums of Kampala, Bobi Wine, Ugandan opposition leader, former member of parliament, activist and national superstar musician, risks his life and the lives of his wife, Barbie, and their children to fight the ruthless regime led by Yoweri Museveni. Museveni has been in power since 1986 and changed Uganda's constitution to enable him to run for yet another five-year term. Running in the country's 2021 presidential elections, Bobi Wine uses his music to denounce the dictatorial regime and support his life mission to defend the oppressed and the voiceless people of Uganda. In this fight, he must also take on the country's police and military, which are not afraid to use violence and torture in a vain attempt to intimidate and silence him and his supporters.
---
COBWEB
Director: Samuel Bodin
U.K. Release: September 1
U.S. Release: out now on digital and on demand!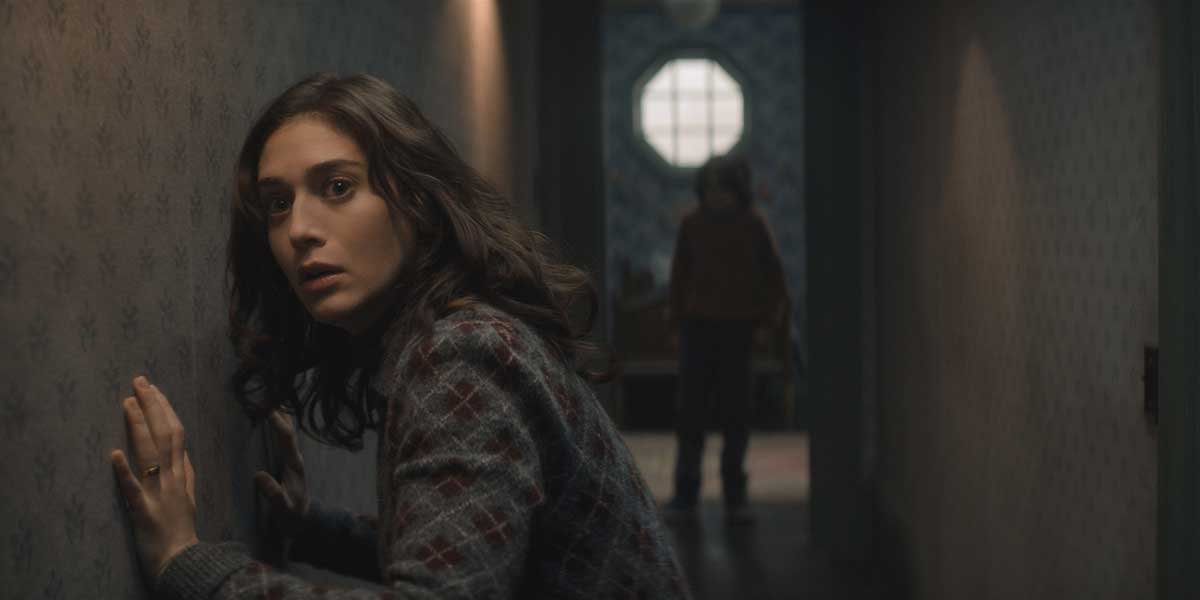 Official synopsis: Eight-year-old Peter is plagued by a mysterious, constant tap, tap from inside his bedroom wall – a tapping that his parents insist is all in his imagination. As Peter's fear intensifies, he believes that his parents (Lizzy Caplan and Antony Starr) could be hiding a terrible, dangerous secret and questions their trust. And for a child, what could be more frightening than that?
---
KLOKKENLUIDER
Director: Neil Maskell
U.K. Release: September 1
U.S. Release: TBA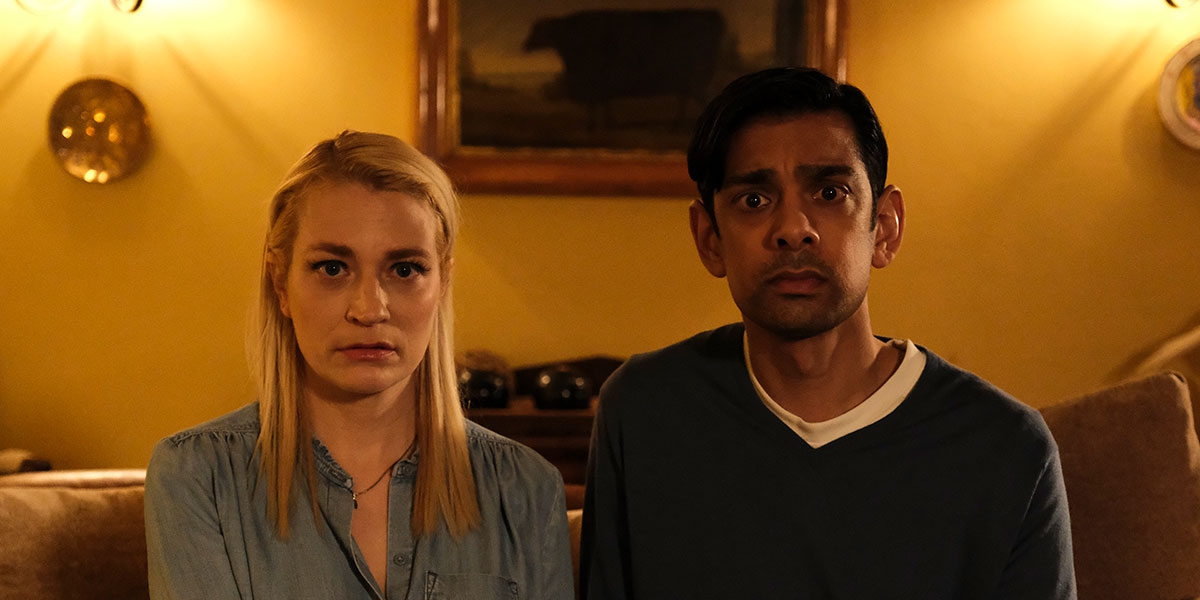 Official synopsis: A government whistleblower and his wife, for their own safety, flee to a remote country house in Belgium. Joined by two close protection officers, they await the arrival of a British journalist. Klokkenluider is the darkly comic directorial debut of acclaimed actor Neil Maskell, is executive produced by Ben Wheatley and features an array of stellar performances.
---
MERCY FALLS
Director: Ryan Hendrick
U.K. Release: September 1
U.S. Release: out now on tubi!
Official synopsis: A tight-knit group of friends – Rhona (Lauren Lyle), Heather (Layla Kirk), Scott (James Watterson), Donnie (Joe Rising) and Andy (Eoin Sweeney) – arrive in the Scottish Highlands in search of a long-lost family cabin… but their trip turns into a nightmare when a fatal accident leads to suspicion, bloody betrayal and brutal murder.
---
ONCE UPON A TIME IN UGANDA
Director: Cathryne Czubek
U.K. Release: September 5
U.S. Release: July 4 (limited)
Official synopsis: Set in the heart of Uganda, two unlikely friends from opposite sides of the world unite over their shared love of Chuck Norris and gonzo 80s action flicks. With sheer determination and an outrageous sense of humour, they team up to create their own explosive movies, catapulting Wakaliwood to international stardom and bringing laughter and joy to millions. This documentary is a wild ride where you can definitely 'expect the unexpectable'.
---
A LIFE ON THE FARM
Director: Ian Puleston-Davies
U.K. Release: September 8
U.S. Release: out now on digital and on demand! Watch A Life on the Farm!
Official synopsis: A strange story from Somerset, England about a filmmaking farmer and the inspiring legacy of his long-lost home movies.
---
LA RONDE (RE-RELEASE)
Director: Max Ophüls
U.K. Release: September 8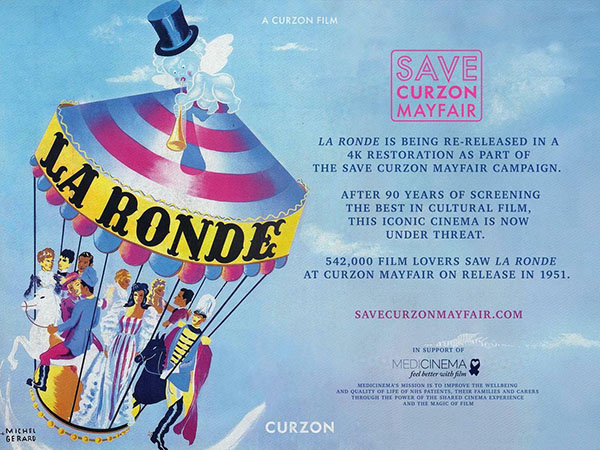 Official synopsis: La Ronde is back in UK and Irish cinemas in a beautiful 4K restoration as part of the Save Curzon Mayfair campaign. The iconic cinema, built in 1934, was the first Curzon venue but is now in jeopardy.
Max Ophüls' magical portmanteau satire La Ronde generated 541,705 admissions at Curzon Mayfair during a run that lasted from 27 April 1951 to 9 October 1952. Over the years, the cinema has championed a diversity of brilliant films, from La Dolce Vita to Howard's End and Parasite.
---
BOLAN'S SHOES
Director: Ian Puleston-Davies
U.K. Release: September 15
U.S. Release: TBA
Official synopsis: Bolan's Shoes takes us on a tumultuous journey through the height of T. Rex mania in 1970s Liverpool. It captures the heady exhilaration of glam rock mania through the experiences of a group of over-excited kids from a local children's home before a devastating road accident changes their lives forever.
---
DEAD MAN'S SHOES
Director: Shane Meadows
U.K. Release: September 15
Official synopsis: Richard (Paddy Considine) has always protected his little brother Anthony (Toby Kebbell). Richard is strong and fair, while the loving and gentle Anthony is simple minded. When Richard leaves the rural village where they have grown up, to join the army, Anthony is taken in by Sonny (Gary Stretch), a controlling and vicious local drug dealer, and his gang of lads. Anthony becomes the gang's pet and plaything, as they initiate him into their sordid worldly ways. Seven years later Richard returns for revenge.
---
RALLY ROAD RACERS
Director: Ross Venokur
U.K. Release: September 15
U.S. Release: out now on digital and on demand!
Official synopsis: RALLY ROAD RACERS follows a slow loris named Zhi (Jimmy O. Yang) who has a need for speed and must overcome his lack of experience and personal obstacles to win an international car race across China to save his Granny's home. Across the four gruelling days of the Silk Road Rally, Zhi is tested time and time again, but the power of friendship and love save the day.
---
BALLYWALTER
Director: Prasanna Puwanarajah
U.K. Release: September 22
U.S. Release: TBA
Official synopsis: Shane (Patrick Kielty) has exiled himself in Ballywalter following the break-up of his marriage, but now he's trying to get his life back on track by enrolling in a stand-up comedy course. When Shane calls a taxi to get him to his classes, Eileen answers and a surprising connection is made. As the two spend time together shuttling back and forth, a beautiful friendship develops, leading both to a moment of realisation. Shane reintegrates; Eileen makes peace with herself and who she really is. Finally, she can stop running and just drive.
---
BROTHER
Director: Clement Virgo
U.K. Release: September 29
U.S. Release: August 2023
Full Review: Brother (Film Review): A Perfect Literary Adaptation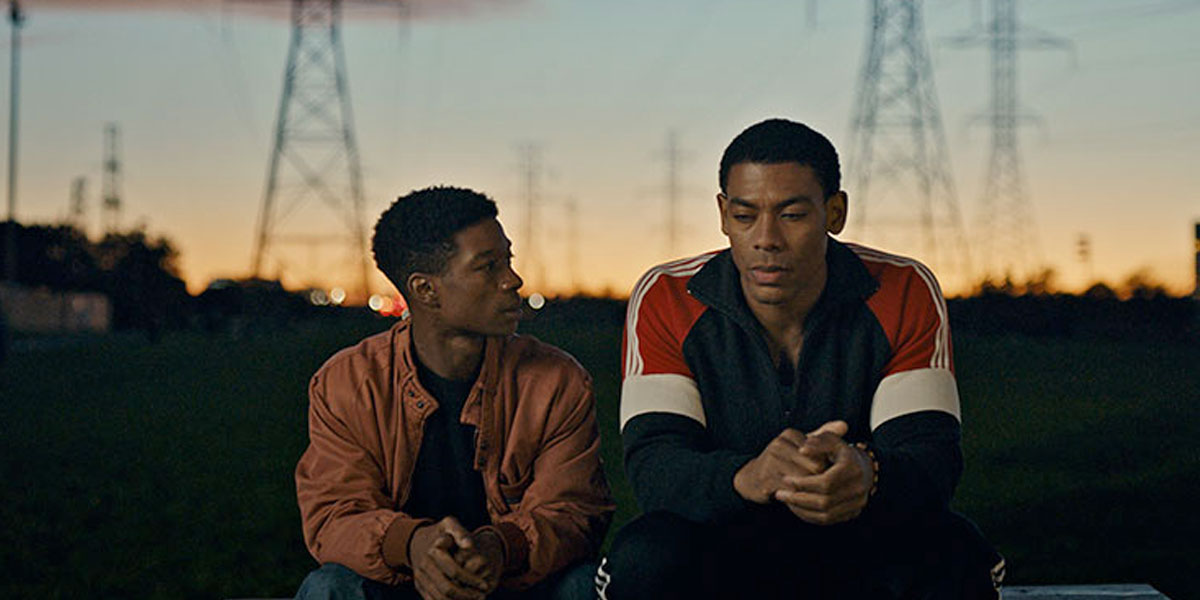 Official synopsis: Elapsing across three timelines, from childhood to adolescence and onto young adulthood, the film explores the fluctuating relationship between two Jamaican-Canadian brothers, united by love but drawn apart by circumstances. Francis (The Underground Railroad's Aaron Pierre), the older sibling, is a pillar of the local community. Everyone – from the little kids riding their bikes in the street to the workers at the corner shop – knows who he is and is charmed by his helpful, easygoing demeanour.
Michael (The Hate U Give's Lamar Johnson), by contrast, tries his hardest to be invisible, putting on his headphones and blocking out the world around him. The pair are sometimes close, sometimes estranged, particularly after Francis drops out of high school to pursue a career in music, leaving Michael alone in their previously shared bunk beds. It is only when the brothers become witnesses in a shooting that the course of their lives changes forever.
---