EO (2022 Film) LFF Review: Channeling Bresson
EO (2022 BFI London Film Festival)
The visually striking EO takes in the world around us as it tracks its titular donkey's trek across Poland, observing some of the greatest beauties and cruelties of humanity.
---

Renowned Polish director Jerzy Skolimowski (Le départ, Deep End) has won prizes at film festivals such as Venice and Berlin, and most recently celebrated Cannes success for his moving, inventive drama film EO. Simultaneously a towering treatise on humanity and an emotive plea for improved animal welfare, Skolimowski's latest finds inspiration in Robert Bresson's Au Hasard Balthazar (1966) whilst still forging its own experimental path. Upon winning the Jury Prize at Cannes this year (along with The Eight Mountains), Skolimowski's endearing speech listed the names of all the donkeys he had worked with on EO, emphasising the deep personal root he has in the film's messages. It mightn't matter which order you watch his film and speech in, but make sure you do both as soon as you can.
EO begins as it means to go on, with a thunderous scene that circles around the donkey and his handler at a circus, a scene drenched in harsh reds and accompanied by a booming beat of dance music. Skolimowski consistently adds an incredible contemporary angle to Bresson's classic tale of an animal being mistreated by humans, be it with its varied original score that encompasses techno, opera and piano or fluid camerawork from EO's point-of-view. Both films centre on a mistreated donkey, with EO updating its viewpoint for the modern world. Born in a Polish circus, it is unclear how long EO has been subjected to these forced performances, but what is clear is how monotonous and uncomfortable this life is. Escaping by chance one night, EO's journey – one of peaceful, dewy mornings and harsh, snowy nights – begins.
Along the way, EO encounters rowdy football fans, weird family domestic disputes, and even murder. Amidst the humans and their accompanying nonsense, the focus is rightfully on EO. As Bresson does in Au Hasard Balthazar, the frequent close-ups of the donkey extracts the sentience from his eyes and evokes strong feelings of connection and empathy from the audience. At other moments in EO, Skolimowski chooses to shoot animals looking into the camera, the mammals' eyes looking back at us, the audience, with a judgement and a plea for change. Whilst EO doesn't have the narrative strictness of Au Hasard Balthazar, which causes it to sometimes slip into a meandering road movie of sorts, it always maintains its focus on core themes such as animal cruelty and human violence.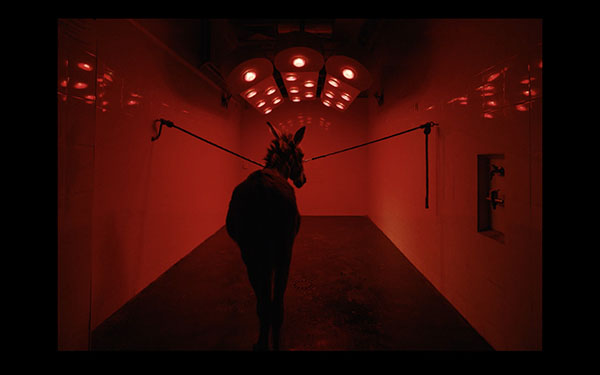 This damning and important commentary is bolstered by superb work by cinematographer Michal Dymek (Nocturnal, Wolf) and composer Pawel Mykietyn (Essential Killing, The Other Lamb). The latter helps EO extract both the beauty and cruelty from the world that surrounds our titular donkey, whether it's using soft piano work to underline the peace of nature or intense dance music representing danger. Mykietyn's impressive work is further helped by careful sound design, which feels like an intense auditory POV for EO. Dymek's cinematography also helps build this world, whether it is shooting various woodland animals as night-time hits, as the darkness seems to increase their power, or sumptuous dawns that offer tranquillity and hope. EO is sometimes too stylistically experimental, causing important moments to feel jarring and decrease in power, but it more often than not sings with a true, cinematic bravery.
See Also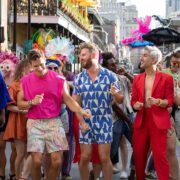 The donkey leading it all is a more than worthy subject, often a patient background artist, always with an inquisitive eye and friendly demeanour, and sometimes with an understandable rage. Skolimowski's film differs from other recent, animal-focussed releases such as Andrea Arnold's Cow (2021), a documentary with less visual flourishes and a more confined setting than EO. Cow has more linearity to it, but both have an immense clarity in their messages. They are unafraid to show the deepest depravities of humans, and keen to highlight the sentience and life that exists in all animals, be it donkey or cow. Despite its small flaws, EO is singular, imaginative, and most importantly a screaming imploration for humanity to change its ways.
---
EO premiered at the 2022 BFI London Film Festival on October 8, 2022, and will have a limited theatrical release in the US on November 18 (New York) and December 2 (LA), followed by a national rollout. The film will be released in cinemas in the UK on February 3, 2023.