September 2023: New Movies on Digital & VOD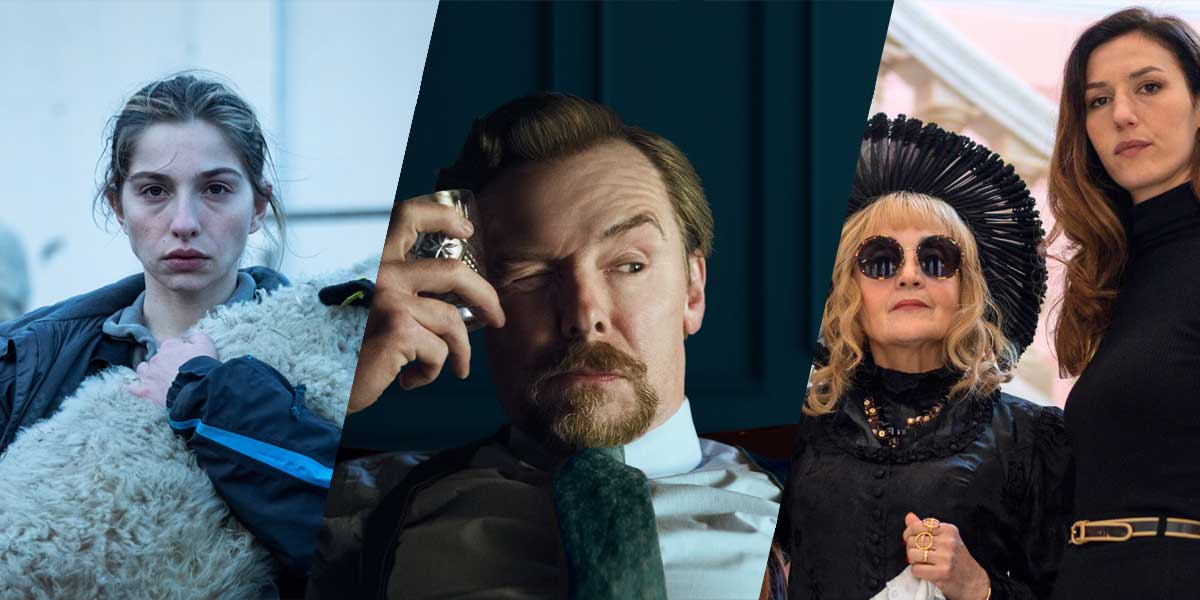 September 2023: all the new movies to watch on Digital and VOD this month, from anticipated hits to festival gems and great new releases out right now or coming soon!
It's time to look at all the new movies to watch on digital and VOD in September 2023! There are some great new releases to stream right now or later this month, from festival hits to a thriller produced by The Russo Brothers' AGBO, a new Simon Pegg movie, and many more upcoming films!
So here is a list of all the new movies on digital and VOD out in September 2023! You'll find them in order of release and divided by films to watch digital and on demand in the US and in the UK, with global release dates if available. Read our our list of new movies in theaters in September 2023 and most anticipated movies of 2023! Enjoy!
---
1. SEPTEMBER 2023: NEW ON DIGITAL & VOD – U.S. RELEASES
ALL FUN AND GAMES
Directors: Eren Celeboglu and Ari Costa
U.S. Release: September 1
U.K. Release: TBA
Official synopsis: The Russo Brothers' AGBO presents a terrifying tale about a group of Salem teens who discover a cursed knife that unleashes a demon that forces them to play gruesome, deadly versions of childhood games where there can be no winners, only survivors.
---
ASTRAKAN
Director: David Depesseville
U.S. Release: September 1
U.K. Release: TBA
Official synopsis: When Samuel, a young orphan, is sent to live with foster parents Marie and Clement, he is gradually forced to face the demons that exist both internally and within his new family. Swept up in the motions of coming of age for the very first time — falling in love with the girl next door, exploring hobbies and indulging in childhood passions — he also begins to learn of the secrets his foster family are keeping, leading him to question everything around him. As these questions emerge, Samuel is pushed in and out of crippling anguish, bridging a harsh gap between dense realism and feverish fantasy which leads to a stunning and transcendent final act.
---
TRAUMA THERAPY PSYCHOSIS
Director: Gary Barth
U.S. Release: September 1
U.K. Release: TBA
Official synopsis: A sequel to Trauma Therapy (2019), the film sees Malloy return as Tobin Vance, a notorious self-help guru who has been exiled overseas. As the feds move in on his US operation, Vance is building a new base in the remote outskirts of Kirkcaldy, Scotland. There, his stoic assistant Elizabeth (Hannah New), along with former student John (David Josh Lawrence), recruit a hopeful new group of lost souls for an intensive retreat to solve their deep-seated problems.
---
PORTRAIT OF THE QUEEN
Director: Fabrizio Ferri
U.S. Release: September 5
U.K. Release: TBA
Official synopsis: Queen Elizabeth II was the most photographed, the most loved and talked about, spied upon, praised, criticized, popular woman on the planet. Portrait of the Queen offers an original portrayal of the story of The Queen from a totally new perspective: through the most intense, amazing, revealing photographic portraits of her, as shared by the extraordinary photographers who accompanied and often created the image of the British monarchy itself.
---
THIRST
Director: Eric Owen
U.S. Release: September 5
U.K. Release: TBA
Official synopsis: Jose Martinez, a lawyer with a history of substance abuse, struggles with insomnia while he and his wife, Lucy, seek fertility treatments in hopes of having their first baby. Jose's insomnia worsens, causing him to act erratically, which concerns Lucy, his sister Vicky, and her girlfriend Lisa. The insomnia spreads throughout the town, with some residents becoming unhinged and dangerous.
Eventually, it is revealed that the local water supply has been contaminated with amphetamines that were leaked from a pharmaceutical plant during a recent power outage. Panic takes over the town, as bottled water and gasoline supplies are fully depleted. As the situation becomes more dire, Jose, Vicky, Lisa, and Lucy head to an abandoned ranch on the outskirts of town with an uncontaminated pond. While this is initially their salvation, nefarious characters descend upon the pond, claiming it as their own, and chaos ensues.
---
JOYCE CAROL OATES
Director: Stig Björkman
U.S. Release: September 8
U.K. Release: TBA
Official synopsis: Literary icon Joyce Carol Oates is the author of more than 100 books, including Them, We Were the Mulvaneys, and Blonde. In this acclaimed documentary, she provides insight into her life, creative process, and the events that have shaped her writings, including the 1967 Detroit Riot, the Chappaquiddick incident, and the tragic life of Marilyn Monroe. Featuring readings by Oscar winner Laura Dern.
---
KING ON SCREEN
Director: Daphné Baiwir
U.S. Release: September 8
U.K. Release: TBA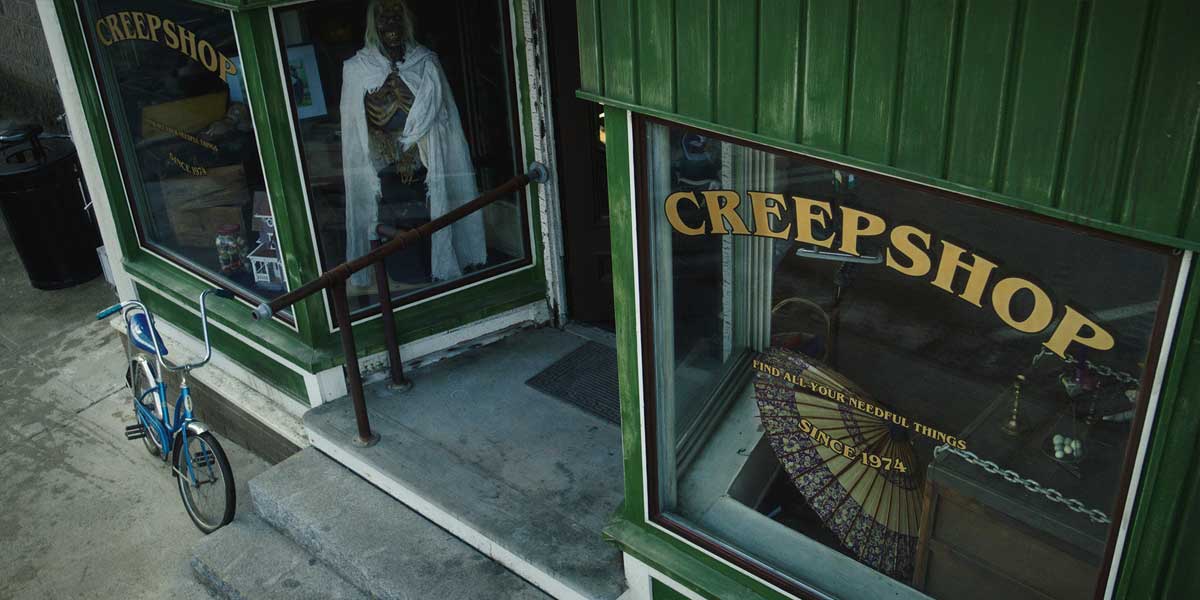 Official synopsis: 1976, Brian de Palma directs Carrie, the first novel by Stephen King. Since then, more than 50 directors have adapted the master of horror's books, in more than 80 films and series, making him the most adapted author alive in the world . What's so fascinating about him that filmmakers cannot stop adapting his works? KING ON SCREEN reunites the filmmakers that have adapted Stephen King's books for cinema and TV, including Frank Darabont (Shawshank Redemption, The Green Mile, The Walking Dead), Tom Holland (The Langoliers, Chucky), Mick Garris (The Stand, Sleepwalkers) and Taylor Hackford (Dolores Claiborne, Ray). It is a movie made for the fans and with the fans, led by an international ambition.
---
SHADOW ISLAND
Director: Johan Storm
U.S. Release: September 8
U.K. Release: TBA
Official synopsis: A meteorologist journeys to a deserted island to investigate his father's death, where he is confronted by strange and mysterious occurrences.
---
APORIA
Director: Jared Moshé
U.S. Release: September 12
U.K. Release: Out now on digital and on demand! Watch Aporia!
Official synopsis: Since losing her husband Mal (Edi Gathegi) in a drunk-driving incident, Sophie (Judy Greer) has struggled to manage crippling grief, a full-time job, and the demands of parenting her devastated teenage daughter (Faithe Herman). When her husband's best friend Jabir (Payman Maadi), a former physicist, reveals that he has been building a time-bending machine that could restore her former life, Sophie will be faced with an impossible choice—and unforeseeable consequences.
---
THE BAD VISITOR
Director: Omar Rogers
U.S. Release: September 12
U.K. Release: TBA
Official synopsis: Vanessa and David are enjoying their beautiful lives in the suburbs of Georgia. Unannounced, a childhood friend of Vanessa's shows up to her doorstep seeking to rekindle their relationship. So happy to see her old friend, she takes her in with open arms not knowing that she is running from a violent past that is slowly catching up to her.
---
LITTLE JAR
Directors: Dominic López & Kelsey Gunn
U.S. Release: September 12
U.K. Release: TBA
Official synopsis: Ainsley is a misanthrope who hates people but when she suddenly finds herself in isolation with no one to talk to, she realizes how much she actually misses connection. Enter Ulysses, a dead mouse in a jar. With a little bit of loneliness, a pinch of imagination, and a mouse-sized tuxedo, Ulysses becomes her training wheels in this newly discovered world of friendship.
---
MARISOL
Director: Kevin Abrams
U.S. Release: September 12
U.K. Release: TBA
Official synopsis: When 17-year-old Marisol Rivera is accused of a crime the same night she finds out she's undocumented, she flees her small Texas border town and goes on the run. Navigating the painful realities of a new identity and an uncertain future, she travels north in search of her mother and answers she may never find. However, when the same forces of hate that drove her away turn on her family, Marisol must choose whether to return home and confront her accusers or continue living in the shadows. Marisol is a coming-of-age story about a young girl finding a voice that speaks truth and a power that transcends borders.
---
MY ANIMAL
Director: Jacqueline Castel
U.S. Release: September 15
U.K. Release: TBA
Official synopsis: Tormented by a hidden family curse, Heather is forced to live a secluded life on the outskirts of a small town. When she falls for the rebellious Jonny, their connection threatens to unravel Heather's suppressed desires, tempting her to unleash the animal within.
---
NANDOR FODOR AND THE TALKING MONGOOSE
Director: Adam Sigal
U.S. Release: September 19
U.K. Release: TBA
Official synopsis: Simon Pegg, Minnie Driver, and Christopher Lloyd star in this wildly entertaining adventure based on a (possibly) true tale set in 1935 London. When famed paranormal psychologist Dr. Nandor Fodor (Pegg) investigates a family's claims of a talking animal, he uncovers a mysterious web of hidden motives. Soon, everyone becomes a suspect in Dr. Fodor's relentless pursuit of the truth.
---
BARBER
Director: Fintan Connolly
U.S. Release: September 22
U.K. Release: TBA
Official synopsis: Val Barber, a private investigator, is hired by a wealthy widow to find her missing granddaughter. Barber's initial investigation into Sara's disappearance quickly darkens. Secrets start surfacing in unexpected ways. Before too long, Barber finds himself entangled with powerful men of shady morals determined to thwart his investigation. Has he bitten off more than he can chew?
---
CONDITION OF RETURN
Director: Tommy Stovall
U.S. Release: September 22
U.K. Release: TBA
Official synopsis: Eve Sullivan (McCord) is arrested for committing a heinous crime. Shackled in a police station breakroom, she is questioned by psychoanalyst Dr. Donald Thomas (Cain), who is tasked with determining her fitness to stand trial. In a contentious interview, Dr. Thomas persuades Eve to recount her troubling past as she slowly turns the tables, coaxing him into revealing secrets of his own and showing him they may be more alike than he thinks.
---
DARK ASSET
Director: Michael Winnick
U.S. Release: September 22
U.K. Release: September 18
Official synopsis: A charming guy attempts to pick up a woman in a bar by spinning a tale involving spies, implanted microchips and the dangerous military scientist hunting him.
---
EVERYBODY DIES BY THE END
Director: Alfred Costella
U.S. Release: September 22
U.K. Release: TBA
Official synopsis: Cult horror director Alfred Costella has decided to make his ultimate masterpiece. After becoming a sensation with the successes Battery Acide, Psycho Menace and Kill Time Now, a car crash talk show interview ten years ago looked like ending his illustrious career. But now he's returning to the independent movie fold to make his final shocker, Everybody Dies by the End, an all-practical concept with a dark twist. Invited along to cover every aspect of the production is a documentary crew. What could possibly go wrong?
---
LIFT (LIMITED)
Director: David Petersen
U.S. Release: September 22
U.K. Release: TBA
Official synopsis: Over a decade in the making, this inspiring and unforgettable documentary follows children impacted by homelessness as they discover the magic of self-expression through dance. Guided by mentor Steven, whose journey leads back to his childhood shelter, their path within a remarkable ballet program becomes a celebration of joy and triumph in the face of adversity.
---
NEITHER CONFIRM NOR DENY
Director: Philip Carter
U.S. Release: September 22
U.K. Release: TBA
Official synopsis: During the Cold War, the CIA secretly raised a sunken Soviet nuclear submarine from the depths of the Pacific Ocean. The six-year operation included an intricate cover story by billionaire Howard Hughes. Drawing on declassified documents and never-before-seen interviews, NEITHER CONFIRM NOR DENY tells one of the highest-stakes yet least known stories of the Cold War.
---
THE ORIGIN OF EVIL
Director: Sébastien Marnier
U.S. Release: September 22
U.K. Release: TBA
Official synopsis: When Stéphane (Laure Calamy gets in touch with wealthy Serge (Jacques Weber), announcing that she is his long-abandoned daughter, his immediate family are none too thrilled. As Stéphane embarks on an extended visit in hopes of getting to know Serge, she also becomes entangled with the hostile women who share a tense existence in his beautifully appointed mansion by the sea.
The restaurateur's wife (Dominique Blanc), his other daughter (Doria Tillier), a rebellious granddaughter (Céleste Brunnquell), and a strangely off-putting housemaid are all clearly unsettled by the arrival of Serge's newly announced heir. But Stéphane is a confident liar with secrets of her own, which writer-director Sébastien Marnier teases out with cool assurance in this wildly entertaining thriller that will keep you guessing all the way to the end.
---
THE BEASTS
Director: Rodrigo Sorogoyen
U.S. Release: September 26
U.K. Release: TBA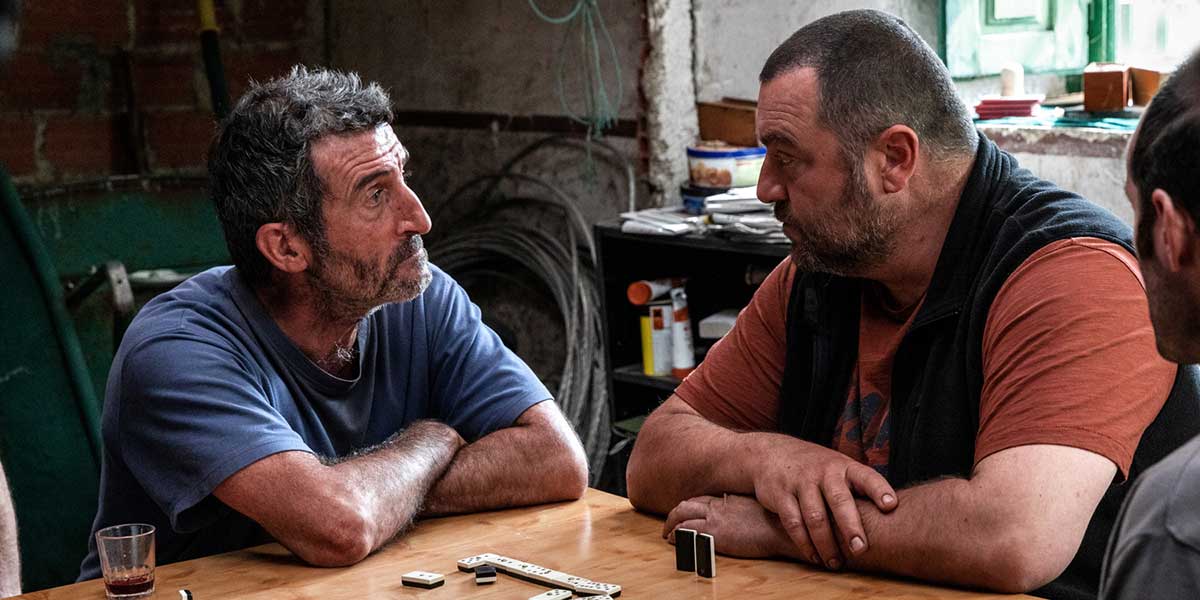 Official synopsis: An expatriate French couple (Denis Ménochet and Marina Foïs) operate an organic farm in the Spanish countryside. However, their earnest enthusiasm reeks of patronizing privilege to the handful of "hill people" families who have toiled on the land for generations. Tensions between locals and foreigners boil over in this edge-of-your-seat thriller.
---
GANGNAM ZOMBIE
Director: Lee Su-seong
U.S. Release: September 26
U.K. Release: TBA
Official synopsis: Soon after previously normal people begin viciously attacking other citizens in Seoul's wealthy Gangnam district, the zombie population grows exponentially and spreads throughout the region. Now, long after injuries forced him to quit the national taekwondo team, an elite former athlete is given one more opportunity to use his talent on behalf of his country as he takes on one final match—this time, against terrifying hordes of the undead.
---
MEGALOMANIAC
Director: Karim Ouelhaj
Global Release: September 26
Official synopsis: 1997 – the "Butcher," one of world's most notorious serial killers, strikes and abruptly vanishes. Now his children must carry on with his brutal legacy. They take over his wrath and, through agony and revenge, fall into a world of absolute darkness.
---
DELIVER US
Director: Lee Roy Kunz & Cru Ennis
U.S. Release: September 29
U.K. Release: TBA
Official synopsis: When a nun in a remote convent claims immaculate conception, the Vatican sends a team of priests to investigate, concerned about an ancient prophecy that a woman will give birth to twin boys: one the Messiah, the other the Anti-Christ.
---
2. SEPTEMBER 2023: NEW ON DIGITAL & VOD – U.K. RELEASES
A LIFE ON THE FARM
Director: Ian Puleston-Davies
U.K. Release: September 8
U.S. Release: out now on digital and on demand! Watch A Life on the Farm!
Official synopsis: A strange story from Somerset, England about a filmmaking farmer and the inspiring legacy of his long-lost home movies.
---
CALVAIRE
Director: Fabrice Du Welz
U.K. Release: September 19
U.S. Release: out now on Shudder & AMC+!
Official synopsis:
Marc Stevens is a travelling singer in rural Belgium. At the nursing home where he is performing, the concert has ended, and Marc takes to the road. Shortly afterwards his car breaks down in the middle of nowhere. He is taken in by Bartel, an innkeeper who became psychologically fragile after his wife Gloria left him. This is how Marc's ordeal begins…
---
READ ALSO: