January 2023: New Movies In Theaters This Month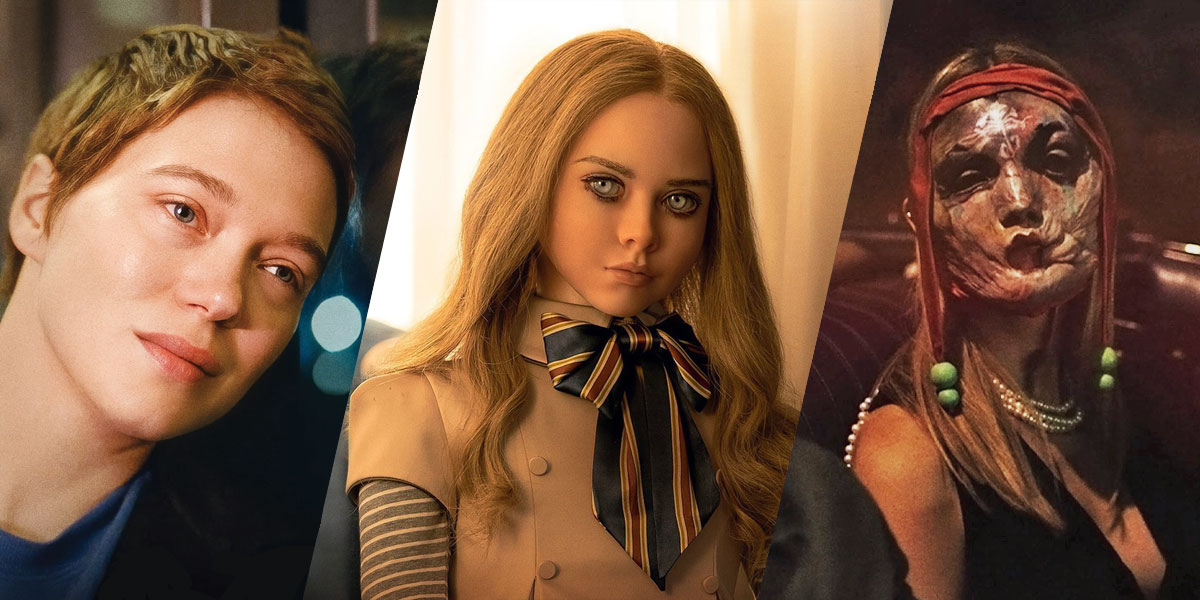 One Fine Morning, M3GAN, Infinity Pool (Sony, Universal, Neon)
January 2023: the new movies in theaters this month include M3gan, Infinity Pool, Saint Omer and Close! Discover all the new releases!
Last month was an exceptional month for movies, but January 2023 is going to be just as good! The wait is over and we'll finally get to watch some highly anticipated festival films, from Mia Hansen-Løve's One Fine Morning to Alice Diop's Saint Omer, Florian Zeller's The Son, and not one but two very successful A24 releases! But that's not all: January 's new releases also include the very promising Infinity Pool, M3gan, Alice, Darling, and many more new star-filled, thematically rich films.
Below you'll find all of January 2023 's new movies, to help you decide what to watch in theaters this month! All films are in order of release and divided by movies you'll be able to see in U.S. theaters and in U.K. cinemas, and we've also added global release dates where available. Happy watching!
---
JANUARY 2023 MOVIES: IN U.S. THEATERS
THE SUBTLE ART OF NOT GIVING A #@%! (LIMITED)
Director: Nathan Price
U.S. Release: January 4 in select theaters, January 9 on digital & VOD
U.K. Release: January 9 on digital & VOD
Official synopsis: Based on the Global Bestselling Self-Help Phenomenon, The Subtle Art of Not Giving A F*ck! is a cinematic documentary designed to help us become less awful people. The author himself, Mark Manson, cuts through the crap to offer his not-giving-a-#@%! philosophy: a dose of raw, refreshing, honesty that shows us how to live more contented, grounded lives.
With over 15 million copies sold, "The Subtle Art of Not Giving A F*ck!" struck a chord with readers all over the world and now, its no-bullshit, life-changing advice comes to the screen. Backed by both academic research and scatological jokes, The Subtle Art of Not Giving A F*ck! shows us that improving our lives hinges not on our ability to turn lemons into lemonade but on learning to stomach lemons.
---
MARS ONE (MARTE UM) – LIMITED
Director: John Swab
U.S. Release: January 5
U.K. Release: TBA
Official synopsis: In MARS ONE, the Martins family are optimistic dreamers, quietly leading their lives in the margins of a major Brazilian city following the disappointing inauguration of a far-right extremist president. A lower-middle-class Black family, they feel the strain of their new reality as the political dust settles. Tércia, the mother, reinterprets her world after an unexpected encounter leaves her wondering if she's cursed. Her husband, Wellington, puts all of his hopes into the soccer career of their son, Deivinho, who reluctantly follows his father's ambitions despite secretly aspiring to study astrophysics and colonize Mars. Meanwhile, their older daughter, Eunice, falls in love with a free-spirited young woman and ponders whether it's time to leave home.
---
ALCARRÀS
Director: Carla Simón
Global Release: January 6
Full Review: Alcarràs (LFF Review): Familial Strife, Familial Affection
Official synopsis: As far as they can remember, the Solé family have spent every summer picking the peaches from their orchard in Alcarràs, a small village in Spain. But this year's crop could be their last,as they face eviction. The new plans for the land include cutting down the peach trees and installing solar panels, which causes a rift within the large tight-knit family. For the first time, they face an uncertain future and risk losing more than their home.
---
CANDY LAND (LIMITED)
Director: John Swab
U.S. Release: January 6
U.K. Release: TBA
Official synopsis: Remy, a seemingly naive and devout young woman, finds herself cast out from her religious cult. With no place to turn, she immerses herself into the underground world of truck stop sex workers, courtesy of her hosts. Under the watchful eye of their matriarch, and an enigmatic local lawman, Remy navigates between her strained belief system and the code to find her true calling in life.
---
THE CONFORMIST – 4K RESTORATION (LIMITED)
Director: Bernardo Bertolucci
U.S. Release: January 6
U.K. Release: the 1970 film is available on digital and on demand!
Official synopsis: In Mussolini's Italy, repressed Jean-Louis Trintignant, trying to purge memories of a youthful, homosexual episode – and murder – joins the Fascists in a desperate attempt to fit in, flashing back to a dance party for the blind; an insane asylum in a stadium; and wife Stefania Sandrelli and lover Dominique Sanda dancing the tango in a working-class hall – just some of the many anthology highlights of Bertolucci's masterpiece and first international hit.
---
IMANI
Director: Mike Ho
U.S. Release: January 6
U.K. Release: TBA
Official synopsis: A year after what she thinks was a car accident, a seemingly normal wife and mother slowly recovers from amnesia, only to learn that she actually is a highly sought-after Army Special Ops Lieutenant who holds a secret that would blow the lid on a widespread government conspiracy.
---
LAST RESORT (LIMITED)
Director: Jean Marc Mineo
U.S. Release: January 6
U.K. Release: TBA
Official synopsis: A former special forces soldier becomes a one-man-army when his wife and daughter are taken hostage during a bank robbery. As he brutally neutralizes the gang of thieves, the lives of millions hang in the balance when a highly lethal toxin is stolen from the vault. THE LASTRESORT is an intense action thriller powered by breathtaking fight choreography.
---
THE OLD WAY
Director: Brett Donowho
U.S. Release: January 6 in theaters, January 13 on digital and VOD
U.K. & Irish Release: January 13 in cinemas, on Altitude.film and VOD
Official synopsis: Academy Award® winner* Nicolas Cage stars in his first-ever Western as Colton Briggs, a cold-blooded gunslinger turned respectable family man. When an outlaw and his gang put Colton and his family in peril, Colton is forced to take up arms with an unlikely partner — his 12-year-old daughter (Ryan Kiera Armstrong) — in this action-filled film that builds toward its fateful showdown with pulse-pounding suspense.
---
A MAN CALLED OTTO
Director: Marc Forster
U.S. Release: January 13 (nationwide)
U.K. Release: January 6
Official synopsis: Based on the comical and moving # 1 New York Times bestseller, A Man Called Otto tells the story of Otto Anderson (Tom Hanks), a grumpy widower who is very set in his ways. When a lively young family moves in next door, he meets his match in quick-witted and very pregnant Marisol, leading to an unlikely friendship that will turn his world upside-down. Experience a funny, heartwarming story about how some families come from the most unexpected places.
---
BEAUTIFUL BEINGS (LIMITED)
Director: Guðmundur Arnar Guðmundsson
U.S. Release: January 13 at the Quad Cinema in NYC, Early 2023 nationwide
U.K. Release: January 30
Official synopsis: Addi, a boy raised by a clairvoyant mother, decides to adopt a bullied misfit into his gang of outsiders. Left to their own devices, the boys explore aggression and violence but also learn about loyalty and love. As the group's behavior escalates towards life-threatening situations, Addi begins to experience a series of dreamlike visions. Can his newfound intuition guide him and his friends back to a safer path, or will they dive irrevocably into further violence?
---
CHESS STORY
Director: Philipp Stölzl
U.S. Release: January 13 in select theaters, February 14 on Fandor
U.K. Release: TBA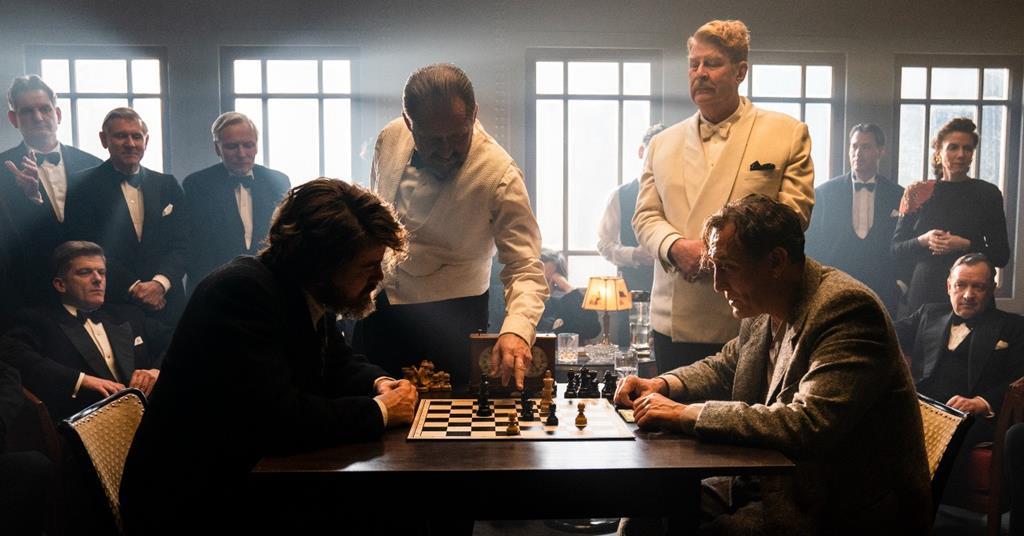 Official synopsis: Vienna, 1938: Austria is occupied by the Nazis. Dr. Josef Bartok (Oliver Masucci) is preparing to flee to America with his wife Anna when he is arrested by the Gestapo. As a former notary to the deposed Austrian aristocracy, he is told to help the local Gestapo leader gain access to their private bank accounts in order to fund the Nazi regime. Refusing to cooperate, Bartok is locked in solitary confinement.
Just as his mind is beginning to crack, Bartok happens upon a book of famous chess games. To withstand the torture of isolation, Bartok disappears into the world of chess, maintaining his sanity only by memorizing every move. As the action flashes forward to a transatlantic crossing on which he is a passenger, it seems as though Bartok has finally found freedom. But recounting his story to his fellow travelers, it's clear that his encounters with both the Gestapo and with the royal game itself have not stopped haunting him.
---
COME FIND ME
Director: Daniel Poliner
U.S. Release: January 13 in theaters and VOD
U.K. Release: TBA
Official synopsis: Come Find Me is a story about a mother and daughter facing major life changes and how their love challenges and sustains them. The daughter, Christina, is a young attorney rising toward partnership in a large firm with no other partners who look like her. The first half of the movie follows Christina and then it jumps forward two years and we watch her wedding from the point of view of her mother, Gloria, a recently retired and widowed public school principal.
---
THE DEVIL CONSPIRACY
Director: Nathan Frankowski
U.S. Release: January 13
U.K. Release: TBA
Official synopsis: A powerful biotech company has breakthrough technology that allows it to clone history's most influential people. Behind this company is a cabal of Satanists who steal the shroud of Turin, putting them in possession of Jesus Christ's DNA — the ultimate offering to the devil. Hoping to save mankind, Archangel Michael soon comes to Earth to stop the devil's conspiracy once and for all.
---
HOUSE PARTY
Director: Calmatic
Global Release: January 13
Official synopsis: Aspiring club promoters and best buds Damon (Tosin Cole) and Kevin (Jacob Latimore) are barely keeping things together. Out of money, down on their luck and about to lose the roofs over their heads—and freshly fired from their low-lift jobs as house cleaners—the pair needs a huge windfall to make their problems go away.
In a 'what the hell?' move, they decide to host the party of the year at an exclusive mansion, the site of their last cleaning job, which just happens to belong to none other than LeBron James. No permission? No problem. What could go wrong? How about a time traveling DJ, undependable security, a runaway guest list, one borrowed Lamborghini, angry rival promoters, a stolen championship ring, escalating property damage, an angry koala..? But also, one outrageous ride stacked with double-take cameos and timeless throwback tracks, R-rated comedy and two friends worth cheering for… you have to see to believe. After all, a night like this doesn't come around more than once.
---
JETHICA (LIMITED)
Director: Pete Ohs
U.S. Release: January 13 in select theaters, February 14 on Fandor
U.K. Release: TBA
Official synopsis: In this darkly comedic SXSW oddity, Jessica lives in fear of a man named Kevin who follows her everywhere she goes. While on a road trip, she reconnects with Elena, an old friend she hasn't seen since high school. Elena has been hiding out at her deceased grandmother's ranch in New Mexico. When Kevin mysteriously appears again, Jessica and Elena seek help from beyond the grave to get rid of him for good… but Kevin is different from other stalkers and won't move on so easily.
---
KITCHEN BRIGADE (LIMITED)
Director: Louis Julien Petit
U.S. Release: January 13
U.K. Release: TBA
Official synopsis: Cathy is a sous-chef wanting to open a restaurant. With financial difficulties, Cathy accepts a job at a shelter for young migrants. At first she hates the job then her passion for cuisine starts to change children's lives.
---
M3GAN
Director: Gerard Johnstone
Global Release: January 13
Official synopsis: M3GAN is a marvel of artificial intelligence, a life-like doll programmed to be a child's greatest companion and a parent's greatest ally. Designed by brilliant toy-company roboticist Gemma (Get Out's Allison Williams), M3GAN can listen and watch and learn as she becomes friend and teacher, playmate and protector, for the child she is bonded to. When Gemma suddenly becomes the caretaker of her orphaned 8-year-old niece, Cady (Violet McGraw, The Haunting of Hill House), Gemma's unsure and unprepared to be a parent. Under intense pressure at work, Gemma decides to pair her M3GAN prototype with Cady in an attempt to resolve both problems—a decision that will have unimaginable consequences.
---
THE OFFERING (LIMITED)
Director: Oliver Park
U.S. Release: January 13
U.K. Release: TBA
Official synopsis: In the wake of a young Jewish girl's disappearance, the son of a Hasidic funeral director returns home with his pregnant wife in hopes of reconciling with his father. Little do they know that directly beneath them in the family morgue, an ancient evil with sinister plans for the unborn child lurks inside a mysterious corpse.
---
ON SACRED GROUND (LIMITED)
Directors: Josh and Rebecca Tickell
U.S. Release: January 13
U.K. Release: TBA
Official synopsis: ON SACRED GROUND is based on the true events during the 2016 construction of the Dakota Access Pipeline that runs through the Standing Rock Indian Reservation. The film follows Daniel (Mapother), a journalist and military veteran, and Elliot (Arquette), an oil company executive, who find themselves on opposite sides of the fight during the construction of the contentious pipeline. As the story unfolds, the two characters go down separate paths during one of the most heated protests and confrontations with Native American tribes in modern US history.
---
PLANE
Director: Jean-François Richet
U.S. Release: January 13
U.K. Release: January 27
Official synopsis: In the white-knuckle action movie PLANE, pilot Brodie Torrance (Gerard Butler) saves his passengers from a lightning strike by making a risky landing on a war-torn island – only to find that surviving the landing was just the beginning. When most of the passengers are taken hostage by dangerous rebels, the only person Torrance can count on for help is Louis Gaspare (Mike Colter), an accused murderer who was being transported by the FBI. In order to rescue the passengers, Torrance will need Gaspare's help, and will learn there's more to Gaspare than meets the eye.
---
THE PRICE WE PAY (LIMITED)
Director: Ryûhei Kitamura
U.S. Release: January 13
U.K. Release: TBA
Official synopsis: Emile Hirsch and Stephen Dorff star in this intense thriller about a gang of thieves who take refuge at a remote farmhouse—and find evidence of savage violence. Will they be next? From the director of Midnight Meat Train.
---
SAINT OMER
Director: Alice Diop
U.S. Release: January 13
U.K. Release: February 3
Official synopsis: Saint Omer court of law. Young novelist Rama attends the trial of Laurence Coly, a young woman accused of killing her 15-month-old daughter by abandoning her to the rising tide on a beach in northern France. But as the trial continues, the words of the accused and witness testimonies will shake Rama's convictions and call into question our own judgment.
---
THE TOMORROW JOB (LIMITED)
Director: Bruce Wemple
U.S. Release: January 13 in select theaters, January 17 on VOD
U.K. Release: TBA
Official synopsis: The film follows a team of thieves who use a time-travel drug to trade places with their future selves to execute the ultimate heist. When interrupted on a job the team must fix their past mistakes to prevent disastrous consequences. A dynamic mix of genres, THE TOMORROW JOB is a high-stakes sci-fi action-adventure epic with heart, humor, and fun, and an ode to beloved heist comedies of the past.
---
AFTER LOVE
Director: Aleem Khan
North American Release: January 20
U.K. Release: out now on BFI Player and on demand! Watch After Love!
Full Review: After Love (Film Review): Love & Revelations Distanced by the Channel
Official synopsis: Mary (Joanna Scanlan) is a white English woman who converted to islam when she married her Pakistani husband, Ahmed, and they settled in Dover, England. Following Ahmed's unexpected death, Mary discovers that her late husband had a secret life just twenty-one miles away across the Channel in Calais, France. The shocking discovery compels her to go there to find out more, and as she grapples with her shattered sense of identity, her search for understanding has surprising consequences.
---
ALICE, DARLING
Director: Mary Nighy
U.S. Release: January 20
U.K. Release: TBA
Official synopsis: In the taut thriller Alice, Darling, Anna Kendrick stars as a woman pushed to the breaking point by her psychologically abusive boyfriend, Simon. While on vacation with two close girlfriends, Alice rediscovers the essence of herself and gains some much-needed perspective. Slowly, she starts to fray the cords of codependency that bind her. But Simon's vengeance is as inevitable as it is shattering – and, once unleashed, it tests Alice's strength, her courage, and the bonds of her deep-rooted friendships.
---
ALONE AT NIGHT
Director: Jimmy Giannopoulos
U.S. Release: January 20
U.K. Release: TBA
Official synopsis: Vicky (Ashley Benson) is a young woman looking for an escape after going through a harrowing break-up. After retreating to a friend's remote cabin in the woods to clear her head, she continues modeling sexy lingerie for her devoted followers on 18 & Over, an adults-only, live-streaming website. But when the power keeps going out, Vicky discovers something terrifying awaiting her in the dark — a masked killer wielding a crowbar who's hellbent on bringing her night to a grisly end. Alone at Night is led by an ensemble cast including Benson (Pretty Little Liars), Pamela Anderson (Baywatch), Luis Guzmán (Traffic), model Winnie Harlow, musician G-Eazy, rapper A$AP Nast, Paris Hilton, and more.
---
DETECTIVE KNIGHT: INDEPENDENCE
Director: Edward Drake
U.S. Release: January 20
U.K. Release: TBA
Official synopsis: Bruce Willis stars as Detective James Knight in this final, tense chapter of the trilogy. Knight's last-minute assignment to the Independence Day shift turns into a race to stop an unbalanced ambulance EMT from imperiling the city's festivities. The misguided vigilante, playing cop with a stolen gun and uniform, has a bank vault full of reasons to put on his own fireworks show…one that will strike dangerously close to Knight's home.
---
IN FROM THE SIDE
Director: Matt Carter
U.S. Release: January 20
U.K. Release: out now on Blu-ray, DVD and Digital!
Official synopsis: Minute for minute, you won't find a more romantic gay film this year than British rugby drama IN FROM THE SIDE, a surprisingly moving sports-team story slathered in sweat, streaked with mud, and dripping with sensuality. As a "B Squad" of gay athletes tries to overcome inexperience and push past rivalries to score an elusive win, a secret affair simmers among them. Mark (puppy-eyed Alexander Lincoln) finds himself unable to avoid the blazing appeal of teammate Warren (Alexander King), with his cocky attitude and emotional unavailability.
---
KIDS VS ALIENS (LIMITED)
Director: Jason Eisener
U.S. Release: January 20
U.K. Release: TBA
Official synopsis: All Gary wants is to make awesome home movies with his best buds. All his older sister Samantha wants is to hang with the cool kids. When their parents head out of town one Halloween weekend, an all-time rager of a teen house party turns to terror when aliens attack, forcing the siblings to band together to survive the night.
---
MISSING
Directors: Will Merrick & Nick Johnson
U.S. Release: January 20
U.K. Release: January 24
Official synopsis: From the minds behind Searching comes Missing, a thrilling roller-coaster mystery that makes you wonder how well you know those closest to you. When her mother (Nia Long) disappears while on vacation in Colombia with her new boyfriend, June's (Storm Reid) search for answers is hindered by international red tape. Stuck thousands of miles away in Los Angeles, June creatively uses all the latest technology at her fingertips to try and find her before it's too late. But as she digs deeper, her digital sleuthing raises more questions than answers…and when June unravels secrets about her mom, she discovers that she never really knew her at all.
---
NEW GODS: YANG JIAN
Director: ZHAO Ji
U.S. Release: January 20
U.K. Release: TBA
Official synopsis: Thirteen years after Yang Jian (known to some as Erlang Shen) imprisoned his sister beneath a mountain, the once powerful god now scrapes by as a penniless bounty hunter. When a mysterious woman hires him for a new job, Yang Jian soon finds himself chasing down a familiar figure. He must stop Chenxiang, his long-lost nephew, who is in search of the magical lotus lantern that will free his mother, even if it will bring catastrophe. As Yang Jian confronts the actions of his past, he must face a host of dangerous vigilantes seeking the same treasure with the power to alter the balance of their worlds.
---
ONLY IN THEATERS (LIMITED)
Director: Raphael Sbarge
U.S. Release: January 20 in New York (IFC Center and New Plaza Cinemas)
U.K. Release: TBA
Official synopsis: There has been a Laemmle in the movie business since there's been a movie business. Their beloved Arthouse Cinema chain with an astonishing Hollywood legacy has, for four generations, been dedicated to elevating the art of filmmaking and the filmmakers who make them. Responsible for bringing foreign film to Los Angeles and popularizing countless foreign independent films and their filmmakers, the Laemmle Theatres' impact on Hollywood and world cinema cannot be overstated. In a world of growing conglomeration, the Laemmle circuit of theatres has become even more of an anomaly: a family-owned and operated art house theatre chain. Filmed over 2 1/2 years, Only in Theaters chronicles a family business, and their determination to survive. But in a changing world this is also a story about the future of Cinema. Interviews with Ava DuVernay, Cameron Crowe, James Ivory, Nicole Holofcener, and others.
---
OUT OF EXILE
Director: Kyle Kauwika Harris
U.S. Release: January 20
U.K. Release: TBA
Official synopsis: Recently paroled thief Gabe Russell is back at it again. After a botched armored car robbery turns up the heat from the FBI, he'll have one last shot if he hopes to escape and provide a new life for himself and his estranged daughter.
---
THE SON
Director: Florian Zeller
U.S. Release: January 20
U.K. Release: TBA
Full Review: The Son (Venice Review): Superb Storytelling
Official synopsis: A drama that follows a family as it struggles to reunite after falling apart. THE SON centers on Peter (Jackman), whose hectic life with his infant and new partner Beth (Kirby) is upended when his ex-wife Kate (Dern) appears with their son Nicholas (McGrath), who is now a teenager. The young man has been missing from school for months and is troubled, distant, and angry. Peter strives to take care of Nicholas as he would have liked his own father to have taken care of him while juggling work, his and Beth's new son, and the offer of his dream position in Washington. However, by reaching for the past to correct its mistakes, he loses sight of how to hold onto the Nicholas in the present.
---
WHEN YOU FINISH SAVING THE WORLD
Director: Jesse Eisenberg
U.S. Release: January 20
U.K. Release: TBA
Full Review: When You Finish Saving the World (Film Review): A Deeply Felt Family Drama
Official synopsis: Evelyn (Julianne Moore) has devoted herself to helping people in hard times, but she struggles to connect with her son Ziggy (Finn Wolfhard), an aspiring internet star oblivious to the problems of the world.
As Evelyn attempts to become a parent figure to an unassuming teenager she meets at her shelter, and Ziggy fumbles through his pursuit of a brilliant and politically conscious young woman at his high school, this emotional comedy reveals a funny and sharply perceptive portrait of a mother and son who may seem at odds but who are more alike than either would care to admit.
---
LEFT BEHIND: RISE OF THE ANTICHRIST
Director: Kevin Sorbo
U.S. Release: January 26
U.K. Release: TBA
Official synopsis: After millions of people vanish and the world falls into chaos, the only light is a charismatic leader who rises to become head of the U.N. But does he bring hope for a better future? Or is it the end of the world?
---
BLOOD
Director: Brad Anderson
U.S. Release: January 27
U.K. Release: TBA
Official synopsis: Jess (Michelle Monaghan), a nurse and mother recently separated from her husband (Skeet Ulrich), moves her daughter Tyler (Skylar Morgan Jones) and young son Owen (Finlay Wojtak-Hissong) back into her family farmhouse. Shortly after settling in, Owen's dog escapes into the woods and returns days later, blood-soaked and rabid. When the dog attacks and bites him, the resulting infection grows more shocking as Owen's behavior becomes frightening and deadly. As he spirals deeper into the depths of the illness, Jess discovers a disturbing cure, which makes her question how far she is willing to go to keep her child alive.
---
CLOSE
Director: Lukas Dhont
U.S. Release: January 27
U.K. Release: March 3
MUBI Release: April 21
Full Review: Close (Film Review): The Bone Breaks; It Grows Back Stronger
Official synopsis: Léo and Rémi are two thirteen-year-old best friends, whose seemingly unbreakable bond is suddenly, tragically torn apart. Winner of the Grand Jury Prize at the Cannes Film Festival, Lukas Dhont's second film is an emotionally transformative and unforgettable portrait of the intersection of friendship and love, identity and independence, and heartbreak and healing.
---
CONDOR'S NEST
Director: Phil Blattenberger
U.S. Release: January 27
U.K. Release: TBA
Official synopsis: American war veteran Will Spalding (Jacob Keohane) has tracked the sadistic Nazi Colonel who executed his bomber crew during WWII to a remote location in South America. But he is in for more than he bargained for when he uncovers a secret Nazi headquarters known as the Condor's Nest.
---
DISTANT
Director: Josh Gordon & Will Speck
U.S. Release: January 27
U.K. Release: February 10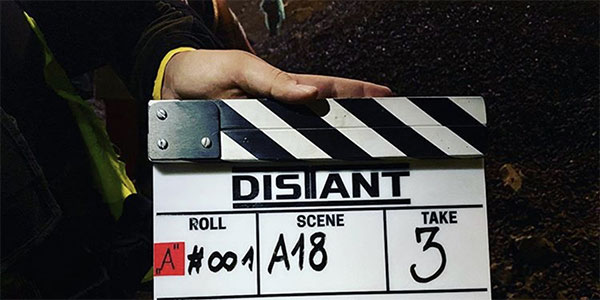 Official synopsis: After crash-landing on an alien planet, an asteroid miner must make his way across the harsh terrain, running out of oxygen, hunted by strange creatures, to the only other survivor.
---
FEAR (LIMITED)
Director: Deon Taylor
U.S. Release: January 27
U.K. Release: TBA
Official synopsis: When 16-year-old Nicole Walker (Reese Witherspoon) meets 23-year-old David McCall (Mark Wahlberg) at a Seattle nightclub, she falls in love. David is exciting and charming, and despite the wide age gap, he wins over Nicole's family — except for her workaholic father, Steven (William Petersen), who's suspicious of David from the start. His concerns are realized when David turns out to be a violent sociopath who sees Nicole as his possession, and her family home a fortress to be invaded.
---
FILMMAKERS FOR THE PROSECUTION (LIMITED)
Director: Jean-Christophe Klotz
U.S. Release: January 27 (NY) / February 3 (LA)
U.K. Release: TBA
Official synopsis: Adapted from Sandra Schulberg's monograph, Filmmakers for the Prosecution retraces the thrilling hunt for film evidence used to convict the Nazis at the first Nuremberg Trial. The searchers were two sons of Hollywood – brothers Budd and Stuart Schulberg – serving under the command of OSS film chief John Ford. The motion pictures they presented in the courtroom became part of the official record and shape our understanding of the Holocaust to this day.
Seventy-five years after the trial, French journalist and filmmaker Jean-Christophe Klotz returns to the German salt mines where films lay burning, uncovers never-before-seen footage, and interviews key figures to unravel why the resulting film about the trial – Nuremberg: Its Lesson for Today by Stuart Schulberg – was intentionally buried by the U.S. Department of War. Klotz's riveting film also fills in the gaps of how these groundbreaking materials were sourced, and poses still-pertinent questions about the power of film to write history.
---
INFINITY POOL
Director: Brandon Cronenberg
U.S. Release: January 27
U.K. Release: March 24
Full Review: Infinity Pool (Movie Review): Cronenberg's Latest is a Hot Mess
Official synopsis: While staying at an isolated island resort, James (Alexander Skarsgård) and Em (Cleopatra Coleman) are enjoying a perfect vacation of pristine beaches, exceptional staff, and soaking up the sun. But guided by the seductive and mysterious Gabi (Mia Goth), they venture outside the resort grounds and find themselves in a culture filled with violence, hedonism, and untold horror. A tragic accident leaves them facing a zero tolerance policy for crime: either you'll be executed, or, if you're rich enough to afford it, you can watch yourself die instead.
---
KOMPROMAT
Director: Jérôme Salle
U.S. Release: January 27
U.K. Release: TBA
Official synopsis: Gilles Lellouche stars as Mathieu, a gregarious and dedicated diplomat who accepts a posting to Irkutsk as the head of Siberia's Alliance Francaise. He hopes the change will be good for his family and struggling marriage, but before long Mathieu's staging of cultural events and support of artistic expression sees him fall afoul of local authorities. Accused of a terrible crime, he soon realizes someone has fabricated a case with Russia's Federal Security Service – he has been framed. Arrested, imprisoned and isolated, Mathieu has nowhere to turn. Defending himself is impossible, the French authorities are helpless – it seems he has no choice: to try and escape.
---
LIFE UPSIDE DOWN
Director: Cecilia Miniucchi
U.S. Release: January 27
U.K. Release: TBA
Official synopsis: LIFE UPSIDE DOWN is a romantic comedy about time, distance, and the human condition. Three couples, connected by friendship, love and work, are each stuck in their respective homes in Los Angeles during the beginning of lockdown. Finally forced to face their spouses, friends, lovers, and eventually themselves head on, their lives turn slowly but surely upside-down.
---
THE MAN IN THE BASEMENT (LIMITED)
Director: Philippe Le Guay
U.S. Release: January 27 in New York (The Quad), followed by LA and national expansion
Global Release: February 28 on VOD
Official synopsis: A benign real estate deal becomes a sinister standoff between a young Parisian French couple (Jérémie Renier and Academy Award nominee Bérénice Bejo) and a dangerous negationist. Simon Sandberg, a Jewish Parisian architect (Renier) sells his flat's unused cellar to a seemingly normal and well-mannered former history teacher, Jacques Fonzic (The Untouchables' François Cluzet). But when Fonzic takes up residence in the cellar, the stranger's secret life emerges. Slowly and methodically, his far-right, radicalized beliefs about Judaism and conspiracy theories ensnare Simon's very existence, driving him to more and more desperate strategies to evict the man.
What ensues is a riveting cat-and-mouse game between Fonzic and Sandberg as the increasingly menacing buyer insinuates himself with their naive teenage daughter, turning the family's idyllic world upside down. Impeccable acting and a nightmare scenario drive this tense and gripping thriller, based on a true story, to its logical and frightening conclusion.
---
MAYBE I DO
Director: Michael Jacobs
U.S. Release: January 27
U.K. Release: TBA
Official synopsis: Michelle and Allen have reached the point in their relationship to consider wedding bells and decide it's time to introduce their parents to each other. But to everyone's surprise, the parents know each other far too well – intimately well!
---
ONE FINE MORNING (LIMITED)
Director: Mia Hansen-Løve
U.S. Release: January 27
U.K. & Ireland Release: April 14 in cinemas and June 16 on MUBI.
Full Review: One Fine Morning (Film Review): Finding Unexpected Love
Official synopsis: Sandra (Lea Seydoux) is a widowed young mother raising her daughter on her own, while also caring for her sick father (Pascal Greggory). She's dealing with the loss of the relationship she once had with her father, while she and her mother and sister fight to get him the care he requires. At the same time, Sandra reconnects with Clément (Melvil Poupaud), a friend she hasn't seen in a while and, although he's married, their friendship soon blossoms into a passionate affair.
---
PETIT MAL
Director: Ruth Caudeli
U.S. Release: January 27
U.K. Release: TBA
Official synopsis: Anto, Marti, and Lai are a throuple blissfully living together in a remote house, with nothing but their beloved bundle of dogs keeping them company. When Lai leaves for a work trip, the balance is thrown off and Marti and Anto must adapt to being just the two of them. Suddenly, the dreaminess of their secluded home becomes isolating, and all they have to rely on is each other. In the spirit of honest and vulnerable openness, this semi-autobiographical blend of documentary and fiction from writer-director Ruth Caudeli is an invitation to experience the intimate details, both unique and universal, of the ups and downs and shifting dynamics in a polyamorous relationship.
---
REMEMBER THIS (LIMITED)
Directors: Jeff Hutchens & Derek Goldman
U.S. Release: January 27
U.K. Release: TBA
Official synopsis: In a virtuoso solo performance, Academy Award-nominee David Strathairn (Nomadland, Good Night, and Good Luck, Lincoln) portrays Jan Karski in this genre-defying true story of a reluctant World War II hero and Holocaust witness. After surviving the devastation of the Blitzkrieg, Karski swears allegiance to the Polish Underground and risks his life to carry the first eyewitness reports of war-torn Poland to the Western world, and ultimately, the Oval Office. Escaping a Gestapo prison, bearing witness to the despair of the Warsaw ghetto and confronted by the inhumanity of a death camp, Karski endures unspeakable mental anguish and physical torture to stand tall in the halls of power and speak the truth. Strathairn captures the complexity and legacy of this self-described "insignificant, little man" whose timely story of moral courage and individual responsibility can still shake the conscience of the world.
---
JANUARY 2023 MOVIES: IN U.K. CINEMAS
THE ENFORCER
Director: Richard Hughes
U.K. Release: January 6
U.S. Release: out now on digital and on demand!
Official synopsis: THE ENFORCER is a gripping and stylish feature debut from acclaimed commercial and short film director Richard Hughes. Written by W. Peter Ilif of POINT BREAK fame, the film depicts the story of ageing mob hitman Cuda, who turns against his femme-fatale boss and sacrifices everything to rescue a young run away from the very organisation he has dedicated his life to building.
---
TILL
Director: Chinonye Chukwu
U.K. Release: January 6
U.S. Release: out now on digital and on demand!
Full Review: Till (Review): Deadwyler Delivers a Powerhouse Performance
Official synopsis: Mamie Till-Mobley is a widowed single mother who is the head of her household, the only Black woman working for the Air Force in Chicago. Till-Mobley becomes a revolutionary by insisting that the world witness the horror of her brutally maimed son's body in an open casket viewing as an act of defiance against oppression and hate. "I wanted the world to see what they did to my boy," she said at the time. Till-Mobley also gave the exclusive rights to Jet Magazine to publish the images of her son's maimed body which caused the lynching to gain worldwide notoriety. A mother's audacity became a lightning rod in the Civil Rights Movement and propelled her to reluctantly become an outspoken activist for the NAACP advocating for social justice and education.
---
EMPIRE OF LIGHT
Director: Sam Mendes
U.K. & Europe Release: January 13
U.S. Release: December 9
Full Review: Empire of Light (TIFF Review): A Messy But Gorgeous Romance
Official synopsis: Set in an English coastal town in the early 1980s, EMPIRE OF LIGHT is a compelling and poignant drama about the power of human connection during turbulent times, from Academy Award® winning director Sam Mendes.
---
ENYS MEN
Director: Sam Mendes
U.K. Release: January 13
U.S. Release: TBA
Full Review: Enys Men (Cannes Review): The Sounds of Isolation
Official synopsis: A wildlife volunteer on an uninhabited island off the British coast descends into a terrifying madness that challenges her grip on reality and pushes her into a living nightmare. Evoking the feeling of discovering a reel of never-before-seen celluloid unspooling in a haunted movie palace, this provocative and masterful vision of horror asserts Mark Jenkin as one of the U.K.'s most exciting and singular filmmakers.
---
BABYLON
Director: Damien Chazelle
U.K. Release: January 20
U.S. Release: December 23, 2022
Official synopsis: From Damien Chazelle, Babylon is an original epic set in 1920s Los Angeles led by Brad Pitt, Margot Robbie and Diego Calva, with an ensemble cast including Jovan Adepo, Li Jun Li and Jean Smart. A tale of outsized ambition and outrageous excess, it traces the rise and fall of multiple characters during an era of unbridled decadence and depravity in early Hollywood.
---
MORE THAN EVER
Director: Emily Atef
U.K. Release: January 20
U.S. Release: TBA
Full Review: More Than Ever (LFF Review): "Everything We Will Never Be Again"
Official synopsis: Hélène (Vicky Krieps) is a 33-year-old woman who lives in Bordeaux, France and has been in a happy marriage with Matthieu (Gaspard Ulliel) for many years. Their life turns upside down when Hélène is diagnosed with a rare lung disease.
---
THE SUBSTITUTE
Director: Diego Lerman
U.K. Release: January 20
U.S. Release: TBA
Official synopsis: Recently appointed substitute literature teacher Lucio (Juan Minujín) needs to work hard to find a way to connect with the minds – and the realities – of students at a tough Buenos Aires high school. He also has big shoes to fill: those of his ailing father, known as "El Chileno" (Alfredo Castro), a well-loved community organiser who is about to open a soup kitchen, years in the making, but is constantly being threatened by a local gang as they seek total control of the area through drugs and corrupt politics. When one of his students lands in trouble with the local kingpin, Lucio has to step out from his teaching duties to protect both the teenager and the fragile bond he's forging with his pupils.
---
ALL THE BEAUTY AND THE BLOODSHED
Director: Laura Poitras
U.K. Release: January 27
U.S. Release: December 9, 2022
Full Review: All the Beauty and the Bloodshed (TIFF 2022): Film Review
Official synopsis: Directed by Academy Award-winning filmmaker Laura Poitras, All the Beauty and the Bloodshed is an epic, emotional and interconnected story about internationally renowned artist and activist Nan Goldin told through her slideshows, intimate interviews, ground-breaking photography, and rare footage of her personal fight to hold the Sackler family accountable for the overdose crisis.
---
JANUARY
Director: Andrey M Paounov
U.K. Release: January 27 (in cinemas and on demand)
U.S. Release: TBA
Official synopsis: In the middle of nowhere, five men are stuck in a snowstorm. One has to cross the Woods to reach town, but that's madness in the midst of winter: the wolves are hungry and can be heard howling all night long, and who knows what other creatures roam these woods…?
---
JANUARY 2023 – WHAT ELSE IS HAPPENING THIS MONTH:
Film Festivals:
Other Events: