When You Finish Saving the World: Film Review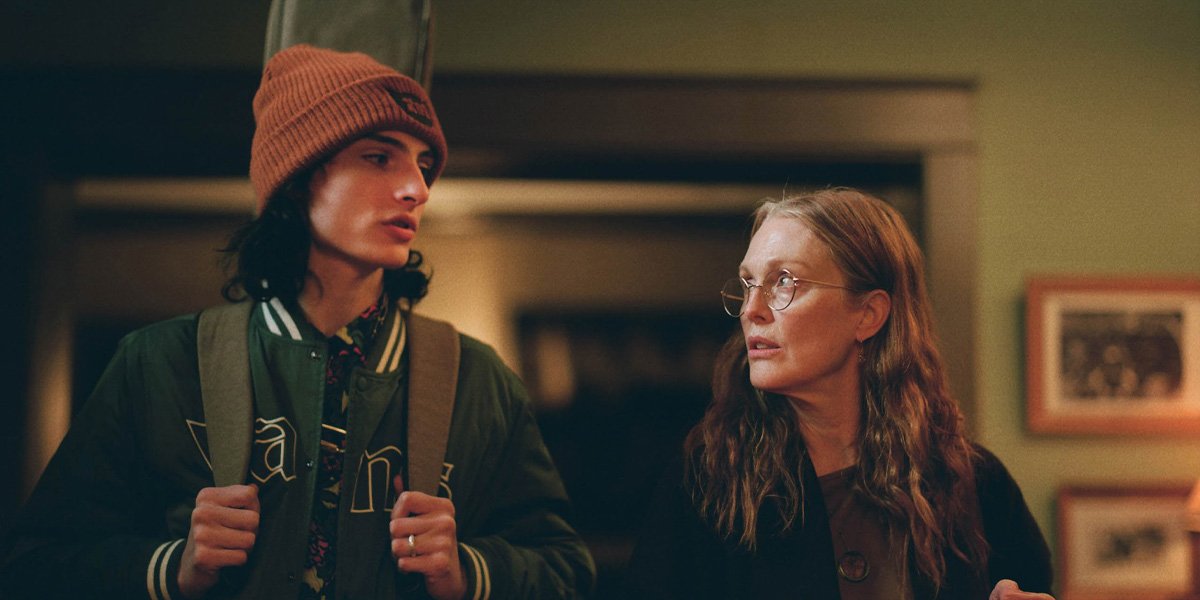 Finn Wolfhard and Julianne Moore in When You Finish Saving the World by Jesse Eisenberg (Beth Garrabrant | A24)
When You Finish Saving the World may not come to any new conclusions on today's generational divide, but Finn Wolfhard and Julianne Moore shine as the stars.
---

Every year seems to bring a new set of stars angling to try their hand behind the camera, flexing their creativity in a directorial capacity and showing what more they have to offer outside of their time as an actor. Just last year alone, Maggie Gyllenhaal (The Lost Daughter), Rebecca Hall (Passing), and Fran Kranz (Mass) announced themselves as writer-directors on the rise in a major way, tackling meaningful subject matter (motherhood, mass shootings, etc.) and delivering complex social commentary on weighty issues in our world today.
With When You Finish Saving the World – an adaptation of the 2020 audio drama of the same name – actor Jesse Eisenberg follows in their (and many others') footsteps, concerning himself with the chasmic generational divide between parents and children in the 21st Century and the ways in which we seek to make a difference in society and individually assert our "importance." As is to be expected with such messy subject matter, Eisenberg may not come to any new conclusions on the themes he explores or espouse any earth-shattering revelations, but his considerate musings are continually compelling nonetheless and, if nothing else, the perceptive performances from leads Julianne Moore (Boogie Nights, The Hunger Games) and Finn Wolfhard (Stranger Things, It) make the movie immensely watchable and power the piece to a cathartic conclusion.
Ziggy (Wolfhard) is a self-confident high schooler, emboldened by the success he's earned as a live-streaming musician for tens of thousands of fans around the world. Conversely, Evelyn (Moore), his mother, is a dejected domestic violence shelter worker, struggling to connect to her son and make a real difference beyond what she does on a day-to-day basis. As their relationship becomes more strained with each passing moment, both seek emotional satisfaction elsewhere, with Ziggy pursuing a pretty political activist at his school named Lila (Alisha Boe, of 13 Reasons Why) and aiming to convince her that he cares about these social causes as much as she does, and Evelyn seeing the child of one of her women she's tending to, Kyle (Billy Bryk, of Ghostbusters: Afterlife), as a surrogate son-of-sorts, attempting to shape his plans for his future since Ziggy so rarely lets her into that part of his life. However, the further they stray from one another, Ziggy and Evelyn realize that nothing can fully replicate or replace the relationship they have, as it becomes impossible for them to progress in these pursuits with their own house out of order.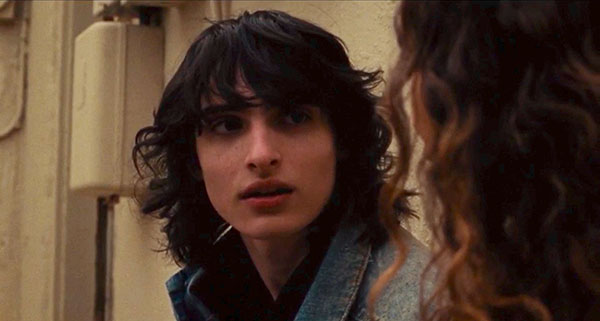 There's so much to discuss when digging into the generational divide between Gen Z and their parents these days that it's hard to fault Eisenberg for perhaps biting off a bit more than he can chew here, peeking at the political posturing of much of today's youth, analyzing the narcissism inherent in "altruist" advocacy, and investigating the idea that nothing in our lives matters more than meaningful human connection with those we love most, even above any efforts to "alter the world" in its entirety.
With that being said, at the very least, Eisenberg has droll, dry humor down to a tee, especially in the embarrassing interactions between Ziggy (a conversationally clumsy character one could imagine Eisenberg himself playing in another picture) and Lila (who is a side-splitting stand-in for today's aggressively politically minded teens), keeping the comedy consistently charming. The interplay between Evelyn and Kyle is rooted in more emotional resonance – with us empathizing with Evelyn for trying to capture a chemistry with this new companion that she lacks with Ziggy – but there's still a sharp subtext in Eisenberg's screenwriting that reminds us that Evelyn isn't just helping Kyle out of the goodness of her heart; she, like many others, is using this act of "service" as a guise for attaining her own satisfaction.
This pairing parallels Ziggy's and his plan to make his music more political solely to win Lila over, having little interest in the issues she shapes her identity around. Despite the years between them – and the alternate approaches they take to simultaneously attain affection/attention and supposedly "better" the world around them – Ziggy and Evelyn are essentially doing the same thing: taking on misguided moral missions to ignore the obstacles they have with one another and only furthering the distance between themselves. Wolfhard – who has struggled in recent years to find a solid post-Stranger Things/It part in films like The Turning and The Goldfinch – is persistently persuasive in his performance, actualizing the awkwardness of adolescence and portraying the passion he has for his musical projects and his pining of his new crush with an affecting authenticity.
However, it's the expectedly exceptional Moore who excels most of all, balancing both the sweet and sour parts of Evelyn's personality perfectly. Fueling every good deed is a desire to feel better about herself and feel needed by someone else, but while Evelyn could've been unforgivably unpleasant in another actress' hands, Moore makes us contemplate all her complexities instead of condemning her immediately (and it helps that Eisenberg gives her more than a few brutal barbs to deliver that linger long after the credits roll, too).
See Also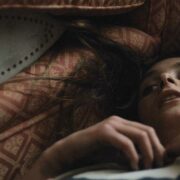 The introspective ideation found in Eisenberg's screenplay may be more innovative overall than his direction, but this is certainly no drab debut, with a sharp and stark style that is complemented by cinematographer Benjamin Loeb's (Mandy, Pieces of a Woman) commitment to establishing a "down-to-earth" aura for the film and composer Emile Mosseri's (Minari, The Last Black Man from San Francisco) sportively stylized score. And that's why, in spite of accusations of aimlessness or redundancy that may come Eisenberg's (or the film's) way, most will miss the point entirely: all he's sought to do here was tell one singular story with ties to grander social themes of today, with all the cast and crew in tune regarding the tone of the treatise, and by those parameters, When You Finish Saving the World is a stupendous success.
Can we expect him – or Ziggy and Evelyn – to solve all our problems related to these subjects? Of course not, but that wasn't Eisenberg's goal. In the end, When You Finish Saving the World leaves us with this one thought: no one has all the answers, and we're all figuring our lives out on the fly, so instead of wasting time trying to be something you're not or shoulder the world's strife out of some selfish need to feel "significant," focus on what matters most – your friends and family in the here and now, for as long as you have them.
---
When You Finish Saving the World premiered at the Sundance Film Festival in January 2022, and will be released in US theaters by A24 on January 20, 2023.