More Than Ever (Film Review): "Everything We Will Never Be Again"

More Than Ever (Plus Que Jamais) (Modern Films, 2022 BFI London Film Festival)
Vicky Krieps and the late Gaspard Ulliel star in More Than Ever, Emily Atef's quietly profound drama about an ill woman seeking comfort in the face of death.
---

Hélène (Vicky Krieps, also at LFF with Corsage) lives in Bordeaux with her husband Mathieu (Gaspard Ulliel). She has IPF (idiopathic pulmonary fibrosis), a lung condition unknown to doctors and therefore untreatable. The only possibility for Hélène is a double lung transplant that gives her a 50/50 chance of living longer than three years. But she wants more comfort than that. Searching 'what to do when you are dying' online, she comes across a photoblog by another sick person named Bent (Bjørn Floberg). He lives in a remote part of Norway, and something about its idyllic lake surrounded by large mountains draws Hélène in. So she decides she wants to go to Norway – on her own. And despite Mathieu's reservations, she travels alone for the first time and stays at Bent's home. Then, as Mathieu arrives to bring Hélène home, her condition worsens.
The new film from French-Iranian director Emily Atef (who also co-wrote the script with Lars Hubrich), More Than Ever (Plus Que Jamais) is a drama with a typically European aura. The cinematography from Yves Cape (Holy Motors) includes stunning shots of the Norwegian landscape – all the leaves, fjords and snow-covered mountains. It is part of a second half that feels expansive and open in its imagery and the characterisation of Hélène. Water becomes a key motif, as she imagines herself floating in a lake peacefully with seagulls flying around her. It's a natural and incredibly healing image, and one of the reasons why Hélène feels so drawn to Norway.
Vicky Krieps is excellent here. The Luxembourgian actress has always shined playing multi-faceted characters, adding varying degrees of aloofness and melancholy (see her roles in Corsage and Bergman Island). Here, she accurately conveys the disquiet of Hélène's situation. She often gasps for breath and needs an oxygen concentrator, but doesn't want to talk about her illness. When she has dinner with friends, Hélène doesn't want everyone to be so concerned about her condition. We get the impression she is still trying to figure out how she wants to approach her disease, that she desires some distance to deal with her psychological and literal suffocation. Krieps' understated turn in this filmis proof – if proof was still needed – that she is one of the best actors working right now.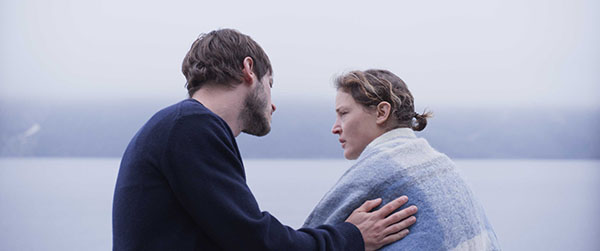 It is always tragic when we lose an actor before their time. The passing of French actor Gaspard Ulliel this year was one of those moments, particularly as he is so terrific in More Than Ever. As Hélène's supportive yet worried husband, Ulliel expresses Mathieu's love in a tangible but extremely subtle. It goes mostly unacknowledged by the film, but it is present and understandable, as it contributes to his frustration at Hélène's decisions. "I'm choosing how I'm going to leave," says Hélène at one point. "No, you're choosing to die," replies Mathieu, indicating his unwillingness to give up on his wife. Bjørn Floberg is also very good as Bent, the Norwegian Hélène befriends but has a dark secret related to his past as an oil rig worker.
More Than Ever is a quietly profound drama about seeking comfort in the face of death. The cast and script by Atef and Hubrich are both superb, conveying a poetic softness rather than being overdramatic. And whilst the first half is very decent, the second half is where the film shines. Atef embraces serenity in the cinematography whilst posing a question about solitude, asking whether Hélène feels at peace because she is in Norway or away from her husband. By the end, we are rewarded with a proper examination of mortality and the effect death has on friends and family.
See Also

When Hélène reunites with Mathieu, she tells him to move on and leave her, noting how his presence makes it all the tougher to let go. "When I see you, I see everything we used to be and everything we could have been. Everything we will never be again," she beautifully explains. She is comforted by her new surroundings and now feels ready to depart on her terms. Mathieu rejects that, stating his loss would be too great emotionally, and he is right to an extent. But then again, he isn't the one dying. And as Bent perfectly surmises in a video chat with Hélène: "The living cannot understand the dying."
---
More Than Ever (Plus Que Jamais) premiered at the 2022 BFI London Film Festival on October 12, 2022. The film will be released in the UK & Ireland by Modern Films on January 20, 2023.