Damien Chazelle: An Exploration of Sacrifices and Dreams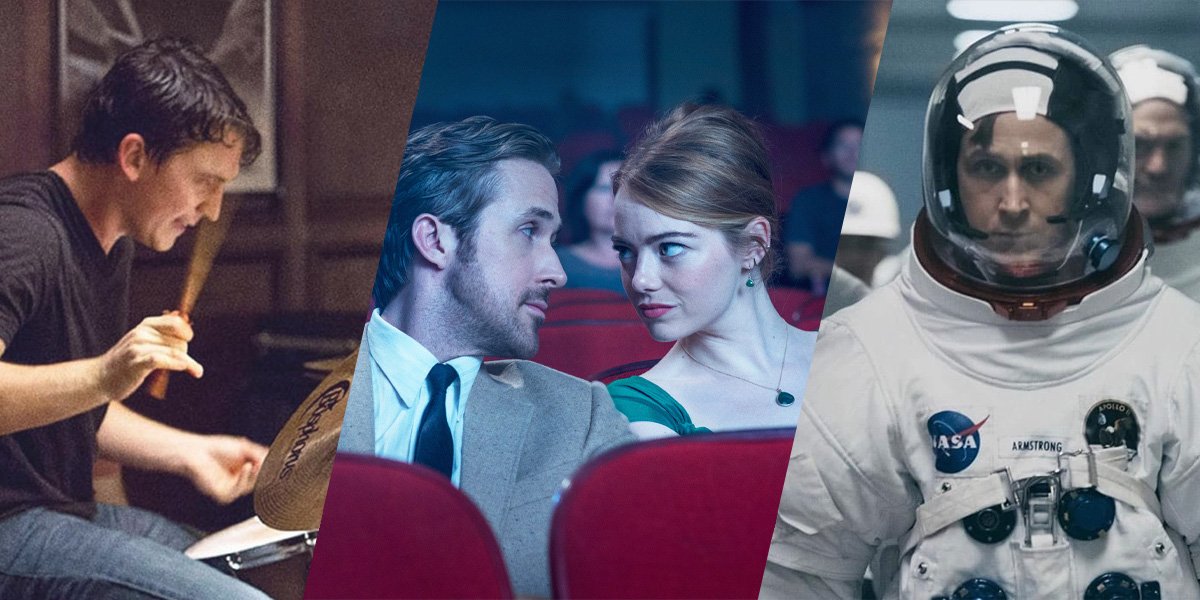 Whiplash, La La Land, First Man (Blumhouse, Focus Features, Universal)
Damien Chazelle 's Whiplash, La La Land and First Man are all explorations of how sacrifices and hardships ignite the passion needed to achieve our dreams.
---
This article contains spoilers for Whiplash, La La Land, and First Man.
Two years into the coronavirus pandemic and many countries are still struggling to control public outbreaks and surges in new cases. In grim and helpless times like these, one can only hope to dream for something better: after all, dreams ultimately come from a desire to escape our present circumstances. Oftentimes, however, these horrid circumstances provide the push we need to speak up and say, "no more", making us reevaluate our life choices, and daring us to follow our long sought-after dreams to help us forget about the present. Director and screenwriter Damien Chazelle is masterful in depicting how the brutality of life pushes people towards their dreams, even, at times, to the point of dangerous obsession.
During La La Land' s press tour back in 2016, Damien Chazelle stated that "it was important to make a movie about dreamers, about people who have these giant dreams that drive them, that bring them together, but also tear them apart". Not only did Chazelle successfully and beautifully portray this vision in La La Land, but two of his other Oscar-nominated films are structured around this same idea. In many ways, both Whiplash and First Man tell the story of an anguished and defeated protagonist wanting to reach these narrow and seemingly unattainable goals, no matter the amount of personal sacrifice that will cost them.
---
WHIPLASH
(2014)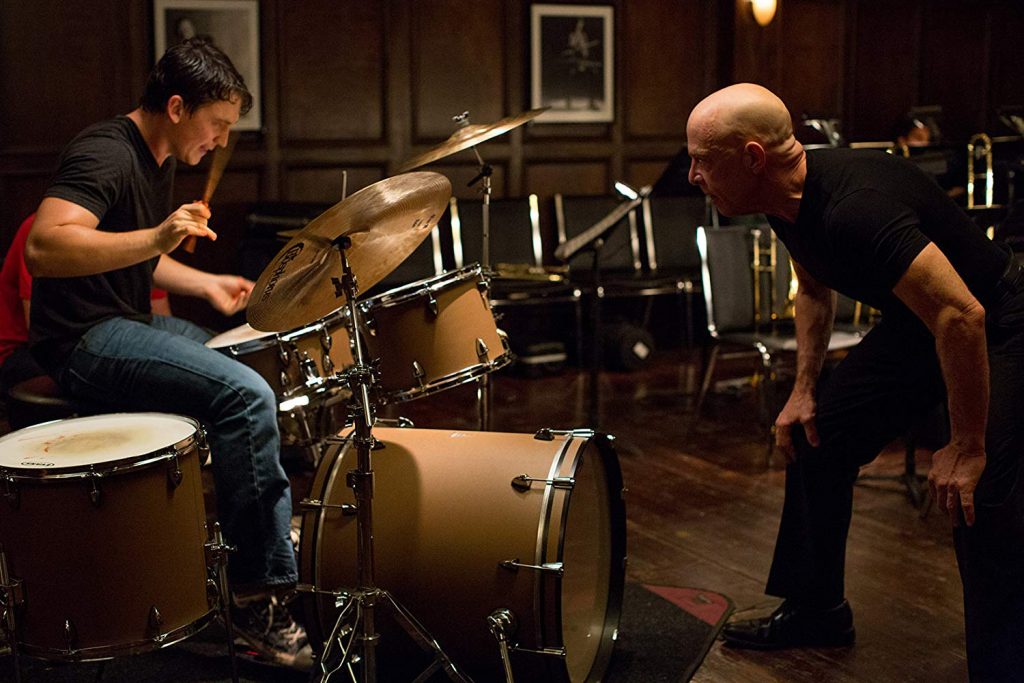 Andrew Neyman (Miles Teller, of The Spectacular Now), a 19-year-old "squeaker" in one of the finest music institutions in the country, has nothing but passion and enthusiasm about becoming the next best American jazz drummer. One night, as Andrew is rehearsing in the music hall, he catches the ear of Terence Fletcher (J.K. Simmons, of Spider-Man: No Way Home), the institution's most demanding and maniacal orchestra professor ever. When Neyman is invited to join Fletcher's exclusive and award-winning band, he is soon driven into madness, an aspect that Chazelle excellently explores in this film by highlighting Fletcher's homophobic slurs, anti-Semitic jabs, and the constant humiliation and intimidation of his students.
In addition to the psychological and verbal torture, Fletcher barbarically torments Neyman with repetitive drum solos, leaving his hands blistered and bleeding with blood running down his kit, all because "it's not quite [Fletcher's] tempo". For any other sane person, these circumstances and abuse would be more than enough to force a student to drop out, but, for Andrew, his obsession to be the best drives him to crave Fletcher's approval. Despite the misery, pain, and suffering, Andrew continues to follow the delusion that if he can please Fletcher, he has a shot at being the next greatest jazz drummer, no matter the sacrifice.
Throughout the film, Neyman's relationships with his father and friends are strong, but begin to strain and dwindle all due to Fletchers' monstrous influence. What was once a healthy and strong father-son relationship quickly turns sour. Despite the contrary of his foreseeable demise, Neyman joins Terence once again for one last concert, only to discover it was all a set-up to brutally sabotage Andrew's musical career in front of hundreds of spectators, leaving him completely hopeless. But this betrayal gives Andrew the spark he needs to rise above this unfortunate situation and play the best solo of his life thus far. In these heart-pounding final scenes when silence consumes the auditorium and all that is heard is the beat of the drum, Andrew and Terence share a look of understanding and dare I say, a look of respect. And despite the hell that Fletcher pushed him through, Andrew recognizes this opportunity, perseveres through the pain, and takes advantage of it, eventually earning the long-waited nod of approval from his professor.
Blow after blow, Chazelle demonstrates that, despite how cruel and lonely life has been for Neyman, he is still able to achieve something remarkable in the end. Terence's behavior towards Andrew was a bit more than a push, but it ultimately got him closer to where he wants to be. If it was not for his ruthless "guidance", Andrew would still be sitting in his freshmen band class delaying his dreams. Terence ignited that fire. And although we do not see Neyman become America's next best jazz drummer, we do see him at his finest.
---
LA LA LAND
(2016)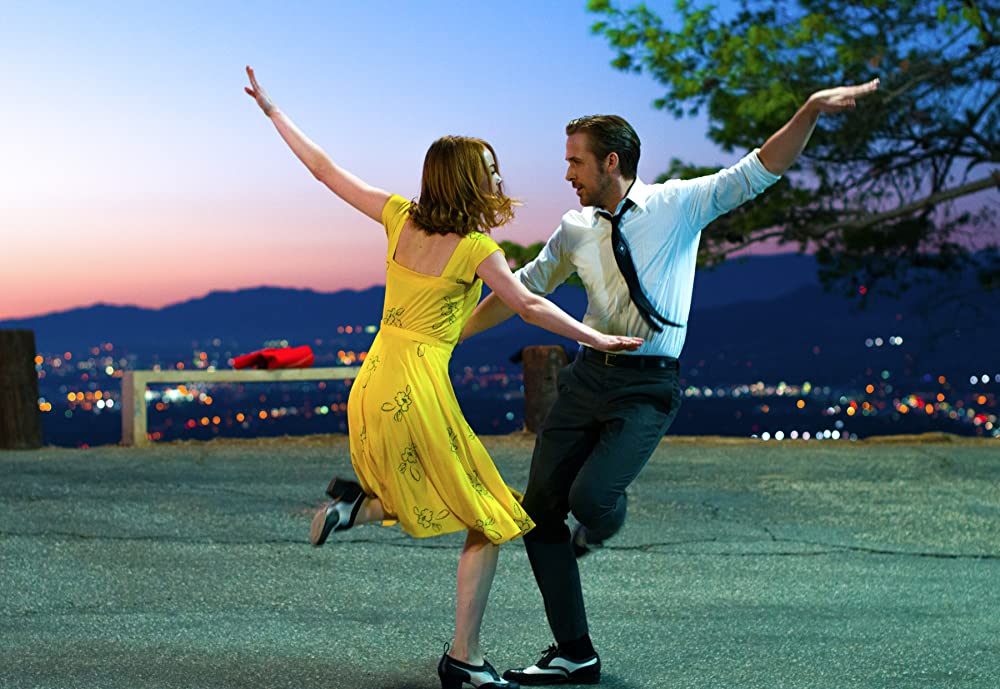 When asked about what La La Land meant to him, Damien Chazelle stated that he wanted to be "moved by the idea that you can meet someone in your life who transforms you and sets you onto a path that is going to finally enable you to be the person you always dreamed of being, but ultimately, you need to go on that path alone". Chazelle manifests this concept so elegantly in La La Land that it leaves the audience truly heart-broken by the end of the film.
Sebastian (Ryan Gosling, of Blade Runner 2049), a man of real determination, has dedicated his life to being a great jazz pianist with the hope of one day owning his own jazz club. On the other hand, Mia (Emma Stone, of Cruella) is an aspiring actress with a string of failed auditions working as a barista at the Warner Bros. production lot. Although their first few encounters are rather harsh and insensitive, Sebastian and Mia eventually bond over their mutual love for the performing arts. Whether it be starring in a film or being the owner of a jazz club, their dreams are top priority, and they both hope that one day they will become a reality. But as success mounts, Seb and Mia are faced with decisions that begin to fray the fragile fabric of their love. One of the beauties of La La Land is the delicate balance between life and art and to what extent must one sacrifice life to express art. The dreams Seb and Mia worked so hard to maintain in each other threaten to rip their own relationship apart. It is difficult to support someone else's dream and make them your priority when you have your own goals that need to be accomplished, but unfortunately, that is the downfall of many relationships.
Chazelle makes this a prominent and heart-wrenching component in the film by answering the following question: what happens when one decides to follow their dreams instead of their hearts? The director essentially gives the audience two endings to answer the question: one where Sebastian and Mia continue with their relationship and only Mia fulfills her dream, and the other, in which they are separated, but both Seb and Mia get what they have always wanted. In the latter, fate brings them together one last time, giving them the opportunity to share a single smile of happiness for each other, followed by a dispiriting look of regret. As Chazelle mentioned in his 2016 press tour, no matter how much support one receives, some goals are just meant to be achieved alone and, in many cases, that is the best and only way to go about it.
---
FIRST MAN
(2018)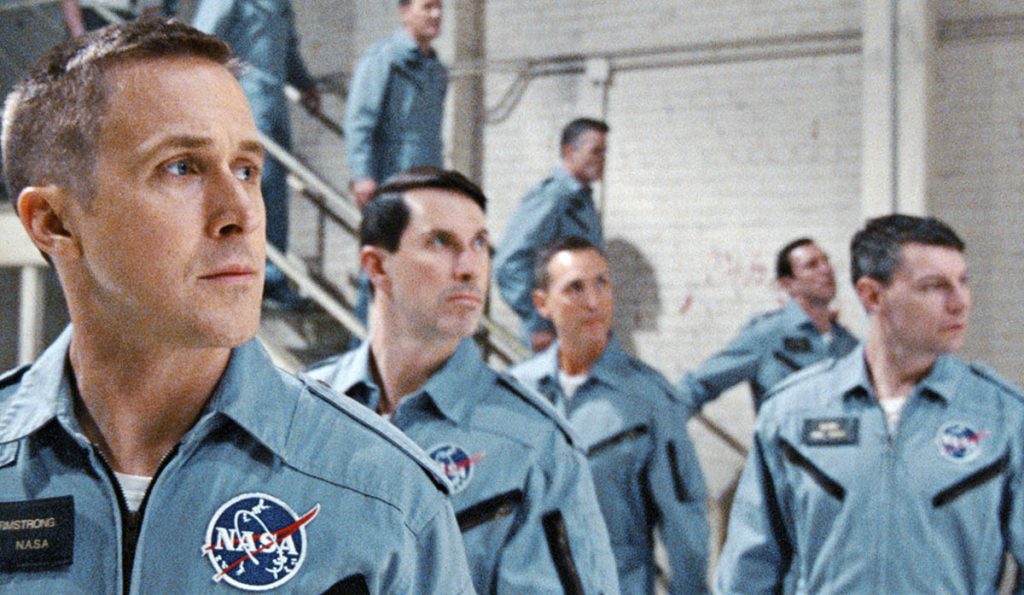 Damien Chazelle removes the perceived glamour and majesty of space exploration, and instead, showcases the dangerously chaotic environment that surrounds this type of career. First Man focuses on the life of Neil Armstrong (Ryan Gosling, of Crazy, Stupid, Love), the adversities he faces because he is a caring and loving father, and the seclusion that comes with being an astronaut. Upon the death of his two-year-old daughter, Armstrong emotionally withdraws from his family and thrusts himself into his work, joining the daunting and precarious Apollo program dedicated to placing the first man on the moon.
Aside from the tedious journey of what led to these successful Apollo missions, Chazelle places Neil through the stages of grief, heavily focusing on bargaining, depression, and acceptance. Through the creaking noise of the shuttle, the hissing of the valves, the rumbling of the engines, and the rattling of the cockpit, Armstrong places himself in these dangerous situations, pushing himself to the extreme and gambling with his life. Neil, at this point, feels invincible, acting like he has nothing to lose, when in fact, he has a wife and two young boys to care for. Furthermore, nights before his mission as he prepares to leave for NASA, his wife, Janet (Claire Foy, of The Crown), implores Neil to speak to his kids and explain that to them that he may never come back from this trip. He was ready to leave without saying goodbye, showing how detached he was from them. For Neil, reaching the moon is not just a mission, but it is a dream and a shot at redemption. This film is comparable to Whiplash and La La Land, as our protagonist goes through copious amounts of physical and mental suffering, leaving him to feel that this is something he needs to achieve on his own. With perseverance and an iron-will, Armstrong makes history and becomes the first man to step foot on the moon, ultimately making his dream a reality. Although the pain still resides, fulfilling this dream of his leads him to accept the death of his daughter and come to peace with it, making it possible for him to reconnect with a family he had neglected for so long.
---
In the end, Damien Chazelle creates these relatable characters that have these extraordinary dreams, but for one reason or another, life takes advantage of them when they are at their weakest and knocks them down. Chazelle succeeds in demonstrating that dreams require an incredible amount of sacrifice, and he does this by placing each of these characters in difficult circumstances. They may not all be success stories, but Chazelle still manages to ground these stories in hardships, giving way for their dreams to become reality.
If life was easy, achieving our dreams would not be something to commemorate. We celebrate these feats to acknowledge all the times we persevered in life and all the work that has done to accomplish these goals. Whether that dream is to become the next greatest musician, the owner of a bar, or being the first man to walk on the moon, they all required sacrifice. The drawbacks that come from life's challenges should not discourage us from pursuing the vision we have held near and dear to our heart for so long. Instead, they should inspire and give us the strength to keep pushing and fighting to convert that dream into a reality, because only with that push, are we able to work for what we truly want.