August 2020: The Best Films of the Month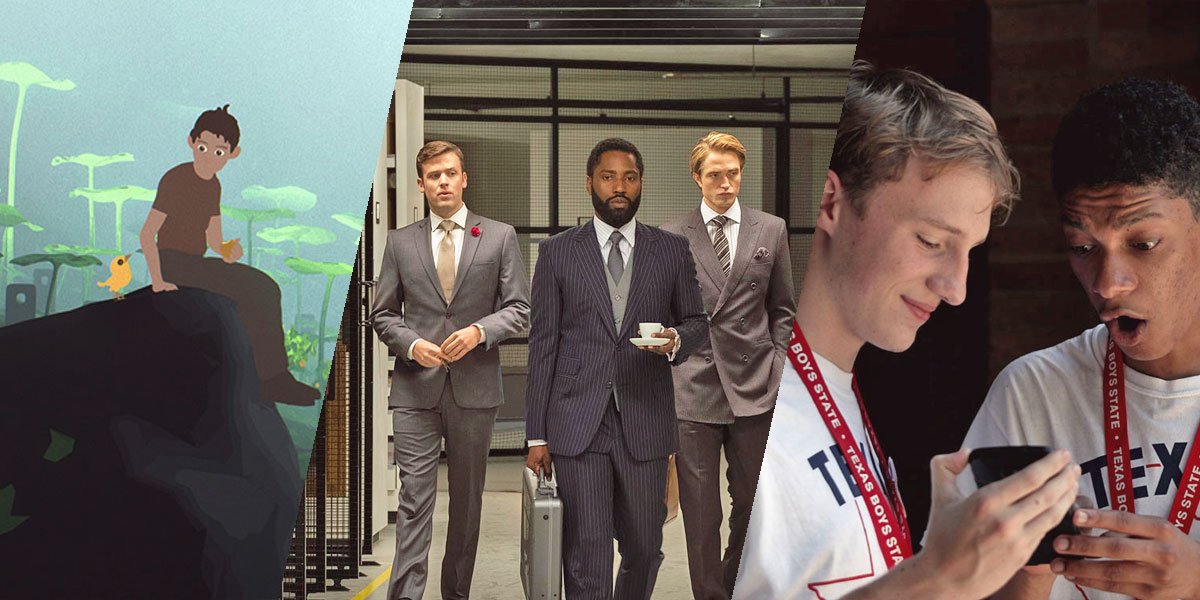 Away, Tenet, Boys State (Munro Films, Warner Bros Pictures, Apple)
From Bill & Ted Face the Music to Tenet, here are August 2020 's highest rated films on Loud and Clear. Let's take a look at the best films of the month!
Last month, we found out that many highly anticipated releases, from The New Mutants and Mulan to Ghostbusters: Afterlife and The French Dispatch, had been postponed once more. This month, we have a lot more to celebrate, as some of those movies have already been made available, while others are about to hit our favourite streaming platforms. Not only that, but cinemas have finally reopened, and some of us have been able to enjoy Christopher Nolan's Tenet on the big screen, as it was meant to be experienced. While a lot of attention has been given to those box office hits (and newly released trailers for blockbusters-to-be The Batman and Wonder Woman 1984), August 2020 has been a pretty good month for VOD and on demand releases. Let's take a look at Loud and Clear's highest rated films of the month, in alphabetical order.
---
AWAY
Director: Gints Zilbaldolis
Genre: Animation
Full Review: A Compelling Animated Survival Story
It is no insult to say that the most impressive thing about Away might actually be its backstory. It seems a Herculean effort to imagine that just one single person is responsible for directing, writing, editing, composing the score, and animating a feature length animated movie. That Gints Zilbaldolis's labor has grown into such a strange and elegiac piece of art makes for quite an achievement. The film tells the story of an unnamed young boy, at first stuck to a parachute in a tree in an unknown land. Soon, a large black gelatinous creature approaches him with clearly ill intentions. And so the boy begins to run, eventually finding an avian companion and then a motorcycle for transport. And yet the encroaching darkness remains omnipresent on the boy's, and the viewer's, mind. It is a deceptively simple set-up for a film interested in ruminating on loss and survivorship. (Read more)
---
AN AMERICAN PICKLE
Director: Brandon Trost
Genre: Comedy
Full Review: Effective Dramedy Showcases Rogen's Talents
An American Pickle is a solid effort that combines broad generational comedy with melancholic drama, bolstered by strong work from Seth Rogen. The film tells the story of a Jewish immigrant in 1920 New York who is trapped in a pickle vat for a century from whence he emerges, a century later, and moves in with his hipster great grandson. An American Pickle opens with a delightful prologue filmed with muted colors in full frame pictures, as we meet Herschel Greenbaum (Seth Rogen), a ditch digger in a fictitious, harrowing Eastern European country. He narrates us through his love story, his deep misgivings about Russians, and his immigration to a new life in the United States. Silly and heartfelt, the scenes would not feel out of place in a Wes Anderson movie and set the stage wonderfully for the rest of the story. (Read more)
---
BILL & TED FACE THE MUSIC
Director: Dean Parisot
Genre: Adventure, Comedy
Full Review: Another 'Most Triumphant' Trek Through Time
Bill & Ted Face the Music isn't as instantly iconic as Bill & Ted's Excellent Adventure, but it is more satisfying than that film's silly yet scatterbrained sequel, and it offers some of the most earnest and easygoing entertainment that's been released all year. As we seemingly suffer through new struggles each and every day in 2020, Bill & Ted Face the Music provides a nice 92-minute reprieve from this madness and leaves audience with a much-needed message of hope that we too will one day escape this Hell and regain our happiness – and really, what more could you ask for? (Read more)
---
BOYS STATE
Directors: Jesse Moss & Amanda McBaine
Genre: Documentary
Full Review: The Case For and Against the Future of American Politics
"Boys State" is an annual political exercise sponsored by the American Legion that takes place in every state except Hawaii. At the start of the week, 1,000 high school junior boys (there is also a Girls State) gather together, are separated into two political parties (the Nationalists and the Federalists) and are tasked with creating a mock government from the city up to the State level, with executive, judicial, and legislative branches. It is intense, exhausting, and an experience few who participate will forget. Seasoned documentarian Jesse Moss (The Overnighters, The Family) and newcomer Amanda McBaine take this 85-year-old process and turn into an exhilarating investigation at the current and future state of the American political system, and one of the best documentaries in recent memory. (Read more)
---
HIDDEN AWAY
(VOLEVO NASCONDERMI)
Director: Giorgio Diritti
Genre: Biopic
Full Review: How to Call Ourselves Living Things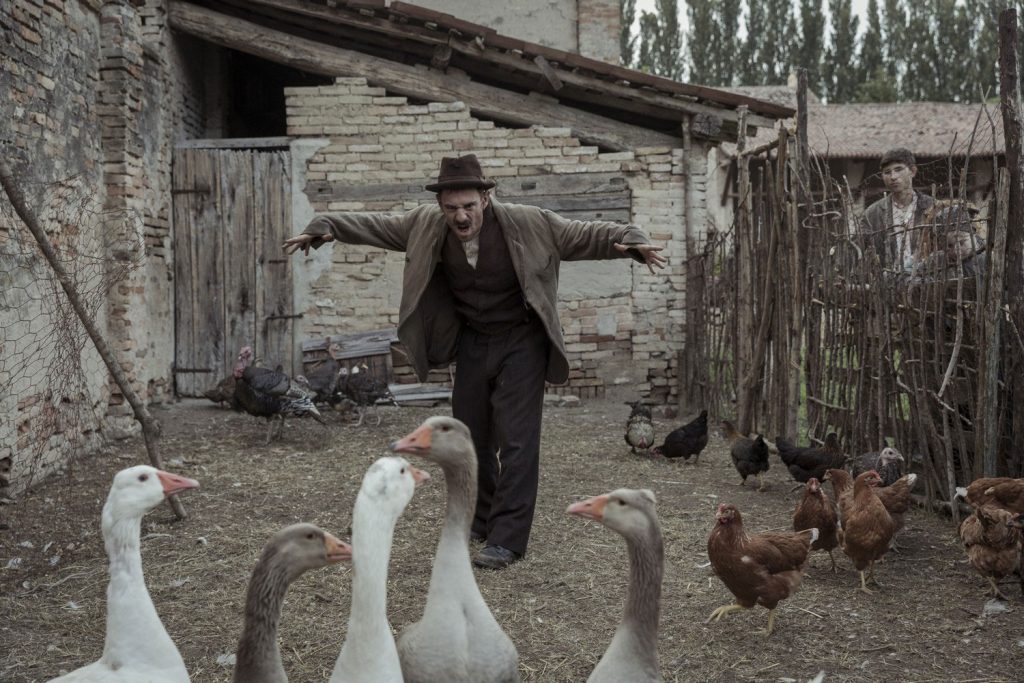 Giorgio Diritti's biopic Hidden Away (Volevo Nascondermi) amazed crowds at the Berlinale earlier this year and got awarded with the Silver Bear for best male performance. Following the wake of illustrious forerunners, Diritti's latest film combines all of the features that make up the perfect moving-picture biography and yields an endearing portrait of the artist as a man. It also gets its audience acquainted with one of the most prominent naïf figures in European art – painter and village fool Antonio Ligabue. (Read more)
---
HOWARD
Director: Don Hahn
Genre: Documentary
Full Review: Honoring the Legacy of Disney's Legendary Lyricist
Howard doesn't deviate much from the design of other documentaries, but it's worth a watch regardless due to its stunning and sentimental story and the context it adds to Howard Ashman's long-championed career. If you're a fan of Little Shop of Horrors, The Little Mermaid, Beauty and the Beast, and/or Aladdin, you owe it to Ashman to learn of the lively life he led, which motivated him to make the magical music that we now have the privilege to enjoy until the end of time. (Read more)
---
I USED TO GO HERE
Director: Kris Rey
Genre: Drama
Full Review: Life at its Most Authentic
From high school to university and into adult life, we grow up knowing that, one day, we'll become the person we were meant to be. Whether that means having a family of our own, landing our dream job or making a series or life long dreams come true, we go through our lives by setting ourselves goals and building our futures around them. Now more than ever, we are programmed to become accomplished adults – ambitious high achievers who are wise enough to know exactly what they want and what they have to do to in order to gain access to the extraordinary lives they have been promised. But life doesn't always go the way we planned: in fact, it hardly ever does. I Used To Go Here teaches us that life's most ordinary moments are precisely what make it worth living. (Read more)
---
SHE DIES TOMORROW
Director: Channing Godfrey Peoples
Genre: Horror
Full Review: A Compelling Pandemic of Existential Dread
She Dies Tomorrow carries a deceptively brilliant premise: a woman is blighted with a sense of dread that her death will occur – you guessed it – tomorrow. A friend comes over to check on her, and soon that friend has her own certainty of impending demise. She visits family and friends, and each encounter spreads the ennui. A pandemic of inevitable demise spreads quickly. (Read more)
---
TENET
Director: Christopher Nolan
Genre: Sci-Fi / Spy Thriller
Full Review: Christopher Nolan's Time-Bending Thriller is Magnificent
What if time could be reversed? What if the world as we knew it was about to end? In Tenet, Nolan asks himself these and many more questions, giving us an exceptional, spectacular film that serves both as an entertaining spy thriller and as a meaningful analysis of survival and human behaviour, whose time-bending scenarios can be interpreted in many ways, from a timely metaphor for humanity's desire to alter the past to an environmental call to action. Ultimately, Tenet is an impressive, immersive experience that needs to be felt in order to be understood, and a technically flawless film that subverts the conventions of the medium, conceived by one of the best directors of our generation. (Read more)
---
THE SECRET GARDEN
Director: Marc Munden
Genre: Adaptation / Drama
Full Review: Gunfire and Birdsong
The Secret Garden is a much-loved classic that has most definitely stood the test of time (and several film adaptations). Featuring some of film's most treasured figures, namely Julie Walters and Colin Firth, the film offers both comforting familiarity and new depths of performance. Firth could have delivered this role in his sleep, as he is accustomed to the role of the tortured hero (we all remember the days of Mr Darcy): Archibald Craven is an authentically imagined pillar of guarded emotion, painted with frequent illusions to great inner suffering. Even if he takes relatively little screen time, Colin Firth is brilliant, though would we really expect any less? Firth's delivery encapsulates the film's address of the imperfect human experience and the simple fact that "loss changes people". (Read more)
---
UNHINGED
Director: Derrick Borte
Genre: Thriller
Full Review: Russell Crowe's Raucous Road Rage Thriller Terrifies
Unhinged centers around a chance encounter between the newly divorced and down-on-her-luck Rachel (Caren Pistorius) and a mysterious and monstrous man (Russell Crowe) who fails to drive forward when the light at a busy intersection turns "green." Irritated and in a hurry as she tries to take her son to school, Rachel repeatedly honks her horn at "The Man's" pickup truck before backing up and navigating around his vehicle, desperate to get on with her day. Unfortunately, "The Man" ferociously follows the strained single mother, asking Rachel for an apology for her actions and receiving no remark in return. Seemingly within a split second, "The Man" snaps, making it his mission to make Rachel "pay" for her "harshness," setting off a spirited cat and mouse chase between the two that showcases a slew of spine-tingling sequences of suspense and spotlights the sad state of our short-tempered and severely unsympathetic society. Unhinged may be a simple and straightforward story, but this suspenseful saga still offers exciting and explosive escapism. (Read more)
---
YOU'VE BEEN TRUMPED TOO
Director: Anthony Baxter
Genre: Documentary
Full Review: A Brave Investigation On Politics, Power and Greed
Award-winning filmmaker Anthony Baxter's new documentary is about a confrontation between Mr Trump and Molly Forbes – a 96-year-old Scottish widow who saw her water supply be cut off for years after Trump's construction workers damaged the pipes, in 2012, while building a luxury golf resort near Aberdeen under the now-President's instructions. In fact, Donald Trump himself tried and failed to prevent Baxter's documentary from being released, by threatening to pursue legal action against any cinemas who'd show the film. Four years after its completion, the documentary has finally been released by Journeyman Pictures on 18th August. ou've Been Trumped Too is an outstanding, brave documentary that stirs your heart and indignation and highlights the contrast between the aggressive side of political business and the quiet simple lives of modest people, inviting us to reflect on whether luxury and power for the elite is worth the discomfort and struggle of the many. (Read more)
---
Other August 2020 releases:
---
JOIN US!
Be among the first to receive our monthly updates with film news, movie-inspired recipes and exclusive content! You'll only hear from us once a month. #nospam