She Dies Tomorrow: A Compelling Pandemic of Existential Dread (Review)
Kate Sheil in She Dies Tomorrow (Courtesy of NEON)
She Dies Tomorrow lacks the thrills of conventional horror, but is more than thought-provoking enough to merit your time.
---

She Dies Tomorrow carries a deceptively brilliant premise: a woman is blighted with a sense of dread that her death will occur – you guessed it – tomorrow. A friend comes over to check on her, and soon that friend has her own certainty of impending demise. She visits family and friends, and each encounter spreads the ennui. A pandemic of inevitable demise spreads quickly.
The film is played with none of the camp of something similar in concept like Final Destination, nor does it remain faithful to genre tropes as something like It Follows might. Director Amy Seimetz creates a fascinating tone poem to explore the idea of absolute certainty about one's pending ending. The film opens with an extreme close-up of lead Kate Lyn Sheil's eye: mascara running, tears streaming. As the camera remains with Amy, we see a woman's existential crisis reflected in dance sequences set to Mozart and a bleakly funny infatuation with leather jackets. The film remains raw and experimental – Seimetz liberally utilizes bursts of color and sound to craft mood.
Eventually her friend Jane (Jane Adams, of HBO's Hung) comes to visit. Startlingly, she finds Amy outside the home with a goblet of wine in one hand and a leaf blower in the other. Chalking up her friend's crisis to an alcoholic relapse, she disregards her friend's doomsaying. It is not long before Jane appears at her brother's house, disheveled, bandaged and in pajamas.
Here, She Dies Tomorrow's dark humor becomes bubbles to the surface. Her brother, played with smug confidence by Chris Messina (Birds of Prey), invites her into the home and attempts to integrate her into a dinner party. His simultaneous efforts to ignore his sister's bedraggled state and to show her some minimal compassion hits a perfect note of pretentious upper class focus on appearance. His wife, played razor sharp by a cutting Katie Aselton (The League), has no such mercies within her. Her rage at having a story of dolphin sex undercut by her kooky sister-in-law's appearance is wonderful arch class comedy.
She Dies Tomorrow does not follow conventional narrative or structural arcs. Flashbacks are intercut liberally, and the timeline between premonition and presumptive ending is elided. Seimetz takes several wise steps to depict the spread of the ennui. Each circle of spread gradually introduces us to bigger and bigger and movie stars. We start small with Sheil, a relative unknown actor. Next comes Adams, somewhat more famous thanks to an HBO comedy. Next we add Messina and Aselton, stars of long running sitcoms. Eventually we add Josh Lucas, lead in many major movies, and a bona fide star in Michelle Rodriguez. We have come to learn that pandemics start small only to expand until they touch every element of life. It makes a smart meta structure. Each character's revelation of their own doom is creative as well. Some acknowledge harsh truths, others feign normalcy, others seem to embrace the endgame. Seimetz manages to capture a whole range of human emotion in small moments.
See Also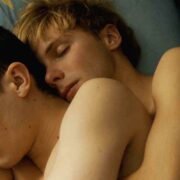 Seimetz's film is not for everyone. Despite a modest runtime of less than 90 minutes, sequences can drag or feel repetitive. There are no conventional horror payoffs and, not surprisingly, the film ends in ambiguity. But it is interesting, challenging work that I suspect will resonate with people for a very long time.
---
She Dies Tomorrow opened in U.S. Drive-In Theaters on July 31 and will be available on demand on August 7, 2020. It will be released in the U.K. on Curzon Home Cinema and Digital Download on August 28.
---
WATCH SHE DIES TOMORROW:
---
JOIN US!
Don't miss our monthly updates with film news, movie-inspired recipes and exclusive content! You'll only hear from us once a month. #nospam