All Fast & Furious Movies Ranked From Worst To Best

Furious 7 (Universal Pictures)
With Fast X in theaters, let's revisit the Fast & Furious movies, ranked from worst to best.
---
Fast & Furious, now referred to as The Fast Saga, has had a fascinating road to success. Since its inception, the franchise has been criticized for stiff performances, overusing action-adventure clichés, and for borrowing heavily from Kathryn Bigelow's 1991 action film Point Break. Yet, Fast & Furious is the one that ended up sustaining a long-running series, unlike Point Break that only got one bad remake 24-years after the original.
Why did this happen? How did a seemingly dying franchise suddenly find new life? Well, it's not an easy thing to explain, because The Fast Saga is not an easy franchise to discuss. It took nearly five movies for the saga to find its true identity and target audience.
Each sequel has tried something different than the last. Whether it's a crazy new action set piece, exotic new locations, or characters. Though successful, The Fast Saga could've never become the billion dollar franchise it is today if it weren't for director Justin Lin. Many directors have come and gone through the years, but Lin's the one who understood what these movies should've always been about: be as ridiculous as possible and show audiences a good time. Two decades, nine movies and a spin-off later, Fast X is here. So, in honor of its release, let's do a U-turn and revisit The Fast Saga.
---
11. 2 FAST 2 FURIOUS
2003
Director: John Singleton
Starring: Paul Walker, Tyrese Gibson, Eva Mendes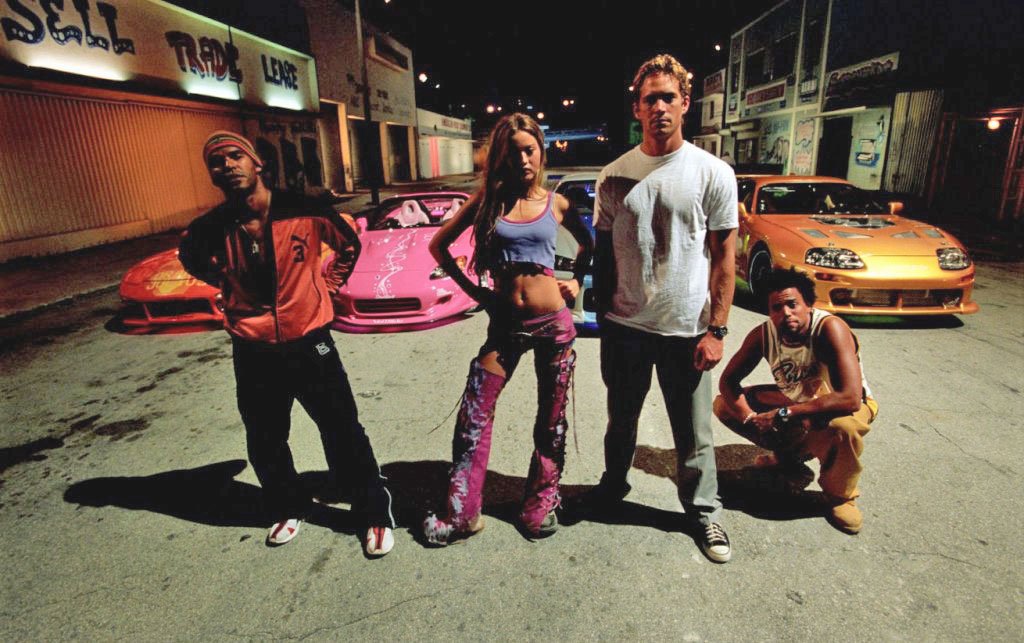 Following the events of The Fast and the Furious, Brian O'Conner (Paul Walker, Hours) – now an ex-LAPD cop – is called back to action to bust a dangerous criminal with the help of a former friend and street racer Roman Pearce (Tyrese Gibson, Transformers). 2 Fast 2 Furious isn't talked about when discussing the franchise as a whole, not even by its core fandom. That isn't surprising because this doesn't have many, if any, note-worthy moments that puts it up there with the more recent movies in the saga. We do get the introduction of fan-favorites like Tyrese and Ludacris, but not even their charisma can save this from its forgettable villain you've seen a thousand times before. It's fun to see Walker behind the wheel, but the only memorable aspect of 2 Fast 2 Furious is its ridiculously fun title.
---
10. F9: THE FAST SAGA
2021
Director: Justin Lin
Starring: Vin Diesel, Michelle Rodriguez, John Cena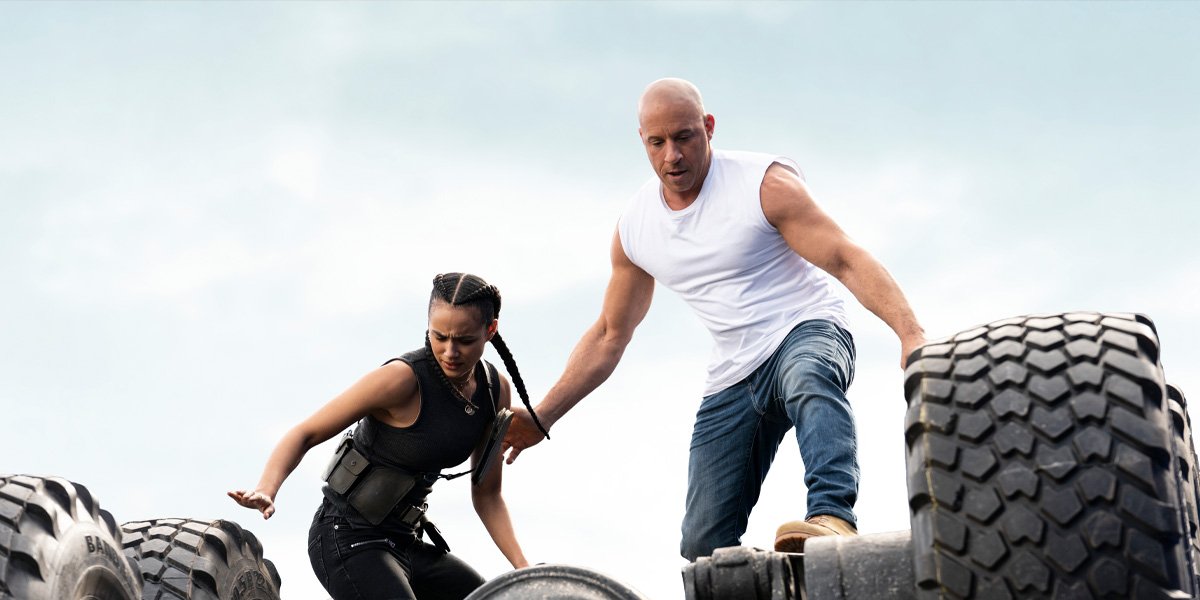 Dom's (Vin Diesel, Guardians of the Galaxy) past catches up to him, prompting him to reunite with his crew to stop a world-shattering plot led by Cipher (Charlize Theron, Atomic Blonde) and skilled assassin Jakob (John Cena, Peacemaker), who happens to be Dom's forgotten brother.
Perhaps everyone loves how silly this franchise is, but at some point you have to draw the line. F9: The Fast Saga is kind of a weird one to discuss, because upon release everyone who saw the movie seemed to be very excited about it, especially because theaters were barely opening again in the middle of the Covid-19 pandemic. Yet, once you take the time to revisit this one its flaws become apparent. It doesn't just reach new levels of ridiculousness, it simply isn't very fun. Sure, this one is remembered as the one where they finally go to space in cars, but it's done in the least creative way imaginable. All around, it can be enjoyed if you turn your brain off, more so than the usual with The Fast Saga.
---
9. FAST & FURIOUS
2009
Director: Justin Lin
Starring: Vin Diesel, Paul Walker, Jordana Brewster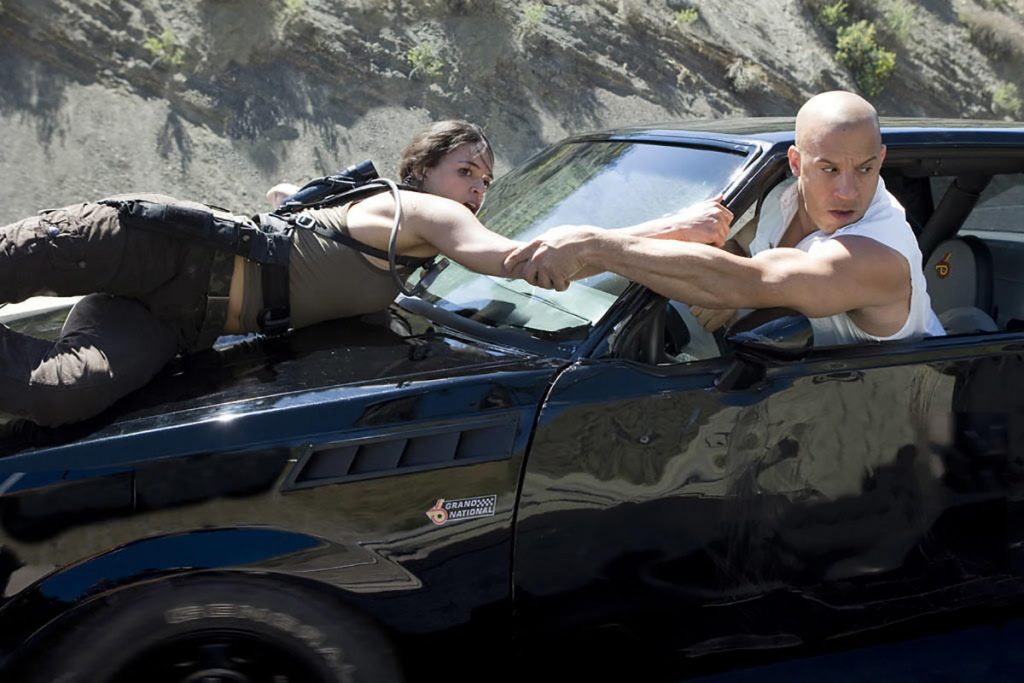 Justin Lin's second offering in the franchise is an entertaining, yet messy movie. After Letty's (Michelle Rodriguez, Avatar) sudden murder, Dom Toretto embarks on a mission to find the killer of his beloved, while former friend and now FBI agent Brian O'Connor is assigned to infiltrate a drug lord that might just be responsible for Letty's death. Released after Tokyo Drift, Fast & Furious surprised audiences by revealing itself as the first in a trilogy of prequels, taking place between the second and third film in the series.
Though the film reunites the original cast, the tone is all over the place. It fails to understand the basics of the saga by taking itself too seriously. Something you wouldn't expect with Lin behind the camera. One moment it has the over-the-top, goofy tone that makes these movies fun, the next is a full-on melodrama trying to tell a compelling revenge story that simply isn't there. The racing scenes are fun to watch, but, even then, they don't do much to elevate this boring entry in The Fast Saga, which might just be the worst thing you can possibly be in a franchise whose only purpose is to entertain.
---
8. FAST & FURIOUS PRESENTS: HOBBS & SHAW
2019
Director: David Leitch
Starring: Dwayne Johnson, Jason Statham, Idris Elba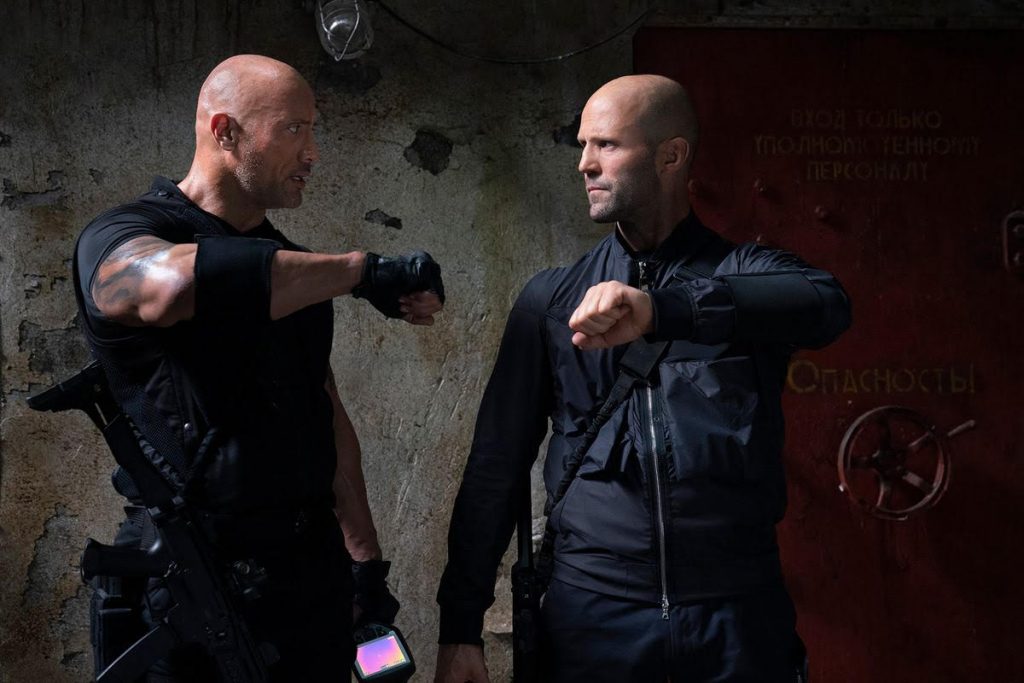 You'd think a movie dedicated strictly to Dwayne Johnson (Black Adam) and Jason Statham's (The Meg) characters would be an enormous hit on all fronts. Hobbs & Shaw wasn't able to live up neither the hype nor to the billion dollar numbers its predecessors were able to make. Not only that, but the film itself lacks the charisma the main movies in the series have. Lawman Luke Hobbs and outcast Deckard Shaw form an unlikely alliance to stop Brixton (Idris Elba, Concrete Cowboy), a genetically enhanced villain who threatens the future of humanity. 
Yes, ladies and gentlemen, we're now dealing with villains that have superhuman strength. We knew we'd get here at some point, but seeing it play out is definitely something to behold. David Leitch, known for John Wick and Deadpool 2, is a welcome addition to the growing family of filmmakers who've joined the series. His approach to action is unique, but Hobbs & Shaw's issue is that it lacks heart. As stupid and ridiculous as The Fast Saga is, the franchise still tries to be about something: family. It's insanely entertaining to see Johnson and Statham insult one another while working together, but it just doesn't work as well as it should.
---
7. FAST X
2023
Director: Louis Leterrier 
Starring: Vin Diesel, Michelle Rodriguez, Jason Momoa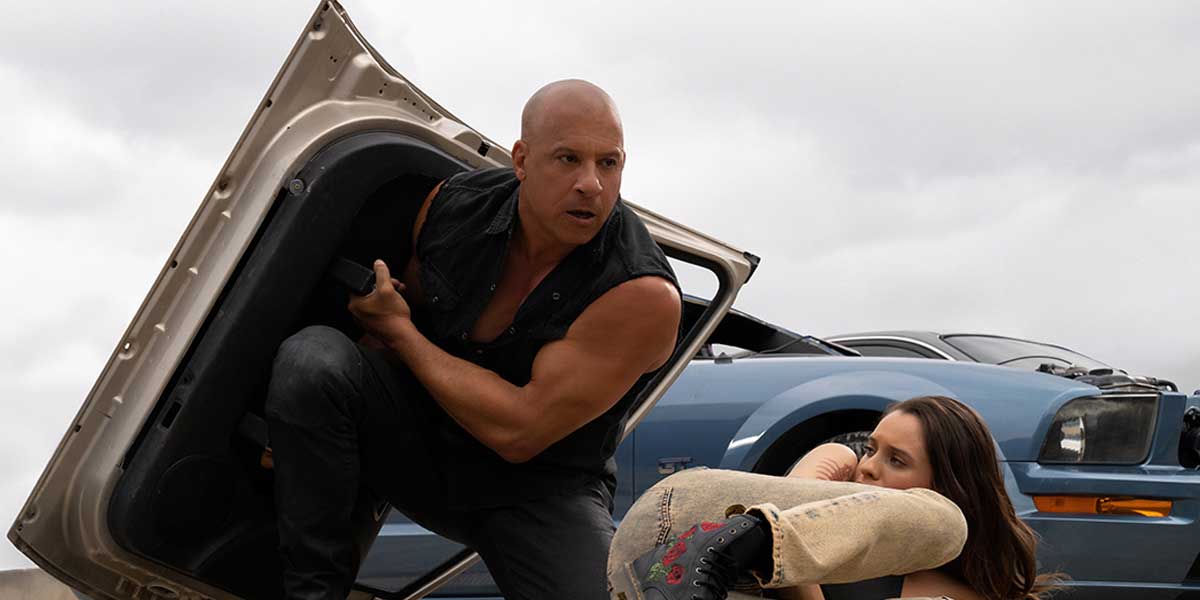 While family is everything, it can also be your greatest weakness. Dom Toretto learns this in Fast X as he faces off the most dangerous enemy he's encountered yet, Dante (Jason Momoa, Aquaman). He's the vengeful son of drug kingpin Hernan Reyes, whom Dom and his team stole money from and killed in Rio de Janeiro. Now, Dante seeks to destroy everything and everyone Dom loves.
Fast X often struggles to justify its long runtime, as it is trying to set up future threads that will be resolved in the series' alleged final installments. That said, this succeeds where F9: The Fast Saga failed: being memorable. Jason Momoa delivers a performance that is so goofy, even by this franchise's standards, that you can't help but admire the effort put into this one. It's loud, ridiculous, kind of mean spirited, and ensures you have a good time. It's not incredible by any means, but it sure is a sequel you will remember.
---
6. THE FAST AND THE FURIOUS
2001
Director: Rob Cohen
Starring: Vin Diesel, Paul Walker, Michelle Rodriguez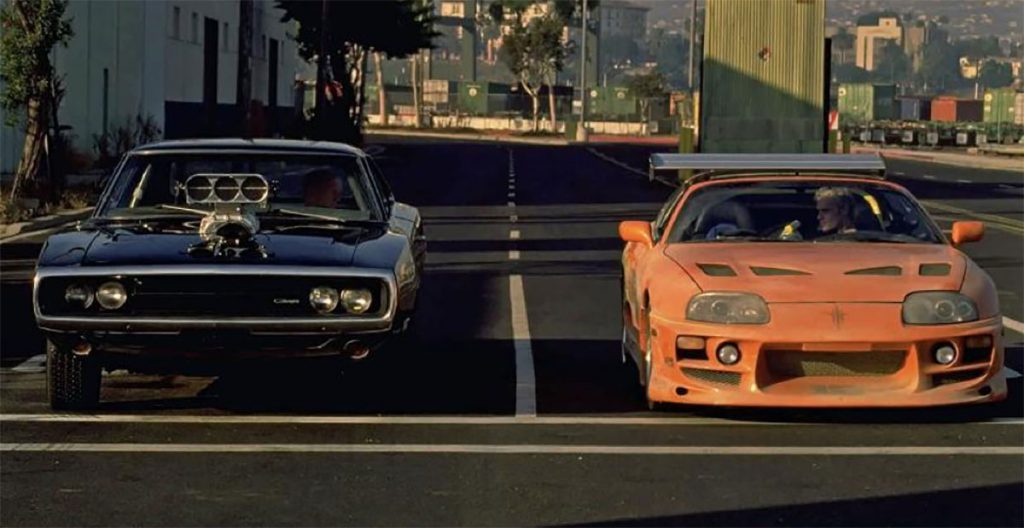 The Fast And The Furious is the one that started it all and arguably the weirdest one in the saga to revisit. Why? Simple, it is massively different compared to its sequels in terms of style, tone and not really knowing what it wants to be yet. Plus, the inevitable comparisons and criticism made at the time (and now) for being an almost beat-for-beat remake of the cult classic Point Break. Only a decade apart, both movies feature lawmen infiltrating a gang of robbers as they get drawn into the lifestyle of their new unlikely allies. An argument can be made for this to be more of a cliché in the action genre than a straight up rip-off, but the similarities are still there.
Despite its obvious influences, there's an odd charm to the introduction of The Fast Saga. Looking back, it is fun to see Diesel's character not be an indestructible superhero that can jump off a car and land on the floor without a single scratch. It's really easy to forget that after several sequels and a spin-off, this franchise's idea of a big action set piece used to be stealing DVD players, rescuing a friend hanging from a truck and chasing down motorcycles around L.A. In no way is this a bad movie, but it ain't even close to being the best one of the bunch. It's mostly nostalgia that sustains this movie in people's memories. That's why The Fast And The Furious keeps this spot on the list, it's both a nice throwback to what these movies used to be and a perfect anomaly of how drastically a franchise can change over time with just a few sequels.
---
5. THE FAST AND THE FURIOUS: TOKYO DRIFT
2006
Director: Justin Lin
Starring: Lucas Black, Nathalie Kelley, Sung Kang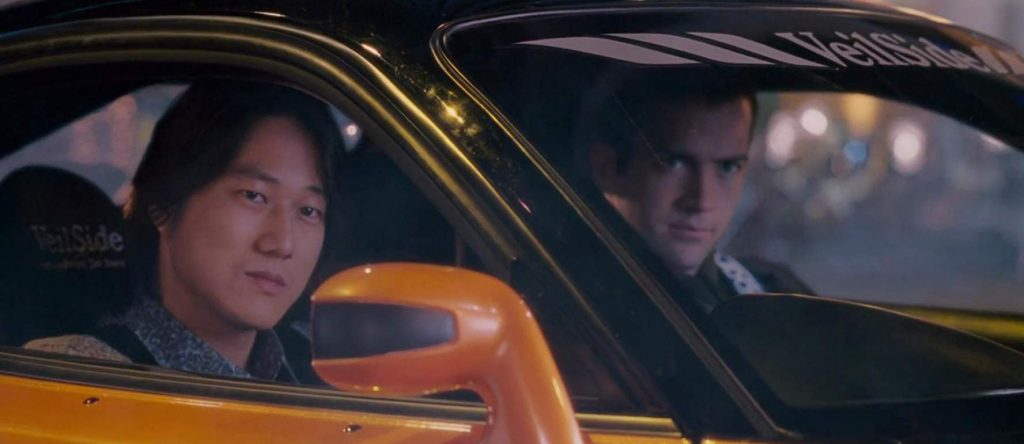 Depending on who you ask, you are probably wondering why The Fast And The Furious: Tokyo Drift is either so low or high on this list. Truth be told, Tokyo Drift isn't necessarily a good movie, but I'd be lying to myself if I said I didn't enjoy every minute of its runtime. After taking part in an illegal street race, Sean Boswell (Lucas Black, 42) is forced to move with his father in Tokyo, Japan, to avoid a prison sentence in America. Once in his new home, he becomes fascinated with Tokyo's dangerous ways of street racing as he's trained by his new friend Han (Sung Kang, We Can Be Heroes) to become the best drifter in the underground race world.
The plot here isn't anything special: guy goes overseas and adapts to his new lifestyle, you know how it goes. What makes Tokyo Drift so ridiculously entertaining is Justin Lin's way to inject new life into the franchise by giving us a self-aware action movie with a vibrant, messy tone and a completely different setting that allows for new and exciting race sequences. Tokyo Drift marks the first big step that would take the franchise into a much needed new direction. This movie doesn't concern itself with trying to tell a compelling story, but instead has fun with what the title of these movies promises, fast cars. Do you believe any of these 30 year-old actors are actual high schoolers? Not even for a second, but it adds to the silliness of the tone The Fast Saga would adopt moving forward.
---
4. THE FATE OF THE FURIOUS
2017
Director: F. Gary Gray
Starring: Vin Diesel, Dwayne Johnson, Charlize Theron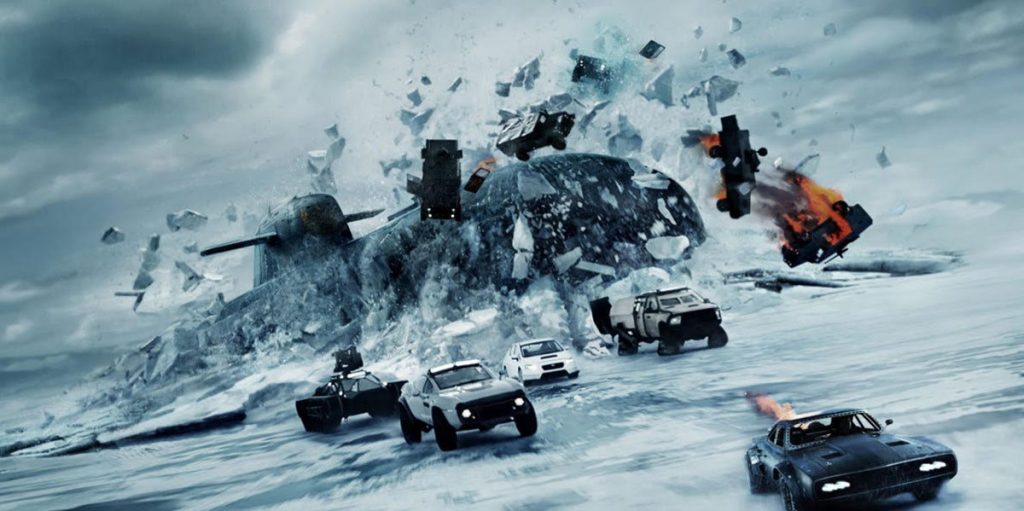 What do you do when you've almost reached your limit as a franchise, but you have to keep making movies for a profit? You turn your protagonists against one another in a "battle for the ages" sort of thing. At least that's what everybody was doing at the time. Zack Snyder did it with Batman v Superman: Dawn of Justice, so did Marvel's Captain America: Civil War and Michael Bay's Transformers: The Last Knight. So it was only natural that The Fast Saga would take that route as well. After saving the world twice and earning their pardons, Dom and his crew are finally getting to live normal lives. That is until a mysterious woman named Cipher draws Dom back into the world of crime and betrays his family.
This is the eighth entry in the series and if you're not on board by now with the ridiculous stunts these movies try to make us believe are possible, then maybe you should look for another franchise to laugh with. Not only does The Fate Of The Furious attempt to carry such a silly storyline, but at this point all of it is just a Saturday morning cartoon. We have secret children our characters didn't know of their existence, jet-packs our formal villains can use to infiltrate an airplane, and a submarine chasing down an army of cars through the arctic.
This has the best and worst elements of The Fast Saga. For most of its runtime, it's silly as its predecessors, but then it makes the mistake of being a melodramatic betrayal story that simply nobody cares about, because we all know it's going to end with everybody being friends again by the end. Yet, you can't help but be entertained by its sheer commitment to make you feel for these characters and their actions, as stupid as they might be.
---
3. FURIOUS 7
2015
Director: James Wan
Starring: Vin Diesel, Paul Walker, Jason Statham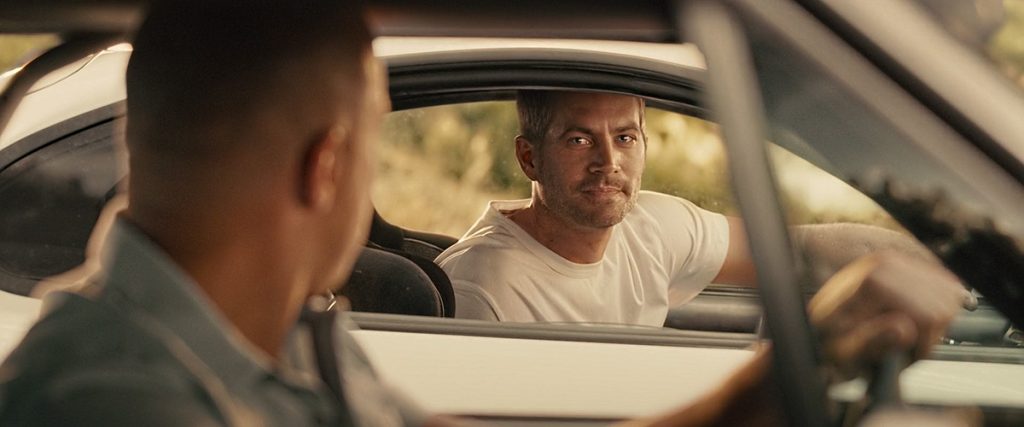 James Wan might've had the toughest job any director in The Fast Saga has had to pull off. Not only did he have to follow two critically and commercially successful entries in the series, but handle the sudden passing of actor Paul Walker as well. If two intimidating challenges weren't enough, Furious 7 marked Wan's first ever action-adventure project with a massive budget. How did it all turn out? Well, it is another Fast & Furious movie. Taking place shortly after Tokyo Drift — I know, these movies are too complicated for their own good — Deckard Shaw is seeking revenge against Dom and his crew for defeating his younger brother. Even worse, terrorist Jakarde (Djimon Hounsonu, Shazam) and government official Mr. Nobody (Kurt Russell, The Thing) are both competing to steal a computer program that can turn any technological device into a weapon.
A recurring theme in The Fast Saga — believe it or not these movies are about something — is nothing more important than family. That theme isn't more present than in Furious 7. We could talk about how Vin Diesel drives a car through three separate buildings, or how we get to see flying cars in this one, but the emotional weight this movie carries is surprisingly touching. As briefly mentioned, Paul Walker died tragically in a car accident after attending a charity event. As a result, the film is dedicated to him as it walks this tricky line of not only being another ridiculous spy movie, but honoring the actor's memory. James Wan does just that by having the closing scenes pay tribute to Walker, whose character is met with a happy ending, and rides off into the sunset.
---
2. FAST & FURIOUS 6
2013
Director: Justin Lin
Starring: Vin Diesel, Paul Walker, Luke Evans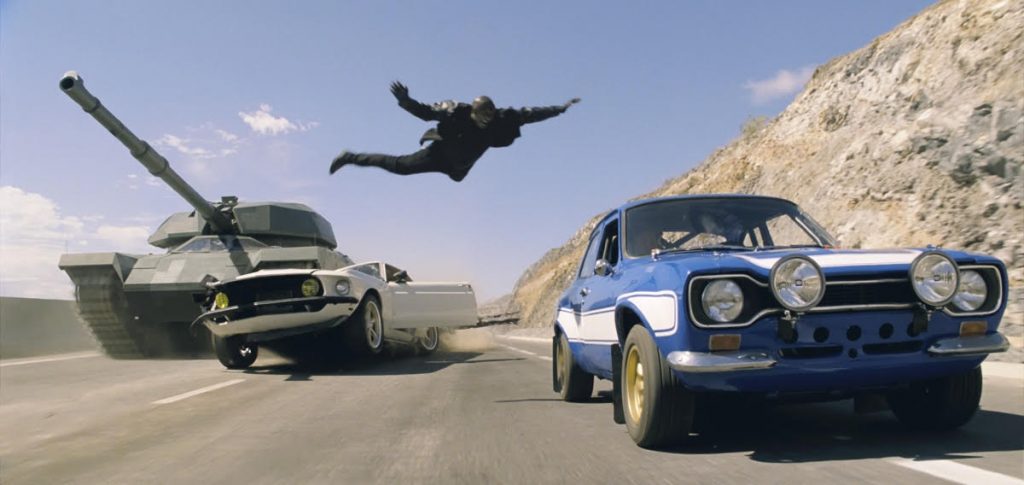 It was tough not to place Fast & Furious 6 on the top spot, but, my god, was it close! Forget about stealing DVD players or millions of dollars, this time it's about saving the world! On paper, these newer movies shouldn't work at all, but for some reason they just do. This wouldn't be the last time The Fast Saga tries to make us believe our protagonists are super spies, but it's hilarious to see Fast & Furious 6 be the first one to attempt just that. Scattered around the globe, our heroes need to reassemble the crew once more and team up with Hobbs to stop a group of mercenaries led by Owen Shaw (Luke Evans, Beauty and the Beast). If they stop Shaw, Dom and his crew will get full pardons in order to return home. Oh, by the way, remember Letty's death? Yeah, she's not dead and has been working with Shaw this entire time.
All the bad clichés are here: a character presumed dead is actually alive, but has lost her memory and we need to bring her back to the good side. This movie really does have it all! From its nonsensical plot to people jumping off tanks onto cars, Fast & Furious 6 is Justin Lin releasing his inner child and playing with his toys in this massive sandbox of a blockbuster. The climax is just as silly as the tank sequence with our heroes chasing down a plane through an endless runway. Fast & Furious 6 is the closure to this trilogy of prequels started by Fast & Furious and what a way to end this chapter in The Fast Saga, marking the beginning of a brand new one.
---
1. FAST FIVE
2011
Director: Justin Lin
Starring: Vin Diesel, Paul Walker, Dwayne Johnson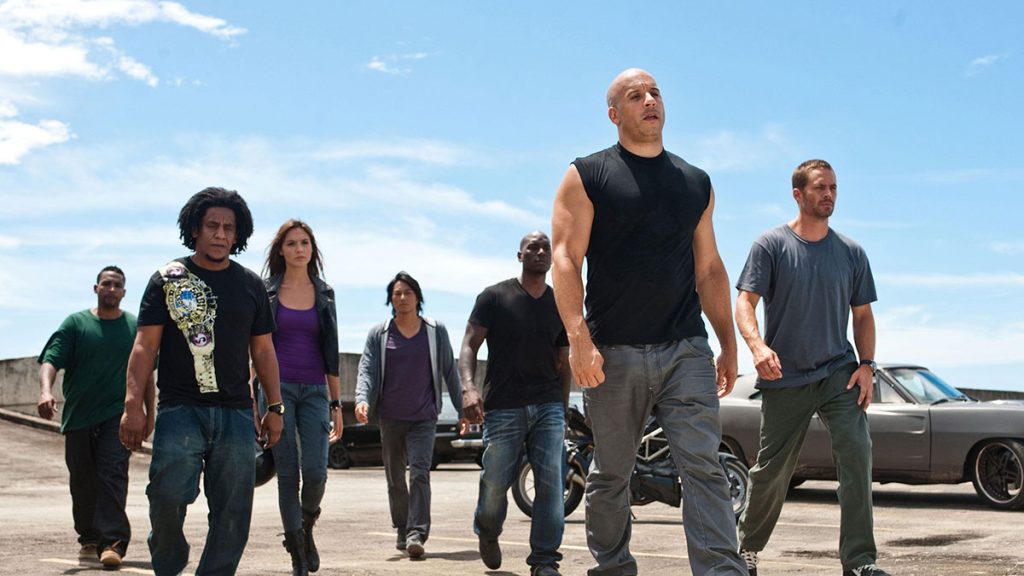 Fast Five is widely considered as the ultimate turning point in The Fast Saga, and rightfully so. Since the fifth chapter in the series, these movies have stopped being about dudes driving fast cars and instead have become a mix of heist and spy films. This time around Dom Toretto, Brian O'Conner and Mia (Jordana Brewster, The Texas Chainsaw Massacre: The Beginning) find themselves on the run after breaking Dom out of prison. Now hiding in Rio de Janeiro, Brazil, they put together a crew to pull off one last job in order to gain their freedom and become rich. Fast Five is a perfect balance of crazy action, cheesy dialogue, and great banter between the team.
In many ways, this really is The Avengers of the Fast & Furious franchise, in the sense that it brings together almost every fan-favorite character from previous entries. The fifth movie in the series also marks the addition of Dwayne Johnson who after joining the cast opened the doors for other Hollywood stars to sign on tothe franchise, such as Jason Statham, Kurt Russell, and Charlize Theron. Johnson brings a distinct, but much necessary energy to these movies. He was given the assignment to play a strict, over-the-top lawman and he does it perfectly. Paired with the impossible mission our heroes are trying to accomplish, this makes for an extremely entertaining heist film. If your movie has two Dodge Chargers dragging a vault with $11 million through the streets of Rio de Janeiro, then you automatically take the top spot.