The Boys in the Band: An Affecting Adaptation of the Acclaimed LGBTQ+ Play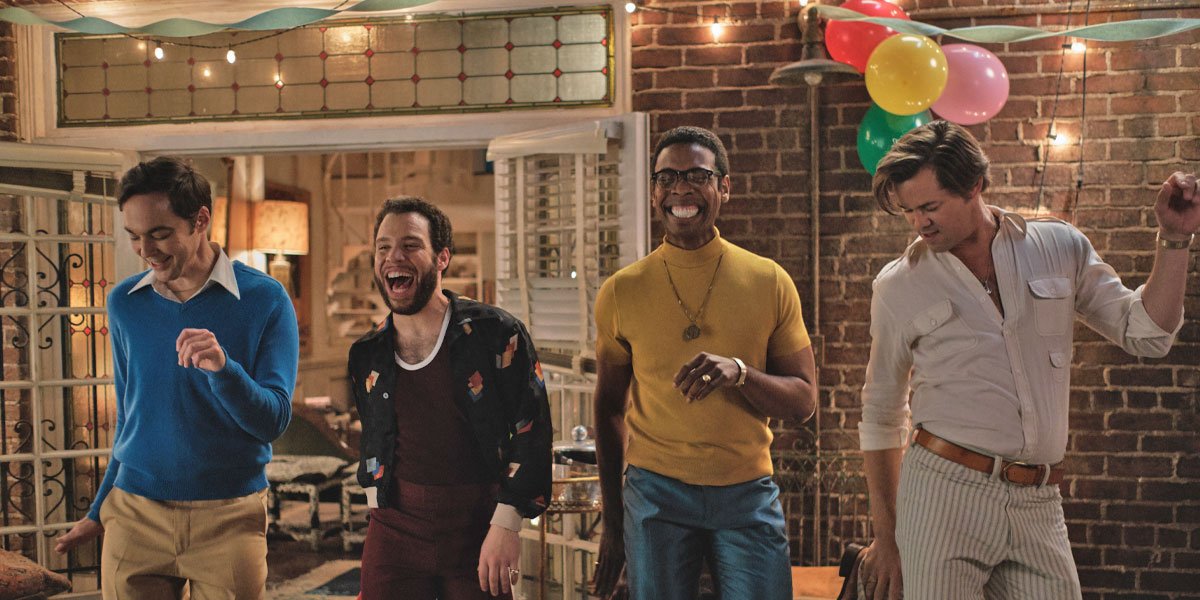 Jim Parsons, Robin De Jesus, Michael Benjamin Washington and Andrew Rannells in The Boys in The Band (Scott Everett White/NETFLIX)
Netflix's The Boys in the Band is just as stirring and sharp-witted onscreen as it in onstage, paying tribute to Mart Crowley's timeless tale.
---

In 1968, Mart Crowley's off-Broadway play The Boys in the Band took the world by storm and presented a procession of complicated and complex queer characters to a society that still scorned them on the regular. Crowley's play was not only revolutionary for its candid and clever portrayal of its protagonists, but also for its tremendous timing; debuting over a year before the Stonewall riots, The Boys in the Band kickstarted conversations that had formerly been censored, and its reflections on the LGBTQ+ community remain just as riveting and relevant to this day. Unfortunately, Crowley tragically passed away earlier this year, months before the release of the second screen adaptation of his widely acclaimed work, but one has to believe that he would've been stupendously satisfied with director Joe Mantello's incisive and insightful interpretation of his subversive stage play.
Like the play, Netflix's The Boys in the Band is primarily centered around a contentious birthday celebration, hosted by Jim Parsons' (CBS' The Big Bang Theory, Hidden Figures) mild-mannered Michael for the hammy and hardheaded Harold (Zachary Quinto, of Star Trek and Hotel Artemis). Also attending this flashy festivity are Matt Bomer's (USA's White Collar and HBO's The Normal Heart) emotionally detached Donald, Andrew Rannells' (The Intern, A Simple Favor) lascivious Larry, Tuc Watkins' (ABC's Desperate Housewives, The Mummy) big-hearted Hank, Robin de Jesús' (Camp, Broadway's In the Heights) effeminate Emory, and Michael Benjamin Washington's (Love & Other Drugs, Netflix's Ratched) brainy Bernard. While the men certainly clash as they muse over topics such as solitude, spirituality, and sexuality, things truly take a turn for the worst with the arrival of Brian Hutchison's (Bridge of Spies, Ghost Town) antagonistic Alan – Michael's former (heterosexual) college roommate – who causes his own fair share of chaos and spurs a drunken Michael to start a particularly pernicious party game that forces all attendees to grapple with pains from their pasts and long-suppressed sorrows.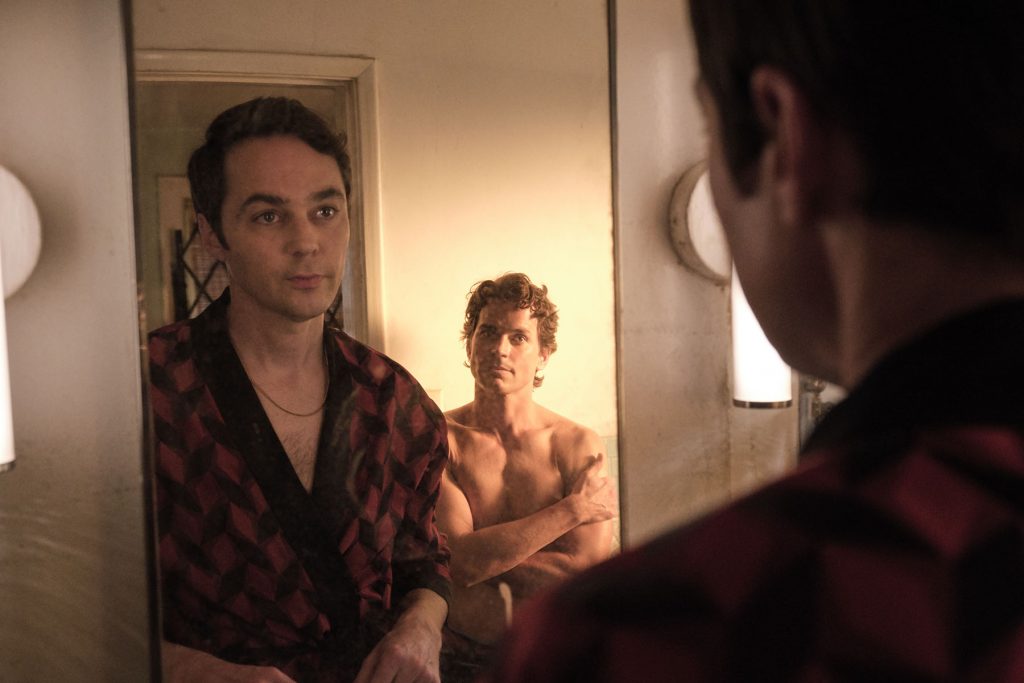 As one can see, The Boys in the Band is most instantly intriguing for its electrifying ensemble cast. Because this adaptation has only cast openly gay actors in the leading roles, each man is able to add a certain credibility to their character as a result of their shared experiences and emotions surrounding this subject matter. This authenticity affords supplemental substance to the story as a whole, which allows Mantello's adaptation to combat common controversies. Over the years, The Boys in the Band has come under fire for its "prickly" protagonists, as many argue that the play does not feature "favorable" representations of the LGBTQ+ community. And, indeed, most of these men are quite flawed in many ways, and they are admittedly overly ostentatious and obtrusive to one another at points. Yet, rather than faulting the play for this truthfulness, Mantello – as a testament to his adaptive abilities – sticks closely to Crowley's script and never shies away from his honesty. Mantello trusts his actors to manifest the multidimensionality of their roles, and that they most definitely do; each character is stripped of the stereotypes that plague the queer community, and together, they simply stand as hurting human beings, first and foremost.
This isn't to say The Boys in the Band is a distinctly dour affair by any means – while it does dabble in drama, the overall atmosphere is immensely amiable and inviting, with a genuine sense of gaiety – but in order to separate from insidious imagery that had haunted the gay community for generations (the clownish and campy "queen," the salacious sexual predator, etc.), Crowley – and now Mantello – had to peel back any and all preconceived notions one would have about these queer characters and present them in their full flawed glory.
Turning these men into "sweet-hearted saints" with no suffering whatsoever would've been just as disingenuous as depicting them as one-dimensionally as before; luckily, Crowley's script finds a way to balance both the dark and the light in his leads, allowing for an extensive exploration of this legitimate "gay lifestyle" with all its ups and downs intact. Sure, Michael is strained by severe self-hatred, Larry and Hank spar over the soundness of an "open relationship," and Bernard struggles to sift through the intersection of his Black and queer identities, but at the end of the day, there is a sincere sense of camaraderie and conviviality amongst these pals and partygoers that offers opulent optimism. Even when the going gets tough and their squabbles become scathing, the film seems to suggest that the only solution to this sadness is through togetherness – leaning on one another for strength and support, instead of letting that turmoil turn you against those you love.
All of the actors turn in wonderful work, but praise must specifically be paid to Parsons, who capably channels both Michael's geniality and his gloom. As our punctual party host, Michael is initially affably anxious, but Parsons also effectively exhibits his evolution into effrontery without ever transforming into a two-dimensional "villain." Though we may have to catch our breath when hearing Michael's caustic comments, Parsons always presents the character as a tragic figure trapped in a cycle of self-loathing (partially provoked by strife with his spirituality). While this doesn't excuse his occasionally evil behaviors, it offers an emotive explanation.
Aside from Parsons, De Jesús makes an incredible impact as the effervescent Emory, acting as the flamboyant comic relief amongst these friends while still sustaining a shrewd and soulful presence in every scene as well; he may be the most customarily "colorful" character, but De Jesús fends off the inclination to indulge in "farcical" behaviors. Finally, Rannells and Watkins (a real life couple, natch) have some of the most convincing chemistry in the entire film, and their dexterous dynamic makes for a passionate probe of the pros and cons of various sexual lifestyles in the LGBTQ+ community; quite notably, this examination is handled in an empathetic and even-handed manner.
See Also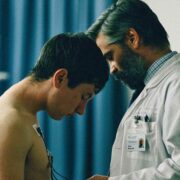 Mantello proves to be just a distinguished a director as he is an actor (known for ravishing roles in HBO's The Normal Heart and Netflix's Hollywood), finding wonderful ways to "open up" the play by adding introductions for each character at the start of the film – prior to their arrival to the party – and epilogues at the end that spotlight the state of their lives after the dust of the combative celebration has settled. In addition, he incorporates illuminative flashbacks for the audience to visualize each individual's lost loves or archaic afflictions, sending us into each character's psyche in a way that a stage play would never allow. He's assisted admirably by cinematographer Bill Pope (Baby Driver, The Matrix) who shoots the story in a sensual yet suspenseful fashion, making the manic mood of the piece perfectly palpable to all who watch.
Though The Boys in the Band may be considered by some to be a "relic of its time," it holds considerable value for 21st century viewers as well, who can gain a peek into the painful past of the LGBTQ+ community and likely still relate to much of the anxiety and anguish these characters combat. Thanks to an energetic ensemble and wondrously witty writing, Netflix's The Boys in the Band is evidence that the 1968 stage play will never lose its energetic edge, preserving its progressive plot while allowing modern actors to inject their own insight into the piercing proceedings.
---
---
WATCH THE BOYS IN THE BAND:
---
JOIN US!
Don't miss our monthly updates with film news, movie-inspired recipes and exclusive content! You'll only hear from us once a month. #nospam