Ghostbusters: A Blockbuster Blend of Horror and Hilarity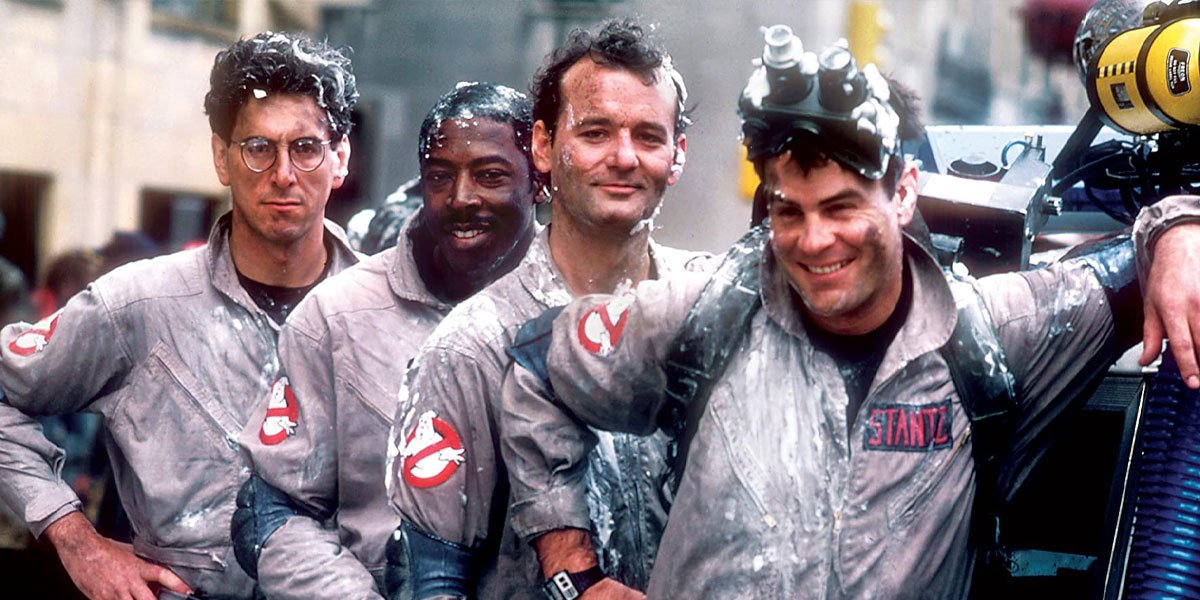 Ghostbusters (Columbia Pictures)
Ghostbusters galvanized the comedy genre as a ferociously funny fable with state-of-the-art special effects and scares to spare.
---

While the 80s was full of countless celebrated classics, few had the commanding cultural impact of 1984's Ghostbusters. From Ray Parker Jr.'s chart-topping theme song to the movie's merchandising might (challenged only by the original Star Wars trilogy, which wrapped up one year prior), this surprise success has had audiences spellbound ever since its dynamite debut over three decades ago. Although the film's follow-ups – 1989's Ghostbusters II and 2016's all-female reboot, also titled Ghostbusters – have their fair share of fans, it's unfortunately widely believed that neither came close to matching the manic magic of that first installment. Nevertheless, many were still excited to experience Sony's latest – and hopefully more lucrative – effort to capitalize on this celebrated cash cow this weekend with Ghostbusters: Afterlife, which was set to both allow writer-director Jason Reitman (Juno, Up in the Air) the opportunity to step into his father's shoes (who directed the first two films in the franchise) and additionally gift the series to a new generation. Regrettably, when the world found itself facing its own beastly boogeyman in the form of COVID-19, this "legacyquel" launched itself to March 2021, leaving us in ardent anticipation for (at least) eight more months.
There are plenty of other promising pictures making their debut on Friday (including Netflix's The Old Guard, Hulu's Palm Springs, and Apple TV+'s Greyhound), but for those who fancy some farcical frights, there's no better substitute for Ghostbusters: Afterlife than the spooky story that started it all. In this sixth edition of "Flashback Films," we see what made this scare-fest such a sensation by breaking down how Ghostbusters "busted" barriers for blockbusters in Hollywood and transformed into the treasured triumph it is today.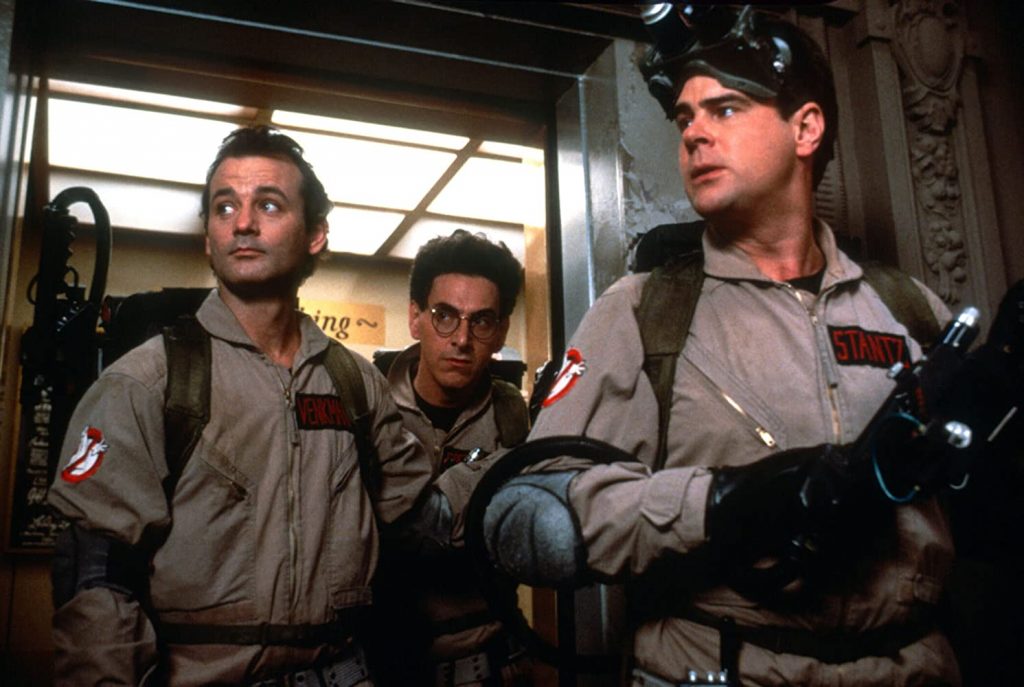 Inspired by his passion for the paranormal, actor Dan Aykroyd (The Blues Brothers, Trading Places) started to draft a script for Ghostbusters in the early 80s, initially intended as a star vehicle for himself and his best friend/Blues Brothers co-star, John Belushi. Aykroyd planned out a plot that spanned time and space, highlighting heroes who adventured through alternate dimensions to spar with sinister supernatural forces. However, upon Belushi's untimely death in 1982, Aykroyd's screenwriting stalled, and it was clear that some reconfiguration would be required. When he eventually went to work on Ghostbusters once more, he consulted comedic icon Ivan Reitman (Kindergarten Cop, Twins), who was best known at the time for producing 1978's Animal House and directing the Bill Murray-led comedies Meatballs and Stripes.
Right off the bat, Reitman had ample advice for Aykroyd, instructing him to scale back his scope, as his current creation would "cost something like $200 million to make." Reitman further emphasized the relevance of "realism," recommending that Aykroyd set his story on Earth in order to draw out humor from the disconnect between average everyday environments and the perplexing paranormal phenomena that the protagonists would encounter. In addition, Reitman introduced Aykroyd to Harold Ramis – who had co-written Animal House, Meatballs, and Stripes – as he believed Ramis would be able to better balance both the humor and the horror at the heart of the film. Aykroyd stuck to sharing his suggestions for strange supernatural scenarios, and Ramis worked to refine his ramblings into a coherent and cohesive chronicle that adhered to Aykroyd's ambitions and appealed to as large an audience as possible (while also rooting the tale in the "real world").
When Reitman pitched the picture about professional parapsychologists from New York who pursue a career in "ghost-catching" to Columbia Pictures executive Frank Price, Price was captivated but cautious, calling attention to the current ceiling on profitability for comedies. And even though Aykroyd and Ramis had worked to sketch out a more sensible scope, Ghostbusters would still be generating its own subgenre of sorts, blending bits of comedy, science-fiction, horror, and action. Moreover, no film of this facetious fashion had ever required such sizable special effects before, giving Price more room for pause. In the end, after Reitman was able to commit to a budget of $25-$30 million and a release date of June 1984, Price permitted production to commence.
Though studio suits remained wary of Ghostbusters' worth, audiences were instantly infatuated with the fright-filled fantasy, as it debuted at the top of the box office with a total of $13.6 million, edging out another horror-comedy now held in high esteem – Gremlins. It would hold this number one spot for seven consecutive weeks and stay in theaters for thirty weeks total, leaving cinemas in January 1985. In a shocking show of strength, the film surpassed Indiana Jones and the Temple of Doom as the top-grossing title of the summer and toppled 1982's Tootsie to become the highest grossing comedy ever (at the time) with $229.2 million domestically. Only Eddie Murphy's Beverly Hills Cop was able to edge it out for the top earnings of 1984 overall (by a mere $5 million, no less), but Ghostbusters inched ahead with a re-release the following year.
Clearly, crowds were charmed by Ghostbusters' creepy chills and clownish capers, and for good reason. To this day, Ghostbusters endures as an entertaining and exciting epic that feels as fun and fresh as it did almost forty years ago, and most of this credit can be attributed to Aykroyd and Ramis' sharp script, Bill Murray's priceless performance, and the cast's compelling chemistry in general.
By being brave enough to blend all sorts of story threads and styles that seemed as if they'd never fit into one film, Aykroyd and Ramis' tremendous risks rightfully yielded towering rewards. Ghostbusters' peculiarity became its superpower, offering audiences an original idea unlike any other in the marketplace and inspiring imaginations around the world. Though not without superfluous subplots and skit-esque segments, Ghostbusters is entirely engaging the whole way through, deftly delivering dry humor and stupefying special-effects driven scares in equal measure. Even when the Ghostbusters' goals grow grander – such as having to stop a 100 ft. supernatural Stay Puft Marshmallow Man threatening to tear down New York City – this tonal tightrope is tackled terrifically, as Aykroyd and Ramis always have complete control of the "feel" of the film, never missing a beat or losing sight of the soul of the story.
Aykroyd and Ramis also cleverly created characters who each brought their own individual talents to the team, with Aykroyd's rambunctious Ray Stantz serving as the "heart," Ramis' eccentric Egon Spengler providing the "brains," and Murray's peevish Peter Venkman making do as the "mouth". The trio was immediately iconic as soon as they stepped on screen, with an evident electricity in their exchanges, but Murray effectively eclipsed his co-stars with his commanding comedic timing and his deadpan demeanor. It's not that Aykroyd and Ramis are without wit – quite the contrary – but Murray is just so effortlessly engrossing that you can't help but be swept up by Venkman's smug spirit and take a shine to this sly scumbag. Murray has been playing the "genial grump" for what seems like his entire career, but save for Sofia Coppola's Lost in Translation, his capabilities have never been better calibrated than they are here.
Ghostbusters only slightly stumbles when it comes to spotlighting its supporting cast, which is somewhat underutilized in comparison to its main leads. Sigourney Weaver's down-to-earth Dana Barrett and Annie Potts' sardonic secretary Janine receive several standout scenes and leave a lasting impression, but both lack some of the more in-depth development granted to the men. Furthermore, Ernie Hudson's Winston is the most affected, as the late addition to the Ghostbusters' gang feels more like a tacked-on token character than a fully-materialized member with his own individual identity. In fact, Winston even had a more extensive backstory in a previous edition of the film's script (including a background as an Air Force demolitions expert), but the night before shooting began, Hudson was given an updated screenplay with a remarkably reduced role, supposedly in an effort to expand the screen-time for stars like Murray and Aykroyd.
Nonetheless, even in spite of these sporadic shortcomings (which surely only stand out more today because of our expectations for equity in 21st Century entertainment), Ghostbusters still gains glorification as a groundbreaking gamechanger for genre films, and for good reason. After all this time, its droll delights haven't diminished, and its scary yet silly sensibilities continue to be copied by a plethora of other properties. As we await the release of Ghostbusters: Afterlife and hope it can approach the appeal of the series' original entry, we can revisit that 1984 revelation and look at how it laid the foundation for a flood of fantastical films in the future and cemented its status as a cornerstone of blockbuster cinema.
---
STREAM GHOSTBUSTERS:
---
JOIN US!
Don't miss our monthly updates! Sign up for CineMonth and get free movie-inspired recipes, exclusive content and film news: you'll only hear from us once a month. #nospam